At a Glance
Pelvic floor prolapse occurs when one or more of the organs from the pelvis slips down, causing it to bulge from the vagina. Pelvic floor prolapse can sometimes be fixed with certain pelvic exercises, however, in some instances, the prolapse causes physical pain and discomfort. If this happens to you, you may wish to undergo pelvic floor repair.
Dr Paraskevi Demitriades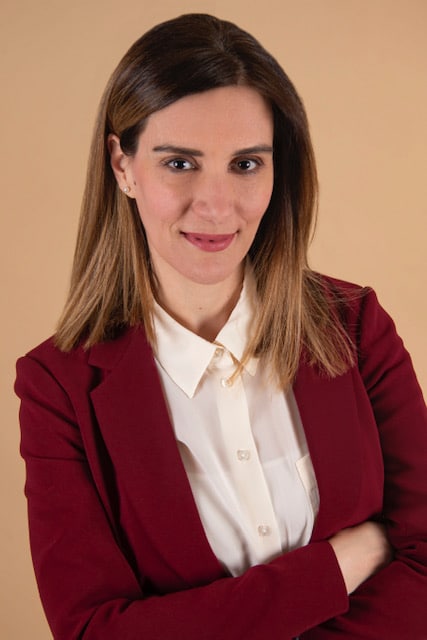 Dr Paraskevi Demitriadi is a specialist aesthetic gynaecologist and has trained at some of the world's leading hospitals in all aspects of gynaecology. Dr Demitriadi continues to practice in the NHS at University College London Hospitals NHS Trust (UCLH). She is a active member of the research team at the renowned Woman's Health Institute at UCLH and lectures both nationally and internationally on a range of topics in aesthetic gynaecology. She is a full member of the Royal College of Obstetricians and Gynaecologists (RCOG) and the European Society of Aesthetic Gynaecology (ESAG).
Dr Dimitriadi is known for her caring, patient-centred approach, supporting all her patients and she always strives to optimse patient outcomes at stages of the patient journey.
About
When the pelvic floor – a group of muscles and tissues – becomes weakened, the organs will then no longer be supported and will slip down.
There are four different types of prolapse. These are:
Anterior prolapse

: the bladder bulging from the front wall of the vagina

Uterine prolapse

: the womb bulging or hanging down into the vagina

Vault prolapse

: after surgery to remove the womb, the top of the vagina may sag down, causing a vault prolapse 

Posterior wall prolapse

: the bowel bulging into the back wall of the vagina
There are numerous reasons for why a pelvic floor prolapse can occur, including:
Pregnancy and childbirth

Naturally ageing

Menopause

Obesity

Having a hysterectomy

Having a job which requires a lot of heavy lifting

Having a medical condition which causes a long-term cough and strain
Candidates
If you have the following symptoms, you may have pelvic floor prolapse and may wish to consider pelvic floor repair.
Feeling as if something is coming down your vagina, or as if something is dragging

Your pelvis and lower tummy area feels heavy

You can see or feel a lump coming out of your vagina

You have problems or feel discomfort when urinating

You experience numbness or discomfort during sex

You are experiencing 

stress urinary incontinence
In some instances, you may have pelvic floor prolapse but experience none of the above symptoms.
Those who wish to have pelvic floor repair with Centre for Surgery will need to be at least 18 years old, be in good physical and mental health, and have reasonable expectations about what the procedure can achieve.
Prior to undergoing surgery, you will meet with your surgeon who will assess your suitability. You may be more suitable for other procedures such as laser treatment of pelvic organ prolapse or tension-free vaginal tape.
Procedure
The surgical method used for your pelvic floor repair will vary depending on which type of prolapse you have.
Surgery is generally performed under a general anaesthetic. At Centre for Surgery, this is known as ClearSleep™, which does not use any breathing machines or tubes, and allows you to wake up quicker following the procedure.
Surgery will generally involve making an incision into the wall of the vagina. An anterior prolapse will involve an incision at the front wall of the vagina, while a posterior prolapse will involve an incision at the centre of the back wall. Both incisions will start at the entrance and finish near the top wall of the vagina. Dissolvable stitches are then used to strengthen the weakened wall.
Those who have already been through menopause or do not wish to have any more children may wish to undergo a hysterectomy, which involves removing the womb. This helps to reduce pressure on the walls of the vagina and reduces the likelihood of the prolapse returning.
Recovery
Following the procedure, you may be given a drip to give you fluids, and you may need a catheter (a thin plastic tube) into your bladder. This should be removed after 24 to 48 hours. You may also have a gauze inside the vagina which will act as a bandage to help reduce any bleeding. This will be removed after the first 24 hours.
It is normal to experience some light bleeding or discharge after the procedure, which may last up to three to four weeks. It is recommended that you use sanitary pads during this period, rather than tampons.
The stitches used during the procedure will be dissolvable, so you will not have to return to the clinic to have them removed. They will dissolve on their own after a few weeks.
You will have to avoid any strenuous physical exercise for the first few weeks, particularly activities which involve heavy lifting and straining or picking up children. You will also need to avoid swimming during this time period. You will have to avoid any sexual intercourse for about four to six weeks, or until you are completely healed.
You may need to take up to six weeks off work, however, this will vary depending on your type of employment. Your surgeon will be able to give you exact advice on when you can return to work.
You should avoid driving for at least three to four weeks. This will vary from patient to patient; you will need to feel confident about driving and performing emergency stops.