Mini Tummy Tuck London & UK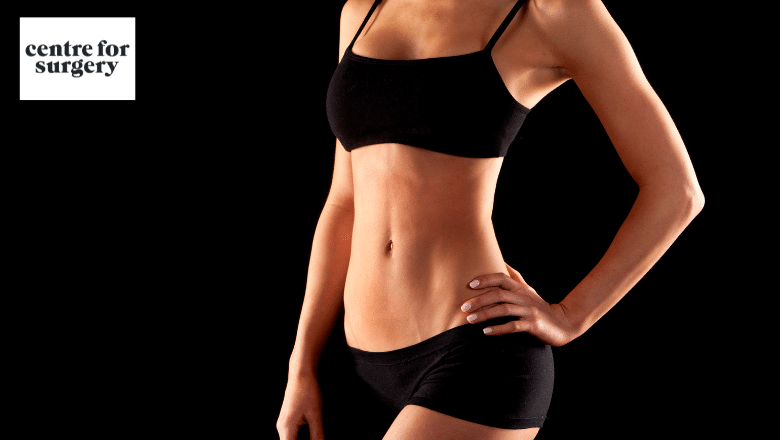 Achieve a firmer, more sculpted abdomen with the targeted and minimally invasive Mini Tummy Tuck procedure
Weight gain, weight loss, and the natural ageing process can all lead to an accumulation of sagging skin on the abdomen. An Abdominoplasty, commonly referred to as a tummy tuck, is a popular cosmetic procedure designed to tighten loose abdominal skin following weight loss, diminish the appearance of stretch marks after childbirth, and eliminate persistent belly fat (also known as a mummy pooch) through a Mini Tummy Tuck performed at the Centre for Surgery.
Post-pregnancy, some individuals may experience separated abdominal muscles or diastasis recti. While a full tummy tuck entails repairing these split muscles, a mini tummy tuck is specifically focused on removing surplus fat and skin solely in the region beneath the navel.
The mini tummy tuck surgery shares similarities with the full tummy tuck but is specifically aimed at addressing lax skin and excess fat restricted to the lower abdominal region. A mini abdominoplasty can also be combined with supplementary procedures, such as liposuction and breast surgery, to enhance overall cosmetic outcomes and tackle fat accumulation above the belly button.
For a select group of individuals, the presence of extra skin and fat may be confined to the area below the navel and be relatively minimal in quantity. A mini tummy tuck, alternatively referred to as a mini abdominoplasty, is an optimal solution for those who are slimmer and have a smaller amount of surplus skin and fat that they wish to remove.
RELATED: Tummy Tuck FAQs – Q&As about Abdominoplasty Surgery
Mini tummy tuck surgery is an ideal surgical procedure for patients that require only a small amount of skin removal and body contouring to achieve a flatter and smoother abdomen. Compared with a mini tummy tuck, the full tummy tuck involves surgical removal of redundant skin and excess fat from both the lower and middle part of the abdomen combined with surgical reconstruction of the abdominal wall muscles, also known as rectus plication.
For many women who are often slimmer and with milder degrees of skin and abdominal laxity, then a tightening of the abdominal wall musculature is often not required. The incision of a mini tummy tuck is significantly shorter than that of a full tummy tuck and is a smaller surgical procedure with a quicker recovery period. However, a mini tummy tuck is not a complete replacement for a full tummy tuck. Most women and men may still need a full tummy tuck for full correction of abdominal laxity and muscle weakness.
What Is a Mini Tummy Tuck?
A mini tummy tuck, also known as a partial abdominoplasty, focuses on eliminating loose skin and excess fat primarily in the lower abdominal region. This procedure is generally less invasive than a full abdominoplasty and is effective in addressing postpartum mummy pooch, abdominal hernias, and muscle laxity in the lower abdomen.
Following pregnancy or significant weight loss, individuals may experience a loss of muscle tone and skin elasticity in their abdominal region. For some, the issue is confined to the lower portion of the abdomen, manifesting as:
Excess fat and sagging skin beneath the belly button, leading to a protruding appearance (abdominal pooch)
Muscle laxity below the navel, resulting in an uneven stomach contour
The mini tummy tuck is widely regarded as the optimal cosmetic procedure for refining the abdominal area under the belly button. It works to tone the lower abdominal muscles and address the stretch marks and sagging skin in the lower part of the belly. Patients can expect a well-concealed tummy tuck scar that gradually fades, in exchange for a smoother, more contoured abdomen.
Mini Tummy Tuck Before & After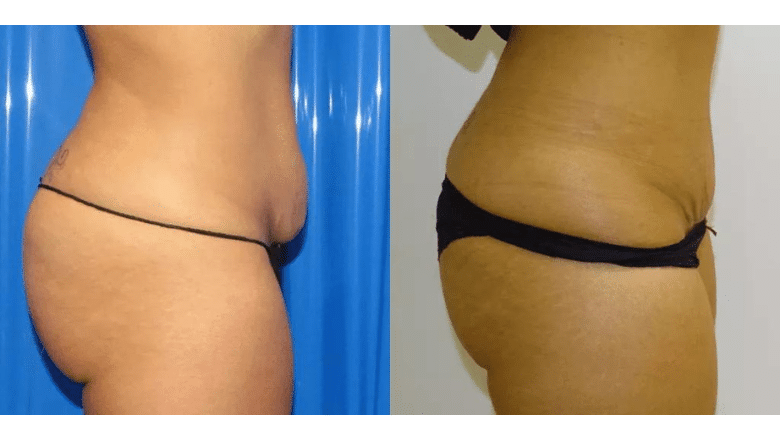 How Is a Mini Tummy Tuck Different from a Full Tummy Tuck?
A Mini Tummy Tuck and a Full Tummy Tuck are both cosmetic surgical procedures that aim to improve the appearance of the abdominal area. However, they differ in terms of the scope, extent of surgical intervention, and the patients they are best suited for. The following detailed comparison highlights the key differences between the two procedures:
Surgical Scope:
Mini Tummy Tuck: This procedure targets the lower abdomen, specifically the area beneath the belly button. It focuses on removing excess skin and fat in this limited region and may involve tightening the lower abdominal muscles.
Full Tummy Tuck: Also known as a complete abdominoplasty, this procedure addresses the entire abdominal area, both above and below the belly button. It involves removing excess skin and fat, as well as tightening the abdominal muscles throughout the entire abdominal wall.
Surgical Intervention:
Mini Tummy Tuck: The mini tummy tuck is less invasive, involving a smaller incision, usually made just above the pubic area. Due to the limited scope of the surgery, the navel remains untouched and the overall recovery time is shorter.
Full Tummy Tuck: The full tummy tuck requires a more extensive incision, typically made from hip bone to hip bone, above the pubic area. Additionally, a second incision around the navel is necessary to reposition it after the skin has been tightened. This procedure is more invasive, leading to a longer recovery period.
Patient Suitability:
Mini Tummy Tuck: This procedure is best suited for individuals who have mild to moderate excess skin and fat confined to the lower abdominal region. It is an ideal option for those who are relatively fit, have good muscle tone, and do not have significant muscle laxity.
Full Tummy Tuck: A full tummy tuck is more appropriate for individuals with a significant amount of excess skin and fat in the entire abdominal area. It is also recommended for those who have experienced muscle separation (diastasis recti), often as a result of pregnancy or significant weight loss.
Recovery Time and Scarring:
Mini Tummy Tuck: Due to the less invasive nature of this procedure, the recovery time is generally shorter compared to a full tummy tuck. Scarring is limited to a smaller incision, which is usually well-concealed within the bikini line.
Full Tummy Tuck: The recovery period for a full tummy tuck is longer due to the more extensive surgical intervention. Scarring is more noticeable, with a longer incision along the lower abdomen and a second scar around the navel. However, these scars can be concealed within the bikini line and tend to fade over time.
What Are The Benefits of a Mini Tummy Tuck?
A Mini Tummy Tuck, also known as a partial abdominoplasty, is a popular cosmetic procedure that offers several benefits for individuals seeking to improve the appearance of their lower abdomen. Some of the key benefits of a Mini Tummy Tuck include:
Targeted Improvement: A Mini Tummy Tuck specifically addresses excess skin and fat in the lower abdominal region, providing targeted improvement for individuals who have concerns limited to this area.
Less Invasive: Compared to a full tummy tuck, the Mini Tummy Tuck is a less invasive procedure. It involves a smaller incision, which typically leads to a shorter recovery time and reduced postoperative discomfort.
Minimal Scarring: The smaller incision made during a Mini Tummy Tuck results in a shorter scar, which is usually well-concealed within the bikini line. Over time, the scar tends to fade and become less noticeable.
Faster Recovery: Due to the less invasive nature of the procedure, the recovery time for a Mini Tummy Tuck is generally shorter than that of a full tummy tuck. This allows patients to return to their daily activities and routines more quickly.
Improved Abdominal Contour: By removing excess skin and fat in the lower abdomen, a Mini Tummy Tuck helps create a smoother, flatter, and more toned appearance in the targeted area.
Increased Confidence and Self-Esteem: The improved abdominal contour achieved through a Mini Tummy Tuck often results in a boost in self-confidence and self-esteem, as patients feel more comfortable and confident in their appearance.
Complementary to Other Procedures: A Mini Tummy Tuck can be combined with other cosmetic procedures, such as liposuction or breast surgery, to achieve a more comprehensive body transformation.
Am I suitable for a mini tummy tuck?
While a mini tummy tuck offers numerous benefits, it's important to understand that not everyone is an ideal candidate for the procedure. Suitable candidates for a Mini Tummy Tuck typically exhibit the following characteristics:
Localized Excess Skin and Fat: The primary concern should be limited to the lower abdominal region, specifically below the belly button, with mild to moderate excess skin and fat.
Good Overall Health: Suitable candidates should be in good general health, without any medical conditions that could impair healing or increase the risk of complications during surgery.
Stable Weight: Ideal candidates should have a stable weight, with no significant weight fluctuations planned in the near future. This is crucial to ensure that the results of the procedure are long-lasting.
Non-Smokers: Smoking can negatively impact the healing process and increase the risk of complications. Therefore, suitable candidates should either be non-smokers or willing to quit smoking well before and after the procedure.
Realistic Expectations: It's essential for candidates to have realistic expectations about the outcomes of the surgery. While a Mini Tummy Tuck can significantly improve the appearance of the lower abdomen, it is not a weight loss solution and may not be as effective for individuals with significant skin laxity or muscle separation.
Muscle Tone: Ideal candidates should have relatively good muscle tone in the abdominal area, with minimal or no muscle separation (diastasis recti).
No Future Pregnancies Planned: While a Mini Tummy Tuck does not prevent future pregnancies, it is recommended that candidates complete their families before undergoing the procedure to preserve the results.
Committed to a Healthy Lifestyle: Candidates should be committed to maintaining a healthy lifestyle, including a balanced diet and regular exercise, to ensure the longevity of the results.
Watch the Mini Tummy Tuck Animated Video
How Is a Mini Tummy Tuck Performed?
A mini abdominoplasty, or mini tummy tuck, can be carried out under local or general anaesthesia, depending on the patient's needs and the surgeon's preference. The procedure involves the following steps:
The surgeon begins by making a horizontal incision, approximately 15-20 cm in length, akin to an incision made during a C-section. This incision is placed discreetly in the lower abdomen, just above the pubic region, along the bikini line.
Next, the surgeon carefully detaches the fatty layer from the underlying muscle layer, extending upwards to the belly button, without altering the navel's position.
Once the layers are separated, the surgeon tightens the deep abdominal muscles and connective tissue by pulling them together and securing them with durable sutures.
With the muscles tightened, the surgeon can then pull the overlying skin and fat downwards, correcting the stretched appearance of the abdomen and reducing the prominence of stretch marks.
The surgeon proceeds to remove any excess skin and fat, which is typically minimal in a mini abdominoplasty.
Finally, the skin is meticulously sutured back together using fine, delicate sutures to minimise scarring.
The mini abdominoplasty procedure generally takes between one and a half to three hours to complete. Following the surgery, the incision site is covered with a wound dressing, and the patient is transferred to the recovery room to begin the healing process.
Recovery after a Mini Tummy Tuck
Recovery after a Mini Tummy Tuck, or partial abdominoplasty, can vary depending on the individual and the extent of the procedure. However, there are some general guidelines and expectations that can help patients prepare for the recovery process:
Immediate Post-Operative Period: After the surgery, patients will be monitored in the recovery room until they are stable and awake. They might feel groggy or disoriented due to the anaesthesia, which should wear off within a few hours.
Pain and Discomfort: Some level of pain and discomfort is expected following the surgery, but this can be managed with prescribed pain medications. It is important to take medications as directed by the surgeon to ensure a comfortable recovery.
Swelling and Bruising: Patients can expect to experience some swelling and bruising in the abdominal area, which typically subsides over the course of a few weeks. Wearing a compression garment, as recommended by the surgeon, can help reduce swelling and provide support to the healing tissues.
Limited Mobility: During the first week, patients might have limited mobility and should avoid strenuous activities. Light walking is encouraged to promote blood circulation and reduce the risk of blood clots.
Time Off Work: Most patients can expect to take one to two weeks off work, depending on the nature of their job. Those with physically demanding jobs may need to take additional time off or request modified duties upon returning to work.
Incision Care: It is crucial to keep the incision site clean and dry to prevent infections. The surgeon will provide specific instructions on how to care for the incision, including when to change dressings and when it is safe to shower.
Follow-Up Appointments: Patients will have follow-up appointments with their surgeon to monitor the healing process and address any concerns. It is essential to attend these appointments and follow the surgeon's post-operative care instructions.
Gradual Return to Activities: Patients can gradually resume their normal activities and exercise routines over the course of four to six weeks, or as advised by their surgeon. It is crucial not to rush the recovery process and to listen to the body's signals.
Final Results: The final results of a Mini Tummy Tuck may take several months to become fully apparent as swelling continues to subside, and the tissues heal. It is important to maintain a healthy lifestyle and stable weight to preserve the results long-term.
Potential Risks and Complications of a Mini Tummy Tuck
As with any surgical procedure, a Mini Tummy Tuck, or partial abdominoplasty, carries some potential risks and complications. While these risks are generally rare, it's essential to be aware of them before undergoing the procedure. Some potential risks and complications of a Mini Tummy Tuck include:
Infection: Infections can occur at the incision site or within the abdominal tissues. Proper incision care, as instructed by the surgeon, can help minimize this risk.
Bleeding: Excessive bleeding or hematoma formation may occur during or after the procedure. Surgeons take precautions to minimize bleeding, and patients should follow post-operative instructions to reduce the risk.
Seroma: A seroma is a collection of fluid that can build up under the skin following surgery. It may require drainage by the surgeon to prevent complications.
Blood Clots: The risk of blood clots, or deep vein thrombosis, can increase after surgery. To minimize this risk, patients are encouraged to engage in light walking and follow their surgeon's recommendations for activity levels.
Poor Wound Healing: In some cases, the incision site may not heal well, leading to prolonged recovery or the need for additional interventions. Factors such as smoking, poor nutrition, and certain medical conditions can contribute to poor wound healing.
Scarring: While the incision for a Mini Tummy Tuck is usually well-concealed, scarring is still a potential risk. The extent of scarring can depend on individual healing factors and the surgeon's technique.
Changes in Skin Sensation: Temporary or permanent changes in skin sensation, such as numbness or tingling, may occur around the incision site or in the lower abdomen.
Asymmetry: There is a possibility of minor asymmetry in the abdominal area following the procedure. This can result from uneven healing, swelling, or pre-existing asymmetry.
Unsatisfactory Results: In some cases, patients may be unhappy with the aesthetic outcome of the surgery, which could necessitate additional procedures for revision.
Anaesthesia Risks: As with any procedure involving anaesthesia, there are potential risks, including allergic reactions or complications related to the anaesthesia itself.
Can a Mini Tummy Tuck Be Combined With Other Procedures?
Yes, a Mini Tummy Tuck, or partial abdominoplasty, can be combined with other procedures to address multiple cosmetic concerns or enhance the overall results. Some common procedures that can be performed alongside a Mini Tummy Tuck include:
Liposuction: This procedure can be used to remove stubborn pockets of fat from various areas of the body, such as the hips, thighs, or upper abdomen. Combining liposuction with a Mini Tummy Tuck can provide a more comprehensive body contouring result.
Breast Surgery: Patients may choose to undergo breast augmentation, breast lift, or breast reduction surgery in conjunction with a Mini Tummy Tuck to address concerns related to both the abdominal and breast areas, achieving a more harmonious body appearance.
Lower Body Lift: For patients with excess skin and fat in the lower body, including the buttocks and thighs, a lower body lift can be combined with a Mini Tummy Tuck to address these concerns simultaneously.
Mummy Makeover: A Mummy Makeover is a combination of procedures designed to address changes in a woman's body after pregnancy and childbirth. A Mini Tummy Tuck can be part of a Mummy Makeover, which may also include breast surgery, liposuction, and other rejuvenating procedures.
Combining a Mini Tummy Tuck with other procedures can offer several advantages, including reduced overall recovery time, cost savings, and a more comprehensive transformation.
Mini tummy tuck surgeons
At Centre for Surgery, our experienced plastic surgeons perform many mini tummy tuck procedures each year and are recognised as some of the most experienced and expert tummy tuck surgeons in London, UK. Our treatment philosophy has always been to ensure that patients achieve a balanced and natural looking outcome whilst making sure the procedure is carried out with all the recommended safety precautions to minimise risks and complications.
Our surgeons have gone above and beyond to make sure the mini tummy tuck procedure generates fantastic results with the lowest risk profile. The "no-drain" tummy tuck has now become a reality thanks to expertise in the "progressive tension abdominoplasty". The drain free mini tummy tuck utilises progressive tension sutures to ensure optimum comfort and maximum safety for patients undergoing a mini tummy tuck surgery.
Many patients in London have dreamed for many years of achieving a flat and contoured abdomen and our surgeons at Centre for Surgery in London have helped to transform countless lives. It is very common for patients to feel anxious about undergoing what can be a major surgical procedure such as abdominoplasty. Your surgeon will take time at consultation to fully assess you with the taking of a full medical history and physical examination. Time will be taken to explain what is involved in the mini tummy tuck procedure and the kind of results that can be attained. Adopting a customised approach to care helps to minimise apprehension and ensure your surgeon can deliver highly desirable results after your mini abdominoplasty.
How Much Does a Tummy Tuck Cost?
The cost of a mini tummy tuck depends on the number of factors and every patient is different. Your treatment goals will also determine the exact type of procedure to be carried out. The cost of your procedure is inclusive of anaesthesia fees, the day surgery facility, specialist surgical items and nursing costs. Your preoperative and postoperative nursing care is also covered. When you book a consultation to see one of our surgeons, your dedicated patient coordinator will be able to give you a clear idea of the approximate cost associated with a mini tummy tuck. At your face-to-face consultation, your surgeon will accurately determine your treatment plan. You will then see your patient coordinator, who will generate a treatment quotation.
Many patients are keen to undergo cosmetic surgery with the help of finance. We are pleased to offer an excellent range of finance options through our finance partner Chrysalis Finance. We accept many different forms of payment and work with Chrysalis Finance to make flexible financing plans available to those who would like to pay for their procedure on a finance plan.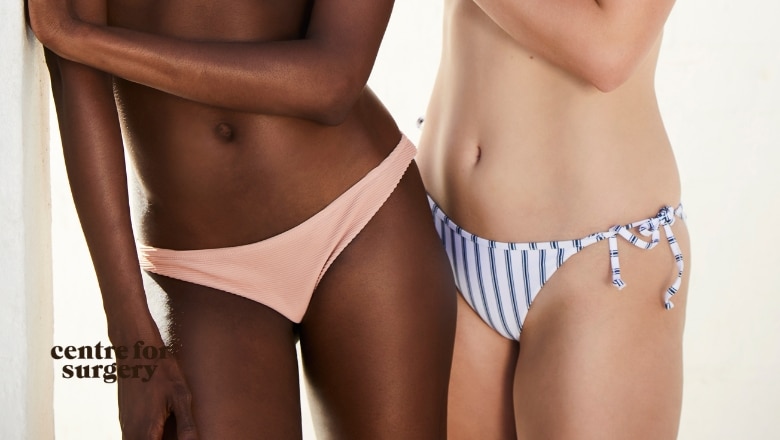 Mini Tummy Tuck at Centre for Surgery in London
At Centre for Surgery, our primary focus is on providing the highest quality care and exceptional results for our patients undergoing a Mini Tummy Tuck or any other cosmetic procedure. There are several reasons why choosing Centre for Surgery for a Mini Tummy Tuck is an excellent decision:
Experienced Surgeons: Our team of board-certified plastic surgeons specializes in various cosmetic procedures, including Mini Tummy Tucks. Their extensive training, experience, and expertise ensure that you receive personalised care and the best possible outcome.
State-of-the-Art Facilities: Centre for Surgery is equipped with modern, cutting-edge technology and facilitiesat our Baker Street clinic to ensure patient comfort and safety during every step of the process, from consultation to recovery.
Comprehensive Consultation Process: We take the time to thoroughly understand your needs and concerns during the consultation process. This enables us to create a tailored treatment plan that addresses your unique goals and expectations.
Patient-Centred Care: We prioritise patient satisfaction and well-being, providing personalised care and support throughout the entire process. Our dedicated team is always available to answer questions, address concerns, and ensure a comfortable and positive experience.
Safety and Accreditation: Centre for Surgery maintains the highest standards of safety and adheres to stringent protocols and guidelines. Our facility is accredited by the Care Quality Commission, ensuring that we meet or exceed all safety and quality requirements.
Transparent Pricing: We provide clear and transparent pricing for all our procedures, with no hidden fees or surprises. This ensures that our patients can make informed decisions about their treatment options.
Postoperative Care and Support: At Centre for Surgery, we understand the importance of comprehensive aftercare following your Mini Tummy Tuck. Our team remains committed to supporting you throughout your recovery, with follow-up appointments and easy access to our team for any questions or concerns.
Exceptional Results: Our surgeons' skill and experience, combined with our commitment to patient care and satisfaction, result in exceptional outcomes for our Mini Tummy Tuck patients. Our goal is to help you achieve the desired appearance and boost your confidence.
Choosing Centre for Surgery for your Mini Tummy Tuck procedure ensures that you receive the highest level of care and support throughout your journey, from initial consultation to full recovery. Our team is dedicated to helping you achieve your aesthetic goals while prioritising your safety, comfort, and satisfaction.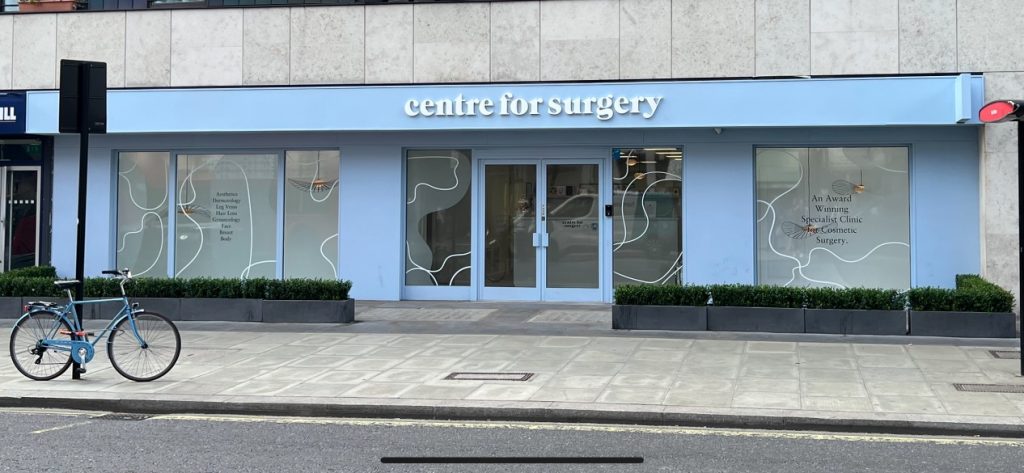 Amazing from start to finish, the communication was the main thing was fully informed and looked after, on the day of my breast augmentation, the staff were fab and made me feel at ease through out the whole process. Thank you so much.
Mohammed Farid
18/11/2021
I've had such a great experience with excellent advice, care and attention and surgical treatment (gynaecomastia) - I can fully endorse the treatment I have received from Centre for Surgery with absolutely no qualms at all. Brilliant in every way - thank you all so much.
Caroline Thorpe
14/11/2021
Very pleased with my whole experience of having a procedure. Was so nervous about getting treatment and i was reassured and felt so comfortable throughout thanks to the amazing nurses. I definitely made the right decision to have breast augmentation at centre for surgery with dr erel.
Melissa Briggs
08/11/2021
So glad I went with centre for surgery, the whole process went very smoothly from the consultations down to the actual day of the procedure. I was so nervous on the day but the whole team put me at ease and I'm happy with my results as I feel a lot more comfortable wearing certain clothes now. My surgeon was Alberto Di Giuseppe who performed a breast Augmentation on me, and I would definitely recommend as he was very clear on what the outcome of the surgery would be and which size would look the best for my frame.
Couldn't be happier with Dr Tillo work,i had my breast surgery one week ago and so happy with the results so far,all the staff are extremely nice and very supportive,i would definitely recommend their services,thank so much
From start to the finish everything was perfect for tummy tuck surgery. All staff is very friendly and the aftercare has been good. The Doctor and the nurse team was fantastic. I'm so happy...result is amazing. Thank you!!!
This was overall a great experience, all the staff at Centre for Surgery were friendly and put me at ease. It is a nerve wracking thing to go through an op but the staff were so nice. Mr Ertan has got a great team around him. On the day of the operation everything went smoothly to plan, there was no delay or holdups, I had another consultation with Mr Ertan who confirmed what was going to be done and that I was still happy to proceed. I was prepped for the procedure, I met with the anaesthetist who again was really nice and put me at ease explaining his role. After the procedure I woke up with the nurse by my side making sure I was OK and checking on me, I was able to stay in the clinic until I was ready to leave and was not rushed at all. I was well looked after from the start to the point when I was discharged. Post operation I was staying at a local hotel it was so close there was no point in even getting a taxi and I was able to walk back where my partner was waiting for me. I was expecting a lot of bruising to both my eyes but there was very little if any by the time the cast came off after 7 days, I am now at the two week post operation point and it is healing well with no outwardly visible bruising or scaring. The next milestone is a checkup at the 6 week point with my surgeon. If you're thinking of having something like this done I would highly recommend getting in touch with Centre for Surgery.
The staff at Centre for Surgery were very kind and accommodating. They answered any questions I had about the procedure and were constantly checking up on me. A special thank you to Christina for all her support throughout.
I would just like to state the quality of care received from the nurses at Centre for Surgery was beyond the highest level. Sophie takes her patient care to another level beyond words. She always puts me at ease. She is there for me even at awkward hours just when I mostly needed reassurance and she is one of the most compassionate nurses I have come across and demonstrates her passion naturally for caring for others. She totally deserves recognition at its finest and thank you for always being there for me. 😍
FAQs
What is a mini tummy tuck?

A mini tummy tuck focuses on the surgical removal of redundant skin and residual fat situated beneath the umbilicus or belly button to properly contour the lower abdomen. If required, the parted abdominal muscles below the umbilicus can also be surgically reconstructed for adequate tightening. Compared with a full tummy tuck, a mini tummy tuck does not involve
repositioning the belly button. Mini tummy tuck surgery results in the formation of just one visible scar across the abdomen's lower aspect. It is often compared in size to that of a C-section scar and is easily concealed in common clothing items.

For patients who are not suitable candidates for a full tummy tuck, a mini tummy tuck, also known as a mini-abdominoplasty, can be an ideal treatment option. Mini tummy tucks are typically most commonly performed in younger women with a lean body shape and localised skin laxity. The procedure is highly effective at treating localised areas of the lower abdomen in those who have lost only small amounts of weight in slimmer individuals. A mini tummy tuck can effectively treat the post-pregnancy pouch that often develops following pregnancy and cannot be treated by diet and exercise. A mini-abdominoplasty is also ideal for patients who have previously had a C-section delivery and have a prominent mound of skin that remains above the C-section scar and may be noticeable through fitted clothing.

Although a full tummy tuck is preferable for most patients, a mini tuck is still beneficial for patients keen to target localised areas of abdominal laxity.


If you want to tighten the lower abdomen and remove excess fat, then a mini tummy tuck can be a powerful and permanent solution to address these changes. As with all types of body contouring surgery, it is crucial to maintain a sensible diet and exercise program to maintain a healthy weight.

At the Centre for Surgery, our surgeons are experts in performing a Brazilian abdominoplasty and will utilise similar techniques when carrying out the mini tummy tuck. The procedure often involves a combination of liposuction with the mini tummy tuck.

What does a mini tummy tuck involve?

A mini tummy tuck procedure is less invasive with smaller incisions, and in most cases, the umbilicus is not repositioned. Mini tummy tuck surgery involves the adequate release of skin extending from the lower abdominal incision to the umbilicus. This skin flap is then stretched inferiorly, and any excess skin is carefully trimmed. The abdominal skin flap is then carefully sutured into its new tighter position. Mini tummy tuck surgery takes, on average, between 1 to 2 hours. The procedure can generate excellent outcomes for patients considering an abdominoplasty to remove excess redundant skin. Patients can look forward to long-lasting results if they maintain a sensible diet and exercise program to maintain a stable weight over time.

How long to recover from a mini tummy tuck?

Recovery time after a mini tummy tuck can vary depending on the individual patient's circumstances and the extent of the procedure. A mini tummy tuck is less invasive than a full tummy tuck, which typically requires a longer recovery period. However, it's important to note that every patient's recovery is unique, and there are several factors that can impact the duration of the recovery period.

After a mini tummy tuck, patients typically experience some discomfort and swelling for the first few days after the procedure. Most patients are able to return to work and other regular activities within 1-2 weeks, depending on the nature of their job and their individual healing process. However, patients should avoid strenuous exercise and heavy lifting for at least 6 weeks to allow their body to heal properly.

It's important to follow the postoperative instructions given by your surgeon, which may include wearing a compression garment, taking prescribed medications, and attending follow-up appointments to monitor your progress. By following these instructions and taking proper care of yourself during the recovery period, you can help to ensure that your healing process progresses as smoothly as possible. Your surgeon will be able to provide you with specific guidance regarding your individual recovery time after a mini tummy tuck.