What is Mini Tummy Tuck?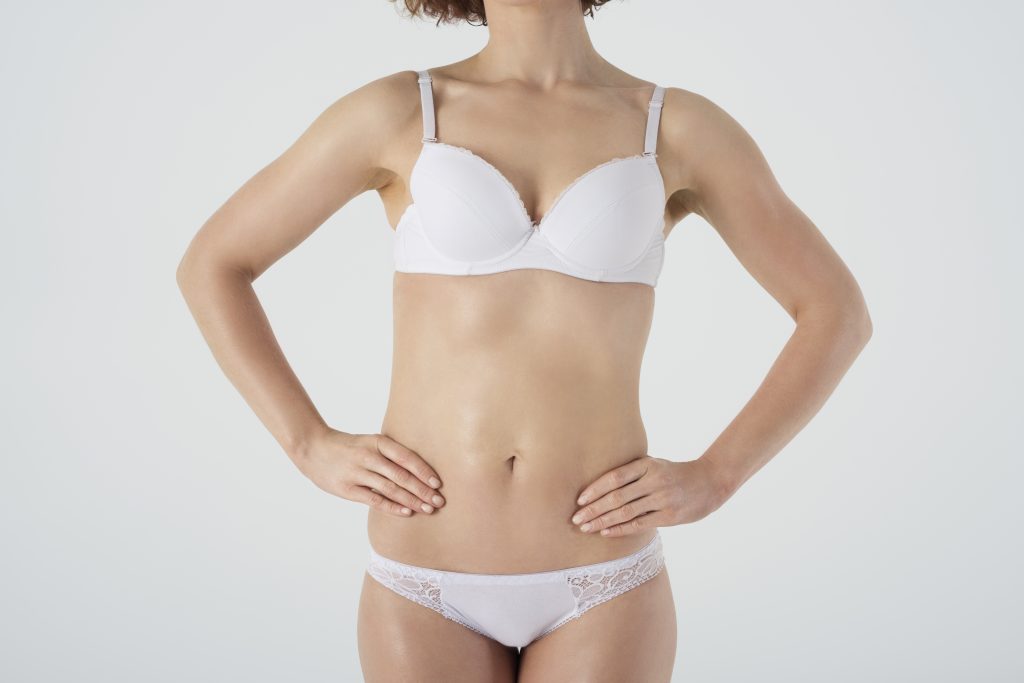 Mini tummy tuck surgery is an ideal surgical procedure for patients that require only a small amount of skin removal and body contouring to achieve a flatter and smoother abdomen. Compared with a mini tummy tuck, the full tummy tuck involves surgical removal of redundant skin and excess fat from both the lower and middle part of the abdomen combined with surgical reconstruction of the abdominal wall muscles, also known as rectus plication.
RELATED: Tummy Tuck FAQs – Q&As about Abdominoplasty Surgery
For many women who are often slimmer and with milder degrees of skin and abdominal laxity, then a tightening of the abdominal wall musculature is often not required. The incision of a mini tummy tuck is significantly shorter than that of a full tummy tuck and is a smaller surgical procedure with a quicker recovery period. However, a mini tummy tuck is not a complete replacement for a full tummy tuck. Most women and men may still need a full tummy tuck for full correction of abdominal laxity and muscle weakness.
A mini tummy tuck procedure is less invasive with smaller incisions, and in most cases, the umbilicus is not repositioned. Mini tummy tuck surgery involves the adequate release of skin extending from the lower abdominal incision to the umbilicus. This skin flap is then stretched inferiorly, and any excess skin is carefully trimmed. The abdominal skin flap is then carefully sutured into its new tighter position. Mini tummy tuck surgery takes, on average, between 1 to 2 hours. The procedure can generate excellent outcomes for patients considering an abdominoplasty to remove excess redundant skin. Patients can look forward to long-lasting results if they maintain a sensible diet and exercise program to maintain a stable weight over time.
Mini tummy tuck surgeons
At Centre for Surgery, our experienced plastic surgeons perform many mini tummy tuck procedures each year and are recognised as some of the most experienced and expert tummy tuck surgeons in London, UK. Our treatment philosophy has always been to ensure that patients achieve a balanced and natural looking outcome whilst making sure the procedure is carried out with all the recommended safety precautions to minimise risks and complications.
Our surgeons have gone above and beyond to make sure the mini tummy tuck procedure generates fantastic results with the lowest risk profile. The "no-drain" tummy tuck has now become a reality thanks to expertise in the "progressive tension abdominoplasty". The drain free mini tummy tuck utilises progressive tension sutures to ensure optimum comfort and maximum safety for patients undergoing a mini tummy tuck surgery.
Many patients in London have dreamed for many years of achieving a flat and contoured abdomen and our surgeons at Centre for Surgery in London have helped to transform countless lives. It is very common for patients to feel anxious about undergoing what can be a major surgical procedure such as abdominoplasty. Your surgeon will take time at consultation to fully assess you with the taking of a full medical history and physical examination. Time will be taken to explain what is involved in the mini tummy tuck procedure and the kind of results that can be attained. Adopting a customised approach to care helps to minimise apprehension and ensure your surgeon can deliver highly desirable results after your mini abdominoplasty.
How much does a mini tummy tuck cost?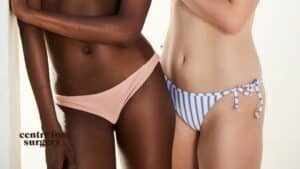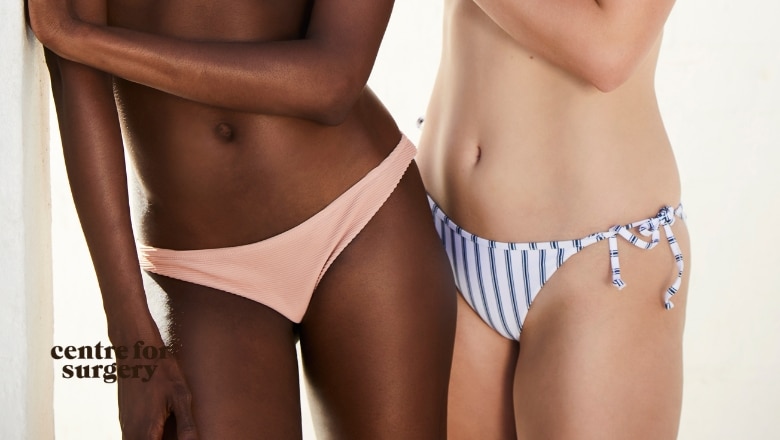 The cost of a mini tummy tuck depends on the number of factors and every patient is different. Your treatment goals will also determine the exact type of procedure to be carried out. The cost of your procedure is inclusive of anaesthesia fees, the day surgery facility, specialist surgical items and nursing costs. Your preoperative and post-operative nursing care is also covered. When you book a consultation to see one of our surgeons, your dedicated patient coordinator will be able to give you a clear idea of the approximate cost associated with a mini tummy tuck. At your face-to-face consultation your surgeon will accurately determine your treatment plan. You will then see your patient coordinator who will generate a treatment quotation.
Many patients are keen to undergo cosmetic surgery with the help of finance. We are pleased to offer an excellent range of finance options through our finance partner Chrysalis Finance. We accept many different forms of payment and work with Chrysalis Finance to make flexible financing plans available to those who would like to pay for their procedure on a finance plan.
The Centre for Surgery method
Step 1: The consultation
Consultations for cosmetic surgery are always free. This is an opportunity for us to get to know you and your objectives for treatment. Our practitioners will then share their expertise and expert recommendations based on more than 20 years of clinical experience, and thousands of satisfied patients.
Step 2: The procedure
Our clinical support team will guide you through all the steps to make you feel fully prepared and confident that you'll achieve an excellent outcome because our practitioners and surgeons are nationally recognised as leaders in the field. Advanced day surgery anaesthetic techniques mean you'll feel less groggy and able to return home later the same day.
Step 3: The follow-up
Our post-operative nursing team phones all patients the day after their procedure. The vast majority find any discomfort to be extremely manageable thanks to local anaesthetic techniques. Our post-operative nurse will guide you through every step of your recovery and be on hand to answer any questions you may have.
FAQs
What is a mini tummy tuck?

A mini tummy tuck focuses on the surgical removal of redundant skin and residual fat situated beneath the umbilicus or belly button to properly contour the lower abdomen. If required, the parted abdominal muscles below the umbilicus can also be surgically reconstructed for adequate tightening. Compared with a full tummy tuck, a mini tummy tuck does not involve
repositioning the belly button. Mini tummy tuck surgery results in the formation of just one visible scar across the abdomen's lower aspect. It is often compared in size to that of a C-section scar and is easily concealed in common clothing items.

For patients who are not suitable candidates for a full tummy tuck, a mini tummy tuck, also known as a mini-abdominoplasty, can be an ideal treatment option. Mini tummy tucks are typically most commonly performed in younger women with a lean body shape and localised skin laxity. The procedure is highly effective at treating localised areas of the lower abdomen in those who have lost only small amounts of weight in slimmer individuals. A mini tummy tuck can effectively treat the post-pregnancy pouch that often develops following pregnancy and cannot be treated by diet and exercise. A mini-abdominoplasty is also ideal for patients who have previously had a C-section delivery and have a prominent mound of skin that remains above the C-section scar and may be noticeable through fitted clothing.

Although a full tummy tuck is preferable for most patients, a mini tuck is still beneficial for patients keen to target localised areas of abdominal laxity.


If you want to tighten the lower abdomen and remove excess fat, then a mini tummy tuck can be a powerful and permanent solution to address these changes. As with all types of body contouring surgery, it is crucial to maintain a sensible diet and exercise program to maintain a healthy weight.

At the Centre for Surgery, our surgeons are experts in performing a Brazilian abdominoplasty and will utilise similar techniques when carrying out the mini tummy tuck. The procedure often involves a combination of liposuction with the mini tummy tuck.