Liposuction breast reduction in London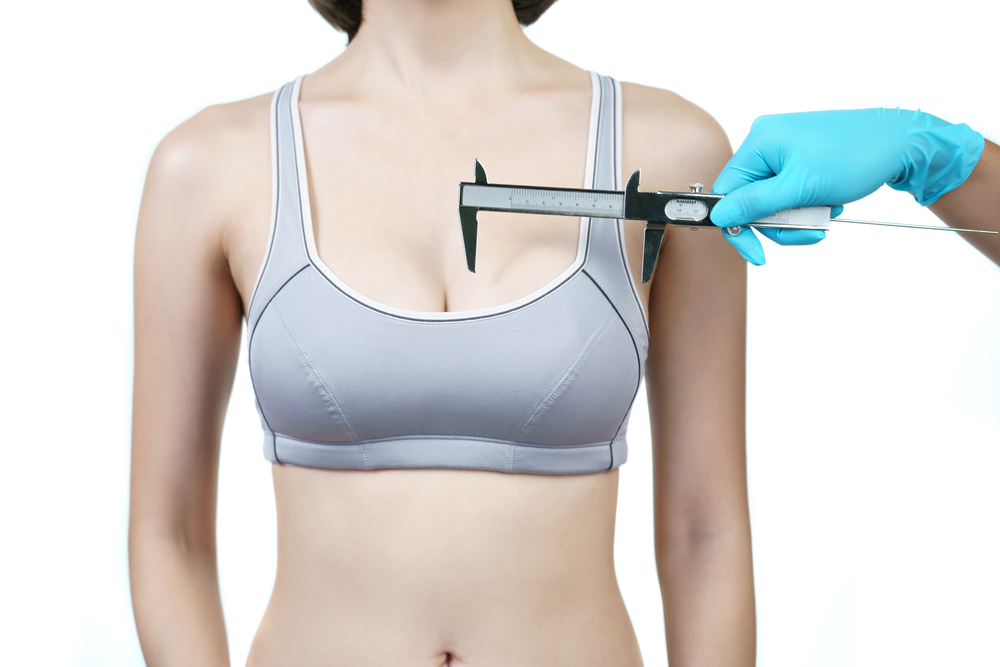 Liposuction has become the most common body contouring procedure in cosmetic surgery over the past two decades. Liposuction has increased in its safety and effectiveness which has increased its popularity. Before liposuction, the only method of fat removal was through surgical removal which was associated with significant blood loss and prominent scarring. Liposuction is a minimally invasive method of removing fat deposits with minimal scarring.
Many surgeons note during traditional breast reduction that the breasts of many women with mammary enlargement are predominantly fatty in nature. Despite this fact, liposuction as a main method to reduce large breasts has been slow to gain acceptance as a valid treatment option. Many plastic surgeons have previously believed that using liposuction to reduce large breasts could increase the risk of breast ptosis or dropping. Traditional breast reduction is accompanied with tightening of the breast skin at the expense of an increased scar burden. Liposuction results in the ability of surgeons to reduce large breasts without significant scars. Liposuction breast reduction also allows for a much quicker recovery compared with traditional surgical breast reduction and with less complications. Liposuction breast reduction is not for everyone but understanding the pros and cons of breast reduction with liposuction will allow many patients to benefit than was previously the case.
Many women dislike their larger breasts and therefore consider breast reduction surgery (mammoplasty). In some instances, they will cause physical pain including back and neck pain. For others, they appear out of proportion to the rest of their body. Many may find them aesthetically unappealing and have trouble finding a bra and clothing which will fit properly and comfortably.
For women who not wish to continue to have larger breasts, you may wish to undergo a breast reduction. However, there are other options than a surgical breast reduction. You can also opt to have a breast reduction with liposuction for smaller degrees of breast reduction which avoids the scars of traditional breast reduction surgery.
Always check that your surgeon is on the GMC specialist register for plastic surgery before proceeding with a consultation. All our surgeons are fully accredited plastic surgeons and only perform procedures in CQC regulated facilities. Our clinic at 106 Crawford Street was recently inspected and rated as good across all 5 domains. The Royal College of Surgeons of England has an excellent information resource on cosmetic surgery.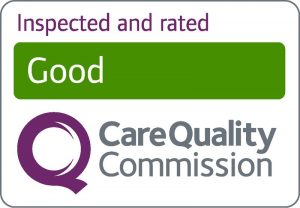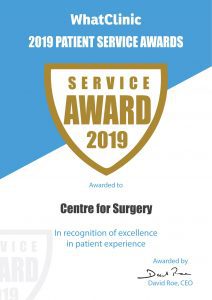 What is included in my treatment package?
As many preoperative consultations with your surgeon as you like to make sure the liposuction breast reduction procedure is right for you
Treatment at a specialist day surgery facility recently rated 'Good' by the CQC
Enhanced same day discharge with the added benefits of recovering in your own home
24/7 clinical support from your surgeon for first 48 hours and our expert postoperative support team
Your very own dedicated patient coordinator
In-depth preoperative medical assessment to make sure you are fully fit for your procedure
Exceptionally high standards of postoperative care described as 'outstanding' by the CQC with regular telephone and face to face checks
RealSelf Top Doctors for liposuction breast reduction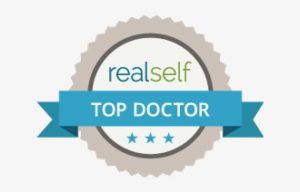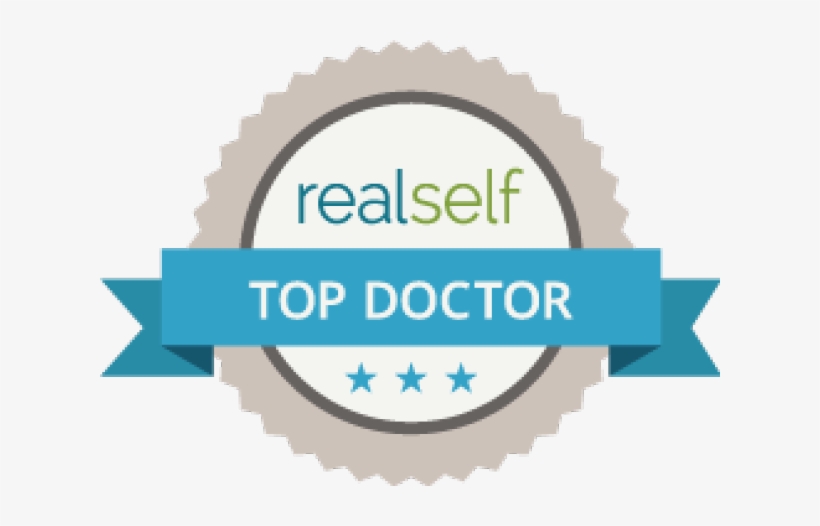 RealSelf top doctor status is awarded to less than 10% of the RealSelf doctor community.  This status is earned by achieving consistently high patient satisfaction (from RealSelf reviews), getting excellent feedback on expert answers to patient questions, and after investing significant time in Q&A and other doctor activity. RealSelf top doctors are rated among the very best surgeons in the United Kingdom and USA.
Expected results with liposuction breast reduction
Traditional breast reduction surgery involves numerous incisions which allow the surgeon to excise the skin and remove excess breast tissue and fat. However, many women do not wish to undergo such an invasive procedure, particularly one that will leave prominent, visible scars on the breast.
Fortunately, breast reduction with liposuction is a suitable alternative. This option involves smaller incisions and a quicker recovery time. This procedure is treated as an outpatient surgery, meaning you will be able to leave the same day as the procedure.
Verified
I had a BBL with Dr Omar Tillo, and the results have far surpassed my expectations! I'm so pleased with it and my recovery went well with no problems. His body contouring skills are genius! The whole process was very easy and the aftercare was great. Everyone was friendly, welcoming and made me feel at ease at the centre. My patient coordinator Carolyn was brilliant too!
Rosanna Purkiss
27/04/2021
Verified
I can't say how amazing the whole experience was with Centre for Surgery. Such a calming place and they really looked after me. The consultation was very thorough and went through everything for my nipple inversion correction. I felt comfortable with every step. The day of the surgery was of course nerve racking but was quickly put at ease. Had great music on in the theatre which relaxed me and it was so quick with no pain during or after. I was called everyday for a week after the surgery to go through any concerns and red flags which was great. The people are so lovely and I can't recommend this procedure enough and this place! Best money I've spent on myself and very glad I did it with Centre or Surgery. Thank you!!
Verified
I had an excellent experience with the Centre for Surgery. I had my questions answered by the friendly patient coordinator and was able to book a consultation with the surgeon in a timely manner. The procedure was explained and my expectations were discussed. I had a brilliant result and smooth recovery following my surgery!
Verified
Amazing, exceptional, professional and quality service! From the initial request for more information until the day of procedure and after the procedure. The constant calls and emails from the team made me feel as if I was relevant and showed me that my business was important to them. Dr. Mitakos, Carolyn, Samira and Natalie (recovery nurse) OUTSTANDING, OUTSTANDING, OUTSTANDING!!! Dr. Mitakos was thorough and made sure to be honest about the procedure and my results. It's been a week post-op and I'm in love! Even with swelling in some areas!! I couldn't have asked for a better Dr. He was very professional, kind and genuine. Carolyn, Samira and Natalie are angel sent! They were so kind, caring and ensured that I was well taken care of days leading up to the surgery, on the day of surgery and during recovery. I would recommend Centre for Surgery to anyone who wants to get surgery to feel better about themselves.
Verified
Well where do I begin. So I am 6week post surgery and I couldn't be happier with my results. I done endless research on the procedure I wanted doing and where is best in England and Centre for surgery was the strongest contender and I felt super confident in the reviews and before and after photos they have online. So my journey started when I emailed centre for surgery for more information about liposuction and fat transfer with Dr Antonios Mitsakos. I then was contacted by Yasmin, she called me for a chat about what I'm after and to discuss options etc. She was incredible with getting my consultation and day of surgery booked as soon as she could and was on the end of the phone with any questions you had any time of day. As a first point of call Yasmin set a very high standard for the company and I was confident in my choice. I went for my consultation with Dr Antonios Mitsakos to discuss the procedure in much more depth, he went though all the risks, told me all the information I needed, we looked at my body to see if it's something he would be happy to do for me and went through all the aftercare I would need to do as well. We went through my medicals and talked about previous surgery I already had. He was so professional so informative that I literally wanted the surgery there and then. I left super happy and excited for my surgery date that was booked in. Before my surgery date I got phone call to go through all the paperwork and guidelines I had to follow and all the prep I needed to do before hand, I was told what garments were best to purchase and all the necessary bits I needed to by prior to the day. That support team were amazing and also answered any questions I had. So the day of my Surgery came and I was so calm but excited because I felt my care already had been great so I knew I was in safe hands. I had my nurse meet me to go through all medicals again, she helped me get prepared and dressed for the op and get everything ready. I then met my anaesthetist to also went through my medicals and asked all the relevant questions, gave me my pre meds and told me what he will be doing. I was super confident and he was very reassuring. Then Dr Antonios Mitsakos had my final chat before surgery checking everything through with me, confirming what he was going to do and where he was removing the unwanted fat and where he was going to transfer it too. He made me feel super comfortable and confident that I was in the right hands. I went into that theatre room a woman so unhappy with her body and when I woke up I was a new woman physically and mentally. Every single day for 2 weeks after my op I had a phone call to check in that I was doing ok and if I have any issues or concerns. The support team were absolutely amazing. I've just had my 6 week post op appointment with Dr Antonios, he again showed me my before photos and took new after photos and honestly the results are unreal. He has given me the body confidence I have never ever had and I can't thank him enough for his amazing skills and the transformation he has achieved. Thankyou so much to all of you that looked after me though out this whole procedure and a special Thankyou to Dr Antonios for changing my confidence, my body and my life. I'll be back again for more.
Verified
The service has been so far excellent and is highly recommended to anyone.
Adebimpe Adewoyin
04/02/2021
Verified
I had 360 Liposuction and BBL with centre for surgery 11/01/2021. I found centre for surgery by searching online. My consultation was booked with Dr. Tillo, the procedure was explained to me thoroughly including the risks, the clinic is beautiful and very clean. I received the best care I could think of on the day of my surgery, the staff were very friendly and caring, the surgery went well and the result was amazing! My recovery was very quick too with no complications. I am very happy with the follow up and after care. I would highly recommend centre for surgery.
Ideal candidates for liposuction breast reduction
Breast reduction with liposuction may sound appealing, but it may not be a suitable procedure for all women.
This procedure will be suitable for those who:
Do not require a breast lift

Do not require a large amount of fat and tissue to be removed

Would like less visible scarring

Are in their 40s or above
Those who are in their 20s or 30s may not be suitable candidates. Breast reduction by liposuction removes fat from the breasts, which is more apparent in women who are older. This is because breast tissue becomes replaced with fat as we naturally age. Therefore women in their 20s and 30s will not have much fat to remove but will have more breast tissue. Women in this age group who would like a breast reduction may wish to choose the surgical options.
If you are considered to be a normal candidate, you may be interested in what finance we have available.
Preparation for breast reduction with liposuction
At Centre for Surgery, we strongly believe that the success of any procedure including liposuction breast reduction can be improved with proper patient preparation. We strive to go above and beyond to make sure that all our patients are prepared as well as possible for surgery – physically, mentally and emotionally.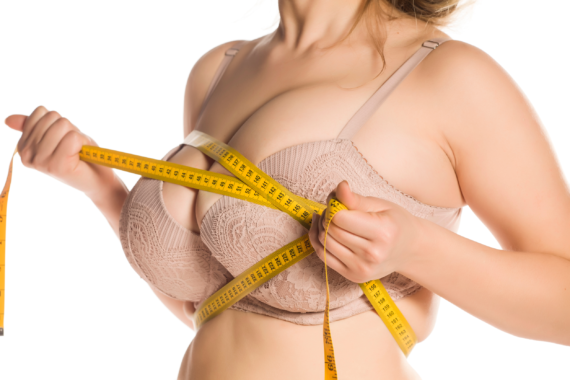 Before your breast reduction, you will need to:
Stop smoking

 a few weeks before your surgery

Avoid taking blood-thinning medication, aspirin and herbal supplements

Undergo a medical evaluation

You may need to have a baseline mammogram to detect any future changes in breast tissue
What tests may I need before surgery?
Scheduling a Mammogram prior to your breast reduction with liposuction
A mammogram is an x-ray examination which may be performed before or after your procedure to identify any changes to breast tissue. If you have a personal or family history of breast cancer or any other risk factors for breast cancer, your surgeon may recommend a baseline mammogram to be be done before your procedure.
Before having a breast reduction with liposuction, you will be required to attend a consultation with the surgeon. They will be able to assess whether or not you are an appropriate candidate for this procedure, or whether you would benefit from surgical breast reduction. The surgeon may also warn about the risks of travelling abroad for cosmetic surgery.
The liposuction breast reduction procedure
Surgical breast reduction generally involves incisions around the areolas and down to the breast crease, which allows the excess skin and tissue to be excised.
However, breast reduction with liposuction involves far smaller incisions. The surgeon will make two small incisions at the crease of the breasts. These will only be about one millimetre long. This allows for a small cannula to be inserted, which sucks out the excess fatty tissue. The removal of the excess fat from the breasts allows the elastic skin and tissue to retract, creating a natural breast lift.
Nerves and blood vessels will be maintained during the procedure. Breast reduction with liposuction will also be able to fix any asymmetry problems experienced prior to surgery.
Recovery after liposuction breast reduction
As opposed to a surgical breast reduction, you will have a quicker recovery time with liposuction breast reduction.
You may still experience some swelling and bruising where the incisions have been made. You may wish to take pain medication or apply ice packs to the area to help reduce swelling.
You will be given a compression garment which you will need to wear during the recovery period. This will help to reduce swelling and keep your breasts in the best possible shape.
The scars where the incisions were made may be more visible straight after surgery, however, with time they will fade and will no longer be noticeable.
Liposuction breast reduction before and after
Case 1:
36 year old Caucasian female 38DDD cup bra. After result with 38C cup bra. 940ml was removed from each breast.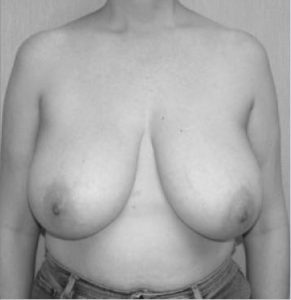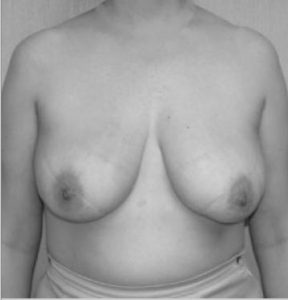 Case 2:
26 year old Afro-Caribbean female 38DD cup bra. After result with 38C cup bra. 800ml was removed from each breast.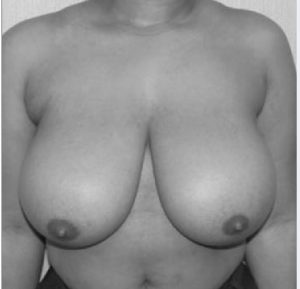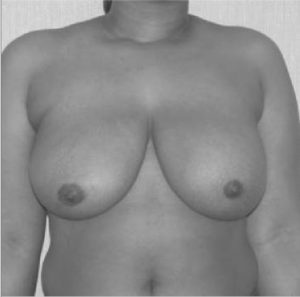 Case 3:
54 year old Caucasian female 38DD cup bra. After result with 36C cup bra. 800ml was removed from each breast.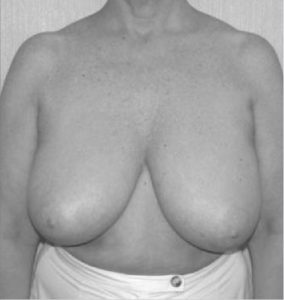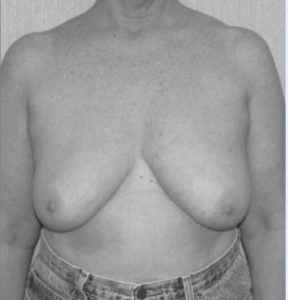 What To Expect
The consultation
When you have a consultation with your surgeon, a number of measurements are taken of the body areas where fat is to be removed and an assessment will be made of the soft tissue quality in the breasts. Those who have good skin elasticity then you will be a good candidate for liposuction breast reduction. Your surgeon has is skilled in all types of liposuction including power assisted liposuction and the most appropriate choice will be made based on your physical examination. The surgeon will also give information on the location of the small incisions in the breast for the liposuction and also whether the liposuction is to be combined with another procedure.

High-resolution photos will be taken and your surgeon may also use computer digital imaging. Your surgeon will take time to discuss the important risks and potential complications of liposuction breast reduction surgery and what you can expect in the postoperative period.

The surgeon will also take a full medical history which includes previous operations, current list of medicines taken and any potential allergies. This information will be used to decide on your fitness for the liposuction breast reduction procedure. If you are deemed to be a suitable candidate for surgery then we would recommend to spend a period of time to reflect on all the information given. We always recommend a minimum of a '2 week cool off period' for to weigh up your options.

All our prospective patients are more than welcome to have as many follow-up consultations after their initial consultation to make sure you are fully empowered with all the information to make an informed decision for proceeding with liposuction breast reduction at Centre for Surgery.