Tear Trough Filler in London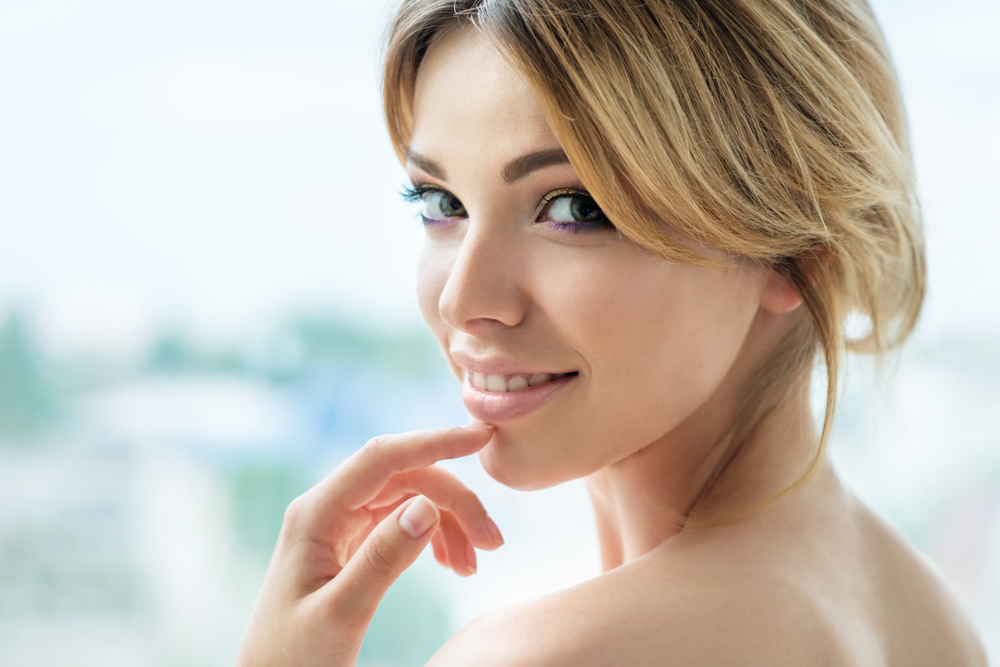 Tear trough filler or under eye filler, also known as tear trough correction and tear trough injections is a commonly performed anti-ageing treatment at Centre for Surgery in London. The tear trough area is the inner part of the lower eyelid and is also known as the naso-jugal groove. With ageing, the amount of fat gradually decreases in the the lower eyelid and adjacent upper cheek region. A loss of collagen and elastin cause the skin and muscles in the lower eyelid to lose their underlying structural support. Eventually the changes caused by loosening of the soft tissue attachments cause the tear trough area to become swollen and protruding in appearance. With prolapse of the underlying tissues, the formation of eye bags occurs. Dark shadows develop and these can give rise to the appearance of dark circles under the eyes. Despite the use of make-up, the face can still appear tired. The use of dermal fillers to rejuvenate the tear trough region is a highly effective treatment for facial rejuvenation in both men and women.
Expected Results after Tear Trough Injections
Reduced appearance of dark circles under the eyes
Reduced hollow appearance beneath the eyes
Reduced appearance of eyebags
A more refreshed and revitalised appearance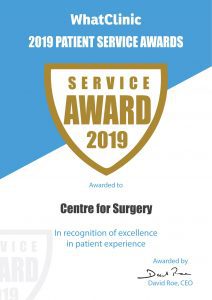 RealSelf Top Doctors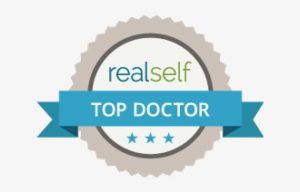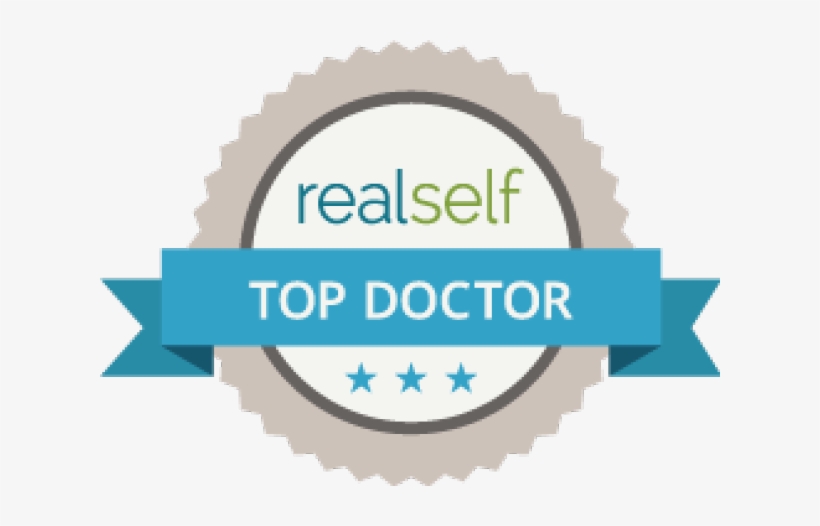 RealSelf top doctor status is awarded to less than 10% of the RealSelf doctor community.  This status is earned by achieving consistently high patient satisfaction (from RealSelf reviews), getting excellent feedback on expert answers to patient questions, and after investing significant time in Q&A and other doctor activity. RealSelf top doctors are rated among the very best doctors in the United Kingdom and USA.
All our dermatologists and plastic surgeons are on the GMC specialist register. The Royal College of Surgeons of England has an excellent information resource on cosmetic surgery.
Our dermatology clinic at 106 Crawford Street was recently inspected and rated by the Care Quality Commission as good across all five domains of care.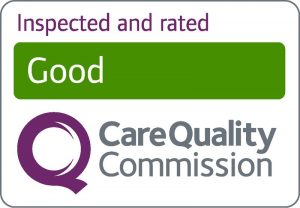 Benefits of tear trough treatment at Centre for Surgery in London
Only our aesthetic practitioners, dermatologists and plastic surgeons inject tear trough filler for maximum safety
Very quick 10-15 minute treatment
Non-invasive treatment with no need for surgery or general anaesthetic
No incisions or scars
Fast recovery with no downtime with no disruption to your normal daily routine
Natural looking results
CQC-regulated clinic based in London's top medical district in Marylebone, central London
Ideal candidates for tear trough fillers
Patients with moderate degrees of hollowness under the eyes. A lower blepharoplasty or eyebag removal procedure may be more suitable for those with severe hollowing of the lower eye area
Patients who would like to reduce the appearance of prominent dark circles beneath the eyes
Patients who germ constantly reminded by family and friends that they look permanently tired or that they are not getting enough sleep
Patients who do not take any medications that can increase the risk of bleeding such as aspirin or medicines containing aspirin
Tear trough filler Vs lower blepharoplasty
Tear trough filler despite its great effectiveness for mild to moderate degrees of hollowness, is not ideal for those with more severe degrees of tear trough deformity. In these cases, a surgical lower blepharoplasty or eyebag removal procedure may be more appropriate. The lower blepharoplasty is particularly effective for patients with significant soft tissue laxity of the lower eyelids and/or the lower eyelid muscles. The presence of festoons is also an indication for a lower blepharoplasty. Festoons are well defined pouches of skin that protrude in the cheek area underneath the lower eyelid and are related to the ageing process. Use of tear trough filler in this scenario would be ineffective, hence why we would always recommend to see a fully qualified dermatologist or plastic surgeon who can perform all treatments.
Under eye filler before and after: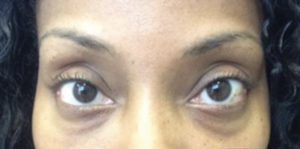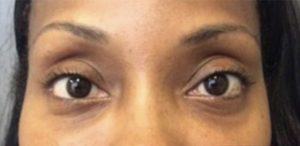 The key in under eye filler treatment is to be conservative with treatment and never to over-inject. It is always best to be seen 2 weeks later for a top-up treatment if it is required. Our protocol for all filler injections is to see all patients 2 weeks later for a clinical assessment of treatment effectiveness.
Tear trough injection technique
The area of skin between the upper cheek and lower eyelid is the recessed area known as the tear trough. The tear trough extends laterally and downwards into the cheek region. The ageing process results in tear troughs that become more prominent in both depth and width. The colour also changes to a darker shade. The expert placement of very small and targeted dermal filler containing hyaluronic acid in the tear trough area can lead to a smoothening of the tear trough deformity and this gives to rise to a more rejuvenated and youthful appearance.
Which are the best types of dermal fillers for tear trough correction?
The optimum hyaluronic acid (HA) dermal filler for tear trough correction is dependent on a number of factors including Fitzpatrick skin type, type of tear trough deformity and skin thickness and texture. Many of our dermatologists and plastic surgeons prefer to use Juvederm Volbella which is based on advanced Vycross technology and this is responsible for the uniform smoothness of the Volbella product which facilitates very accurate tear trough filler injections leading to more natural results compared with other commonly used  brands. Compared with Juvederm Ultra, Juvederm Volbella absorbs much less water and this allows for a more effective tear trough correction without the risk of excessive under eye swelling.
Sharp needle or blunt cannula for tear trough filler injection?
Blunt cannulas for tear trough correction differ from sharp needles in that the end of the cannula is rounded and is blunt to the touch. Blunt cannulas are often preferred for many tear trough filler treatments as there is a reduced risk of the blunt cannula piercing a blood vessel leading to a possible risk of inadvertent intravascular injection. The avoidance of injuring blood vessels means there is a lower chance of bleeding and bruising and less chance of complications arising from injecting fillers in blood vessels including the risk of tissue necrosis and in very rare cases, blindness. The use of precision designed cannulas for tear trough correction allows for injectors to reduce the number of times the skin has to be entered and this makes for a much more comfortable treatment and potentially smoother looking results.
Benefits of blunt cannula injection technique for tear trough filler
Reduced risk of bleeding and bruising
Less treatment discomfort due to less cannula entry points compared with the sharp needle technique
Reduced risk of intravascular injection causing tissue necrosis and even blindness
A much quicker recovery thanks to the advanced atraumatic cannula design making for more gentle injections
Despite the excellent safety profile associated with the blunt cannula tear trough filler technique, the traditional sharp needle method for filler placement is still used when extremely precise injection of smaller amounts of filler are required. In many patients with milder degrees of tear trough deformity, smaller amounts of filler using sharp needle will prevent potential overfilling which may occur with the blunt cannula method. Other applications for sharp needle technique including treatment of acne scars and treatment of the upper lip to create the Cupid's bow. The micro-droplet technique is an advanced method of filler placement only performed by highly experienced dermatologists and plastic surgeons for hyper accurate delivery of under eye filler and is commonly used at Centre for Surgery for tear trough correction. We would recommend a face to face consultation with an advanced injector expert to determine the best type of injection technique.
Preparation for tear trough treatment
The success of tear trough injections relies on the patient being properly prepared for the procedure in the weeks beforehand. Prior to the procedure, you will be required to stop certain products and medications and also reduce intake of certain foods that are high in alpha-omega 3.
Two weeks before tear trough injection
Patients should avoid fish, fish oil nuts or seeds or NSAIDS such as ibuprofen which have been shown to increase the risk of bleeding. Arnica tablets are very useful to help with reducing any post-injection bruising. Arnica tablets can be purchased over the counter from most pharmacies. If you are on any prescription medicines which are known to increase the risk of bleeding then these may need to be stopped before treatment. It is very important to speak with your GP before stopping any medicines and also to receive instruction on the best time to restart the medication. Patients on medicines which are vital for health should not stop their medicines in any circumstances. In this instance, having a tear trough filler procedure may not be appropriate. Patients with a history of cold sores will need to commence a preventive course of acyclovir prior to treatment. This is to ensure there is no flare-up of herpes virus infection. Your doctor will be able to prescribe this for you before treatment. Finally it is very important to read and understand the treatment consent form so you are fully familiar with the benefits, risks and complications associated with tear trough filler treatment.
On the day of your tear trough injection procedure
Please make sure to eat a light meal before your tear trough injections. This helps to raise blood sugar and minimise the risk of fainting during treatment. Many people are understandably apprehensive about needle injections and this is amplified by not having eaten or drunk anything before your treatment.
Please refrain from wearing any make-up before dermal filler treatment on the areas which are planned for treatment. Your practitioner will need to remove any make-up from the treatment area before your procedure. You can bring a light make-up product to apply for camouflage immediately after filler treatment.
Please aim to arrive 30 minutes before your allocated appointment to enable the application of local anaesthetic numbing cream to the lower eye area. Local anaesthetic numbing cream needs at least 20-30 mins to achieve its full effect. This is why we ask patients to arrive a little earlier than usual.
Before you leave your appointment, we would advise booking your next appointment. This is to ensure you get your favoured timing as our practitioners  often get booked up to three months in advance. We always ensure never to double book patients for any facial injectable procedure including tear trough fillers.
Recovery after tear trough injections
With tear trough treatment at Centre for surgery, it is quite normal to have some localised bruising, swelling and some pinpoint bleeding from the needle entry points. If you had numbing cream applied then this usually takes 2-3 hours to wear off. You can improve the healing process by making sure to follow all the post-procedure instructions given to you by your doctor.
Top tips for optimum recovery after tear trough fillers
Use cold packs gently applied against the treated area for approximately 15 minutes on and 15 minutes off. This should ideally be continued for the first 48 hours after treatment.
Any strenuous exercise should be avoided for the first 48 hours to reduce bruising and swelling.
Do not massage your face or manipulate your face in any way after treatment. Facials or scrubbing of the face should be avoided for one week after treatment to avoid migration of filler. Gentle face wasking is allowed.
Light make-up and/or concealer can be applied immediately after your treatment to reduce the appearance of bruising in the skin.
Do take arnica tablets to accelerate the disappearance of bruising.
Pineapples and pineapple juice have been shown to reduce swelling and so it is recommended to have pineapples after treatment.
Try not to overanalyse your face for the first couple of weeks after treatment. It is very normal to have bruising, swelling and a degree of asymmetry often as a result of swelling. Your surgeon always recommends waiting two weeks before the final results can appear.
If you have any pain or discomfort in the treated areas then it is recommended to take paracetamol to help with the post-injection pain. NSAIDS such as ibuprofen must be avoided as these increase the risk of prolonged bruising due to their action on blood platelets.
How long do dermal fillers for tear trough correction last?
Hyaluronic acid can last up to 18 months when injected to areas such as the nose or cheeks. Dermal fillers effects can appear to reduce after a shorter period of time. In more mobile and dynamic areas of the face such as the lips where muscular contraction and movement is frequent, dermal fillers last a much shorter period of time. Dermal fillers in areas like the tear troughs or nose can last much longer – often over one year depending on the specific type of filler used.
Potential risks and complications of tear trough injections
Common and expected side effects of tear trough injections:
Bruising
Bruising can last up to 2 weeks post-injection but can sometimes be as long as 4 weeks in patients with an underlying defect in blood clotting. Bruising can be covered with concealer. Injection of the tear troughs may result in more bruising than usual as this is known to be a highly vascular part of the face.
Swelling
It is not uncommon to have swelling which is not equal on both sides of the face as different patients may have degrees of pre-existing facial asymmetry and also the amount of filler injected. Swelling usually takes up to 2 weeks to resolve. Patient should sleep in a raised position on 2 pillows to speed the resolution of swelling. All patients should avoid the gym for the first couple of days to avoid further swelling. Avoid massage of the treated area to avoid further swelling and possible migration of tear trough filler.
Asymmetry
Facial asymmetry is often related to post-treatment swelling. Patients should wait a full 2 weeks before an assessment on whether asymmetry is persistent and if so, is it related to differences in volumes injected. Try to avoid over-analysing your face, it is not uncommon to identify new perceived differences in facial asymmetry after dermal filler treatment that were in fact always there to begin with.
Lumps and bumps
Injections of filler will result in a tissue consistency that will feel harder than your own skin. You must avoid massage of the area to prevent migration of filler. Any feeling of lumps and bumps usually resolves by 2 weeks as the swelling subsides.
Subtle results
A typical 1ml syringes of dermal filler is roughly equivalent to 1/4 of a teaspoon in volume. After the resolution of tissue swelling, it may become apparent that more filler injection is required if your objective is increased volume. Our specialist facial plastic surgeons and dermatologists take great care to avoid overfilling the tear trough with large volumes at the outset. This is a guaranteed recipe for treatment failure. The optimum approach is always to add volume in an incremental manner with time to achieve the optimum result. If you are new to tear trough dermal fillers, it is often the case that the results will last for a shorter period initially. However with regular maintenance treatment, the results will be for longer as your body begins to generate its own natural collagen in the treated areas.
Possible complications of dermal fillers
Granuloma formation
Hypersensitivity reaction
Allergic reaction
Herpes virus reactivation
Acne recurrence
Skin necrosis from filler injection into blood vessel
Extremely rarely – blindness from injection into the glabella or frown region
Infection and abscess formation
If you experience any of the above listed complications, please be sure to contact your surgeon immediately for an urgent assessment
How to find us
Centre for Surgery is located at 106 Crawford Street in Marylebone. Crawford Street is just off Baker Street. We are easily accessible by all major bus routes that pass through Baker Street as well as Baker Street underground station.
From the tube station, we are just a 5 minute walk southwards down Baker Street followed by a right turn onto Crawford Street. The clinic is about 200 yards on the left.
There is ample local pay & display parking in the surrounding area and an NCP car park is located further west along Crawford Street. Our local residential parking zone is the City of Westminster.
Address: 106 Crawford Street, Marylebone, London, W1H 2HY