What are sunken eyes?
The area around the eyes, also known as the periocular region, is often the first area of the face to show visible signs of ageing. Sunken eyes are one of the most common signs of ageing, affecting the upper part of the face. How sunken eyes appear will differ between people. However, the underlying problem causing sunken eyes is related to thinning skin under the eyes. This is due to the loss of collagen and elastin as part of the natural ageing process. This can cause a hollowed, darkened or sunken appearance.
Sunken eyes can make people look tired or fatigued, even if they feel full of energy. In addition to the shrinkage of soft tissue, the underlying facial bones gradually lose their structure over time which further reduces structural support for the skin and facial muscles. This accentuates the sunken appearance of the eyes.
Sunken eyes have several causes, including genetics, excessive sunlight exposure, smoking, dehydration, poor skincare routine and a lack of sleep.
Sunken eyes are also known as 'under eye, hollows', or 'teardrop hollows', and there are a variety of effective treatments to fix sunken eyes.
Best treatments for sunken eyes
There are several at-home treatments which people can use to help reduce the appearance of sunken eyes. Simple solutions include placing cold packs against the ice or cucumbers. How effective these treatments depend on the underlying causes of sunken eyes. People can help to reduce the severity of sunken eyes by avoiding smoking, drinking plenty of water to keep well hydrated, and avoiding sleep deprivation. In addition to improving sunken eyes, these lifestyle measures can help to boost overall health and well-being.
There is a variety of in-clinic treatments that can be used to treat sunken eyes due to the natural ageing process. These include nonsurgical cosmetic procedures, such as wrinkle-relaxing injections and dermal fillers. Eyelid surgery, also known as blepharoplasty, is a surgical option to permanently eliminate sunken eyes. Treatment for sunken eyes is carried out by qualified and experienced plastic surgeons at Centre for Surgery.
RELATED: What are the benefits of eyelid surgery?
Can sunken eyes be caused by allergies?
Hayfever is a common allergy affecting many people. The periocular skin could be potentially affected by people who have certain allergies. The continual rubbing of the eyes caused by high pollen levels can increase the visibility of the small blood vessels beneath the skin and, over time, can cause thickening and darkening of the skin surrounding the eyes. Allergies to eyedrops or topical treatments may cause increased prominence of the blood vessels under the eyelid skin, which may cause sunken eyes to appear earlier in life.
What are the best foods to eat to help reduce sunken eyes?
We would recommend increasing your intake of leafy, dark, green vegetables, which are high in antioxidants. Examples include spinach, broccoli, sprouts, and kale. Caffeinated beverages should also be reduced, including tea and coffee.
Can dermal fillers plump up the area under my eyes?
Dermal fillers containing hyaluronic acid are a highly effective treatment for plumping the under-eye area. Hyaluronic acid occurs naturally in the body and, once injected, helps the skin to lock in moisture. The under-eye area appears smoother, fuller, and more refreshed.
How can I prevent sunken eyes?
Dark circles under the eyes are often due to several causative factors acting in combination. This includes sleep deprivation, dehydration caused by inadequate water intake, and high salt or alcohol intake. Once dark circles develop, it can be challenging to reverse their onset.
The skin surrounding the eyes is highly delicate and is susceptible to the effects of UV radiation found in sunlight. Excessive exposure to the Sun without wearing sunscreen can cause permanent sun damage. Common features of sun damage include coarse skin texture, loose skin, age spots, and dark circles or shadows under the eyes. These features can be minimised by the application of sunscreen on the face. When out in the sun, cultivating good habits around sunscreen usage will help to delay the onset of signs of facial ageing, particularly in the periocular region. Harmful UV rays can be blocked by wearing sunglasses, and this will also help to minimise squinting. Excessive squinting may increase the risk of developing eyelid wrinkles. Protecting your eyes from the harmful effects of sunlight may also help to reduce the risk of cataract formation.
Several factors contribute to the development of sunken eyes, including genetics, poor diet, lack of exercise, smoking, excessive sunlight, exposure, and environmental pollution. The extent of dark circles beneath the eyes and deep-set tear troughs is determined by the duration of exposure over time to these common risk factors. Keeping well hydrated by drinking plenty of water will help to minimise sunken eyes. Good hydration will also benefit other aspects of our bodies to maintain healthy functioning.
What is the best filler for sunken eyes?
At the Centre for Surgery, we recommend hyaluronic acid-based dermal fillers to treat sunken eyes. Restylane and Juvederm are considered the best fillers to plump up the area beneath the eyes. Hyaluronic acid fillers produce natural, looking results compared with many other types of fillers available. Tear trough filler is suitable for the treatment of sunken eyes.
Juvederm and Restylane contain hyaluronic acid, which occurs naturally in the human body. The effects of treatment are considered temporary, which means the results of treatment will need to be maintained over time with regular top-up injections. These treatments are popular with patients in the UK. the effects of treatment can be reversed with hyaluronidase if the results are not as hoped. These treatments are highly accessible and are often chosen by people who may not be keen on the idea of invasive surgery. Juvederm and Restylane can also be used to rejuvenate other areas of the face, including the lips, nose-to-mouth lines and the cheeks.
Dermal fillers for sunken eyes are a very safe treatment when performed by a qualified and experienced doctor or surgeon. The risks of treatment will be discussed at your in-person consultation.
If you would like to schedule a consultation for the treatment of sunken eyes, call us today on 020799348490. Complete the contact form below. Centre for Surgery is conveniently located in the heart of central London in Marylebone. We regularly perform hundreds of dermal filler treatments each year at our state-of-the-art clinic.
RELATED: Eyelid Surgery FAQs – Q&A about Blepharoplasty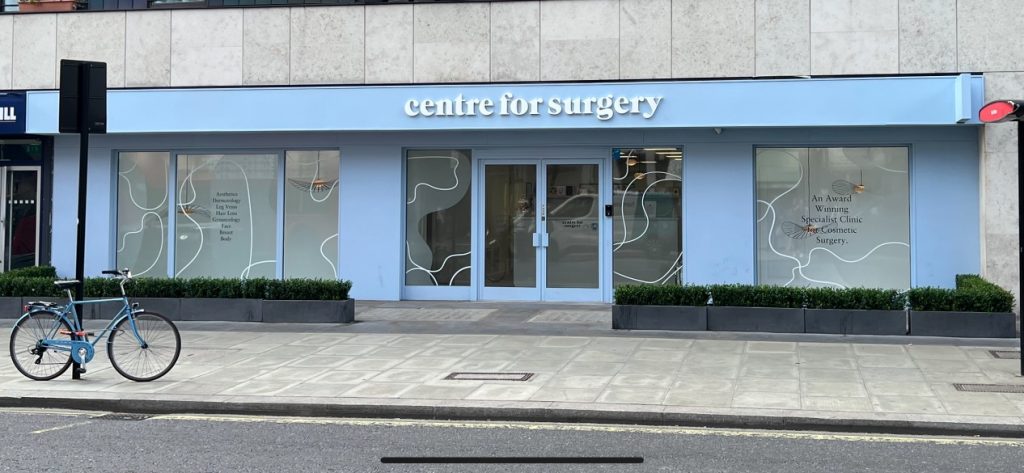 Amazing from start to finish, the communication was the main thing was fully informed and looked after, on the day of my breast augmentation, the staff were fab and made me feel at ease through out the whole process. Thank you so much.
Mohammed Farid
18/11/2021
I've had such a great experience with excellent advice, care and attention and surgical treatment (gynaecomastia) - I can fully endorse the treatment I have received from Centre for Surgery with absolutely no qualms at all. Brilliant in every way - thank you all so much.
Caroline Thorpe
14/11/2021
Very pleased with my whole experience of having a procedure. Was so nervous about getting treatment and i was reassured and felt so comfortable throughout thanks to the amazing nurses. I definitely made the right decision to have breast augmentation at centre for surgery with dr erel.
Melissa Briggs
08/11/2021
So glad I went with centre for surgery, the whole process went very smoothly from the consultations down to the actual day of the procedure. I was so nervous on the day but the whole team put me at ease and I'm happy with my results as I feel a lot more comfortable wearing certain clothes now. My surgeon was Alberto Di Giuseppe who performed a breast Augmentation on me, and I would definitely recommend as he was very clear on what the outcome of the surgery would be and which size would look the best for my frame.
Couldn't be happier with Dr Tillo work,i had my breast surgery one week ago and so happy with the results so far,all the staff are extremely nice and very supportive,i would definitely recommend their services,thank so much
From start to the finish everything was perfect for tummy tuck surgery. All staff is very friendly and the aftercare has been good. The Doctor and the nurse team was fantastic. I'm so happy...result is amazing. Thank you!!!
This was overall a great experience, all the staff at Centre for Surgery were friendly and put me at ease. It is a nerve wracking thing to go through an op but the staff were so nice. Mr Ertan has got a great team around him. On the day of the operation everything went smoothly to plan, there was no delay or holdups, I had another consultation with Mr Ertan who confirmed what was going to be done and that I was still happy to proceed. I was prepped for the procedure, I met with the anaesthetist who again was really nice and put me at ease explaining his role. After the procedure I woke up with the nurse by my side making sure I was OK and checking on me, I was able to stay in the clinic until I was ready to leave and was not rushed at all. I was well looked after from the start to the point when I was discharged. Post operation I was staying at a local hotel it was so close there was no point in even getting a taxi and I was able to walk back where my partner was waiting for me. I was expecting a lot of bruising to both my eyes but there was very little if any by the time the cast came off after 7 days, I am now at the two week post operation point and it is healing well with no outwardly visible bruising or scaring. The next milestone is a checkup at the 6 week point with my surgeon. If you're thinking of having something like this done I would highly recommend getting in touch with Centre for Surgery.
The staff at Centre for Surgery were very kind and accommodating. They answered any questions I had about the procedure and were constantly checking up on me. A special thank you to Christina for all her support throughout.
I would just like to state the quality of care received from the nurses at Centre for Surgery was beyond the highest level. Sophie takes her patient care to another level beyond words. She always puts me at ease. She is there for me even at awkward hours just when I mostly needed reassurance and she is one of the most compassionate nurses I have come across and demonstrates her passion naturally for caring for others. She totally deserves recognition at its finest and thank you for always being there for me. 😍