What to Look for in Calf Implant Before & After Photos: A Comprehensive Guide
Examining before and after photos is an essential part of the decision-making process when considering a calf implant surgery. These photos can serve as a visual aid to understand the potential outcomes, the skill level of the surgeon, and whether the results align with your personal goals. However, it's crucial to know exactly what to look for when assessing these pictures to make an informed decision. Here's a detailed guide on what to consider.
Symmetry and Proportion
Pay close attention to the symmetry of the calves in the after photos compared to the before photos. Are both calves evenly enhanced? Does the implant size suit the overall proportions of the body? Unequal or disproportionately large or small implants can result in an unnatural appearance.
Shape and Contour
Look at the contour and shape of the calf muscles after the implant. A skilled surgeon will place the implant in a way that it adds a natural curve to the calf, making it look as though the volume comes from muscle development rather than an implant.
Incision Scars
Check the visibility of incision scars in the after photos. A talented surgeon will make the incisions in places that are less visible and use techniques that minimize scarring.
Skin Quality
Notice any changes in the quality of the skin post-surgery. Properly inserted implants should not create excessive stretching or sagging of the skin. The skin around the implant should look smooth and healthy.
Consistency Across Multiple Cases
Review multiple sets of before and after pictures to evaluate the surgeon's consistency in delivering quality results. Consistent outcomes across different patients are a strong indicator of a surgeon's expertise and reliability.
Realism
While photos can be promising, it's essential to manage expectations. Remember that each individual's body is different, and the results depend on various factors such as age, skin elasticity, and overall health.
Photo Quality and Angle
High-quality photos taken from multiple angles will give you a more comprehensive understanding of what to expect. Blurry or low-resolution images may not capture all the nuances of the surgery outcome.
Time Lapse
Lastly, it's beneficial to find photos that show how the implants look over an extended period, not just shortly after surgery. This can give you a more accurate idea of what the long-term results will be like, including how well the implants age and whether they shift over time.
Calf Augmentation with Implants Before & After Photos
Case 1: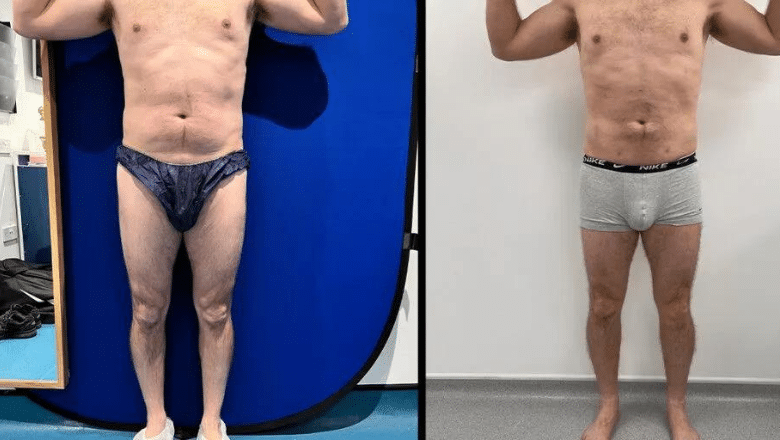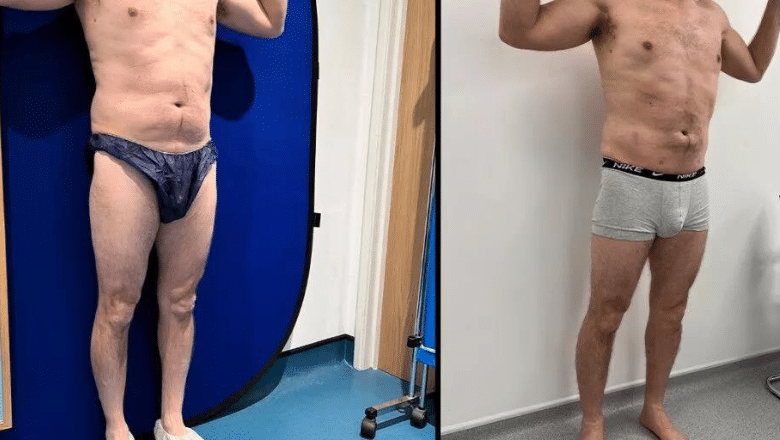 Case 2: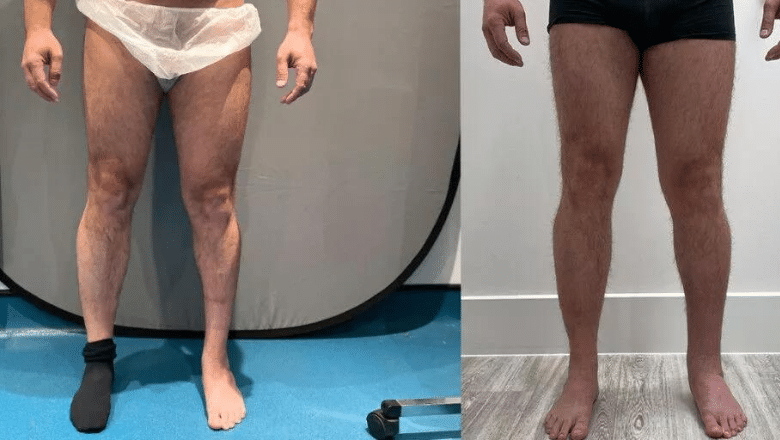 Case 3: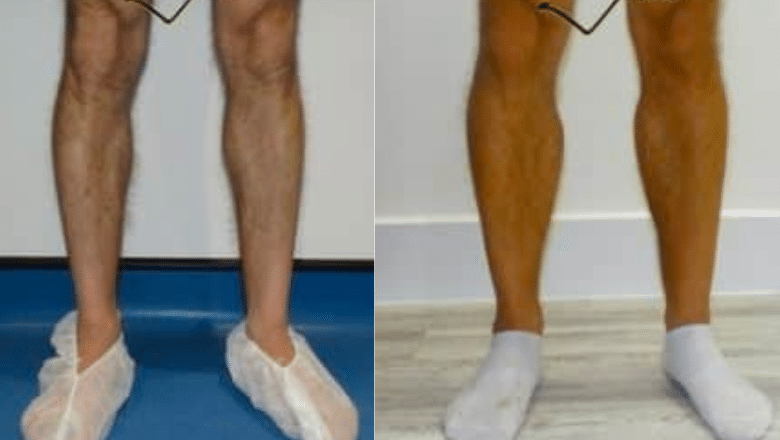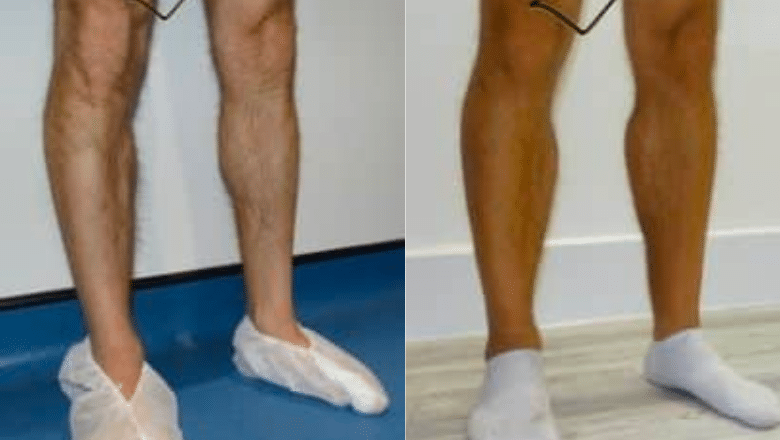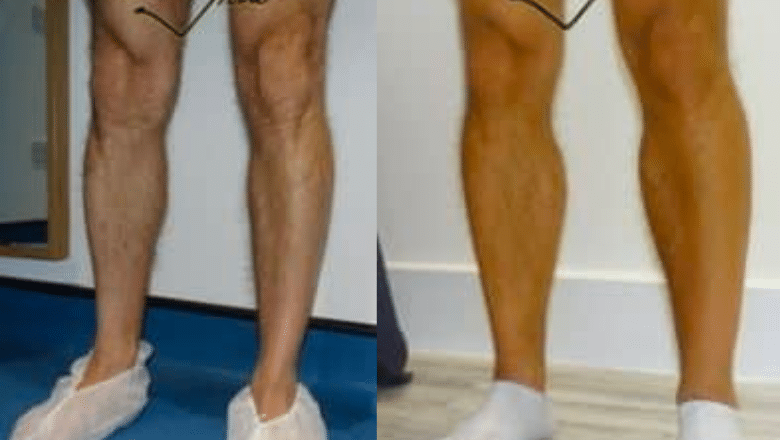 Case 4: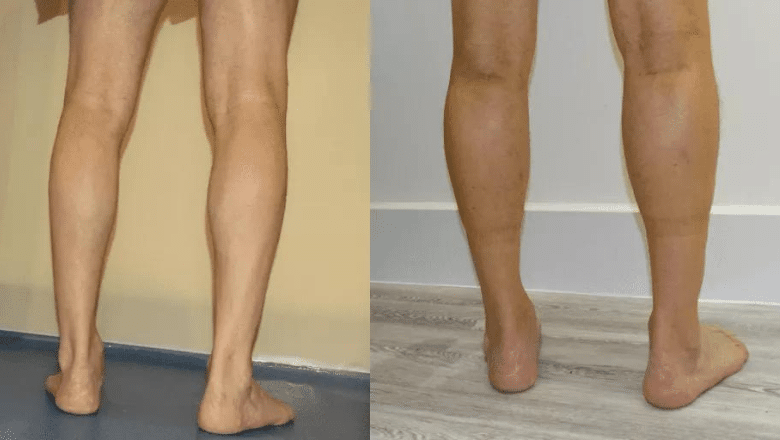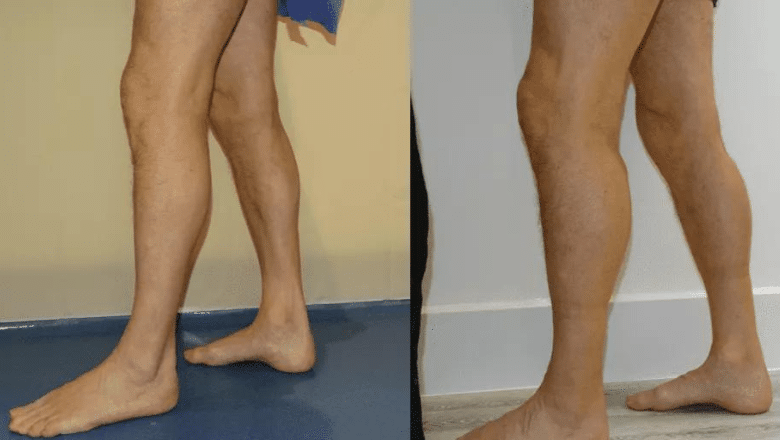 Case 5: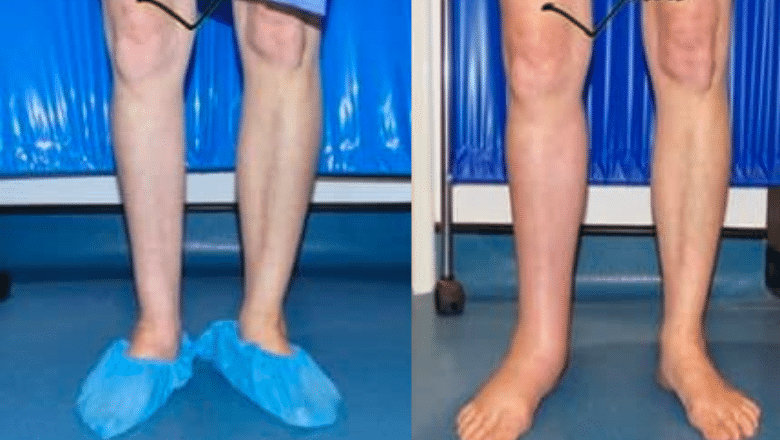 Case 6: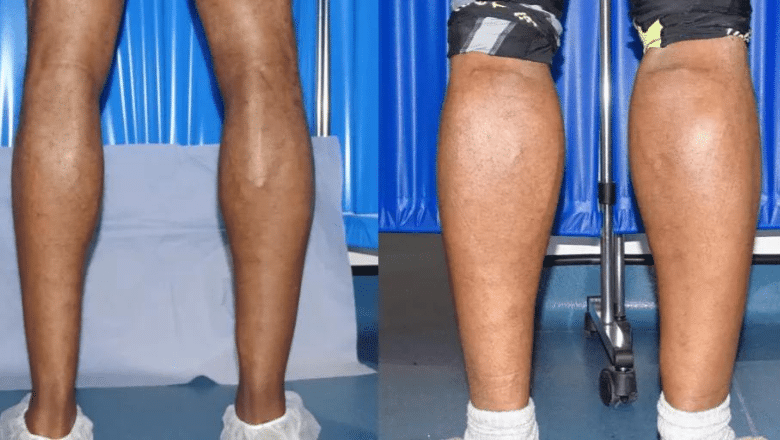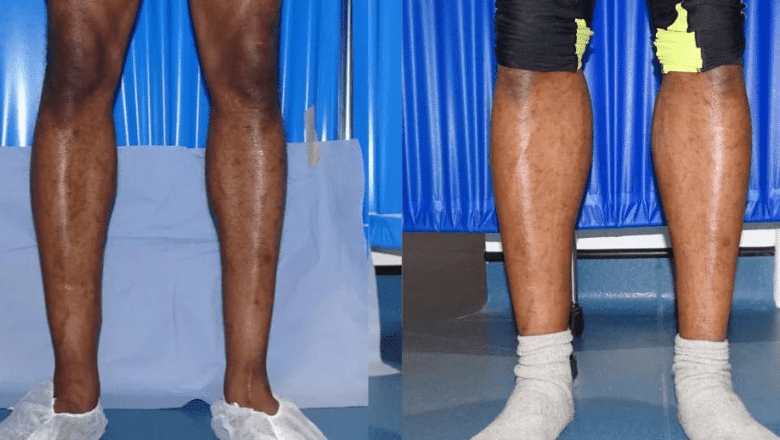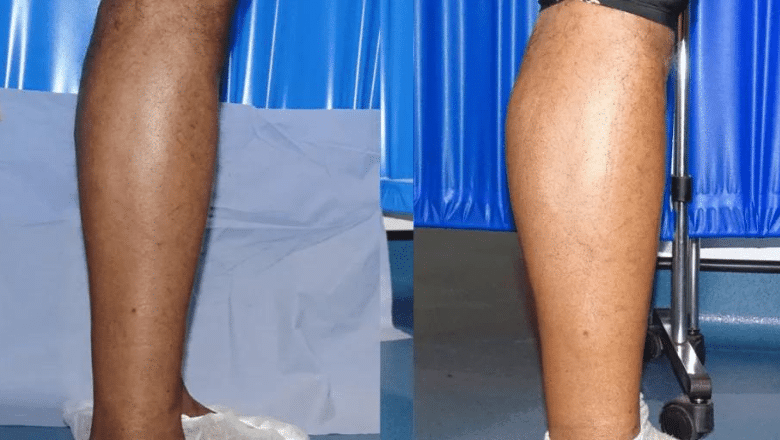 Case 7:
Case 8: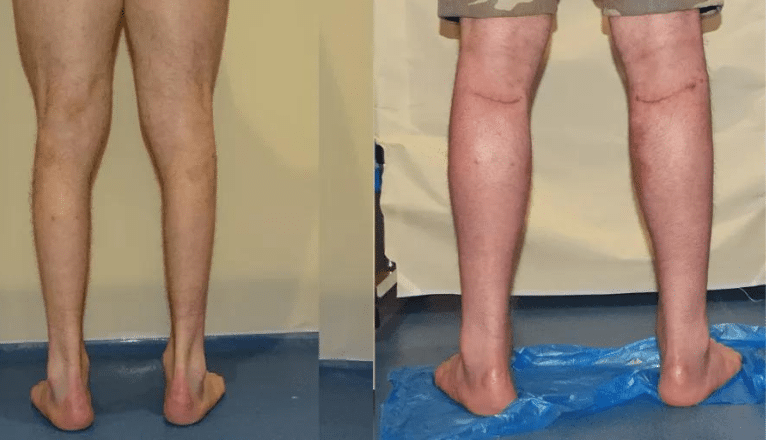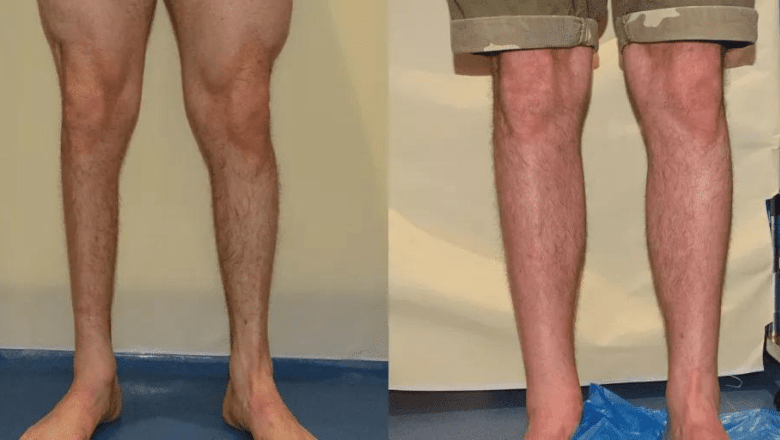 Case 9 (left-sided calf augmentation):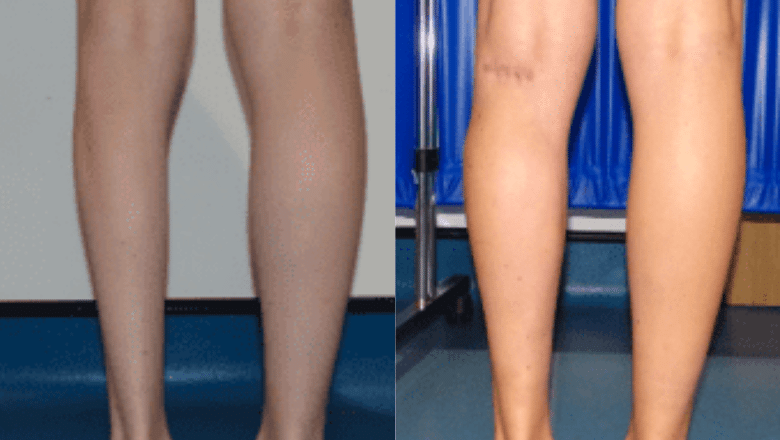 Case 10 (right-sided calf augmentation: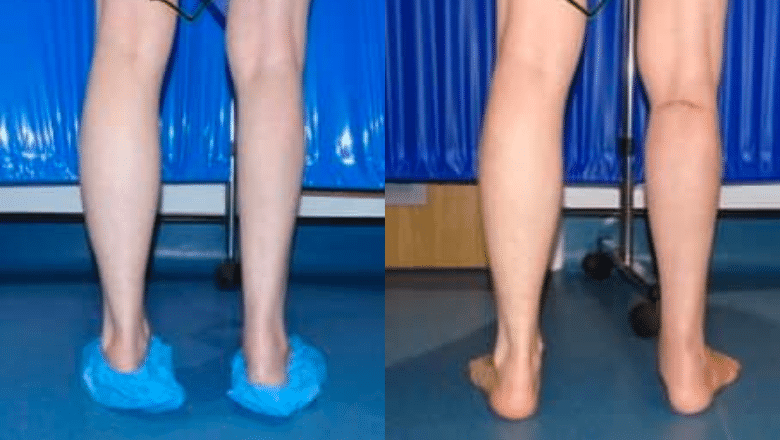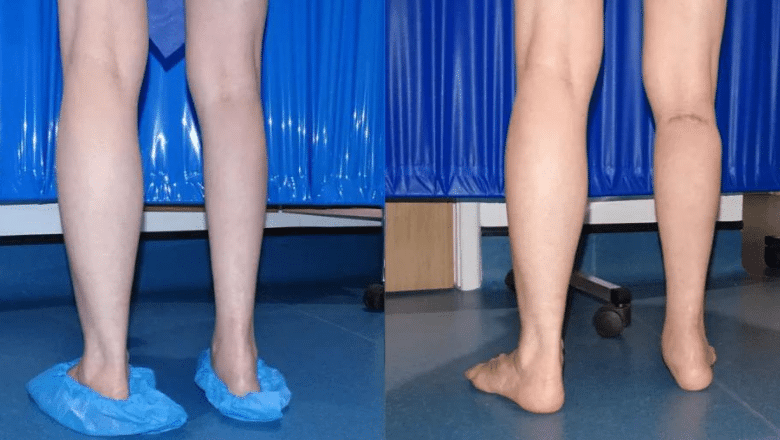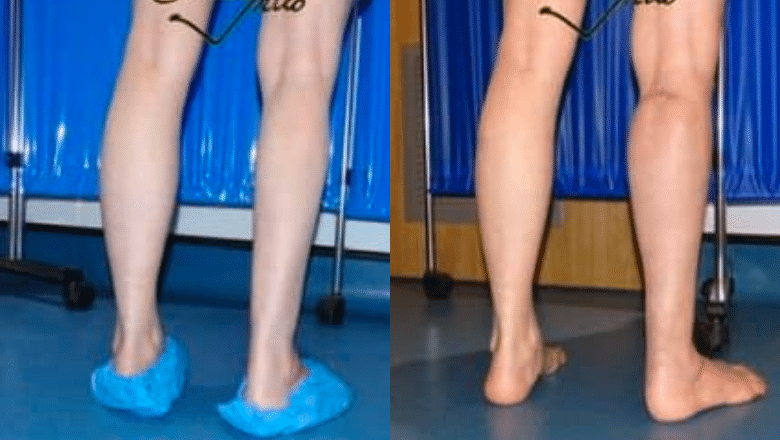 Elevate Your Confidence with Calf Implants at Centre for Surgery
Choosing to enhance your physique with calf implants is a significant decision, and you'll want the best hands guiding you through the process. At Centre for Surgery, we offer unparalleled expertise, cutting-edge technology, and patient-focused care to make your journey to enhanced calves a smooth and satisfying one. Here's why we stand out as the prime choice for your calf implant procedure.
Top-Tier Surgeons with Specialised Expertise
Our team of experienced surgeons are well-versed in the intricacies of body contouring, including calf implant procedures. Through hundreds of successful surgeries, our experts are committed to giving you calves that match your aesthetic desires and boost your self-confidence.
Uncompromising Standards of Care
Your well-being is at the heart of our practice. From the first consultation to the post-op follow-ups, our medical team is with you every step of the way, ensuring you feel comfortable, informed, and cared for throughout your surgical journey.
State-of-the-Art Facilities
Our Baker Street clinic is a state-of-the-art facility that adheres to the highest safety and hygiene protocols. With the most up-to-date surgical equipment, we provide treatments that align with the best practices in the medical field.
Real Patient Testimonials
"My calf implants look and feel so natural. Centre for Surgery has truly changed how I view myself and boosted my confidence. Highly recommended!" – Lisa H.
"The whole experience was first-class. From the staff to the facility and, of course, the results. I couldn't have asked for better." – Steven P.
"The surgeons at Centre for Surgery are exceptional. My calf implants have given me the self-assurance I've always wanted. Thank you!" – Tim J.
Financial Flexibility
We understand that affordability is a concern, which is why we offer multiple finance options to suit different budgets, including a 0% APR option with Chrysalis Finance. Discover our finance options here.
Extensive Resources for Your Peace of Mind
Gain insights and stay updated through our Plastic Surgery Blog and get answers to common questions from our Clinic FAQs.
Ready to Embark on Your Journey?
Take the first step towards getting the calves you've always wanted by booking a consultation with us today.
📞 Phone: 0207 993 4849
📧 Email: contact@centreforsurgery.com
📍 Address: 95-97 Baker Street, London W1U 6RN
Baker Street clinic link
For even more reasons to choose us for your procedure, visit our About Us page. We look forward to helping you realise your aesthetic dreams!