FaceTite in London

FaceTite skin tightening provides a powerful lifting effect to the lower face and jawline and also the neck area without any traditional surgical incisions associated with a facelift. Although it does not produce the results of a full facelift, FaceTite is an excellent treatment option that can deliver consistently impressive results that far exceed what you can achieve with non-invasive facial rejuvenation methods such as Ultherapy. FaceTite is offered at our London clinic at 106 Crawford Street in Marylebone.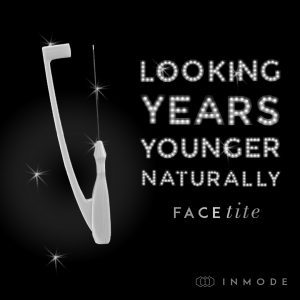 All our surgeons are on the GMC specialist register. Our London clinic at 106 Crawford Street was recently inspected and rated as good across all 5 domains.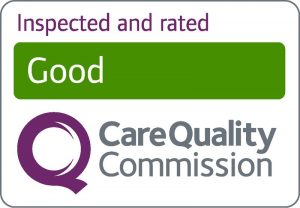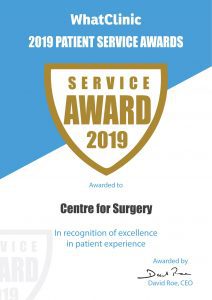 RealSelf Top Doctors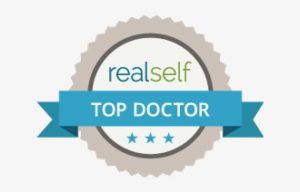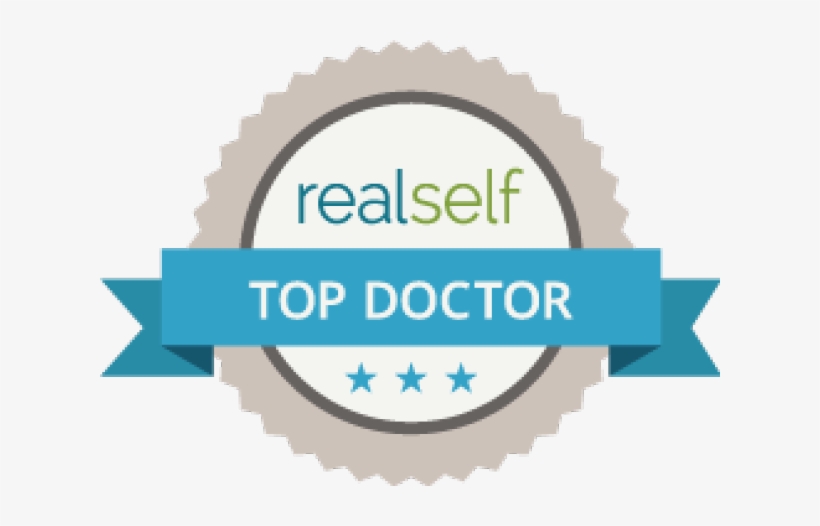 RealSelf top doctor status is awarded to less than 10% of the RealSelf doctor community.  This status is earned by achieving consistently high patient satisfaction (from RealSelf reviews), getting excellent feedback on expert answers to patient questions, and after investing significant time in Q&A and other doctor activity. RealSelf top doctors are rated among the very best surgeons in the United Kingdom and USA.
Trust a facial plastic surgeon
A facial plastic surgeon is trained to undertake aesthetic surgical procedures in the facial region. They are dedicated sub-specialists in all aspects of cosmetic surgery of the face. Compared with general plastic surgeons, facial plastic surgeons are inherently better trained to perform delicate facial procedures. The extra years of surgical training by facial specialists focused on the facial region results in an exceptionally high degree of skill.
I recently had surgery here and would definitely recommend, from initial contact from Carolyn to the aftercare I received was exceptional, Carolyn was very helpful and informative and answered all my questions - even the silly ones late at night! Dr Tillo was very knowledgable, professional and welcoming at the same time and put me at ease about the procedure, it's still early but so far I'm pleased with the results
A simply fabulous experience with Dr Misra. Centre for Surgery was recommended to me by a close friend who had received excellent treatment. From the first call to the day of my procedure and beyond, the level of care has been exceptional. The aftercare phone calls really gave me peace of mind and I look forward to my follow up appointment with Dr Misra.
Everything has been great! From submitting the online enquiry form I received a call from Nikesh within about ten minutes discussing the procedure and how the process works. Got booked in for an initial telephone conversation and then in-person consultation with Dr Gilleard. The finance team had no issue with me making individual payments and Nikesh patiently answered my many questions and calls in the lead up to the surgery. Everyone on the actual day was very reassuring (I was quite nervous) and efficient. I was very pleased with how smoothly everything ran with the surgery and was even more straight forward then expected. Dr Gilleard also took a phone call later that evening when we had some questions about the anaesthetic. Gregory has phoned most days since the surgery to check in on my recovery and has been lovely. Highly recommend!
To say they change my life is an understatement. All the staff here are SOO down to earth and make you feel at ease! From check up calls to that first consultation, Lidia made sure everything was running smoothly for me!! The whole team is literally by your side all the way!! Going in to a procedure i was petrified, scared and everything else, i couldn't even bring my self to the consultation but Lidia made it her priority to ensure i was as comfortable as can be and that i was in safe hands! without her kind words i wouldn't have gone ahead with it all. Having really bad anxiety has always been a challenge for me but i can honestly say after my experience with Dr.Dimitriadi she basically educated me and gave me a whole different perspective on my procedure and that in-fact i was more then normal even if i didn't feel so myself! Something i've never had before! Her support was beyond belief, i couldn't thank Dr. Dimitriadi and everyone enough for making me feel so secure. Her team were brilliant i've never felt more confident and finally excited about my next chapter in life!! Safe hands is indeed the word for it!! I would highly recommend Centre for surgery as I truly believe no other practise would make this journey as professional and comforting as they did! Feeling extremely grateful and blessed to have had the most amazing team to give me a start on my dream life. I say that because with no exaggeration i have been dreaming for this day for as long as i can remember. Slowly but surly i'm going through the healing stages and i couldn't be more happier with my results!!!! Brings me tears of joy just writing this review. You guys are straight out the best!
Extremely happy and proud of the final result! From the beginning of the process to get rhinoplasty Yasmin made sure that all my questions were answered and that I never had to worry about something going wrong. The team is very good with communication and keeping you at ease. I highly recommend my surgeon Mr Amir Sadri! He did a fantastic job with my nose making it look better than we expected so soon post the surgery. He made sure that we had a detailed conversation about my expectations and what is possible and has exceeded in the work that he performed on my nose! My only concern throughout the whole process that I raised was that I felt like there was a bit of rush to wake me up post surgery, however once communicated it back to Mr Sadri he made sure that he'd advise the team to help with a calm waking up moving forwards. Thank you for helping me with what WAS my insecurity Patryk
Drooping heavy eye lids were making me look older and more tired than I felt. (Nothing more deflating when feeling sparkling and vibrant at a party, to be told you're looking tired!) Time for action. Blepharoplasty. Did my research, found Centre for Surgery, booked a consultation and met Mr Erel, a highly qualified surgeon. Any nervousness was dispelled immediately by his calm, friendly and professional guidance. The supporting team were great, special mention for Lea, and the whole process was straightforward. Two weeks in from the operation and I am thrilled with the results.(Should have done it sooner!) I thoroughly recommend them.
Very happy with my experience at centre for surgery, very helpful from start to finish and procedure was carried out very thorough. Any questions were answered quickly and in depth so I had no worries and pleased I went ahead with it. Even after the surgery, I've had calls and messages to check up on how I am and if everything went very well.
Everyone I met at Centre for Surgery were amazing; Yasmin and Gregory were great at staying in touch with me! I felt reassured the whole way through from consultation through to aftercare. I am very happy with the results of my labiaplasty, thanks to the work of Dr Dimitriadi and help of the lovely nurses. I would recommend to anyone considering. A huge thanks!
So glad I went ahead with my procedure! Lovely experience from start to finish. The whole team is helpful and my result with Dr Misra is exactly as I'd hoped
My experience was fantastic.. I went with Mr Antonios Mitsakos for a mummy makeover and I couldn't be more pleased with the result and the care and support I got from the staff. Thank you for elevating my experience, would definitely recommend to all my fellow Mamas!
Facelift-like results without surgery
FaceTite improves skin laxity in the face and neck through the use of radiofrequency energy. This involves inserting a fine handheld device beneath the skin, which emits heat, lifting the skin on the face. FaceTite is able to treat numerous areas of the face, including the double chin, jowls and any area of the face where there are fine lines and wrinkles. You may wish to combine FaceTite with liposuction, which will allow excess fat to be removed from beneath the chin. While this is a minimally invasive procedure, it is able to achieve results similar to more invasive cosmetic surgeries.
Benefits of FaceTite:
Outpatient local anaesthetic procedure with no requirement for general anaesthesia

Minimally invasive skin tightening with superior results to Ultherapy, Thermage and other non-invasive skin tightening treatments

Achieve surgery-like results without the incisions or scars of traditional surgery
Adebimpe Adewoyin
04/02/2021
I had 360 Liposuction and BBL with centre for surgery 11/01/2021. I found centre for surgery by searching online. My consultation was booked with Dr. Tillo, the procedure was explained to me thoroughly including the risks, the clinic is beautiful and very clean. I received the best care I could think of on the day of my surgery, the staff were very friendly and caring, the surgery went well and the result was amazing! My recovery was very quick too with no complications. I am very happy with the follow up and after care. I would highly recommend centre for surgery.
I was able to be booked for my consultation and procedure on the timeline that suited me. Very happy overall; especially with my results and the care I've received since. Would return
Highly Recommend Mr Tilo and this clinic. My partner had Facial Scar Revision 5 weeks ago and can honestly say the speed, care and attention Mr Tilo and the team gave him was amazing. Right from the outset when I contacted Michael for a quote the speed and professionalism he gave was 5 star. My partner was also very nervous about the whole procedure and the attention the nursing team gave helped ease any nerves
I recently had surgery performed for a small unwanted tattoo by Mr Amir Sadri. The whole team at Centre for Surgery were brilliant and Mr Amir Sadri perfomed a brilliant job and cannot thank him enough for his services. I would thoroughly recommend anyone considering any form of procedure to go with these guys as from start to finish were brilliant.
Bracesbybella Annabelle Ariza
24/08/2020
I had a wonderful experience . I cannot thank you all enough. The location is convenient, the actual place is lovely , non clinical looking. I had liposuction carried out and I was amazed at how caring and wonderful the entire team were towards me. I would definitely recommend to friends and family. Big shout out to Dr Tillo , nursing team and wonderful reception team. Please don't be disheartened by bad reviews , often people ask for prices to try and avoid a proper consultation. If you are seriously considering surgery, you should always have time for a proper consultation with a surgeon who can then provide you with an accurate estimate/quote for propsed (suitable)treatment.
Dr Gilleard at Centre for Surgery is master of rhinoplasty surgery! Absolutely fab work with piezotome technique. Hardly any bruising at all.
Why choose Centre for Surgery for your FaceTite procedure?
Significant experience in FaceTite – our surgeons also combine Facetite with mini facelift as appropriate
We own and manage our own surgical facilities. Properly performed FaceTite takes time and should not be rushed. Our surgeons perform a maximum of two FaceTite procedures in a day. We do not cram 5-6 procedures into one day like other providers. You want your surgeon to be well-rested and mentally and physically sharp to perform FaceTite which is a very demanding procedure to get the very best results.
Our clinic at 106 Crawford Street was recently inspected and rated as good across all 5 domains.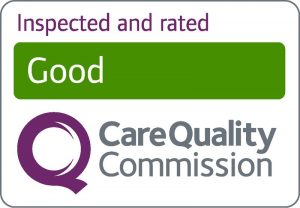 Our surgeons live and work in London. We don't work with 'fly-in, fly-out' surgeons from Italy. This is very important because whilst your surgeon takes all precautions to minimise complications, complications can and do occur and our surgeons are readily available to manage any issues if and when they arise.
Dr Mitsakos and Dr Tillo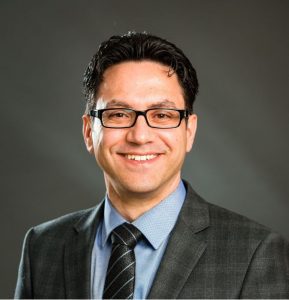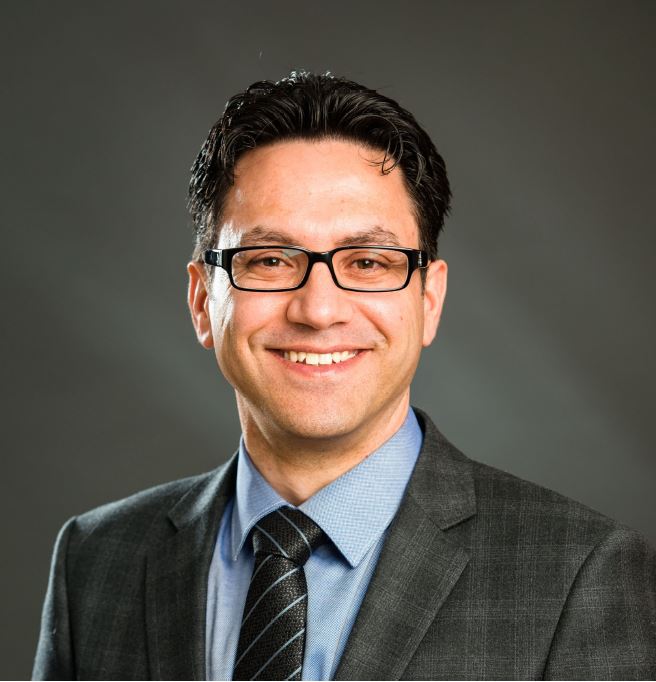 Patient testimonials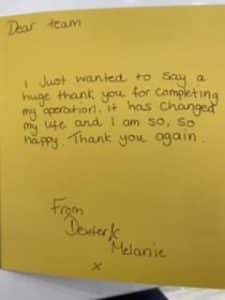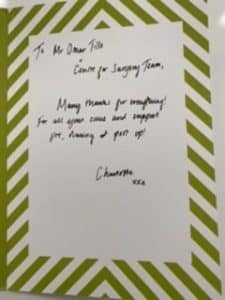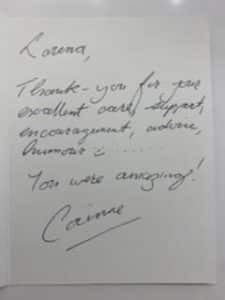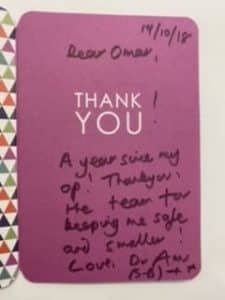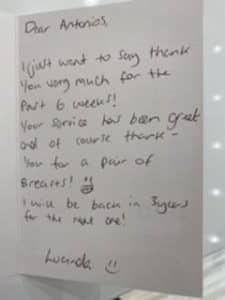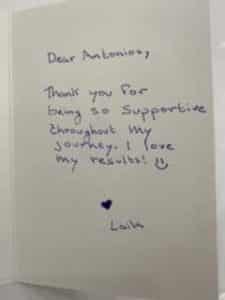 Ideal candidates for FaceTite
There are generally three types of patients with laxity of the facial skin that our surgeons classify as as part of a "treatment gap" between surgical and non-surgical options:
(1) The younger patient whose skin laxity is not of sufficient severity  to warrant a more traditional excisional procedure like a full facelift or necklift, but also not mild enough to treat with non invasive procedures like cryolipolysis or HIFU or minimally invasive
submental liposuction
alone
(2) The patient who has already undergone a facelift or necklift, and now presents with recurrent laxity due to the ongoing ageing process
(3) The patient who may benefit from a traditional facelift or necklift but would ideally like to avoid more invasive surgery and would be willing to accept a milder improvement and shorter downtime
An increasingly popular soft tissue tightening technique of the lower face and neck has been a combination procedure using bipolar RF (FaceTite) and fractional bipolar RF (Morpheus8).
The combination minimally invasive RF treatment of FaceTite bipolar RF and
Morpheus8
Fractional RF does not aim to replace a traditional facelift or necklift in appropriate candidates. The benefit of FaceTite allows our surgeons to potentially fill a well-known treatment gap between invasive surgical procedures and completely non invasive procedures. Also, it provides patients with an option to improve facial soft tissue laxity without a traditional surgery.
You will be a suitable candidate for this procedure if you are unhappy with the skin laxity on your jaw border and neck which is mild to moderate in nature and are wishing to have it tightened.
Patients who are in their 30s or early 40s and who have relatively mild aging changes in the lower face and neck may be better treated with Fotona 4D or TightSculpting which is a non-invasive laser treatment. Our practitioners have worked with the full range of devices and have found the Fotona laser platform to be excellent for effective non invasive facial rejuvenation. Fotona 4D and / or Tightsculpting is also ideal as a maintenance treatment after either a facelift or the FaceTite procedure.
For patients with moderate to severe skin laxity and with a significant loss of tone and elasticity in the lower face and neck, the best option would be full face and neck lift to address the significant aging effects. Our surgeons also offer short scar facelifts or mini facelifts under local anaesthesia at our London clinic. More extensive facelift surgery is performed under TIVA general anaesthesia at our day case facility.
In between these two ends of the treatment spectrum lies the ideal patients for FaceTite.
Prior to undergoing this procedure, you will be required to attend a consultation with one of our surgeons. They will be able to assess your face and neck and decide if you are a suitable candidate or whether you would be better suited for another procedure such as a facelift.
Morpheus8 & FaceTite combination treatment
Morpheus8 is the most exciting development in fractional radiofrequency microneedling. The Morpheus8 device is the latest generation of fractional RF microneedling with full control over needle depth adjustment and the level of energy delivered through the 24 precision microneedles. The FaceTite procedure is performed first for 'inside-out' skin tightening followed by the application of Morpheus8 for 'outside-in' skin tightening creating an impressive 'thermal sandwich effect'.

The tiny pins of the morpheus8 device are able to penetrate deep enough into the skin to impart controlled thermal energy via the micropins to induce contraction of collagen and elastin. The Morpheus8 procedure does not require any incisions and there is no need for sutures. The procedure can be performed effectively with the prior application of topical local anaesthetic cream to permit a pain-free procedure.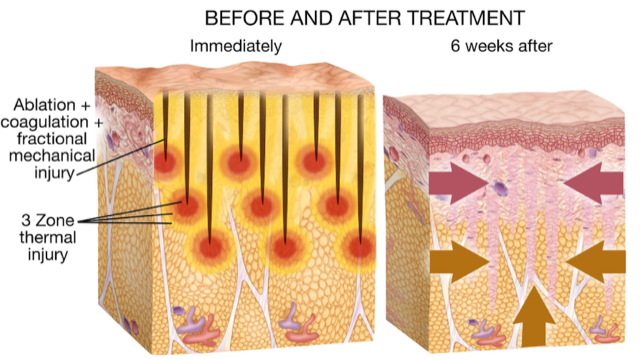 Crisalix 3D imaging
Unique to Centre for Surgery, we are proud to offer the amazing Crisalix 3D imaging experience to all our patients. Visualise in incredible detail how your could look after your FaceTite procedure.
Crisalix 3D imaging is offered as standard at your FaceTite consultation.
FaceTite Procedure
On the day of your procedure you will be given oral sedation medication that will help you relax during the FaceTite treatment. The surgeon will precisely mark the treatment zones on your face. Next, the surgeon introduces a local anesthetic to the area where energy will be applied. This is done in a way that minimises discomfort. FaceTite is performed as a day procedure, so you will not need to stay overnight in the clinic. 
The area being treated will be numb, so you will be unable to feel any pain or discomfort. Once the area is numbed, small incisions will be made under the chin and on either side of the face. The FaceTite device is then inserted beneath the skin. While this is occurring, you may feel some tugging and hear some 'popping' sounds, which is completely normal. This means the subcutaneous tissue is being heated. This will be undertaken on both sides of the face, as well as three areas of the chin. Once each area has been complete, liposuction may be undertaken to remove any excess fat and help to give extra definition to the jaw.
You can also combine FaceTite with Morpheus8, which is a minimally invasive skin tightening treatment which imparts thermal energy from 'outside to inside' resulting in a thermal sandwich effect when combined with FaceTite. 
The excellent treatment efficacy of FaceTite can be explained by the design of the FaceTite cannula. The two probes are connected to a hand piece. One probe is inserted beneath the skin during the procedure adn the other probe lies outside the skin and glides on the skin surface helped by special conductive jelly. The surgeon brings the two ends together during treatment much like pinching together a pair of chopsticks. The bipolar radio frequency energy flows between the two probes as the cannulas is gently moved back and forth under the skin. Energy is accurate localised between the two probes to prevent inadvertent injury to nearby structures.
The FaceTite design is such that the surgeon can select a higher amount of energy to be safely delivered to the areas to be targeted as the system has numerous temperature sensors built in. This allows FaceTite to exceed the degree of tissue tightening compared with other systems available. The radiofrequency energy applied to the tissues has two key effects. Firstly the energy leads to a direct tightening of the dermal layer of the skin through the process of subdermal coagulation.  Secondly FaceTite leads to a stimulation of the cells which produce core structural components of the skin including collagen, elastin and hyaluronic acid. These substances confer youthfulness and firmness to the skin.
Recovery after FaceTite
Following the procedure, it is normal to experience swelling, which may last for one week. During this period you may also experience tenderness in the neck. You may feel some numbness in the treated areas. This can often last for a few months. You may need to take two to five days off work. This timeframe will vary depending on the type of employment you undertake and how well you are responding during the recovery period. You will need to wear a compression garment for the first 48 hours following the FaceTite procedure. This will not only help to reduce swelling but will give extra support to the face and the neck. During the first 48 hours, you should avoid vigorous physical activities. You should also avoid wearing makeup while the compression garment is still on. You may notice some results straight away, however, over time the skin will continue to restrict and results will improve. Results will become more obvious after four months. Some people will notice an improvement in results for up to 18 months.
FaceTite before and after
One of our patients just four weeks after FaceTite radio frequency  treatment under local anaesthesia. At such an early stage of healing, there is a significant change in the tone and tightness of the jaw border and neck. The treated areas will continue to tighten and improve over a 6 month period.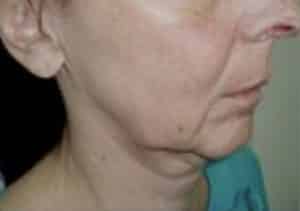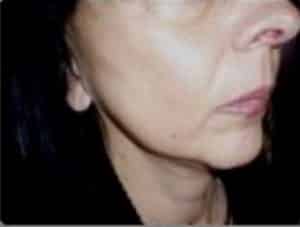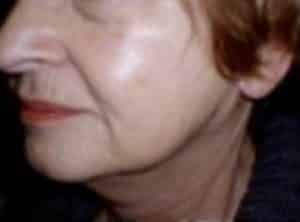 Courtesy of Inmode: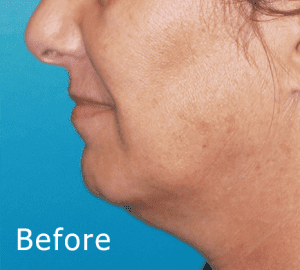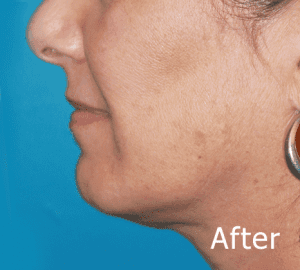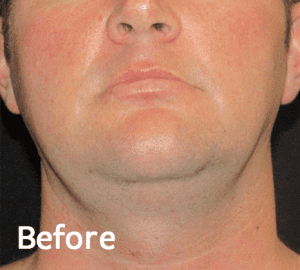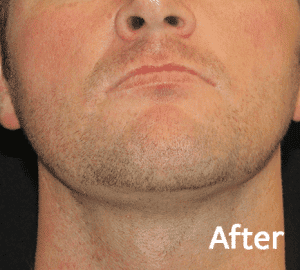 Potential side effects and risks of FaceTite
As with all cosmetic surgery procedures, there are risks and potential complications. FaceTite is no different. By choosing Centre for Surgery, you can be assured of having a highly experienced surgeon to carry out your procedure. You must make sure to follow the detailed preoperative and postoperative instructions to reduce the risk of any complications occurring. FaceTite is a minimally invasive procedure with a more favourable risk profile compared with traditional facelift surgery.
Side effects and risks of FaceTite:
Bruising and swelling
Altered sensory changes
Injury to marginal mandibular nerve
Anaesthetic risks
Postoperative bleeding
Surgical site infection
Requirement for revision surgery
If something does not seem right following your procedure, please contact Centre for Surgery as soon as possible using the emergency contact number supplied to you on the day of your procedure.
Our aftercare programme was recently described as 'outstanding' by our regulator, the Care Quality Commission. 
Our postoperative support team phone all our patients the day after their procedure and then every other day thereafter for the first two weeks. The proactive nature of our postoperative support gives every patient the best opportunity for a smooth postoperative recovery free of complications. In many cases if complications were to occur, their impact is markedly lessened by early detection, prompt clinical assessment and correct treatment. Where a patient expresses concern to our team over the phone, then we often call patients in the same day for assessment with one of our expert nursing team. Even if there is no significant issue, the careful explanation and calm reassurance provided by our team can help to alleviate any worries you may have experienced.
FaceTite cost
There are a number of factors which will determine the overall cost of the FaceTite RF procedure and the final quotation will be given after your face to face consultation with your specialist plastic surgeon.
FaceTite alone or combined with submental liposuction
Local anaesthetic or general anaesthetic or moderate sedation
FaceTite performed after previous facelift surgery
Why not call 0207 993 4849 and speak to one of our expert patient coordinators who may be able to give you a rough costing prior to having a consultation for a FaceTite procedure.
Always remember that price should never be the determining factor when it comes to choosing your provider. We feel that safety and quality of service should be your number one priority and instilling in you the confidence that our team will look after you before, during and after your procedure to the best of their ability.
Spread the cost of your procedure

Centre for Surgery are fully approved to offer finance via our specialist finance partner, Chrysalis Finance.
You no longer need to use your savings to pay for your treatment – you can apply to spread the cost of your procedure with Chrysalis Finance using their simple 1,2,3 application to pay for your procedure.
Don't wait until you have enough money for your treatment, apply today and (subject to status) pay for your procedure easily in monthly instalments, using one of their payment options.
Chrysalis Finance is the only ethical provider who focus solely in the provision of specialist financing for medical procedures.
How to find us
Centre for Surgery is located at 106 Crawford Street in Marylebone. Crawford Street is just off Baker Street.
We are easily accessible by all major bus routes that pass through Baker Street as well as Baker Street underground station.
From the tube station, we are just a 5 minute walk southwards down Baker Street followed by a right turn onto Crawford Street. The clinic is about 200 yards on the left.
There is ample local pay & display parking in the surrounding area and an NCP car park is located further west along Crawford Street. Our local residential parking zone is the City of Westminster.
Address: 106 Crawford Street, Marylebone, London, W1H 2HY
What To Expect
The consultation
If you are considering FaceTite, we would invite you to have a consultation with one of our surgeons for an in-depth assessment. A number of measurements are taken of the facial and neck area areas where FaceTite is to be performed and an assessment will be made of the soft tissue quality. Those who have good skin elasticity then you may be a good candidate for sub mental liposuction alone. Your surgeon has is skilled in all types of facial rejuvenation surgery including facelift surgery and the most appropriate choice will be made based on your physical examination. The surgeon will also give information on the location of the small incisions for the FaceTite procedure and also whether the procedure is to be combined with another procedure such as Morpheus8..

High-resolution photos will be taken and your surgeon may also use computer digital imaging. Your surgeon will take time to discuss the important risks and potential complications of FaceTite and what you can expect in the postoperative period.

The surgeon will also take a full medical history which includes previous operations, current list of medicines taken and any potential allergies. This information will be used to decide on your fitness for the FaceTite procedure. If you are deemed to be a suitable candidate for FaceTite then we would recommend to spend a period of time to reflect on all the information given. We always recommend a minimum of a '2 week cool off period' for to weigh up your options.

All our prospective patients are more than welcome to have as many follow-up consultations after their initial consultation to make sure you are fully empowered with all the information to make an informed decision for proceeding with FaceTite surgery at Centre for Surgery.
Crisalix 3D imaging
We will take time to listen to your needs and requirements and you you will receive a complementary 3D Crisalix scan to enhance your experience. You will be given a rough idea of guide prices at this stage. You can then be booked in to to see a surgeon of your choice based on their individual field of expertise.
Personalised quote
At the surgical consultation, you will meet directly with the plastic surgeon. The surgeon will thoroughly assess you to determine your suitability and advise of the best options for you. Your surgeon will then explain how the procedure will work including our innovative ClearSleep™ anaesthesia technique for those who chose to be asleep for their procedure. You will receive your personalised quote the next working day from your patient coordinator.