FaceTite in London & UK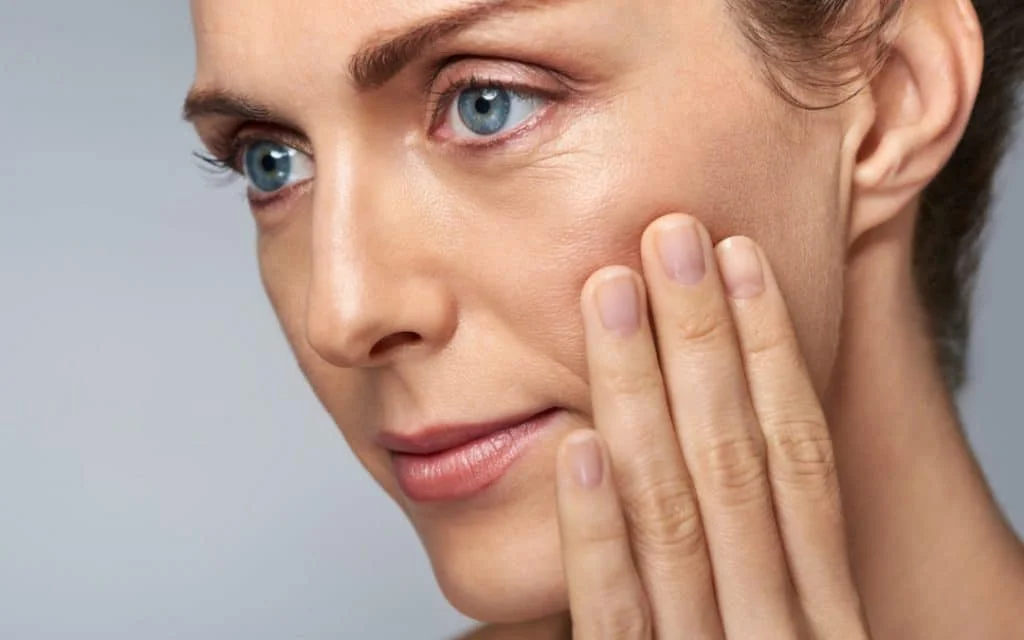 FaceTite & Morpheus8 skin tightening provides a powerful lifting effect to the lower face and jawline and also the neck area without any traditional surgical incisions associated with a facelift. Although it does not produce the results of a full facelift, FaceTite is an excellent treatment option that can deliver consistently impressive results that far exceed what you can achieve with non-invasive facial rejuvenation methods such as Ultherapy.
What is FaceTite?
FaceTite is an innovative cosmetic treatment that uses radiofrequency (RF) technology to address skin laxity affecting the face and neck and promote skin tightening and contouring. These treatments are classified as minimally-invasive, meaning they involve minimal incisions and are less invasive than traditional cosmetic surgeries.
RELATED: FaceTite FAQs – The Ultimate Guide
During FaceTite treatments, RF energy is delivered sub-dermally to the targeted treatment areas. The RF energy heats the underlying tissues, which in turn stimulates collagen production and promotes skin tightening. The treatments can also encourage the growth of new healthy skin cells, leading to a longer-lasting result. On average, patients can expect to see approximately 70% tissue reduction following the treatment.
FaceTite is often combined with chin and neck liposuction, such as in areas of the neck and jowls, to achieve a more comprehensive rejuvenation. The combination of these treatments can provide more dramatic results and improved definition in the lower face. The procedure is primarily used to treat skin laxity in the chin, cheeks, jowls, and neck.
AccuTite is similar to FaceTite, but has the unique capability to target smaller, more delicate areas of the face, neck, and body. This includes areas such as the upper and lower eyelids, the brows, nasolabial folds, smile lines, jawline, and jowls.
FaceTite is considered a safe and effective treatment for addressing skin laxity and promoting skin tightening and contouring. The treatments ais minimally invasive, meaning they involve minimal downtime and scarring compared to traditional cosmetic surgeries.
FaceTite before and after
Case 1:
This patient is just four weeks after FaceTite radiofrequency treatment under local anaesthesia. At such an early stage of healing, there is a significant change in the tone and tightness of the jaw border and neck. The treated areas will continue to tighten and improve over 6 months.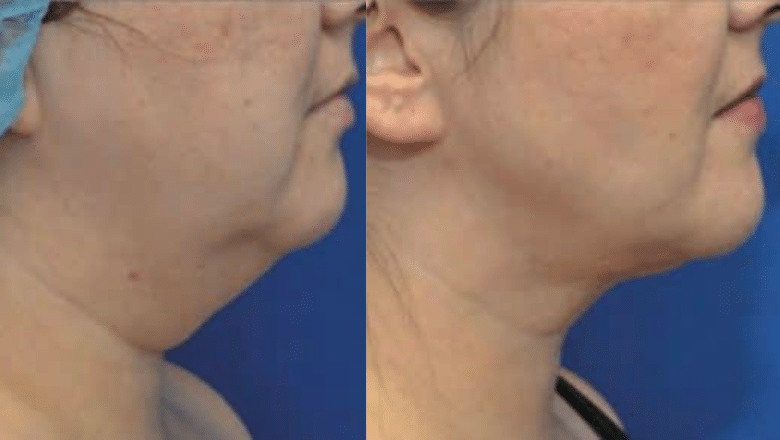 Case 2: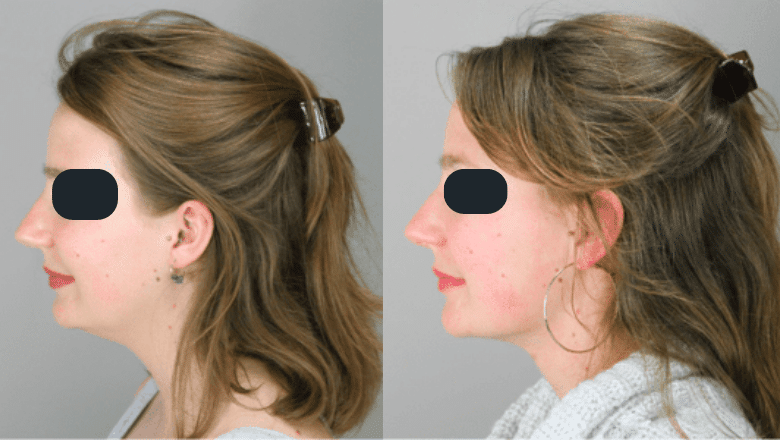 Case 3: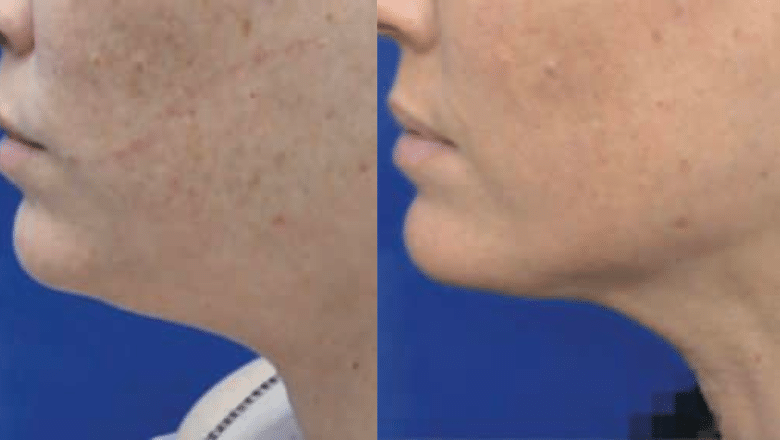 Case 4: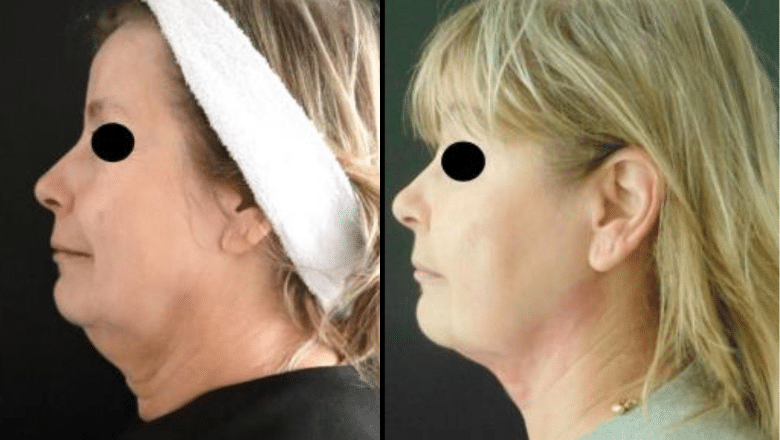 Case 5: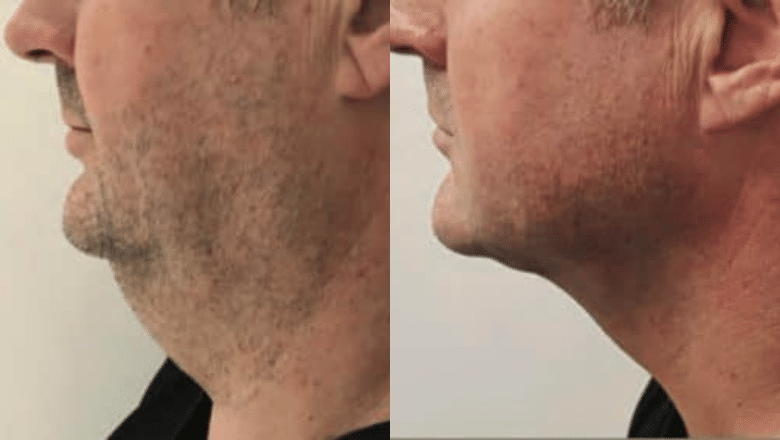 Benefits of FaceTite
FaceTite is a minimally invasive cosmetic procedure that uses radiofrequency energy to tighten and contour the skin of the face and neck. It has gained popularity in recent years because of its numerous benefits.
One of the main benefits of FaceTite is that it is a minimally invasive procedure, which means that it does not require large incisions or general anaesthesia. This results in a shorter recovery time and less discomfort for the patient. In fact, most patients can resume their normal activities within a few days of the procedure.
Another benefit of FaceTite is that it provides immediate results. Patients typically notice a visible improvement in the tightness and contour of their skin immediately after the procedure. However, the full results of FaceTite may take several weeks to develop as the skin continues to heal and tighten.
FaceTite also provides long-lasting results. The radiofrequency energy used in the procedure stimulates the production of collagen, a protein that gives skin its elasticity and firmness. This means that the skin will continue to tighten and improve over time, with many patients reporting results that last for several years.
One of the most appealing benefits of FaceTite is that it can be used to target specific areas of the face and neck, such as the jowls, jawline, and neck. This allows for precise contouring and tightening of these areas, resulting in a more youthful and defined appearance.
FaceTite is also a safe procedure, with minimal risks and complications. The procedure is performed using local anaesthesia, which means that the patient is awake and aware throughout the procedure. This allows the surgeon to monitor the patient's response and ensure that the procedure is performed safely and effectively.
Finally, Facetite is a cost-effective alternative to traditional facelift surgery. It is a minimally invasive procedure that does not require general anaesthesia or an overnight hospital stay, which means that it is generally less expensive than a traditional facelift.
Am I suitable for FaceTite?
There are generally three types of patients with laxity of the facial skin that our surgeons classify as part of a "treatment gap" between surgical and non-surgical options:
(1) The younger patient whose skin laxity is not of sufficient severity to warrant a more traditional excisional procedure like a full facelift or neck lift, but also not mild enough to treat with non-invasive procedures like cryolipolysis or HIFU or minimally invasive
submental liposuction
alone
(2) The patient who has already undergone a facelift or neck lift and now presents with recurrent laxity due to the ongoing ageing process
(3) The patient who may benefit from a traditional facelift or neck lift but would ideally like to avoid more invasive surgery and would be willing to accept a milder improvement and shorter downtime
An increasingly popular soft tissue tightening technique for the lower face and neck has been a combination procedure using bipolar RF (FaceTite) and fractional bipolar RF (Morpheus8).
The combination minimally invasive RF treatment of FaceTite bipolar RF and
Morpheus8
Fractional RF does not aim to replace a traditional facelift or neck lift. The benefit of FaceTite allows our surgeons to potentially fill a well-known treatment gap between invasive surgical procedures and completely non-invasive procedures. Also, it allows patients to improve facial soft tissue laxity without traditional surgery.
You will be a suitable candidate for this procedure if you are unhappy with the skin laxity on your jaw border and neck, which is mild to moderate in nature and wish to have it tightened.
Patients who are in their 30s or early 40s and who have relatively mild ageing changes in the lower face and neck may be better treated with Fotona 4D or TightSculpting, which is a non-invasive laser treatment. Fotona 4D and/or Tightsculpting is also ideal as a maintenance treatment after a facelift or FaceTite procedure.
For patients with moderate to severe skin laxity and with a significant loss of tone and elasticity in the lower face and neck, the best option would be a full face and neck lift to address the significant ageing effects. Our surgeons also offer short scar or mini facelifts under local anaesthesia at our London clinic. More extensive facelift surgery is performed under TIVA general anaesthesia at our surgical facility in London.
Between these two ends of the treatment spectrum lies the ideal patients for FaceTite. Before undergoing this procedure, you will be required to attend a consultation with one of our surgeons. They will be able to assess your face and neck and decide if you are a suitable candidate or whether you would be better suited for another procedure, such as a facelift.
FaceTite & Morpheus8
Morpheus8 is the most exciting development in fractional radiofrequency microneedling. The Morpheus8 device is the latest in fractional RF microneedling technology, with full control over needle depth adjustment and the energy level delivered through the 24 precision microneedles. The FaceTite procedure is performed first for 'inside-out' skin tightening, followed by the application of Morpheus8 for 'outside-in' skin tightening, creating an impressive 'thermal sandwich effect'.
RELATED: Should I Choose Morpheus8 or FaceTite?

The tiny pins of the morpheus8 device can penetrate deep enough into the skin to impart controlled thermal energy via the micro pins to induce the contraction of collagen and elastin. The Morpheus8 procedure does not require incisions, and there is no need for sutures. The procedure can be performed effectively with the prior application of topical local anaesthetic cream to permit a pain-free procedure.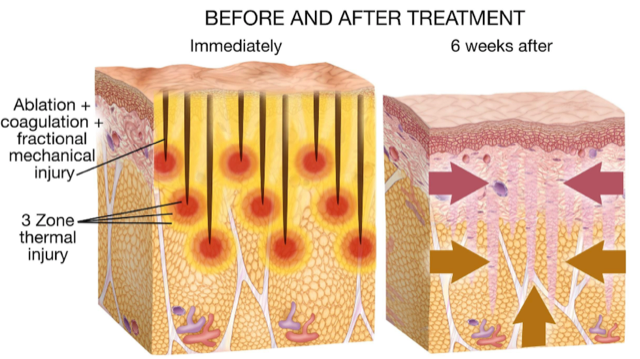 FaceTite Procedure
On the day of your procedure at our Baker Street clinic, you will be given oral sedation medication to help you relax during the FaceTite treatment. The surgeon will precisely mark the treatment zones on your face. Next, the surgeon introduces a local anaesthetic to the area where energy will be applied. This is done in a way that minimises discomfort. FaceTite is a day procedure, so you will not need to stay overnight in the clinic.
The area being treated will be numb, so you cannot feel any pain or discomfort. Once the area is numbed, small incisions will be made under the chin and on either side of the face. The FaceTite device is then inserted beneath the skin. While this occurs, you may feel some tugging and hear some 'popping' sounds, which is completely normal. This means the subcutaneous tissue is being heated. This will be undertaken on both sides of the face and three areas of the chin. Once each area has been completed, liposuction may be undertaken to remove excess fat and help give extra definition to the jawline and neck.
You can also combine FaceTite with Morpheus8, a minimally invasive skin tightening treatment that imparts thermal energy from 'outside to inside', resulting in a thermal sandwich effect when combined with FaceTite.
The excellent treatment efficacy of FaceTite can be explained by the design of the FaceTite cannula. The two probes are connected to a handpiece. One probe is inserted beneath the skin during the procedure, and the other probe lies outside the skin and glides on the skin surface, helped by special conductive jelly. The surgeon brings the two ends together during treatment, like pinching a pair of chopsticks together. The bipolar radio frequency energy flows between the two probes as the cannulas gently move back and forth under the skin. Energy is accurately localised between the two probes to prevent inadvertent injury to nearby structures.
The FaceTite design allows the surgeon to select a higher amount of energy to be safely delivered to the areas to be targeted, as the system has numerous temperature sensors built in. This allows FaceTite to exceed the degree of tissue tightening compared with other systems available. The radiofrequency energy applied to the tissues has two key effects. Firstly the energy leads to a direct tightening of the dermal layer of the skin through the process of subdermal coagulation. Secondly, FaceTite stimulates the cells, which produce core structural components of the skin, including collagen, elastin and hyaluronic acid. These substances confer youthfulness and firmness to the skin.
Recovery after FaceTite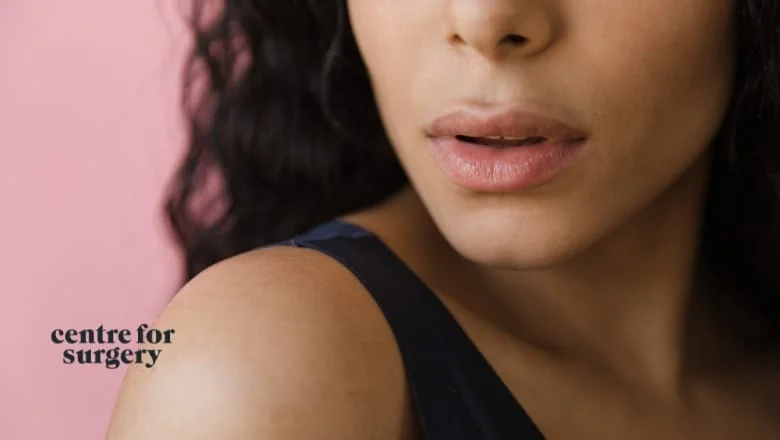 Following the procedure, it is normal to experience swelling, which may last for one week. During this period, you may also experience tenderness in the neck. You may feel some numbness in the treated areas. This can often last for a few months. You may need to take two to five days off work. This timeframe will vary depending on the type of employment you undertake and how well you respond during the recovery period. You must wear a compression garment for 48 hours following the FaceTite procedure. This will not only help to reduce swelling but will give extra support to the face and the neck. During the first 48 hours, you should avoid vigorous physical activities. You should also avoid wearing makeup while the compression garment is still on. You may notice some results straight away. However, the skin will continue to restrict over time, and results will improve. Results will become more obvious after four months. Some people will notice an improvement in results for up to 18 months.
Potential risks and complications of FaceTite
As with all cosmetic surgery procedures, there are risks and potential complications. FaceTite is no different. By choosing Centre for Surgery, you can be assured of having a highly experienced surgeon to carry out your procedure. You must make sure to follow the detailed preoperative and postoperative instructions to reduce the risk of any complications occurring. FaceTite is a minimally invasive procedure with a more favourable risk profile compared with traditional facelift surgery.
Side effects and risks of FaceTite:
Bruising and swelling
Altered sensory changes
Injury to marginal mandibular nerve
Anaesthetic risks
Postoperative bleeding
Surgical site infection
Requirement for revision surgery
If something does not seem right following your procedure, please contact Centre for Surgery as soon as possible using the emergency contact number supplied to you on the day of your procedure.
Our aftercare programme was recently described as 'outstanding' by our regulator, the Care Quality Commission.
Our postoperative support team phone all our patients the day after their procedure and then every other day thereafter for the first two weeks. The proactive nature of our postoperative support gives every patient the best opportunity for a smooth postoperative recovery free of complications. In many cases if complications were to occur, their impact is markedly lessened by early detection, prompt clinical assessment and correct treatment. Where a patient expresses concern to our team over the phone, then we often call patients in the same day for assessment with one of our expert nursing team. Even if there is no significant issue, the careful explanation and calm reassurance provided by our team can help to alleviate any worries you may have experienced.
Which facial rejuvenation procedures can be combined with FaceTite?
FaceTite is a versatile cosmetic procedure that can be combined with a range of facial rejuvenation procedures to provide comprehensive results. Here are some of the most common facial rejuvenation procedures that can be combined with Facetite:
Combining Facetite with other facial rejuvenation procedures can provide more comprehensive results and enhance the overall effectiveness of the treatment. Your plastic surgeon can help you determine which procedures will most benefit your individual needs and goals.
FaceTite Cost in London
Several factors will determine the overall cost of the FaceTite procedure, and the final quotation will be given after your face-to-face consultation with your specialist plastic surgeon.
RELATED: How much does FaceTite cost?
FaceTite alone or combined with chin liposuction
Local anaesthetic or general anaesthetic, or moderate sedation
FaceTite performed after previous facelift surgery
Why not call 0207 993 4849 and speak to one of our expert patient coordinators, who can give you a rough costing before consulting for a FaceTite procedure?
Remember that price should never be the determining factor when choosing your provider. We feel that safety and quality of service should be your number one priority and instil in you the confidence that our team will look after you before, during and after your procedure to the best of their ability.
Spread the cost of your procedure

Centre for Surgery are fully approved to offer finance via our specialist finance partner, Chrysalis Finance.
You no longer need to use your savings to pay for your treatment – you can apply to spread the cost of your procedure with Chrysalis Finance using their simple 1,2,3 application to pay for your procedure.
Don't wait until you have enough money for your treatment, apply today and (subject to status) pay for your procedure easily in monthly instalments, using one of their payment options.
Chrysalis Finance is the only ethical provider who focus solely in the provision of specialist financing for medical procedures.
Why Choose Centre for Surgery
Choosing the right provider for your FaceTite procedure is an important decision. Here are some reasons why you may want to consider Centre for Surgery for your FaceTite procedure:
Highly skilled surgeons: Centre for Surgery has a team of highly skilled and experienced cosmetic surgeons who are experts in performing Facetite and other facial rejuvenation procedures. Our surgeons have extensive training and experience in the latest techniques and technologies, ensuring that you receive the best possible care and results.
State-of-the-art facilities: Centre for Surgery operates from modern, state-of-the-art facilities on Baker Street in central London that are equipped with the latest technologies and equipment. Our facilities are designed to provide a comfortable and safe environment for our patients, with a focus on patient safety and satisfaction.
Personalised care: At Centre for Surgery, we believe that every patient is unique and deserves personalised care. Our surgeons take the time to listen to your concerns and goals, and work with you to develop a personalised treatment plan that meets your individual needs and expectations.
Comprehensive aftercare: We provide comprehensive aftercare and follow-up to ensure that you achieve the best possible results from your FaceTite procedure. Our team of experienced nurses and clinicians will monitor your recovery and provide you with the support and advice you need to achieve optimal results.
Competitive pricing: At Centre for Surgery, we believe that everyone should have access to high-quality cosmetic procedures at an affordable price. We offer competitive pricing for our Facetite procedure without compromising on quality or safety.
RealSelf Top Doctors at Centre for Surgery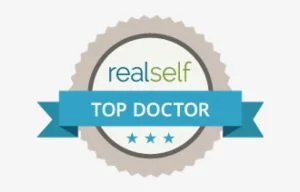 RealSelf's top doctor status is awarded to less than 10% of the RealSelf doctor community. This status is earned by achieving consistently high patient satisfaction (from RealSelf reviews), getting excellent feedback on expert answers to patient questions, and investing significant time in Q&A and other doctor activities. RealSelf's top doctors are rated among the best surgeons in the UK.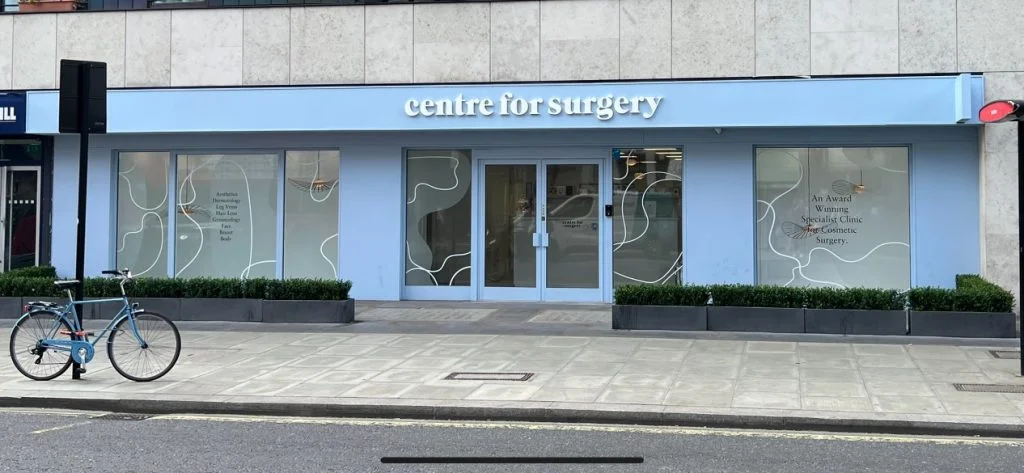 What To Expect
The consultation
If you are considering FaceTite, we invite you to have a consultation with one of our surgeons for an in-depth assessment. A number of measurements are taken of the facial and neck area areas where FaceTite is to be performed, and an assessment will be made of the soft tissue quality. Those who have good skin elasticity then you may be a good candidate for chin liposuction alone. Your surgeon is skilled in all types of facial rejuvenation surgery, including facelift surgery, and the most appropriate choice will be based on your physical examination. The surgeon will also give information on the location of the small incisions for the FaceTite procedure and whether the procedure is to be combined with another procedure such as Morpheus8.

High-resolution photos will be taken, and your surgeon may also use computer digital imaging. Your surgeon will take time to discuss the important risks and potential complications of FaceTite and what you can expect in the postoperative period.

The surgeon will also take a full medical history, including previous operations, the current list of medicines taken, and any potential allergies. This information will be used to decide on your fitness for the FaceTite procedure. If you are deemed to be a suitable candidate for FaceTite, then we would recommend spending a period reflecting on all the information given. We always recommend a minimum of a '2-week cool off period' to weigh up your options.

All prospective patients are more than welcome to have as many follow-up consultations after their initial consultation to ensure you are fully empowered with all the information to make an informed decision for proceeding with FaceTite surgery at Centre for Surgery.
Personalised quote
At the surgical consultation, you will meet directly with the plastic surgeon. The surgeon will thoroughly assess you to determine your suitability and advise on the best options for you. Your surgeon will then explain how the procedure will work, including general anaesthesia options for those who choose to be asleep for their procedure. You will receive your personalised quote the next working day from your patient coordinator.