Lip Filler Injections London & UK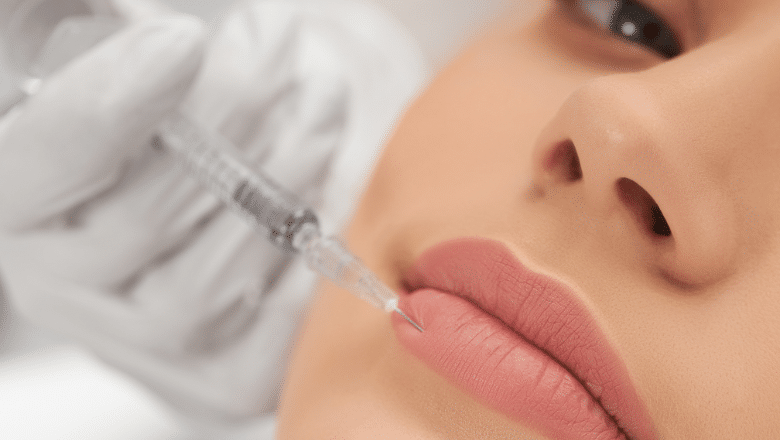 Achieve luscious, perfectly sculpted lips with our expert lip filler injections – a touch of elegance in minutes!
Lip fillers, also known as lip augmentation and lip enhancement, are a commonly performed procedure at Centre for Surgery in London for enhancing fullness to lips that are thin, and optimisation of the lip contour to make the lips in harmony with surrounding structures. Fine wrinkles around the mouth can also be improved with expert placement of lip filler. Lip filler injections are most commonly performed using hyaluronic acid dermal filler of the Juvederm brand, the premium brand of lip filler.  Whilst lip fillers are excellent for volumising the lips, lip lift is ideal for altering the shape of the upper lip and the width of the lips. 
Lip injections using HA lip filler can maintain an enhanced volume of the lips for many months. Although permanent options for lip augmentation are available using lip implants, lip fillers remain the safest and most effective means of enhancing the volume of the lips.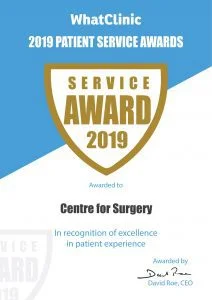 RealSelf Top Doctors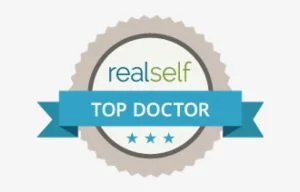 RealSelf top doctor status is awarded to less than 10% of the RealSelf doctor community.  This status is earned by achieving consistently high patient satisfaction (from RealSelf reviews), getting excellent feedback on expert answers to patient questions, and after investing significant time in Q&A and other doctor activity. RealSelf top doctors are rated among the very best surgeons in the United Kingdom and USA.
All our dermatologists and plastic surgeons are on the GMC specialist register. The Royal College of Surgeons of England has an excellent information resource on cosmetic surgery.
Our dermal fillers clinic at 106 Crawford Street was recently inspected and rated by the Care Quality Commission as good across all five domains of care.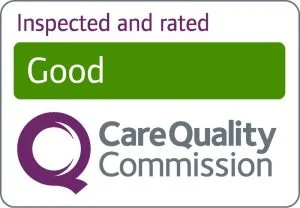 Benefits of lip fillers at Centre for Surgery in London
Only our dermatologists and plastic surgeons inject Juvederm lip filler for maximum safety
Very quick 10-15 minute treatment
Non-invasive with no need for surgery or general anaesthetic
No incisions or scars
Fast recovery with no downtime with no disruption to your normal daily routine
Natural looking results
Based in London's top medical district in Marylebone, central London
Benefits of Lip Filler
Enhancement of Lip Fullness – If you're looking to augment the volume of your lips, be it the cupid's bow, vermilion border, or the philtrum, our bespoke injectable treatments, administered by our skilled nurse, can help you attain the lip enhancement you envision.
Swift, Effortless and Virtually Pain-Free – The lip filler procedure is incredibly time-efficient, taking approximately 30 minutes. It employs an ultra-fine needle alongside a topical anaesthetic to ensure your comfort. While you may feel a brief pinprick sensation during the procedure, it is fleeting and generally well-tolerated.
Natural Constituent Filler – The predominant component in lip fillers is hyaluronic acid, which is a substance naturally found within the human body. This vital ingredient contributes to amplifying volume and smoothing out fine lines, culminating in luscious, revitalised lips.
Subtle and Natural-Looking Enhancement – Lip fillers are designed to enhance rather than alter the fundamental structure of your lips. They work to restore the natural plumpness and highlight the distinct features of your lips, resulting in a refined yet subtle enhancement.
Administered by Accredited Professionals – The lip filler procedures at our clinic are executed by registered nurses who possess the requisite expertise and finesse. Additionally, we ensure that a complimentary consultation is conducted prior to the treatment, enabling you to discuss your expectations and learn more about the procedure.
What Enhancements are Possible with Dermal Lip Fillers?
Dermal lip fillers offer an array of possibilities for enhancing and revitalising the appearance of your lips. From augmenting volume to refining shape and proportions, let's delve into what can be accomplished with this transformative treatment.
Augmentation of Lip Volume
For individuals with thin or small lips, dermal lip fillers provide the perfect solution to add plumpness. By enhancing the volume, a balanced interplay is established among the facial features, thereby harmonising your overall appearance. This augmentation is especially helpful in complementing your smile and boosting your confidence.
Achieving the Ideal Lip Proportions
The Golden Ratio in Lip Proportions
The proportions of the lips play a significant role in how they harmonise with the rest of the facial features. In the context of Caucasian aesthetics, the sought-after 'golden' ratio for the vertical height between the upper and lower lips is approximately 1:1.6. This entails a slightly more voluminous lower lip, which contributes to a naturally appealing and aesthetically gratifying outcome.
Enhancing Lip Borders and Contours
Restoring Sharp Lip Demarcation
As time progresses, the sharp demarcation that characterises the border of the lips can diminish. This loss of definition is typical of the ageing process. Thankfully, this can be effortlessly rectified with the strategic application of dermal lip fillers.
Sculpting the Lip Shape
By concentrating the filler around the periphery of the lips, including the cupid's bow and the philtrum columns, a more defined and fuller shape can be achieved. This not only imparts volume but also carves out a distinct contour, which adds a sense of depth and dimension to the lips.
Customised Lip Enhancement
What's notable about dermal lip fillers is that the treatment can be tailored to your unique preferences and facial structure. Whether you desire a subtle enhancement or a more dramatic transformation, a customised approach ensures that the results are in harmony with your aesthetic goals.
Alternatives to lip fillers
LipLase laser
LipLase is a non-invasive treatment at Centre for Surgery using a combined dual laser approach (Nd:YAG and Er:YAG) using the SP Dynamis laser for enhanced fullness and colour enhancement of the lips. This is an effective option for patients who are not keen on injections with lip fillers. Treatments will be need to be performed over 5-6 sessions followed by 6 monthly treatments to maintain the results.
Lip implants
Lip implants using the PermaLip implant can be inserted through very small incisions located inside the corners of the mouth under a local anaesthetic. Lip augmentation with PermaLip is a  permanent augmentation option. However if you wish to have have the implants removed, a simple procedure under local anaesthetic can be carried out to remove them at a later date.
Fat Transfer to the Lips
Fat transfer to the lips involves the removal of fat from another part of the body such as the inner thighs or lower abdomen and then injecting the purified fat into the lips. Fat is first harvested using a microliposuction technqiue, then the harvested fat is cleaned and purified before being injected into the lips. The goal of fat transfer is to provide a more long-term solution to lip augmentation. Patients can expect mild discomfort and swelling for 1-3 days after the procedure. Unlike an artificial implant, using a patient's own fat tissue eliminates the risk of bodily rejection. Patients should expect immediate results and requires only a few days to recover in most cases. Injections may need to be repeated until the desired result is attained.
Lip Lift Surgery
Lip lift surgery is an outpatient procedure that shortens the distance between the lips and the bottom of the nose and consequently results in more upper lip showing. An incision is made under the nose and the skin is shortened, pulling up the lips. The bullhorn lip lift is the most commonly performed type of lip lift. Other lip lift techniques can shorten the upper lip to expose more teeth. A downward-turned mouth can be lifted with small upward sutures removed in four to five days.
Ideal candidates for lip fillers
All patients should be in good health and have realistic expectations about what can be achieved with dermal fillers
We do not treat patients below the age of 18 years of age.
Healing is better if patients refrain from or quit smoking.
The lip enhancement procedure is performed purely for cosmetic purposes, to help improve one's image and self-esteem.
Preparation for lip filler injections
The success of lip filler injections relies on the patient being properly prepared for the procedure in the weeks beforehand. Prior to the procedure, you will be required to stop certain products and medications and also reduce intake of certain foods that are high alpha-omega 3.
Two weeks before lip fillers injection
Patients should avoid fish, fish oil nuts or seeds or NSAIDS such as ibuprofen which have been shown to increase the risk of bleeding. Arnica tablets are very useful to help with reducing any post-injection bruising. Arnica tablets can be purchased over the counter from most pharmacies. If you are on any prescription medicines which are known to increase the risk of bleeding then these may need to be stopped before treatment. It is very important to speak with your GP before stopping any medicines and also to receive instruction on the best time to restart the medication. Patients on medicines which are vital for health should not stop their medicines in any circumstances. In this instance, having a cosmetic procedure may not be appropriate. Patients with a history of cold sores will need to commence a preventive course of acyclovir prior to treatment. This is to ensure there is no flare-up of herpes virus infection. Your doctor will be able to prescribe this for you before treatment. Finally it is very important to read and understand the treatment consent form so you are fully familiar with the benefits, risks and complications associated with dermal filler treatment.
The day of your procedure
Please make sure to eat a light meal before your filler injections. This helps to raise blood sugar and minimise the risk of fainting during treatment. Many people are understandably apprehensive about needle injections and this is amplified by not having eaten or drunk anything before your treatment.
Please refrain from wearing any make-up before dermal filler treatment on the areas which are planned for treatment. Your practitioner will need to remove any make-up from the treatment area before your procedure. You can bring a light make-up product to apply for camouflage immediately after filler treatment.
Please aim to arrive 30 minutes before your allocated appointment to enable the application of local anaesthetic numbing cream to the face. Local anaesthetic numbing cream needs at least 20-30 mins to achieve its full effect. This is why we ask patients to arrive a little earlier than usual.
Before you leave your appointment, we would advise booking your next appointment. This is to ensure you get your favoured timing as our practitioners often get booked up to three months in advance. We always ensure never to double book patients for any facial injectable procedure.
Lip fillers treatment
Getting lip fillers is a short and simple process. As it is a non-surgical procedure, it results in no downtime. Dermal fillers involve injecting fine needles into your lips. Using thin needles means there is less trauma at the injection site. The lip fillers will result in you having lips that have increased volume, more definition and contouring. You will also notice fewer lines surrounding the lips, resulting in a more youthful looking face. After the injections, you may notice some bruising, swelling, redness and tenderness. This can be reduced by applying ice to the area. You will not be allowed to apply any cosmetics, such as lipstick, to your lips directly after the procedure. Most people will be able to return to work straight after having dermal fillers. While the results of the dermal fillers will be noticeable once the swelling goes down, the lips will reduce in size over time. After about six months, you will require more lip fillers if you want to maintain the same size of your lips.
Lip Filler Injections Aftercare
With lip filler treatment, it is quite normal to have some localised bruising, swelling and some pinpoint bleeding from the needle entry points. If you had numbing cream applied then this usually takes 2-3 hours to wear off. You can improve the healing process by making sure to follow all the post-procedure instructions given to you by your doctor.
Top tips for optimum recovery after dermal fillers
Use cold packs gently applied against the treated area for approximately 15 minutes on and 15 minutes off. This should ideally be continued for the first 48 hours after treatment.
Any strenuous exercise should be avoided for the first 48 hours to reduce bruising and swelling.
Do not massage or manipulate your face in any way after treatment. Facials or scrubbing of the face should be avoided for one week after treatment to avoid migration of filler. Gentle face waxing is allowed.
Light makeup and/or concealer can be applied immediately after your treatment to reduce the appearance of bruising on the skin.
Do take arnica tablets to accelerate the disappearance of bruising.
Pineapples and pineapple juice have been shown to reduce swelling and so it is recommended to have pineapples after treatment.
Try not to overanalyse your face for the first couple of weeks after treatment. It is very normal to have bruising, swelling and a degree of asymmetry often as a result of swelling. Your surgeon always recommends waiting two weeks before the final results can appear.
If you have any pain or discomfort in the treated areas, taking paracetamol is recommended to help with post-injection pain. NSAIDS such as ibuprofen must be avoided as these increase the risk of prolonged bruising due to their action on blood platelets.
Lip fillers before and after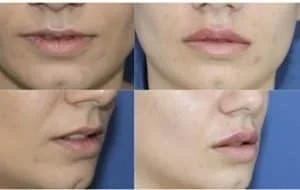 Risks and potential complications of lip fillers
Common and expected side effects of dermal fillers:
Bruising
Bruising can last up to 2 weeks post-injection but can sometimes be as long as four weeks in patients with an underlying defect in blood clotting. Bruising can be covered with concealer. Injection of the tear troughs may result in more bruising than usual, as this is known to be a highly vascular part of the face.
Swelling
It is not uncommon to have swelling which is not equal on both sides of the face as different patients may have degrees of pre-existing facial asymmetry and also the amount of filler injected. The swelling usually takes up to 2 weeks to resolve. The patient should sleep in a raised position on two pillows to speed the resolution of swelling. All patients should avoid the gym for the first few days to avoid further swelling. Avoid massage of the treated area to avoid further swelling and possible filler migration.
Asymmetry
Facial asymmetry is often related to post-treatment swelling. Patients should wait a full two weeks before an assessment on whether asymmetry is persistent and, if so, it is related to differences in volumes injected. Try to avoid over-analysing your face; it is not uncommon to identify new perceived differences in facial asymmetry after dermal filler treatment that were in fact, always there to begin with.
Lumps and bumps
Injections of filler will result in a tissue consistency that will feel harder than your own skin. You must avoid massage of the area to prevent migration of filler. Any feeling of lumps and bumps usually resolves in 2 weeks as the swelling subsides.
Subtle results
A typical 1ml syringe of dermal filler is roughly equivalent to 1/4 of a teaspoon in volume. After the resolution of tissue swelling, it may become apparent that more filler injection is required if your objective is increased volume. Our specialist facial plastic surgeons take great care to avoid overfilling areas with large volumes at the outset. This is a guaranteed recipe for treatment failure. The optimum approach is always to add volume in an incremental manner with time to achieve the optimum result. If you are new to dermal fillers, it is often the case that the results will last for a shorter period initially. However, with regular maintenance treatment, the results will be for longer as your body begins to generate its own natural collagen in the treated areas.
Dry lips after lip fillers
Lips can become dry after lip filler treatment. Application of cold packs and maintaining lubrication with Vaseline or Aquaphor should help. Ice should not be applied for more than 15 minutes at a time.
Possible complications of dermal fillers
Granuloma formation
Hypersensitivity reaction
Allergic reaction
Herpes virus reactivation
Acne recurrence
Skin necrosis from filler injection into a blood vessel
Extremely rarely – blindness from injection into the glabella or frown region
Infection and abscess formation
If you experience any of the above-listed complications, please be sure to contact your surgeon immediately for an urgent assessment.
Lip Filler cost London
There are a number of factors which will impact on the final cost of your dermal filler injection procedure:
Number of syringes of filler required
Combination treatments with anti-wrinkle injections
Complications of dermal filler from another clinic
Why not call 0207 993 4849 and speak to one of our expert patient coordinators who may be able to give you a rough costing prior to lip filler injections.
Always remember that price should never be the determining factor when it comes to choosing your provider. We feel that safety and quality of service should be your number one priority and instilling in you the confidence that our team will look after you before, during and after your procedure to the best of their ability.
What to Expect
Upon arrival for your initial consultation, our registered nurse will warmly welcome you. You'll be encouraged to discuss the aesthetic objectives you have in mind concerning your lip filler injectable treatment. This is an essential step as it enables the nurse to devise a customised treatment plan that's tailored specifically to your desires and needs.
Photography for Progress Assessment
Once you are satisfied with the consultation and decide to proceed with the treatment, photographs will be taken to document the pre-treatment appearance of your lips. Rest assured, these photographs will be stored with utmost confidentiality and will be utilised solely for monitoring your progress by our expert injector. *Please note that your photographs will not be featured on our website or social media platforms unless you provide explicit permission for us to do so.
Preparation for the Procedure: Ensuring Your Comfort
Before the treatment commences, your lips will undergo thorough cleansing. To alleviate any discomfort, a numbing agent will be applied to your lips. After allowing approximately 15 minutes for the numbing agent to take effect, the treatment will set into motion.
Precision Focused Injections: Tailoring to Your Desires
The injections will be meticulously administered to the areas you are keen to enhance. This can encompass a blend of the medial lip, lateral lip, lip border, philtrum columns, and the cupid's bow. Throughout the procedure, you will have the opportunity to observe the results using a handheld mirror, and you're welcome to suggest areas where you'd like additional volume.
Aftercare and Follow-up: Comprehensive Care for Optimal Results
Upon the completion of the treatment, you will be furnished with detailed aftercare instructions to ensure that the healing process is smooth and the results are optimised. Additionally, as a part of our commitment to providing exceptional care, a complimentary follow-up appointment will be scheduled within the next two weeks.
Lip Filler Injections at Centre for Surgery
When considering lip fillers, it's essential to select a provider that offers not only expertise but also a commitment to patient care and satisfaction. Centre for Surgery stands out as the premier destination for lip fillers for a multitude of reasons:
Expertise and Experience
Our team at Centre for Surgery is composed of highly skilled and experienced practitioners. Our registered nurses and doctors have undergone extensive training in the administration of dermal fillers, ensuring precision and an artistic eye in sculpting the lips according to your desires.
Customised Treatment Plans
We understand that each individual's aesthetic goals are unique. As such, we place great emphasis on tailoring the treatment plans to suit your specific needs and aspirations. During the initial consultation, our professionals will engage in an in-depth discussion with you to comprehend your objectives and provide recommendations based on your facial structure.
Patient Comfort and Safety
Your comfort and safety are of paramount importance to us. We employ state-of-the-art techniques and materials, including the use of top-grade dermal fillers and topical anaesthetics, to ensure a seamless and pain-free experience. Additionally, our facilities uphold the highest standards of hygiene and safety.
Natural-Looking Results
At Centre for Surgery, our approach is to enhance your natural beauty. We take great care in administering lip fillers in a manner that delivers results which are not only beautiful but also appear natural and harmonious with your facial features.
Comprehensive Aftercare
Post-procedure care is crucial in ensuring optimal results. We provide detailed aftercare instructions and encourage an open line of communication for any questions or concerns. Furthermore, we schedule a complimentary follow-up appointment to assess the healing process and the results of the treatment.
Transparent and Ethical Practices
We believe in maintaining transparency with our patients. Our pricing is clear, with no hidden costs, and we hold a strict ethical code to provide only the treatments that are in the best interest of the patient.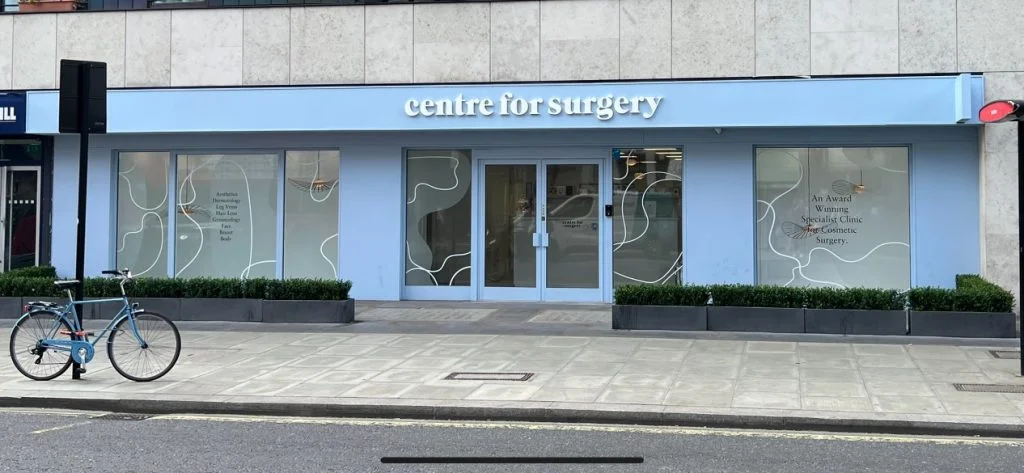 What To Expect
What to expect
Centre for Surgery are committed to following the latest national guidance and strict medical protocols in the provision of non-surgical injectable treatments. Lip filler treatments are only carried out by trained aesthetic practitioners, dermatologists and plastic surgeons for safer outcomes.

You will be looked after by a dedicated patient coordinator to act as your point of contact throughout your journey with us. Once we have a clear idea of your presenting concern, we will book you in to see either an aesthetic practitioner, dermatologist or plastic surgeon who is best placed to assess and treat you. The consultation is free and no-obligation and the full range of treatment options will be explained.

The specialist will take a comprehensive approach to assessing you by taking a full history and examination:

Treatment options based on your facial structure and the possible outcomes that can be achieved
In-depth discussion of the different non-surgical options and what can be expected with each option and whether any downtime is to be expected
Assessing your physical and mental health to make sure that dermal filler injections are right for you
Answer your questions that you may have about the different options
If it is determined that treatment is appropriate, a written treatment plan will be prepared and presented to you for making a decision on whether to proceed. Some treatments such as facial injectables can take place in the same visit where as other treatments such as laser resurfacing may need a period of skin preparation which may require up to six weeks before the actual treatment can take place.

The consultation for facial injectables are free but a £25 deposit is required to confirm the consultation and this can be redeemed against any potential treatment that you wish to go ahead with in the same visit.

Your consultant will ask you to return for a follow-up visit 2 weeks later for a review which may include a free top-up or 'tweakment' if deemed necessary.

Patient journey quick overview:

- Visit us at 106 Crawford Street, Marylebone for a free consultation with a fully trained and qualified dermatologist or plastic surgeon
- At the consultation, decide on the best treatment option for you based on expert advice from your consultant. You can choose to have treatment at the same visit if you prefer.
- Come back in 2 weeks for your follow-up visit for a check-up and repeat treatment or free top-up if appropriate.