Earlobe Reduction London UK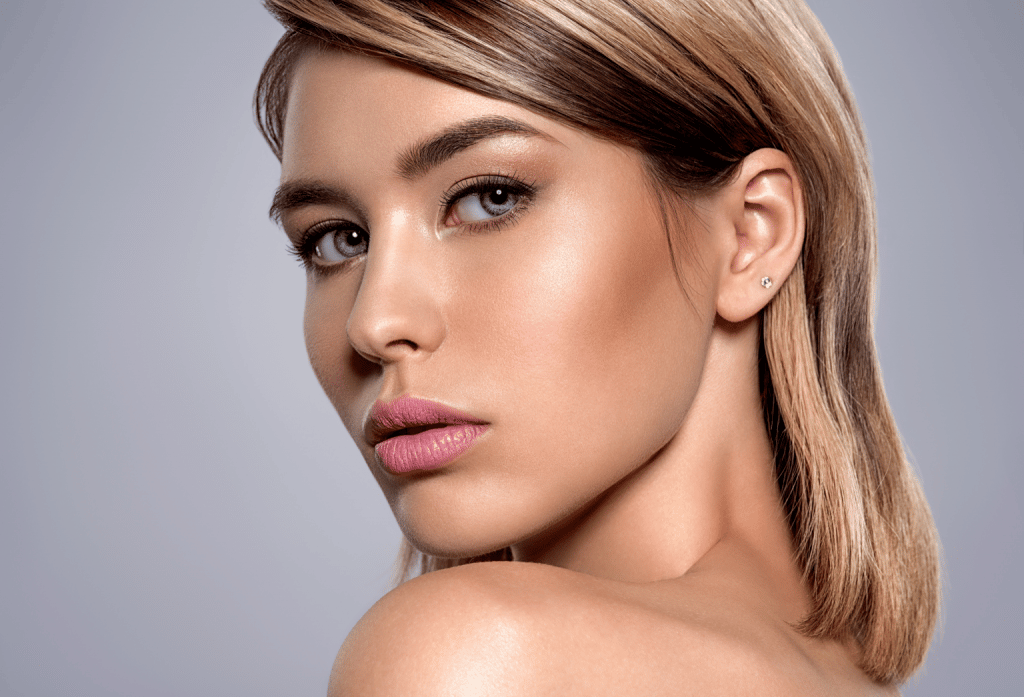 Achieve a balanced, aesthetically pleasing appearance with our earlobe reduction surgery – a quick and effective solution for resizing and reshaping elongated or oversized earlobes
The size and shape of the ears play a key role in the overall balance of one's facial features. Excessively long earlobes may contribute to a person looking much older than they actually are. Long earlobes may also have a dragging effect on the face which can negatively influence the impression of youthfulness. Whilst genetic factors may contribute to the appearance of excessively large earlobes, earlobes may also stretch under the influence of heavy jewellery or traumatic injury. At Centre for Surgery, our surgeons are experienced in the full range of ear surgery, including otoplasty or ear pinning surgery for the correction of overly prominent ears, split earlobe repair and earlobe reduction surgery. If the appearance of your excessively large earlobes bothers you, earlobe reduction or earlobe lift is a highly effective treatment to permanently reduce the size of the earlobes with a quick and straightforward surgical procedure.
What is Earlobe Reduction?
Earlobe reduction, also known as loboplasty or earlobe reshaping, is a cosmetic procedure that aims to address concerns related to oversized, stretched, or elongated earlobes. These issues may arise due to genetics, ageing, or wearing heavy earrings over time, which can cause the earlobes to lose their shape and elasticity.
The earlobe reduction procedure focuses on resizing and reshaping the earlobes to achieve a more proportionate and aesthetically pleasing appearance, enhancing the overall facial harmony. By addressing these concerns, earlobe reduction can help boost an individual's self-esteem and confidence, as well as make it easier to wear earrings comfortably.
Causes of large earlobes
Large earlobes can be attributed to a variety of factors, which may be genetic, environmental, or related to lifestyle choices. Some of the common causes of large earlobes include:
Genetics: One of the primary factors influencing earlobe size and shape is genetics. If one or both parents have large earlobes, there is a higher likelihood that their offspring will inherit this trait as well.
Ageing: As people age, the skin and soft tissues of the body lose their elasticity and firmness due to a decrease in collagen and elastin production. This natural aging process can cause earlobes to sag, stretch, and appear larger or elongated over time.
Heavy earrings: Wearing heavy earrings or large gauges can put constant pressure and weight on the earlobes, causing them to stretch and become elongated over time. This effect can be more pronounced with prolonged use of heavy earrings or if the earrings are caught and pulled on accidentally.
Trauma or injury: In some cases, an injury or trauma to the earlobe, such as a tear or split caused by an earring being pulled or snagged, can result in an irregular or enlarged appearance.
Cultural practices: Certain cultural practices involve earlobe stretching or elongation as a form of body modification. This is typically done by gradually increasing the size of inserted jewellery or weights over time, resulting in intentionally large or elongated earlobes.
Medical conditions: Although rare, some medical conditions or syndromes may cause the earlobes to appear larger than normal. For example, individuals with Pendred syndrome, a genetic disorder that affects hearing and thyroid function, may have larger and thicker earlobes as one of the associated physical features.
While large earlobes may not pose any health risks, they can be a source of self-consciousness or dissatisfaction for some individuals, leading them to seek earlobe reduction or reshaping procedures for cosmetic reasons.
Earlobe reduction Before & After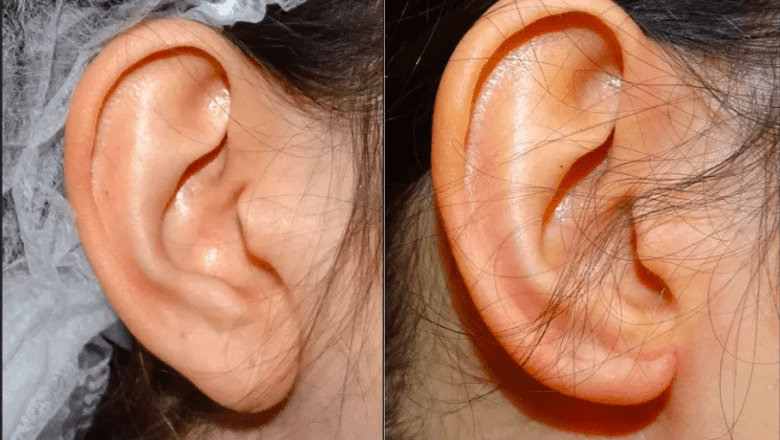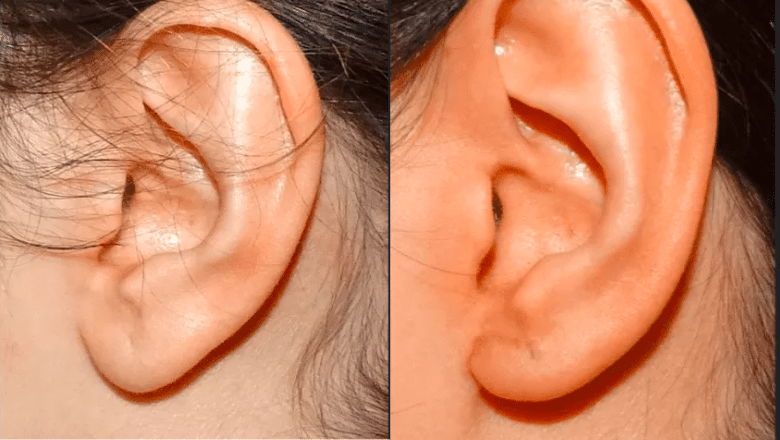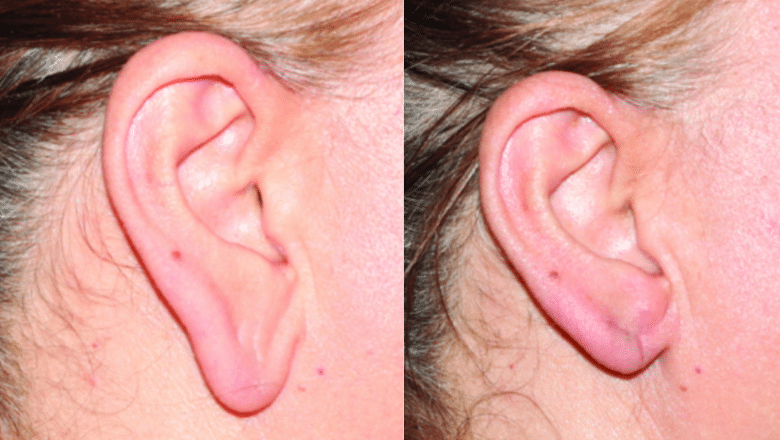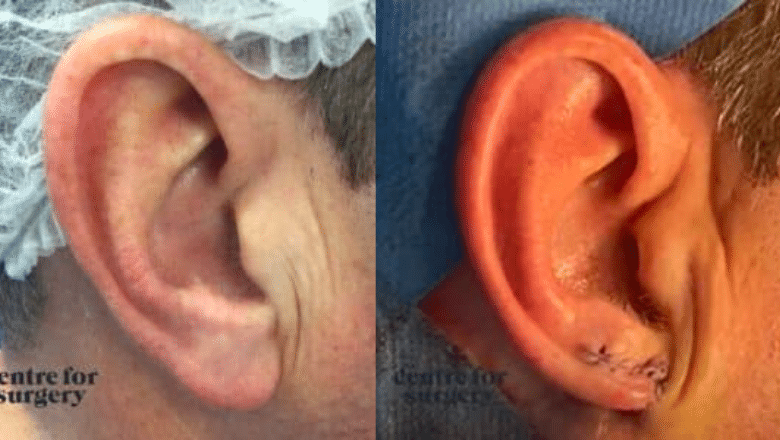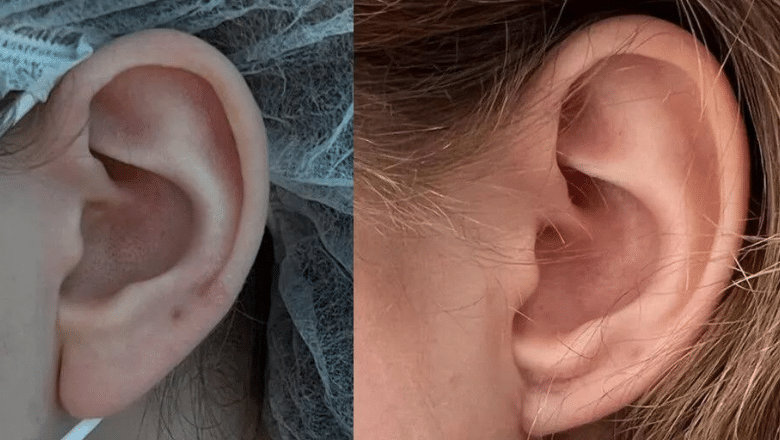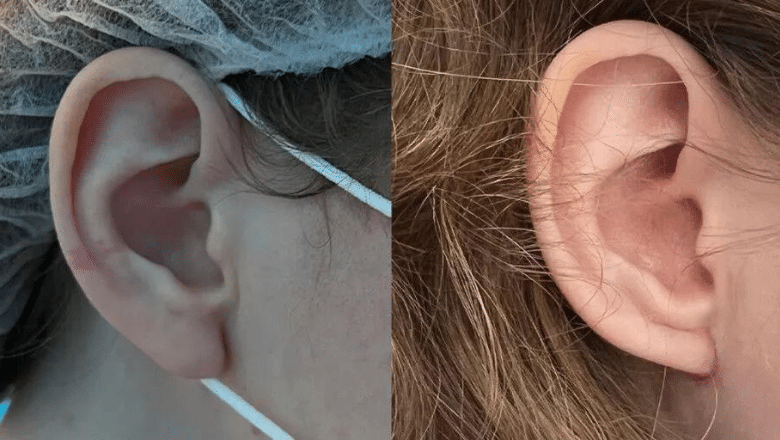 Am I suitable for earlobe reduction?
Ideal candidates for earlobe reduction include both women and men who are concerned about the appearance of prominent or overly long earlobes and are keen to improve their cosmetic appearance. Earlobe reduction surgery is ideal for stretched ear lobes, excessively long earlobes and correction of a pixie ear deformity from previous facelift surgery. Pixie ears are used to describe earlobes that have excessive attachments to the side of the head and may also be related to genetics.
Patients considering earlobe reduction should be in overall good health with no significant medical conditions such as uncontrolled diabetes or severe hypertension. It is important to have realistic expectations of what can be achieved with earlobe surgery. As part of the consultation, your surgeon will perform precise measurements of your ears and earlobes to determine the appropriate technique for reducing the size of large earlobes. The position of the incisions will be shown to you to give an idea of where the final scar placement will be.
If you are looking to repair your ear after a tribal earlobe piercing, read more here.
What does earlobe reduction involve?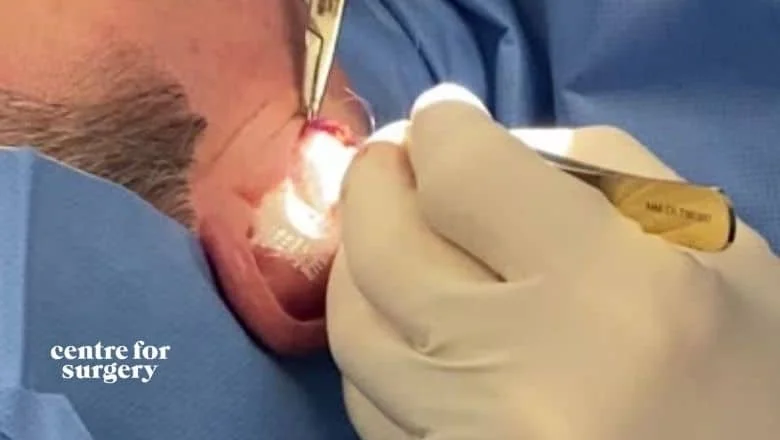 Earlobe reduction is a minor surgical procedure most commonly carried out as an outpatient at our Baker Street clinic in central London. Once you are lying comfortably on the treatment couch, the surgeon will clean and drape the area to maintain sterility. An injection of local anaesthetic will then be used to numb the earlobes. Once the surgeon has precisely measured the amount of tissue needed for removal, the incision will be made.
Several surgical techniques can be employed for earlobe reduction, depending on the patient's specific needs and the surgeon's expertise. The primary goal is to resize and reshape the earlobe to achieve a more proportionate and aesthetically pleasing appearance. Some common techniques used in earlobe reduction surgery include:
Wedge excision: In this technique, the surgeon removes a wedge-shaped section of tissue from the earlobe, typically from the lower or middle part of the earlobe. Once the excess tissue is removed, the remaining edges are sutured together, resulting in a smaller, more proportionate earlobe.
"Z-plasty" or "W-plasty": These techniques involve making a series of zigzag or wavy incisions along the edge of the earlobe. This method allows for better distribution of tension along the incision line, which can help minimize scarring and create a more natural appearance.
"V-plasty" or "V-Y plasty": This technique involves removing a V-shaped section of tissue from the earlobe and then suturing the remaining tissue in a Y-shaped pattern. This approach can be useful for correcting elongated or stretched earlobes, as it helps to lift and shorten the earlobe while minimizing visible scarring.
Crescent excision: A crescent-shaped section of tissue is removed from the lower part of the earlobe, followed by suturing the remaining edges together. This technique can be used to address both the size and shape of the earlobe and can help create a more rounded, youthful appearance.
The choice of technique depends on factors such as the patient's earlobe size, shape, and skin quality, as well as the surgeon's experience and preferences.
The incisions for earlobe reduction are most commonly placed in the crease between the face and the ear lobe or at the lowermost part of the ear lobe to ensure any scars are barely noticeable. Once the desired amount of tissue has been removed and the earlobes have been checked for symmetry, the incisions will be closed using dissolvable stitches. A sterile dressing will then be applied. You will be reviewed by a postoperative nurse one week after your procedure. At this appointment, the incision sites will be reviewed to ensure healing is progressing smoothly. There is little or no downtime after earlobe reduction surgery, and patients can return to their everyday activities immediately after the procedure.
Top tips for earlobe reduction recovery
Over-the-counter painkillers such as paracetamol can be taken as required after the procedure if you experience discomfort.
You should try to sleep with your head elevated on a couple of pillows as this will help in speeding up the resolution of swelling.
Avoid disrupting the tape dressing which has been applied to your incisions until it has been removed at your one-week post-operative appointment.
Avoid applying moisturising agents or topical ointment on the incision until you have been reviewed at your post-operative appointment.
It is normal to experience itchiness at the incision sites after a few days and this is an early sign of wound healing.
If you have had permanent stitches inserted, these will be removed approximately 10 days after your surgery.
If you have had an earlobe piercing carried out at the same time as your earlobe surgery, the front and back of the piercing site should be cleaned with an alcohol swab twice a day for two weeks.
If you have any questions or concerns about your healing and recovery after earlobe reduction, please get in touch with our post-operative nursing team for further advice.
How much does earlobe reduction cost?
The price of earlobe reduction will depend on whether you are having one or both ears treated.
The cost of treatment includes theatre fees, surgical fees and post-operative nursing care.
FAQs
Is earlobe reduction painful?

Earlobe reduction is associated with minimal discomfort. The procedure is most commonly performed using a local anaesthetic as an outpatient. The injection of local anaesthetic will involve a minor stinging sensation which lasts no more than 10 seconds. Once the earlobe is fully numbed, you should not feel any pain. It's common to experience a mild tugging sensation during earlobe reduction. Any discomfort after surgery can be easily controlled with paracetamol.

When earlobe reduction is performed as part of a facelift procedure, a general anaesthetic is preferred. Any discomfort felt after the procedure is most commonly related to the facelift surgery with mild to moderate discomfort that is well controlled with prescription painkillers.