Rhinoplasty London
Rhinoplasty in London with Centre for Surgery, otherwise referred to as a "nose job". What is Rhinoplasty ? Rhinoplasty is a surgery which involves reshaping or resizing the nose. As the nose is a central feature of the face, even minor changes can make a big impact. Rhinoplasty surgery is one of our most commonly performed facial plastic surgery procedures.
Our top London surgeons are fully trained in the Preservation Rhinoplasty technique which we are able to use for selected patients for extremely precise correction with minimal bruising and swelling and reduced downtime.
All surgeons have special expertise in all aspects of nose-related surgery including open rhinoplasty, closed rhinoplasty, primary and revision rhinoplasty, ethnic rhinoplasty & rhinoplasty for men which can help men with any breathing problems, improve their aesthetics and attain balance in the face. You can be rest assured in having one of the very best rhinoplasty surgeons in London to manage your care from start to finish. Our specialist centre at 106 Crawford Street was recently inspected and rated by the Care Quality Commission as good across all five domains of care.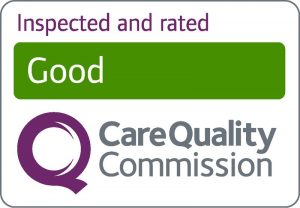 For those who are not quite ready to undertake a surgical procedure or would like to gain an idea of how a surgical rhinoplasty could look, we also offer a non-surgical nose job, otherwise known as 'rhinofiller'.
What is non-surgical rhinoplasty?
All our plastic surgeons are on the GMC specialist register. The Royal College of Surgeons of England has an excellent information resource on cosmetic surgery.
This video below gives a detailed overview of the rhinoplasty procedure from start to finish. It has been prepared by the European Academy of Facial Plastic Surgery.
Rhinoplasty - Why choose Centre for Surgery ?
Significant experience with all types of rhinoplasty surgery – open, closed, aesthetic, reconstructive and revision.
We regularly receive patients from overseas at our rhinoplasty centre of excellence.
Our surgeons are UK trained NHS consultant plastic surgeons who live and work in London. We don't work with 'fly-in, fly-out' surgeons from Italy. This is very important because whilst your surgeon takes all precautions to minimise complications, complications can and do occur and our surgeons are readily available to manage any issues if and when they arise.
Risks of going abroad for cosmetic surgery
We own and manage our own surgical facilities. Properly performed rhinoplasty surgery takes time and should not be rushed. Dr Gilleard performs a maximum of two rhinoplasty procedures in a day. We do not cram 5-6 procedures into one day like other providers. You want your surgeon to be well-rested and mentally and physically sharp to perform rhinoplasty surgery which is a very intensive procedure to get the very best results. Dr Gilleard is a Consultant Plastic Surgeon in the department of Plastic Surgery at the world famous Royal London Hospital in Whitechapel. You can be assured of being in the very best hands for your rhinoplasty procedure.
World Renowned Rhinoplasty Surgeon
Mr Onur Gilleard is a Consultant Plastic & Reconstructive Surgeon at the world famous Royal London Hospital and is on the GMC Specialist Register for Plastic Surgery.
How to choose your plastic surgeon
He qualified as a doctor in 2005 following his studies at Guys and St Thomas Medical School, London and was ranked first in the specialist training application process for plastic surgery. He then went on to undertake his plastic surgery training at some of the most prestigious teaching hospitals in London during which time he was awarded the craniofacial Society medal for his work on the treatment of cleft lip and palate. Mr Gilleard has completed rhinoplasty training at one of the world's most renowned rhinoplasty centres in Istanbul, Turkey. Mr Gilleard continues to attend international rhinoplasty conferences including the annual rhinoplasty symposium in Bergamo, Italy to keep his knowledge and skills up to date.
In his everyday practice as a consultant plastic surgeon at the Royal London teaching hospital he undertakes complex reconstruction surgery following complex cancer and major trauma.
Mr Gilleard specialises in a wide variety of cosmetic procedures of which aesthetic and reconstructive rhinoplasty surgery has always been his passion. He is a keen believer in attaining natural results from utilising cutting edge plastic surgery techniques to obtain the best outcome for each individual.
Beyond the operating theatre, Mr Gilleard is a keen sportsman participating in both triathlons and long distance running events.
What can Rhinoplasty achieve?
A rhinoplasty can be performed for both aesthetic and functional reasons which often be addressed in the same procedure. Whilst restoring nasal function and correcting a deviated septum are commonly performed, by far the most common reason for nose reshaping surgery is to improve the aesthetics of the nose.
The Rhinoplasty procedure can achieve the following objectives:
Narrow the bridge or middle third of the nose
Reshape the nostrils by widening or narrowing
Nose tip reshaping and refinement
Sculpt the bridge or nasal dorsum of the nose
Reducing the size of the nose with the removal of cartilage and bone
Nasal profile contouring
Functional objectives:
Rhinoplasty for noses previously damaged through trauma (car accidents, sport etc)
Septum deviation or a bent nose
Breathing difficulties
Crisalix 3D imaging for Rhinoplasty
Unique to Centre for Surgery, we are proud to offer the amazing Crisalix 3D imaging experience to all our patients. Visualise in incredible detail how your could look after your rhinoplasty procedure.
Crisalix 3D imaging is offered as standard at your rhinoplasty consultation.
Advanced Piezotome Rhinoplasty
Centre for Surgery are one of the few centres in the United Kingdom to use the Piezotome method of shaping the nasal bones with extreme accuracy and precision.
The traditional method of rhinoplasty involves the use of mallets, chisels and bone files which often leads to a significant degree of bruising and swelling and what can often be a lengthy recovery.
Concentrated ultrasonics emitted from a specially designed handpiece precisely sculpt the bony framework whilst respecting the nasal soft tissues. This means less swelling, less bruising, less discomfort and a quicker recovery.
Nose Jobs London
Rhinoplasty is one of the most popular procedures in the UK. There are several common reasons why patients choose to have a rhinoplasty. These include:
Traumatic injuries of the nose: slips, trips and falls are common causes of injuries to the nose. To correct deformities to the nose, rhinoplasty will be required to restore the structure and function of the nose. 
Aesthetic: the nose plays a major role in balanced facial aesthetics. For patients who are unhappy with their nasal structure, this can be corrected with a rhinoplasty procedure.
Airflow through the nose: many patients experience problems with breathing through their nose and depend heavily on mouth breathing. Plastic surgeons have specialist expertise in correcting the airflow pathways of the nose. A rhinoplasty procedure can be performed with surgery of the partition of the nose or septum (septoplasty) to address airflow problems.
Nose job before and after
Case 1: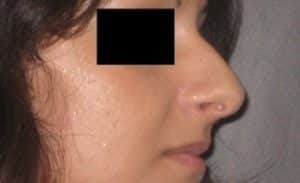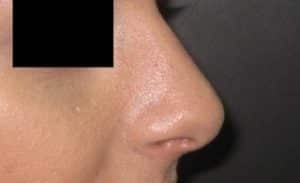 Closed rhinoplasty with dorsal hump reduction. All incisions are hidden within the nose.
Case 2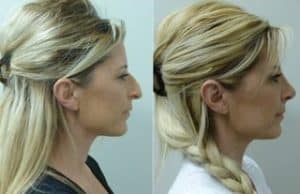 Open rhinoplasty with dorsal hump reduction and tip-plasty.
Cases 3 and 4: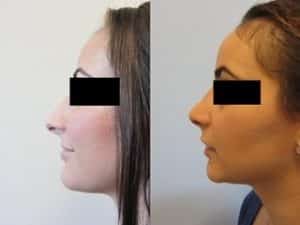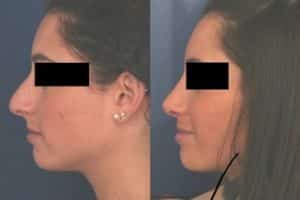 Both patients above had open rhinoplasty with dorsal hump reduction and rhinotip correction.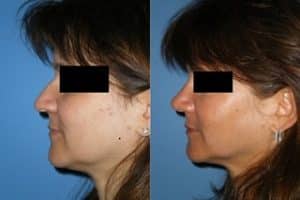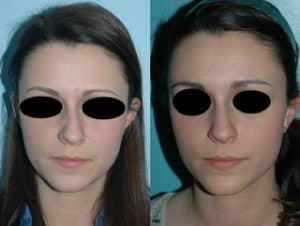 Ethnic rhinoplasty before and after
Case 1:
Open rhinotip correction with no bony work and alar base reduction. After photos are 5 weeks later.
Case 2:
Open ultrasonic rhinoplasty with dorsal hump reduction and tip-plasty. After photos are 2 months later.
Case 3:
Open rhinotip correction (no bony work). After photos 6 weeks later.
Case 4: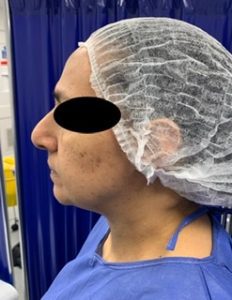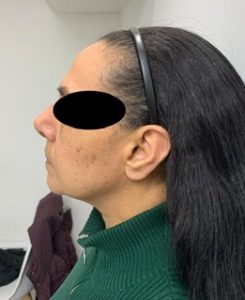 Open rhinoplasty with small dorsal hump reduction and tip-plasty.
Rhinoplasty Candidates
Whether you choose to have a rhinoplasty because of aesthetic reasons, previous trauma or airflow problems – there are some fundamental prerequisites to make sure you get the best possible outcome from your procedure:
Patients must be over the age of 18

Healthy – physically and mentally

Realistic expectations of what can be achieved

Aware of the recovery process and the need to follow postoperative instructions
Are you interested in undergoing a rhinoplasty but are not sure if you can afford it upfront? Take a look at what finance options we have available.
Thinking about having cosmetic surgery?
Read our latest testimonials from our amazing patients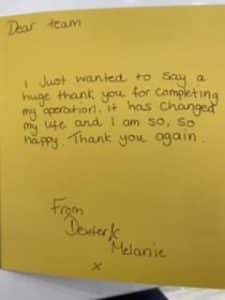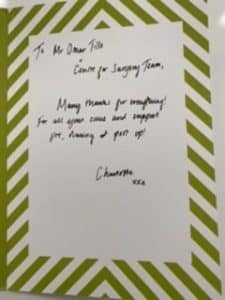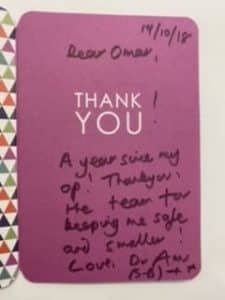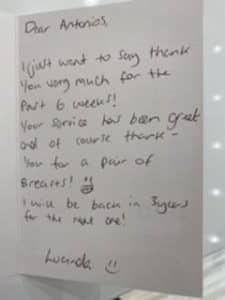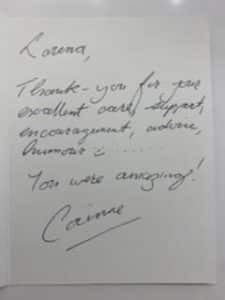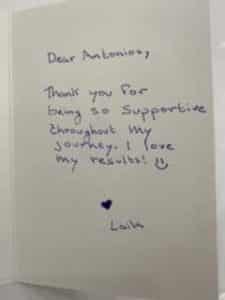 Preservation Rhinoplasty
The Rhinoplasty procedure has evolved over time, away from cartilage destructive techniques to preservation of your cartilage and utilising minimally invasive surgical approaches to minimise downtime.
This new technique means surgeons no longer need to break the nose during surgery. The dorsal height can be corrected via an internal access approach to sequentially reduce the height. This incremental approach means the nose will become smaller as the height is reduced internally and the hump will be removed.
Approximately 1 in 5 patients will still require a traditional procedure and your surgeon will be able to advise you on the most appropriate surgical method.
Revision rhinoplasty before and after
This patient below had a rhinoplasty in Bulgaria. Unfortunately too much septal cartilage was removed leading to internal nasal valve collapse. Mr Onur Gilleard performed a revision rhinoplasty and reconstructed the nose with the use of ear cartilage taken from the back of the ear. Revision rhinoplasty is highly complex surgery. Centre for Surgery regularly perform revision rhinoplasty for patients who often had their first rhinoplasty operation in Eastern Europe. Sadly the adage, 'buy cheap, pay twice' very much applies to rhinoplasty surgery where expertise and experience really matter.
Open revision rhinoplasty using ultrasonic technique. Correction of inverted-V deformity, dorsal hump reduction, tip-defining sutures and insertion of columellar strut. After photos are 5 weeks later. The mild degree of swelling will be expected to settle over the next 3 months.
Rhinoplasty procedure
You will initially be reviewed by a fully qualified consultant plastic surgeon experienced in rhinoplasty surgery. Our lead surgeon is a specialist rhinoplasty surgeon and holds a full NHS consultant appointment in central London where he is head of department and where he regularly performs complex reconstructive surgery. Your surgeon will use Crisalix 3D imaging to map your nose in incredible detail. This way you have the opportunity to discuss directly with the surgeon who will perform your operation (if you go ahead) your ideas, concerns and expectations about the rhinoplasty procedure. The surgeon may also inform you of the risks which may occur if you choose to travel abroad for your rhinoplasty.
As part of the consultation, the surgeon will:
Take a full history and examine you;

Explain what the rhinoplasty surgery involves; and

Perform 3D Crisalix imaging

Will offer his/her professional opinion of what can/cannot be done to achieve the ideal aesthetic outcome
All rhinoplasty procedures at Centre for Surgery are conducted under our specialist general anaesthesia technique – known as ClearSleep™. In our experience, patients experience fewer side effects under ClearSleep™ technique than under traditional general anaesthesia. It also means that patients usually wake up quickly and are not required to stay overnight. They can recover in the comfort of their own home, which we believe leads to faster recovery and better outcomes. 
Rhinoplasty surgery can be performed in a number of different ways: the base of the nose can be narrowed, humps on the bridge can be removed, correcting flared nostrils or even refining the tip of the nose. 
The rhinoplasty procedure will in all cases be either open or closed. The surgeon will decide in consultation with you which is the best procedure for your case.
Closed rhinoplasty vs open rhinoplasty: 
Closed rhinoplasty – cuts will be concealed inside the nose
Open rhinoplasty – a small incision is performed on the area at the inferior aspect of the nose between the nostrils. This area is called the columella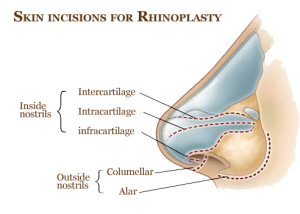 In practice, only a very few patients will be appropriate for a closed approach as the limited exposure in a closed rhinoplasty only allows the dorsal hump to be addressed in most cases. An open rhinoplasty allows full exposure of the bony and cartilaginous framework to allow an accurate correction of the areas of concern.
After you are asleep, the bones of the nose and the cartilaginous areas will be exposed. This allows the rhinoplasty surgeon to use specialised instruments to shape the nose. Some procedures may require the use of cartilage taken from other areas of the body such as the back of the ear or even from a very small area of the ribcage. This is required for the extra support to maintain the structure of the nose. Airflow issues are corrected by ensuring the septum of the nose is straightened up. Very fine sutures will be used to close any incisions that were made. A special packing material will be placed to minimise the risk of bleeding, and a splint is worn for one week to facilitate proper healing.
On table rhinoplasty before and after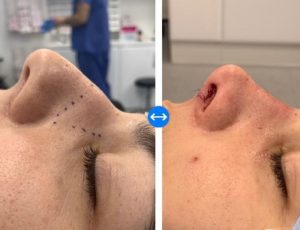 On table before and afters which show that bruising and swelling differ between individuals quite significantly. The patient on the left had rhinoplasty using traditional methods. The patient in the middle photo had the ultrasonic method and the minimal degree of bruising and swelling is clearly demonstrated. All 3 patients were very pleased with their results at 6 weeks.
Male rhinoplasty before and after
Case 1:
Open ultrasonic rhinoplasty with dorsal hump reduction and tip-plasty. After photo is 2 days later hence the bruising on the nasal dorsum which settled completely..
Case 2 and 3:
Open correction with dorsal hump reduction and extensive tip-plasty work.
Case 4:
Open revision reconstructive procedure. First procedure performed by a different surgeon in Eastern Europe. Before photo shows classic inverted-V deformity from over-zealous dorsal hump reduction.
Case 5:
Complex open procedure with extensive dorsal hump reduction.
Rhinoplasty recovery
After your rhinoplasty procedure, there will be bruising and swelling. In particular, the lower eyelids may look particularly bruised. This is normal and will subside with time.
What to eat to speed up recovery after surgery
To minimise the impact of the bruising and swelling, you should lie with head up in bed on a few pillows. We also highly recommend our patients to apply cold packs for the first 48 hours following the surgery to reduce bruising and swelling.
You will be discharged the same day and you can rest in the comfort of your own home providing you have a responsible adult with you for at least 24 hours. Our medical team will phone you the next morning and you will see the surgeon one week later for removal of the splint. There will then be subsequent follow-up appointments to monitor your healing and progress.
Reducing the risk of surgical site infection
Top strategies to reduce the risk of venous thromboembolism
Top tips for recovery
Avoid bending and heavy lifting

Avoid bumping the nose

Avoid gym activities for two weeks

Avoid showering – take a bath instead

Avoid blowing your nose

Avoid hard-to-chew foods for the first week or two

Avoid glasses for six weeks after surgery

Avoid excessive smiling or laughing

Avoid smoking

Avoid high sun exposure in the first several months following the surgery as the skin on the nose will be prone to sunburn

Sleep promotes healing so take naps when you need to
Rhinoplasty before and after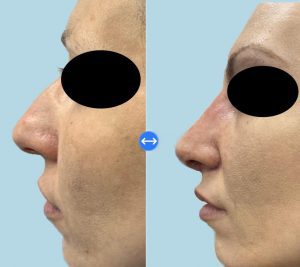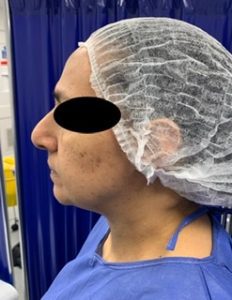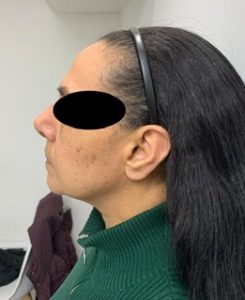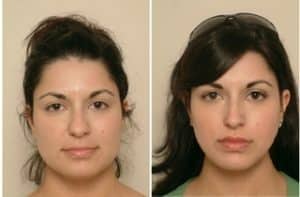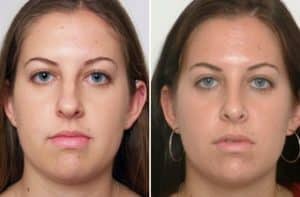 Rhinoplasty Info & FAQs
What To Expect
Find the right time
Our friendly and knowledgeable patient coordinators will speak with you to learn about your requirements, it's all confidential and your information will be used to assess whether rhinoplasty surgery is right for you. We offer the full range of finance options to help you budget for your procedure. We'll organise a convenient date and time for you to visit to come and visit our patient relationship manager at our bespoke central London clinic at 106 Crawford Street.
Crisalix 3D imaging
We'll will take time to listen to your needs and requirements and you you will receive a complementary 3D Crisalix scan to enhance your experience. You'll be given a rough idea of guide prices at this stage. A range of before and after images will be shown to you to give an idea of what can be achieved with a rhinoplasty procedure. You will then be booked in to to see Mr Onur Gilleard where your 3D scans will be discussed in detail.
Personalised quote
At the surgical consultation, you will meet directly with Mr Onur Gilleard. The surgeon will thoroughly assess you to determine your suitability and advise of the best options for you. Your surgeon will then explain how the procedure will work including our innovative ClearSleep™ anaesthesia technique which has been found to optimise outcomes following rhinoplasty surgery. You will receive your personalised quote the next working day from your patient coordinator. Mr Gilleard may wish to see you for a second consult if your case is particularly complex or if you simply have further questions which you would like answering.