Facial thread vein removal in London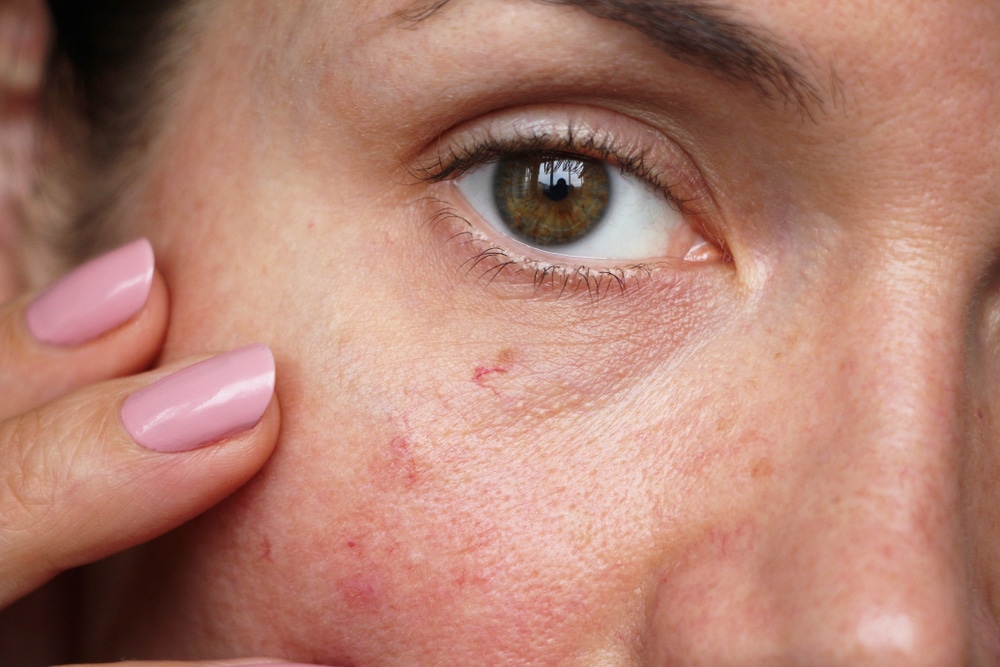 Facial thread vein removal at Centre for Surgery in London. Facial veins affecting the face are very common. Facial veins commonly resemble the appearance of spider veins and are most commonly found at the side of the nose. Facial veins can however develop on any part of the face. For many people, the presence of facial veins can can be more than just a minor cosmetic issue and can affect confidence leading to the use of camouflaging products. Other types of vascular lesions treated at Centre for Surgery include cherry angioma and venous lakes.
Facial thread veins are common in patients of all skin types from light to dark. Facial spider veins are also known as facial telangiectasia and tend to be more common in patients of lighter skin types as patients with light skin more often have precipitating causes that lead to spider vein formation. Facial thread veins are also much more visible in people with lighter skin types. In patients with multiple thread veins, embarrassment can be a major issue because of the association of overly red faces with excessive alcohol consumption.
In more severe cases of facial thread veins, the patient may be suffering from rosacea which is relatively common in the general population. There are a number of types of rosacea, however the underlying problem common to all types of rosacea is a low level inflammatory process which results in a proliferation of new blood vessels in the central parts of the face (cheeks, nose and chin). As a consequence, patients with Rosacea develop high levels of facial redness and the underlying prominent thread veins can be cosmetically disfiguring and lead to significant embarrassment in common everyday social situations. Rosacea is a chronic condition and cannot be fully cured however there are a number of effective treatments used by practitioners at Centre for Surgery. Treatment is often started with a range of topically applied treatments and medications. Once the disease is under control, laser treatment is then used to reduce the overall redness and reduce the commonly experienced symptoms of a burning sensation, extensive blushing and facial flushing.
There is no permanent cure for rosacea despite extensive medical research into new and potentially promising treatments. Rosacea can be controlled to a large extent. The redness component of rosacea can be effectively treated with courses of laser treatment. The Nd:YAG acts deeper than other lasers to act on the deeper lying blood vessels and destroy them to reduce the number of blood vessels in the superficial skin layer and hence a reduction in redness. It is important to have laser at regular intervals as recommended by your practitioner as the mechanisms that lead to rosacea formation cannot be completed eliminated.
The advances in laser treatment for rosacea has now given many patients a viable treatment option with a much longer duration of suppression in redness without the ongoing requirement for the regular application of topical medication or camouflage products which can be disruptive to ones daily life.
Vascular lesions can include hemangiomas, port-wine stains, venous lakes, angiomas and telangiectasias. They most commonly appear on the face and on the legs and will start to appear as you naturally age. These can often impact your confidence and self-esteem, as they can appear in prominent places and look aesthetically unappealing.
You can improve your appearance by undergoing laser removal of vascular lesions.
All our doctors are on the GMC specialist register. Our London dermatology clinic at 106 Crawford Street was recently inspected and rated as good across all 5 domains.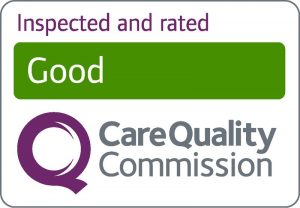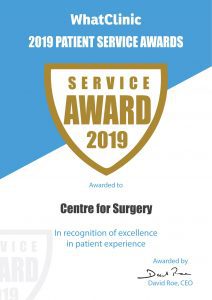 RealSelf Top Doctors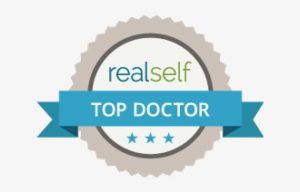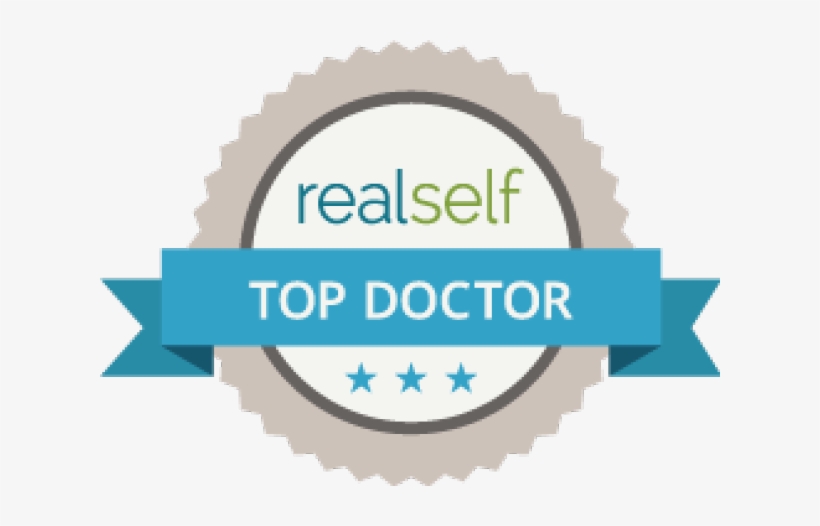 RealSelf top doctor status is awarded to less than 10% of the RealSelf doctor community. This status is earned by achieving consistently high patient satisfaction (from RealSelf reviews), getting excellent feedback on expert answers to patient questions, and after investing significant time in Q&A and other doctor activity. RealSelf top doctors are rated among the very best surgeons in the United Kingdom and USA.
What causes veins on the face?
Hereditary factors – Many patients Have a genetic predisposition to the development of facial thread veins and they may have members of the family who already have veins on the face.
Ageing process – with ageing the skin begins to lose its elasticity and therefore becomes thinner. This can result in superficial veins of the face becoming more visible beneath the skin.
Rosacea – many patients who suffer from rosacea are more likely to develop facial thread veins as this is often due to the facial redness and overactive circulation caused by rosacea, resulting in larger facial veins.
Facial thread veins can also appear following increased pressure in the face which may temporarily arise from a rigorous bout of sneezing, blowing one's nose or vomiting. Older patients who have had a recent illness may develop small broken capillaries as a result of excessive coughing and sneezing
Chronic sun exposure – patients who spend large amounts of time in the Sun can be susceptible to increased free radical damage and this can directly result in facial veins to become larger and with the added combination of thinner skin to be more visible.
Environmental factors – the formation of facial veins on the face can also be linked with excessive exposure to certain noxious chemicals or pollutants found in the environment such as smog.
Changes in temperature – significant and large increases or decreases in temperature can affect the microcirculation in the face. Many patients may develop facial flushing as a result of temperature spikes and this can lead to facial veins to rupture leading to the formation of spider veins or telangiectasia
Traumatic injury – patients can develop localised bruising following an injury to the face. As part of the healing process the face may become red and be linked with the formation of broken capillaries however in virtually all cases these prominent blood vessels disappear as healing takes place.
Lifestyle factors – common lifestyle factors which may be linked with facial thread veins include a sedentary lifestyle and also highly stressful types of work. Visually intensive tasks such as sitting at a computer may lead to eyestrain and insomnia and a possible increased risk of facial thread vein formation as a result.
Pregnancy – women experience significant hormonal changes during pregnancy and these may cause an increased formation of broken capillaries visible beneath the skin. This is most commonly a pregnancy related phenomena and results fully with childbirth.
Alcohol intake – patients who drink large quantities of alcohol excessively may develop significant and chronic broken capillaries which may coexist with spider veins and telangiectasia in association with possible rosacea and facial redness.
What are Spider Naevi?
Spider naevi are small enlarged blood vessels that are located beneath the surface of the skin. They take on the appearance of the small central red dot with thin red blood vessels that emanate from the central spot. The spidery appearance explains their name of spider naevi also known as a spider angioma. Spider naevi are treated in the same way as any other facial thread vein.
Laser treatments are now considered a routine way to remove vascular lesions from the face.
Centre for Surgery uses Fotona's long-pulse Nd:YAG laser to remove any lesions. This laser is able to penetrate 5 to 6mm into the skin, making treatment an extremely effective way to cause lesion regression.
Benefits of facial thread vein removal with laser:
No anaesthetic required

No incisions

Minimal risk of scars

No downtime
Ideal candidates for Facial Thread Vein removal
You will be a suitable candidate for facial thread vein removal if you have vascular lesions on your face which you are wishing to remove with the use of long pulse Nd:YAG laser.
You should have realistic expectations about what the procedure can achieve.
Before undergoing facial thread vein removal, you will need to attend a consultation with one of our practitioners, who will be able to assess whether or not you are a suitable candidate for facial thread vein removal.
Periorbital veins treatment
The skin around the eyelids is the thinnest skin in the facial area. The thinness also leads to a degree of skin translucency that allows underlying blood vessels to be visualised more readily. Large periorbital veins, or veins around the eye can be cosmetically disfiguring due to their visibility on the face. Periorbital veins are challenging to treat and is important to been seen by a specialist laser dermatologist with plenty of experience in the treatment of these larger types of facial veins.
Laser treatment of periorbital veins requires the application of metal eye shields to the surface of the eye to protect against the laser energy. Inadvertent application of laser into the eye in someone not wearing eye shields can lead to permanent visual damage, whether partial or complete. Our dermatologists take special care in the use of the laser in the eye region and always use metal eye shields prior to laser treatment.
The optimal treatment of periorbital veins requires use of the long pulse Nd:YAG laser. Nd:YAG is particularly effective for the blueish larger veins around the eye and temple region. The Nd:YAG must be used with extreme care as the Nd:YAG laser is the most deeply penetrating laser of all the lasers currently made. Periorbital veins that are more reddish need lower settings to treat adequately.
For larger periorbital veins, treatment often requires two sessions. It is unwise to attempt overly aggressive treatment in one session in an attempt to achieve full eradication. The risk of causing untoward thermal injury to the surrounding thin skin around the eyes and subsequent scarring is high. A better approach is to use the first treatment to reduce the size of the overly prominent periorbital veins and and then use the second treatment to reduce them even further to achieve an acceptable level of cosmesis.
Periorbital vein treatment before and after with Nd:YAG laser: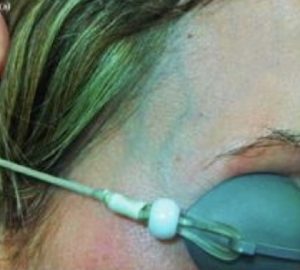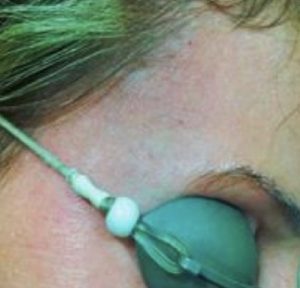 Facial thread vein removal procedure
Nd:YAG Laser is the gold standard in the treatment of facial thread veins and treatment is quick and efficient. Simple cases can be done in a single treatment. More complex cases may take 2-3 treatments.
Laser removal of vascular lesions involves the use of Fotona's powerful Nd:YAG laser.
This laser emits energy which is absorbed by the blood in the vein. This is then converted into heat, destroying the walls of the vein. The body then naturally absorbs the dead tissue, and other healthy veins continue to supply blood to the region. As a result of this, the vascular lesions then become less visible.
The laser includes VSP (Variable Square Pulse) technology which controls the temperature increase and ensures minimal energy is transmitted into other areas, meaning your skin is better protected from unintended injury.
This is a safe, fast and effective method of removing vascular lesions.
You may require multiple treatments to see the desired results. This will depend on the size of the lesions and how many there are. However, most patients will be able to see significant results after one treatment.
As this is a non-invasive procedure, there is no downtime associated with the procedure.
You may experience some slight redness or discomfort in the treatment area.
Potential complications of facial thread vein removal
At Centre for Surgery, our experienced practitioners are proficient in facial thread removal using Nd:YAG laser leading to a very low risk profile. Nd:YAG is gold standard treatment for facial thread vein removal. The treatment is quick, effective and with minimal risks. Apart from mild crusting and redness for a couple of days, there is not much in the way of side-effects.
Nonetheless, there are a number of risks to be aware of when considering laser treatment for facial thread vein removal:
Bruising (Temporary)
Post Inflammatory Hyperpigmentation (Temporary)
Burn (Rare 1 in 1000)
Scarring (Possible if a burn occurs)
Hypopigmentation (exceptionally rare)
To minimise complications, the key to prevention is having the requisite knowledge and skills through having years of experience with laser treatments. This is why choosing Centre for Surgery for facial thread vein removal is the right decision to make.
Facial thread vein removal before and after
Case 1: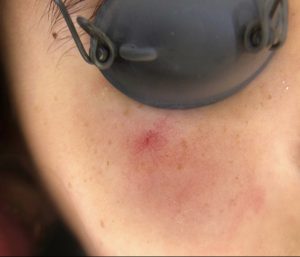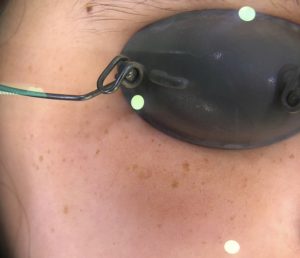 Case 2: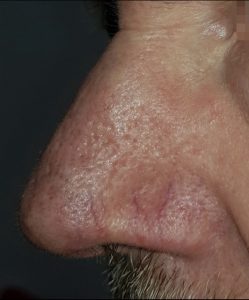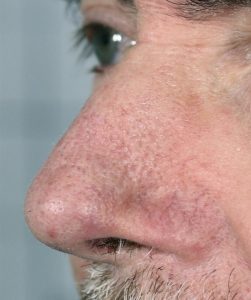 Case 3: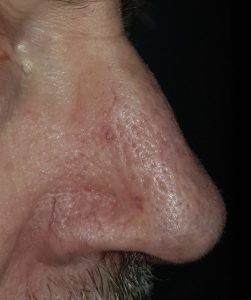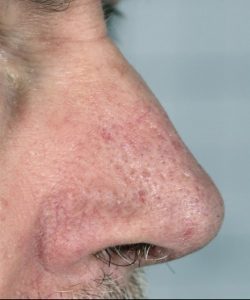 Case 4:
This 62 year old man presented in the clinic concerned about his "broken capillaries" on his face, mostly cheeks. He had not been treated for this problem before. The treatment plan was to use Nd YAG laser to reduce or completely remove the facial thread veins for him. No special pre-treatment was used. Laser technique involved using high energy small spot size and extensive contact (ice cubes) and cold air cooling for the best possible results with minimal number of sessions. Most of the blood vessels have been removed with one session but a second treatment was also performed in order to improve the outcome additionally. The patient described discomfort as 2 out of 10 and a steroid ointment was applied immediately after the procedure. The patient was advised to limit sun exposure for 10-14 days after laser treatment and use SPF 30 and higher sun protection when in the sun.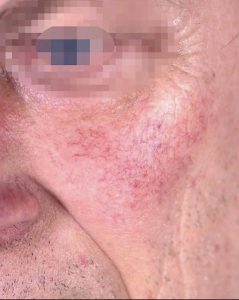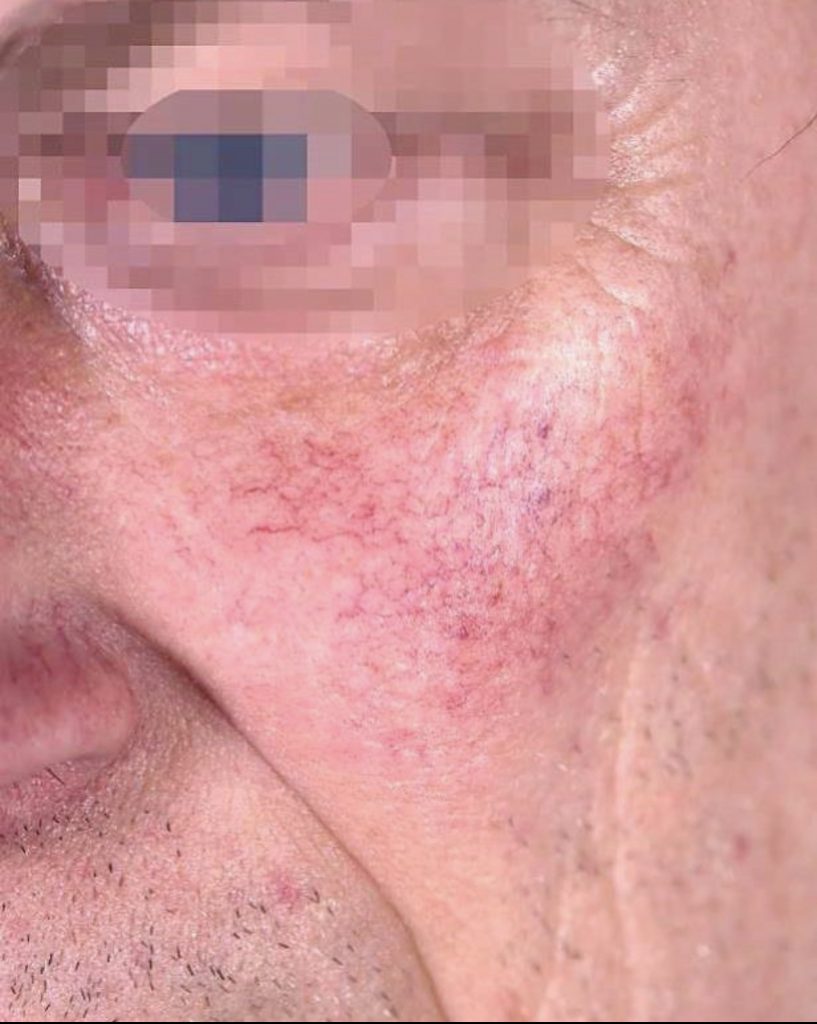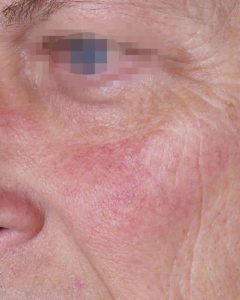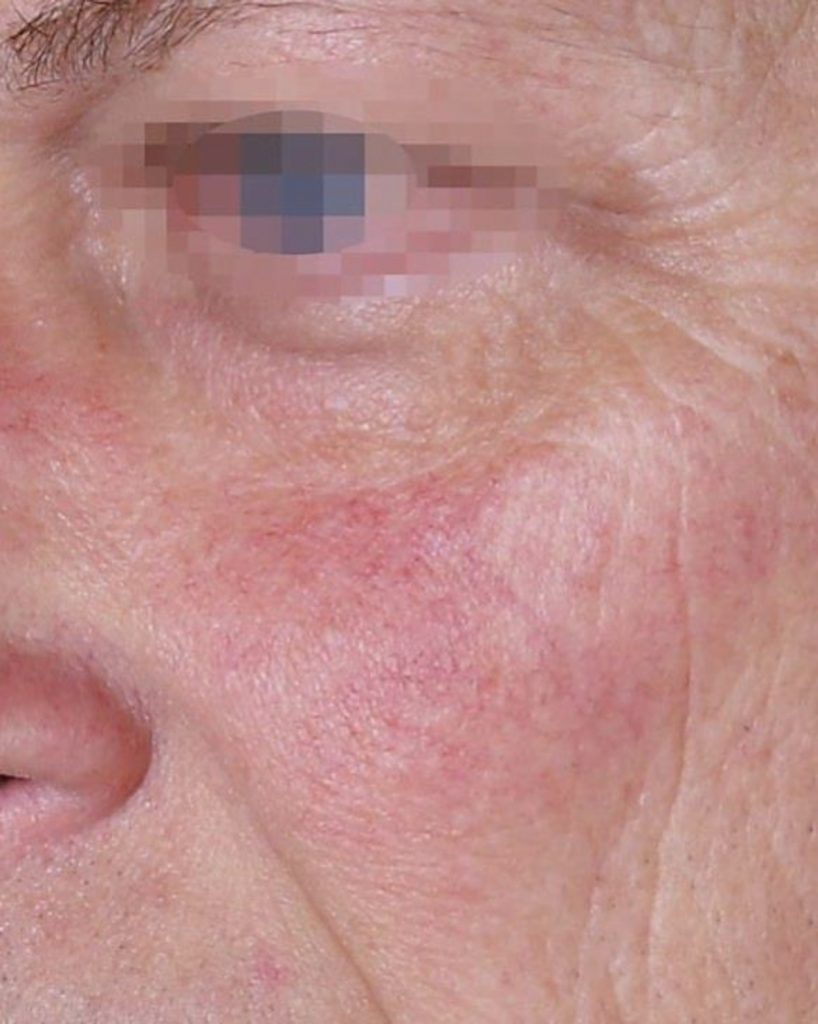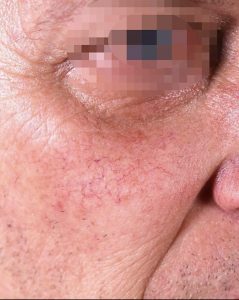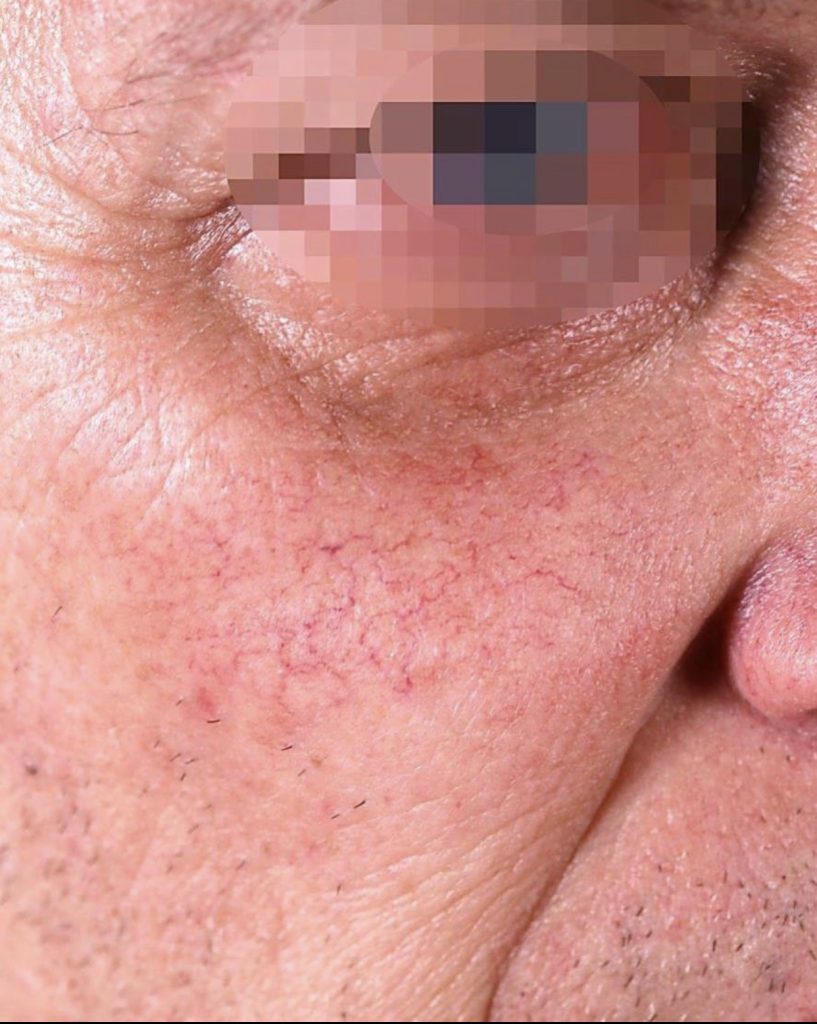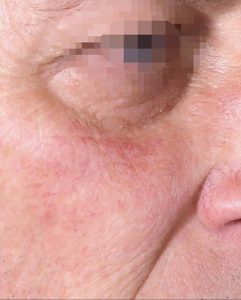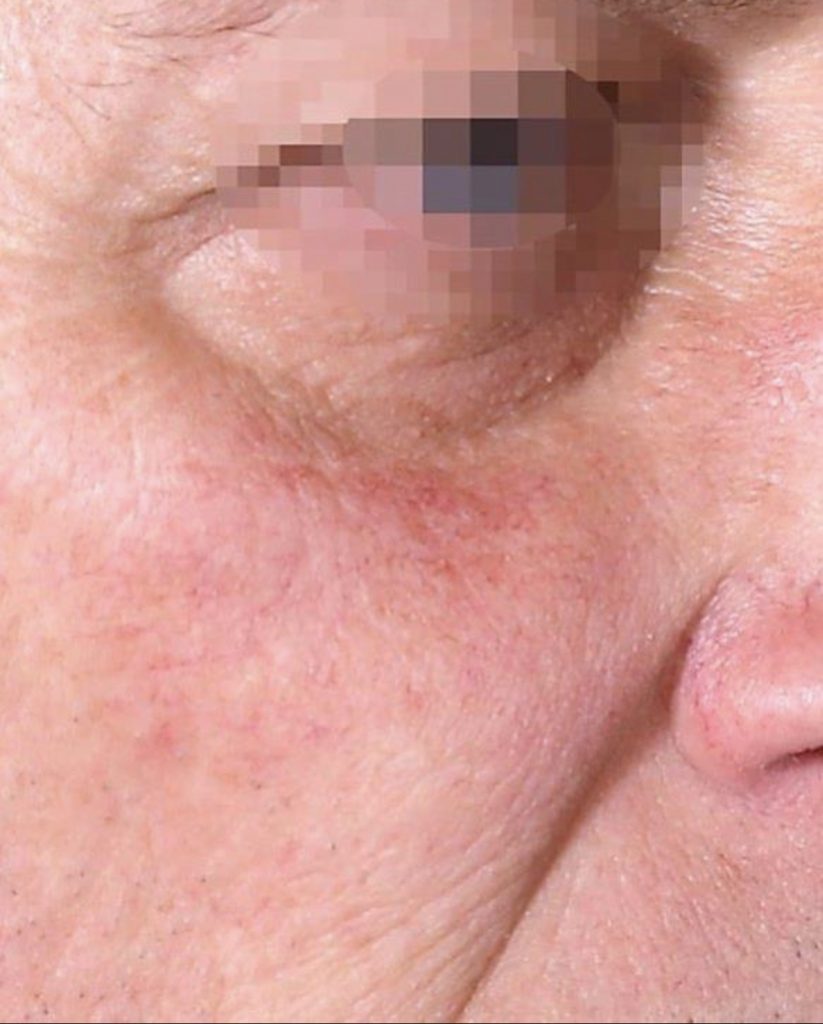 How to find us
Centre for Surgery is located at 106 Crawford Street in Marylebone. Crawford Street is just off Baker Street. We are easily accessible by all major bus routes that pass through Baker Street as well as Baker Street underground station.
From the tube station, we are just a 5 minute walk southwards down Baker Street followed by a right turn onto Crawford Street. The clinic is about 200 yards on the left.
There is ample local pay & display parking in the surrounding area and an NCP car park is located further west along Crawford Street. Our local residential parking zone is the City of Westminster.
Address: 106 Crawford Street, Marylebone, London, W1H 2HY
[wpseo_map id="237″ width="800″ height="350″ zoom="15″ map_style="roadmap" scrollable="1″ draggable="1″ show_route="0″ show_state="1″ show_country="1″ show_url="1″ show_email="1″ default_show_infowindow="0″]