Laser skin resurfacing London
Do you want to improve the texture of your skin, leaving it smoother, healthier and more refreshed? Do you want to avoid using chemicals or having a surgical procedure? Laser skin resurfacing is the solution.
The effects of sun damage and environment pollutants gradually take their toll on human skin, causing wrinkles to be formed, age spot and sun spot formation and thickened unsightly blemishes.
Choosing the right specialist for your consultation and laser treatment is key to getting the very best results from your treatment.
Whether its non-ablative or ablative laser, fractional or full field resurfacing, we have all the treatment options to suit every skin type. Our practitioners have a wealth of experience and perform hundreds of laser procedures annually. It is extremely important to select specialists who have the in-depth exeprtise with powerful surgical grade lasers as well as having access to the most advanced laser technology.
We don't use 'aesthetic grade' lasers which are very often underpowered and actually carry greater risks of complications than their surgical grade equivalents.
We also perform combination treatments with Morpheus8, anti wrinkle injections and dermal fillers.
About
At Centre for Surgery, laser skin resurfacing in London is performed using state of the art dual mode Erbium technology. This involves the use of a high power surgical grade laser to resurface the skin with extreme precision.
There are numerous benefits for undertaking laser skin resurfacing, including:
Able to rejuvenate the skin without surgery or the use of chemicals

Suitable for any skin type

Reduced downtime

Allows for precise and accurate control during treatment, giving you the best results
Ablation and coagulation – how do these matter?
Er:YAG laser is very well absorbed in water. Water is the main chromophore for ablative lasers like the older CO2 lasers and the newer Er:YAG lasers. CO2 lasers have less ablation efficiency due to their lower absorption in water. Er:YAG laser is much more efficiently absorbed in water than CO2 lasers. This allows our lasers to vaporise the target tissue of skin with extreme micron level accuracy without undesired thermal coagulation effects. It is these collateral thermal effects seen with the CO2 laser which are very often responsible for post inflammatory hyperpigmentation or PIH, persistent erythema (redness) and prolonger recovery times. Coagulation will always accompany ablation with CO2 lasers – not so with Er:YAG technology.
The dual mode Erbium allows the operator to fine tine the ratios between Er:YAG ablation and coagulation all the way from 'cold' ablation to non-ablative coagulation. The versatile nature of dual mode Erbium laser technology is now the standard of care for laser skin resurfacing.
Laser resurfacing ideal candidates
This is a suitable procedure for those who are concerned about fine lines, wrinkles, skin texture or acne scars. It is suitable for those who do not wish to undergo a surgical procedure, do not want to use any chemicals and do not want to have any downtime.
You will have to be at least 18 years old to undergo this procedure.
You will need to attend a consultation with one of the surgeons who will be able to assess whether or not you are an eligible candidate for this procedure. The surgeon may suggest other procedures which you are more suitable for.
Procedure
There are two approaches to laser skin resurfacing: full field and fractional.
In full-field resurfacing, the entire surface area of the skin within the laser spot is treated by the laser. beam The laser beam is scanned across the treatment area using specialist lase scanners and precisely removes the superficial layers of the skin – micron by micron. During the healing phase, the old, aging and sun-damaged skin that was removed will be replaced with a fresh, healthy-looking layer. In terms of depth of penetration, treatments can range from superficial, light peels to deep peels reaching beyond 100 microns. Light peels are indicated to remove fine lines, sun spots and aged-looking skin; deep peels are applied to improve skin tone and texture and eliminate deep wrinkles, even notoriously hard-to-treat smoker's lines and crow's feet. Light peels have a shorter downtime but deeper peels have more dramatic treatment effects. It very much depends on your tolerence of downtime with some of the more deeper laser treatments.
In fractional resurfacing the laser creates tiny pinpoint columns of skin within each laser spot, leaving intact, unaffected tissue around each individual micro-spot. This promotes faster healing compared with fully ablative full field resurfacing, while the laser can be allowed to penetrate into the deeper skin layers to initiate collagen and elastin remodelling. This also works very well for acne scarring.
The laser skin resurfacing involves three steps:
Conditioning

: an Ng:YAG laser is passed along the surface of the skin twice, penetrating the tissue and conditioning the skin.

Fractional therapy

: the fractional Er:YAG laser is used to ablate old skin, allowing for new, tighter tissue to form.

Peeling

: the full light Er:YAG laser ablates the skin, removing any superficial imperfections on the skin.
We provide the most comprehensive range of anaesthesia options for laser skin resurfacing in the UK. Our dedicated outpatient surgical suite at 106 Crawford Street is fully equipped for all the methods below:
Non-invasive methods:
Topical anaesthesia 
Cryo anaesthesia (cold air skin cooling)
Inhaled anaesthesia – Nitronox inhaled anaesthesia is a real game changer for optimising patient comfort with laser skin resurfacing. There are no sedative effects and patients can control the amount of pain relief by simply inhaling the mouthpiece which delivers a controlled mixture of 50% nitrous oxide and 50% oxygen.
Invasive methods:
Injected local anaesthesia – direct infiltration, nerve blocks and tumescent anaesthesia – where a procedure a requires local anaesthesia to be injected perhaps because a large treatment area will be addressed often requires the laser surgeon to utilise a combination of techniques. A commonly used combination is a regional nerve block combined with 'horseshoe' tumescent anaesthesia to allow pain free full face laser skin resurfacing.
Systemic anaesthesia – if you prefer to be asleep for your laser skin resurfacing procedure, our expert anesthesias are trained to deliver ClearSleep anaesthesia. This means you will not be able to see, hear or feel any part of the procedure. When you wake up you may feel a hot sensation to your face which is common to all anaesthesia methods is related to the laser itself. There are many excellent treatments to reduce this sensation to give a cooling effect to the skin.
Laser skin resurfacing aftercare
Common side effects:
A burning sensation of the face with associated swelling develops over the first 24 hours and takes about 24-48 hours to resolve.
This is a non-invasive procedure, so there is very little recovery time. You will be able to return home the same day as the procedure.
You may experience redness on the skin that may feel similar to a mild sunburn. This may last for around 48 hours.
After around 36 hours the skin will begin to peel. After seven days you may wish to do a light exfoliation to remove any peeling skin.
You should avoid any exercise for the first 24 hours. Avoid any sun exposure and applying any makeup for the first 48 hours. Avoiding makeup will help reduce the possibility of any acne breakouts. During this period make sure to keep the skin moisturised and hydrated.
Laser skin resurfacing before and after
Full ablative Er:YAG laser skin resurfacing: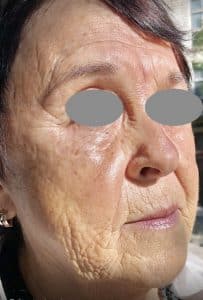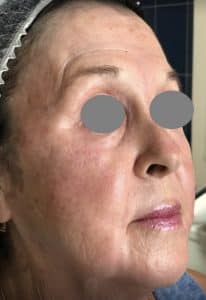 Non ablative laser skin resurfacing: