Burn scars treatment in London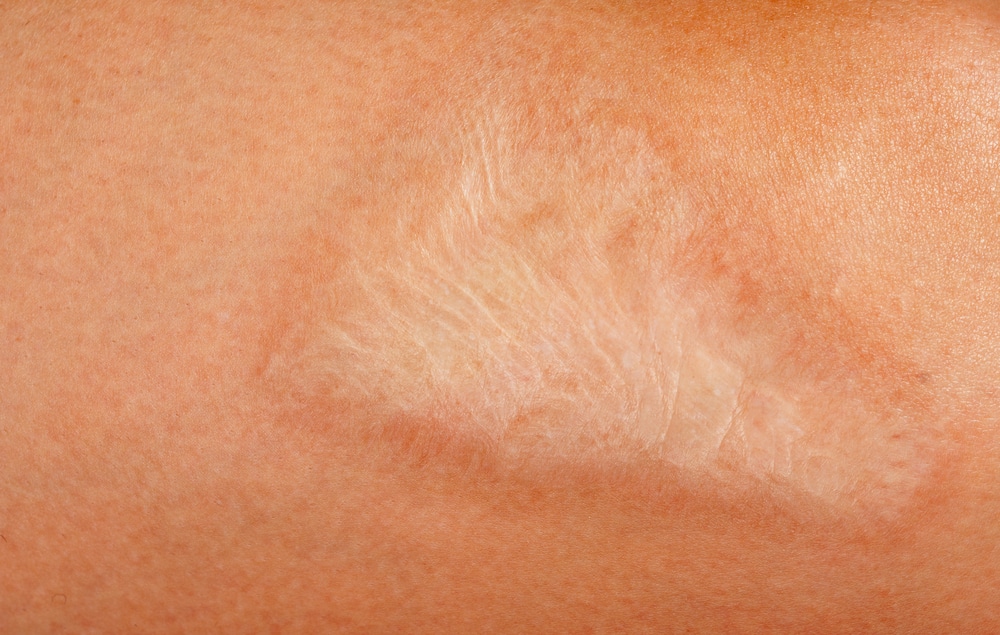 Burns sustained from thermal, chemical or electrical sources are one of the most common types of injuries and fortunately most burns are of a minor nature. Most of these minor burns are treated at home without seeing a medical professional while a smaller number are managed at walk-in urgent care centres by nurse practitioners. Whatever the cause of the burn, many burn injuries result in the formation of burn scars that may have both functional and aesthetic implications. Examples of common symptoms experienced from burn scars include an itchy sensation, tightness which may restrict joint movements especially if the scar crosses the joint and discomfort. Burn scars can also be appear unsightly and be a significant source of psychological distress which may in itself impair activities of daily living. Burn scars may appear darker or lighter than surrounding tissues and may be raised above surrounding skin or be sunken. Burn scars often have a smoother texture and can become easily irritated by extremes of temperature or minor trauma.
At Centre for Surgery, our dermatologists and plastic surgeons are experts in burn scar treatments to alleviate functional impairment and improve cosmetic appearance often using a combined treatment approach which may involve the use of laser resurfacing, Morpheus8 microneedling, steroid injections and surgical treatment to treat these challenging types of scar.
Types of burns scar
Hypertrophic and keloid burn scars
In deeper types of burns, the underlying deeper skin structures, including the sweat glands and sebaceous glands, are destroyed. This often results in contraction of the scar and this can be very difficult to treat when they develop into hypertrophic or keloid scars. Our dermatologists and plastic surgeons are very experienced in managing burn scars to ensure scars cause functional disturbances such as restriction of movement. Hypertrophic scars are typically raised and red in colour initially but do not extend beyond the original wound borders. Keloid scars differ in that they also encroach onto normal healthy skin. Keloid scars require treatment with steroid injections and specialised vascular lasers to reduce their size. The Nd:YAG laser is very commonly used by our dermatologists to treat keloid scars.
In other types of scars, the scar becomes depressed relative to surrounding skin and may become attached to underlying structures rendering the scar immobile or tethered. These atrophic scars may also be discoloured, similar to hypertrophic and keloid scars and is often due to the influence of sunlight leading to hyperpigmentation of the scar. Other causes of scar discolouration include previous steroid treatment and through the proliferation of new blood vessels or neoangiogenesis in the scar. Burns treated with expanded skin graft coverage may be prone to developing an unsightly honeycomb appearance over the scar.
Scar discolouration
Burn scars, in addition to being prone to the development of hypertrophic or keloid scars, can separately develop changes to their colour. A wide variety of treatment strategies are available for treating scar discolouration, including advice on sun protection, topical skin bleaching creams and laser treatment, including pulse dye laser and IPL for the treatment of hyperpigmented and vascular scars.
Types of burns
Burns are generally of three main types which are differentiated by their depth of penetration into the tissue. The outcome of treatment is determined by the depth of the burn and earlier treatment leads to better outcomes.
Superficial burns are the most common type of burn and are most commonly associated with scalding accidents involving boiling water. Superficial burns typically present as localised areas of redness with blistering. The outer layer of skin, the epidermis, may be affected in this category of burn. Superficial burns are known for being painful but healing takes place from the base of the wound which are healthy and viable. Healing typically takes up to 14 days. The principle of treatment is to cover the burn with a suitable dressing to avoid superimposed infection as the natural skin barrier has been compromised. Superficial burns do not result in visible scars although there may be a degree of skin discolouration in patients with darker skin types.
Dermal burns are deeper types of burns that penetrate further into the skin. Dermal burns often lead to burn scars and these can be of the hypertrophic or keloid type. Dermal burns heal through regeneration from intact sebaceous glands and sweat glands. Visible scarring is usual during healing.
Full thickness burns are the deepest type of burns and are painless as the underlying nerve endings have been destroyed. Healing from the dermal layer is unable to take place and blistering does not occur. These types of burns often heal very slowly from adjacent healthy tissue which can take many months with larger burns. These types of burns are often treated with skin grafts or tissue flaps to ensure proper coverage and minimise scarring.
Our practitioners are expert in the treatment of all types of burn scars although we do not treat active burn injuries. You are advised to seek urgent medical attention at your local emergency department in the event of sustaining an acute burn injury.
Burn scars treatment
Early treatment for burn scars is aimed at reducing the extent of burns scars as well as reducing the impact of functional symptoms, and also to improve cosmetic appearance.
Steroid injections
For small burn scars, steroid injections can be highly effective for non-invasive burns scar treatment. Often a course of 5-6 treatments is required for adequate scar treatment though will depend on the thickness and extent of the burn scar.
Laser resurfacing
Ablative laser resurfacing using Erbium laser has a well established role in the treatment of a wide variety of scars including acne scars and surgical scars as part of a combination treatment approach. Laser resurfacing is also effective for burn scars treatment without a deep and fibrotic component and where superficial remodelling of scars is the priority. The fractional ablative laser is often used to drill micro columns into scar tissue to induce collagen remodelling. This works best for superficial scars. Pain and/itching can be effectively addressed and when used in combination with physiotherapy, the skin overlying the burn scar can be stretched leading to improved mobility.
Morpheus8 for burn scar treatment
Morpheus8 is an innovative fractional radiofrequency Microneedling treatment that has shown excellent results in the treatment of deep and fibrotic burn scars that can be many millimetres thick. Morpheus8 has specialised insulated microneedles that penetrate to over 8mm into the skin and deeper subcutaneous tissue making it ideal for especially thick burn scars that require more intensive treatment. The needles emit radiofrequency energy and by doing so induce an inflammatory cascade involving a range of growth factors and inflammatory proteins including stimulation of dermal fibroblasts to secrete collagen and elastin. This leads to signicant tissue remodelling with the formation of new blood vessels via a process known as angiogenesis. Improved blood supply helps to optimise scar healing resulting in scars that are less thickness and with the potential to more closely resemble surrounding skin without the requirement for incisions, scars and downtime of invasive surgery.
Reconstructive surgery
In some cases, plastic surgery is used to remove areas of severe scar contracture and realign skin using scar revision surgery techniques often in conjunction with a skin graft or tissue flap for adequate coverage.
FAQs
What are the principles of treatment for burn scars?

The treatment of burn scars can be complex and prolonged and it is therefore important to employ a multidisciplinary treatment approach with both dermatologist and plastic surgeon input using a multitude of different types of treatments in a defined order for optimum treatment outcomes. In some cases, surgery may be warranted for more extensive burn scars which are resistant to treatment with lasers or microneedling.

In all cases, we would advise a face to face consultation with a specialist in burn scar management to determine the most appropriate treatment approach for you.

Can IPL be used to treat burn scars?

IPL is often highly effective for treating burn scars that are discoloured and can also help to reduce the vascularity of burn scars. IPL is most commonly used as part of combined treatment approach alongside ablative laser treatment and/or surgical treatment.

Can Morpheus8 be used for burn scar treatment?

Morpheus8 is a powerful burn scar treatment for burn scars that have a deep and fibrotic component and induces effective scar remodelling for these types of difficult to treat scars.