Fat Transfer Surgery London UK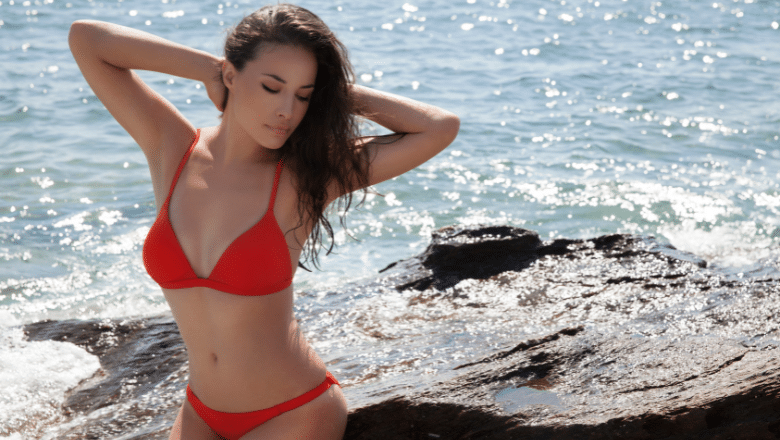 In the realm of plastic surgery, attitudes towards fat have shifted dramatically, transitioning from disliking it to appreciating its value. Perhaps "dislike" is too strong a term – it's not that fat was ever truly despised, but rather that its potential is now more fully recognised when it's situated in just the right spots. This has led to the increasing popularity of fat transfer procedures, such as facial fat grafting, breast augmentation with fat transfer, and Brazilian butt lifts. When fat is perfectly distributed, it becomes a highly desirable asset.
However, it's essential to acknowledge that fat can be somewhat unpredictable. Not all of the transferred fat will necessarily survive, and it does age, as it is a natural component of your body. Fat transfer procedures involve removing fat from one part of the body, processing it, and then injecting it into another area. This process requires the fat to adapt to a new environment within the body, which can occasionally be challenging.
Nonetheless, there are strategies to maximise the benefits of your fat transfer procedure and ensure that the results are preserved for as long as possible. By following appropriate pre- and post-operative care, selecting a skilled and experienced plastic surgeon, maintaining a stable weight, and adopting a healthy lifestyle, you can enhance the likelihood of a successful fat transfer and long-lasting results.
It's crucial to remember that individual outcomes may vary, and not all patients will experience the same results. Consult with a qualified plastic surgeon at Centre for Surgery to discuss your specific needs, expectations, and to better understand the potential risks and benefits of fat transfer procedures. By taking the time to make an informed decision, you can increase the chances of a successful outcome and enjoy the benefits of a well-executed fat transfer.
What is Fat transfer surgery?
Fat transfer surgery, also known as autologous fat grafting or fat injection, is a cosmetic procedure that involves harvesting fat from one area of the patient's body and injecting it into another area in order to enhance volume, correct asymmetry, or improve contours. This versatile technique can be employed in various parts of the body, such as the face, breasts, buttocks, and hands, for both aesthetic and reconstructive purposes.
Benefits of Fat Transfer
Fat transfer, also known as autologous fat grafting or fat injection, is a cosmetic procedure that involves harvesting fat from one area of the body and injecting it into another area to improve volume, contour, or appearance. This technique has gained popularity due to its various benefits:
Natural results: Since the procedure uses your own fat, it provides a more natural look and feel compared to synthetic fillers or implants.
Biocompatibility: As the fat comes from your body, there's a lower risk of allergic reactions or complications related to foreign materials.
Long-lasting effects: Fat transfer results can be long-lasting, particularly when performed by an experienced surgeon. Although some of the transferred fat may be reabsorbed by the body, a significant portion can remain and provide lasting results.
Dual benefit: The procedure not only enhances the area receiving the fat but also helps contour the area where the fat is harvested from, such as the abdomen or thighs.
Minimally invasive: Fat transfer is less invasive than some other cosmetic procedures, typically requiring only small incisions for fat harvesting and injection.
Quick recovery: The recovery time for fat transfer is generally shorter than more invasive procedures, such as implants or major surgery. Most patients can resume normal activities within a few days to a week.
Versatility: Fat transfer can be used for various cosmetic enhancements, including facial rejuvenation, breast augmentation, buttock augmentation, and treatment of scars or other contour irregularities.
Reduced risk of complications: Compared to implants or other synthetic materials, fat transfer has a lower risk of complications such as infection, rupture, or displacement.
Ideal candidates for fat transfer surgery
Fat transfer is a commonly performed procedure at Centre for Surgery and our surgeons are known for achieving excellent outcomes for their patients. The best outcomes after that transfer surgery depend on selecting the appropriate candidate at the outset. Ideal patients for fat transfer should:
Be in a good state of physical and mental health with no uncontrolled medical conditions such as diabetes
Patients should be at or near their optimum body weight
Patients have realistic expectations of what results to expect with fat rafting to the body
Patients are looking for a long-lasting natural alternative to volume enhancement that does not involve the use of hyaluronic acid filler or silicone implants
Patients would like to improve their body shape without more invasive surgery using a combination of liposuction and fat grafting
Patients are keen to improve their overall skin quality and enhance their appearance through natural rejuvenation with their own body fat
Watch the Fat Transfer Animated Video
Innovative Fat Transfer Techniques
EVL (Expansion, Vibration, Lipofilling)
EVL (Expansion, Vibration, Lipofilling) is a cutting-edge technique in Brazilian Butt Lift surgery, which combines liposuction to remove unwanted fat from target areas and subsequent fat injection into the buttocks to enhance their shape and size. In the past, direct fat injection into the gluteal muscles was a common approach, but this method led to some serious complications.
Dr Simeon Wall Jr. in the USA pioneered EVL. This technique optimises shaping and increases the volume of fat that can be safely injected into the subcutaneous (fatty) tissue of the buttocks. By avoiding fat injections into the gluteal muscles, the risk of severe complications, such as macrofat embolism, is significantly reduced. Centre for Surgery was among the first clinics in the UK to adopt the EVL technique years ago, positioning itself at the forefront of innovation in this field.
EVL offers several benefits compared to traditional fat transfer methods. The technique is designed to minimise trauma to the harvested fat cells, increasing their chances of survival once injected into the buttocks. Additionally, the use of vibration during the procedure helps in evenly distributing the fat, leading to smoother and more natural-looking results.
When considering a Brazilian Butt Lift, it's essential to choose a plastic surgeon experienced in the EVL technique, as this can significantly impact procedure safety, effectiveness, and longevity. Consult with a certified plastic surgeon at Centre for Surgery who has demonstrated expertise in performing EVL-based Brazilian Butt Lift procedures to ensure the best possible outcome.
Micro and Nano Fat Grafting Options
For those looking for more specific or targeted fat transfer options, we offer micro and nano fat grafting procedures at our London clinic.
Micro Fat Grafting
Micro fat grafting is a tailored procedure designed to add small volumes of fat to specific areas that need a little boost. We obtain these fat cells through a liposuction process and then inject them through smaller incisions. The benefit of these smaller incisions is that they leave very minimal scarring. This type of fat grafting is great for addressing cosmetic issues like sagging skin, fine lines, and wrinkles. It's especially useful for parts of the body where these concerns are more evident, like the hands, neck, and décolletage.
Nano Fat Transfer
Nano fat transfer goes a step further by mixing and breaking down the fat at the cellular level to harness the potential of the fat's stem cells. These stem cells are crucial for skin rejuvenation. When injected back into the skin, they can enhance the texture, firmness, and overall appearance of your skin. This approach is also effective for targeting specific cosmetic issues such as scarring, providing a more holistic skin improvement.
Both these specialised fat grafting options offer unique advantages, and the best choice will depend on your individual needs and aesthetic goals.
Fat Transfer vs. Implants: A Comparison
When considering body enhancement options, many people find themselves deciding between fat transfer and implants. Here is a straightforward comparison of the two, to help you make a more informed decision.
Results
Fat Transfer: Offers a subtle enhancement to one area of the body while also toning another area by removing excess fat.
Implants: Provides a more substantial and dramatic enhancement to the treatment area.
Anaesthetic
Fat Transfer: Usually carried out under sedation or general anaesthetic, although micro and nano fat transfers may use local anaesthetic.
Implants: Always performed under general anaesthetic.
Scarring
Fat Transfer: Leaves minimal scarring due to smaller incisions.
Implants: Scarring is more noticeable as it is typically at the site of the larger incisions needed to insert the implants.
Recovery Time
Fat Transfer: Typically requires a 4-6 week recovery period.
Implants: Generally requires around 6 weeks for full recovery.
Longevity of Results
Fat Transfer: The results are permanent, although they may be influenced by significant weight fluctuations.
Implants: Also offer permanent results but may require replacement or adjustment over time.
Price
Fat Transfer: The cost is dependent on the area being treated but is typically less expensive than implants.
Implants: Generally more expensive than fat transfer procedures.
Types of Fat Transfer Surgery
Facial fat transfer
Facial fat grafting, also known as fat transfer or fat injection, is a cosmetic surgical procedure that involves removing fat from one area of the body, such as the thighs or abdomen, and transferring it to the face to add volume, improve contour, and restore a more youthful appearance.
During the procedure, the surgeon will use a thin cannula to harvest fat from the donor site. The harvested fat is then purified and prepared for injection into the desired areas of the face, such as the cheeks, under-eye area, temples, and jawline.
Facial fat grafting is often performed as a standalone procedure or in combination with other facial rejuvenation procedures, such as facelift, brow lift, or eyelid surgery. It is considered a safe and effective way to enhance facial features, especially for those who have lost facial volume due to ageing, weight loss, or other factors.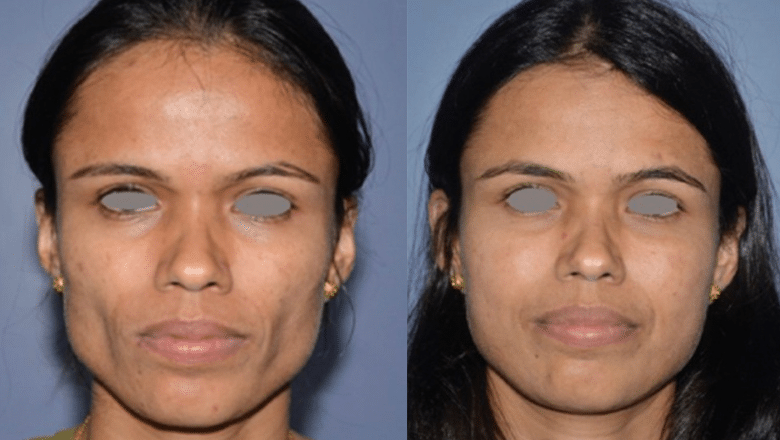 Fat transfer breast augmentation
Fat transfer to breasts, also known as autologous fat transfer or fat grafting to the breast, is a cosmetic surgical procedure that involves removing fat from one area of the body, such as the thighs, abdomen, or hips, and transferring it to the breasts to increase their size and improve their shape.
During the procedure, the surgeon will use a thin cannula to harvest fat from the donor site. The harvested fat is then processed and purified before being injected into the breast tissue. The amount of fat injected depends on the desired outcome and the amount of available donor fat.
Fat transfer to breasts is often used as an alternative to breast augmentation with implants. It is considered a safe and effective way to enhance breast size and shape while providing a natural look and feel to the breasts. Additionally, fat transfer to breasts has the added benefit of reducing fat in the donor area, resulting in a more contoured appearance overall. However, it is important to note that the results of fat transfer to breasts may not be as dramatic as those achieved with breast implants and may require multiple sessions to achieve the desired outcome.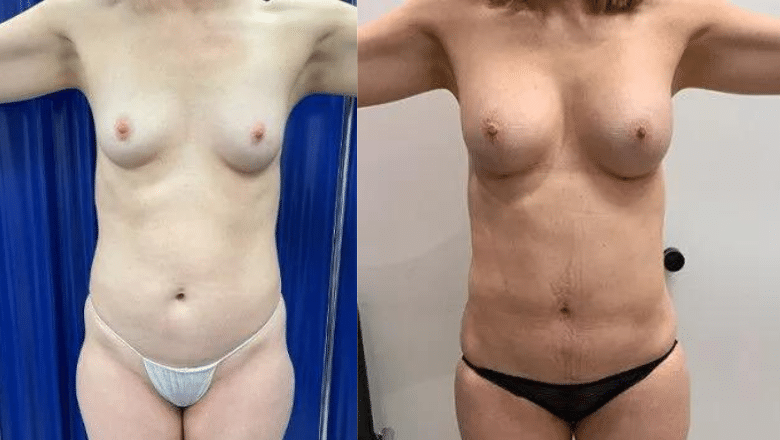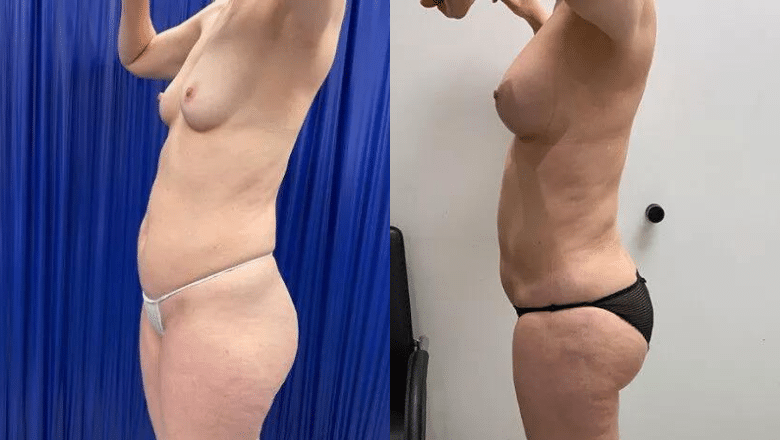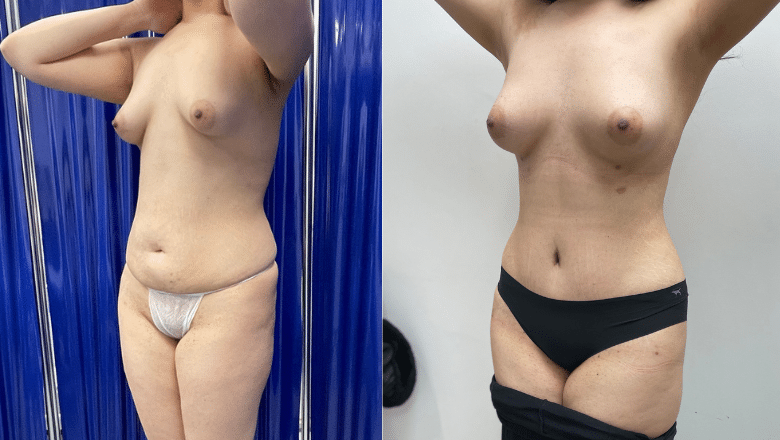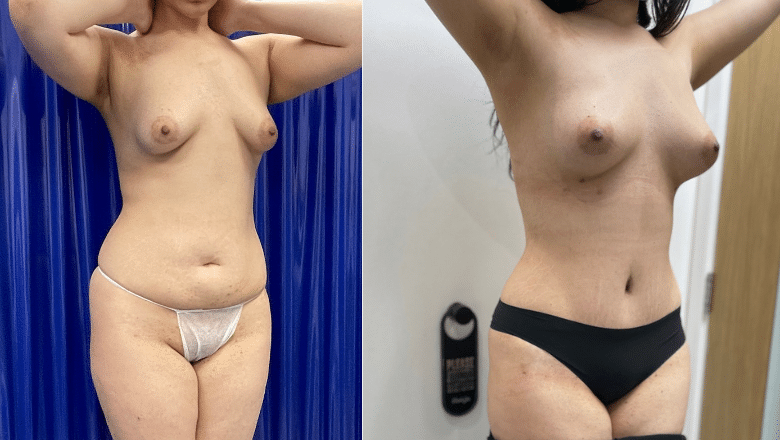 Brazilian Butt Lift (BBL)
A Brazilian butt lift (BBL) is a cosmetic surgical procedure that involves transferring fat from one area of the body, such as the abdomen, hips, or thighs, to the buttocks to enhance their size, shape, and contour.
During the procedure, the surgeon will use a thin cannula to harvest fat from the donor site. The harvested fat is then processed and purified before being injected into various areas of the buttocks to achieve the desired shape and contour. The amount of fat injected depends on the patient's body type, desired outcome, and available donor fat.
Brazilian butt lifts are often performed as a standalone procedure, but they can also be combined with other body contouring procedures, such as liposuction, tummy tuck, or thigh lift, to achieve a more comprehensive result.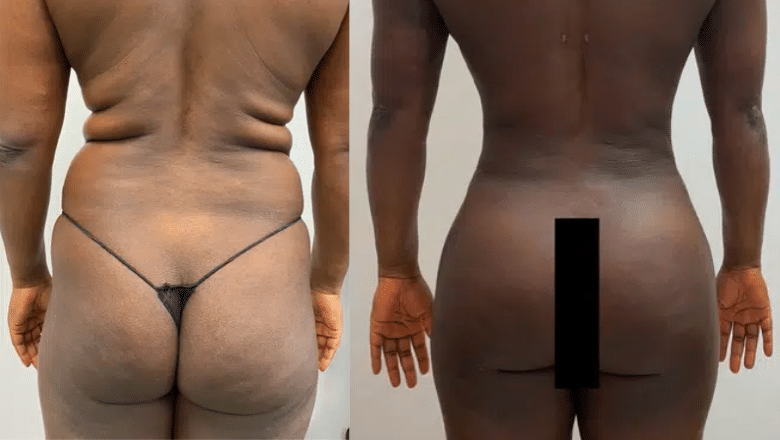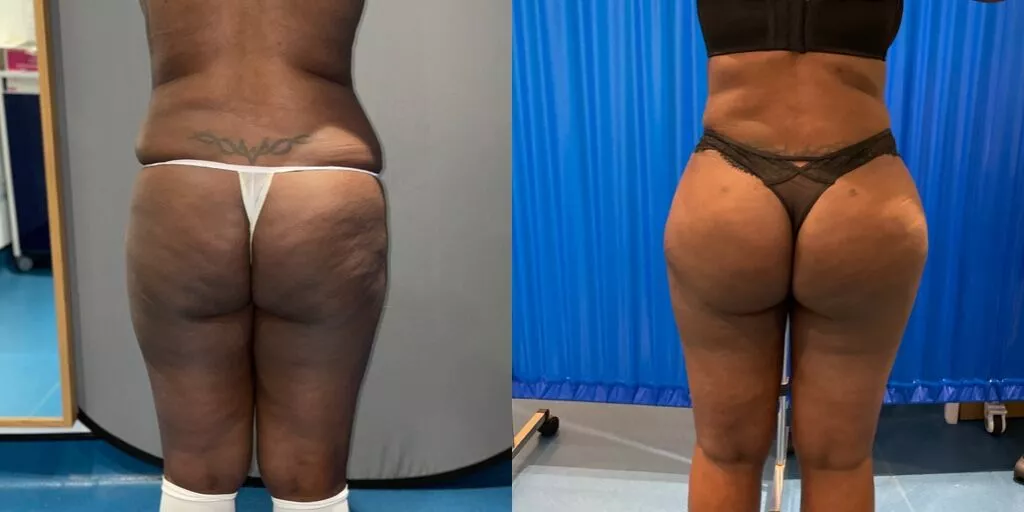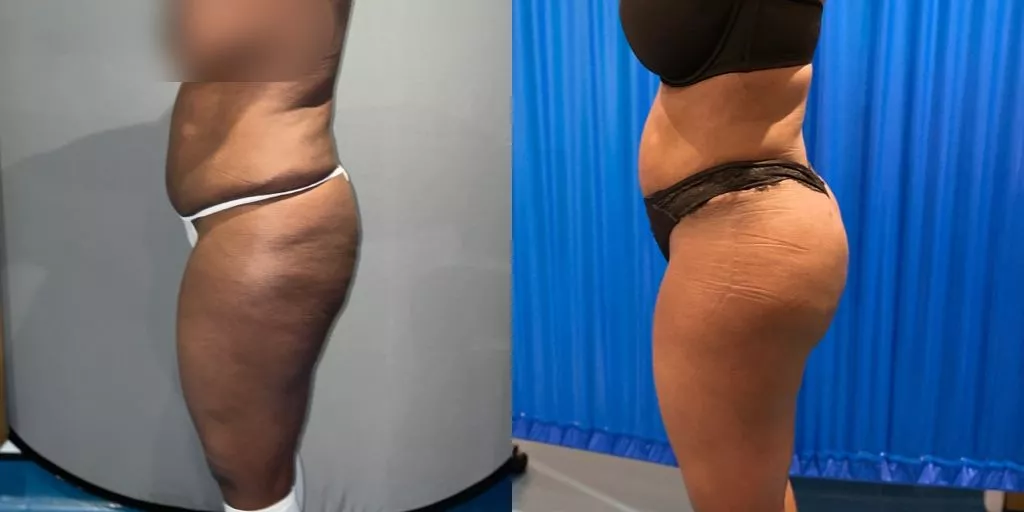 Case 3: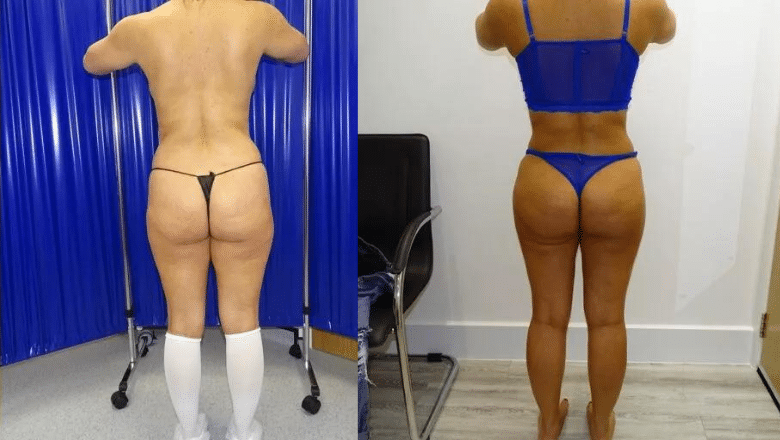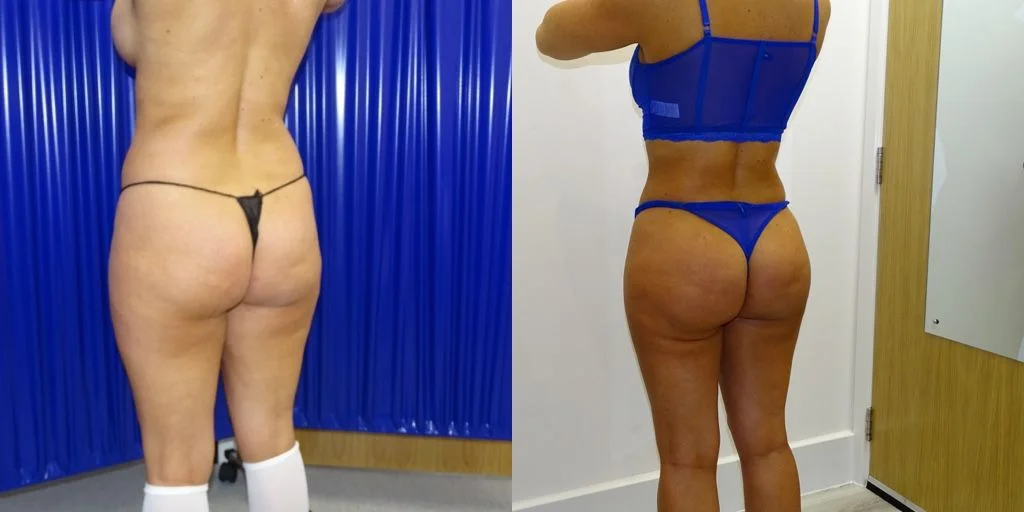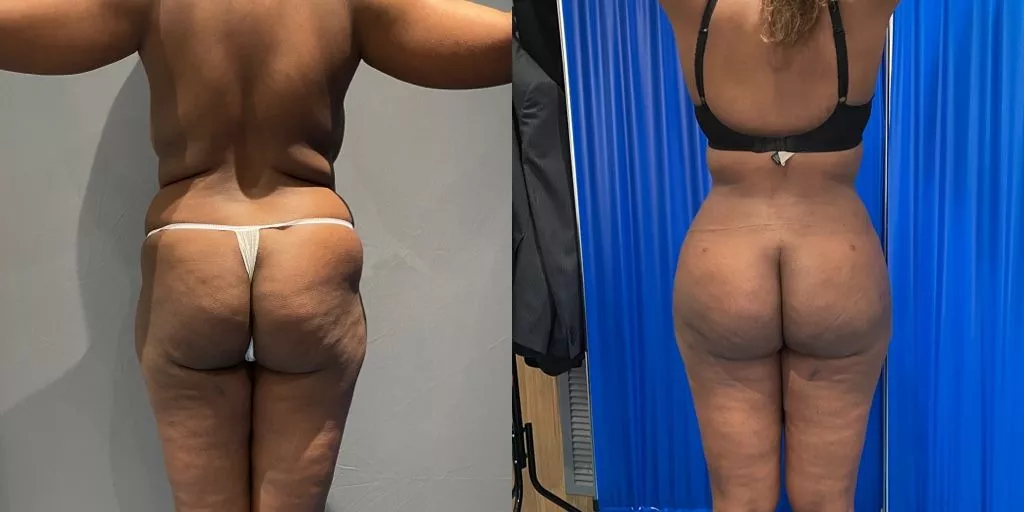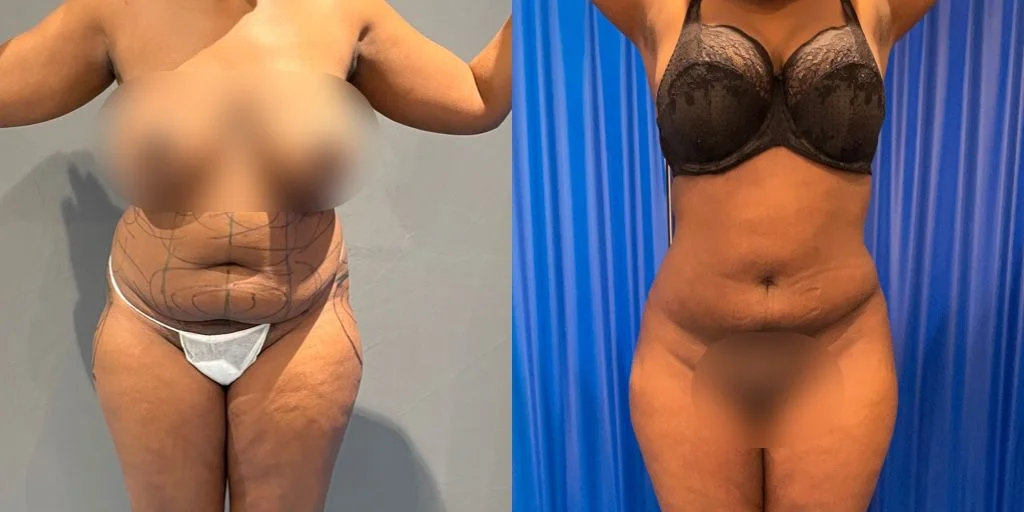 Case 5: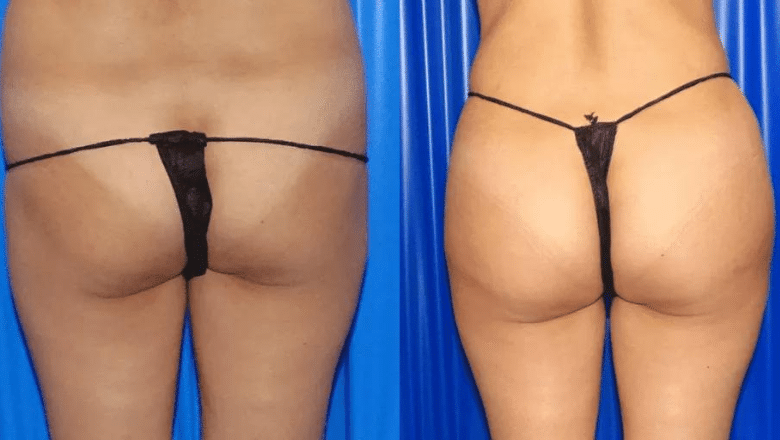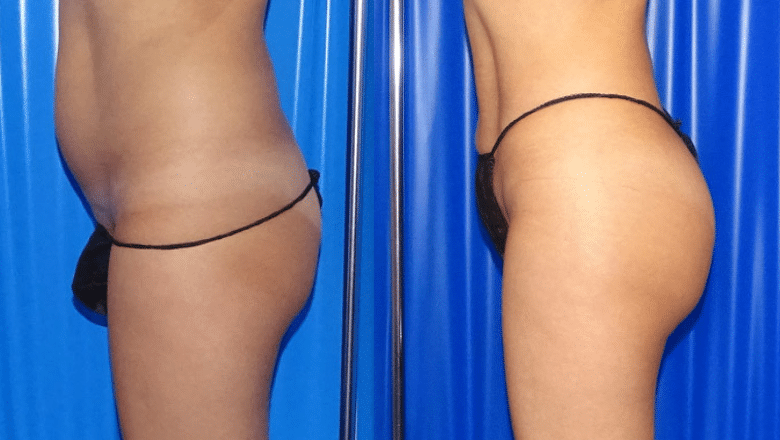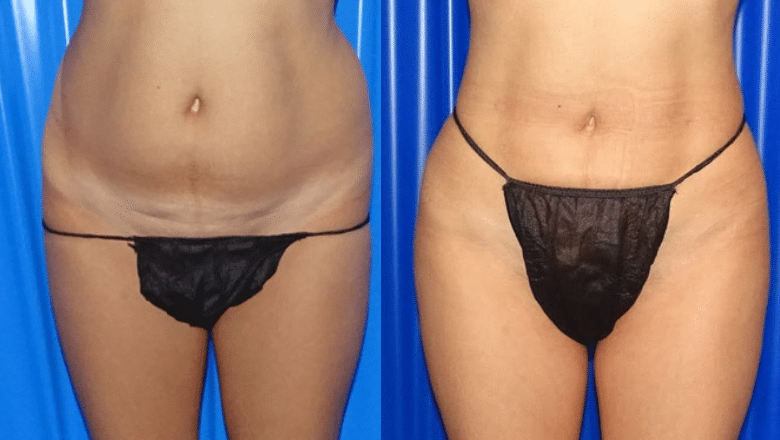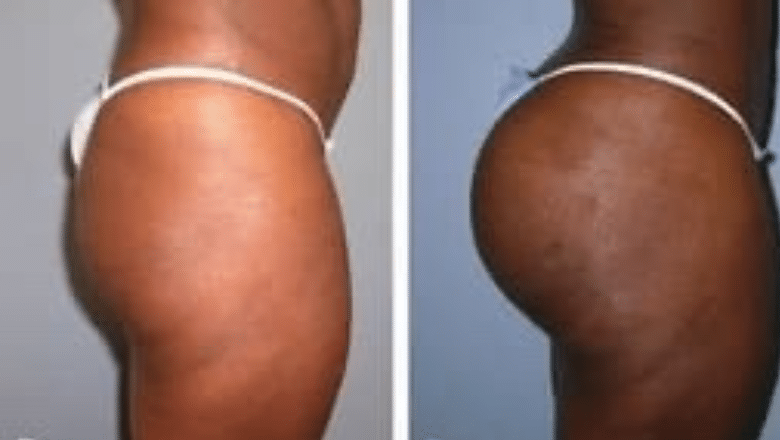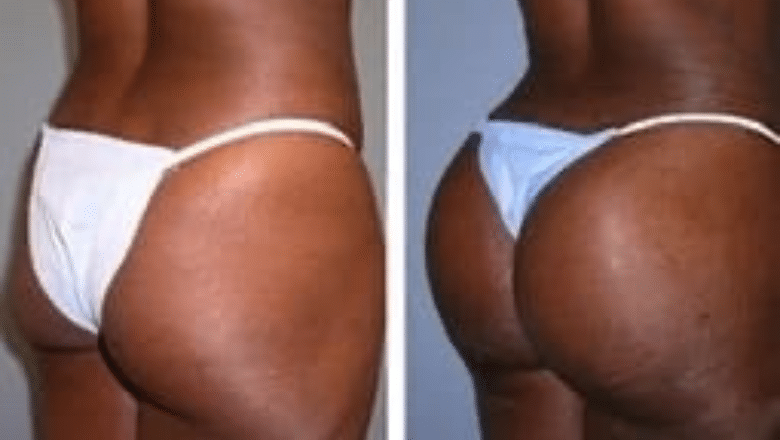 Calf augmentation with fat grafting
Calf augmentation with fat grafting, also known as calf lipofilling or calf fat transfer, is a cosmetic surgical procedure that involves using a patient's own fat to enhance the shape and size of their calves.
During the procedure, the surgeon will use a thin cannula to harvest fat from one or more donor areas of the patient's body, such as the abdomen, hips, or thighs. The harvested fat is then processed and purified before being injected into various areas of the calves to create a more shapely and defined appearance.
Calf augmentation with fat grafting is often recommended for individuals who have disproportionately small or thin calves, which can be a source of self-consciousness and dissatisfaction with their appearance. Compared to calf implants, which are silicone devices inserted into the calves to enhance their size, calf augmentation with fat grafting is considered a more natural and less invasive option.
What does fat transfer surgery involve?
Fat transfer, also known as autologous fat grafting or fat injection, involves a series of surgical steps to harvest fat from one area of the body and inject it into another to enhance volume, shape, or appearance. Here are the detailed steps of a fat transfer procedure:
Anaesthesia: Depending on the extent of the procedure and your surgeon's recommendation, you may receive local anaesthesia with sedation or general anaesthesia to ensure your comfort throughout the surgery.
Liposuction: The first step in a fat transfer procedure is liposuction. The surgeon makes small incisions in the donor area (e.g., abdomen, thighs, or flanks) and inserts a thin, hollow tube called a cannula. The cannula is moved back and forth to break up and dislodge the fat cells. A vacuum device or syringe attached to the cannula is then used to suction the fat out of the body.
Fat processing: Once the fat has been harvested, it undergoes processing to separate the viable fat cells from any impurities, such as blood, oil, or damaged fat cells. This step is crucial to ensure the highest quality fat for injection. Common techniques for fat processing include sedimentation, centrifugation, or filtration.
Fat injection: After the fat has been processed, the surgeon uses a syringe or a specialized cannula to carefully inject the purified fat into the recipient area. The fat is usually injected in small droplets throughout the target region to ensure even distribution and promote blood vessel growth, which is necessary for the survival of the transferred fat cells.
Closure and dressing: Once the desired volume and shape have been achieved, the surgeon closes any incisions made during the liposuction and fat injection process using sutures or adhesive. Sterile dressings are applied to protect the incisions and minimize the risk of infection.
Postoperative care: After the surgery, you will receive instructions for post-operative care, including pain management, incision care, activity restrictions, and follow-up appointments. You may be required to wear compression garments on the donor and recipient sites to minimize swelling and support the healing process.
Recovery after Fat Grafting
Recovery after fat transfer surgery varies depending on the individual and the specific procedure performed. Here are some general guidelines and tips for a smooth recovery process:
Swelling and bruising: Expect some swelling, bruising, and discomfort in both the donor and recipient areas. These side effects typically subside within a few weeks. Using cold compresses and elevating the treated area can help alleviate swelling.
Pain management: Your surgeon may prescribe pain medication to help manage discomfort during the initial recovery phase. Follow the prescribed dosage and instructions.
Compression garments: You may be advised to wear compression garments on the donor and recipient sites to reduce swelling, improve circulation, and support the healing process. Follow your surgeon's recommendations on how long to wear the garments.
Activity restrictions: Avoid strenuous activities and exercise for the first few weeks after surgery, as directed by your surgeon. Gradually resume activities as you feel comfortable and receive clearance from your doctor.
Rest: Ensure you get plenty of rest during the recovery period. Sleep with your head elevated to reduce swelling and follow any specific positioning instructions provided by your surgeon.
Hydration and nutrition: Stay well-hydrated and maintain a balanced diet to support your body's healing process. Avoid smoking and limit alcohol consumption, as these can impede healing.
Follow-up appointments: Attend all follow-up appointments with your surgeon to monitor your progress and address any concerns or questions.
Incision care: Keep incisions clean and dry, and follow your surgeon's instructions regarding wound care and bathing.
Signs of complications: Be aware of any signs of infection or complications, such as increased pain, redness, pus, or fever. Contact your surgeon immediately if you notice any of these symptoms.
Patience: Remember that it can take several months for the final results of the fat transfer procedure to become apparent. Be patient and give your body time to heal and adjust.
Always follow your surgeon's specific post-operative instructions for the best recovery experience and outcome. If you have any concerns or questions during your recovery, don't hesitate to reach out to your surgeon for guidance.
Potential risks and complications of Fat Grafting Surgery
When performed by specialist plastic surgeons with expertise in body contouring, fat grafting is a very safe procedure with a favourable risk profile. Nonetheless, all types of cosmetic surgery carry risks, and fat grafting is no different. There are several side effects which patients should expect to experience after the lipofilling procedure, including:
Temporary numbness or paraesthesia
Bruising and swelling, which is temporary in nature and will resolve after the first 5 to 7 days
A minimal degree of scarring thanks to incisions that are no longer than 3 to 4 mm in length
A small amount of fat reabsorption, which is a normal phenomenon that occurs with all fat transfer procedures and most commonly occurs during the first couple of weeks
Complications of lipofilling
Bleeding
Infection
Fat necrosis
Haematoma or seroma
Contour abnormalities which may necessitate a further fat grafting procedure
At your consultation, your surgeon will cover all the risks and complications associated with fat grafting and the precautions that are to be taken to minimise such risks. We encourage all patients to carry out as much research as possible so that they are fully informed about all aspects of the procedure.
Fat Transfer Surgery Costs London - How much does fat transfer cost in London UK? Prices & Fees
The cost of fat transfer surgery in London, UK, can vary depending on several factors, including the specific procedure, the surgeon's experience and qualifications, the location of the clinic, and the complexity of the case.
At Centre for Surgery, a leading cosmetic and plastic surgery clinic based in London, the cost of fat transfer surgery starts from £3,900. This includes a comprehensive consultation with a specialist surgeon, the surgery itself, anaesthesia, and post-operative care.
However, the exact cost of fat transfer surgery will depend on the specific procedure being performed, the amount of fat to be transferred, and other individual factors. For example, fat transfer to the face may be less expensive than fat transfer to the breasts or buttocks, as it requires less fat to be transferred and less time in the operating room.
Selecting a Plastic Surgeon with Fat Transfer Expertise
Choosing a skilled and experienced plastic surgeon for your fat transfer procedure is the top priority for any surgical endeavour. Apart from ensuring the best results and longevity, prioritising your safety is of utmost importance.
When it comes to procedures like the Brazilian butt lift, which involves harvesting fat from one area of the body and injecting it into the target areas of the buttocks, the surgeon's technique and experience play crucial roles.
Generally, only about 50% of the transferred fat survives in any fat transfer procedure. This is entirely normal, and a proficient surgeon will take the loss of fat cells into account. However, to maximize fat cell survival in the new area, your surgeon must possess the expertise to know precisely where and how to inject the fat cells.
Furthermore, fat cells must be carefully harvested and purified before being injected. It's essential that your surgeon utilises the most advanced and efficient harvesting tools available.
It's also vital to remember that while you may desire fat removal from specific areas with excess fat, the healthiest fat is often found around the abdomen and thighs. Consequently, an experienced surgeon will typically harvest fat from these regions for optimal results.
Why choose Centre for Surgery for Fat Transfer Surgery?
Centre for Surgery is a leading cosmetic and plastic surgery clinic based in London, UK. There are several reasons why someone may choose to undergo fat transfer surgery at Centre for Surgery, including:
Highly qualified and experienced surgeons: All of the surgeons at Centre for Surgery are GMC certified and have extensive experience in performing fat transfer surgery. They use the latest techniques and technologies to achieve the best possible results for their patients.
State-of-the-art facilities: Centre for Surgery is equipped with state-of-the-art facilities and technology at our Baker Street clinic to ensure the highest standards of safety and quality for patients.
Patient-centred approach: At Centre for Surgery, the patient's needs and goals are always the top priority. The team of experts takes the time to listen to each patient's concerns and work with them to develop a customised treatment plan that meets their unique needs and expectations.
Comprehensive aftercare: Centre for Surgery provides comprehensive aftercare for all of its patients, including follow-up appointments and ongoing support to ensure the best possible outcome and recovery.
Excellent patient reviews: Centre for Surgery has an excellent reputation and has received numerous positive reviews from satisfied patients who have undergone fat transfer surgery and other cosmetic procedures at the clinic.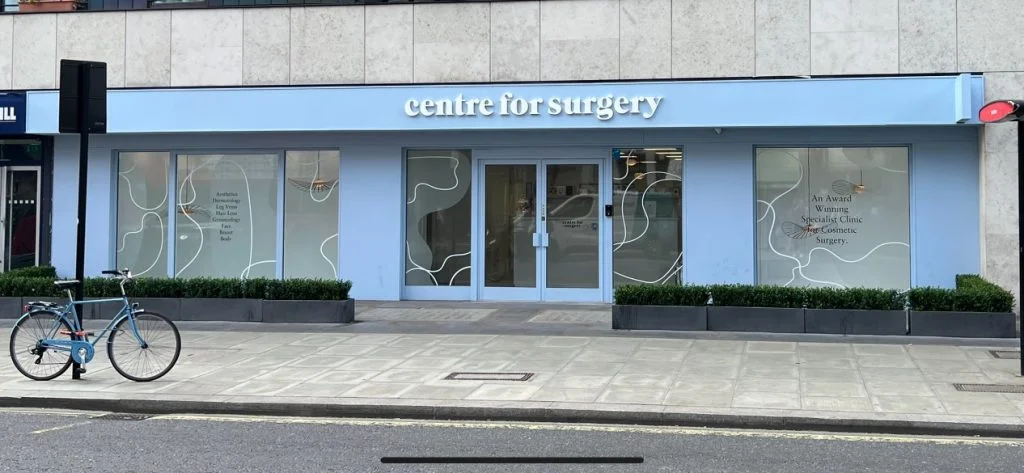 What To Expect
Consultation
During your first meeting with us, we'll talk about what you're hoping to achieve with a fat transfer. It's important to have a clear idea of your expectations, as we can then discuss what's realistic for you, based on the procedure. We'll also go over your medical history. This helps us understand whether you're a good candidate for the surgery and lets us spot any potential risks that might be involved.

For certain fat transfer procedures, like Brazilian Butt Lifts (BBLs), we offer something extra special: 3D consultations. This means we'll use photos of your own body to give you a virtual glimpse of what you could look like after the surgery. This adds another layer to the consultation, helping you to visualise the potential results in a more concrete way.
Preparation for Fat Transfer
Before you go in for a fat transfer procedure, there are a few important steps you need to take to make sure you're ready for the surgery and the recovery period that follows:

Body Mass Index (BMI) – Aim to keep your BMI under 30. Doing this can help lower the chances of complications during the surgery and in the healing process afterward.

Hormone Treatments – If you're taking any hormone-based contraceptives like the pill, or hormone replacement therapy (HRT), you'll need to stop these four weeks ahead of your surgery. This is to lower the risk of blood clots. During this time, you should use alternative methods of contraception.

No Smoking – It's essential to stop all nicotine use, including vaping and nicotine patches, a month before your surgery. Nicotine can mess with your body's ability to heal and could lead to complications.

Alcohol Intake – Try to cut back on alcohol as well. Less alcohol means your body will be in a better state to heal effectively post-surgery.

Get Your Home Ready – Think about what you'll need during your recovery time. If you have kids or pets, arrange for someone to help look after them. Also, consider setting up a comfy recovery space at home with all the essentials within easy reach.

By taking these steps, you're helping to ensure that your surgery and recovery go as smoothly as possible.
Surgery Day
On the day of your fat transfer surgery, it's important to arrive at least an hour early. This gives you enough time to fill out any last-minute paperwork and go through pre-surgery checks to ensure everything is in order for the procedure. Here's what you should keep in mind:

List of Medications – Bring a detailed list of all the medications you're currently taking, including the dosages. This information will be crucial for the medical team to know, especially when they're administering anaesthetics or other medications.

Comfortable Clothing – Pack loose, comfortable clothes that you can wear post-surgery. You'll want something that is easy to put on and take off and won't irritate any surgical sites.

Being well-prepared for the day of the procedure can make the entire experience smoother and less stressful for you.
Recovery and Results
After your fat transfer surgery at Centre for Surgery, you'll spend a short time in the hospital to recover from the anaesthetic or sedative. Since this is a day-case procedure, you'll be able to go home the same day. Before you leave, the medical team will provide instructions on wound care and place small dressings over the incision sites.

It's important to have a family member or a friend accompany you home and stay with you for at least the first 24 hours for care and support.

Recovery Experience:

You might experience swelling and bruising initially, which should start to subside over the next two weeks.
Most patients are able to return to work and their daily routines after this two-week period.
Complete reduction in swelling may take a bit longer, so it's important to be patient.
Results:

You'll notice improvements in the areas where liposuction was performed as well as enhancements in the areas where the fat was transferred.
Keep in mind that your body naturally absorbs about 20-50% of the transferred fat, and your surgeon will factor this in when deciding how much fat to transfer.
Final Outcome:

You'll need to wait for all the post-surgical swelling to go down and the fat grafts to stabilise to see the full results.
The entire process usually takes around 4-6 months. After that, you'll be able to fully enjoy your newly contoured figure.
Taking good care of yourself during the recovery period is crucial for achieving the best results. Always follow your surgeon's advice and attend all your follow-up appointments for the best outcome.