Laser Liposuction London & UK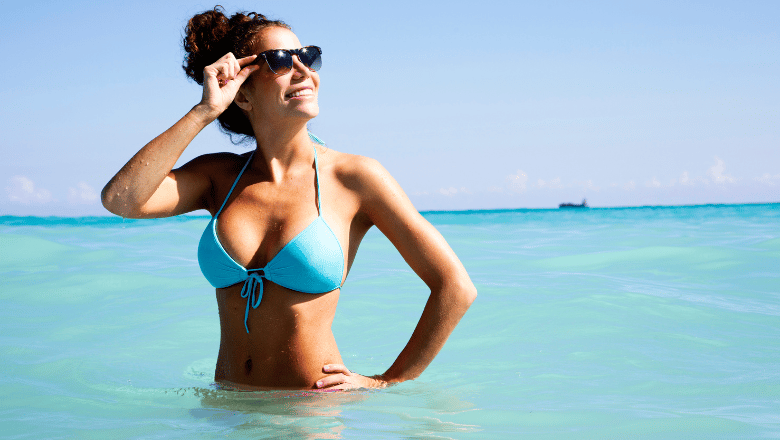 Revolutionise your body contouring experience with Laser Liposuction – the advanced, minimally invasive technique for targeted fat removal and enhanced skin tightening
At Centre for Surgery, we pride ourselves on offering the latest advancements in cosmetic procedures, including laser liposuction. Our highly skilled and experienced team of surgeons is dedicated to providing the highest level of care and expertise, ensuring a safe and effective treatment for those seeking to remove stubborn fat deposits and improve their overall body contour.
RELATED: Liposuction FAQs – Q&A about Fat Removal Surgery
Laser liposuction, also known as laser lipolysis, is a minimally invasive procedure that harnesses the power of laser energy and micro liposuction to break down and liquefy unwanted fat cells. This innovative technique not only allows for more precise fat removal but also stimulates collagen production, resulting in skin tightening and a smoother, firmer appearance.
At Centre for Surgery in London, our laser liposuction procedure is tailored to each individual's unique needs and goals. Our expert surgeons will carefully evaluate your specific situation and develop a personalised treatment plan to help you achieve the best possible results. We are committed to patient safety and satisfaction, ensuring that you feel well-informed and comfortable throughout the entire process, from consultation to recovery.
Some of the key benefits of choosing laser liposuction at Centre for Surgery include the following:
Minimally invasive treatment with smaller incisions and less trauma to the surrounding tissues.
The ability to target localised fat deposits that are resistant to diet and exercise.
Faster recovery time compared to traditional liposuction, allowing patients to return to daily activities more quickly.
Skin tightening effects due to collagen stimulation, leading to a more refined and sculpted appearance.
At Centre for Surgery, we understand that deciding to undergo a cosmetic procedure is a significant decision, and we are dedicated to providing the support and guidance you need every step of the way. Our team is here to answer your questions, address your concerns, and ensure that you feel confident in your choice to pursue laser liposuction.
If you are interested in learning more about laser liposuction and how it can help you achieve your desired body contour, we invite you to schedule a consultation with our expert team at Centre for Surgery. Together, we can determine if laser liposuction is the right option for you and develop a customised treatment plan to help you reach your aesthetic goals.
RELATED: Liposuction Before & After Photos
What is Laser Liposuction?
Laser liposuction, also known as laser-assisted liposuction or laser lipo, is a minimally invasive cosmetic procedure that uses lasers to liquefy and remove excess fat from the body. The procedure is less invasive than traditional liposuction and is typically associated with less downtime and fewer complications.
Laser Lipo Procedure Explained:
The procedure begins with the surgeon making small incisions in the treatment area. A small cannula with a laser fibre is then inserted through the incisions and into the layer of fat beneath the skin. The laser is used to liquefy the fat cells, which are then suctioned out through the cannula.
The laser used in the procedure typically emits a low-energy wavelength that is absorbed by the fat cells, causing them to heat up and break apart. The heat from the laser can also stimulate collagen production in the skin, resulting in improved skin tightness and firmness in the treated area.
What areas can laser liposuction be used to treat?
Laser liposuction is often used to treat areas such as the abdomen, hips, thighs, and arms, and is particularly effective for treating small areas of stubborn fat that are resistant to diet and exercise. The procedure is typically performed under local anaesthesia or mild sedation and is an outpatient procedure.
Laser Liposuction Before & After Photos - Real Patient Results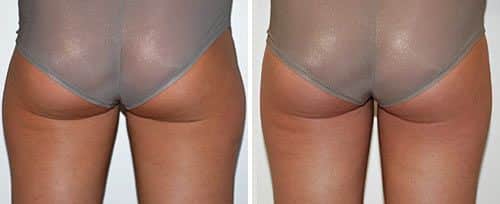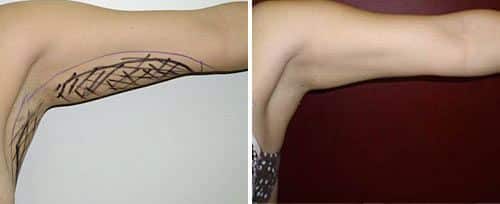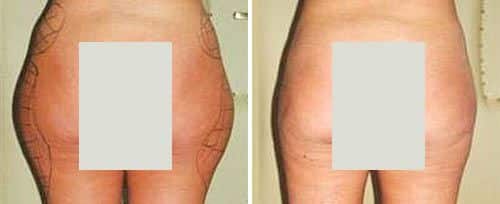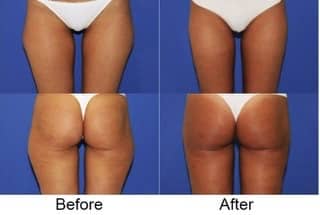 The above 4 cases were performed with an advanced form of local anaesthesia known as the 'tumescent technique'. Patients were to go home 30 minutes after their procedure and were back to work the next day with minimal disruption to their activities of daily living.
Benefits of Laser Lipo
There are several benefits of laser liposuction, including:
Minimally invasive: Laser liposuction is a minimally invasive procedure, meaning that it involves smaller incisions and less trauma to the body compared to traditional liposuction. This can result in less pain, swelling, and bruising, and a quicker recovery time.
Improved skin tightness: The heat from the laser used in laser liposuction can stimulate collagen production in the skin, resulting in improved skin tightness and firmness in the treated area.
Reduced risk of bleeding: Because the laser used in laser liposuction helps to coagulate blood vessels, there is typically less bleeding during the procedure compared to traditional liposuction.
Precise targeting of fat cells: The laser used in laser liposuction can be targeted specifically to fat cells, resulting in a more precise removal of excess fat and a more sculpted and defined appearance.
Versatile: Laser liposuction can be used to treat a variety of areas, including the abdomen, hips, thighs, arms, and neck, making it a versatile option for individuals looking to improve their body contour.
Shorter recovery time: Because laser liposuction is less invasive than traditional liposuction, the recovery time is typically shorter, with most patients able to return to work and normal activities within a few days to a week after the procedure.
How Does Laser Lipo Work?
Liposuction has undergone a series of evolutionary changes since it was introduced in the 1980s to the UK. With the traditional method of liposuction, the plastic surgeon makes an incision and passes a metal tube with openings near the tip into the area of excess fat. The tube is connected to a vacuum pump so that fat is removed as the surgeon passes it back and forth. This was known to be a particularly traumatic method with significant bruising and swelling and also increased recovery time.
A significant advance was made with the invention of tumescent local anaesthesia or TLA. TLA facilitated the liposuction procedure to be performed under local anaesthetic. This makes the liposuction more efficient and less traumatic. This introduction of fluid is known as the tumescent technique and is the foundation for all types of modern liposuction – laser, ultrasound or power-assisted.
Laser lipolysis is the most recent innovation in liposuction to allow outpatient treatment under a local anaesthetic. Like all other forms of liposuction, the surgeon first injects the area with a tumescent local anaesthesia solution. This is a dilute solution of local anaesthetic and adrenaline. The surgeon then inserts a miniaturised cannula containing the laser fibre into the treatment area. The application of laser energy serves to melt or emulsify fat tissue. The surgeon then finally removes the melted fat with a specially designed vibrating cannula.
Laser lipolysis is a minimally invasive alternative to other non-surgical fat removal procedures and more invasive surgical liposuction.
It uses fibre-optic lasers to melt body fat, leaving you with a thinner, more contoured, sculpted appearance. The laser is the 1064nm wavelength which has the most proven track record of all lasers currently available.
Laser lipolysis can be carried out on virtually all areas of the body, including the chin, neck, lateral chest, upper and lower abdomen, waist and hips, buttocks, thighs, knees, calves and lower back. In selected patients, laser lipolysis for 2-3 areas of the body may be possible in one treatment if you are deemed suitable.
There are numerous benefits to undergoing laser lipolysis.
Laser lipolysis is performed under a local anaesthetic, so it poses fewer risks than traditional liposuction, which is performed under a general anaesthetic. It also encourages the production of collagen and elastin, improving the appearance of the skin. A significant degree of skin tightening is possible with a laser. Finally, there is little recovery time, as it is a minimally invasive procedure.
For moderate degrees of skin laxity, we also offer the BodyTite RF technology for an even greater degree of skin tightening.
Ideal candidates for laser lipo
Laser lipolysis, also known as laser liposuction or laser-assisted liposuction, may be suitable for individuals who have small pockets of excess fat that are resistant to diet and exercise. It is important to note that laser lipolysis is not a weight loss procedure and is not appropriate for individuals who are significantly overweight or obese.
The ideal candidates for laser lipo are typically individuals who are in good overall health and have a BMI (Body Mass Index) of less than 30. Candidates should also have realistic expectations about the results of the procedure and understand that laser lipolysis is not a substitute for a healthy lifestyle or a proper diet and exercise regimen.
In addition, candidates for laser lipolysis should have good skin elasticity, as the heat from the laser can cause the skin to contract and tighten. If the skin has lost too much elasticity, alternative procedures such as a skin tightening procedure may be necessary.
Candidates should also be non-smokers or willing to quit smoking before and after the laser lipo procedure, as smoking can significantly impair the body's ability to heal and increase the risk of complications.
Ultimately, the best way to determine if laser lipolysis is right for a particular individual is to schedule a consultation with a qualified and experienced plastic surgeon at Centre for Surgery, who can evaluate the individual's unique needs and goals and recommend the most appropriate treatment plan.
Laser Liposuction Procedure
Laser lipolysis, a modern alternative to traditional surgical liposuction, is ideally suited for performance under local anaesthesia. This is primarily due to the unique design of the laser fibre employed in the procedure. Unlike other liposuction methods, such as ultrasound-assisted liposuction, where the entire cannula becomes extremely hot and can cause significant discomfort, the laser lipo technique utilises a specialized laser fibre in which only the tip is exposed and can generate heat. This ensures a more comfortable experience for the patient.
The precise design of the laser fibre, combined with the gentle approach, allows for efficient fat extraction and simultaneous skin tightening. This results in a more aesthetically pleasing outcome for patients.
While micro liposuction can be performed on its own, it is not particularly well-suited for local anaesthesia alone. Although this method does not generate heat, the cannula used in micro-liposuction tends to catch on internal connective tissue and nerve fibres, which can lead to discomfort after a short time. However, when fat is exposed to laser energy, it transforms into a liquid consistency, making it much easier to extract using micro-liposuction.
By integrating laser lipolysis and micro-liposuction, patients can undergo a comfortable procedure with a rapid recovery time.
Prior to the commencement of the procedure, a local anaesthetic will be administered to the target area to minimise discomfort throughout the process. The surgeon will also create markings on the patient's skin to guide their work.
Next, the surgeon will create a small incision in the designated area, through which the laser will be inserted into the top layer of skin. The laser will then be manoeuvred at various angles to ensure optimal results. The local anaesthetic previously injected should prevent any discomfort; however, patients may experience a warm sensation as the laser operates. The heat generated by the laser melts the fat, which will then either be suctioned out or naturally metabolised by the body, depending on the volume of fat present.
The entire laser lipolysis treatment typically takes between one to two hours, depending on the amount of fat being targeted and the specific area of the body being treated. As a day procedure, patients can expect to return home shortly after the treatment is completed.
Recovery after laser liposuction - what to expect
Recovery after laser liposuction is generally considered to be faster and more comfortable compared to traditional liposuction techniques. The minimally invasive nature of the procedure, combined with the use of local anaesthesia, contributes to a smoother recovery process. However, it is essential to understand that individual experiences may vary, and the recovery timeline depends on factors such as the treated area, the amount of fat removed, and the patient's overall health.
Following the laser liposuction procedure, patients can expect the following:
Mild discomfort and swelling: Some soreness, bruising, and swelling are common after laser liposuction. These side effects usually subside within a few days to a couple of weeks. Over-the-counter pain relievers or prescribed medication can help manage any discomfort.
Compression garments: Patients are often advised to wear compression garments for several weeks after the procedure. These garments help reduce swelling, promote healing, and provide support to the treated area, leading to a more comfortable recovery and better results.
Limited physical activity: While patients can typically return to their daily routine within a few days, strenuous activities and exercise should be avoided for at least two to four weeks, depending on the surgeon's recommendation. Gradually increasing activity levels will help prevent complications and promote a smooth recovery.
Follow-up appointments: Patients will need to attend follow-up appointments with their surgeon to monitor the healing process and ensure optimal results. It's essential to adhere to any post-operative care instructions provided by the medical team.
Final results: The results of laser liposuction may become visible within a few weeks, but it can take up to six months for the final outcome to be fully apparent. This is because the body needs time to adjust and reabsorb any remaining liquefied fat.
Maintaining a healthy lifestyle: To maintain the results of laser liposuction, it's important to commit to a healthy lifestyle, which includes a balanced diet and regular exercise. This will help prevent the accumulation of fat in other areas of the body.
Laser Liposuction at Centre for Surgery
Centre for Surgery is a leading provider of cosmetic procedures, including laser liposuction, and is dedicated to delivering the highest standard of care, safety, and patient satisfaction. Our highly skilled and experienced team of surgeons, nurses, and support staff work together to create an environment that fosters exceptional results and a positive experience for our patients. There are several reasons why choosing Centre for Surgery for your laser liposuction procedure is a smart decision:
Expertise: Our surgeons are board-certified and have extensive experience in performing laser lipo procedures. They are committed to staying up-to-date with the latest advancements and techniques, ensuring that our patients receive the most effective and safe treatments available.
Personalised Care: At Centre for Surgery, we understand that each patient is unique, and we tailor our laser liposuction procedures to meet individual needs and goals. From the initial consultation to post-operative care, our team works closely with you to develop a customized treatment plan designed to achieve optimal results.
State-of-the-Art Facilities: Our clinic is equipped with cutting-edge technology and advanced equipment, ensuring that our patients receive the best possible care. We adhere to the highest safety and hygiene standards, providing a clean, comfortable, and professional environment for your procedure.
Comprehensive Support: We believe in providing our patients with comprehensive support throughout their cosmetic surgery journey. Our friendly and knowledgeable staff are always available to answer questions, address concerns, and guide you through the entire process, ensuring a smooth and stress-free experience.
Patient Satisfaction: At Centre for Surgery, our primary goal is to help our patients achieve their desired aesthetic outcomes while ensuring their safety and well-being. We are committed to providing the highest level of care and support, and our patient testimonials speak to our dedication to delivering exceptional results and patient satisfaction.
By choosing Centre for Surgery for your laser liposuction procedure, you can feel confident knowing that you are in the hands of a highly skilled, experienced, and caring team. Our commitment to excellence and personalised care ensures that you will receive the best possible treatment and support throughout your cosmetic surgery journey. Contact us today on 0207 993 4849 to schedule a consultation and discover how laser liposuction at Centre for Surgery can help you achieve your desired body contour.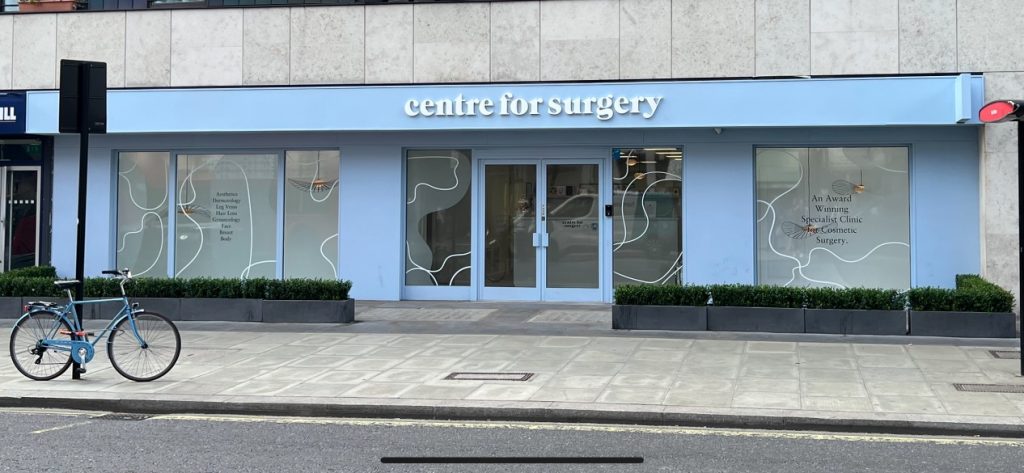 [wpseo_map id="9814″ width="750″ height="300″ zoom="15″ map_style="roadmap" scrollable="1″ draggable="1″ show_route="0″ show_state="0″ show_url="1″ show_email="1″ default_show_infowindow="1″ show_phone="1″ show_phone_2="0″ show_fax="0″]
[trustindex no-registration=google]
What To Expect
The consultation
The initial step involves scheduling a consultation with one of our proficient laser lipo specialists. During this consultation, our expert surgeon will take measurements of the body areas targeted for fat removal and assess the quality of your soft tissue. Candidates with good skin elasticity are well-suited for laser liposuction. Our surgeons are skilled in various liposuction techniques, including laser lipolysis, and will determine the most suitable approach based on your physical examination. They will also provide information on the placement of small incisions for the laser cannulas and whether laser lipo should be combined with another procedure, such as BodyTite, in cases of mild to moderate skin laxity.

High-quality photographs will be captured, and your surgeon may utilize computerized digital imaging to outline the treatment areas. They will take the time to discuss potential risks, complications, and postoperative expectations associated with laser lipolysis. When patients adhere to the pre-and post-procedure instructions provided by their surgeon, laser lipo is considered a low-risk procedure.

In addition, the surgeon will gather a comprehensive medical history, including previous surgeries, current medications, and potential allergies. This information helps determine your suitability for Laser Liposuction treatment. If you are deemed an appropriate candidate, we recommend taking some time to reflect on the information provided. A minimum 'two-week cool-off period' is advised for you to weigh your options and make an informed decision about whether to proceed or not.

At Centre for Surgery in London, we welcome all prospective laser lipo patients to return for a follow-up consultation after their initial appointment. This ensures that you have all the necessary information and feel empowered to make an informed decision about proceeding with SmartLipo.
Before your procedure
Once you have decided that laser lipo is right for you, our preoperative assessment team will be in contact to prepare you for surgery.

The following are recommended actions to take:

- For six weeks beforehand, it is highly recommended to stop smoking as active smoking is associated with a number of risks, including delayed wound healing which could result in wound infection.

- You should also avoid aspirin and all medicines containing aspirin for at least one week prior to the laser lipo procedure As these medicines interfere with the body's natural blood clotting processes.

- For 6 hours before the liposuction procedure, you should refrain from eating any food or any type of drink apart from sips of clear fluid (water and tea/coffee without added milk), which is allowed for up to 2 hours before the procedure. However, you will not have deep sedation or anaesthesia before laser lipo, Avoiding having a full stomach before the procedure is still recommended. Please check with your surgeon if having your normal cup of coffee or a sugary drink before the procedure is okay. In many cases, this can actually be beneficial and make you more relaxed on the morning of your procedure.
On the day of your procedure
Please plan to arrive at the designated time for your laser lipo procedure. Upon arrival, a member of our nursing team will admit you and complete several tasks, such as checking your blood pressure, pulse, temperature, and assisting you in changing into disposable clinic attire. Your surgeon will then meet with you to confirm the procedure details and obtain your signed informed consent form. Skin markings and photos may be taken at this stage. If desired, you can opt for a mild oral sedative to help you feel more relaxed and drowsy before the procedure.

Centre for Surgery frequently performs liposuction under local anesthesia as an outpatient procedure. The surgery typically takes between 1 to 3 hours. During the laser lipo procedure, your surgeon will create small incisions in the designated areas, use a laser to liquefy the fat tissue, and then gently remove it with the MicroAire device and specialized microcannulas to sculpt the targeted areas. The skin will be closed with dissolvable sutures, and a compression garment will be applied afterwards.

Following the procedure, our nursing staff will closely monitor your recovery for 1 to 3 hours to ensure your well-being. You will be offered a fruit juice or hot drink to help replenish your energy. Once deemed fit for discharge, you will need a responsible adult to escort you home via car or taxi and provide care for at least the first 24 hours after surgery.
After your procedure
After your procedure, our dedicated postoperative support team are available round the clock to answer any questions or concerns you may have. Our team will call you regularly for the first 2 weeks after your procedure to make sure your pain levels are well controlled and your healing is progressing as normal.

The recovery after laser lipo is usually very straightforward with minimal discomfort that can be effectively controlled with tablet painkillers and the majority of our patients are very comfortable by the end of week 1. Your doctor may recommend a period of approximately of a few days off work. You should minimise any excessive physical activity for the first 2 weeks after surgery to help with the healing of the incisions and reduce swelling.

You will be required to wear a supportive compression garment for a full 6 weeks to make sure healing is optimal, and also so that scars heal with best results.

You will attend for a postoperative check up with one of our nursing team at 7-10 days to review your surgical wound sites and ensure proper healing is taking place. Recommendations on treatments for scar healing may be given for optimal cosmesis. At 6 weeks you should begin to see your final results and you will see your surgeon for a comprehensive review and make sure your results are in line with your expectations.