What is laser liposuction?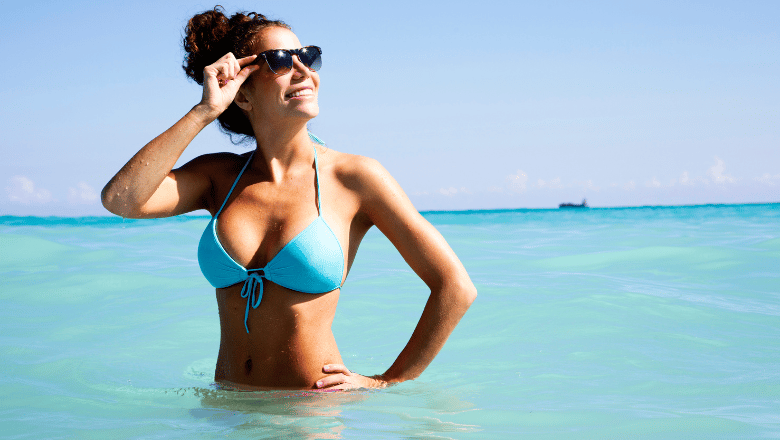 Laser liposuction, also known as 'SmartLipo', 'laser lipo' and laser lipolysis, is a highly effective technique of liposuction for the targeted removal of excess body fat from areas of the body that have proven resistant to diet and exercise. Laser energy applied to the fat leads to the melting of the fat cells, which allows absorption by the body for more efficient and gentler extraction with liposuction. Fat cells that have been liquefied with laser are much easier to remove compared with traditional forms of liposuction. There is also a secondary benefit of skin tightening in the areas where laser lipo is performed. Patients with more significant degrees of skin laxity may be better suited to treatment with BodyTite.
RELATED: Liposuction FAQs – Q&As about Liposuction Surgery
Areas of the body that have been treated with laser lipo appear contoured and firmer with a smoother skin consistency. Laser lipo is seen as the gold standard of minimally invasive outpatient body contouring and gives consistently better outcomes compared with cryolipolysis or 'fat freezing'.
Laser lipo should not be seen as a treatment for weight loss in those who are significantly overweight or obese. It is recommended to reach your ideal target weight before considering laser lipo. Laser liposuction is ideal for healthy patients with well-localised areas of excess body fat at or near their ideal body weight.
Patients with a history of significant medical conditions such as uncontrolled diabetes, patients undergoing active cancer treatment, patients with a history of DVT, and those with cardiac conditions may not be suited to laser liposuction. In addition, pregnant or breastfeeding patients are unsuitable for laser lipo and should wait until three months after delivery before considering the procedure. Our expert laser lipo doctors will be able to medically assess you to determine your suitability for SmartLipo.
Laser lipo is ideal for patients with good skin elasticity. Laser lipo can also be combined with Morpheus8 microneedling for patients with mild skin laxity.
How does laser lipo work?
Liposuction has undergone a series of evolutionary changes since it was introduced in the 1980's to the UK. With the traditional method of liposuction, the plastic surgeon made an incision and passes a metal tube with openings near the tip into the area of excess fat. The tube is connected to a vacuum pump, so that as the surgeon passes it back and forth, fat is removed. This was known to be a particularly traumatic method with significant bruising and swelling and also increased recovery time.
A significant advance was made with the invention of tumescent local anaesthesia or TLA. TLA facilitated the liposuction procedure to be performed under local anaesthetic. This makes the liposuction more efficient and less traumatic. This introduction of fluid is known as the tumescent technique and is the foundation for all types of modern liposuction – laser, ultrasound or power-assisted.
Laser lipolysis is the most recent innovation in the field of liposuction to allow outpatient treatment under a local anaesthetic. Like all other forms of liposuction, the surgeon firstly injects the area with tumescent local anaesthesia solution. This is a dilute solution of local anaesthetic and adrenaline. The surgeon then inserts a miniaturised cannula containing the laser fibre into the treatment area. Application of the laser energy serves to melt or emulsify fat tissue. The surgeon then finally removes the melted fat with a specially designed vibrating cannula.
Laser lipolysis is a minimally invasive alternative to other non-surgical fat removal procedures and also more invasive surgical liposuction.
It uses fibre-optic lasers to melt the body fat, leaving you with a thinner, more contoured and sculpted appearance. The laser is the 1064nm wavelength which has the most proven track record of all lasers currently available  
Laser lipolysis can be a carried out on virtually all areas of the body, including the chin, neck, lateral chest, upper and lower abdomen, waist and hips, buttocks, thighs, knees, calves and lower back. In selected patients, laser lipolysis for 2-3 areas of the body may be possible in one treatment if you are deemed suitable.
There are numerous benefits to undergoing laser lipolysis.
As laser lipolysis is performed under a local anaesthetic, it poses fewer risks than traditional liposuction, which is performed under a general anaesthetic. It also encourages the production of collagen and elastin, improving the appearance of the skin. A significant degree of skin tightening is possible with laser.  Finally, there is little recovery time, as it is a minimally invasive procedure.
For moderate degrees of skin laxity, we also offer the BodyTite RF technology for even greater degree of skin tightening.
Ideal candidates for laser lipo
You will be a suitable candidate for laser lipolysis if you have stubborn areas of fat which you have been unable to lose through traditional methods such as exercise and healthy eating.
It is recommended that you be at or close to your ideal weight when undergoing this procedure. You will need to have realistic expectations about what the procedure can achieve. Prior to undergoing surgery, you should also stop smoking for at least one month. You will also need to stop taking any blood thinning medication.
You will need to be at least 18 years old to undergo this procedure. You will not be suitable for laser lipolysis if you are significantly overweight. This procedure is not considered a suitable alternative for weight loss. You will also be unable to undergo this procedure if you are currently pregnant or breastfeeding.
Before having laser lipolysis, we would recommend a consultation with one of our laser lipo specialists. They will be able to assess your suitability for this procedure, or they may recommend that you are better suited for an alternative treatment such as BodyTite if you have significant skin laxity.
Laser lipo procedure
Laser lipo is a local anaesthetic technique unlike surgical liposuction
Laser lipo is very suited to being performed under a local anaesthetic. The main reason is related to the design of the laser fibre. In laser lipo, only the tip is exposed and can therefore only the tip can get hot. In other methods such as ultrasound assisted lipo, the whole cannula gets very hot and can make for a very uncomfortable procedure.
The precision design coupled with gentle technique facilitates the extraction of fat and simultaneous skin tightening.
Performing microlipo alone under local anaesthetic is also not well suited to local anaesthetic. Although there is no heat produced, the cannula tends to catch on internal connective tissue amd nerve fibres and this can discomfort after a short while. Fat that has been exposed to laser energy becomes a liquid consistency and is this much easier to extract with microlipo.
By combining laser lipolysis and microlipo, the procedure is comfortable with a very quick recovery.
Before undergoing the procedure, a local anaesthetic will be injected into the treatment area to ensure you feel minimal discomfort throughout the procedure. The surgeon will also make markings on your skin.
The surgeon will then make a very small incision in the area where the lipolysis is taking place. The laser will then be inserted through the incision and into the top layer of skin. The laser will then be moved around at different angles. The previously injected local anaesthetic should stop you feeling any discomfort, however, you may feel a warm sensation. The laser then causes the fat to melt. Depending on how much fat there was, the fat will either be vacuumed out or it will be naturally metabolised by the body.
The treatment will take between one to two hours, depending on how much fat there was and the area of the body which was being treated.
Laser lipolysis is performed as a day procedure, so you will be able to leave and return home once the treatment has finished.
Recovery after laser liposuction
The advantages of laser lipo under local anaesthesia
Over 70% of all lipo procedures our surgeons carry out are done so under a local anaesthetic. In all local anaesthetic cases, oral sedation can be added in to make you feel more relaxed if you prefer.
The benefits:
With a general anaesthetic, you will need to undergo a prolonged period of fasting prior to the procedure. The downside is that patients often arrive for their procedure in a dehydrated and fatigued state. With laser lipo, you can have a light breakfast on the morning of your procedure.
Most people will get a morning headache without their usual morning cup of tea or coffee. With laser lipo, you can still have small cup of a hot beverage.
You avoid all the risks of general anaesthesia and without any of the dizziness, grogginess or postoperative fatigue.
There is significantly less risk of DVT after local anaesthetic procedures.
After the procedure, you may experience some swelling and bruising, which will subside after a few days. You may wish to take painkillers during this period to help with any symptoms.
You will be given antibiotics which you will need to take to avoid complications such as infection.
You may have to take one or two days off work to fully recover. You will also have to avoid any strenuous physical activity for around one week.
You may start to see some results right away, such as tightened skin. However, most results will become visible after six to eight weeks.
How to find us
Centre for Surgery is located at 106 Crawford Street in Marylebone. Crawford Street is just off Baker Street.
We are easily accessible by all major bus routes that pass through Baker Street as well as Baker Street underground station.
From the tube station, we are just a 5 minute walk southwards down Baker Street followed by a right turn onto Crawford Street. The clinic is about 200 yards on the left.
There is ample local pay & display parking in the surrounding area and an NCP car park is located further west along Crawford Street. Our local residential parking zone is the City of Westminster.
Address: 106 Crawford Street, Marylebone, London, W1H 2HY
What To Expect
The consultation
The first step is to book a consultation with one of our expert SmartLipo doctors. When you have a consultation with an expert surgeon for laser lipo, a number of measurements are taken of the body areas where fat is to be removed and an assessment will be made of the soft tissue quality. Those who have good skin elasticity will be a good candidate for laser liposuction. Your surgeon is skilled in all types of liposuction including laser lipolysis and the most appropriate choice will be made based on your physical examination. The surgeon will also give information on the location of the small incisions for the laser cannulas and also whether laser lipo is to be combined with another procedure such as BodyTite if there is mild to moderate skin laxity.

High-resolution photos will be taken and your surgeon may also use computer digital imaging to map the treatment areas. Your surgeon will take time to discuss the important risks and potential complications of MicroLipo and what you can expect in the postoperative period. MicroLipo is a procedure with a favourable risk profile as long as patients follow all the pre and post procedure instructions given to them by their surgeon.

The surgeon will also take a full medical history which includes previous operations, current list of medicines taken and any potential allergies. This information will be used to decide on your fitness for the MicroLipo treatment. If you are deemed to be a suitable candidate for MicroLipo then we would recommend to spend a period of time to reflect on all the information given. We always recommend a minimum of a '2 week cool off period' to weigh up your options before making an informed decision on whether to proceed or not.

All our prospective SmartLipo patients are more than welcome to return for a follow-up consultation after their initial consultation to make sure you are fully empowered with all the information to make an informed decision for proceeding with SmartLipo at Centre for Surgery in London.
Before your procedure
Once you have decided that laser lipo is right for you, our preoperative assessment team will be in contact to prepare you for surgery.

The following are recommended actions to take:

- For 6 weeks beforehand, it is highly recommended to stop smoking as active smoking is associated with a number of risks including delayed wound healing which could result in wound infection.

- You should also avoid aspirin and all medicines containing aspirin for at least one week prior to the laser lipo procedure As these medicines interfere with the bodies natural blood clotting processes.

- For 6 hours before the liposuction procedure, you should refrain from eating any food or any type of drink apart from sips of clear fluid (water and tea/coffee without added milk) which is allowed for up to 2 hours before the procedure. Although you will not be having deep sedation or anaesthesia before laser lipo, It is still recommended to avoid having a full stomach before the procedure. Please check with your surgeon if it is okay to have your normal cup of coffee or a sugary drink before having the procedure. In many cases this can actually be beneficial and make you more relaxed on the morning of your procedure.
On the day of your procedure
Please aim to arrive for your laser lipo procedure at the confirmed time. One of our nursing team will admit you for the procedure and will carry out a number of tasks including checking your blood pressure and other vital signs including pulse and temperature and then getting you changed into single-use clinic wear. You will then be seen by your surgeon who will confirm the procedure to undertaken and you will sign the informed consent form. Skin marking and photos may be taken at this point. You'll be given the option to have a mild tablet oral sedative to make you feel more relaxed and drowsy before the procedure.

Liposuction under local anaesthetic is a very commonly performed procedure at Centre for Surgery and is carried out as an outpatient day case. The procedure takes approximately 1-3 hours to carry out. During laser lipo surgery, your surgeon will make small incisions in the marked body areas The fat tissue is melted using laser before being gently removed using the MicroAire device and specialised microcannulas to contour the marked body areas before closing the skin with dissolvable sutures. A compression garment is applied after procedure.

After the procedure, our nurses will closely monitor you for 1-3 hours afterwards to make sure you make a full recovery. You will be given a fruit juice drink or a hot drink as you prefer to build up your energy levels. Once you are assessed as fit for discharge, you will require a responsible adult escort to take you home in a car or taxi and to look after you for at least the first 24 hours after surgery.
After your procedure
After your procedure, our dedicated postoperative support team are available round the clock to answer any questions or concerns you may have. Our team will call you regularly for the first 2 weeks after your procedure to make sure your pain levels are well controlled and your healing is progressing as normal.

The recovery after laser lipo is usually very straightforward with minimal discomfort that can be effectively controlled with tablet painkillers and the majority of our patients are very comfortable by the end of week 1. Your doctor may recommend a period of approximately of a few days off work. You should minimise any excessive physical activity for the first 2 weeks after surgery to help with the healing of the incisions and reduce swelling.

You will be required to wear a supportive compression garment for a full 6 weeks to make sure healing is optimal, and also so that scars heal with best results.

You will attend for a postoperative check up with one of our nursing team at 7-10 days to review your surgical wound sites and ensure proper healing is taking place. Recommendations on treatments for scar healing may be given for optimal cosmesis. At 6 weeks you should begin to see your final results and you will see your surgeon for a comprehensive review and make sure your results are in line with your expectations.