Tip Rhinoplasty Surgery London & UK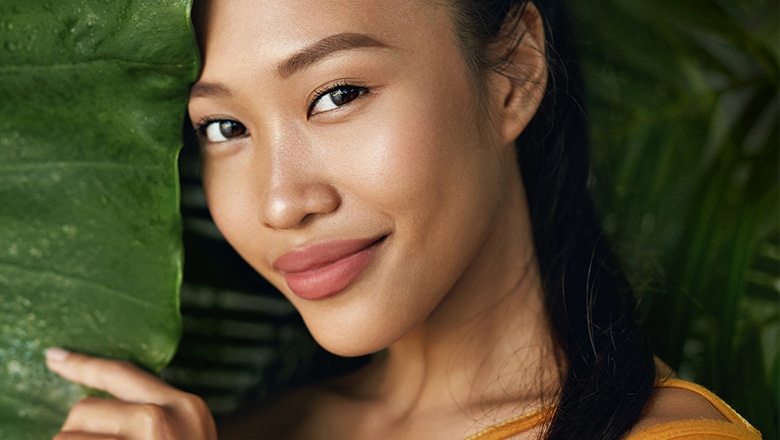 Refine your profile and boost your confidence with nose tip surgery – the perfect solution for achieving a more balanced and elegant nose
Tip rhinoplasty, also known as a tip plasty or "mini nose job", is a type of rhinoplasty procedure that is designed to improve the shape of the nasal tip. There are several other names for a tip rhinoplasty, including:
Nasal tip reshaping surgery
Tipoplasty
Tip enhancement surgery
Tip rotation surgery
Nose tip lift
Tip rhino
Reducing or enlarging the appearance of the nose tip can be carried out without altering the bony structure of the nose. Tip rhinoplasty does not involve any bone being fractured to reshape the nose, and healing and recovery are therefore much quicker, hence the term, mini nose job. Tip Rhinoplasty or Rhino-tip correction is a more straightforward procedure to improve the nose's appearance with less scarring than a traditional rhinoplasty.
Centre for Surgery is a distinguished plastic surgery clinic in London, UK, specialising in rhinoplasty procedures. We provide tip-reshaping rhinoplasty using an array of advanced surgical methods. Our surgeons strive to attain the best results by making subtle alterations, ensuring the most natural appearance achievable.
What is the difference between a Rhinoplasty and a Tip Rhinoplasty?
A rhinoplasty and a tip rhinoplasty are two distinct procedures that address different aspects of nasal surgery. Understanding the differences between the two can help you determine which procedure may be more suitable for your specific needs and desired outcomes.
Rhinoplasty: Also known as a nose job, a rhinoplasty is a comprehensive surgical procedure that aims to reshape the entire nose. This surgery can address a variety of concerns, including correcting nasal humps, straightening a crooked nose, resizing the nostrils, or modifying the overall size and shape of the nose. A rhinoplasty can be performed for both cosmetic and functional reasons, such as improving the nasal airway and resolving breathing difficulties.
A rhinoplasty typically involves making incisions either inside the nostrils (closed rhinoplasty) or across the columella, the skin between the nostrils (open rhinoplasty). The surgeon then reshapes the underlying bone and cartilage to achieve the desired results. Depending on the extent of the changes, the surgeon may need to use cartilage grafts from the septum, ear, or rib to add support or enhance the nasal structure.
Tip Rhinoplasty: A tip rhinoplasty, on the other hand, is a more targeted procedure that specifically focuses on reshaping the nasal tip. This surgery is ideal for individuals who are primarily concerned with the appearance or function of the tip of their nose, rather than the entire nasal structure. Common issues addressed by a tip rhinoplasty include a bulbous, boxy, or drooping nasal tip, as well as asymmetry or disproportion in relation to the rest of the nose.
A tip rhinoplasty can be performed using either a closed or open approach, depending on the patient's specific needs and the surgeon's preference. During the procedure, the surgeon carefully reshapes and refines the cartilage at the nasal tip to create a more balanced and harmonious appearance. The focus on the tip allows for a shorter recovery time compared to a full rhinoplasty, as it involves less extensive surgical alterations.
What is a Nose Tip Surgery?
Surgery on the tip of the nose, or nose tip rhinoplasty, is a special type of cosmetic surgery that is aimed at improving how the tip of the nose looks. This procedure can be performed on various nose shapes, and it involves making small, delicate adjustments to the nose.
If the tip of your nose is rather large and rounded, often referred to as a bulbous tip, or if it's particularly wide, this surgery can be used to reduce its size. Additionally, if the tip of your nose droops down, the procedure can lift it up to give a more pleasing appearance. One of the common goals of this surgery is to create what many people refer to as a 'button nose' shape, which is often seen as desirable.
However, it's worth noting that a surgery focused only on the tip of the nose will usually only lead to very subtle alterations. It might not be the right choice for everyone, depending on what changes you want to make to your nose. Therefore, this surgery is often done together with a full rhinoplasty, which is a more comprehensive reshaping of the nose. If you're considering making changes to the appearance of your nose, it's important to discuss with a specialist what would be the best approach for your particular needs and desires.
Tip Plasty Before & After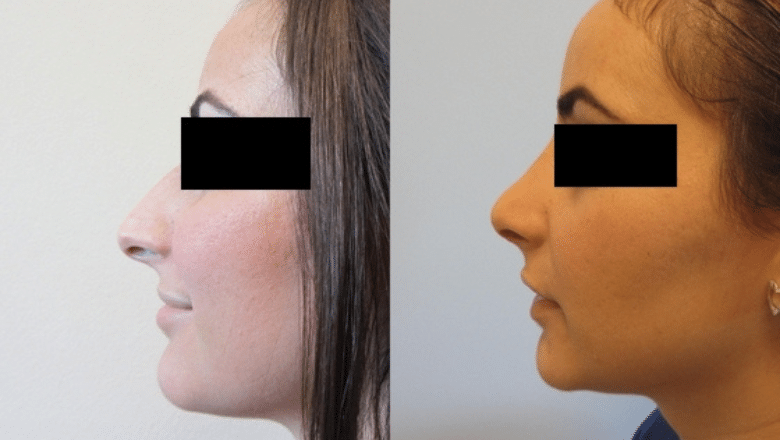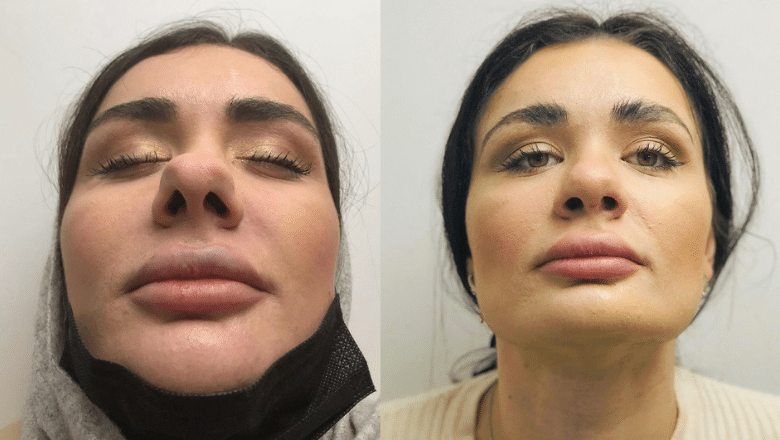 What are the benefits of tip Rhinoplasty?
Tip rhinoplasty is commonly requested by patients to come to see us at Centre for Surgery in London. The aesthetic results achievable with a mini nose job can be significant with a dramatic impact on facial aesthetics. Tip Rhinoplasty can also have medical benefits as the procedure is known to improve nasal airway function, which helps to treat difficulty in breathing through the nose. A tip plasty is commonly combined with a septoplasty procedure to treat a deviated or crooked nasal septum, most commonly as a result of injury or ageing. Patients can achieve better breathing with the elimination of snoring combined with a more well-defined and sculpted nasal tip.
RELATED: Different Types of Nose Shapes – What are the Surgical Options?
For patients who are concerned about the size or shape of the nasal tip oh do not like the excessive flaring of their nostrils then a tip rhinoplasty could be the ideal procedure. Rhino tip correction is designed to achieve a more sculpted nasal tip with increased definition with a nasolabial angle that is in better balance with the rest of the face. Patients with a bulbous nasal tip or a flattened nasal tip can develop a significant loss of self-confidence which can be effectively restored with a mini nose job or tip plasty.
The tip rhinoplasty procedure has benefits beyond the improvement of the aesthetic appearance of the nose tip with the ability to deliver medical benefits leading to a significant boost in emotional well-being. Our expert rhinoplasty surgeons can transform the appearance of your nasal tip using advanced rhinoplasty techniques learnt from the world's top rhinoplasty surgeons. A traditional full rhinoplasty is more complex to perform compared with a tip rhinoplasty. Recovery and healing are much quicker and with a lower risk of complications occurring with tip rhinoplasty.
Can tip plasty improve a bulbous nose tip?
Tip plasty, also known as tip refinement, is a surgical procedure that can be used to improve the appearance of a bulbous nose tip. A bulbous nose tip is a nose tip that appears rounded and overly prominent, which can make the nose look disproportionate to the rest of the face.
Tip plasty can involve reshaping the cartilage at the tip of the nose to make it appear more refined and defined. This can be done by reducing the size of the lower lateral cartilages, which are the cartilages that make up the tip of the nose. This can be done through different techniques such as suture techniques, cartilage removal or cartilage reshaping.
This procedure can be done in combination with other rhinoplasty procedures to improve the overall appearance of the nose, such as reducing the size of the nostrils or straightening the septum.
It's important to note that the procedure is best suited for patients with a well-defined nasal tip, and not for patients with a wide or thick skin. The results of tip plasty can be permanent, but it's important to have realistic expectations and understand that the results may not be exactly as desired.
It's important to consult with a qualified plastic surgeon who has experience in rhinoplasty and tip plasty to discuss the best options for your specific case.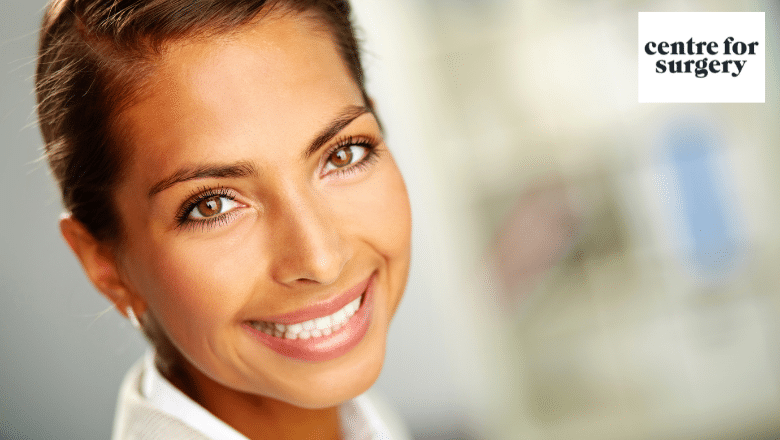 Am I suitable for tip rhinoplasty?
Tip rhinoplasty is a highly effective technique to reshape the nose to achieve the look you've always desired. People who have a crooked nasal tip may develop a significant loss of self-confidence with a reduction in emotional well-being.
The following deformities of the nasal tip are suitable for correction with tip rhinoplasty:
Short nasal tip that requires lengthening
Long nasal tip that requires shortening
Hooked nose tip 'Parrot Beak' tip
Flat nasal tip
Narrow or pinched nasal tip
Nasal to collapse after a traditional rhinoplasty
Patients should ideally be non-smokers and be in good physical and mental health with no chronic medical conditions. Smoking can significantly impaired healing and recovery and we would recommend stopping smoking at least four weeks before the procedure and for at least four weeks afterwards. Patients should have realistic expectations of what to expect with a mini nose job and fall into one of the categories above.
The consultation serves as the foundation of your tip rhinoplasty patient journey and is often the most important step. Your surgeon will take a medical history and carry out a physical examination and will also take pictures of your nose to determine the best surgical technique to use to make sure you get the best results. It is important that you have realistic expectations about what surgery can achieve so that your surgeon can help to select the best type of procedure. If you are not fully open about your goals for treatment, you may have lower satisfaction after the procedure and we would recommend being fully open about your goals and what you would like to achieve with the procedure.
Tip rhinoplasty is ideal for people who are unhappy with the shape of the tip of the nose but generally pleased with the overall structure of the nose. If you are also concerned about the upper third of your nose including a prominent nasal bridge, then a traditional rhinoplasty may be a better option for you.
If you would like to find out if you are a suitable candidate for tip rhinoplasty, give us a call today to book a consultation at our London clinic.
Can you fix a bulbous nose tip?
Yes, a bulbous nose tip can be addressed and corrected through a rhinoplasty procedure. The goal of the surgery is to refine and reshape the nasal tip to create a more aesthetically pleasing and balanced appearance.
During the procedure, the surgeon will typically make incisions inside the nostrils to access the nasal cartilage. The cartilage can then be reshaped and repositioned to create a more defined tip. In some cases, the surgeon may also remove excess tissue or cartilage to reduce the overall size of the tip.
The specific surgical techniques used will depend on the individual patient's unique nasal anatomy and the specific changes they want to make. Some common techniques used to address a bulbous nasal tip include:
Cartilage reshaping: The nasal cartilage can be reshaped and repositioned to create a more defined and streamlined tip.
Cartilage grafting: Additional cartilage can be added to the tip to provide more support and create a more defined appearance.
Suture techniques: Sutures can be used to refine and shape the nasal tip without removing any tissue or cartilage.
After the surgery, the patient will typically wear a splint and bandages on the nose for several days to protect and support the healing tissues. Swelling and bruising are common after the procedure, but these should subside over the following weeks and months.
It's important to choose a qualified and experienced surgeon for the procedure and to have realistic expectations about the results. While a rhinoplasty can help to improve the appearance of a bulbous nose tip, it's important to remember that the goal is to create a natural-looking and proportionate result that complements the patient's unique facial features.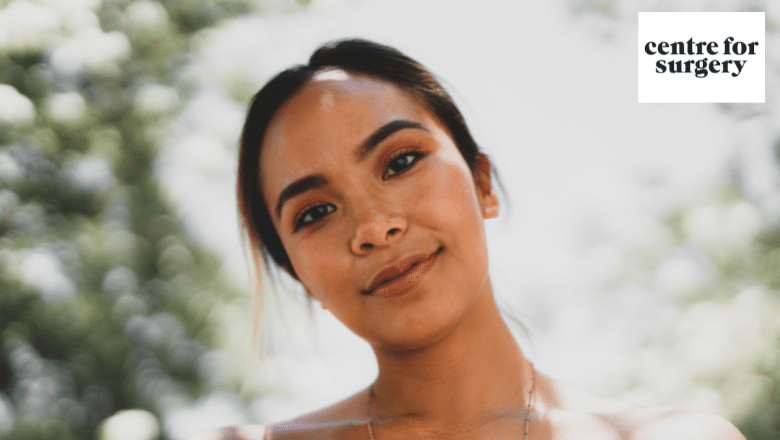 What does the tip plasty procedure involve?
Rhino tip correction is a straightforward procedure that takes approximately one to 2 hours to perform. The procedure is most commonly carried out under a general anaesthetic for your complete comfort however some very minor nasal tip procedures may be performed under a local anaesthetic alone. Your surgeon will advise you on the most ideal method of anaesthesia at your consultation. Tip rhinoplasty can be carried out using either an open technique or a closed technique depending on the nature of correction required and your surgeon's level of expertise.
The open technique involves making an incision on the skin between the two nostrils known as the columella and this results in the formation of a scar. Your surgeon takes great care to close the scar using meticulous techniques to ensure the scar looks as faint as possible. The closed technique involves all incisions being made inside the nose and therefore does not result in visible external scores. Tip Rhinoplasty using the closed method is also much quicker to perform compared with the open technique.
Most types of cartilage surgery involve improving the appearance of a nose by gently separating and identifying the nasal cartilage as part of a cartilage surgery or by reduction of the size of the nostrils. Large nostrils may result in the nose appearing flattened despite having a prominent nasal bridge. Rhinoplasty to reduce the size of the nostrils is known as alar base reduction (alarplasty) or nostril reduction.
The most common type of tip rhinoplasty involves surgically altering the cartilage for improvement of the appearance of the nasal tip including:
Cartilage shortening involves reducing the size of the alar cartridges. This helps to reduce their overall width. Bulbous noses can be made smaller and pointier with this technique.
Cartilage repositioning is ideal for patients who have short noses that are rotated upwards or for patients who are having tip work performed after a traditional Rhinoplasty. This technique often involves repositioning the septal cartilage for a more defined and sculpted nasal appearance.
Cartilage implants may be used to add structural support to the nasal tip and reduce the appearance of a flattened nose. Your Surgeon will first remove fat from the nasal tip prior to placement of the implant. This procedure is often combined with cartilage repositioning four a better defined and sculpted nasal tip.
Alar reduction or alarplasty is performed at the base of the nostrils using two recognised techniques:
Removal of excessive alar skin may be used to reduce the appearance of flared nostrils appearance and lead to an increased height of your nasal tip. Incisions are most commonly positioned on the outside and lower part of the nostrils to minimise the appearance of scars.
The nasal sill method involves producing similar results to the surgical removal of alar skin but all incisions are made in the inner part of the nostrils followed by stitching the skin together between both nostrils to reduce the width of the nasal alar area.
To find out the most appropriate technique, get in touch with us today to book a mini nose job consultation.
What is recovery like after tip rhinoplasty?
The recovery period after tip Rhinoplasty is generally very straightforward with only mild bruising and minimal discomfort which can be easily improved with over-the-counter pain medications. Your surgeon will prescribe a course of painkillers for you to take after your procedure before you are discharged. You will need to wear the applied nasal splint for one week after the procedure and this is designed to protect the delicate nasal tip whilst it is healing. You should avoid strenuous physical activities including going to the gym for a minimum of four weeks after the procedure. You should avoid wearing glasses for six weeks after tip Rhinoplasty for optimal healing of your incisions. We would recommend that you avoid blowing your nose or picking your nose during the recovery period as these may lead to a delay in wound healing and may also affect the results of surgery.
Smoking should be avoided for at least six weeks after surgery to minimise the risk of infection occurring. Wound infection may result in a delay in wound healing. Alcohol should be avoided for the first week after surgery to promote better wound healing.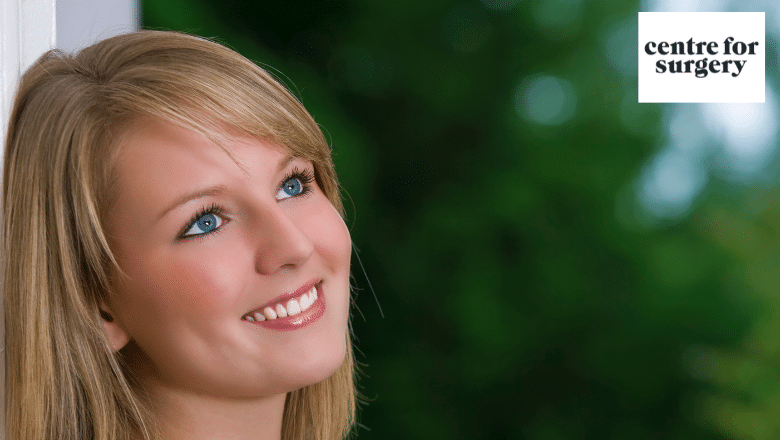 What are the risks and complications of tip rhinoplasty?
Rhino tip correction is less invasive compared with a traditional rhinoplasty, and there are fewer risks and complications associated with tip rhinoplasty. However, it is still a type of surgical procedure and all surgery carries certain risks and complications. If you are unsure about this, make sure to discuss this with your surgeon before deciding to proceed further. Recognised risks of rhino-tip correction include:
Bleeding
Infection
Bruising
Swelling
Temporary numbness of the nasal tip
Delayed wound healing
Unsatisfactory results necessitate having a revision rhinoplasty
The vast majority of patients are extremely pleased with the outcome of this procedure, and any side effects and risks are considered to be rare when performed by highly skilled rhinoplasty surgery.
Tip Rhinoplasty Cost London - Pricing and Fees for Nasal Tip Reshaping Surgery in London, UK
Establishing the cost of tip rhinoplasty surgery in London, UK, can be somewhat complex due to the diverse range of techniques involved in nose surgery. The final price depends on your specific requirements, such as whether you need a cartilage implant, septoplasty, alarplasty, turbinoplasty, or full rhinoplasty. Each of these factors contributes to the overall cost of the procedure.
After your initial consultation, our expert team will provide you with an accurate quote tailored to your individual needs.
Is tip rhinoplasty covered by private health insurance?
Typically, procedures performed solely for cosmetic purposes are not covered by private health insurance. However, if there is a medical necessity for the surgery, such as difficulty breathing, your insurance may provide coverage. It is essential to consult with your insurance provider to determine the extent of coverage for your specific situation.
Embark on Your Journey With Centre for Surgery Today
Centre for Surgery is a prominent and well-established plastic surgery clinic in the UK, renowned for its exceptional services and expertise. With our team of skilled surgeons boasting more than 50 years of combined experience, choosing Centre for Surgery for your plastic surgery or non-surgical procedure ensures you are in capable hands.
Our clinic offers a wide range of services, including facial, breast, and body contouring procedures, as well as minimally invasive treatments and non-surgical cosmetic enhancements. Our team is dedicated to providing the highest standard of care, employing cutting-edge techniques and state-of-the-art technology to achieve optimal results tailored to your unique needs and desires.
We understand that making the decision to undergo surgery or any aesthetic procedure is significant and should not be taken lightly. That's why it is essential to be well-informed and seek a second opinion from an appropriately qualified healthcare professional before proceeding with any surgical or invasive treatment. This will ensure that you have a comprehensive understanding of the risks involved, and you can make an informed decision about your chosen procedure.
At Centre for Surgery, we prioritize patient education and support throughout the entire process, from the initial consultation to postoperative care and follow-up appointments. Our compassionate and knowledgeable staff are always available to answer your questions, address any concerns, and guide you through each step of your journey to ensure a smooth and comfortable experience.
By taking the next step today and scheduling a consultation with one of our experienced surgeons, you can embark on the path towards achieving your aesthetic goals and boosting your confidence. Trust Centre for Surgery to provide you with the personalized care and expertise necessary to help you look and feel your best.