Anti Wrinkle Injections in London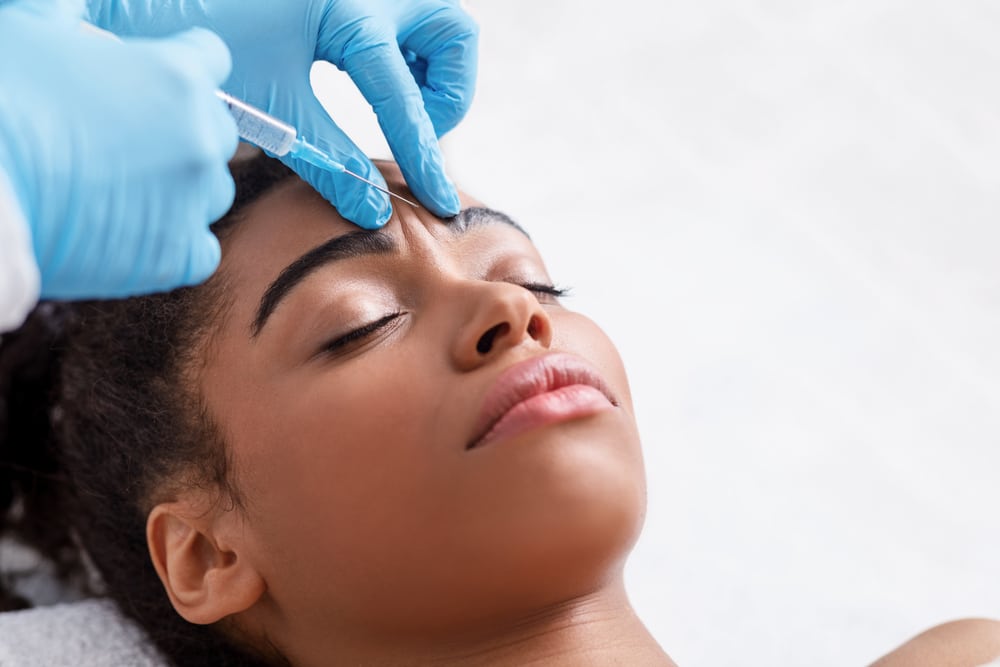 Anti wrinkle injections or wrinkle relaxing injections are a non-invasive anti-ageing treatment which can address fine lines and wrinkles in the face. Wrinkle relaxing injections, neuromodulators and neurotoxins all refer to the same thing. There are 3 areas where neurotoxin is particularly effective: the frown lines (lines between the eyes), the horizontal lines of the forehead and the lateral canthal lines also known as 'crow's feet' at the outer aspect of the eyes. Anti-wrinkle injections function through the relaxation of dynamic wrinkles as opposed to static wrinkles which are lines at rest. Anti-wrinkle injections are also great for relaxing the muscles responsible for facial expression such as smiling, frowning and squinting. Through achieving relaxation of the underlying facial muscles, the wrinkles are smoothened out giving rise to a more rejuvenated appearance to the face and particularly the upper third of the face.
Anti-wrinkle injections are most effective when patients start to use it at a younger age – late 20's and early 30's is ideal. Over time, the skin in the areas of facial expression begin to form fine lines as a result of overactivity of the involved muscles such as eyebrow raising, smiling and also squinting. Many people have found neurotoxins to be highly effective when used from the age of 20. For older patients, anti-wrinkle injections are also incredibly useful once they start to form wrinkles at rest, also known as static wrinkles. Botulinum toxin type A also complements dermal fillers treatment.
Expected Results after anti-wrinkle injections
Smoothening out of wrinkles in the upper third of the face (this can occur as soon as 4-5 days after neurotoxin treatment)
Improve the appearance of an overly prominent gummy smile
Improvement in perioral lines
Reduce jaw clenching through targeted relaxation of the masseter muscle and create slimming of the jawline
Neuromodulator can create a mild brow lift effect through increasing the height of the lateral eyebrow to increase the arch in the eyebrow
Anti-wrinkle injections work to relax the facial musculature responsible for many common facial expressions
Results from anti-wrinkle injections can last up to four months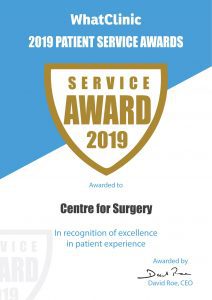 Benefits of anti wrinkle injections at Centre for Surgery
Only our aesthetic practitioners and dermatologists inject anti wrinkle injections for maximum safety
Very quick 10-15 minute treatment
Non-invasive with no need for surgery or general anaesthetic
No incisions or scars
Fast recovery with no downtime with no disruption to your normal daily routine
Natural looking results
Based in London's top medical district in Marylebone, central London
RealSelf Top Doctors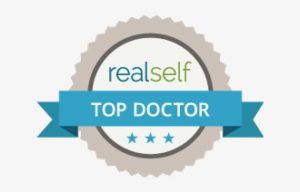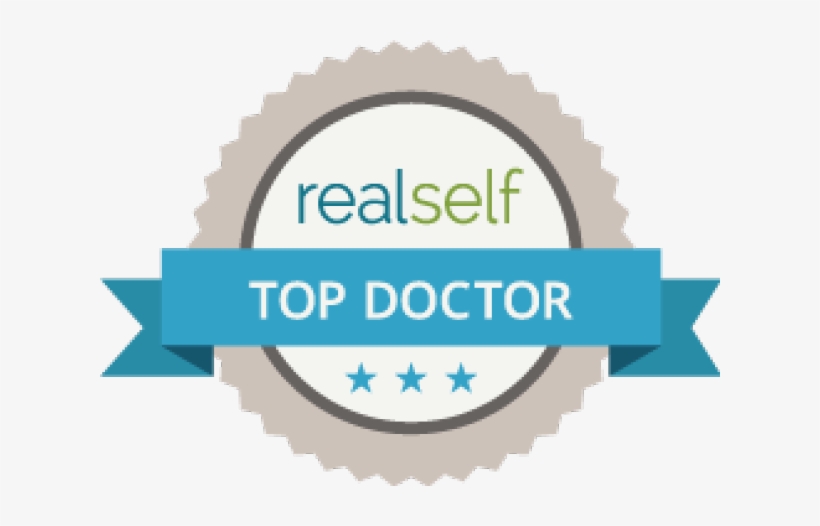 RealSelf top doctor status is awarded to less than 10% of the RealSelf doctor community.  This status is earned by achieving consistently high patient satisfaction (from RealSelf reviews), getting excellent feedback on expert answers to patient questions, and after investing significant time in Q&A and other doctor activity. RealSelf top doctors are rated among the very best dermatologists in the United Kingdom and USA.
Trust a Specialist For Anti Wrinkle Injections
A cosmetic dermatologist is trained to undertake non-surgical, and laser procedures in the face and neck region. They are dedicated sub-specialists. Compared with general dermatologists, cosmetic dermatologists are inherently better trained to perform both minimally invasive surgical, laser and non-surgical procedures of the face. The extra years of surgical training by facial specialists focused on the facial region results in an exceptionally high degree of skill. At Centre for Surgery, only highly qualified medical practitioners perform injectable treatments. Facial injectables in the UK can currently be performed by any practitioner even if they lack medical training. This has resulted in a number of unregulated providers such as beauty salons and even gyms offering facial injectable treatments. At Centre for Surgery, we believe this practice carries great risk for potential patients and the risk of adverse outcomes is markedly increased in untrained hands. We only offer facial injectable treatments by fully trained cosmetic dermatologists and medically trained and fully registered aesthetic practitioners.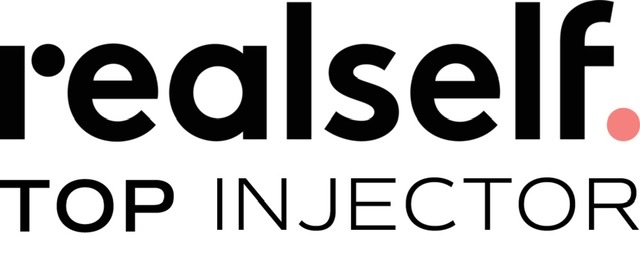 Amazing from start to finish, the communication was the main thing was fully informed and looked after, on the day of my breast augmentation, the staff were fab and made me feel at ease through out the whole process. Thank you so much.
Mohammed Farid
18/11/2021
I've had such a great experience with excellent advice, care and attention and surgical treatment (gynaecomastia) - I can fully endorse the treatment I have received from Centre for Surgery with absolutely no qualms at all. Brilliant in every way - thank you all so much.
Caroline Thorpe
14/11/2021
Very pleased with my whole experience of having a procedure. Was so nervous about getting treatment and i was reassured and felt so comfortable throughout thanks to the amazing nurses. I definitely made the right decision to have breast augmentation at centre for surgery with dr erel.
Melissa Briggs
08/11/2021
So glad I went with centre for surgery, the whole process went very smoothly from the consultations down to the actual day of the procedure. I was so nervous on the day but the whole team put me at ease and I'm happy with my results as I feel a lot more comfortable wearing certain clothes now. My surgeon was Alberto Di Giuseppe who performed a breast Augmentation on me, and I would definitely recommend as he was very clear on what the outcome of the surgery would be and which size would look the best for my frame.
Couldn't be happier with Dr Tillo work,i had my breast surgery one week ago and so happy with the results so far,all the staff are extremely nice and very supportive,i would definitely recommend their services,thank so much
From start to the finish everything was perfect for tummy tuck surgery. All staff is very friendly and the aftercare has been good. The Doctor and the nurse team was fantastic. I'm so happy...result is amazing. Thank you!!!
This was overall a great experience, all the staff at Centre for Surgery were friendly and put me at ease. It is a nerve wracking thing to go through an op but the staff were so nice. Mr Ertan has got a great team around him. On the day of the operation everything went smoothly to plan, there was no delay or holdups, I had another consultation with Mr Ertan who confirmed what was going to be done and that I was still happy to proceed. I was prepped for the procedure, I met with the anaesthetist who again was really nice and put me at ease explaining his role. After the procedure I woke up with the nurse by my side making sure I was OK and checking on me, I was able to stay in the clinic until I was ready to leave and was not rushed at all. I was well looked after from the start to the point when I was discharged. Post operation I was staying at a local hotel it was so close there was no point in even getting a taxi and I was able to walk back where my partner was waiting for me. I was expecting a lot of bruising to both my eyes but there was very little if any by the time the cast came off after 7 days, I am now at the two week post operation point and it is healing well with no outwardly visible bruising or scaring. The next milestone is a checkup at the 6 week point with my surgeon. If you're thinking of having something like this done I would highly recommend getting in touch with Centre for Surgery.
The staff at Centre for Surgery were very kind and accommodating. They answered any questions I had about the procedure and were constantly checking up on me. A special thank you to Christina for all her support throughout.
I would just like to state the quality of care received from the nurses at Centre for Surgery was beyond the highest level. Sophie takes her patient care to another level beyond words. She always puts me at ease. She is there for me even at awkward hours just when I mostly needed reassurance and she is one of the most compassionate nurses I have come across and demonstrates her passion naturally for caring for others. She totally deserves recognition at its finest and thank you for always being there for me. 😍
What Are Crows Feet and Eye Wrinkles?
At Centre for Surgery, we provide the most effective treatments for the reduction of crows feet and eye wrinkles including both anti wrinkle injections and erbium laser skin resurfacing. 
Eye wrinkles are also known as Crows feet or laughter lines and are most prominent when we laugh as this is a dynamic facial movement. With the ageing process, these eye wrinkles appear more obvious even at rest as the dynamic lines more pronounced on muscle movement eventually become static lines and wrinkles.
Lateral canthal lines or eye wrinkles develop in response to a gradual reduction in the proportion of collagen and elastin in the skin as a result of the ageing process. Crows feet can also be caused by excessive sunlight exposure, pollution and tobacco smoking. The most effective approach to preventing crows feet and eye wrinkles is to maintain good skin hydration, avoid tobacco smoking, minimise sunlight exposure, and avoid situations which could cause prolonged levels of stress. 
Anti wrinkles are a highly effective treatment for crows feet and work by causing relaxation of the underlying muscles that are normally responsible for contraction and causing crows feet to appear. Wrinkle relaxing injections consist of botulinum toxin type A which is a protein and results in muscle relaxation. Many areas in the face can be treated with anti wrinkle infections including crows feet. The treatment takes no more than 15-20 minutes and how the treatment can benefit you will be discussed at your consultation. Results take about a week to appear and effects of treatment typically last for 3 months on average but this depends on many factors.
Fractional erbium laser skin resurfacing is another excellent treatment for the treatment of crows feet and eye wrinkles in those with lighter skin types. The laser gently removes the outermost epidermal layer of the skin through the creation of tiny microcolumns. The unaffected adjacent skin then facilitates quick healing leading to stimulation of collagen and elastin production. The result is smoother, fresher and healthier, and wrinkle-free skin. The skin continues to improve for up to 6 months after treatment which adds further long lasting benefits.
Ideal Patients For Anti Wrinkle Injections
Anti wrinkle injections are the most popular treatment for non-invasive facial rejuvenation at Centre for Surgery in London. Our practitioners perform many hundreds of treatments across a wide range of patients, both younger and older.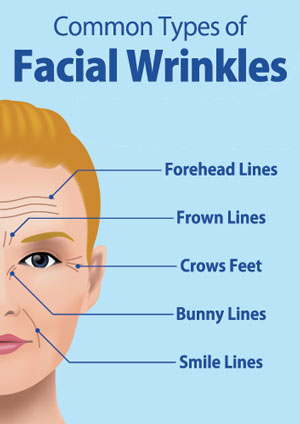 The ideal candidate for anti wrinkle injections:
You are a young person looking to prevent the formation of fine lines and wrinkles
You are an older person that has noticed the development of deeper lines and wrinkles
You have a gummy smile
Noticeable lines around the peri-oral or mouth region when you make certain facial expressions such as pouting of the lips
You are not keen on the idea of more invasive surgical treatment for facial rejuvenation
Anti Wrinkle Injection Techniques
Facial wrinkles gradually form at right angles to the underlying muscle fibres. When the underlying muscle is activated then the overlying wrinkle becomes apparent. neurotoxin injections are precisely placed into the facial musculature which leads to weakening. Neurotoxin is never injected into the facial wrinkle itself.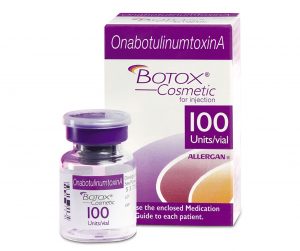 At Centre for Surgery, we have some of most qualified and experienced facial injectors. The key to successful neuromodulator injection is based on:
Having the correct constitution of neurotoxin and sterile saline – it must not be too dilute
The actual injection process must be short and quick
The location where anti wrinkle injections are injected
After the injection into the facial muscle, the toxin can spread up to 2.5cm from where the injection was made. Injectors using the same injection method can still result in slightly different outcomes although these differences are minor and trivial in nature.
How do Anti Wrinkle Injections work?
Anti wrinkle injections are a neuromodulator which exerts it effects at the nerve ending which prevents the release of a chemical neurotransmitter known as acetylcholine. The nerve is therefore unable to exert any effect on the attached muscle. The use of neuromodulator leads to muscle relaxation in the injected facial areas.
Difference between dynamic and static wrinkles
Anti wrinkle injections are ideal for the reduction or removal of dynamic wrinkles in the areas of active facial animation. After injection, this means that those wrinkles will then become less visible with facial muscle contraction – an example is the crows feet area with smiling. Static wrinkles are those wrinkles which are present at rest without active facial muscle movement. Neurotoxins are ineffective for addressing static wrinkles. Dermal fillers or chemical peels or laser resurfacing may be more appropriate for the treatment of static wrinkles. Even then, neurotoxin would be used first to relax the area which then reduces the amount of subsequent filler required for satisfactory correction.
How long do Anti Wrinkle Injections last?
Many patients will notice that injections of Anti wrinkle injections can last for up to six months or longer. In these cases however, what has actually occurred is that the neurotoxin has actually worn off. But, the muscle dynamic has been altered which means the patient no longer uses that particular facial muscle as much as when they did before injections of neuromodulator.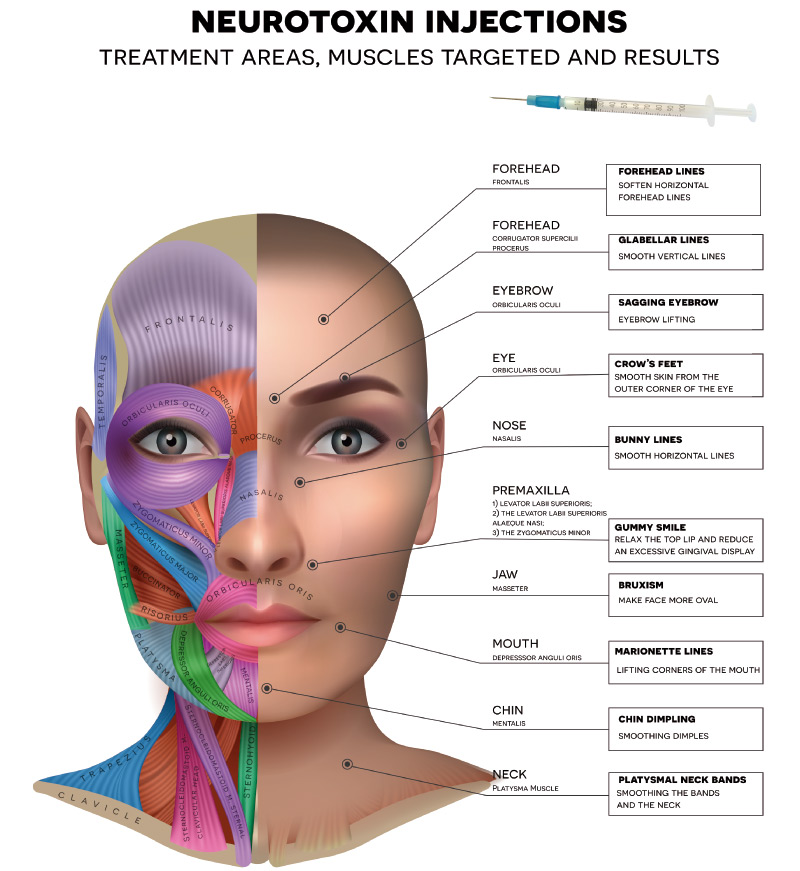 The ideal timing of neuromodulator injections varies but it is generally accepted that the best time to get repeat injections of Anti wrinkle injections is before the effects of the last injection you have had begin to subside. With facial injection treatment, the objective is to keep the injected muscles in a weakened condition. All our patients are highly recommended to schedule maintenance treatments of anti wrinkle injections before the upper facial muscles regain the size and / or strength. Fewer wrinkles are because of muscle attenuation or weakening and it is important to maintain this to get the best results. Selected patients who have top-up injections once or twice in a year can have great results but the very best results come from wrinkle relaxing injections three to four times per year.
There are 2 key factors when it comes to Anti Wrinkle Injections: (1) how many units of neurotoxin will be injected? and (2) where will the neurotoxin be injected?
Units of Anti Wrinkle Injections
Anti Wrinkle Injections come packaged in 2 different vial formulations: 50 units and 100 units. Your practitioner will dilute your neuromodulator injection to an appropriate concentration. The effectiveness of the neurotoxin injection as well the 'spreadability' of the injection are both determined by the concentration of the neuromodulator solution. A more dilute formulation will require the injection of greater volume which increases the risk of unintended spread to other muscles which could lead in unintended paralysis of the wrong muscle. Practitioners at Centre for Surgery make up Anti Wrinkle Injections according to a standardised protocol of 100 units of neurotoxin in 2.5 ml of unpreserved sterile saline. We believe in being fully transparent about the injection process to ensure you get the outcomes you desire. Using this formulation also helps to minimise the number of needle pricks through the skin which makes for more precise results with minimum discomfort.
Injection sites for Anti Wrinkle Injections
As explained above, the formation of facial wrinkles is always at right angles or 90 degrees to the direction of the muscle fibre contraction. Our practitioners take great care to ensure that  Anti Wrinkle Injections are injected into the muscle in the deeper layers and not wrinkle itself. The treatment objective is to selectively paralyse the facial muscles to achieve muscle relaxation, thus leading to facial rejuvenation.
Anti Wrinkle Injections for frown lines
Neurotoxin  can injected into the procerus and corrugator muscle to reduce frowning
Wrinkle relaxing injections for forehead wrinkles
Neurotoxin is commonly used for transverse forehead lines which are dynamic in nature. Older patients may require fillers for static forehead lines. Anti wrinkle injections can also be used selectively on the outer eyebrow to create a subtle brow lift.

Neurotoxin for crow's feet
Anti Wrinkle Injections can be injected into the muscle encircling the eye known as the orbicularis muscle in its outer aspect to smoothen out the crows feet line.
Anti Wrinkle Injections for bunny lines
For those who have had neurotoxin for a number of years can lead to compensatory activity of the muscles which scrunch up the nose or bunny lines. Targeted injections of neurotoxin can be used to reduce or eliminate bunny lines.
Neurotoxin for gummy smile
Patients with excessive gingival show or gummy smile can get injection of toxin into the premaxillary area or area in the upper outer lip to reduce the amount of gum showing when smiling.
Anti Wrinkle Injections for bruxism and teeth clenching
A square looking jaw can be made to look more rounded with the injection of neurotoxin directly into the masseter muscle.
Neurotoxin for droopy mouth corners
Anti Wrinkle Injections are great for treating the marionette lines at the corners of the mouth. Injection of this region leads to elevation of this area which reduces the appearance of the unhappy downturned mouth look.
Neurotoxin for chin dimpling
Overactivity of the mentalis muscle in the chin can lead to dimpling or an unsightly "peau d'orange" appearance. Neuromodulator can be used to smoothen this region.
Anti Wrinkle Injections for neck banding
The formation of prominent platysmal banding increases with advancing age. Neuromodulator can be used to effectively treat the neck banding leading to an impressive rejuvenating effect of the neck area.
Anti Wrinkle Injections Before and After Treatment Examples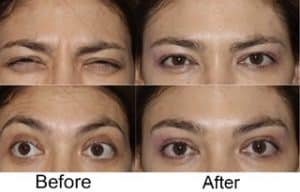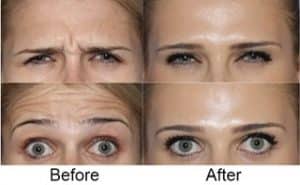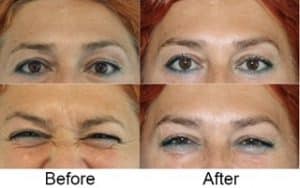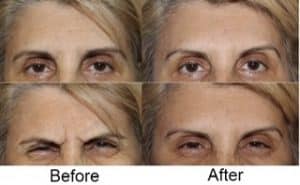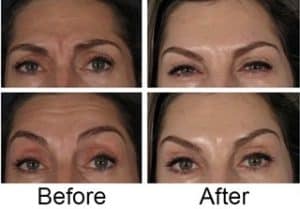 Anti Wrinkle Injections Cost
There are a number of a factors which will impact on the final cost of your neurotoxin injection procedure:
Number of units of required
Men require more units of Anti Wrinkle Injections
Advanced injections in the lower third of face and neck
Complications of Anti Wrinkle Injections from another clinic
Why not call 0207 993 4849 and speak to one of our expert patient coordinators who may be able to give you a rough costing.
Always remember that price should never be the determining factor when it comes to choosing your provider. We feel that safety and quality of service should be your number one priority and instilling in you the confidence that our team will look after you before, during and after your procedure to the best of their ability.
Preparing For Anti Wrinkle Treatment
2 weeks before anti wrinkle injections:
It is important to minimise bruising by following certain restrictions on dietary intake. 2 weeks before neurotoxin, you should avoid fish oil supplements, seeds, nuts and medicines containing ibuprofen for aspirin and any other substances which are known to increase the risk of prolonged bleeding and subsequent bruising.
On the day of your anti-wrinkle treatment:
Avoid wearing makeup
Have a light meal to reduce the risk of feeling light headed during treatment
Drink plenty of water to keep well hydrated
Wear loose comfortable clothing
You should arrive at least thirty minutes before your treatment time to allow for the application of numbing cream
Schedule your next appointment for anti wrinkle injections before you leave the clinic to avoid being unable to secure an appointment. Our practitioners appointment slots often get booked up 3 months in advance.
Post-procedure care after anti wrinkle injections:
It is advisable to use a cold pack applied to the area to reduce any bruising for up to 48 hours post procedure.
Avoid strenuous exercise for 48 hours after anti wrinkle injections
Use only water based makeup to camouflage any bruising. Normal makeup can be applied the next day onwards.
Do not attempt to massage the area in way – this could lead to diffusion of the toxin leading to unintended paralysis of uninvolved facial muscles.
Face washing is permissible albeit gently.
Arnica tablets can be used to minimise bruising.
Pineapples and pineapple juice has been shown to reduce bruising and swelling.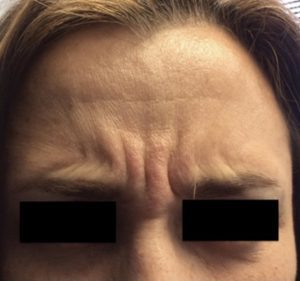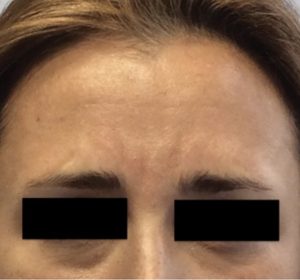 Recovery After Anti Wrinkle Injections
At Centre for Surgery in London, our practitioners take special care to use techniques that minimise bruising and swelling. The downtime following our treatments are renowned for being very minimal. So much so that you can have anti wrinkle injections treatment during your lunch break with us before returning to work in the afternoon. Slow injections of neurotoxin lead to more potential trauma to underlying tissues which leads to additional bruising and swelling.
Recovery fast facts after anti wrinkle injections
Minimal bruising and swelling.
Neurotoxins take up to 2 weeks to exert their full effect. Treatment effects may be noticed as early as 3 days but you will have for 2 weeks before seeing the full effect. Any treatment top-ups should only be performed at 2 weeks post-procedure.
The effects of Anti Wrinkle Injections generally subside after 4 months. For optimal results, neurotoxin should be repeated approximately 3-4 times in a year.
It is normal to experience some mild discomfort from the needle injection points.
Risks and Potential Complications of Anti Wrinkle Treatments
Anti wrinkle injections are recognised to be a low-risk procedure with minimal risk of complications. Your practitioner will fully assess you to ensure suitability for the procedure. During your consultation, the practitioner will outline the risks and potential complications associated with facial injection treatment.
Potential Complications of Anti wrinkle injections Treatment
Allergy to neurotoxin
Skin infection
A frozen facial appearance – Neurotoxins exerts it effects by selective weakening of targeted facial muscles. Injecting neurotoxin in the wrong areas often affects inexperienced injectors creating an undesirable facial appearance
Minor flu-like symptoms
Mild headache especially with neuromodulator injected into forehead region
Droopy eyebrow or double vision from inexpertly placed injection
Prolonged muscle weakness in patients with neuromuscular conditions
Facial Injection Specialists at Centre for Surgery
At Centre for Surgery in London, our neuromodulator injectors are all highly experienced doctors and have been using neuromodulators such as anti wrinkle injections to treat facial lines and wrinkles for many years. Every patient has unique features that must be taken into account when planning treatment. Every treatment must be customised to the individual patient. This is why at Centre for Surgery, we charge neurotoxin by the exact number of units used. A female patient with a small face and relatively inactive muscles of facial expression is very different to a male patient with a large face and well developed muscles of facial expression.
What to Expect
Centre for Surgery are committed to following the latest national guidance and strict medical protocols in the provision of non-surgical injectable treatments. Wrinkle injection treatments are only carried out by trained dermatologists and plastic surgeons for safer outcomes.
You will be looked after by a dedicated patient coordinator to act as your point of contact throughout your journey with us. Once we have a clear idea of your presenting concern, we will book you in to see either a dermatologist or plastic surgeon who is best placed to assess and treat you. The consultation is free and no-obligation and the full range of treatment options will be explained.
What happens at the consultation?
The specialist will take a comprehensive approach to assessing you by taking a full history and examination:
Treatment options based on your facial structure and the possible outcomes that can be achieved
In-depth discussion of the different non-surgical options and what can be expected with each option and whether any downtime is to be expected
Assessing your physical and mental health to make sure that anti wrinkle injections are right for you
Answer your questions that you may have about the different options
If it is determined that treatment is appropriate, a written treatment plan will be prepared and presented to you so you can make a decision on whether to proceed. Some treatments such as facial injectables can take place in the same visit where as other treatments such as laser resurfacing may need a period of skin preparation which may require up to six weeks before the actual treatment can take place.
The consultation for facial injectables are free but a £25 deposit is required to confirm the consultation and this can be redeemed against any potential treatment that you wish to go ahead with in the same visit.
Your consultant will ask you to return for a follow-up visit 2 weeks later for a review which may include a free top-up or 'tweakment' if deemed necessary.
Patient journey quick overview:
Visit us at 106 Crawford Street, Marylebone for a free consultation with a fully trained and qualified dermatologist or plastic surgeon
At the consultation, decide on the best treatment option for you based on expert advice from your consultant. You can choose to have treatment at the same visit if you prefer.
Come back in 2 weeks for your follow-up visit for a check-up and repeat treatment or free top-up if appropriate.
How to Find Us
Centre for Surgery is located at 106 Crawford Street in Marylebone. Crawford Street is just off Baker Street.
We are easily accessible by all major bus routes that pass through Baker Street as well as Baker Street underground station.
From the tube station, we are just a 5 minute walk southwards down Baker Street followed by a right turn onto Crawford Street. The clinic is about 200 yards on the left.
There is ample local pay & display parking in the surrounding area and an NCP car park is located further west along Crawford Street. Our local residential parking zone is the City of Westminster.
Address: 106 Crawford Street, Marylebone, London, W1H 2HY