Age spot removal in London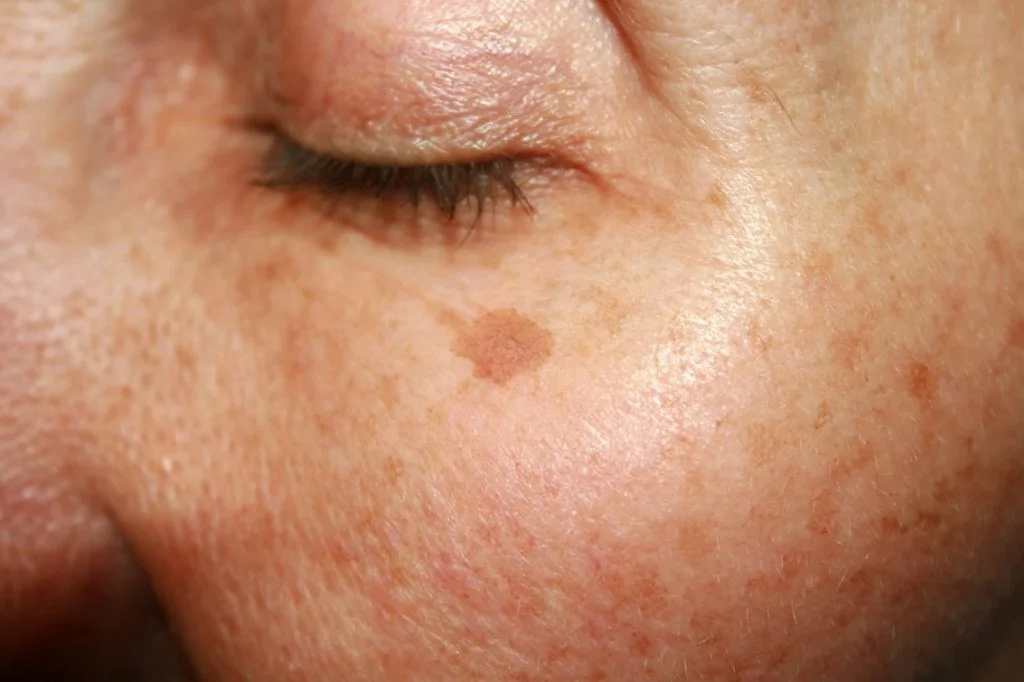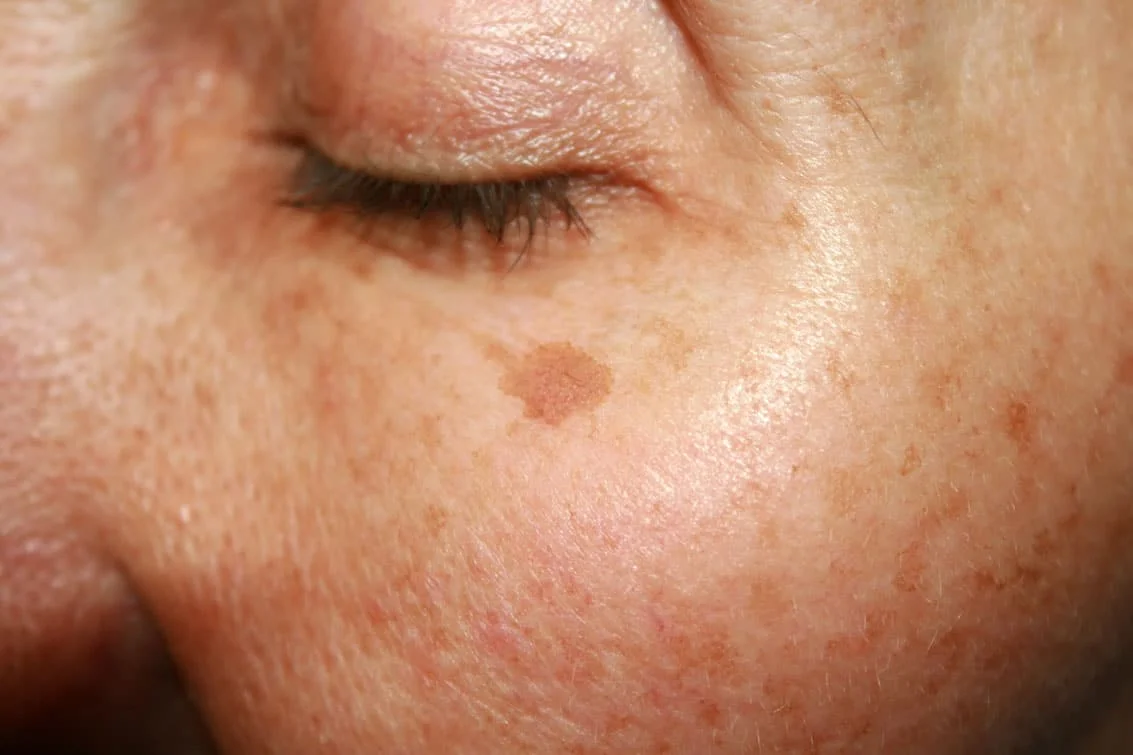 Over time, our skin can show signs of age and sun exposure in the form of age spots, also known as sun spots or liver spots. These spots are usually harmless and don't require medical treatment. However, they can become a cosmetic concern, particularly when they gather in large clusters or grow in size, or if they appear on the face where they are most visible.
Here at Centre for Surgery, we're able to help. We can lighten or remove these age spots for you, enhancing your skin's appearance. You don't need to go through your GP for a referral to come to us – we're happy to see you directly, offering expert advice and treatment options tailored to your needs.
What are Age Spots?
Age spots, also referred to as solar lentigo, are harmless pigmented flat patches on the skin often resulting from prolonged exposure to sunlight. In these spots, melanin, the pigment that gives colour to our skin, accumulates in skin cells due to varying levels of melanocyte proliferation, typically triggered by sunlight. Usually, a diagnosis of solar lentigo is straightforward and doesn't require any special tests; the spots are identified simply by their appearance.
These solar lentigos are benign and should not be confused with actinic keratosis, a pre-cancerous skin lesion which can also be found in areas of skin frequently exposed to the sun, and which can often occur in patients with age spots. However, the two are not the same, and solar lentigo does not have pre-cancerous characteristics.
Although these age spots pose no health risk, many people seek treatment to improve their cosmetic appearance. The old term 'liver spots' was once used to describe these spots due to a supposed link with liver health, but this theory has since been debunked. Age spots and liver health are not related.
Solar lentigo, or age spots, should not be mistaken for another common age-related skin condition known as seborrhoeic keratosis. Seborrhoeic keratosis often presents as a darker, stuck-on patch typically found on the face and forehead. It's also entirely harmless and can be treated effectively with an Erbium YAG laser.
Historically, a variety of treatments have been used for age spot removal, with differing levels of success. These treatments include skin peeling creams, cryotherapy (freezing), and chemical peels.
In the past, topical retinoid creams, TCA chemical peels, and cryotherapy have been commonly used in the treatment of solar lentigo. The use of ablative CO2 lasers, however, has not been as successful due to a significant risk of resulting hyperpigmentation after treatment.
At the Centre for Surgery in London, we use the latest generation Erbium YAG laser for the safe and effective treatment of age spots. This method allows for minimal downtime and carries a reduced risk of scarring, making it a preferred choice for age spot removal.
The Fitzpatrick skin classification

When dealing with skin conditions caused by sun exposure like solar lentigo, it's important to consider a person's Fitzpatrick skin type. The Fitzpatrick classification details six different skin types based on skin colour and how a person's skin responds to sunlight:
Type 1: Very white or freckled skin that always burns and never tans in sunlight. Type 2: Fair skin that burns easily and tans poorly. Type 3: Darker white skin that tans after an initial burn. Type 4: Light brown skin that burns minimally and tans easily. Type 5: Brown skin that rarely burns and tans easily. Type 6: Dark brown or black skin that never burns and always tans darkly.
Typically, age spot removal is more often carried out on individuals with lighter skin types who have a long history of sun exposure. Age spot removal can also commonly be performed alongside the removal of seborrheic keratosis and actinic keratosis.
So, what differentiates age spots from freckles? While they can appear similar, there are distinct differences between the two. Freckles are usually much smaller than age spots and are genetically influenced, meaning certain individuals are naturally more prone to developing them. In contrast, sun spots can appear on anyone, regardless of their genetics, especially those with a history of sun exposure.
The Age Spot (Liver Spot) Removal Procedure
Our age spot removal procedure at Centre for Surgery is a simple, safe, and effective method that takes less than 30 minutes to complete. This procedure involves the use of an erbium laser and typically requires a topical anaesthetic for comfort.
When you visit our clinic on Baker Street for an in-person consultation, your provider will carefully examine your age spots. Based on their assessment, they'll provide an estimate of how many treatments you may need to lighten and effectively remove your age spots. Though we generally recommend three treatments, everyone's skin responds differently, and you may need more or fewer sessions depending on your specific circumstances.
One of the benefits of our age spot removal treatment is the minimal downtime it requires. You'll be able to return to work and resume your normal activities immediately after the procedure. Post-treatment, you may feel like you have a mild sunburn, but this sensation usually subsides within 24-48 hours. It's also common for your skin to appear a bit red, and your age spots may initially darken – but this is completely normal. Within a week or two following your procedure, you'll notice your age spots start to fade and flake off.
To achieve the best results, it's crucial that you avoid sun exposure for at least 48 hours after your treatment. Also, refrain from sunbathing before your treatment, as we can't perform this procedure on sun-tanned skin.
Age spot removal before and after
Case 1:
Solar lentigo on right cheek removed with Erbium YAG laser.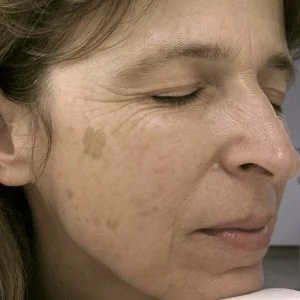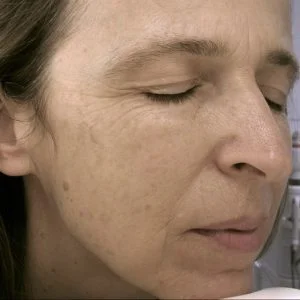 Case 2:
A solar lentigo, also known as a sun-induced or senile lentigo, is a harmless dark (hyperpigmented) lesion on the skin. It is caused by exposure to ultraviolet (UV) radiation, which causes local proliferation of melanocytes and excessive production of the skin pigment melanin. Solar lentigos or lentigines are very common, especially in people over the age of 40 years. They are benign but indicate excessive sun exposure, a risk factor for the development of skin cancer.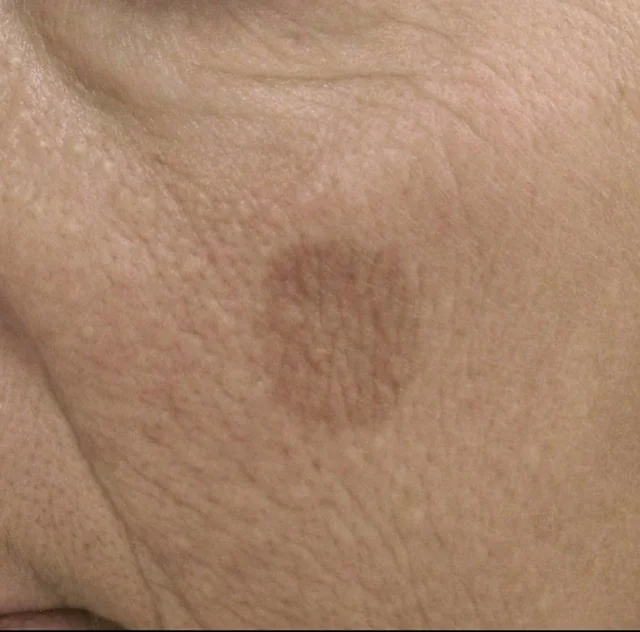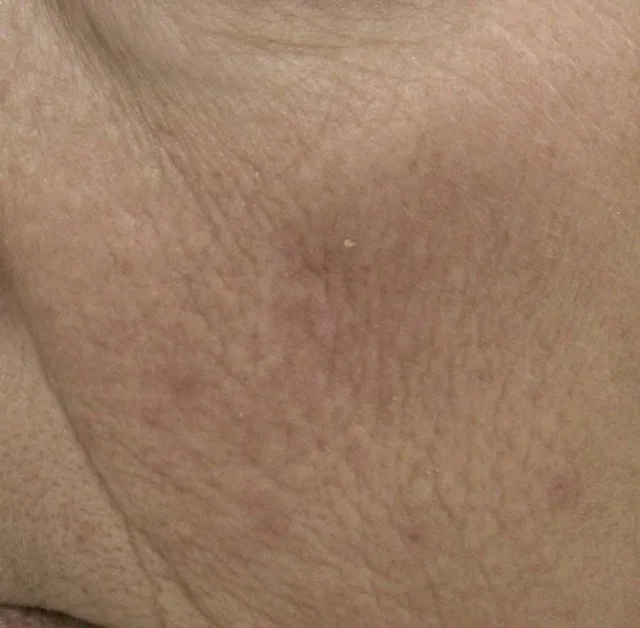 How Long Does Age Spot Removal Last?
Once age spots are removed, they can potentially reappear if your skin is repeatedly exposed to significant amounts of sunlight. The most effective way to prevent the recurrence of age spots is by limiting your skin's exposure to the sun, regularly applying sunscreen, and wearing protective clothing whenever possible.
Age spot removal at Centre for Surgery
At Centre for Surgery, we are a premier cosmetic surgery and skin clinic based in London that excels in providing top-quality age spot removal services. Our team of highly trained aesthetic practitioners uses the latest, state-of-the-art Erbium YAG laser technology to ensure safe, precise, and effective treatment with excellent cosmetic results. We take a patient-centred approach, offering bespoke treatments tailored to individual needs. With our expert care, age spot removal is a quick, minimally invasive procedure with little to no downtime. We pride ourselves on delivering exceptional care before, during, and after the treatment to ensure your journey with us is comfortable and satisfying.