Breast Implant Removal with Breast Lift Surgery London & UK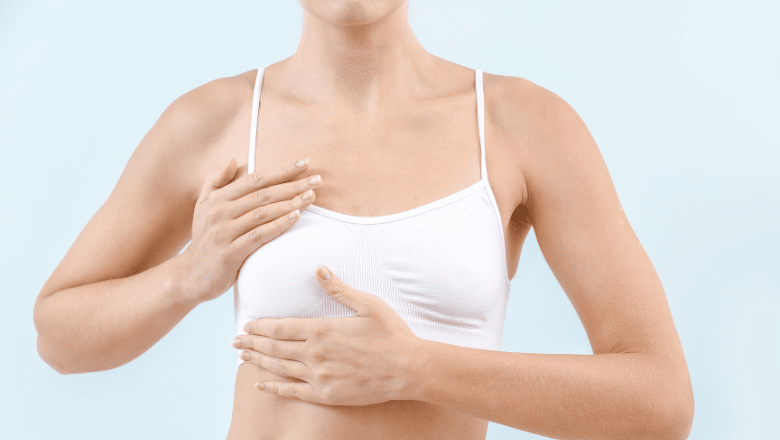 Many women choose to have breast implant removal to address breast implant problems such as implant rupture or capsular contracture. Other women may simply decide they no longer want breast implants anymore. Removal of breast implants may require a breast lift to address excess saggy skin affecting the breasts for optimal results. For women who have had breast implants for many years, the breast skin gradually stretches over the underlying implant over time. In most cases, this can lead to a reduction in the thickness of the skin and an associated loss of skin elasticity. When women have breast implants removed to manage complications of breast implants or to improve cosmetic appearance, the overlying breast often appears droopy and sagging when the firmness of an underlying implant is no longer present. Women are at risk of developing sagging breasts which can affect the cosmetic appearance of the breasts. In many cases, the best results are achieved when breast implant removal, also known as an explant procedure, is combined with either breast lift surgery (mastopexy) or fat transfer to the breasts to improve the firmness of the breast and eliminate sagging. Breast implant removal with a breast lift is the optimum combination to both remove ageing breast implants and improve the youthfulness of the breasts with breast uplift.
RELATED: What is a breast lift?
Breast lift surgery is highly effective for getting rid of excess saggy skin on the breasts, which helps to tighten the breasts and give them a more contoured and defined appearance. Breast implants that have been in for many years may gradually cause enlargement of the nipple and areola. Breast lift surgery can both reposition the nipple and areola to a higher position and reduce the size of large areolas with an areola reduction procedure. Breast lift surgery can raise the height of the breasts to a higher position on the chest, which gives them a perkier and more projected appearance. The impact of pregnancy and childbirth, changes in weight and the natural ageing process can cause the breasts to lose volume and droop. Women with saggy breasts can develop a significant loss of self-confidence and may no longer feel desirable. The stretched-out skin surrounding the breasts loses its elasticity which accentuates a drooping breast appearance.
RELATED: How to get firmer breasts
What are the benefits of breast lift with an implant removal?
Choosing to have a breast lift surgery after having your implant removed can restore the appearance and shape of the breasts to give them a youthful appearance. Breast lift surgery produces breasts that feel both firmer and sit higher up on the chest for a perkier appearance. Breast lift surgery can achieve a natural-looking breast shape once breast implant removal has occurred. Ideal results from a breast lift are achieved for women who have small and drooping breasts and have had large breast implants removed. Women who have naturally larger and heavier breasts should bear in mind that the results of breast lift surgery may not be permanent, particularly if they experience significant fluctuations in weight after having breast implant removal with a breast lift.
RELATED: Breast Implant Revision
Am I suitable for a explant and breast lift?
Breast implant removal leaves a large empty gap within the breast tissue. The skin of the breast often loses its thickness and appears stretched out. Breast lift surgery is often required to improve the shape and contour of the breast. Ideal candidates for breast implant removal combined with a breast lift include:
Patients are unhappy with the appearance of their breasts after having breast augmentation and wish to have their implants removed without replacing them.
Patients experience significant breast discomfort due to excessively large implants.
Patients have developed capsular contracture due to having breast implants with changes in the shape of the breast.
Patients have experienced implant rupture, which includes silent ruptures leading to a deformed-looking breast.
Patients have developed implant malposition due to an excessively large breast pocket or natural expansion of the pocket with time.
Many women simply decide they no longer want to have breast implants and see them as a significant hassle.
Patients have significant concerns about potential BIA-ALCL due to having texted implants, or they may be experiencing symptoms of breast implant illness or BII.
Some patients may choose to have a breast implant removal first, having been made aware of the potential risks of breast sagging. If they then become concerned about the appearance of droopy breasts, they may have a breast lift as a second-stage procedure. Ideal patience for both breast implant removal and breast lift surgery non-smokers who are in a good state of physical health with no chronic medical conditions such as hypertension or diabetes. Patients should be at or near their ideal body weight, are unhappy with their breast implants, and prefer to have them removed without breast implant replacement. Suitable patients for a breast lift include women with naturally small breasts and large implants which have stretched out the breast tissue, leading to breast sagging after breast implant removal. If you want to determine your suitability for this procedure, we recommend scheduling an in-person consultation with a consultant breast specialist at the Centre for Surgery for an in-depth clinical assessment.
RELATED: How to get rid of sagging breasts after weight loss
Breast lift with breast implant removal procedure
Breast lift with implant removal is carried out as an outpatient procedure under general anaesthetic at our Baker Street clinic. The procedure takes 2 to 3 hours to perform, depending on the type of breast lift carried out. The procedure involves the removal of your existing implants through the same incision which was used to insert the implants in your primary breast augmentation. Once the implants have been removed, your surgeon will determine the amount of skin sgging present and then select one of the three types of breast lift incisions below.
Doughnut incision
This technique involves making two circumferential incisions around the areola. The area of skin between the two incisions is then surgically removed. The incisions are then closed with dissolvable stitches to create a single incision line. A doughnut breast lift is designed for women with mild degrees of breast sagging and who want to achieve a smaller breast lift without the extra scars of more invasive types of breast lift.
Lollipop incision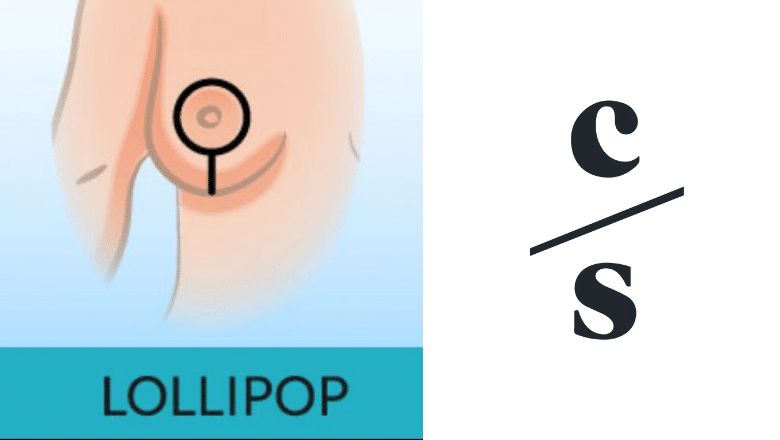 A lollipop breast lift involves making a circumferential incision around the areola with a further incision that runs vertically downwards from the lowermost point of the areola incision. The shape of the incision resembles a lollipop. Excess breast tissue is surgically removed with surgical repositioning of the breast tissue to a higher level. This approach is ideal for patients who have moderate degrees of breast sagging.
Anchor incision (inverted T)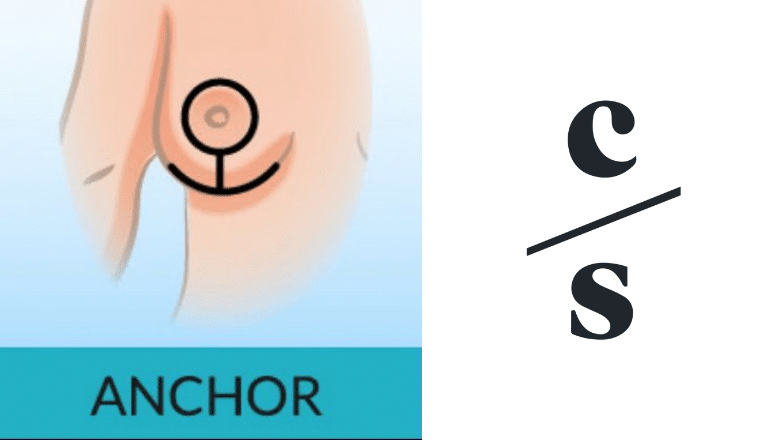 The anchor incision is ideal for women with severe breast sagging and is the most commonly performed type of breast lift due to its versatility in reshaping the breast. This technique involves making incisions around the areola and vertically downwards to the inferior press crease and with an incision which runs horizontally along the inferior breast crease. Sagging tissues are surgically removed, and the incisions are closed, which helps to create a tighter and firmer-looking breast.
All of the three procedures discussed above can also involve repositioning the nipple and areola higher up on the breast mound if this is required.
RELATED: What is the best breast lift?
Recovery after implant removal and breast lift
In the recovery phase after breast implant removal and a breast lift, it is important to take it easy and not overdo it in the first week of your recovery. Common side-effects during the first two weeks include bruising, swelling, soreness and temporary numbness of the breasts. Any discomfort can be easily controlled with the prescription for painkillers given to you by your surgeon. Any mild discomfort will rapidly settle down by the end of week one. It is important to wear the post-operative support bra as recommended by your surgeon to accelerate the resolution of postsurgical swelling and support the breasts during the vital early healing process. Once the breast compression garment is removed, we would recommend wearing a sports bra for the next four weeks to support the breasts and maintain their new shape.
You should avoid strenuous physical activities for the first six weeks after surgery, including going to the gym and having sexual intercourse. You will be reviewed by your surgeon six weeks after your procedure to assess the results of your breast lift with implant removal. Most patients can return to office-type work after one week if they feel comfortable and can sit at a desk without discomfort.
RELATED: Breast lift recovery top tips
What are the potential risks of breast implant removal with breast lift?
As with any type of surgery, certain risks are associated with breast implant removal and breast lift surgery. The recognised risks of this procedure include:
Bleeding
Haematoma formation – this is a localised collection of blood beneath the skin, which may require surgical drainage.
Seroma formation
Excessive scarring, particularly in dark-skinned people
Delayed or impaired wound healing is commonly due to cigarette smoking.
Altered nipple sensitivity is temporary in most cases.
Uneven or lopsided breasts.
Nipple and areola necrosis due to impaired blood supply.
The risks of this procedure can be minimised by following your surgeon's preoperative and post-operative instructions in full. Our consultant breast specialists have many years of experience performing all types of breast surgery, including breast lift and implant removal. Their dedication to achieving outstanding results means they can deliver the highest standards of medical care.
Which celebrities have had a breast implant removal with breast lift?
Demi Moore is a well-known Hollywood celebrity, and it has been rumoured she has had several cosmetic surgery procedures to improve her appearance. She is thought to have had breast augmentation surgery in her early days as an actress, although she subsequently had her breast implants removed as she reached middle age. She then had a later breast lift procedure to enhance the appearance of her breasts.
Further Medical Reading
Is breast implant removal combined with breast lift worth it?
Breast implant removal or explant, regardless of why women choose to have it, is a safe and effective surgical procedure to remove breast implants that may either be causing complications such as capsular contracture or because women no longer like how they look. Removal of breast implants results in developing a hollow cavity within the breast tissue. Once breast implants have been removed, there is a high chance of the breasts appearing droopy and deflated, especially if women have had large implants in for many years. Women can develop a significant loss of self-confidence, which may affect their everyday life, including participation in many social situations. The gap where the breast implants once were may increase the risk of developing wavy and rippling skin affecting the breasts. The breasts may also have a droopy and saggy appearance, with nipples and areolas that have migrated downwards. Breast implant removal combined with a breast lift results in very high levels of patient satisfaction when performed by a fully credentialled consultant breast specialist at Centre for Surgery. This procedure should be viewed as an investment in yourself for renewed self-confidence, and the vast majority of women who have it are incredibly pleased with the outcome. Schedule an in-person consultation today to learn about how this procedure can benefit you.
Breast implant removal and uplift at Centre for Surgery
Centre for Surgery is the leading cosmetic surgery clinic in London. Our UK consultant plastic surgeons have many years of experience performing a wide range of breast surgery procedures, including breast implant removal and breast lift surgery for women who want to have their implants removed. In many cases, breast lift surgery is necessary to address the shape of droopy and sagging breasts from women who have had large implants removed. The first step in every case is to listen to your personal requirements and explore all the treatment options before deciding on the most appropriate solution. Your surgeon will explain the potential risks and complications associated with the surgery to give you all the information you need to make an informed decision that is right for you. If you want to learn more about this procedure, please call us today on 020 7993 4849 or complete the contact form below to schedule an in-person consultation with an experienced breast surgeon at our state-of-the-art Baker Street clinic in Marylebone.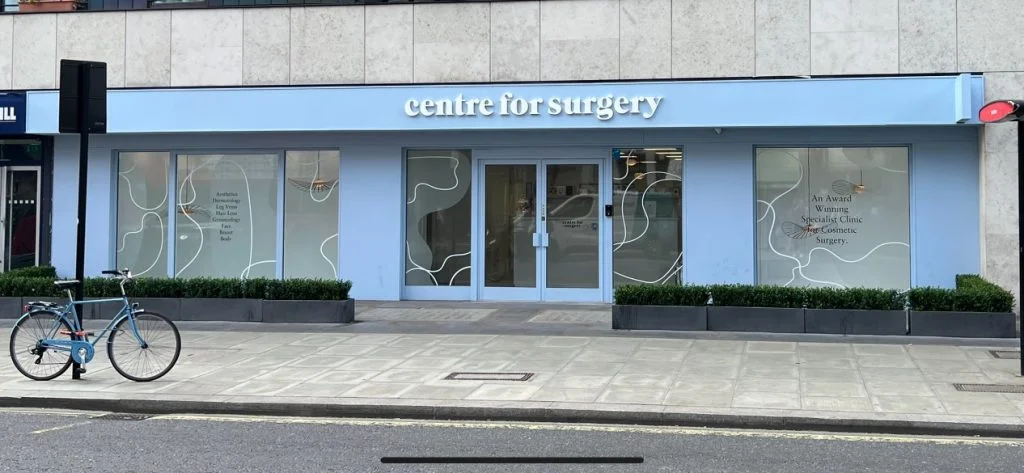 What To Expect
Consultation
The consultation is the first part of your patient journey for a breast implant removal with a breast lift. Your surgeon will carefully listen to your needs and preferences and explore why you want to have this procedure. You can have a breast lift combined with breast implant removal in the same procedure or a breast lift as a separate second-stage procedure. You may decide you wish to have your breast implants replaced with either the same size implant or with smaller-sized implants if you prefer.

Your surgeon will take a detailed medical history, including any previous operations you have had. The physical examination will be performed to assess the shape and form of your breasts and whether there are any complications related to your existing breast implants, such as capsular contracture or implant rupture. Your suitability for the procedure will be determined, and it is important to have realistic expectations about what you hope to achieve from the implant removal and breast lift procedure in London.
Procedure
When you arrive on the day of your surgery, you will be admitted by our nursing team and will be reviewed by your anaesthetist and surgeon. You will then be taken through to the operating theatre, where you will be placed under anaesthesia. Once you are asleep, the surgeon will remove your existing implants from the incisions which were used for your original breast augmentation procedure. Once the implants have been removed, the surgeon will assess the level of sagging affecting your breasts and then decide on one of three possible breast lift incisions to perform the breast uplift procedure. As part of the breast lift, your surgeon may reposition the nipple and areola to a higher level to improve the appearance and contour of the breasts. Breast implant removal with a breast lift takes approximately three hours to perform as an outpatient, which means you can go home later the same day once you have recovered from the effects of the anaesthesia.
Recovery
Recovery after surgery takes approximately six weeks. You are advised to take it easy during the first two weeks, and you should wear your post-operative bra as instructed by your surgeon to minimise swelling and optimise the shape of the breasts. After six weeks, you may wear a well-fitting sports bra. The first two weeks after surgery often involve significant bruising and swelling as part of the normal healing process.

By six weeks, most of the swelling will have disappeared, and you will begin to see the initial results of your procedure. You should avoid any strenuous physical exercise during the first six weeks, including going to the gym, to minimise the risk of wound complications.

You will be seen by a member of our nursing team one week after your surgery to review your incision site and provide recommendations on optimising the appearance of your scars.