Buttock lift in London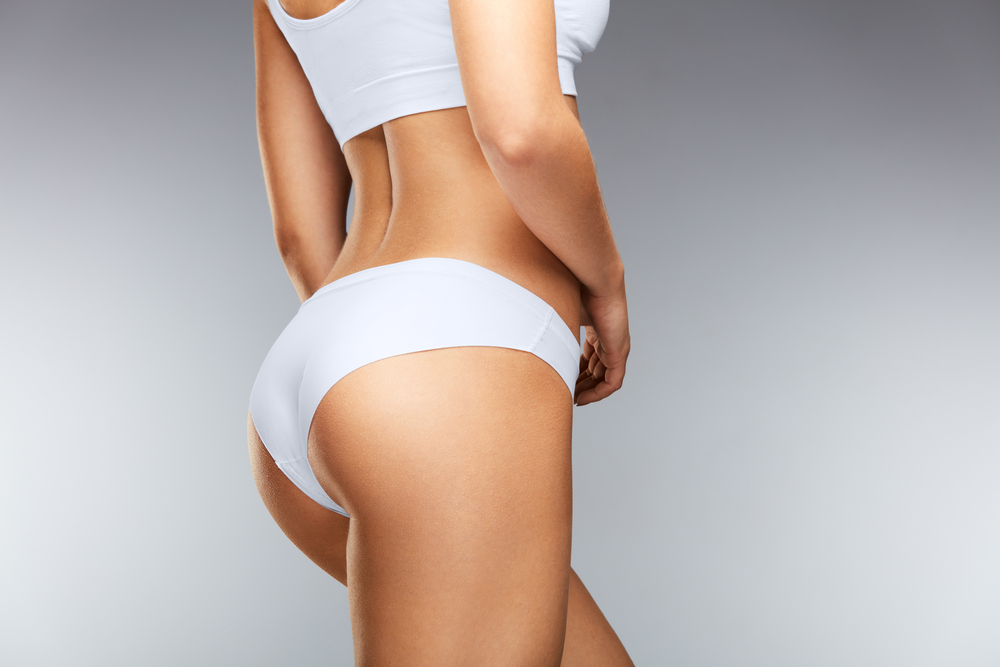 Buttock lift surgery is designed to address skin laxity and excess fat deposits in the buttock area. The end result is a more lifted and contoured buttock and with a firmer consistency. In buttock lift surgery, the surgeon removes excess skin and fat to reshape the buttocks. The buttocks are then reconstructed and this results in a more contoured and aesthetically pleasing look. Buttock lift surgery is commonly performed after patients who have undergone significant weight loss whether from bariatric surgery or weight loss through diet and exercise and may be combined as part of a more comprehensive body lift procedure.. Buttocks often develop a stretched and saggy look after weight loss and can be cosmetically disfiguring. Buttock lift surgery is often combined with an outer thigh lift for a comprehensive rejuvenation of the buttocks, thighs and lower back. An abdominoplasty is often combined as part of a body lift procedure for complete correction of the skin changes as part of massive weight loss. Liposuction of excess fat deposits helps to fine-tune the dramatic results achieved from the surgical removal of stretched out skin. At Centre for Surgery, our surgeons take great pride in dedicating themselves to achieving optimal results that will leave your body looking and feeling rejuvenated.
At Centre for Surgery our surgeons are trained in the full range of buttock lift techniques and the correct procedure is chosen based on the amount of skin laxity you may have. Different types of buttock lift have different shaped incisions and some incisions are more obvious than others.
A Brazilian Butt Lift differs from a surgical buttock lift in that the goal is to contour the waist and enlarge the size of the buttocks with gluteal fat transfer. Surgical buttock lift often results in a reduction in buttock volume as part of the process of surgical skin excision and fat removal. Surgeons at Centre for Surgery are trained to perform only the safest techniques for gluteal fat transfer surgery.
What causes saggy buttocks?
Flabby skin is caused by weight loss, multiple pregnancies and ageing factors. The sagginess of the skin can give you an awkward appearance. Through buttock lift surgery, you can get rid of saggy skin. This body contouring surgical procedure is safe and suitable for shaping the buttock area. The right candidates for this surgery are those individuals enjoying good health, but having flabby skin in the buttock region, which can occur after significant weight loss.
Ideal Candidates for buttock lift
All patients should be in good health and have realistic expectations about what can be achieved with buttock lift surgery.
We do not treat patients below the age of 18 years of age.
Healing is better if patients refrain from or quit smoking.
The buttock lift procedure is performed purely for cosmetic purposes, to help improve one's image and self-esteem.
An ideal patient must have already achieved their ideal weight and has been at their optimum weight for at least the last 12 months.

It is for those who wish to get rid of loose hanging skin after a dramatic weight loss.

It is for those who have undergone bariatric weight loss surgery, which usually leads to enormous skin laxity.
Buttock lift surgical techniques
Buttock lift surgery is carried out under TIVA general anaesthesia and the procedure takes between 2-3 hours to perform. At Centre for Surgery, buttock reshaping is performed as a day case which means you will get to recover in the comfort of your own home. Day case surgery has been shown to result in better outcomes when compared with traditional inpatient surgery.
The procedure varies in invasiveness from a mini procedure aimed at correcting localised skin laxity to a full combined liposuction and excisional procedure to address significant skin laxity. The added liposuction helps to effectively contour the area through the targeted removal of excess fat deposits in the buttocks, hips and lower back. Supplementary liposuction also helps in the subsequent skin removal through freeing up the loose skin with a lower risk of blood loss. Surgeons can also perform an auto-augmentation of the buttocks to enhance volume by surgically repositioning the removed fat.
Types of buttock lift
Traditional full buttock lift – this is the most comprehensive surgical techniques for full rejuvenation of the buttocks, hips and lower back. The surgeon makes the incision along the upper border of the buttocks. The underlying redundant tissue is surgically removed followed by surgical repositioning of the remaining buttock tissue to restore a more youthful buttock contour. Although the scar runs along the top of the buttocks, this technique is the most powerful method to address skin laxity from those patients who have undergone massive weight loss.
Mini buttock lift – this could be a suitable option for patients who have a moderate degree of skin laxity. The incision is placed in the lower part of the buttocks on each side in the natural fold of the buttock. The redundant tissue is surgically removed from the lower part of the buttock only. The incision is often well concealed in the lower buttock fold making this a good option for those concerned about the risk of visible scarring.
Modified buttock lift – the modified technique differs from the traditional technique by the curved nature of the skin incision which resembles a butterfly as the incision begins from the central part of the upper buttock and points upwards and laterally resembling the wings of a butterfly. The modified incision buttock lift is ideal for patients with primarily excess skin and the underlying skin-tissue flap is thin. For patients with thicker skin flaps, the procedure may be less effective.
Lateral buttock lift – this technique is also very suitable for those with a moderate degree of buttock sagging but where the location of the excess skin is on the outer part of the buttocks. The technique is ideal for patients who are slimmer and with only moderate fat excess and who prefer to have shorter scars compared with a traditional buttock lift.
Buttock lift surgery can be done in conjunction with other cosmetic procedures such as liposuction and tummy tuck for fat removal and weight reduction. These procedures will get rid of the additional skin and fat deposits at the same time and help you regain your energetic appearance.
Recovery after buttock lift surgery
The minor side effects and discomforts of this surgical procedure include infection, pain, inflammation, blood loss, redness and formation of blood clots. 
You can return to daily activities in around four to six weeks. 
The scar marks will fade out within six to twelve months. 
Apart from minor discomforts, buttock lift surgery offers outstanding body contouring results.