Buttock Lift London UK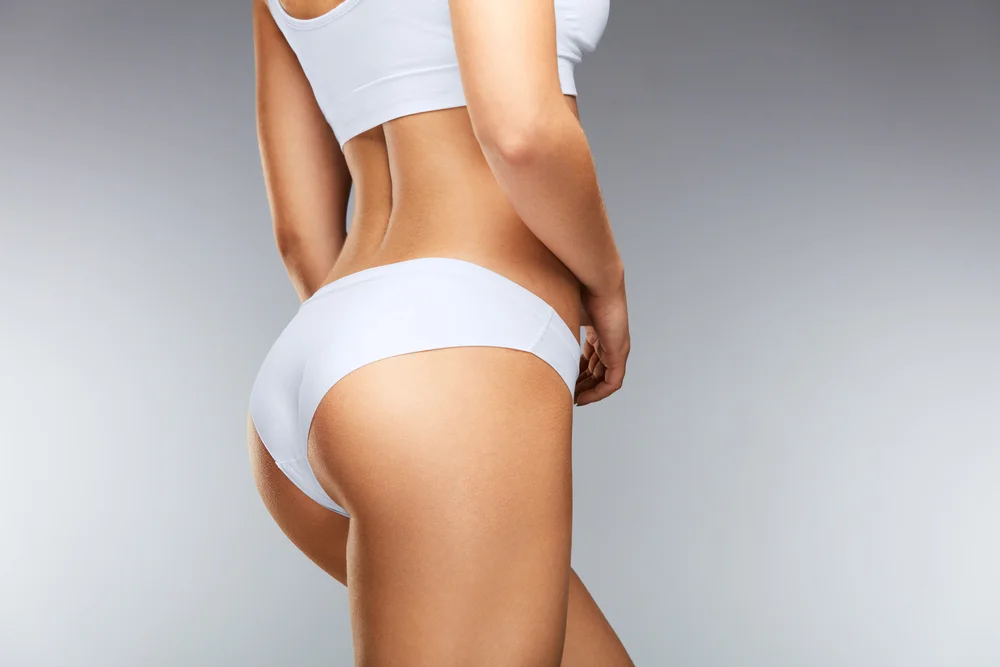 Experience a youthful, firmer, and more appealing silhouette with our buttock lift surgery, expertly designed to reshape and elevate your buttocks for an attractive, confidence-boosting transformation
Buttock Lift Surgery, also referred to as Gluteal Lift, is an innovative surgical procedure aimed at addressing the issue of sagging skin and redundant fat accumulations in the buttock region. This cosmetic intervention aims to deliver a more elevated, well-defined, and firmer appearance to the buttocks.
RELATED: Sagging Butt – Causes and Solutions
Often, after significant weight loss – whether through bariatric surgery, diet, or rigorous exercise – the skin around the buttocks can become stretched and appear saggy. This is due to the skin's elasticity being tested beyond its limit during the weight gain period, leading to subsequent droopiness when the weight is lost. This could cause cosmetic distress to individuals, making them opt for surgical procedures to correct their appearance.
During a buttock lift surgery, the surgeon meticulously removes superfluous skin and fat to meticulously sculpt the buttocks. The reshaped buttocks are then reconstructed, resulting in a more streamlined and aesthetically satisfying silhouette.
The procedure is commonly included in a comprehensive body lift operation, particularly for patients who've experienced massive weight loss. To further enhance the rejuvenation of the lower body, it can be combined with an outer thigh lift. This comprehensive procedure ensures a harmonious improvement in the appearance of the buttocks, thighs, and lower back. In cases of extreme skin laxity due to considerable weight loss, the procedure can also be paired with an abdominoplasty or tummy tuck as part of a holistic body lift approach.
Furthermore, liposuction might be employed to strategically extract excessive fat deposits. This method serves to refine the profound changes brought about by the surgical elimination of stretched skin, providing a more polished and pleasing look.
At Centre for Surgery, our surgeons are proficient in a diverse array of buttock lift techniques. They are dedicated to delivering optimal outcomes that will leave the body feeling and appearing rejuvenated. The choice of the appropriate method depends on the degree of skin laxity present in an individual. Different types of buttock lifts employ different incision patterns, with some being more conspicuous than others.
It's important to differentiate a Buttock Lift from a Brazilian Butt Lift. The latter procedure aims to augment the size of the buttocks by transferring fat, while concurrently contouring the waistline. Conversely, a surgical buttock lift often leads to a reduction in buttock volume as part of the process of excising excess skin and fat. Rest assured, at the Centre for Surgery, our surgeons are skilled in performing the safest techniques for gluteal fat transfer surgery, aligning with their commitment to patient safety and satisfaction.
What is Buttock Lift Surgery?
Buttock Lift Surgery, also known as Gluteal Lift, is a medical procedure designed to improve the appearance of the buttocks, specifically by addressing the issue of excess, sagging skin. This surgical operation aims to enhance the overall contour, shape, and aesthetics of the buttocks, thus helping individuals regain confidence in their body image.
The process of ageing, significant fluctuations in weight, heredity factors, and even lifestyle can lead to the development of loose, excess skin around the buttock area. This lack of firmness and elasticity can become a source of insecurity for many people, leading them to seek solutions to restore a more youthful and toned appearance to this region of the body.
In comes Buttock Lift Surgery, a cosmetic procedure that aims to counter these effects. The essence of this operation lies in the removal of surplus skin and, in certain cases, underlying fat. The primary goal of this procedure is not necessarily to augment the size of the buttocks (as a Brazilian Butt Lift would), but rather to tighten and lift sagging skin, thereby enhancing the natural contours of the body.
The surgery usually begins with the administration of anesthesia to ensure patient comfort throughout the procedure. Then, the surgeon makes strategic incisions, typically hidden within the natural folds of the skin, to avoid conspicuous scarring post-surgery. Through these incisions, excess skin is carefully excised, and, if necessary, underlying fat deposits are repositioned or removed to further improve the overall shape and firmness of the buttocks.
Postoperative care is crucial in achieving optimal results from a Buttock Lift Surgery. Patients are often advised to follow a specific care routine, including wearing a special compression garment to support the newly shaped buttocks and promote healing, managing pain and discomfort with prescribed medication, and observing appropriate hygiene measures to prevent infection.
Benefits of Buttock Lift Surgery
Buttock Lift Surgery offers a host of benefits, which have contributed to its growing popularity in the field of cosmetic surgery. Here are some of the key advantages that individuals can gain from undergoing this procedure:
Improved Appearance: The primary benefit of a buttock lift is an enhanced physical appearance. This procedure can provide a firmer, more youthful-looking contour to the buttock area by removing excess skin and fat. As a result, individuals can enjoy a rejuvenated and more appealing silhouette.
Boosted Self-Confidence: Along with physical improvements, the surgery can also have a significant positive impact on one's self-esteem and body image. Individuals often report an increase in confidence following the procedure, which can positively affect their social, professional, and personal lives.
Better Fit of Clothing: As the buttocks become more proportionate and toned, clothing tends to fit better. This can make shopping for clothes more enjoyable and broaden wardrobe options, as certain styles and fits may feel more comfortable and look more flattering post-surgery.
Lasting Results: While no surgery can permanently halt the effects of aging or weight fluctuation, the results of a buttock lift tend to be long-lasting, especially when combined with a healthy lifestyle. Maintaining a stable weight and practicing regular exercise can further prolong the results.
Correction after Significant Weight Loss: For individuals who have lost a large amount of weight, a buttock lift can provide a much-needed final touch to their transformation. After weight loss, the skin often can't retract fully, leading to sagging and drooping. This procedure effectively addresses these issues, helping to complete the individual's weight loss journey.
Combination with Other Procedures: A buttock lift can be combined with other cosmetic procedures for a more comprehensive body contouring strategy. This includes procedures such as liposuction, tummy tucks, and thigh lifts. This holistic approach can lead to more balanced and harmonious results.
Safety and Effectiveness: While any surgical procedure carries some degree of risk, a buttock lift performed by a qualified and experienced surgeon can be considered a safe and effective way to improve the buttocks' appearance. Surgeons today use advanced techniques that minimize risks and promote quicker recovery.
Ideal Candidates for Buttock Lift After Massive Weight Loss
The decision to undergo any surgical procedure should be made thoughtfully, and Buttock Lift Surgery is no exception. While it can offer significant benefits, not everyone is a suitable candidate for the procedure. The ideal candidates for Buttock Lift Surgery typically share several common characteristics:
Good Health: Candidates should be in good overall health. This means they should not have any serious medical conditions that could potentially complicate the surgery or recovery process. Conditions like heart disease, diabetes, or an impaired immune system could increase the risk of complications during surgery.
Stable Weight: The best candidates for a buttock lift are those who have achieved and maintained a stable weight for at least six months. This is especially important for individuals who have undergone significant weight loss. If further weight loss is expected, it's usually advisable to wait until after the weight has stabilized before undergoing the procedure.
Non-smoker: Smoking interferes with the healing process by constricting blood vessels and decreasing blood flow to the tissues. It also increases the risk of complications during surgery. Therefore, ideal candidates for any kind of surgery, including a buttock lift, are non-smokers or those who are willing to quit smoking well in advance of the procedure and during the recovery period.
Realistic Expectations: Even though a buttock lift can significantly improve the appearance of the buttocks, it is important for candidates to have realistic expectations about the results. The procedure can help tighten and lift sagging skin, but it is not designed to add volume to the buttocks or eliminate cellulite completely.
Excess Skin: Ideal candidates for a buttock lift are those who have a significant amount of loose or sagging skin in the buttock area. This is often a result of aging, significant weight loss, or genetic factors.
Psychological Stability: Emotional and mental preparedness is crucial for any surgery. Therefore, ideal candidates should be psychologically stable and prepared for the temporary limitations in activity and changes to their body that come with surgery and recovery.
Commitment to a Healthy Lifestyle: Finally, ideal candidates are those committed to maintaining a healthy lifestyle after the surgery. This includes a balanced diet and regular exercise to maintain the results of the procedure.
Always remember, before deciding on any kind of surgical procedure, a thorough discussion with a qualified plastic surgeon at Centre for Surgery is essential to understand the procedure, risks, benefits, and expected results.
Types of Buttock Lift
Buttock Lift, also known as Gluteoplasty, can be performed using a variety of techniques, each of which is tailored to address the specific needs and desired outcomes of the individual. Here are some of the primary types of buttock lift surgery:
Traditional Buttock Lift: This procedure primarily focuses on removing excess skin and fat from the upper part of the buttocks. It is most suitable for individuals dealing with sagging skin due to ageing or significant weight loss. The surgery involves making an incision across the top of the buttocks, followed by removal of excess skin, and possibly fat, to achieve a firmer and more toned appearance.
Buttock Lift with Liposuction: In this approach, liposuction is utilised in conjunction with a traditional buttock lift to remove excess fat deposits. This can create a more contoured and shapely buttock. This procedure is ideal for individuals who not only have excess skin but also excess fat in the buttock area.
Brazilian Butt Lift (BBL): Unlike the traditional lift, the Brazilian Butt Lift involves a fat transfer procedure to augment the size and shape of the buttocks. Fat is first harvested from other areas of the body using liposuction (often from the abdomen, thighs, or hips), purified, and then injected into the buttocks. This procedure enhances the overall proportions of the body by simultaneously reducing fat in undesired areas and adding volume to the buttocks.
Buttock Lift with Implants: In some cases, individuals may lack sufficient fat for a Brazilian Butt Lift. In such situations, a buttock lift with implants may be the preferred option. Here, solid silicone implants are inserted into the buttocks through incisions made in the natural creases between the buttocks. This procedure provides a significant increase in volume and is typically opted for by those looking for a dramatic transformation.
Lower Body Lift: A lower body lift, also known as Belt Lipectomy, involves a buttock lift in combination with other procedures like a thigh lift and abdominoplasty (tummy tuck). This comprehensive approach addresses loose, sagging skin and fat around the entire lower body, leading to a more balanced and harmonious overall appearance.
Buttock Lift with Thigh Lift: In this procedure, a buttock lift is combined with a thigh lift to create a more cohesive appearance between the two areas. This is often desired by individuals who have loose skin in both the buttock and thigh regions, particularly after significant weight loss.
Each type of buttock lift has its own set of advantages and potential disadvantages, and the choice between them will depend on several factors, including the patient's goals, current physical condition, overall health, and the surgeon's professional assessment and recommendation.
Buttock Lift Surgical Techniques
Buttock Lift Surgery, as performed at the Centre for Surgery, is a highly personalized procedure, carried out under TIVA general anesthesia and typically completed within a duration of 2-3 hours. The primary goal of this procedure is to reshape the buttock region, lending it a more youthful, firm, and appealing appearance. Being a day case surgery, patients have the advantage of recuperating within the familiar and comfortable confines of their homes, a factor that has been associated with superior outcomes compared to traditional inpatient surgery.
This surgical intervention can vary in the degree of invasiveness, ranging from a minimally invasive procedure to correct localized skin laxity, to a comprehensive approach combining liposuction and excision techniques for significant skin laxity. The integration of liposuction enables surgeons to meticulously contour the region by targeting and eliminating excess fat deposits in the buttocks, hips, and lower back. Supplementary liposuction also facilitates the subsequent removal of loose skin, reducing the risk of blood loss. For enhancing the volume of the buttocks, surgeons may opt for an auto-augmentation technique, which involves surgically repositioning the extracted fat.
There are different types of buttock lift skin removal procedures that can be performed, each suited to specific needs and conditions and the location of the excess skin:
Traditional Full Buttock Lift: This method offers the most comprehensive rejuvenation of the buttocks, hips, and lower back. The procedure involves making an incision along the upper border of the buttocks, surgically removing the redundant underlying tissue, and repositioning the remaining tissue to restore a youthful contour. Despite the resultant scar along the top of the buttocks, this technique proves extremely effective in addressing skin laxity, especially in patients who have experienced massive weight loss.
Mini Buttock Lift: This procedure may be apt for individuals with a moderate degree of skin laxity. The surgical incision is placed in the lower part of the buttocks on each side, within the natural fold. The excess tissue from the lower buttock area is surgically removed. Given that the incision is well-hidden within the lower buttock fold, this technique is often preferred by those concerned about visible scarring.
Modified Buttock Lift: This method differs from the traditional approach due to the butterfly-like curvature of the skin incision, which begins from the central part of the upper buttock and extends upwards and laterally. This technique is optimal for individuals with predominantly excess skin and thin underlying skin-tissue flaps. However, for patients with thicker skin flaps, this procedure may not yield optimal results.
Lateral Buttock Lift: Suitable for those with moderate buttock sagging, primarily concentrated on the outer part of the buttocks, this technique is especially beneficial for slimmer patients with moderate fat excess who prefer shorter, less conspicuous scars compared to a traditional buttock lift.
It's worth noting that buttock lift surgery can be performed concurrently with other cosmetic procedures such as liposuction and abdominoplasty (tummy tuck) for fat removal and weight reduction. By simultaneously addressing excess skin and fat deposits, these combined procedures can significantly contribute to rejuvenating your overall appearance.
Recovery After Buttock Lift
Recovery following a buttock lift is a gradual process and requires both patience and diligent care. Here's a general outline of what to expect during the recovery phase after a buttock lift procedure:
Immediate Post-Operative Period: Immediately following surgery, it's normal to experience some swelling, bruising, and discomfort in the treated area. You may also have surgical drains in place to help remove fluid that accumulates after surgery. These are typically removed within a week or two. To manage pain, your surgeon will prescribe appropriate pain medication. It's recommended to avoid sitting directly on your buttocks, when possible, to avoid pressure on the treated area and to help promote healing.
First Few Weeks: During the first few weeks after surgery, you will need to wear a special compression garment, which helps to minimize swelling and supports the healing tissues. You should avoid strenuous activities and heavy lifting during this period to prevent any complications. It's important to maintain a healthy diet to support your recovery and to refrain from smoking, as it can interfere with the healing process. Light walking is encouraged to promote blood circulation.
One to Two Months Post-Op: By this time, most of the swelling and bruising should have subsided, and you will start to see the new shape of your buttocks. However, complete healing and the final result may not be visible until several months after the procedure. During this period, you should gradually resume your regular activities, as advised by your surgeon. Regular exercise can typically be resumed about 6-8 weeks post-surgery, but always follow your surgeon's specific instructions.
Long-term Recovery: Even after you've fully recovered, it's important to maintain a stable weight and healthy lifestyle to maintain the results of your buttock lift. Significant weight fluctuations can affect the outcome and lead to additional sagging and changes in the appearance of your buttocks.
Keep in mind that everyone heals at their own pace, so your recovery timeline may be different from someone else's. Always follow your surgeon's post-operative instructions closely and attend all follow-up appointments to ensure a smooth and successful recovery. You should promptly report any unusual symptoms or concerns to our experienced support team at Centre for Surgery.
Risks & Complications of Buttock Lift Surgery
Buttock lift surgery, like all surgical interventions, carries certain inherent risks despite its general safety. The common post-operative effects include:
Bruising and Swelling: These are typical side effects after any surgical procedure. They are temporary and tend to subside as the body heals.
Temporary Numbness: Patients may experience a lack of sensation or numbness in the treated area. This is often temporary and resolves as the nerves recover from the surgery.
Scarring: A degree of scarring is inevitable with any surgical procedure. However, surgeons strive to place incisions strategically to minimize visible scarring.
In rare instances, some patients may encounter more serious complications, which include:
Nausea: This is often a side effect of anesthesia and should pass once the anesthesia wears off.
Bleeding or Infection: These are potential risks with any surgical procedure. Surgeons take numerous precautions to minimize these risks, and any signs of bleeding or infection are addressed promptly.
Poor Healing of Incisions and Scarring: Some people might have a genetic predisposition to heal poorly or develop hypertrophic or keloid scars. Proper post-operative care can help minimize these risks.
Seroma: This is a condition where fluid accumulates under the skin at the surgical site. If this occurs, it may require further treatment to drain the fluid.
Hematoma: This is a collection of blood underneath the skin that might require additional procedures to remove.
Fat Necrosis or Embolism: These are rare but serious complications. Fat necrosis involves the death of fat cells, which can cause firmness or discomfort, whereas a fat embolism involves fat entering the bloodstream and potentially blocking blood vessels.
During your consultation, your surgeon will thoroughly explain these potential risks and complications. They will also discuss their likelihood, how they can be minimized, and how any that may occur would be managed. This comprehensive discussion aims to ensure you make a well-informed decision about undergoing the procedure.
Buttock Lift at Centre for Surgery
Choosing Centre for Surgery for your buttock lift procedure offers several advantages:
Highly Skilled Surgeons: Our surgeons are experts in buttock lift procedures, each having performed numerous successful surgeries. They continually update their techniques and knowledge to provide you with the highest standard of care.
Tailored Approach: We understand that every patient has unique needs and goals. Our surgeons will develop a personalised treatment plan that aligns with your body type, aesthetic goals, and lifestyle.
State-of-the-art Facilities: Centre for Surgery utilises the most advanced technology and surgical techniques at our Baker Street clinic. Our facilities are designed to ensure your comfort and safety throughout your journey with us.
Patient Safety: Patient safety is our utmost priority. All of our procedures are carried out in accordance with the highest safety standards, and we're dedicated to offering transparent and honest advice, helping you make informed decisions.
Comprehensive Care: We believe in a holistic approach to patient care. From your first consultation to your post-operative check-ups, our team will guide you every step of the way, providing information and support.
Transparent Pricing: We provide clear and upfront pricing following your consultation, so you know exactly what the procedure will cost. We also offer various financing options to help make the procedure more affordable.
Post-Operative Support: We provide extensive post-operative care to ensure a smooth recovery. You'll have direct access to us 24/7 if any questions or concerns arise after the surgery.
Proven Track Record: We take pride in the positive testimonials and high satisfaction rates from our patients.
At Centre for Surgery, we're committed to making your journey as comfortable and fulfilling as possible. We look forward to partnering with you on this transformative journey.