What are buttock implants?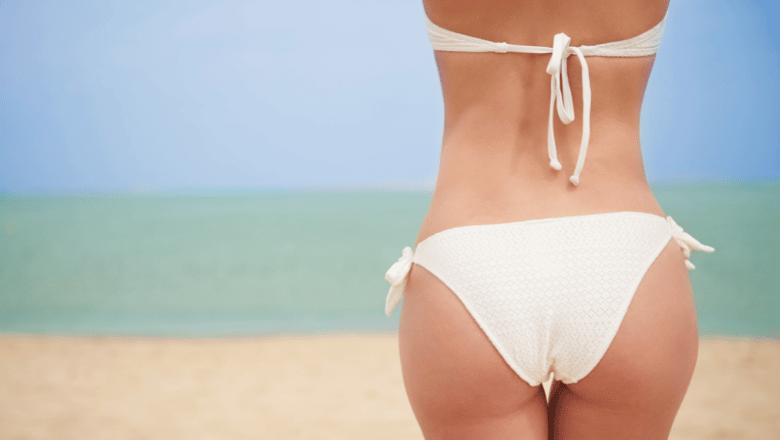 Buttock implants are designed to give the buttocks a shapelier and rounder appearance. Silicone butt implants can be placed into the gluteal muscle or just below. Buttock implants are usually recommended for people who are considered unsuitable for a Brazilian butt lift (BBL) due to insufficient fat stores. Surgeons increasingly combine buttock implant surgery with a BBL to achieve synergistic results.
Do butt implants look natural?
The results of buttock implants, including how natural they look, will depend on where the Surgeon chooses to place the implants. There are two main surgical approaches for butt implant surgery:
Implants inserted beneath the gluteal muscle – this approach is associated with more natural-looking results but with a higher risk of potential nerve injury.
Implants inserted within the gluteal muscle – this is the safest method of inserting buttock implants with less risk of injury to the sciatic nerve, although the implants may be more likely to protrude.
What are the benefits of buttock implants
Buttock implants are designed to create a firmer, rounder and more projected butt. Compared with a Sculptra butt lift, buttock implant surgery produces permanent results, with only one procedure required to produce an enhanced buttock appearance.
Buttock implants vs Brazilian Butt Lift
When deciding between butt implants vs BBL, it is important to understand the pros and cons of each approach. A BBL involves liposuction and fat transfer to the buttocks to enhance size and shape with a fuller and more rounded appearance. Common liposuction areas include the abdomen, back or thighs. 360 liposuction or circumferential Liposuction is most commonly combined with a BBL for a smaller and more sculpted torso with shapelier buttocks. Compared with butt implants, a BBL can produce natural-looking results without the potential risks and complications associated with buttock implants.
RELATED: BBL & Gluteal Fat Grafting – BAAPS Update
In many cases, your surgeon may choose to combine both procedures in the same operation to produce enhanced results that either technique cannot achieve on its own. A mini BBL can be combined with buttock implants for women with limited areas of excess fat. Fat injected around the implants helps to create a more natural appearance. Using buttock implants helps create more predictable results than fat transfer surgery alone. A certain amount of fat will always be reabsorbed by the body as part of the fat transfer process.
RELATED: What are the different types of Brazilian Butt Lift or BBL?
How to prepare for gluteal implants
You will receive comprehensive preoperative instructions before your procedure. The risk of complications can be minimised by avoiding smoking for a minimum of six weeks before an after the procedure and avoiding medications that contain aspirin. Aspirin-containing medicines are known to increase the risk of bleeding during and after the procedure. Herbal supplements should also be avoided for the same reason.
Am I suitable?
Buttock implant surgery is an invasive medical procedure which involves certain risks. This is why it is important to be in an ideal state of physical and mental health and not have any chronic medical conditions that could impair wound healing, such as diabetes. Patients should be non-smokers. The procedure is most commonly recommended for people who do not have sufficient fat in the body to have BBL surgery and who have flattened or square-shaped buttocks.
The procedure is not suitable for those who are active smokers and unable to stop smoking at least six weeks before and after the procedure. People prone to significant weight fluctuations are also unsuitable as this increases the risk of implant malposition. People who have lost significant weight are also unsuitable for the procedure, as saggy skin does help to support the correct implant placement. The recovery after buttock implants is longer than other types of buttock surgery, and patients need to be psychologically prepared for a recovery that could exceed eight weeks.
Butt implants procedure
The buttock implant procedure is performed under general anaesthesia at our Baker Street clinic in Marylebone. General anaesthesia allows you to be completely comfortable throughout your procedure without experiencing any pain or discomfort. This is an outpatient procedure which means you can go home later the same day once you have recovered from the effects of the anaesthetic. The procedure takes between one and two hours to perform, depending on the precise location of the gluteal implant placement. Once you have been placed under anaesthesia, the surgeon will make a midline incision located between the buttocks, most commonly at the upper part. Surgical pockets will be created to accommodate the buttock implants, which will be located either within the gluteal muscle itself or below it. Although implants placed beneath the gluteal muscle give a more natural-looking shape, dissecting beneath the muscle may increase the risk of nerve injury, leading to uneven results due to gluteal muscle paralysis. The most common approach is placing implants within the gluteal muscle to minimise the risk of sciatic nerve injury. There is a slightly higher risk of excessive projection of the butt implant with placement inside the muscle as the implant is not as deeply situated within the buttock compared to implants placed beneath the muscle.
The implants will then be inserted using a specialised implant funnel to minimise the risk of implant-related contamination. Once the implants are in the correct location, the surgeon will close the incisions with dissolvable stitches and apply a sterile dressing.
How long does it take to recover after buttock implant surgery?
It is important to follow the postoperative recovery instructions after having buttock implants to minimise the risk of complications occurring. You should avoid putting direct pressure on the gluteal region for a minimum of two weeks after surgery. This will give time for the implants to stabilise in the new position. Showering should be avoided for a minimum of 48 hours after surgery. Taking the postoperative antibiotics prescription as directed by your surgeon is important to minimise the risk of infection. Constipation after surgery can be minimised by using a stool softener to avoid excessive straining. Your surgeon may insert surgical drains to allow the egress of tissue fluids. The drains will be removed approximately 3 to 4 days after the procedure by your dedicated postoperative nurse. You must wear your compression garment continuously for the first four weeks after surgery to stabilise the position of the implants. The garment can be removed to shower and must be reapplied immediately thereafter.
It is important to take it easy for the first few weeks after surgery. Complications after buttock implant surgery are generally higher compared with breast implants. You should avoid sleeping on your back for a minimum of two weeks after surgery to minimise excessive pressure on the buttocks. A specialised support pillow can be used beneath your thighs when sitting for at least eight weeks after surgery. As long as your recovery and healing have been smooth, most people can return to work after two weeks, although you will still need to use the hamstring pillow if you intend to sit down for any period of time. Patients can return to most forms of exercise after eight weeks, including going to the gym. Your surgeon will advise you on the appropriate timing when you have a clinical review six weeks after your procedure.
Will I have scars after buttock implant surgery?
As with any type of surgery, an incision will result in the formation of a scar. The amount of scarring will be determined by the length of the incision as well as its location. Your surgeon aims to place the incision within natural skin folds to minimise the appearance of any scarring. You will also receive detailed postoperative instructions on how to look after the incision lines to ensure they heal smoothly, which will help minimise the appearance of scars.
How long does it take to see butt implant results?
Although you will see an immediate improvement in the appearance of your buttocks, there will be significant swelling during the first four weeks after surgery. Once the swelling has reduced after six weeks, you will begin to see the initial results of the surgery, with final results being seen between three and six months after butt implants.
What are the risks and complications of buttock implants?
As with any type of procedure, there are certain risks associated with buttock implant surgery that can be minimised by choosing a highly experienced consultant plastic surgeon with specialist expertise in buttock implant surgery. Certain complications associated with this procedure include:
Bleeding and haematoma formation
Wound separation
Excessive scarring
Implant malposition
Buttock asymmetry
Implant rupture
Surgical site infection
Gluteal implants have a higher rate of potential complications compared with BBL surgery. A revision procedure may be required in up to 25% of cases. The gluteal muscles are some of the strongest muscles in the human body. The implants can be subject to high levels of contractile forces from the surrounding muscles, which may lead to implant displacement over time. Your plastic surgeon will cover in depth, the potential risks and complications associated with this procedure at your in-person consultation.
How much do butt implants cost - buttock implants costs and prices in London & UK
The cost of buttock implants will be determined by several factors, including the type of implants chosen, your selected surgeon, the clinic's location and whether the procedure will be combined with a Brazilian butt lift. Custom-designed butt implants will cost considerably more compared with standard implants.
Are buttock implants worth it?
Gluteal implants are ideal for creating a round and firmer buttock shape. People with slender or lean bodies may not have enough fat to have a Brazilian butt lift (BBL). Buttock implants could be ideal in this situation, although patients should be aware that the procedure carries a prolonged recovery period and a higher complication rate. Your plastic surgeon will provide customised recommendations on the most appropriate treatment option with its associated risks once you have had a detailed clinical assessment at your consultation.
Medical references
Buttock implants at Centre for Surgery
Centre for Surgery is the leading cosmetic surgery clinic in London. Our surgeons have years of experience in carrying out all types of buttock surgery, including butt implants, BBL and buttock lifts. Our state-of-the-art Baker Street clinic in Marylebone is a centre of excellence for buttock surgery.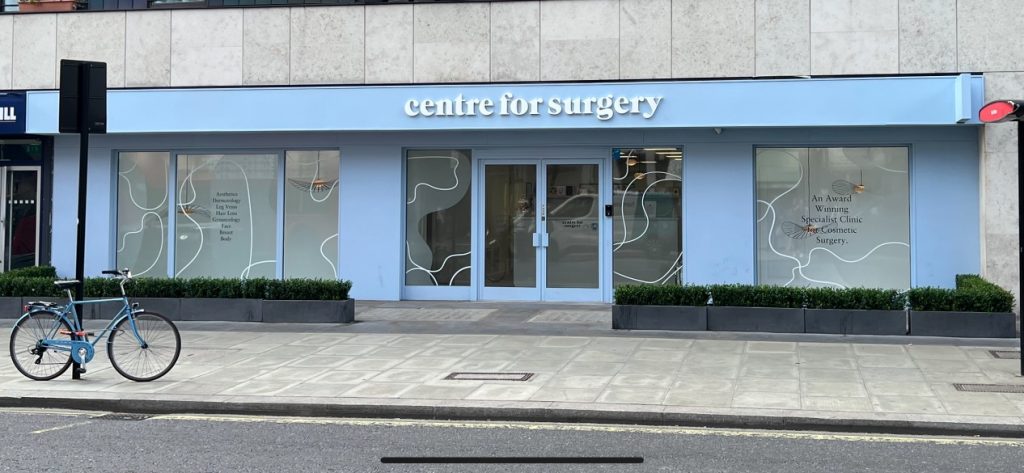 Amazing from start to finish, the communication was the main thing was fully informed and looked after, on the day of my breast augmentation, the staff were fab and made me feel at ease through out the whole process. Thank you so much.
Mohammed Farid
18/11/2021
I've had such a great experience with excellent advice, care and attention and surgical treatment (gynaecomastia) - I can fully endorse the treatment I have received from Centre for Surgery with absolutely no qualms at all. Brilliant in every way - thank you all so much.
Caroline Thorpe
14/11/2021
Very pleased with my whole experience of having a procedure. Was so nervous about getting treatment and i was reassured and felt so comfortable throughout thanks to the amazing nurses. I definitely made the right decision to have breast augmentation at centre for surgery with dr erel.
Melissa Briggs
08/11/2021
So glad I went with centre for surgery, the whole process went very smoothly from the consultations down to the actual day of the procedure. I was so nervous on the day but the whole team put me at ease and I'm happy with my results as I feel a lot more comfortable wearing certain clothes now. My surgeon was Alberto Di Giuseppe who performed a breast Augmentation on me, and I would definitely recommend as he was very clear on what the outcome of the surgery would be and which size would look the best for my frame.
Couldn't be happier with Dr Tillo work,i had my breast surgery one week ago and so happy with the results so far,all the staff are extremely nice and very supportive,i would definitely recommend their services,thank so much
From start to the finish everything was perfect for tummy tuck surgery. All staff is very friendly and the aftercare has been good. The Doctor and the nurse team was fantastic. I'm so happy...result is amazing. Thank you!!!
This was overall a great experience, all the staff at Centre for Surgery were friendly and put me at ease. It is a nerve wracking thing to go through an op but the staff were so nice. Mr Ertan has got a great team around him. On the day of the operation everything went smoothly to plan, there was no delay or holdups, I had another consultation with Mr Ertan who confirmed what was going to be done and that I was still happy to proceed. I was prepped for the procedure, I met with the anaesthetist who again was really nice and put me at ease explaining his role. After the procedure I woke up with the nurse by my side making sure I was OK and checking on me, I was able to stay in the clinic until I was ready to leave and was not rushed at all. I was well looked after from the start to the point when I was discharged. Post operation I was staying at a local hotel it was so close there was no point in even getting a taxi and I was able to walk back where my partner was waiting for me. I was expecting a lot of bruising to both my eyes but there was very little if any by the time the cast came off after 7 days, I am now at the two week post operation point and it is healing well with no outwardly visible bruising or scaring. The next milestone is a checkup at the 6 week point with my surgeon. If you're thinking of having something like this done I would highly recommend getting in touch with Centre for Surgery.
The staff at Centre for Surgery were very kind and accommodating. They answered any questions I had about the procedure and were constantly checking up on me. A special thank you to Christina for all her support throughout.
I would just like to state the quality of care received from the nurses at Centre for Surgery was beyond the highest level. Sophie takes her patient care to another level beyond words. She always puts me at ease. She is there for me even at awkward hours just when I mostly needed reassurance and she is one of the most compassionate nurses I have come across and demonstrates her passion naturally for caring for others. She totally deserves recognition at its finest and thank you for always being there for me. 😍
FAQs
Are buttock implants painful?

You will be placed under general anaesthesia for butt implant surgery, and the surgeon will inject local anaesthetic during the procedure, which helps to make the early recovery period as comfortable as possible. Any mild discomfort can be easily controlled with over-the-counter painkillers such as paracetamol.

Are butt implants safe?

Butt implants are generally considered safe, although implant surgery carries certain risks, as with any type of cosmetic procedure.

Choosing to have larger buttock implants may increase the risk of complications, including wound separation and implant displacement.