Blepharoplasty for Men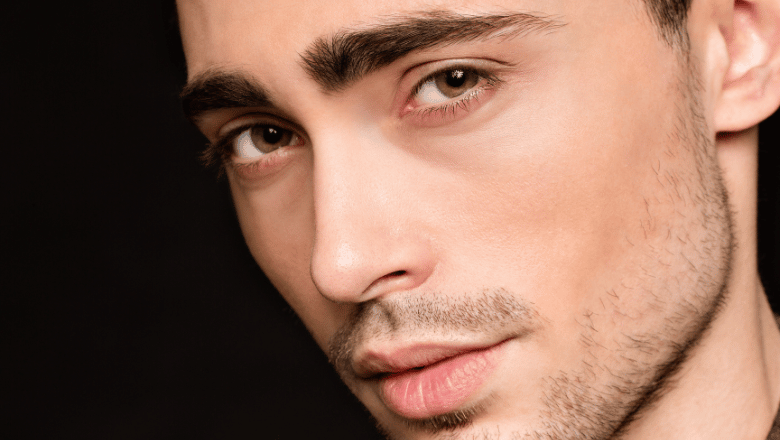 Eyelid surgery for men is an increasingly requested procedure at Centre for Surgery in London. Many men, as they get older, may start to notice their eyelids beginning to droop and showing signs of ageing around the eyes. Men commonly notice early signs of ageing around the eyes as the eyes are easily visible in everyday situations. The reality for most men is that excessive sun damage, stress, the natural ageing process and genetics can also play a role in diminishing the usefulness of the eyes. The skin of the eyelids is known to be particularly thin and commonly results in loose skin affecting the eyelids, which may lead to eyelid drooping. The outer part of the brow may begin to descend and hang over the upper eyelids resulting in a hooded eyes appearance. Deeper fat pads structurally support the lower eyelids; as men age, these lower eyelid fat pads begin to bulge outwards. Bags under the eyes are a common result of ageing affecting the lower eyelids, and this may coexist with a tear trough deformity. Men may feel they look much older than they actually are. Others may even remark upon this, which often leads to a significant loss of self-confidence.
RELATED: What are the benefits of eyelid surgery?
The final straw is often when colleagues or friends say that you 'look tired' and whether you are getting enough sleep even though you feel healthy and refreshed. Male eyelid surgery can effectively rejuvenate the appearance of the upper eyelids and lower eyelids for a more youthful appearance. Hooded eyes and droopy eyelids can be effectively corrected with a straightforward surgical procedure.
For men who are more concerned about the appearance of eye bags under the eyes, lower eyelid surgery can permanently get rid of eyebags to restore a younger and more refreshed appearance. Saggy eyelids often result in light being unable to be reflected in your eyes when viewed in photographs. This leads many men to look significantly older than they actually are.
RELATED: Eyelid Surgery FAQs – Q&A about Blepharoplasty
The appearance of the lower eyelids can be improved by surgically removing excess fat and repositioning herniated tissue to correctly position it over the cheeks. This helps to get rid of a tear trough deformity. The eyelid muscles often weaken and stretch as part of the ageing process and will be surgically tightened as part of the male blepharoplasty procedure. Skin removal helps to create tighter-looking skin for a more vibrant and fresher appearance. Expertly performed male eyelid surgery can transform how others perceive you in the workplace and in everyday social encounters. As so much of our everyday lives become increasingly visible on digital media, the appearance of the eyes can also play a significant role in how you appear in both a personal and professional capacity online.
RELATED: Is eyelid surgery worth it?
What does eyelid surgery for men involve?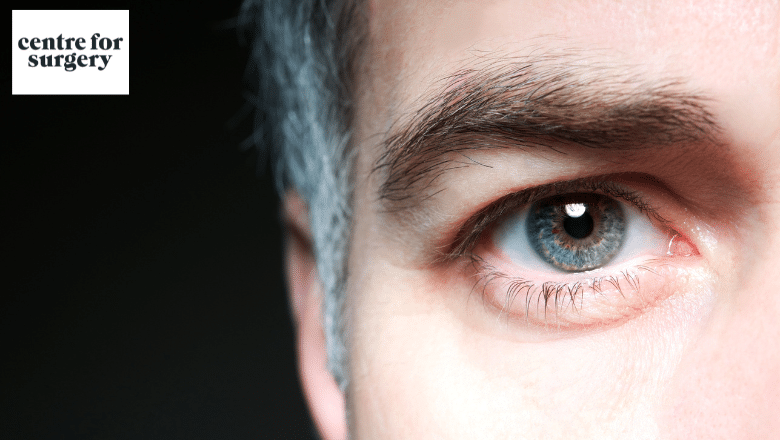 Most eyelid surgery for men takes several hours to perform, depending on the extent of surgical correction. Once the procedure is complete, we will require you to organise for a friend or relative to come and pick you up and escort you home. You must have someone around to look after you for the first 24 hours after surgery.
Blepharoplasty for men most commonly involves surgical incisions in the upper eyelid skin creases and just below the eyelash line for a lower blepharoplasty. Sometimes the incision may extend to the outer aspect of the eyes if there is significant skin excess. The surgeon will then carefully separate the overlying skin from the deeper tissues composed of fat and muscle. Any excess fat is surgically trimmed, and the weakened eyelid muscle is tightened with stitches. The excess skin will then be removed, followed by the closure of the incisions with very fine dissolvable stitches. If you are having both upper and lower eyelid surgery in the same operation, the surgeon will usually perform the upper eyelid correction first, followed by the lower lids.
Some men may have bulging fat affecting the lower eyelids that may not require skin to be removed. In these cases, a transconjunctival blepharoplasty is recommended. This procedure involves a very small incision being made just inside the lower eyelid. Lower eyelid fat is then carefully removed. This procedure does not usually involve removing any excess skin, and in many cases, the incision does not require dissolvable stitches, which helps to minimise the appearance of any scar. This type of eyelid surgery is often carried out in younger men with thicker and more elastic skin.
Some men may find they require lifting of the brow. In men, it is important not to raise the level of the brow too much to avoid an excessively feminine appearance. Endoscopic browlift surgery is recommended for men due to the minimal scarring with this procedure. Saggy eyebrows can be effectively corrected with brow lift surgery. Laser resurfacing on the lower eyelid can help reduce fine lines and wrinkles. The wrinkles on the outer aspect of the eye, also known as the crow's feet, can also be treated with either anti-wrinkle injections or laser resurfacing. Your surgeon will help to determine the best combination of procedures to achieve optimum aesthetic results.
Am I suitable for a male eyelid lift?
The ideal candidates for male eyelid surgery are those who are physically and mentally healthy with no significant chronic medical conditions. Most of our London male eyelid surgery patients are aged 35 or older. In some cases, if you have baggy or droopy eyelids that are genetically inherited, you may decide to have mail blepharoplasty at a younger age, particularly if it causes disturbance to your vision.
Certain medical conditions such as heart disease, diabetes, high blood pressure, thyroid problems or connective tissue disorders may increase the risk of blepharoplasty in men. If you have a serious eye condition such as glaucoma or retinal detachment, you should be assessed by an ophthalmic surgeon prior to having a male eyelid lift. Blepharoplasty for men is designed to improve the appearance of your eyelids and significantly boost self-confidence. The procedure may not achieve exactly what you desire as every procedure is customised to the individual patient's needs. It is important to determine your expectations for treatment, and you should make sure to discuss this with your plastic surgeon before undergoing male eyelid surgery.
How to prepare for male eyelid surgery
A male eyelid procedure is always customised to the individual man's needs. Your surgeon will take the time to listen to your needs and desires. It may be useful to bring photos of eyelids that you like from magazine cutouts. As part of the consultation, your surgeon will perform a physical examination, including an assessment of your skin quality and facial bone structure. Your surgeon will spend as much time as you need to ensure that they understand what exactly you would like to achieve. As with any type of surgical procedure, achieving everything you desire may not be possible, so it is important to have realistic expectations before male blepharoplasty surgery.
Before your male eyelid lift, you'll be given comprehensive information on how to prepare for surgery in order to achieve the best results. This includes detailed information on preoperative fasting requirements, avoidance of certain over-the-counter supplements and the need to avoid smoking. Smokers are advised to stop smoking at least four weeks before surgery and for four weeks afterwards. Smoking is associated with an increased risk of postoperative complications, including delayed wound healing and would breakdown, which can affect your recovery.
Male Blepharoplasty procedure
Blepharoplasty in men usually takes between one and three hours to perform, depending on the amount of surgical correction required to get rid of excess skin and fat. For men having both upper and lower eyelid surgery, your surgeon will usually start on the upper eyelid first. The incision for upper blepharoplasty surgery is located in the natural skin crease of the upper eyelids. Incisions for lower eyelid surgery are most commonly placed just below the eyelash line. Depending on the amount of correction required, the decisions may extend outwards into the crow's feet or laughter lines.
RELATED: What Does Eyelid Surgery Involve?
Once the incision is made, the surgeon will delicately separate the skin from underlying bulging fat tissue and muscle. Any excess fat is removed, and weak muscle is surgically tightened. The incisions will there be closed with fine dissolvable stitches.
Some men with very sagging skin affecting the upper eyelids, also known as hooded eyes. A surgical browlift may be required if the eyelid drooping is related to saggy eyebrows. In order to get the best blepharoplasty results, a combination treatment with a brow lift or laser resurfacing may be recommended for enhanced results. Our surgeons are experts in the endoscopic brow lift, which requires minimal incisions and a quick recovery.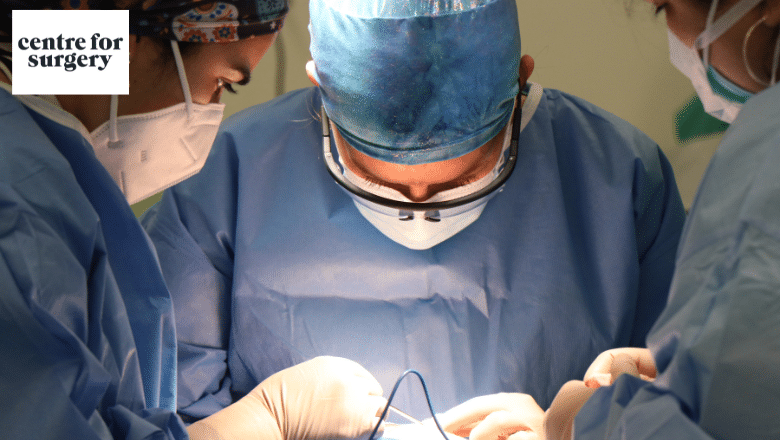 How long does recovery take after male eyelid surgery?
After blepharoplasty surgery, you will be monitored closely during the first two weeks after the procedure. Immediately after surgery, it is normal to experience tightness of the eyelids, and you may feel mild discomfort as the anaesthetic begins to wear off. Your surgeon will prescribe painkillers to ensure you are as comfortable as possible after the procedure. If you have any concerns about pain or discomfort, please discuss this with your surgeon.
RELATED: Recovery After Eyelid Surgery – Top Tips
Your eyes will not be bandaged after surgery, although you may have temporary blurred vision due to the eye lubricant used during surgery. It is important to keep your eyes clean as crusting often develops during the first week after surgery. In some cases, your Surgeon may prescribe eyedrops to minimise the risk of dry eyes after blepharoplasty, as the eyes will often feel dry and gritty during the first few days after surgery. Watery eyes are commonly experienced in the first few weeks after surgery, and you may notice you are more sensitive to sunlight. Blurry or double vision is a temporary symptom and should disappear completely after a week.
RELATED: How long is blepharoplasty recovery?
It is important to keep your head raised for the first few days after surgery. Cold packs should be used to minimise bruising and swelling. The extent of bruising varies between men, although it is often most visible during the first week after male eyelid surgery. Bruising and swelling last anywhere between two weeks to four weeks.
You will be reviewed by one of our postoperative nurses one week after surgery to remove your stitches if you had permanent stitches applied during surgery. Once the stitches are removed, the swelling will rapidly disappear over the next two weeks, and you will start seeing early results of male blepharoplasty surgery.
It is important to stay away from strenuous activities for at least four weeks after surgery and focus on keeping mobile after the procedure without doing too much too soon. You should avoid certain activities that may increase blood pressure, including strenuous exercise, lifting heavy objects or bending over. You should also avoid alcohol for the first two weeks after surgery as it is associated with increased fluid retention, and this may exacerbate postoperative swelling. Most of our mail eyelid surgery patients feel confident to go out in public and return to certain types of work after one week. This will depend on your speed of healing, and your surgeon will provide further advice on this. Any bruising can be covered up with concealer makeup. You may notice you are excessively sensitive to sunlight and the wind. We would therefore recommend wearing sunglasses and sunscreen specially designed for the eyelids when you are out and about.
What are the risks of blepharoplasty for men?
As with any type of surgery, blepharoplasty for men involves certain risks, which will be explained in detail at your consultation. The risk of complications includes bleeding and infection, and these can be minimised by following your surgeon's post-operative after-care instructions in full.
Common side effects after surgery include blurred vision or double vision for a few days, temporary swelling at the outer part of the eyelids, mild asymmetry during the healing process and dry eyes. Recognised complications of eyelid surgery include difficulty in fully closing the eyes, particularly during sleep. Some men may be at high risk of developing ectropion, an out-turning or eversion of the lower eyelids. This may require further corrective eyelid surgery.
RELATED: What do blepharoplasty scars look like?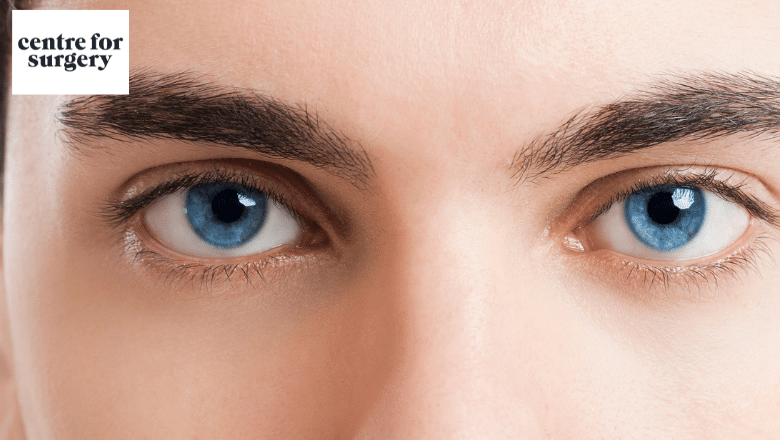 How much does male eyelid surgery cost?
Male eyelid surgery cost will vary depending on the extent of surgical correction required and your overall state of health. Most men are pleasantly surprised to learn that the actual cost of an eyelid lift is significantly less than what they expected. A consultation for male blepharoplasty surgery will give you the opportunity to speak directly with an eyelid surgeon. Once you have had your consultation, you will be given an accurate quotation from your dedicated patient coordinator for the full cost of male eyelid surgery.
RELATED: Finance Options
Male Blepharoplasty at Centre for Surgery
Centre for Surgery is a leading plastic and cosmetic surgery clinic in London, renowned for delivering natural-looking results for all patients. Here are some reasons why you should choose us for male blepharoplasty:
Expertise: Our surgeons are highly trained and experienced in male blepharoplasty and have performed numerous successful procedures.
Personalised Care: At Centre for Surgery, we take the time to understand your goals and develop a customised treatment plan tailored to your unique needs.
State-of-the-Art Facilities: Our clinic is equipped with the latest technology and equipment to ensure the safest and most effective treatment possible.
Comprehensive Aftercare: Our dedicated team provides comprehensive aftercare to ensure a smooth recovery and optimal results.
High Patient Satisfaction: We are proud of our high patient satisfaction rate and numerous positive reviews from past patients.
Transparency: At Centre for Surgery, we believe in transparency and provide detailed information about the procedure, including risks and benefits, to help you make an informed decision.
CQC-Registered: We are a CQC-registered clinic, which means we meet the highest standards of quality and safety.
Take the next step today
If you're considering blepharoplasty or any other cosmetic surgery procedure, we invite you to take the next step today by booking a consultation with one of our expert surgeons. During your consultation, you will have the opportunity to discuss your goals and concerns with your surgeon, who will then develop a customised treatment plan tailored to your unique needs.
Our surgeons have many years of experience and are skilled in using different surgical techniques to achieve optimal results. We pride ourselves on providing exceptional care and attention to all of our patients, and we are dedicated to ensuring that you feel comfortable and confident throughout the entire process.
Join the thousands of satisfied patients who have trusted Centre for Surgery with their cosmetic surgery needs. To take the next step, simply fill out our enquiry form or give us a call at 0207 993 4849 to book your consultation today.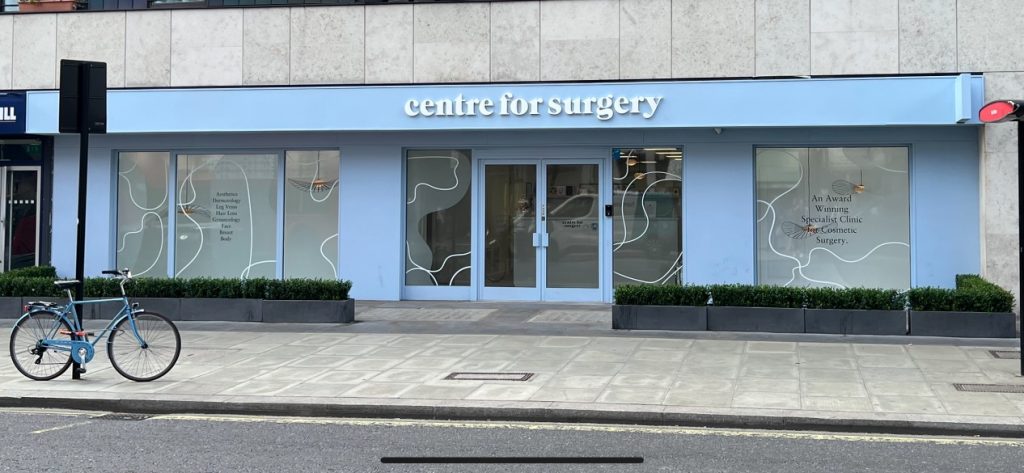 [wpseo_map id="9814″ width="750″ height="300″ zoom="15″ map_style="roadmap" scrollable="1″ draggable="1″ show_route="0″ show_state="0″ show_url="1″ show_email="1″ default_show_infowindow="1″ show_phone="1″ show_phone_2="0″ show_fax="0″]
[trustindex no-registration=google]