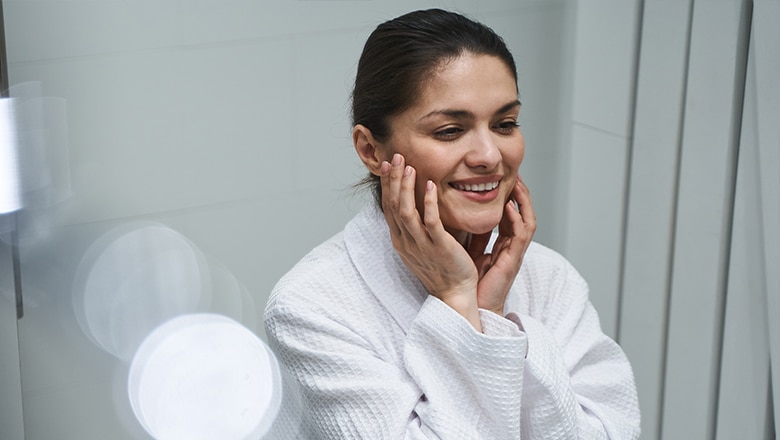 Blepharoplasty is a skin-deep surgical procedure, and recovery is therefore rapid. However, any type of surgery may produce bruising and swelling. The eyelids are highly visible, and side effects associated with the healing process may be noticeable.
There are certain things you can do to speed up recovery after blepharoplasty. We recommend avoiding strenuous exercise for at least four weeks to avoid exacerbating any bruising and swelling after eyelid reduction. Surgery on the lower eyelids may result in bruising, which takes longer to resolve than upper eyelid surgery. Most types of bruising can be skilfully covered with concealer make-up. Our postoperative nurses will be able to advise on how to minimise the appearance of bruising and swelling after eyelid surgery. Taking two weeks off may be better to allow any blepharoplasty side effects to settle down fully if you carry out work requiring a lot of social interaction. A postoperative appointment will be booked for you to attend one week after your procedure. Your surgeon may use non-dissolvable stitches, which must be removed at your wound check appointment.
In many cases, your surgeon may use topical ointment after the procedure to help with healing, which may result in blurred vision for the first 24 hours after blepharoplasty. Other causes of blurry vision include using a general anaesthetic for your procedure. Still, it is essential to bear in mind these are temporary side effects which resolved without any further treatment.
RELATED: What are the benefits of eyelid surgery?
Lower eyelid surgery is typically associated with increased swelling than upper eyelid surgery. Any type of surgical procedure will result in swelling in the postoperative phase. In some cases, swelling may also involve the conjunctival lining, resulting in a swollen appearance of the eyelids. The defective drainage of tears from the surface of the eye may become impaired, which could give rise to excessively watering eyes. The conjunctiva may sometimes have tiny red dots, which signify localised capillary haemorrhage, but these are entirely harmless and will settle down within the first few days after surgery.
Excessive swelling of the lower eyelid may result in an out-turned appearance of the eyelids, also referred to as an ectropion, as the swelling lifts the lower eyelid away from the globe. Although this can result in watery eyes, it is a temporary side-effect and will resolve after a few days.
How can I speed up recovery after blepharoplasty?
We recommend maintaining head elevation after a blepharoplasty for as much as possible for the first few days. Sleeping on your back propped up on a couple of pillows Will help to accelerate the resolution of postoperative swelling. We would also advise applying ice packs over the eyes, which will help to reduce bruising and swelling. We would also recommend following your surgeon's postoperative instructions in full to avoid the risk of developing dry eyes after blepharoplasty.
Blepharoplasty surgery is customised to the individual patient, and therefore recovery times will differ between patients depending on the extent of the surgical correction required. You should generally avoid work for at least one week after surgery and avoid any activities that may increase the risk of developing dry ice, such as looking at your smartphone or tablet for an excessive amount of time.
Is blepharoplasty painful?
Blepharoplasty is considered a minimally invasive cosmetic surgery involving the upper or lower eyelids. Surgery most commonly involves incisions that extend no further than the underlying fat and muscle layer beneath the skin. This means that recovery after blepharoplasty is smooth and with minimal discomfort. Eyelid surgery can be undertaken with either a local anaesthetic or a general anaesthetic. Having a general anaesthetic means you'll be asleep and comfortable both during and after the procedure. As with all types of surgery, there will be a mild degree of bruising and swelling. Any discomfort that may be experienced is easily controlled with simple painkillers such as paracetamol. Most patients often have no requirement for postoperative analgesics after blepharoplasty. Eyelid surgery involves minimal downtime, so there is hardly any disruption to your regular daily routine.
Blepharoplasty involves specific side effects which are temporary in the vast majority of cases. Typical symptoms include dry eyes or watery eyes. Any grittiness or irritation affecting the eyes can be easily treated with topical chloramphenicol ointment applied by your surgeon after the procedure. We recommend topical ointment regularly after blepharoplasty surgery to minimise discomfort or irritation from dry eyes.
Getting the best results after blepharoplasty means following your surgeon's postoperative instructions in full to ensure a smooth and uneventful recovery process. This will also ensure that any pain or discomfort you may have is minimal with no disruption to your everyday activities. It is essential to keep your head elevated and sleep on your back for the first week after surgery. The application of ice packs will help to speed up the resolution of bruising and swelling.
How long does it take to recover after having a lower blepharoplasty?
Compared with upper eyelid surgery, having a lower blepharoplasty generally requires a period of approximately two weeks for full recovery although the exact length will differ between patients depending on the extent of surgery undertaken. Recovery time can be quick and by following the surgeon's postoperative instructions in full including avoidance of strenuous exercise, avoiding looking at computer screens too much and certain activities that may increase the risk of developing dry eyes. In our experience, most patients are back to normal work routines after 14 days.
If you are keen to learn more about blepharoplasty recovery, book a consultation today and speak to one of our experienced consultant plastic surgeons to have all your most important questions answered. Centre for Surgery is a leading cosmetic surgery clinic with specialist expertise in all types of eyelid reduction surgery including lower blepharoplasty. Our surgeons take time to listen to your needs and preferences before offering customised treatment recommendations to ensure you get the best blepharoplasty results.
When is the best time to have blepharoplasty stitches removed?
In most types of eyelid surgery, your surgeon may choose to use non-dissolvable stitches for your blepharoplasty procedure. Non-dissolvable stitches often result in better scarring compared with dissolvable stitches. If dissolvable stitches are used, you will not need to have these removed at your postoperative check-up appointment. Non-dissolvable stitches are best removed one week after your surgery to minimise scarring after blepharoplasty.
What do blepharoplasty scars look like?
Most types of blepharoplasty surgery are considered minimally invasive in nature with incisions being expertly placed in natural skin folds to minimise the appearance of scars. Incisions are very small after eyelid surgery and because the eyelids are well vascularised, any incision is healed very well with minimal scarring. The vast majority of patients who have blepharoplasty at Centre for Surgery often tell us their scars are virtually invisible six months after the procedure.
How long will it take to see blepharoplasty results?
The final results of blepharoplasty surgery are most commonly seen after six weeks. In a small number of cases, particularly involving lower blepharoplasty, there may be a minor degree of swelling affecting the lower eyelids but this will virtually disappear after eight weeks. Patients can look forward to achieving a more useful and rejuvenated look which often makes them appear many years younger with the elimination of the constant tired look that they have disliked for so long.
Will I need a revision blepharoplasty?
The results of blepharoplasty surgery can produce anti-ageing effects that can last over 10 years. The ageing process may result in the recurrence of loose skin affecting the eyelids. The results of your initial blepharoplasty can be enhanced with a touchup procedure undertaken many years later. It is important to bear in mind that most people are happy with the results of the first procedure and have no desire to have further surgery later. In some cases, our surgeons carry out revision blepharoplasty surgery for patients who have a botched blepharoplasty from surgery undertaken elsewhere, especially overseas. Corrective surgery is challenging and it is important to have realistic expectations of results to be achieved after surgery for botched eyelid surgery.