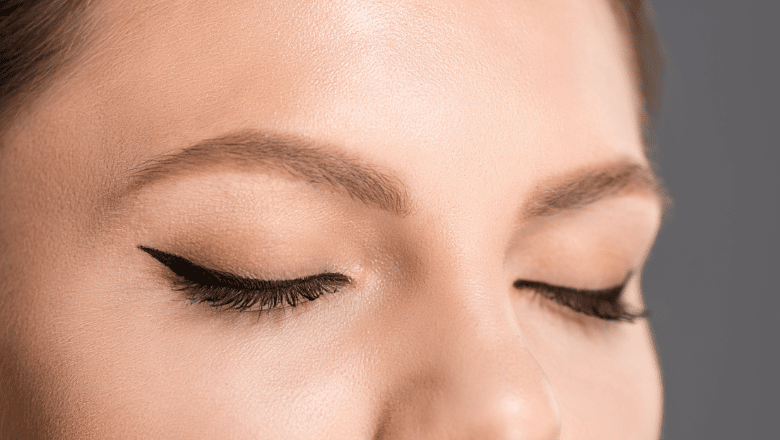 Eyelid surgery, also known as blepharoplasty, is one of the most effective procedures to rejuvenate the appearance of tired-looking eyes. As with any surgical procedure, there are certain risks associated with blepharoplasty surgery. The key to achieving optimal outcomes is to make sure you choose a highly experienced plastic surgeon to perform eyelid lift surgery to minimise the risk of complications occurring.
RELATED: What does eyelid surgery involve?
At your eyelid surgery consultation, your surgeon will find it helpful to know about your specific concerns. Some patients may have to hold their eyelids up with their fingers due to having hooded eyelids. A good idea of how you could look after surgery involves pulling the skin around the eyes backwards with your hands which can give a rough idea of how surgical correction with blepharoplasty can look. Many patients who come to us tell us they have become increasingly frustrated about people constantly telling them they look tired even though they feel great. Those with droopy eyelids may develop visual impairment due to excess skin hanging over the eye. Some patients may feel they do not look as refreshed as they once did despite trying a wide variety of anti-ageing creams and nonsurgical treatments, including tear trough filler. 
RELATED: Is eyelid surgery worth it?
Eyelid surgery has increased in popularity in recent years and has proven to be equally popular in men and women who want to achieve a younger-looking appearance. It should be borne in mind that eyelid surgery is a highly delicate procedure because the surgery is carried out so close to the eye. When performed by an inexperienced Surgeon, the risk of complications can rise considerably. This may result in a botched eyelid procedure and may require highly complex revision surgery to correct.
RELATED: Male Eyelid Surgery (Blepharoplasty For Men)
What are the main mistakes which surgeons can make after eyelid surgery?
Excessively bruised appearance
Bruising is a common side-effect of surgery, and some people may tend to bruise more easily compared with others. An expert plastic surgeon focuses on using a delicate surgical technique to minimise post-operative bruising after eyelid surgery. An excessively rough surgeon who does not treat the gentle tissues of the eyelids with care is more likely to produce extensive bruising after the procedure. Although bruising will eventually settle on its own, severe bruising can prolong your recovery, which may reduce your overall level of satisfaction. We would always advise choosing a surgeon with a background in microsurgery and extensive experience in all types of eyelid surgery. Surgeons at Centre for Surgery in London are handpicked for their specialist expertise in Blepharoplasty Surgery.
At your consultation, we would recommend asking to see blepharoplasty before and after photos. Your surgeon may recommend you speak to former patients to get an idea of the level of care your surgeon provides.
Significant asymmetrical results
A common concern expressed by many patients is the fear of having eyelid asymmetry after eye bag removal surgery. This is a common error when the procedure is carried out by a surgeon who lacks the appropriate expertise in eyelid surgery. Not carrying out appropriate measurements before surgery can increase the risk of causing asymmetrical results. A mild degree of asymmetry may develop due to the natural healing process after surgery.
Revision blepharoplasty surgery can be recommended once healing has fully occurred. The need for revision surgery can be reduced by having a thorough consultation so that your surgeon is familiar with exactly what you were trying to achieve by carrying out detailed preoperative measurements on the day of your surgery. In a small number of cases, there is inherent unpredictability in how the two different sides of the face will heal, and this can be easily dealt with in a straightforward touchup procedure.
Too much eyelid fat is removed
Bulging fat pockets are a common feature of ageing eyelids, and your surgeon will remove excess skin and fat as part of a blepharoplasty procedure. A common error by an inexperienced surgeon is to remove too much eyelid fat leading to a hollowed-out appearance. Removing too much fat may cause eyelids to look more aged than intended, which is the opposite of what the procedure is designed to achieve. Always check the credentials of your surgeon and make sure they have significant experience in eyelid surgery to reduce the risk of removing too much eyelid fat.
Revision eyelid surgery may be required to correct this and involves fat grafting to the area where too much fat has been removed to restore soft tissue volume and a youthful appearance. The ideal results of eyelid surgery should lead to a natural looking and refreshed appearance.
Inability to close the eyes fully
Not being able to close your eyes fully is a serious complication of blepharoplasty surgery. This complication occurs when your surgeon removes too much excess skin or places incisions in the wrong location. Sadly we increasingly see this complication in patients who have chosen to have cheap eyelid surgery overseas in countries such as Turkey.
When too much skin is removed during eyelid surgery, this can cause patients to have problems closing their eyes fully. This is a very difficult complication to correct, as once any skin has been permanently removed, it cannot be replaced. The skin of the eyelid is highly specialised and delicate tissue. An expert plastic surgeon always knows to be more conservative when removing eyelid skin to this complication. If further skin removal is required, your surgeon can always carry out a touch-up procedure to improve the results further.
Lower eyelid malposition
Lower blepharoplasty or lower eyelid surgery has a slightly higher risk of complications compared with upper eyelid surgery. Even a difference of 1 to 2 mm can make a great result become a poor result. The location of the incision must be planned carefully to prevent an ectropion which is excessive eversion of the eyelids. This complication may cause a watering eye. Revision surgery can correct this once you are fully healed from your first blepharoplasty procedure.
How to avoid complications of blepharoplasty
The best way to avoid undesirable blepharoplasty results is to choose a surgeon with specialist expertise in eyelid surgery. Complications can be reduced significantly with precise measurement and marking of the amount of eyelid skin to be surgically removed. An experienced surgeon will have the skills to delicately handle the soft tissues of the eyelids using microsurgical techniques.
RELATED: Eyelid surgery recovery – top tips
What are the benefits of eyelid surgery?
Eyelid lift surgery is one of the most popular types of cosmetic facial surgery designed to rejuvenate the appearance of your eyes. Recovery after eyelid surgery is much quicker compared with facelift surgery, as the surgical incisions and dissection are considerably fewer.
Blepharoplasty is highly effective for treating sagging or drooping eyelids. Puffy eyes can be corrected using eye bag removal surgery, also known as lower blepharoplasty. When droopy eyelids obscure vision, this can be easily corrected with an upper blepharoplasty. When people are no longer able to use make-up to cover lax eyelids, this is a common trigger to see an eyelid surgeon in London.
Why choose Centre for Surgery for eyelid surgery?
Here at Centre for Surgery in London, we have a team of highly experienced eyelid lift surgeons, and they are considered to be some of the best in the UK. Contact us today at 0207 993 4849 to schedule an in-person consultation at our state-of-the-art Baker Street clinic in Marylebone. Although a referral letter from your GP or referring consultant is useful, it is not essential for having a consultation at Centre for Surgery.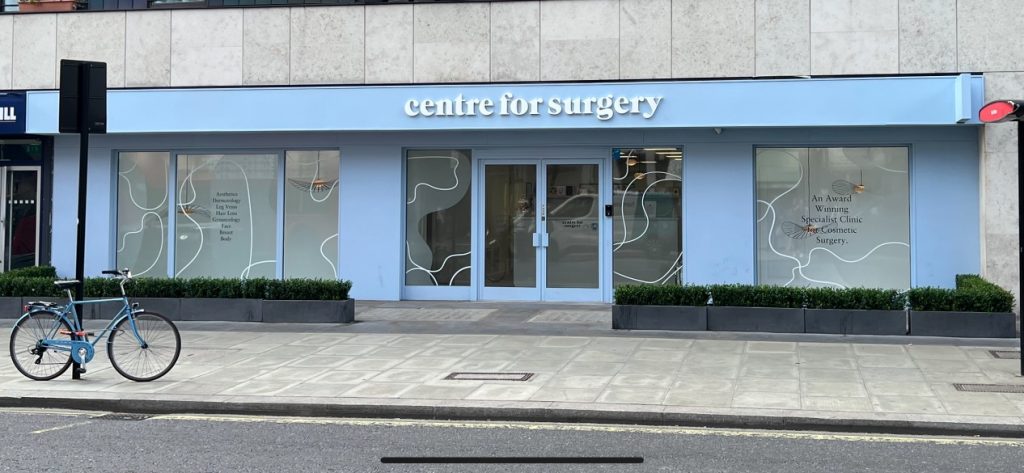 Amazing from start to finish, the communication was the main thing was fully informed and looked after, on the day of my breast augmentation, the staff were fab and made me feel at ease through out the whole process. Thank you so much.
Mohammed Farid
18/11/2021
I've had such a great experience with excellent advice, care and attention and surgical treatment (gynaecomastia) - I can fully endorse the treatment I have received from Centre for Surgery with absolutely no qualms at all. Brilliant in every way - thank you all so much.
Caroline Thorpe
14/11/2021
Very pleased with my whole experience of having a procedure. Was so nervous about getting treatment and i was reassured and felt so comfortable throughout thanks to the amazing nurses. I definitely made the right decision to have breast augmentation at centre for surgery with dr erel.
Melissa Briggs
08/11/2021
So glad I went with centre for surgery, the whole process went very smoothly from the consultations down to the actual day of the procedure. I was so nervous on the day but the whole team put me at ease and I'm happy with my results as I feel a lot more comfortable wearing certain clothes now. My surgeon was Alberto Di Giuseppe who performed a breast Augmentation on me, and I would definitely recommend as he was very clear on what the outcome of the surgery would be and which size would look the best for my frame.
Couldn't be happier with Dr Tillo work,i had my breast surgery one week ago and so happy with the results so far,all the staff are extremely nice and very supportive,i would definitely recommend their services,thank so much
From start to the finish everything was perfect for tummy tuck surgery. All staff is very friendly and the aftercare has been good. The Doctor and the nurse team was fantastic. I'm so happy...result is amazing. Thank you!!!
This was overall a great experience, all the staff at Centre for Surgery were friendly and put me at ease. It is a nerve wracking thing to go through an op but the staff were so nice. Mr Ertan has got a great team around him. On the day of the operation everything went smoothly to plan, there was no delay or holdups, I had another consultation with Mr Ertan who confirmed what was going to be done and that I was still happy to proceed. I was prepped for the procedure, I met with the anaesthetist who again was really nice and put me at ease explaining his role. After the procedure I woke up with the nurse by my side making sure I was OK and checking on me, I was able to stay in the clinic until I was ready to leave and was not rushed at all. I was well looked after from the start to the point when I was discharged. Post operation I was staying at a local hotel it was so close there was no point in even getting a taxi and I was able to walk back where my partner was waiting for me. I was expecting a lot of bruising to both my eyes but there was very little if any by the time the cast came off after 7 days, I am now at the two week post operation point and it is healing well with no outwardly visible bruising or scaring. The next milestone is a checkup at the 6 week point with my surgeon. If you're thinking of having something like this done I would highly recommend getting in touch with Centre for Surgery.
The staff at Centre for Surgery were very kind and accommodating. They answered any questions I had about the procedure and were constantly checking up on me. A special thank you to Christina for all her support throughout.
I would just like to state the quality of care received from the nurses at Centre for Surgery was beyond the highest level. Sophie takes her patient care to another level beyond words. She always puts me at ease. She is there for me even at awkward hours just when I mostly needed reassurance and she is one of the most compassionate nurses I have come across and demonstrates her passion naturally for caring for others. She totally deserves recognition at its finest and thank you for always being there for me. 😍