Seborrhoeic Keratosis Removal in London
Ageing and your family history might give rise to unwanted skin changes like seborrheic keratoses. Even though they're harmless, these dark, scaly outgrowths can make you self-conscious or become irritating when they rub against your clothing.
But don't worry, at Centre for Surgery, we've got you covered. You don't even need a referral from your GP to see us. We can remove your seborrheic keratoses, making sure you're comfortable and satisfied throughout the process. From your initial consultation to post-treatment care, our skilled team is there to answer any queries and guide you. So you can say goodbye to those bothersome skin growths and feel confident in your skin again!
Seborrhoeic keratosis, also known as a seborrhoeic wart, is a benign skin lesion often mistaken for a mole. While it used to be referred to as a 'senile wart,' this term has since been discontinued as it was found to be offensive to some patients. At Centre for Surgery in London, we frequently perform procedures to remove these harmless but potentially cosmetically displeasing skin growths.
Seborrhoeic keratoses, which can range in colour from pink to almost black, are usually rough to the touch. They can appear anywhere on the body but are most often found on sun-exposed areas such as the face and neck.
These skin growths typically start appearing from the age of 40 onwards, particularly in individuals who have frequently been exposed to sunlight. Despite their harmless nature, many opt to have them removed due to their potential to cause cosmetic concerns.
What is Seborrheic Keratosis?
Seborrheic keratosis is a common skin condition that is non-cancerous and usually harmless. It's characterised by growths on the skin that are often light or dark brown, or sometimes black. These growths are usually raised and scaly and can appear anywhere on the body, though they're most common on the chest, back, scalp or neck. They can also occur on the face or elsewhere on the body.
The size of these growths can vary. While some might be quite small, others can grow larger than 1 inch in diameter. You might have one seborrheic keratosis or you might have many, appearing on different parts of your body.
While seborrheic keratoses don't usually require treatment, many people choose to have them removed for cosmetic reasons or because they can become irritated and bleed when rubbed by clothing.
Although they're harmless, seborrheic keratoses can sometimes look similar to melanoma, a serious type of skin cancer. That's why it's important to have any new or changing skin growths checked by a doctor.
The exact causes of seborrheic keratoses are not known, but they're believed to be linked to genetics and often start to appear from middle age onwards.
Causes of Seborrhoeic Keratosis
Seborrhoeic Keratosis, often referred to as skin warts, are caused by an excessive growth of normal skin cells. This condition tends to run in families, but it's not contagious, so you can't catch it from someone else. Though they generally don't pose a problem, they can occasionally become inflamed, particularly if they get snagged on clothing, like a zipper. If such inflammation doesn't calm down, it's wise to have a chat with your GP.
Once these warts develop, they won't disappear on their own. Over time, especially as you get older, you might notice more appearing. They can range from a single wart or two to several hundreds. These skin warts are more common than skin cancer and are typically easy to identify without the need for any complex tests. However, it's always vital to see your GP if you notice any new or unusual skin lumps or discolouration to rule out any potential skin cancers.
The Process of Seborrheic Keratoses Removal with Surgery
At Centre for Surgery, the first step in the process of removing your seborrheic keratoses involves an initial consultation with one of our specialists. This meeting will include a thorough examination of your skin growths and a discussion about your medical history. If it's deemed necessary to remove the seborrheic keratoses, we will then schedule an appointment for you.
We understand that even minor procedures can cause some anxiety, so we strive to make the experience as comfortable and painless as possible for you. To do this, your doctor will administer a local anaesthetic. This might cause a brief, mild sting, but after this, you shouldn't feel any pain. Once the area is numb, your doctor will proceed with the surgical removal of your seborrheic keratoses.
Scarring from the procedure is generally minimal. You might notice that the skin where the seborrheic keratoses was removed is lighter in colour, but this difference will fade over time.
The recovery period after seborrheic keratoses removal is typically brief. You should be able to get back to work and resume your normal activities straight away after your procedure. However, your doctor may advise you to refrain from any strenuous exercise for about a week. This precaution helps to avoid any accidental injury to the treated area and supports your healing process.
Laser Removal of Seborrhoeic Keratosis
The removal of seborrhoeic keratosis is quite straightforward. These wart-like growths originate from the skin's outermost layer and have no deep-rooted connections, making their removal almost scar-free when carried out by our expert dermatologists. Our clinic utilises the latest, state-of-the-art Erbium YAG laser technology. This laser is readily absorbed by water, making it possible to cause minimal thermal damage to the surrounding skin. Unlike the CO2 laser, the Erbium YAG laser is considered the gold standard for treating a wide range of superficial skin conditions.
At Centre for Surgery, our laser specialists have the expertise to conduct quick and pain-free removal of seborrhoeic keratosis using the Erbium YAG laser and the Fotona SP Dynamis system. This laser treatment replaces older, more traditional methods such as cryotherapy, curettage, and cautery, offering a significantly higher level of precision.
The removal process starts with disinfecting the area with an antiseptic solution. Then, we apply EMLA, a local anaesthetic, to numb the skin. As the laser is used to remove the keratosis, the layers are wiped off with a moist gauze sponge. This approach minimises skin trauma and significantly reduces the risk of scarring. We are committed to using only the best and most up-to-date techniques to ensure optimal results for our patients.
Older Methods of Removing Seborrhoeic Keratosis
Previously, cryotherapy with liquid nitrogen, a freezing technique, was the preferred treatment for smaller lesions. However, cryotherapy lacks the precision of laser removal and comes with an elevated risk of changes to skin pigmentation. This is due to the disruption of pigment-producing cells in the skin's deeper layers. While this might not be a substantial issue for people with lighter skin, it poses a significant risk to individuals with darker skin types, potentially leading to cosmetic alterations more noticeable than the original lesion. These risks are significantly minimised when using the Erbium YAG laser. Another downside to cryotherapy is the risk of incomplete removal. A dermatologist might struggle to ascertain how much of the lesion to freeze without burning the skin. Consequently, they might opt to be more cautious and apply less freezing, which often results in the skin lesion persisting due to partial removal.
Curettage and cautery, which involve scraping and burning, were once second-line treatments for removing larger warts. Like cryotherapy, this method lacks the control and precision of the Erbium YAG laser, and there's an increased chance of causing damage to the skin beneath the seborrhoeic wart. It's also challenging to apply curettage and cautery techniques for larger skin lesions. This lack of precision and increased risk of injury highlight why these older methods have been largely replaced by more modern and effective laser treatments.
Seborrhoeic Keratosis Removal Photos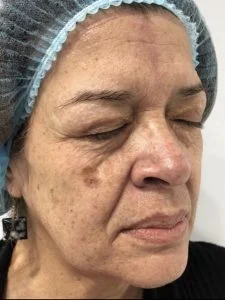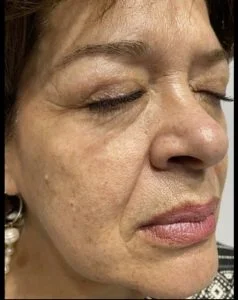 Seborrhoeic Keratosis Removal at Centre for Surgery
At Centre for Surgery, we provide top-notch services for the removal of Seborrhoeic Keratosis. Our team of highly trained specialists use the cutting-edge Erbium YAG laser technology, ensuring a precise and effective treatment. We understand the cosmetic and physical discomfort these skin growths can cause, and our goal is to make the removal process as seamless and pain-free as possible.
The procedure begins with a comprehensive consultation, where our experts assess the state of your skin growths and discuss the most suitable treatment plan. The actual removal is carried out under local anaesthetic, minimising discomfort. The laser targets the growth, eliminating it without causing significant damage to the surrounding skin.
Our approach ensures minimal downtime, allowing you to return to your daily routine immediately after the procedure. We emphasise post-procedure care, advising on the best practices to maintain your skin and avoid recurrence. At Centre for Surgery, we pride ourselves on providing personalised care, striving for the best outcomes while prioritising patient safety and comfort.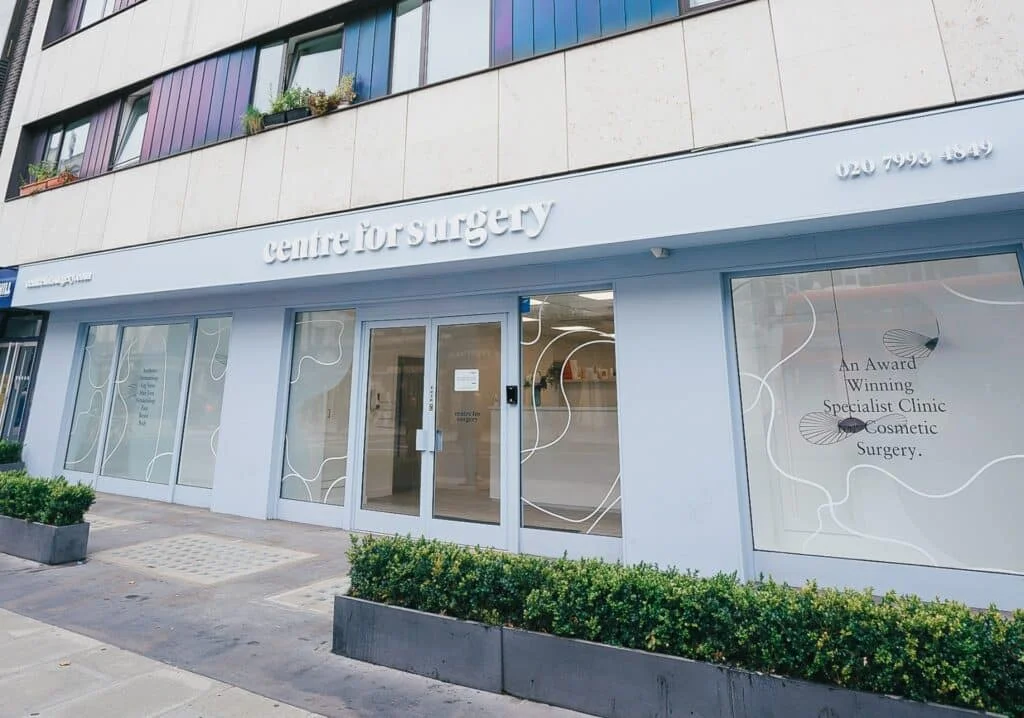 FAQs
How much does Seborrheic Keratoses Removal cost?

The price of a seborrheic keratoses removal treatment can vary based on your specific needs and circumstances. Factors such as the size, number, and location of your skin growths can impact the complexity of the procedure and hence, its cost. It's important to remember that a personal consultation with one of our doctors at Centre for Surgery is necessary to assess your condition and devise a tailored treatment plan. Following this assessment, you will receive a solid quote for your procedure, providing a clear idea of the expected financial commitment.

How Long Does Seborrheic Keratoses Removal Last?

Once a seborrheic keratosis is fully removed, it generally won't reappear in the same spot. However, it's crucial to keep an eye on the treated area. If you notice a new growth resembling a seborrheic keratosis in the same location, don't delay seeking medical advice. This new formation could be a different skin condition that requires immediate attention. Remember, it's always best to play it safe when it comes to changes in your skin and seek expert advice promptly.