Seborrhoeic Keratosis Removal in London


Seborrhoeic keratosis or seborrhoeic wart removal, also formerly known as senile wart removal, is a commonly performed procedure at Centre for Surgery in London. The term 'senile wart' has now been dropped as it offended many patients. Seborrhoeic keratosis is a common benign lesion and is commonly mistaken for the appearance of a mole. Seborrhoeic warts are completely harmless skin lesions but can be a cause of cosmetic disfigurement. They can appear anywhere on the body but are most commonly found on sun-exposed areas of the face and neck.
Seborrhoeic keratosis has a roughened surface and can vary in colour from pink to almost black. Seborrhoeic Keratosis usually starts to appear from the age of 40  and more commonly develops in those exposed to sunlight regularly.
Causes of Seborrhoeic Keratosis
Seborrhoeic Keratosis is caused by the overproduction of ordinary skin cells. This can run in families, but it is not infectious and therefore cannot be passed from person to person. Seborrhoeic warts are not a common source of problems but can they can occasionally become inflamed, especially if they get caught on an item of clothing such as a zipper. If the inflammation does not settle, you should talk with your GP.
Once they develop, they do not resolve on their own, and new ones may appear over the years, especially in the elderly. They can vary in number from one or two to many hundreds. Seborrhoeic keratosis is much more common than skin cancer, and they are easy to diagnose without the requirement for any further investigations. However, it is very important to see your GP if any new unusually coloured lump appears to rule out any cancerous skin lesions.
Techniques for Seborrhoeic Keratosis Removal
Seborrhoeic Keratosis removal are straightforward when it comes to removing them. The warty growths develop from the outer layer of skin without any deep connection. Removal of the seborrhoeic keratosis is therefore virtually scar-free when performed by our expert dermatologists with gold standard state of the art Erbium YAG laser. Erbium YAG laser is very efficiently absorbed by water and can therefore be used to produce minimal thermal injury to surrounding skin. Unlike CO2 laser, Erbium YAG laser can be considered as the gold standard tool for treating a wide range of superficial skin lesions.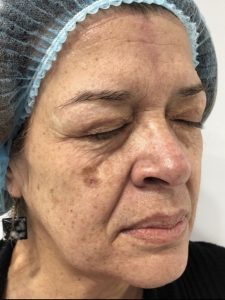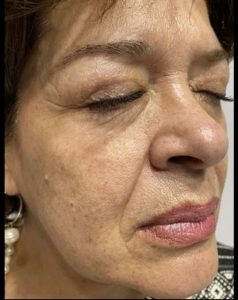 Our laser dermatologists are able to perform a quick and pain-free removal of seborrhoeic keratosis using Erbium YAG laser using the Fotona SP Dynamis. Erbium YAG Laser removal replaces older more traditional methods such cryotherapy and curettage and cautery as the laser removal is much more precise. The area is first disinfected with antiseptic solution before being anaesthetised with EMLA. As the keratosis is precisely lasered away, the layers are removed by wiping them with a moist gauze sponge which results in the least amount of skin trauma and hence lowest risk of scarring. Our dermatologists only use gold standard techniques and not older outdated techniques to enable optimal outcomes.
The older outdated techniques of keratosis removal
Cryotherapy with niquid nitrogen (freezing) used to be the first line option for small lesions. Cryotherapy lacks the precision of laser removal and carries a higher risk of pigmentary changes due to disruption of the pigment producing cells in the deeper layers. This is not so much of a problem with patients with lighter skin but is a significant risk in patients with darker skin types. This can result in more cosmetic disfigurement than the original lesion to be removed. Risks can by significantly minimised with use of Erbium YAG laser. Another disadvantage of cryotherapy is the risk of incomplete removal. With cryotherapy, the dermatologist is unable to accurately determine how much of the lesion to freeze because of the real risk of burning the skin. The doctor will therefore be more cautious and use less freezing. The end result is persistence of the skin lesion due to only partial removal being possible.
Curettage and cautery (scaping and burning) was a second line treatment for removal of larger warts. Again, this technique lacks the control and precision of Erbium YAG laser and there is an increased chance of causing injury to the skin beneath the seborrhoeic wart. Curettage and cautery is also a difficult treatment technique to apply for larger skin lesions.
How to find us
Centre for Surgery is located at 106 Crawford Street in Marylebone. Crawford Street is just off Baker Street. We are easily accessible by all major bus routes that pass through Baker Street as well as Baker Street underground station.
From the tube station, we are just a 5 minute walk southwards down Baker Street followed by a right turn onto Crawford Street. The clinic is about 200 yards on the left.
There is ample local pay & display parking in the surrounding area and an NCP car park is located further west along Crawford Street. Our local residential parking zone is the City of Westminster.
Address: 106 Crawford Street, Marylebone, London, W1H 2HY