Clitoral Hood Reduction London UK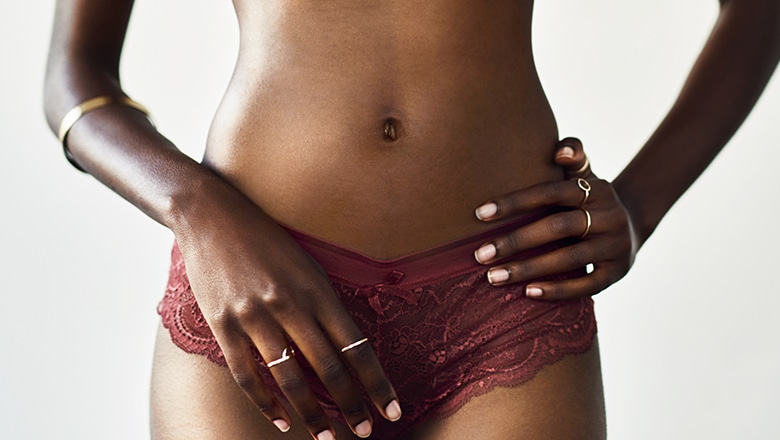 Reclaim your confidence and comfort with our hoodectomy procedure, a quick and minimally invasive solution for excess labial tissue
Clitoral hood reduction, also known as hoodectomy, is a surgical procedure designed to reduce the size of a prominent clitoral hood. The clitoral hood is also known medically as the prepuce and functions as a protective layer over the clitoris in between periods of sexual arousal.
RELATED: Labiaplasty FAQs – Q&As about Labia Reduction
The clitoris itself is highly sensitive, and the clitoral hood retracts during sexual intercourse to facilitate clitoral stimulation. In some cases, excessive tissue forms part of the clitoral hood, which may prevent its ability to fully retract during sexual intercourse, which results in reduced stimulation of the clitoris. Clitoral hood reduction or hoodectomy is a straightforward procedure that involves the surgical removal of excess clitoral hood tissue located on either side of the clitoris, which results in a smaller clitoral hood that is better able to retract. Clitoral hood tissue may be carried out on its own or may be combined as part of a labiaplasty (labia reduction) procedure to reduce the size of large labia at the same time.
RELATED: What is Hoodectomy or Clitoral Hood Reduction?
Hoodectomy surgery is a safe and highly effective operation which takes approximately one hour to carry out. The clitoris itself and its associated nerve endings are left untouched by clitoral hood surgery. The procedure is designed to remove excessive clitoral hood tissue, which results in a greater surface area of the clitoris, which can be exposed and stimulated during sexual intercourse. Many women report increased levels of sexual pleasure after a hoodectomy.
RELATED: How to choose the best labiaplasty surgeon
The procedure is designed to expose a greater part of the clitoris, increasing the amount of stimulation achieved during sexual intercourse. However, clitoral hood surgery may not necessarily increase the chances of women achieving orgasm. The ability to achieve an orgasm is linked to several interconnected factors, including emotional state, sexual desire and one's state of health aside from having a normally functioning clitoris. Although the surgery is carried out in the region of the clitoris, it is important to remember that a hoodectomy does not involve surgical alteration of the size or shape of the clitoris itself. The surgeon takes great care to ensure the clitoris is left untouched during the procedure.
RELATED: What is a Labiaplasty?
What is Clitoral Hood Reduction?
A clitoral hood reduction, also known as a clitoral hoodectomy or clitoral unhooding, is a surgical procedure that reduces the size and prominence of the clitoral hood. The clitoral hood is the fold of skin at the top of the labia minora that covers the clitoris, providing protection and sensitivity.
In some women, the clitoral hood can be overly large or thick, potentially causing aesthetic concerns or interfering with sexual stimulation. A clitoral hood reduction aims to address these issues by removing excess tissue to expose more of the clitoris, which can enhance the visual appearance of the vulva and potentially increase sexual sensitivity.
As with any surgical procedure, a clitoral hood reduction should be considered carefully, and potential patients should have a detailed discussion with a qualified healthcare provider about the potential benefits, risks, and recovery process. It's also important to remember that everyone's anatomy is unique, and what might be considered 'normal' varies widely.
Hoodectomy Before & After Photos - Real Patient Results
Case 1: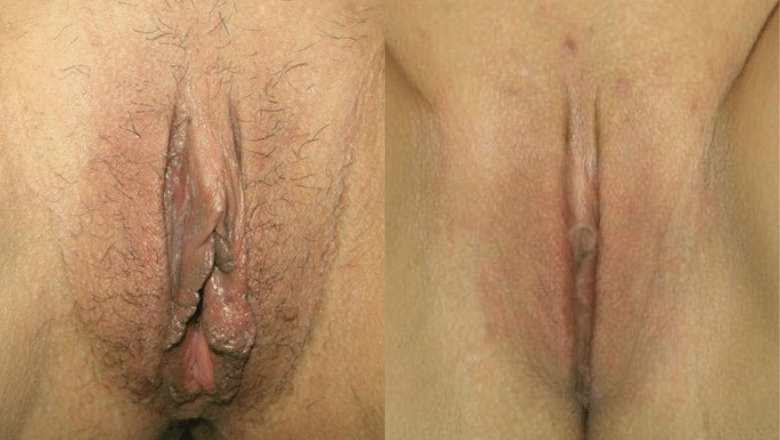 Case 2: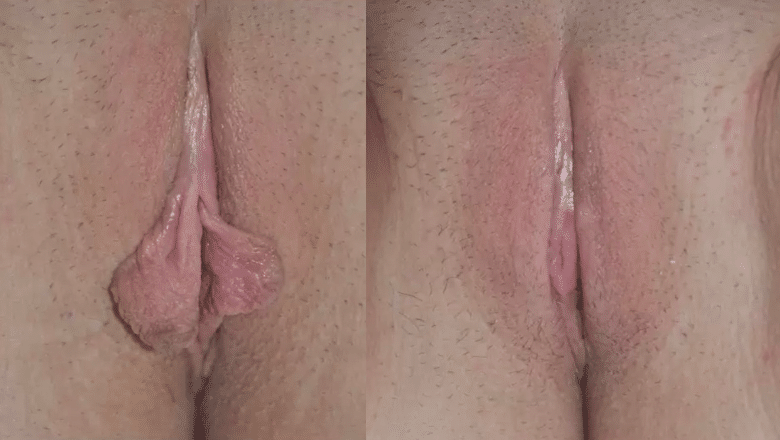 Case 3: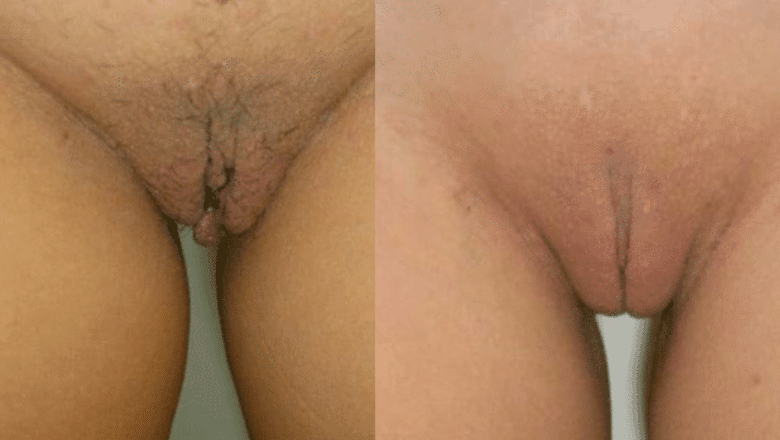 Case 4: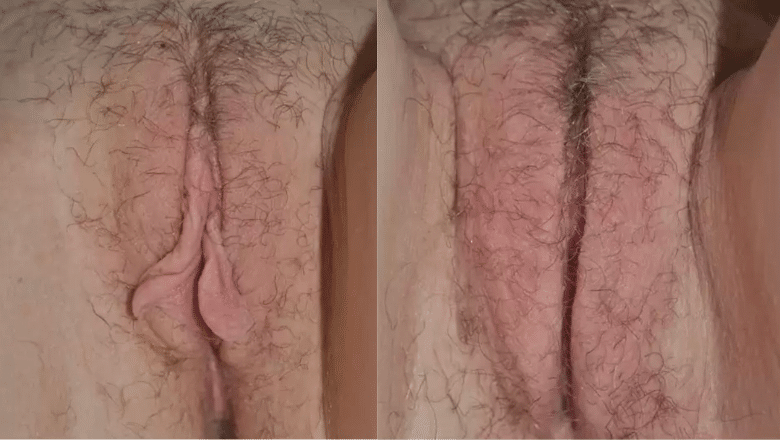 Case 5: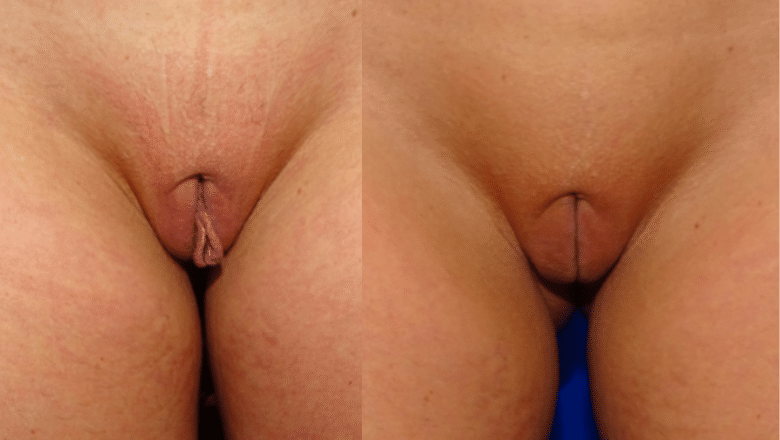 Case 6: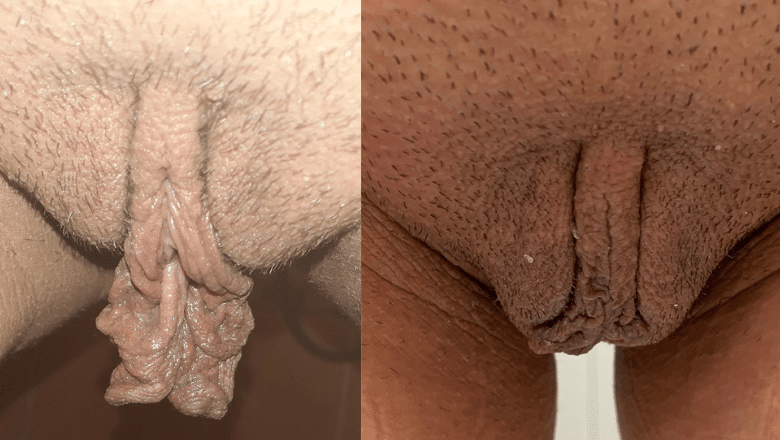 Case 7: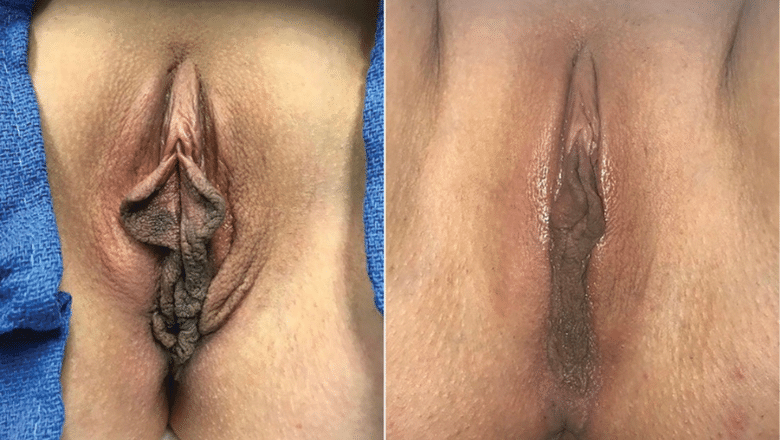 Case 8: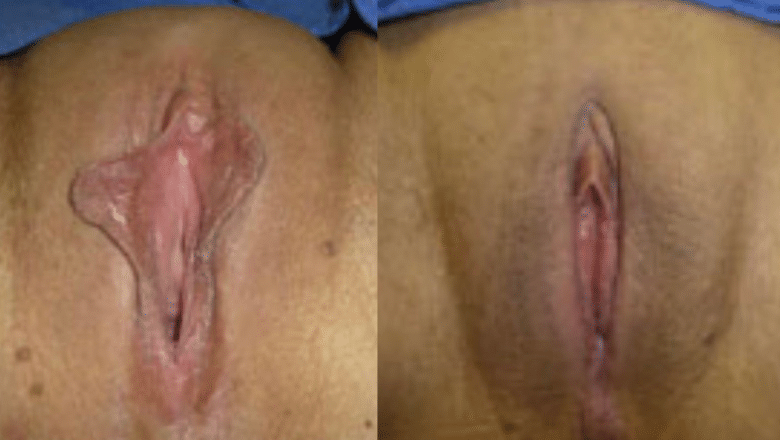 Dr Dimitriadi - Specialist Hoodectomy Surgeon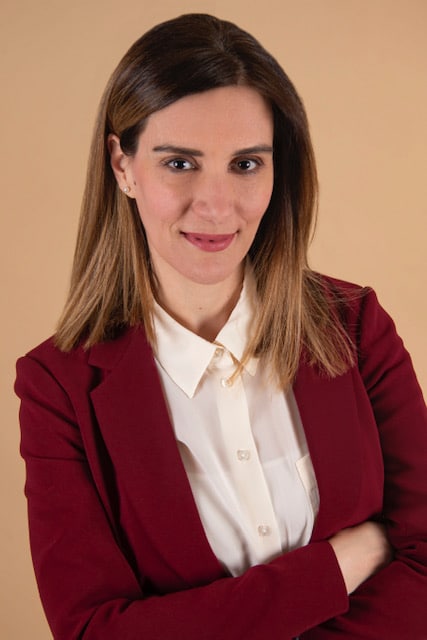 Dr Paraskevi Dimitriadi is a specialist aesthetic gynaecologist and has trained at some of the world's leading hospitals in all aspects of gynaecology. Dr Dimitriadi continues to practice in a major London teaching hospital. She takes an active interest in research into aesthetic gynaecology and lectures both nationally and internationally on a range of topics in aesthetic gynaecology. She is a full member of the European Society of Aesthetic Gynaecology (ESAG).
Dr Dimitriadi's high level of experience that she has achieved in labiaplasty surgery sets her apart from other doctors in the field. Not only is she recognised across the UK as a renowned expert in this procedure, but she also continues to contribute to the growing international body of knowledge in the most advanced techniques of performing labia reduction surgery.
RELATED: How to choose the best labiaplasty surgeon
As a female surgeon, Dr Dimitriadi understands her patient's most delicate needs and preferences. This allows her to create a personalised and bespoke labiaplasty treatment plan to meet the patient's goals. She is regarded as one of the top labiaplasty surgeons in London by her peers and brings years of experience to every procedure she performs. Dr Dimitriadi brings together her expertise across both surgical and non-surgical gynaecological treatments – unrivalled in London and exclusive to Centre for Surgery.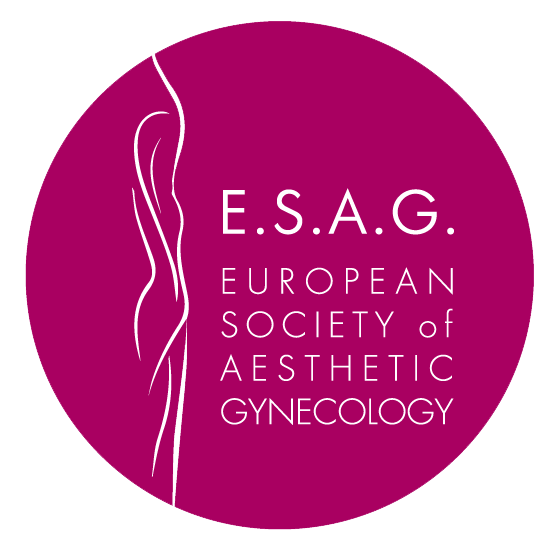 Dr Dimitriadi is known for her caring, patient-centred approach, supporting all her patients and she always strives to optimise patient outcomes at stages of the patient journey.
RealSelf Top Doctors for labiaplasty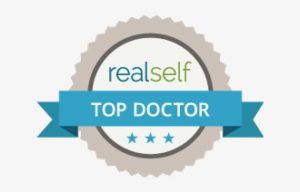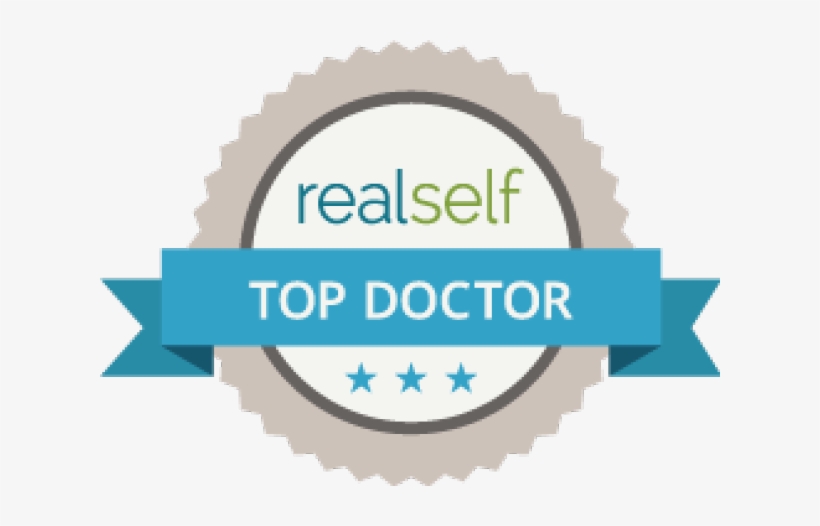 RealSelf's top doctor status is awarded to less than 10% of the RealSelf doctor community. This status is earned by achieving consistently high patient satisfaction (from RealSelf reviews), getting excellent feedback on expert answers to patient questions, and investing significant time in Q&A and other doctor activities.
Benefits of Clitoral Hood Reduction
A clitoral hood reduction, also known as clitoral unhooding or hoodectomy, can offer several potential benefits. It's important to note that individual experiences may vary, and the decision to undergo this procedure should be made in consultation with a qualified medical professional who can provide personalized advice based on your unique circumstances. Here are a few potential benefits:
Improved Aesthetic Appearance: Some women may feel self-conscious about the appearance of an enlarged clitoral hood. A clitoral hood reduction can help to create a more balanced, symmetrical appearance of the vulva, which may enhance self-confidence and comfort with one's body.
Increased Sexual Sensitivity: An overly large clitoral hood can sometimes diminish sexual sensation because it can cover the clitoris more than usual. By reducing the size of the clitoral hood, more of the clitoris can be exposed, potentially increasing sensitivity during sexual activity.
Reduced Discomfort: In some cases, an enlarged clitoral hood can cause physical discomfort, such as during sexual intercourse or when wearing certain types of clothing. A clitoral hood reduction may alleviate this discomfort.
Enhanced Hygiene: Excess skin in the genital area can sometimes contribute to hygiene issues. By reducing the size of the clitoral hood, some women may find it easier to maintain cleanliness in the area.
Am I suitable for clitoral hood surgery?
Dr Dimitriadi at Centre for Surgery will carry out a detailed clinical assessment to determine your suitability for clitoral hoodectomy. Patients should be:
In good physical and mental health with no serious medical conditions
Concerned about the appearance function of the clitoral hood
Are aware of what surgery can achieve and have realistic expectations
Many women may also experience the following symptoms:
A reduction in sexual enjoyment due to excessive clitoral hood tissue
Experience pain and irritation caused by an oversized clitoral hood rubbing on clothing
Exercise-induced discomfort caused by clitoral hood irritation
Excessively large clitoral hood as a result of childbirth or the natural ageing process
Women who have an excessively large clitoral hood may develop a loss of self-confidence which may manifest in symptoms of anxiety and possible depression. Women concerned about the clitoral hood's appearance can benefit from a hoodectomy to improve appearance and function.
Preparing for Clitoral Hood Reduction
Preparing for a surgical procedure such as a clitoral hood reduction is an important step towards a successful outcome and smooth recovery. Here are some guidelines to help you get ready for your surgery:
Smoking: Smoking can impede the healing process by restricting blood flow. It's recommended that you stop smoking at least six weeks before and after the procedure to promote optimal healing.
Alcohol: Alcohol can interfere with your body's ability to heal and can potentially interact negatively with anesthesia or other medications. Try to avoid drinking alcohol for several weeks leading up to your surgery.
Hygiene: Be sure to clean the surgical area thoroughly on the day prior to your surgery. This may include showering, scrubbing, and shaving as directed by your surgeon.
Medication Review: Review all your current medications with your surgeon. You may need to adjust or stop certain medications, especially blood thinners or herbal supplements, as they can increase the risk of bleeding.
Medical Evaluation and Lab Tests: Your surgeon may request a preoperative medical evaluation or certain lab tests to ensure you are in good health for the procedure.
Clothing: Invest in comfortable, loose-fitting, and breathable clothing, particularly bottoms, to wear during your recovery period.
Work Leave: Arrange for some time off from work to allow your body to heal properly without any additional stress or strain.
Home Preparation: Prepare your home for your recovery period. This might include doing your grocery shopping, preparing meals in advance, and creating a comfortable resting area.
Exercise: Refrain from any strenuous physical activity, including exercise, for at least 24 hours prior to the surgery to ensure your body is in optimal condition for the procedure.
What does a clitoral hoodectomy involve?
The clitoral hood reduction procedure aims to improve the aesthetic appearance while maintaining functionality.
The procedure is comfortably performed with a local anaesthetic and the option of mild oral tablet sedation is available which may make you feel drowsy. The injection of a local anaesthetic renders the area fully numb which means there is little or no discomfort during the procedure. However, if you do not wish to be awake for the procedure, the option of TIVA general anaesthetic is available. Clitoral hood reduction takes about one hour to perform.
RELATED: Is labiaplasty painful?
There are different methods for completing the clitoral hood reduction. These include:
Bilateral excision: the prepuce tissues which cover the clitoral glans are removed, with the glans in the middle being maintained.
Excision of redundant folds: as the name suggests, the redundant folds of the clitoral prepuce tissue are surgically removed. In this case, the incisions are made parallel to the long axis of the clitoris to reduce the risk of sensory disturbances to the clitoris.
The clitoral hood reduction is often performed as part of a labiaplasty, which involves reshaping the labia minora. With a combined labia minora reduction and clitoral hood reduction, the procedure takes about 2 hours to complete.
Recovery after Clitoral Hood Reduction
After having a clitoral hood reduction, it is normal to experience some swelling and bruising. You may also experience some pain and discomfort. Your surgeon will be able to give you medication to take if you need help managing pain levels. Ice packs can be used to help reduce swelling. Most people will need to take at least two to three days off to recover from surgery. You will have sutures in place, however, these will dissolve over the following few days. You should wear a sanitary pad for the first week to help with any bleeding. Any rigorous physical activity – including any sexual intercourse – will have to be avoided for one month.
RELATED: Labiaplasty before and after photos
What are the risks and potential complications of Hoodectomy
As with any surgical procedure, clitoral hood reduction carries certain rare risks. Risks associated with this procedure include:
Wound separation

Asymmetry

Infection

Reactions to the anaesthetic
Our surgeons take all relevant precautions to ensure that the likelihood of complications occurring is minimal.
Clitoral Hood Reduction Cost & Price – How much is Clitoral Hood Reduction in London ?
The cost of a clitoral hood reduction procedure is influenced by several factors, including the expertise of the surgeon, the specific requirements of the surgery, and the facilities used for the operation. As such, the cost can vary significantly from one surgeon or clinic to another.
Given the elective and aesthetic nature of clitoral hood reduction, it's important to note that it is not typically covered by the NHS or private medical insurance, as it's not generally considered a medically necessary procedure. Therefore, you will likely need to arrange for private payment for the procedure.
For a personalised estimate of the cost for a clitoral hood reduction procedure in London, we invite you to contact Centre for Surgery. Our team can provide a more detailed consultation and quotation based on your individual circumstances. You can reach us at 0207 993 4849 to discuss further details, book a consultation, and learn more about the procedure, its potential benefits, and how it may be able to help you achieve your desired aesthetic goals. We look forward to assisting you with your journey.
Clitoral Hood Reduction at Centre for Surgery
At Centre for Surgery, we are proud to offer clitoral hood reduction procedures to our patients. Our team of skilled and experienced surgeons are well-versed in this specific procedure and has helped numerous women achieve their aesthetic goals while respecting their individual needs and concerns.
The procedure involves carefully reducing the clitoral hood, which is the skin covering the clitoris. It is performed under local or general anaesthesia, depending on the extent of the surgery and the patient's comfort level. The ultimate goal is to create a more balanced, symmetrical appearance of the vulva, potentially enhancing self-confidence, comfort, and in some cases, sexual sensitivity.
At Centre for Surgery, patient safety, satisfaction, and well-being are our top priorities. We understand that deciding to undergo a procedure like a clitoral hood reduction is a significant decision. Our team is committed to providing you with all the information you need to make an informed choice, offering pre-operative consultations, comprehensive aftercare, and a bespoke approach to surgery to ensure the best possible outcome for you.
Our Baker Street facility is equipped with state-of-the-art technology, and our surgeons employ the most advanced techniques to ensure a safe and efficient procedure with minimal downtime.
For more information about undergoing a clitoral hood reduction at Centre for Surgery, we invite you to reach out to us on 0207 993 4849. We would be more than happy to answer any questions, address your concerns, and guide you through the process from the initial consultation to post-operative care.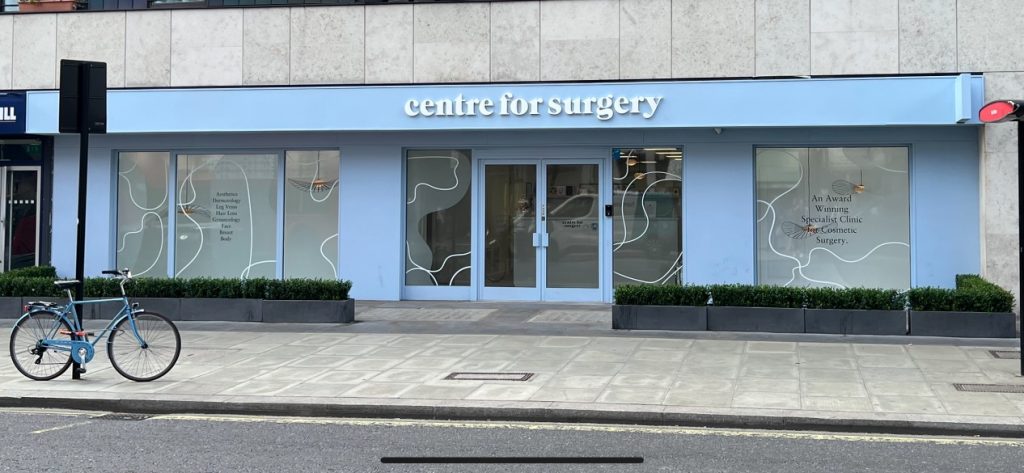 [wpseo_map id="9814″ width="750″ height="300″ zoom="15″ map_style="roadmap" scrollable="1″ draggable="1″ show_route="0″ show_state="0″ show_url="1″ show_email="1″ default_show_infowindow="1″ show_phone="1″ show_phone_2="0″ show_fax="0″]
[trustindex no-registration=google]