Neck lift procedure in London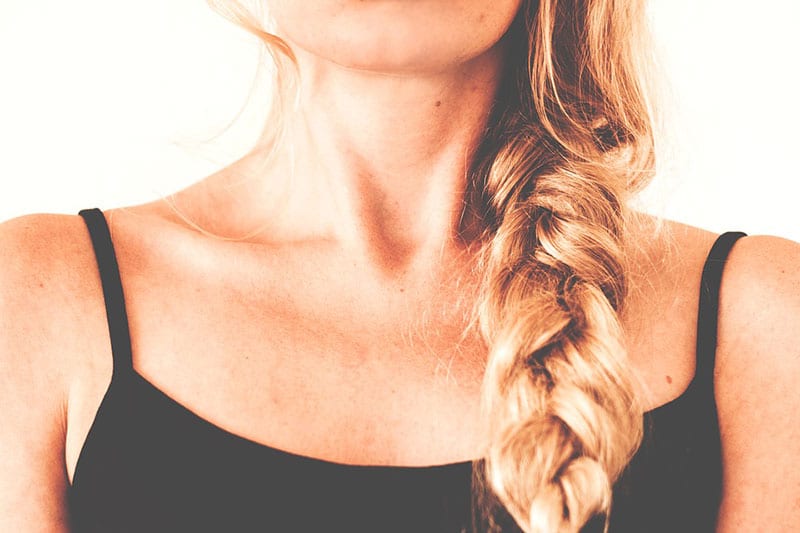 Neck lift surgery is ideal for those who wish to restore an aesthetically pleasing neck-chin angle. It is often combined with a facelift, though it can often be performed on its own if the problem resides only in the neck.
RELATED: Neck Lift FAQs – Q&As about Neck Lift Surgery
Patients who seek facial rejuvenation are often more concerned about physical changes in the neck than changes in the jowl or nasolabial folds.
One of the first places that will show signs of ageing is the neck. The skin begins to lose elasticity, causing the jowls to droop. This can also occur as a result of massive weight loss. This can often cause people to appear older than they actually are and begin to dislike their appearance. Fortunately, a neck lift can help to restore your youthful appearance.
What can a neck lift address?
Redundant loose skin in the lower face area leads to the appearance of jowls
Localised subcutaneous fat deposits in the chin and neck
Excessive loose skin on the neck
Prominent vertical muscle bands in the neck
Centre for Surgery specialises in the minimally invasive trampoline neck lift.
What is included in my facelift treatment package?
As many preoperative consultations with your surgeon as you like to make sure the procedure is right for you
Treatment at a specialist day surgery facility recently rated 'Good' by the CQC
Enhanced same day discharge with the added benefits of recovering in your own home
24/7 clinical support from your surgeon for the first 48 hours and our expert postoperative support team
Your very own dedicated patient coordinator
In-depth preoperative medical assessment to make sure you are fully fit for the rhinoplasty procedure
Exceptionally high standards of postoperative care described as 'outstanding' by the CQC with regular telephone and face-to-face checks by our expert postoperative support team.
Why choose Centre for Surgery for your neck lift ?
Over 10 years experience with all types of facial rejuvenation surgery – traditional necklift, trampoline necklift and FaceTite + Morpheus8
We regularly treat patients who travel from overseas to our London Marylebone cosmetic surgery clinic
Our surgeons are UK trained NHS consultant plastic surgeons who live and work in London. We don't work with 'fly-in, fly-out' surgeons. This is very important because whilst your surgeon takes all precautions to minimise facelift complications, complications can and do occur and our surgeons are readily available to manage any issues if and when they arise.
We own and manage our own surgical facilities. Properly performed neck lift procedures takes time (often 3-4 hours for a comprehensive facelift) and should not be rushed. Our surgeons performs a maximum of two necklift procedures in a day. We do not cram 3-4 procedures into one day like other providers. You want your surgeon to be well-rested and mentally and physically sharp to perform facelift surgery which is a very complex procedure to get the very best results.
Our clinic at 106 Crawford Street, Marylebone in London was recently inspected and rated as good across all 5 domains.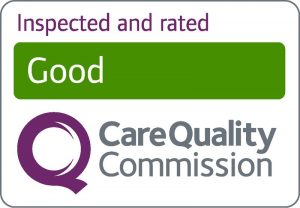 London Neck lift surgeons
Trust a facial plastic surgeon
A facial plastic surgeon is trained to undertake aesthetic surgical procedures in the facial region. They are dedicated sub-specialists in all aspects of cosmetic surgery of the face. Compared with general plastic surgeons, facial plastic surgeons are inherently better trained to perform delicate facial procedures. The extra years of surgical training by facial specialists focused on the facial region results in an exceptionally high degree of skill.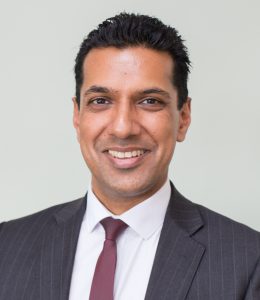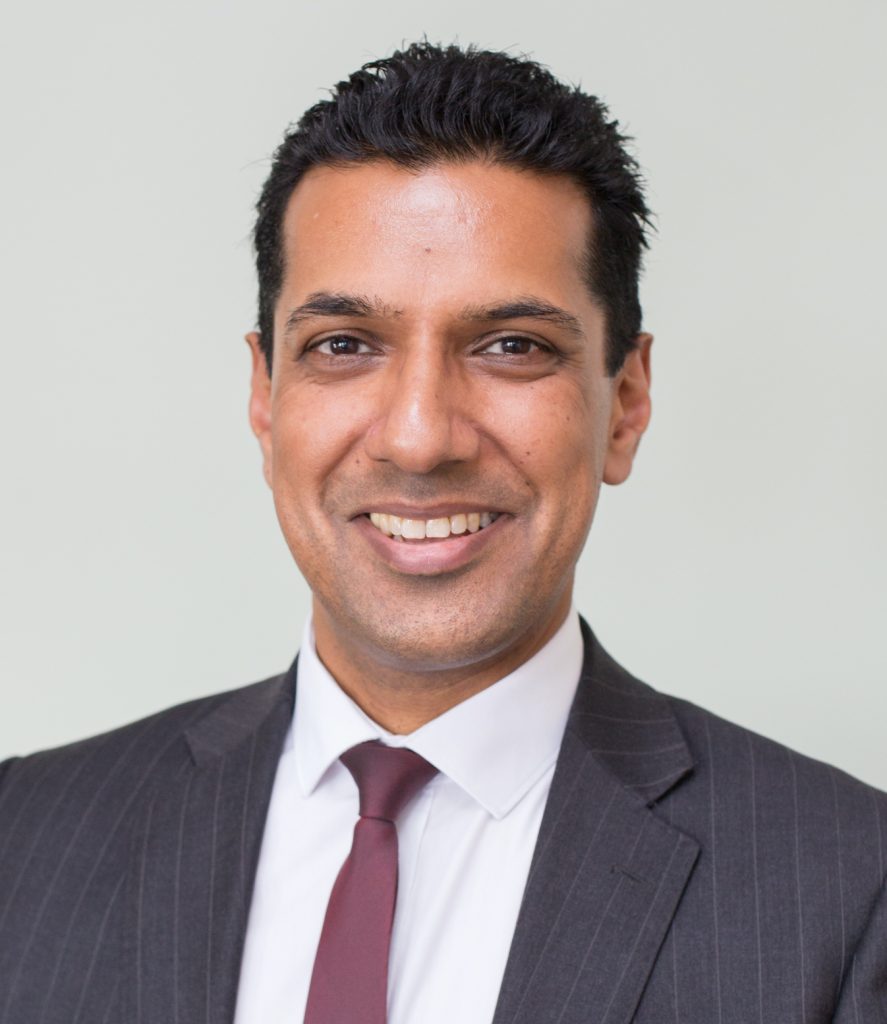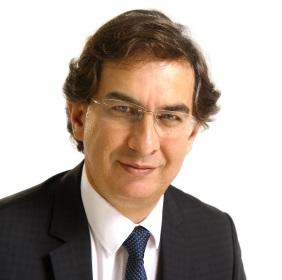 RealSelf Top Doctors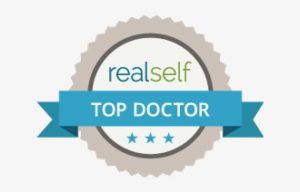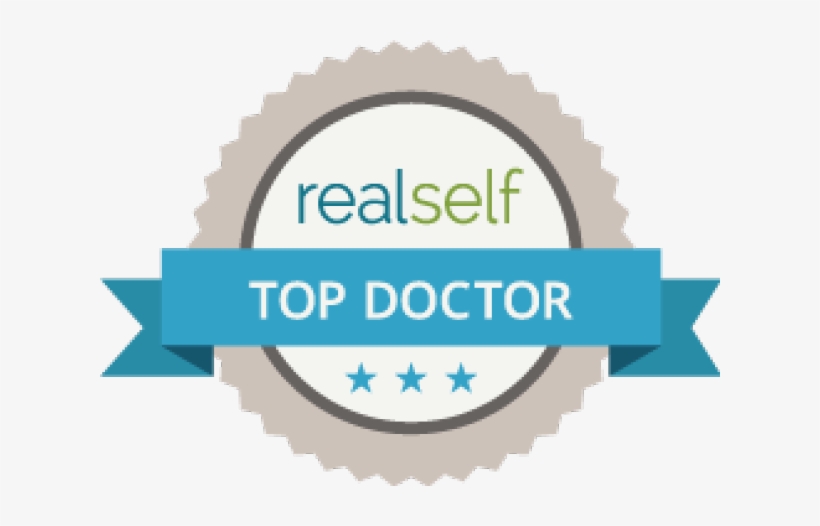 RealSelf top doctor status is awarded to less than 10% of the RealSelf doctor community.  This status is earned by achieving consistently high patient satisfaction (from RealSelf reviews), getting excellent feedback on expert answers to patient questions, and after investing significant time in Q&A and other doctor activity. RealSelf top doctors are rated among the very best surgeons in the United Kingdom and USA.
Our surgeons are full members of: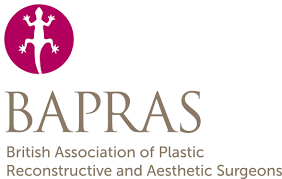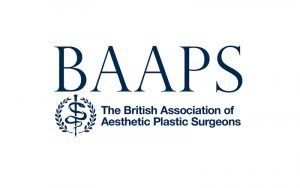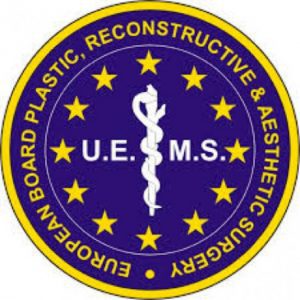 Why have a neck lift?
With the ageing process, the skin elasticity naturally decreases and this can lead to a loss of the defined contours of the face and neck. The ageing process affecting the face and neck can be affected by both intrinsic factors and extrinsic factors. Intrinsic factors include genetics and extrinsic factors include environmental factors such as smoking, excessive sunlight exposure and use of tanning beds. Once the skin has developed laxity, it tends to progress with time often under the influence of gravity. Healthy interventions such as eating a good diet and exercising do not improve the skin looseness. A surgical neck lift is a definitive treatment to address excess skin and fat of the lower face and neck.
A neck lift could be ideal for you if:
You might consider a Neck lift if you want:
You desire increased definition and contour to the neck and chin
You would like the skin to appear smoother and firmer
You would like to be rid of excess loose skin of the neck also known as a 'Turkey neck'
You would like to reduce the appearance of a double chin or jowling of the lower face
You would like a more defined angle between the neck and chin
You want to improve the appearance of the lower face and neck
Some questions to ask at your neck lift consultation
Am I an ideal candidate for neck lift surgery?
Is it possible to attain the results in line with my expectations?
What can I do to achieve ideal results following the neck lift procedure?
Do you have before and after photos of patients who undergone similar neck lift procedures?
What can I expect in the recovery period after a neck lift?
What scars are created from neck lift surgery and where will they be located?
Will I experience pain after neck lift surgery?
How soon can I return to work after a neck lift?
Things to consider before having neck lift surgery
We believe that the best outcomes after neck lift surgery happen when patients make the right choice of clinic and surgeon.
1. In deciding on the right clinic for you, always  carry out extensive research and choose a well established and reputable clinic. Centre for Surgery are specialists in neck lift surgery and have been established for many years. Our patient coordinators and surgeons are here to answer any questions you may have to empower you with the right information.
2. Your choice of surgeon should be based on their qualifications, experience and having a record of good patient feedbacks. You should know who you will be seeing before your consultation. At Centre for surgery, our plastic & cosmetic surgeons are specially selected after a rigorous appointments process to ensure they have the right skill set to perform neck lift surgery.
3. When choosing to have a cosmetic surgery procedure, you should not base your decision on price alone. It is important to make sure you are having treatment in a safe and regulated environment by staff who are both full trained and caring to look after your needs – before, during and after your procedure.
4. Avoid clinics who offer a 'hard-sell'. If something sounds too good to be true, it probably is. Ask the surgeon what techniques will be used. Surgeons at Centre for Surgery perform all types of neck lift surgery including complex reconstructive surgery.
We believe patient safety and happy satisfied patients are the bedrock of our reputation as an ethical provider of cosmetic surgery. Our doctors are known for giving straightforward honest advice and you can be assured that your journey with Centre for Surgery will be a positive experience on the path to renewed self-confidence.
Read testimonials from our amazing patients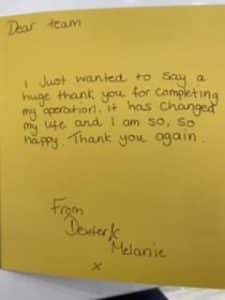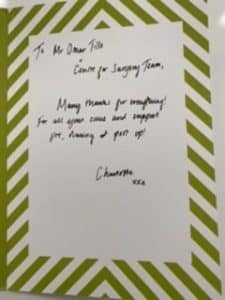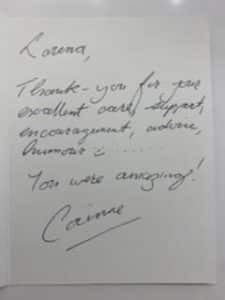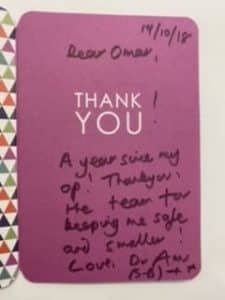 I just want to say thank you so much to all working in the London Centre for Surgery for your kindness and support throughout the process that lead to my final operation. You even went the extra mile and booked my garment in emergency the day before the op, when we learnt that the one I found initially was unsuitable. A special thank you to my Patient Coordinator, Yasmin, for her friendship and constant availability. I was very nervous, but Yasmin supported me emotionally and, when uncertain, she liaised with the doctors to answer my every single doubt (and with the admin team for my late payments too). Five stars from me x
Necklift as a part of facial rejuvenation
Factors such as massive weight loss or simply naturally ageing can cause the neck and jaw to change appearance and lose skin elasticity. This can cause you to have excess skin on the neck, or feel as if your neck is too thick or heavy.
A neck lift aims to reshape your neck and jaw, removing any drooping, sagging skin and making you appear younger.
If you are wishing to have a full facial rejuvenation, you may also wish to undertake other surgeries at the same time as a neck lift, including FaceTite, facelift, brow lift, blepharoplasty or cheek augmentation.
Trampoline necklift
Surgeons at Centre for Surgery in London are pleased to be using a fantastic new concept in necklifting that is able to replicate the results from a traditional necklift but without any of the scars, risks or downtime of traditional neck lift surgery.
The trampoline necklift is a minimally invasive method to recreate aesthetically pleasing contours at the junction of the face and neck. It can often be combined with a short scar facelift if there are concurrent signs of facial aging including jowls and midface descent. The first step is always submental or neck liposuction to reduce fat deposits and loosen the skin from its underlying attachments to facilitate accurate placement of the specialised sutures used during the trampoline neck lift part of the procedure.
Now we have gone a step further and combined the FaceTite skin tightening procedure with the trampoline necklift for an even more amazing transformation.
The 3-in-1 method used at Centre for Surgery uses a combination of the following:
Submental liposuction
Facetite + Morpheus8
Trampoline necklift
The procedure can be performed under a local anaesthetic or TIVA anaesthesia.
Ideal Neck lift Candidates
You will be a suitable candidate for a neck lift if you:
Have excess or saggy skin on the neck or jawline which you are wanting to remove

Dislike the appearance of your neck and are wishing to improve it

Have reasonable expectations about what the neck lift can achieve
If you have excess fat in the neck that you wish to remove, you may be a better candidate for neck liposuction. This is generally a better option for younger patients who have good skin elasticity. A neck lift will be able to remove the excess skin but will not remove excess fat. If necessary, a neck lift can be combined with liposuction to remove excess fat and excess skin.
Prior to undergoing a neck lift, you will attend a consultation with one of our surgeons, who will determine your eligibility for a neck lift, or whether you are better suited for neck liposuction.
The necklift procedure
Neck lift surgery is performed under TIVA general anaesthesia as a day case. This means you can recover in the comfort of your own home later the same day. The procedure takes on average about 1 to 2 hours to perform depending on the amount of skin and fat excess to be removed. A neck lift differs from a facelift in that it does not address the lower face. In neck lift surgery, the skin and the underlying muscle of the neck, the plates are repositioned so that the line of traction is upwards and backwards. The excess skin that results is then carefully trimmed. The first part of a neck lift procedure involves the use of liposuction to both remove fat deposits but also to gently lift the skin off its underlying attachments so that the subsequent surgical removal of skin is much more effective. Neck lift surgery at Centre for surgery is very commonly combined with fat transfer to the face to address volume loss in the mid and upper face.
A neck lift can be performed as an isolated treatment but is often more commonly combined with a facelift procedure for a more comprehensive facial rejuvenation. At your consultation with the surgeon, the treatment options will be discussed based on  a clinical assessment and your expectations for treatment.
Type of surgical neck lift
The two main methods for performing a neck lift are the skin-only technique and the muscle-tightening technique or platysmaplasty.
Skin only technique – this method is targeted at the removal of redundant skin without tightening the underlying muscle and produces less dramatic treatment effects. The surgeon will undermine the skin to release it from underlying structures before surgically removing the excess skin and redrape the tightened skein over the neck. This can give rise to a smoother contour of the neck. It is an older technique and the results are thought to last 5 years or less.
Muscle tightening technique – this method also known as a platysmplasty involves tightening the platysma muscle of the neck in addition to the steps for the skin only technique. Once the muscle is surgically tightened, the overlying skin is redraped and skin is closed. The incisions for a surgical neck lift are situated both under the chin and behind the ear. The muscle tightening technique also address the vertical platysmal bands leading to a smoother contour.
There are a number of methods for performing a neck lift. There is the traditional method as described above, as well as a method known as FaceTite and the more recent trampoline neck lift.
FaceTite
FaceTite involves the use of radiofrequency technology which works to tighten the skin of the target area; in this case, the neck and lower face to target loose crepey neck skin and the jawline and jowls. Tiny incisions are made just below the centre of the jaw and either side of the jaw. This allows for the RF handpiece to be inserted beneath the skin. Controlled RF energy is then deployed which works on the regeneration of new collagen and elastin thus aiding in skin contraction. FaceTite is combined with Morpheus8 RF microneedling for a comprehensive skin tightening effect. FaceTite achieves 'inside-out' skin contraction while Morpheus8 achieves 'outside-in' skin contraction. Both technologies acting together achieve a skin tightening 'sandwich effect'. A degree of contraction of the skin can be visible immediately after surgery, and gradually continues to improve further over the next 3-6 months. This procedure will take around 1.5-2 hours to complete and can be done with either a local anaesthetic or TIVA anaesthesia..
Trampoline neck lift
The trampoline neck lift procedure takes approximately hour to perform. The surgeon will create a series of tiny hole across the jawline and neck. Next, a specially designed surgical suture is weaved through the holes guided by a unique fibre optic light to ensure correct depth and are tightened together to bring the loose skin around the neck and chin. No skin is surgically removed in this procedure. The tightening of the skin is compared to the stretching of a trampoline, hence why it it named the trampoline neck lift. There are many benefits to the trampoline neck lift including a short recovery time which enables return to work after 1-2 days and you will be able to return home from the procedure the same day. The effects you may experience after the procedure minimal slight swelling and bruising for the first couple of weeks and the skin may feel tight and numb for a week or two also.
Neck lift before and after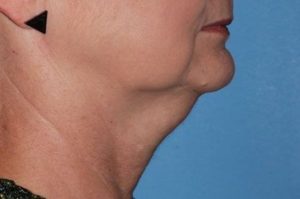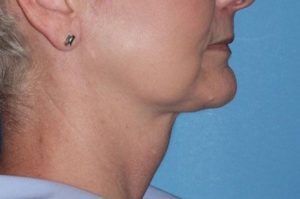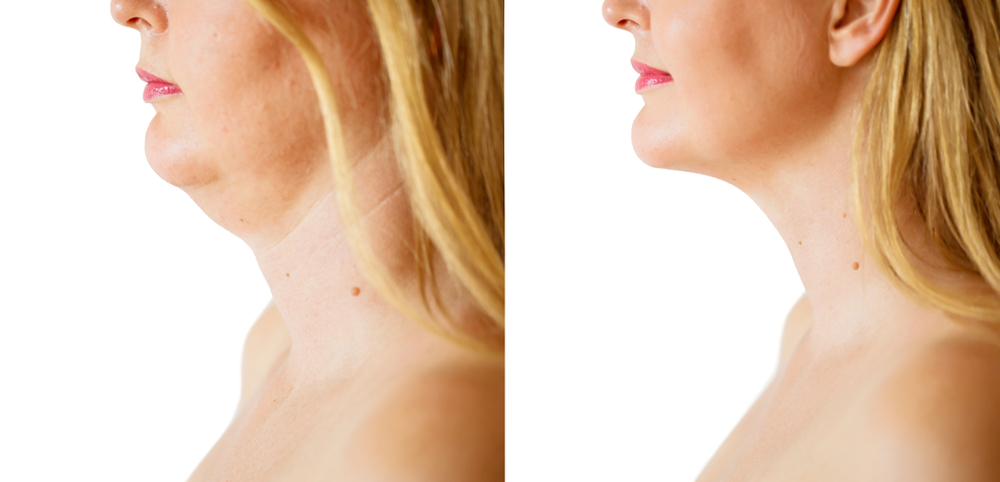 The neck lift recovery process
You will be able to return home on the same day as the procedure was completed.
You will experience some minor pain, discomfort, bruising and swelling, which should settle within a few days. You will be given medication which will help to alleviate any symptoms. You may also wish to apply an ice pack to the neck to help reduce swelling. During this period you may wish to ensure you have another responsible adult to keep you company, as you may experience difficulty moving around.
You will need to wear a compression garment, which will help to reduce swelling and keep the neck in shape. This will need to be worn day and night for one week.
You may need to take up to two weeks off work.
You will have to avoid any physical activity for four to six weeks.
The recovery period will be longer if you have combined a neck lift with liposuction or other facial procedures.
What To Expect
The consultation
We always recommend a face to face consultation with one our specialist plastic surgeons as a first step in your journey towards facial rejuvenation. When you meet with one of our surgeons, your surgeon will take time to listen carefully to what you hope to achieve from the neck lift procedure and give you an expert opinion on what can and cannot be achieved after performing a thorough physical examination. Your surgeon may use computerised digital imaging to map the structure of the face and neck in detail to give you an idea of what your face and neck could look like after your procedure.
Your surgeon will also take a number of measurements as part of a detailed facial analysis. Finally high resolution photographs are taken in a number of views. Your surgeon will also discuss with you the potential risks and complications of neck lift surgery and what to expect in the postoperative phase during your healing and recovery. It is important to know what medicines you taking as some medicines can interfere with blood clotting and may need to be stopped. Any history of medical conditions or previous surgery will also be recorded and all the compiled information is used to make a decision on your medical fitness for the neck lift procedure. After a recommended two week "cool off" period and provided you are appropriate for the procedure, you can then make an informed decision on whether you would like to proceed with the neck lift procedure. If you are unsure on any aspect of the neck lift procedure and what it entails then we would invite you to return for as many follow-up consultations with your surgeon as you like to make sure that surgery is right for you. The consultation lasts about 45 minutes on average. It may take longer if your procedure is going to be more complex or is a revision procedure. We would actively recommend coming in for a follow-up consultation to ensure all your questions are answered.
Before your neck lift procedure
Once you have decided to move forward with neck lift surgery. Our preoperative assessment team will be in touch to assess medical fitness prior to coming in on the day of surgery.

There are a number of instructions to follow before your procedure including stopping any aspirin-containing medicines as these can increase bleeding and ideally stopping smoking. Smokers have a higher risk of slower wound healing as well as more chance of wound complications. On the day of your procedure, you must follow the preoperative fasting guidance which includes no food for 6 hours prior. Only clear fluids (water) is allowed up to 2 hours before your procedure. If you have neck lift surgery under local anaesthetic only, there is no need to fast beforehand.
On the day of your neck lift procedure
When you arrive for your neck lift procedure, you should aim to arrive on time to allow the admission process to proceed smoothly. One of our admission nurses will formally admit you and will check a number of items including making sure you collected your postoperative medications. You will have your vital signs measured including blood pressure and heart rate. The anaesthetist will then meet you to perform a preoperative airway assessment and check your medical history. Finally, your surgeon will see you and obtain consent for the planned procedure followed by a detailed preoperative marking of the areas to be treated. Photography may be taken at this point.

Neck lift surgery takes about 2-3 hours to perform and is commonly combined with facelift surgery. If you choose a general anaesthetic, our anaesthetists use TIVA general anaesthesia to keep you comfortable throughout the procedure. Depending on the type of neck lift procedure, the surgeon makes small incisions behind the ear followed by separation of the neck skin from the underlying platysma muscle. An incision just below the skin may also be performed to perform the plastymaplasty component of the procedure. The SMAS layer is tightened followed by trimming of the redundant skin folds and the skin is carefully closed. This procedure is repeated on the other side also. Neck liposuction may also be performed to remove excess fat from the neck and chin. After the procedure is complete, you will spend time in our dedicated recovery suite where you will be prepared for nurse-led discharge once you have met all the discharge criteria. It is important to have a responsible adult such as a friend or family member to accompany you home and to look after you for the first 24 hours.
After your neck lift procedure
Once you are safely at home, you can be assured of having access to our specialist postoperative clinical support team around the clock. You will be given an emergency contact number to contact your surgeon in the first 24 hours after surgery if there is any concern. Neck lift surgery is associated with very little in the way of postoperative discomfort although a bruised and swollen appearance is common for the first week after surgery. Bruising should start to subside after 7-10 days. You should avoid intense sunlight after the procedure to reduce the risk of hyperpigmentation changes. You should wear the postoperative support garment continuously for the first 2 weeks after the procedure to the skin to redrape effectively. Our postoperative team will be in regular contact for the first 2 weeks after your procedure. This is so we can monitor your levels of comfort and can alert your surgeon if there is any concern. Our proactive approach allows the detection of any potential issues early which results in more effective treatment. You are advised to rest for at least a few days after your neck lift procedure which will also help with pain control. Heavy exercise should be avoided for at least the first 4 weeks. Our postoperative clinical team will assess you face to face at your 1-week post-operative appointment to ensure healing is progressing normally and the site of the surgery is healthy. Your sutures will be removed if your surgeon used non-absorbable sutures. You will be booked for your surgeon follow-up appointment for 6 weeks after your procedure.