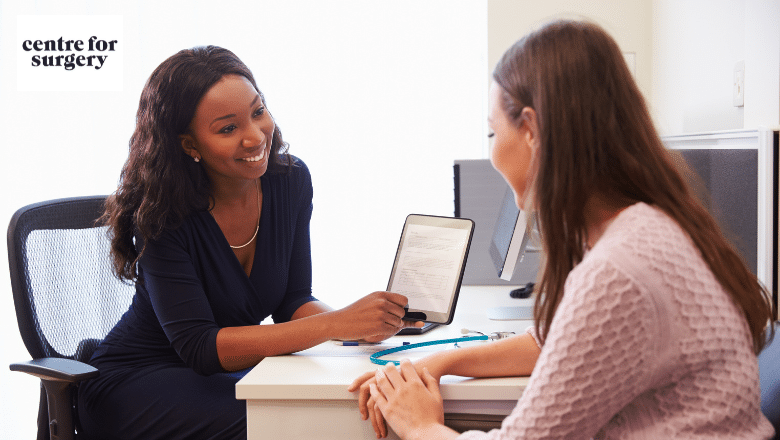 So you've been giving it a great deal of thought, and you have now decided to book your consultation for a cosmetic surgery procedure. This can be a very exciting time as you make your first steps towards a new, transformed you. It is quite normal to feel somewhat nervous, perhaps even overwhelmed by the sheer amount of information out there and what questions to ask at your consultation with your surgeon.
At Centre for Surgery, our patient care coordinators are always on hand to allay any anxieties you may have and to guide you through all steps of your patient journey. We often find that patients get the best outcomes when they are well-equipped with all the information they need to make a fully informed decision on a cosmetic surgery procedure. Given this, we thought it would be helpful to give you some idea of questions which you could ask at your consultation with your surgeon.
Read Our Plastic Surgery Beginners Guides
Why do we not offer free consultations?
Free cosmetic surgery consultations may seem like a good deal, but they can also be a source of danger. One potential danger is that the consultation may be used as a sales pitch to pressure patients into undergoing procedures they may not need or want. Additionally, some practitioners may use free consultations as a way to attract patients who are not good candidates for the procedures they are offering. This can lead to poor outcomes and complications. Furthermore, some practitioners may not be fully qualified or experienced, putting the patient at risk of harm. It is important to thoroughly research and carefully consider any potential surgeon or practitioner before undergoing any cosmetic procedure.
Experience of the surgeon
Although many people may well have made up their minds on their choice of surgeon at the first consultation, the purpose of the first encounter with your surgeon is all about getting to know your cosmetic surgeon and making sure you are 100% assured of their qualifications and experience. Sometimes that first consultation with the surgeon can become quite a daunting experience. In most cases, you can be reassured by having your own patient care coordinator with you in the consultation. We would always recommend never to be shy in asking whatever questions you feel would be helpful to help you learn more about the procedure. We always believe there is no such thing as a silly question. You could ask the surgeon what their experience is in performing the procedure you're interested in and also how many they have performed.
Many surgeons at Centre for Surgery have a sub-specialist interest in a particular area. For example, some surgeons specialise in facial plastic surgery, including rhinoplasty. Other surgeons may specialise in breast and body contouring surgery which includes breast augmentation, liposuction and tummy tuck. So you choose a surgeon who has specialist expertise in the treatment you would like to have.
How to choose the best plastic surgeon in London
Choosing the best plastic surgeon in London requires a bit of research and due diligence. Here are some steps you can take to ensure that you find a qualified and experienced surgeon who is best suited to your needs:
Start by researching the different types of plastic surgery procedures that are available. This will give you an idea of what you are looking for in a surgeon and what qualifications and experience they should have.
Look for a surgeon who is certified by the General Medical Council (GMC) and is a member of the British Association of Plastic Reconstructive and Aesthetic Surgeons (BAPRAS) or the British Association of Aesthetic Plastic Surgeons (BAAPS). These organizations have strict criteria for membership and only accept surgeons who have demonstrated a high level of expertise and skill.
Check if the surgeon has specialist accreditation in plastic surgery. This will ensure that they have completed additional training and have a higher level of expertise in the specific area of plastic surgery you are interested in.
Look at before and after photos of the surgeon's past patients to get an idea of their work and the results they have achieved.
Read reviews from past patients to get an idea of their experience with the surgeon, the surgery and the results.
Schedule a consultation with the surgeon to discuss your goals and concerns, and to see if you feel comfortable with the surgeon and if they are willing to listen to your concerns and address them.
Ask about their experience performing the procedure you are interested in. Also, ask about the complications and risks associated with the procedure and how the surgeon will manage them.
Ensure the surgeon has all the necessary licenses, certifications and insurance coverage.
Finally, trust your instincts and choose a surgeon that you feel comfortable with and who you believe will provide you with the best results possible.
It is important to remember that plastic surgery is a serious decision and should not be taken lightly. It is important to thoroughly research your options and choose a qualified and experienced surgeon who will provide you with the best results possible.
Before and after photographs
We have a wide variety of before and after photos of many types of cosmetic surgery procedures on our website. We are very thankful for the patients who have given consent to allow the publication of their images. However, these are only a small selection of before and after photos, and your surgeon will have many more to show you at your consultation. The purpose of viewing before and after photos is to give you a broader idea of what your final result could potentially be and also to help to establish realistic expectations, as every patient is different.
Most of our surgeons will often have a large online library of before and after photos of a particular procedure which you can view on their laptop at your consultation, particularly those surgeons who are sub-specialists in a particular type of procedure, such as rhinoplasty. Your surgeon will be more than happy to answer any questions you might have, and viewing different before and after photos can help you learn better about how different surgical approaches may result in different outcomes, and this will help you make a more informed decision on what may work best for you.
Safety in cosmetic surgery
Patient safety comes first in everything we do, and it is important to know that you are in the very best hands when you choose to have your procedure with us. Centre for Surgery is regulated by the care quality commission and has a robust clinical governance framework for optimising safety and effectiveness in everything we do. Examples of questions you can ask about safety in cosmetic surgery include: who will carry out my anaesthesia, and where will my procedure be carried out?
What to expect on the day of surgery
It is essential to have a clear idea of what to expect on the day of your surgical procedure, and this is where our clinical support team will get involved to ensure you are as fully prepared as possible to make this a special day for you. You could ask what your surgeon's plan will be for the procedure, how you can best prepare for the surgery as well as what to expect in the recovery period. It's completely normal to feel a bit apprehensive as the day of surgery gets closer. Still, we also want all our patients to feel very confident knowing what all the steps are – before, during and after their procedure.
Other key questions to ask
Cosmetic surgery is not covered by private health insurance, and there may therefore be several additional costs which may need to be factored in when carrying out your financial planning for plastic surgery. Your surgeon or anaesthetist may request certain blood tests and/or an ECG. You may also need to collect a private prescription for antibiotics and painkillers, postsurgical garments, as well as any scar therapy products such as silicone strips or gel. Getting certainty over all the potential costs can then help you to plan and budget effectively for your surgery. Read more about finance for cosmetic surgery here.
The time needed off work
Most procedures will often require a short period of downtime, and this will necessitate time away from work to help with recovery. Patients will want to plan effectively for the surgery and recovery period, and it is essential to know how much time you need off work. This will depend on the type of procedure you're having as well as what your occupation is. Patients having more major procedures such as abdominoplasty and are in a physical type of work may require a longer period of time off compared with other office-based occupations. Your surgeon may also recommend a number of things to avoid in the recovery period, such as strenuous exercise and lifting heavy objects, and it is important to know how long these restrictions need to be in place.
Smoking and/or drinking alcohol
It is important to bear in mind that smoking and alcohol can potentially have an adverse impact on healing. All surgeons have their own detailed pre-and postoperative protocols, which you need to follow in full to make sure you have a smooth and uncomplicated recovery to enable you to get the very best results from surgery.
Our surgeons commonly get asked about smoking and alcohol pre-and post-surgery. At Centre for Surgery, we recommend, as a minimum, that patients stop smoking (including cannabis) for four weeks beforehand and to continue this for four weeks after surgery. Smoking affects wound healing by acting on your red blood cells and reducing the amount of oxygen they can effectively carry, leading to slow healing and, in some cases, tissue necrosis or death of healing tissue during the recovery phase. Alcohol should also be stopped a few days before surgery to avoid interference with anaesthetic drugs that will be administered during your procedure.
Social support from friends or relatives
For virtually all surgical procedures, the answer to this question is usually yes. All patients should arrange for a responsible adult escort to collect them on the day of the procedure and look after them for at least the first 24 to 48 hours after their surgery. For some procedures, your surgeon may recommend a longer period of social support, such as a tummy tuck procedure, and this can be up to a week in some cases. Your escort needs to be over the age of 18 and be of a responsible nature. You must not travel home via public transport and must plan for either a car or a taxi. Your caregiver will also need to be present when you are ready for discharge so that the post-operative nurse can give both verbal and written instructions to them to enable them to look after you overnight. It is not required for your caregiver to have nursing experience. Having a responsible friend or family member is absolutely fine.
Pain management after surgery
One of the most popular questions which patients ask at consultation is what to expect in terms of pain or discomfort after their surgery. If you are worried or concerned about what to expect in terms of potential discomfort and this is an excellent question to ask your surgeon at your consultation. You can be reassured by the fact that you will be given a prescription for painkiller medicines which you should collect before the day of your procedure. Some strong painkiller medicines, such as opiates, may cause nausea or constipation, and your surgeon may also prescribe medicines to treat the side effects of these types of painkillers to make you as comfortable as possible. You will be given detailed instructions both by your surgeon and anaesthetist as well as the pharmacist, where you collect your prescription on how to take the medicines and optimal timing of administration for minimising any post-operative discomfort.
Final results of cosmetic surgery
Every patient will want to know when they can expect to see the final results from their surgical procedure and when all the bruising and swelling can be expected to resolve completely.
The answer to this question will depend on what type of surgical procedure you have had, although despite early results being visible quite early on or within the 4 to 6-week period after surgery when swelling has settled down, it may take up to 1 year for certain procedures such as rhinoplasty to see the final results. Generally, in most cases, particularly in breast and body procedures, patients can expect to see their final results at the 3 to the 6-month mark.
Things to watch out for during the consultation
Price negotiations
Only fully credentialled plastic surgeons work at Centre for Surgery, and every surgeon has a different fee structure which takes into account a number of different medical costs that are part of each procedure. This includes the anaesthesia cost, specialised surgical items such as implants and nursing costs. Procedure fees may also cover your pre-and post-operative care as well as your regular postoperative follow-up appointments.
Given the large number of different costs involved in the total price of the procedure to ensure that your surgery is as safe and effective as possible and that your recovery period is supervised effectively by our post-operative team, the costs involved with surgery should not be negotiable. Patients who negotiate on price with the surgeon may find that they are potentially cutting on costs that are integral to a safely carried out procedure. Sadly this is often the case with cosmetic surgery tourism in countries such as Turkey, where regulatory standards do not meet the exacting requirements to be found in the UK.
Social media influencers
The practice of plastic surgery in the UK is rightfully highly regulated, and the use of 'two-for-one' deals and other similar offers is banned. Some surgeons may offer a lower price on your surgical procedure in return for you posting your experience or photos on social media. At Centre for Surgery, we think this is a huge red flag which should be avoided in all cases. This practice should be viewed as a warning sign that putting your safety first and striving to get the best result for you is not the top priority for your surgeon, who is placing greater value on increasing his or her popularity and having a large social media following.
Who will you meet at your cosmetic surgery consultation?
All patients should be clear that not seeing their surgeon at the consultation should be seen as a very worrying feature. At Centre for Surgery, you will always meet with your surgeon to carry out your procedure, and they are assisted by your patient care coordinator. Other practices may book you in to see only a patient care coordinator, and in our view, this is not an ethical practice where you may only ever meet your surgeon for the first time on the day of your surgery.
Book a consultation with an expert plastic surgeon at Centre for Surgery
We are proud to offer in-depth cosmetic surgery consultations at Centre for Surgery so that you have complete freedom to ask all the questions you need to get a full and complete understanding of a potential surgery before making any financial commitment. We believe that patients should never feel under any pressure to decide before they are anything less than 100% ready and that they know what to expect from the surgery that they are interested in having.