Anti-Sweat Treatment in London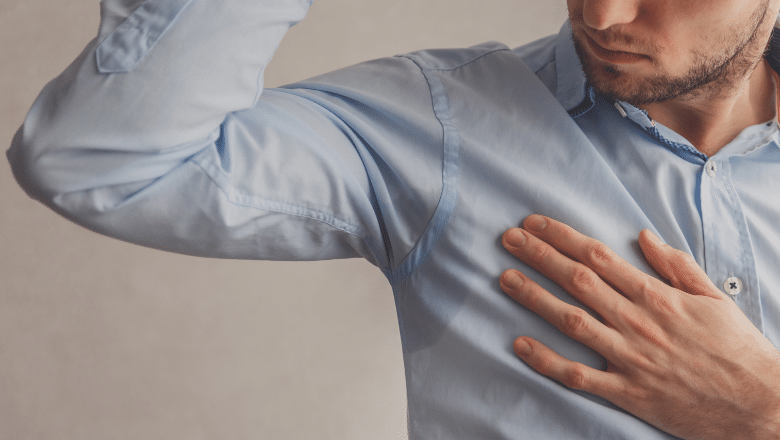 Anti-Sweat Injections – Muscle relaxant injections for hyperhidrosis – sweaty armpits, feet or palms
Excessive sweating, also known as hyperhidrosis, can cause significant discomfort and embarrassment for both men and women. It can affect various parts of the body, including the armpits, feet, and palms. If you're struggling with this condition, you'll be pleased to know that there is an effective anti-sweat treatment available – muscle relaxant injections. These injections work by reducing sweat production, thereby helping to alleviate the symptoms of hyperhidrosis.
Centre for Surgery, a top-rated plastic surgery clinic in London, is renowned for providing a range of surgical and non-surgical cosmetic procedures, including anti-sweat treatments for hyperhidrosis. With a team of highly skilled specialist plastic surgeons, we offer personalised treatment plans to help our patients overcome their individual challenges.
When you choose Centre for Surgery, you can expect a comprehensive and thoughtful approach to your care. During your consultation, our experts will take the time to understand your concerns, discuss your options, and design a treatment plan tailored to your needs. Our goal is not just to deliver effective treatments, but also to ensure you feel comfortable, informed, and supported throughout your journey with us.
So, if you're looking for a reliable solution to your excessive sweating problem, consider Centre for Surgery. Let our team of specialists help you regain confidence and improve your quality of life.
What exactly is a muscle relaxant?
A muscle relaxant is a non-surgical treatment predominantly utilised in the realm of aesthetics for addressing wrinkles, though it has also proven incredibly effective for tackling excessive sweating or hyperhidrosis. The primary component of this treatment is a neurotoxin that temporarily disrupts the nerve signals responsible for stimulating sweat production, resulting in significantly reduced sweating. This is an efficacious remedy with minimal risk of side effects.
What conditions can instigate excessive sweating?
There are a myriad of factors that can stimulate the sweat glands to produce an excessive amount of sweat. Elements such as an elevated body temperature, emotional triggers, or hormonal fluctuations can activate the nerves responsible for sweat production. For example, a situation that induces anxiety could potentially trigger an episode of excessive sweating. This overactivity in response to such triggers leads to the condition known as hyperhidrosis. In the fight against this condition, the application of muscle relaxant treatments, such as those offered at Centre for Surgery in London, proves highly beneficial.
How do Muscle Relaxants Function?
Muscle relaxant injections utilise a neurotoxin capable of temporarily modifying the function of various neurotransmitters or blocking the signals they send from the nerves. These injections specifically target and block the nerve signals that stimulate sweat production in sweat glands, hence regulating excessive sweating with their application.
How Effective are Injectable Muscle Relaxants?
Injectable muscle relaxants have proven to be highly effective in treating hyperhidrosis, or excessive sweating. The U.S. Food and Drug Administration (FDA) has endorsed the use of these injectables for treating excessive underarm sweating, further underscoring their efficacy and safety profile.
Advantages of Muscle Relaxant Injections for Hyperhidrosis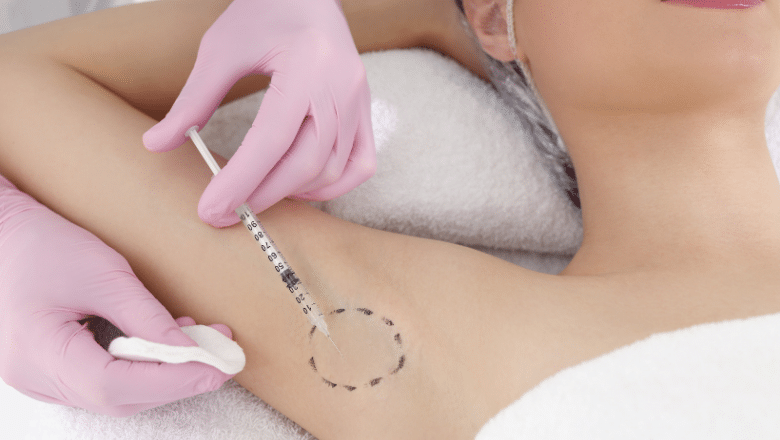 The use of injectable muscle relaxants for hyperhidrosis offers several advantages, which include:
Efficacy: The treatment works remarkably well in curbing sweat production, especially in the underarm area.
Duration of Effect: The results from a single treatment session can last anywhere between 3 to 6 months, after which the treatment would need to be repeated to maintain the effects.
Minimal Discomfort: Most patients report only a slight level of discomfort during the administration of the injectable anti-sweat treatment, making it quite a bearable process.
Low Risk: Being a non-surgical or non-invasive procedure, the treatment is associated with very few risks and complications.
No Downtime: This treatment does not necessitate any recovery period, enabling patients to resume their normal routines immediately after undergoing the procedure.
Which Precautions Are Necessary Before Treatment?
Your specialist at Centre for Surgery may provide you with certain guidelines to adhere to prior to your injectable muscle relaxant procedure. These may include:
Avoid Shaving Underarms
To prevent any irritation or potential complications, it's advisable to refrain from shaving your underarms for 2 to 3 days prior to the treatment.
Medication Considerations
If you're currently taking medications such as blood thinners, you may be advised to temporarily halt these a few days before your anti-sweat treatment. This precaution is to minimise the risk of extensive bruising on the skin. Always discuss this with your specialist before making any changes to your medication regime.
What other areas can be treated with injectable muscle relaxants?
Injectable muscle relaxants, while popularly known for their application in treating excessive sweating, have a wide range of other uses. Here are some of the other areas and conditions that can be addressed using these treatments:
Wrinkle Reduction: Forehead lines, crow's feet around the eyes, and frown lines between the eyebrows can all be smoothed out with these injections.
Migraine Relief: Some people find that muscle relaxant injections can help reduce the frequency and severity of their migraines.
Eyelid Spasm and Strabismus: Conditions like eyelid spasms and strabismus (crossed eyes) can be treated with muscle relaxant injections.
Overactive Bladder: In some cases, these injections can be used to treat an overactive bladder when other treatments have not been effective.
Neck Spasms: A condition called cervical dystonia, which causes painful spasms in the neck muscles, can be treated with muscle relaxant injections.
Remember, while these treatments are effective, it's crucial to discuss your medical history, expectations, and potential risks with a qualified professional at Centre for Surgery before undergoing any procedure.
The Anti-Sweat Treatment Procedure with Muscle Relaxant
The treatment for excessive sweating using muscle relaxants should be conducted by an expert injector. The procedure is straightforward and typically lasts less than 10 minutes. Most patients tolerate the procedure well without the need for local anaesthesia in the underarm region. However, if you do experience discomfort, our experienced practitioners can apply a topical anaesthetic before proceeding with the injections.
The treatment usually involves several injections, often forming a grid-like pattern over the treatment area. One of the advantages of this procedure is its lack of downtime, allowing you to resume your regular routine immediately after treatment.
Post-Treatment Care for Anti-Sweat Injections
Following the procedure, your specialist will guide you through a series of aftercare recommendations to maximise the longevity and effectiveness of the treatment.
Pain Relief
Applying ice or topical numbing agents to the treated area can help to alleviate any discomfort following the procedure.
Avoid Sun Exposure
Excessive sun exposure should be avoided to protect the treated area and to help the healing process.
Post-Treatment Deodorant Use
To prevent any potential complications, such as swelling, you should refrain from using deodorant on your underarms for several days after the treatment.
Limit Physical Activity
Any strenuous exercise or vigorous activities should be avoided for at least 2 to 3 days following the procedure. This precaution is in place to prevent the spreading of the neurotoxins to surrounding areas.
What Can You Expect Post-Treatment?
Typically, the effects of the treatment can be expected to last between 4 to 6 months. Adhering to the recommended aftercare routine can potentially prolong these results. To maintain the effects, the treatment should be repeated every six months.
Anti-Sweat Treatment Cost London – How Much Do Anti-Sweat Injections Cost in London?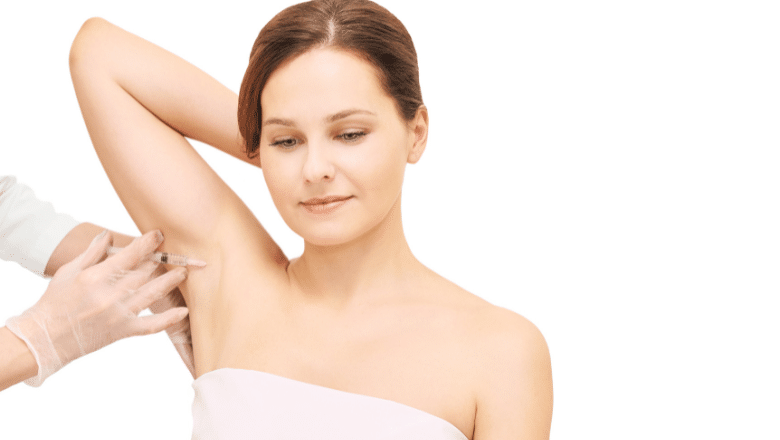 The cost of anti-sweat injections in London can vary depending on a number of factors, such as:
The reputation, qualifications, and experience level of your surgeon
What is included in the quote or price estimate
The quantity of substance required
The complexity of each individual case
For a personalised estimate and to schedule a consultation, don't hesitate to contact our team at Centre for Surgery. We're here to provide clear information and guide you on your journey towards improved comfort and confidence.
Why choose Centre for Surgery for underarm anti sweating injections?
Selecting Centre for Surgery for your underarm anti-sweat injections brings multiple advantages. Our practitioners are highly trained and experienced in performing these treatments, ensuring both safety and efficacy. We uphold an individualised approach, tailoring each treatment to the specific needs and goals of our patients.
Our commitment to patient care goes beyond the treatment itself. From the initial consultation to the follow-up appointments, our team is dedicated to providing a supportive and comfortable environment for each individual. We aim to deliver an experience that leaves our patients feeling reassured, respected and confident in their choice of provider.
Moreover, our state-of-the-art facilities and adherence to stringent safety protocols offer peace of mind to those choosing us for their treatments. Centre for Surgery prides itself on its reputation for delivering excellent outcomes, making us a preferred provider for anti-sweat injections in London.
Your Next Steps:
Research Thoroughly
Explore our website, delve into the Procedure Pages and Blogs that are pertinent to your planned procedure
Browse our extensive FAQs, including those on how to choose your surgeon
Learn about the potential risks and complications associated with your chosen surgery.
Download and thoroughly read our comprehensive Guides to Surgery
Prepare for Your Consultation with the Plastic Surgeon
Consider bringing a friend or family member to help discuss the information and your options
Take comprehensive notes and diligently read the provided documents
Dress in uncomplicated clothing as you might need to undress for a physical examination
Bring any necessary medical referral and any relevant medical documents or test results
Arrange Your Initial Surgery Consultation
Secure your consultation at our Baker Street clinic by paying the Cosmetic Consultation Fee
To book a consultation with a Specialist Plastic Surgeon or to converse with our Patient Care Advisor, please contact us.
You can email us or call on 0207 993 4849 to arrange your surgeon consultation appointment.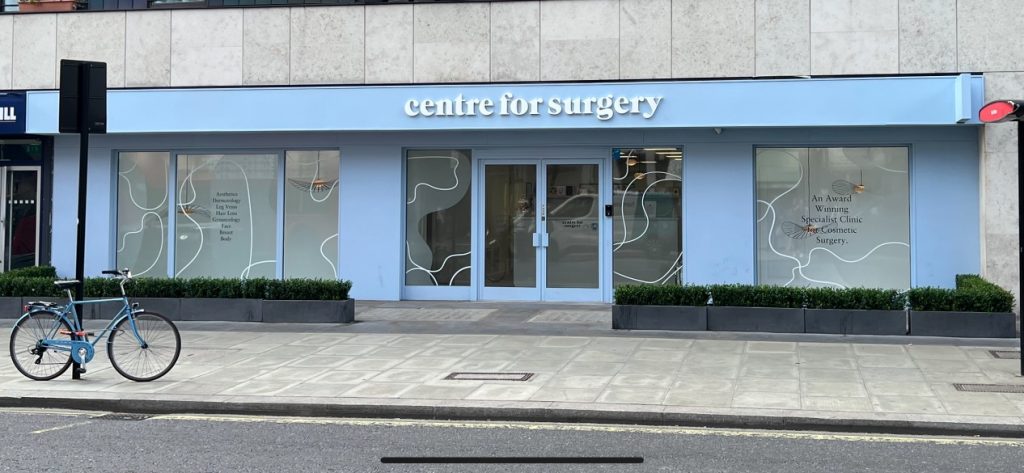 [wpseo_map id="9814″ width="750″ height="300″ zoom="15″ map_style="roadmap" scrollable="1″ draggable="1″ show_route="0″ show_state="0″ show_url="1″ show_email="1″ default_show_infowindow="1″ show_phone="1″ show_phone_2="0″ show_fax="0″]
[trustindex no-registration=google]