Male Neck Lift – Neck Rejuvenation for Men London & UK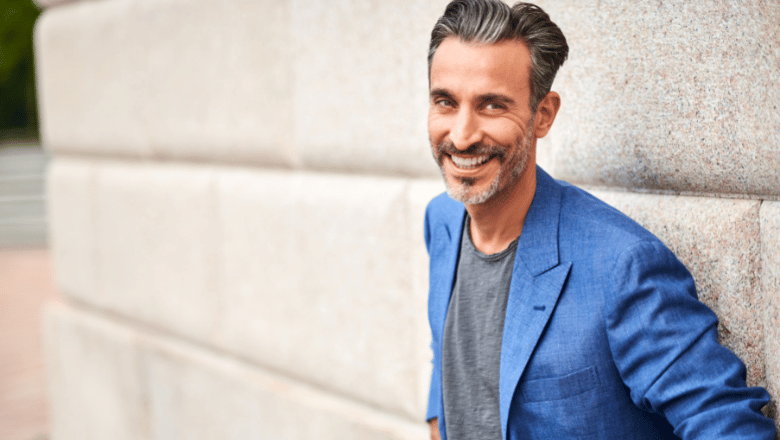 Male Neck Lift Surgery in London at Centre for Surgery for a younger looking face & neck
A male neck lift is designed to address signs of ageing affecting the neck in men. Neck rejuvenation for men can help to get rid of loose and sagging neck skin by tightening the neck muscles to produce a well-defined jawline with the elimination of saggy jowls. This procedure is commonly requested by men who would like to achieve a more masculine and youthful-looking lower face and neck.
RELATED: What is a non-surgical neck lift?
Male neck lift surgery is commonly combined with a lower facelift and allows men to regain their self-confidence for improved personal and professional relationships. Our facial plastic surgeons are renowned for producing natural-looking results using precision surgical techniques.
RELATED: What signs of ageing can a facelift and neck lift correct?
Benefits of male neck rejuvenation surgery
Signs of ageing affecting the neck can often make men look much older than they actually are and can quickly develop into the formation of a turkey neck or sagging jowls. Male neck lift surgery is designed to produce an enhanced jawline with tighter neck skin for a youthful appearance. Many men are bothered by the appearance of a turkey neck, and a neck lift can help eliminate both loose neck skin, wrinkles and vertical bands in the neck.
What areas can a neck lift target?
Get rid of excess sagging neck skin.
Reduce or eliminate excess fat in the chin and neck, which may be causing a double chin.
Tightening of the neck muscles to eliminate vertical bands.
A male neck lift can help to feel much more confident about how they look, and this can enhance their quality of life in both personal relationships and workplace performance.
RELATED: Solutions For Saggy Neck – Neck Liposuction vs Neck Lift
Am I suitable for male neck lift surgery?
What is the best age for a neck lift?
Most people who complain of sagging neck skin choose to have a neck lift between the age of 40 and 60. A consultation with a specialist surgeon at Centre for Surgery will help you determine if a male neck lift is right for you.
What conditions can a neck lift target?
A neck lift is the best procedure to get rid of sagging jowls and loose skin affecting the neck. Many patients may have tried non-surgical neck lift treatments without significant improvement.
Can I have a neck lift if I am overweight or obese?
We would recommend having a body mass index below 30 to minimise the risk of complications. Excess fat beneath the chin and neck may not allow the skin to be tightened sufficiently.
Can a neck lift be carried out on its own?
A neck lift can be carried out independently without having a facelift or mini facelift for those who have signs of ageing affecting the neck only.
Can men get rid of a turkey neck with a neck lift?
A neck lift is the most appropriate treatment to eliminate a turkey neck. Other non-invasive treatments can be useful to improve fine lines and wrinkles, such as Morpheus8 but cannot get rid of loose skin.
Male neck lift surgery procedure
A male neck lift is most commonly carried out using general anaesthesia and is performed as a day case at Centre for Surgery, which means you can go home later the same day.
The types of incisions used for a neck lift depend on whether you are having a full neck lift or a mini neck lift. A full neck lift involves an incision extending from the front of the ear near the sideburns around the lower part of the air and extending into the posterior hairline. A mini neck lift or short scar neck lift involves making incisions positioned immediately adjacent to the ears only. Once the incisions have been made, underlying fat will be removed, followed by tightening of the neck muscles. Excess loose skin will be surgically trimmed, followed by stitching the incisions and tightening the neck. This will produce a youthful and smooth neck contour. Absorbable stitches are most commonly used and are covered by a sterile dressing which will be removed one week after your procedure at the wound check appointment.
How long does a neck lift take to perform?
Male neck lift surgery takes between two and three hours to perform, depending on the extent of surgical correction required.
What does a mini neck lift involve?
A mini neck lift involves making an incision beneath the chin and around the ears and is designed to tighten the neck muscles to get rid of vertical neck bands, followed by the removal of excess neck skin. The procedure is quicker to perform than a traditional neck lift and has a quicker recovery.
How long does a mini neck lift last?
A mini neck lift can produce results that can last up to 5 years which is similar to a mini facelift, although it cannot produce the duration of results that a traditional neck lift can, which can often last more than 10 years.
Recovery after male neck surgery
It is normal to feel a tight sensation in the neck straight after the procedure, and bruising and swelling can take up to 4 weeks to improve. You will see our post-operative nurses for the removal of any stitches and inspect the incision lines approximately ten days after your surgery. You should focus on getting sufficient rest during the initial recovery period. If you experience any symptoms such as swelling, redness or significant pain, be sure to reach out to your surgeon via the 24-hour number provided. Red flag symptoms include significant bleeding, wound infection and severe pain.
RELATED: Recovery after neck lift surgery
How long does it take to recover after a male neck lift?
Neck lift recovery takes approximately 6 to 8 weeks, with postoperative swelling disappearing by six weeks after surgery. The final results of a male neck lift can then be seen.
RELATED: What do neck lift scars look like?
How long should the neck compression garment be worn?
The postoperative neck lift garment should be worn for a minimum of two weeks continuously after surgery and helps to minimise swelling and prevent skin looseness.
Is a male neck lift permanent?
A traditional full neck lift produces results lasting up to 10 years. It can even last for longer, provided patients maintain a healthy lifestyle by avoiding smoking, eating healthily and minimising excessive sunlight exposure.
Risks and potential complications of a male neck lift
As with any other type of facial rejuvenation surgery, neck lift for men involves certain risks which patients should be aware of before the procedure. The most recognised risks of neck lift surgery include the following:
Bleeding and haematoma formation
Seroma
Wound infection
Excessive scarring
Nerve injury
Male neck lift surgery cost & prices - how much does a male neck lift cost in London?
The cost of a male neck lift in London will be determined by the type of neck lift procedure you have and whether it will be combined with other procedures, such as a facelift. The location of your procedure and the surgeon you choose will also determine the cost of a neck lift. Once you have had a face-to-face consultation, you will receive a detailed quotation from your dedicated patient coordinator. The quote will include surgical fees, anaesthetic fees and facility fees. Preoperative medical assessments and post-operative wound checks are included in the cost of your procedure. Call us today on 0207 993 4849 to get a price estimate for male neck lift surgery in London.
RELATED: How much does a neck lift cost?
Can I get a neck lift on the NHS?
Neck lift surgery is considered a type of cosmetic surgery for improving appearance and is therefore not offered on the NHS as the NHS does not perform cosmetic surgery.
Is a male neck lift worth it?
Most patients who have a male neck lift report a significant boost in self-confidence and emotional well-being with how they look and feel. The vast majority of men wish they had the surgery much earlier. Several neck concerns can be treated, including sagging jowls, wrinkles and a turkey neck. These features of ageing can often make men look much older than they actually are. Neck lift surgery is considered the best treatment for getting rid of a turkey neck.