Forehead reduction surgery - What is hairline lowering?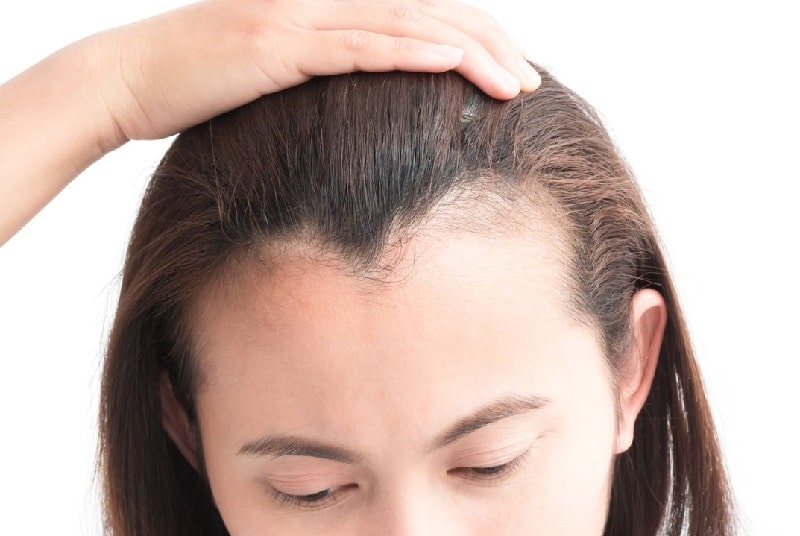 Having a large forehead can be a significant source of concern for many people. A big forehead can often appear out of proportion with the rest of the facial features and lead to a reduction in self-confidence and emotional well-being. Patients may feel very self-conscious about having a large forehead and may choose to wear hats to cover up having a high hairline.
The impact on daily activities can be significant with many avoiding going outdoors or carrying out sporting activities for fear of showing their big forehead. In many cases, people may develop anxiety and depression. Fortunately, there are highly effective treatments for forehead reduction to restore facial balance and boost self-confidence.
Hairline lowering surgery or forehead reduction surgery
Hairline lowering surgery is a surgical procedure designed to lower the height of the hairline and reduce the size of a big forehead. Some alternative terms for hairline lowering include forehead reduction, scalp advancement, and frontal hairline advancement.
The desired result is a full head of hair due to a lower hairline. The procedure is performed almost exclusively in women, where up to 5 cm of shortening can be created in certain cases. In some cases, to further contour the hairline, a hair transplant procedure can be performed to reshape the hairline, which can create a more feminine rounded appearance to the sides of the hairline. In cases where more than 5 cm of lowering is required, a 2-stage procedure with tissue expanders may be necessary to achieve the required level of hairline lowering.
The upper third of the face and hairline is a key aspect of defining one's gender because it forms the framework for the whole face. Hairlines in men tend to sit further back on the skull than in women. This gives the impression of a larger and more prominent forehead in men. In women, the hairline sits at a lower position and takes on a more rounded appearance than the square-like appearance found in men. For many women with higher hairlines, the hairline can be lowered into a more female type of hairline with smooth curved lines leading to overall facial harmony and balanced aesthetics. An excessively high hairline can lead to a reduction in self-confidence and may lead many women to reduce the number of hairstyles they choose to have, as the main priority is always to cover a large forehead.
Causes of an excessively high hairline:
An excessively high hairline can be caused by several factors, including:
Genetics: A high hairline can be an inherited trait that runs in families.
Hormonal changes: Hormonal changes during puberty or menopause can cause the hairline to recede or shift.
Hair loss: Certain medical conditions or treatments such as chemotherapy, can cause hair loss and a receding hairline.
Ageing: As we age, our hairline can recede naturally due to the loss of hair follicles.
Trauma or injury: Trauma or injury to the scalp can cause scarring and a higher hairline.
Previous hairline lowering surgery: In some cases, a previous hairline lowering surgery can result in a higher hairline if not done properly.
Procedures commonly combined with hairline lowering:
Hairline lowering can be performed as a standalone procedure, but it is often combined with other procedures to achieve the desired aesthetic result. Some of the procedures commonly combined with hairline lowering include:
Forehead contouring: This procedure reshapes the forehead to make it smoother and flatter, and it can be done at the same time as hairline lowering.
Brow lift: A brow lift can lift the eyebrows and reduce wrinkles in the forehead, and it is often combined with hairline lowering to enhance the overall appearance of the forehead.
Hair transplant: For some patients, hairline lowering may not be enough to achieve their desired results. In such cases, a hair transplant can be performed along with hairline lowering to add volume and density to the hairline.
Blepharoplasty: This procedure is also known as an eyelid lift and is often performed in conjunction with hairline lowering to rejuvenate the entire upper face region.
Facelift: A facelift can be performed along with hairline lowering to reduce the appearance of wrinkles and sagging skin in the lower face and neck.
Rhinoplasty: Nose reshaping surgery can also be combined with hairline lowering to achieve a more harmonious facial appearance.
What is included in my treatment package?
As many preoperative consultations with your surgeon as you like to make sure the procedure is right for you
Treatment at a specialist day surgery facility recently rated 'Good' by the CQC
Enhanced same-day discharge with the added benefits of recovering in your own home
24/7 clinical support from your surgeon for the first 48 hours and our expert postoperative support team
Your very own dedicated patient coordinator
In-depth preoperative medical assessment to make sure you are fully fit for the rhinoplasty procedure
Exceptionally high standards of postoperative care described as 'outstanding' by the CQC with regular telephone and face-to-face checks by our expert postoperative support team.
RealSelf Top Doctors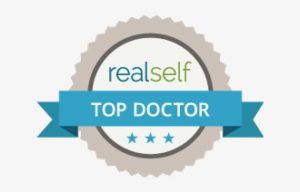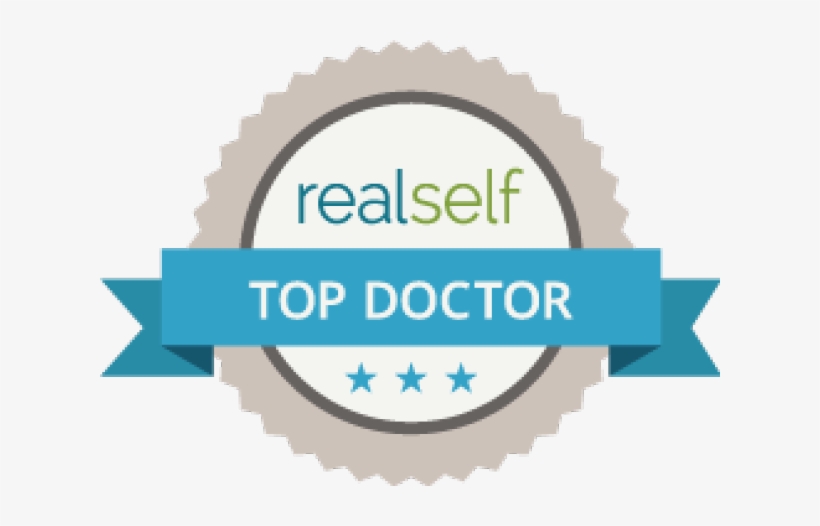 RealSelf's top doctor status is awarded to less than 10% of the RealSelf doctor community. This status is earned by achieving consistently high patient satisfaction (from RealSelf reviews), getting excellent feedback on expert answers to patient questions, and investing significant time in Q&A and other doctor activities. RealSelf's top doctors are rated among the very best surgeons in the UK.
Benefits of hairline lowering surgery
Hairline lowering surgery, also known as forehead reduction surgery, can offer several benefits to those who are unhappy with the appearance of their high hairline. Some of the benefits include:
Improved facial balance: A high hairline can make the forehead look disproportionately large in relation to the rest of the face. By lowering the hairline, the overall balance of the face can be improved, giving a more aesthetically pleasing appearance.
Boost in self-confidence: Many people feel self-conscious about their high hairline and may avoid certain hairstyles or hats to cover it up. Hairline lowering surgery can help to restore confidence and allow individuals to feel comfortable in their own skin.
Youthful appearance: An excessively high hairline can make a person look older than their actual age. Lowering the hairline can make the forehead look more youthful and give a more refreshed appearance.
Permanent results: Hairline lowering surgery is a permanent solution to a high hairline. Unlike temporary treatments such as fillers or wrinkle relaxing injections, hairline lowering surgery provides long-lasting results that do not require repeated treatments.
Improved hair density: In some cases, hairline lowering surgery can also help to improve the density of hair in the front hairline area. This can be particularly beneficial for those with thinning hair or a receding hairline.
Am I suitable?
All patients should be in good health and have realistic expectations about what can be achieved with hairline lowering surgery.
Women may derive greater benefits than due to the risk of ongoing hair loss in men.
Women with a higher than normal hairline and a larger forehead
Thinner forehead skin with a greater capacity to be stretched (good skin laxity)
Men are also good candidates if they have a thick well-defined hairline without a history of previous hair loss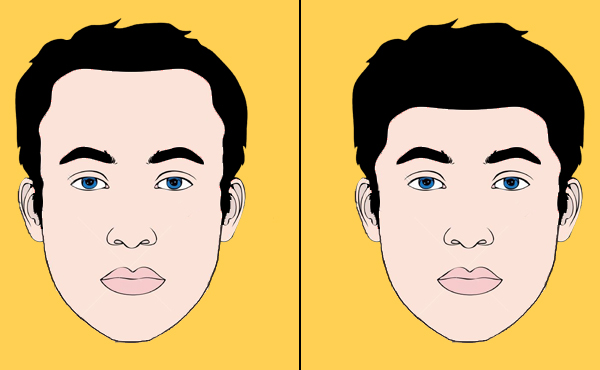 We do not treat patients below the age of 18 years of age.
Healing is better if patients refrain from or quit smoking.
Who should not have hairline lowering:
Patients with unrealistic expectations
Patients who have had a previous traditional brow lift
Men with a severely receding hairline
Preparation for hairline lowering
Patients who smoke will be advised to stop for at least two weeks before the date of their procedure. Smoking has detrimental effects on your circulation and is well known to slow the healing process. All medications, prescribed and over-the-counter, will be reviewed. Aspirin and aspirin-containing medicines should be stopped both before and after surgery. Aspirin and NSAIDs impair the body's natural clotting process and may cause bleeding complications after surgery. If you require pain relief after surgery, paracetamol is advised.
Surgical techniques for hairline lowering & forehead reduction
Hairline lowering is an outpatient surgical procedure meaning you will be admitted and discharged on the same day, which allows you to recover in the comfort of your own home. The hairline lowering procedure can be performed under either a general anaesthetic or a local anaesthetic. However, our surgeons recommend TIVA general anaesthesia for optimal comfort. The surgeon begins by marking the location of the planned new hairline. The incision is performed in a zig-zag configuration to resemble the appearance of a natural-looking hairline closely.
The skin above the marked new hairline is surgically removed. The skin margins are then carefully sutured together in 3 layers to reduce the tension on the superficial aspects of the incision. As the incision is sutured, the new hairline is surgically lowered to the planned marked position. Your surgeon may choose to use non-dissolvable sutures, which are removed at your follow-up appointment, as these give much better scar cosmesis than dissolvable sutures. During the healing process, hair follicles will regrow through the incision line, which helps to disguise the appearance of the resulting scar.
Where the hairline needs to be advanced more than 5cm, then a 2-stage procedure is necessary. In the first stage, a temporary implantable device called a tissue expander will be inserted to place the forehead skin on stretch. The tissue expander is essentially an inflatable balloon that, when inflated beneath the skin, will stretch the skin. The balloon is inflated by injecting a sterile saline solution. The tissue expander is left in for approximately 4-6 weeks before being removed, and the surgical hairline advancement takes place in the second procedure.
In some cases, your surgeon may recommend a third-stage FUE hair transplant procedure to increase the density of the hair follicles. The skin placed on stretch by the tissue expander often reduces the density of hair follicles as the hair follicles are spaced further apart.
Recovery after Hairline Lowering Surgery
After hairline lowering surgery, patients can typically return home the same day. The recovery period can vary depending on the extent of the surgery, but most patients can return to work or school within 7-10 days.
During the first few days after surgery, patients may experience some discomfort, swelling, and bruising. Pain medication may be prescribed to help manage any discomfort. Swelling and bruising can be minimized with the use of ice packs and keeping the head elevated as much as possible.
Patients should avoid strenuous activity and heavy lifting for at least 2-3 weeks after surgery to allow for proper healing. Hair washing can typically be resumed within a few days of surgery, but patients should be careful to avoid rubbing the incision site.
It's important to follow all post-operative instructions given by the surgeon to ensure proper healing and minimize the risk of complications. The surgeon may recommend avoiding direct sunlight or wearing a hat to protect the incision site from sun exposure.
It can take several months for the full results of the hairline lowering surgery to be visible. In the meantime, patients may experience temporary numbness or itching in the scalp, which is normal and should subside over time.
How much does forehead reduction surgery cost?
The cost of hairline lowering and forehead reduction will vary on the extent of surgical correction required. Our patient coordinator team will be able to give you an accurate costing after your consultation.
At Centre for Surgery, we partnered with the most experienced consultant plastic surgeons with expertise in forehead reduction surgery and hairline lowering. Prices for hairline lowering reflect the reputation of the clinic and the expertise of your surgeon. If you are interested in hairline lowering, get in touch with us today to book a consultation. Once you have had a consultation, you'll be given a detailed quotation by your dedicated patient coordinator. The price of forehead reduction surgery includes the following:
In-depth consultation with an expert surgeon.
Treatment at our state-of-the-art Baker Street clinic in Marylebone.
Advanced anaesthesia techniques allow you to recover in the comfort of your own home later the same day.
Dedicated assistance from our post-operative nursing team to make sure your healing is smooth.
Your own patient coordinator to act as a point of contact throughout your patient journey with us at Centre for Surgery.
Forehead reduction surgery and hairline lowering are unavailable on the NHS as the procedure is designed to improve cosmetic appearance and not address a medical condition.
What are the potential risks of hairline lowering?
Hairline lowering surgery is a commonly performed procedure at Centre for Surgery. At your consultation, your surgeon will discuss the potential risks and complications associated with the scalp advancement procedure.
Risks of forehead reduction surgery
Anaesthetic complications
Postoperative bleeding
Excessive scarring
Delayed wound healing
Hair loss around the incisions
Nerve injury leading to numbness
Facial nerve injury
Surgical site infection
Brow asymmetry
Requirement for a revision procedure
What are the alternatives to forehead reduction surgery?
Hair transplant surgery is an effective alternative to hairline lowering and forehead reduction surgery. This procedure involves the removal of donor hair from thicker areas of the scalp, most commonly located at the back of the head. The two most commonly performed types of hair transplant include follicular unit transplantation (FUT) and the newer follicular unit extraction (FUE). FUE involves the removal of individual follicular units from the back of the neck before placing them into the desired area using a specialist hair implantation device. FUT involves the surgical removal of a horizontal strip of hair bearing scalp from the back of the head. Individual follicular units are then extracted from this strip before being implanted into the desired areas. Hair transplant surgery is able to produce natural-looking hairlines, which can be customised to the shape of the individual patient's forehead. Hairlines can be created so that they appear straight or curved. Forehead reduction surgery can complement hair transplant surgery for creating highly customised hairlines, particularly those with a V-shape.
Hair transplant surgery can result in thick hair in the hairline for those who have been affected by thinning or thinner hair. This can help to reduce the appearance of a big forehead. Forehead reduction surgery requires mobilisation of the scalp to bring it lower. A certain degree of scalp laxity is required to facilitate adequate stretching of the skin. Hair transplant surgery does not have the same requirement. The main requirement for a successful hair transplant is to have adequate donor sites for hair to be removed from, which can then be used at the hairline. Although hair transplant surgery is popular in men who may be experiencing a hairline recession or a receding forehead, it is much more popular in women. Forehead reduction surgery involves making an incision in the hairline. FUE hair transplants do not result in visible scarring at both the donor and recipient sites. FUT hair transplants are particularly known for producing visible scars at the back of the head, and this type of hair transplant technique is performed less commonly nowadays in the UK.
Hair transplant surgery can take a minimum of eight weeks before results become evident. The benefit of forehead reduction surgery is that the procedure can produce results which are visible straight away. It can take many months for people who have had hair transplant surgery to notice results.
However, the lack of scarring is enough for many people to prefer hair transplants, particularly if they are experiencing thinning of the hair at the hairline area. Choosing between forehead reduction surgery and FUE hair transplant depends on your tolerance for scarring. Well-performed hairline lowering surgery produces scars that can be well hidden within the hairline.
Hair transplants are very safe and effective, with tens of thousands of procedures carried out in the UK each year. Hair transplant surgery is a viable alternative method of forehead reduction. Other alternatives to reduce the size of a big forehead include a surgical brow lift. Brow lift surgery is designed to lift a sagging brow by tightening of the forehead skin to leave a smoother appearance. The level of the eyebrows, particularly at the outer part, can also be raised to reduce the appearance of a large forehead and also rejuvenate the upper one-third of the face.
RELATED: What is a Brow Lift?
We would recommend having a detailed consultation with an expert consultant plastic surgeon at the Centre for Surgery for a discussion of the most appropriate treatment options.
Why choose Centre for Surgery for Hairline Lowering Surgery?
Centre for Surgery is a leading provider of cosmetic and plastic surgery procedures in the UK. Our team of experienced and highly qualified surgeons use the latest techniques and technology to provide safe and effective treatments with excellent results.
At Centre for Surgery, we understand that hairline lowering surgery can be a life-changing decision for many patients, which is why we are dedicated to providing personalised care and support throughout the entire process.
Our surgeons are experts in hairline lowering surgery and have extensive experience in performing the procedure, ensuring that patients receive the best possible care and outcomes.
We also use the latest techniques and technologies, including advanced 3D imaging and computer simulations in selected cases, to help patients visualise the potential results of their hairline lowering surgery before the procedure.
In addition, we offer a range of financing options to make hairline lowering surgery more affordable for our patients, and we provide transparent pricing with no hidden fees or charges.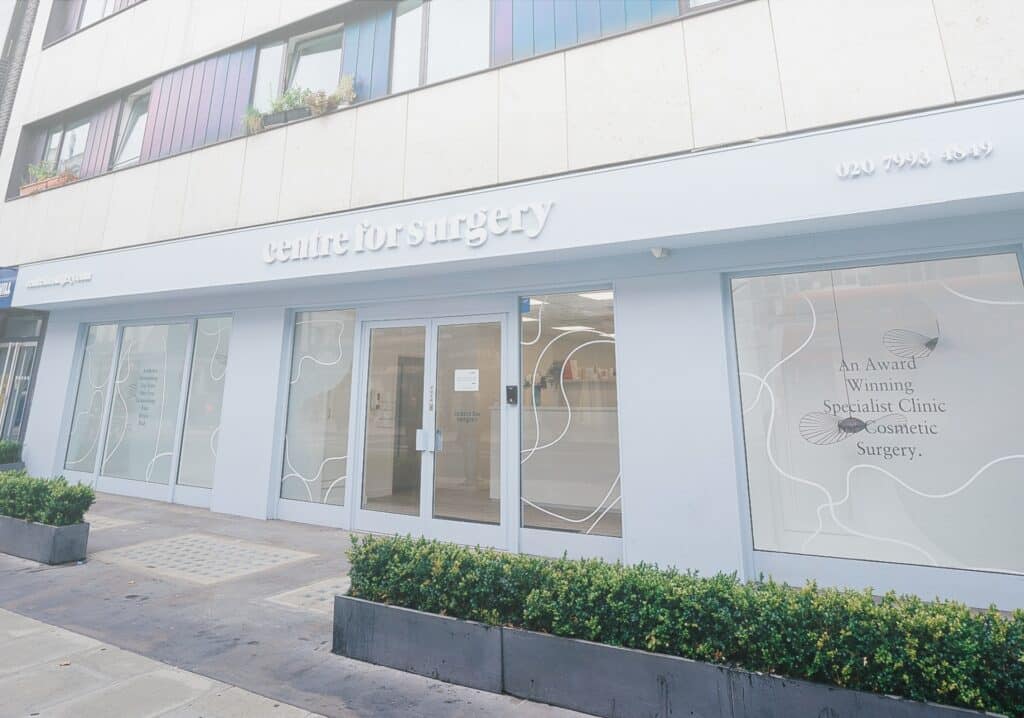 [wpseo_map id="9814″ width="750″ height="300″ zoom="15″ map_style="roadmap" scrollable="1″ draggable="1″ show_route="0″ show_state="0″ show_url="1″ show_email="1″ default_show_infowindow="1″ show_phone="1″ show_phone_2="0″ show_fax="0″]