AccuTite in London & UK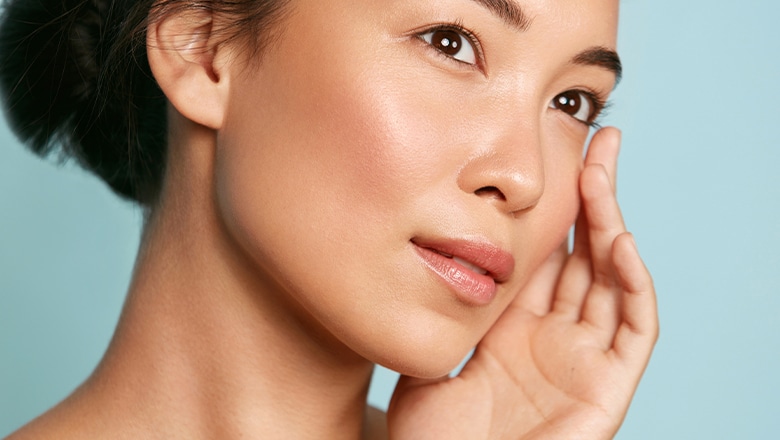 Experience the transformation with AccuTite – your go-to solution for precision contouring and skin tightening without the fuss of major surgery
AccuTite combined with Morpheus8 is the latest generation radiofrequency skin tightening device. AccuTite is highly versatile by virtue of its miniature size. AccuTite can be used on both the face and body to achieve skin tightening effects that are traditionally only achievable with more traditional surgical techniques. The radiofrequency skin tightening treatment perfectly complements anti-wrinkle injections or dermal fillers. Accutite is the smallest member of the 'BodyTite' family – other RF treatments include the bigger brother FaceTite, BodyTite and CelluTite.
Compared with other RF and ultrasound treatments such as Ultherapy, AccuTite penetrates more deeply for more impressive skin tightening with ongoing collagen and elastin production over 3-6 months. Most patients will see some initial skin tightening straight after the procedure, which continues to improve over time. Results from the treatment can last up to 5 years which, when used on the face is fairly comparable with the duration of results from a mini-facelift.
AccuTite is ideal for the targeted treatment of smaller areas of the face like brows, upper & lower lids, nasolabial folds, lower face and neck with the aim of giving surgical facelift-type results without the cost, downtime or risks. When used on the face and neck, Accutite may be combined with micro liposuction to contour the jawline and neck region finely. AccuTite is ideal for the treatment of the submental region and is commonly combined with submental liposuction for maximum treatment effects.
AccuTite is commonly combined with Morpheus8 for a comprehensive skin tightening treatment all without the risks of general anaesthesia and more invasive surgical techniques such as a facelift.
What is AccuTite?
AccuTite is a minimally invasive procedure that uses radiofrequency energy to tighten and contour specific face and body areas. It is a highly effective method for achieving significant improvements in skin laxity, without the need for traditional surgical procedures. The AccuTite device is part of the
BodyTite
family of radiofrequency devices manufactured by InMode.
AccuTite uses a small probe that is inserted beneath the skin to deliver radiofrequency energy to the targeted area. The device is able to precisely control the depth and amount of energy delivered to the treatment area, resulting in highly precise and predictable results. The procedure is performed under local anaesthesia, and patients typically experience minimal discomfort.
AccuTite is highly versatile and can be used to treat a range of areas, including the face, neck, arms, abdomen, and thighs. It can be used to improve skin laxity, reduce excess fat, and contour the body. The procedure is suitable for patients who are seeking a minimally invasive alternative to traditional surgical procedures, and who have mild to moderate skin laxity or excess fat.
One of the key benefits of AccuTite is the minimal downtime required. Patients can typically return to their normal activities within a few days of the procedure. The results of AccuTite can be seen immediately and continue to improve over the following weeks and months. The procedure is also associated with minimal scarring, making it an excellent option for patients who are concerned about visible scars.
Expected results from AccuTite
Tighter and smoother skin in the treated area
Reduced wrinkles and fine lines
Improved skin texture and tone
Lifted and contoured facial features
Reduction in the appearance of jowls and double chin
Improved definition of the jawline and neck area
Enhanced overall facial appearance and youthfulness
Benefits of AccuTite
AccuTite is an innovative non-surgical treatment that can help to tighten and contour the skin on the face and body. This treatment is popular because it delivers outstanding results without the need for extensive surgery, incisions or scars.
Here are some of the benefits of AccuTite:
Tightens Sagging Skin
One of the primary benefits of AccuTite is its ability to tighten sagging skin. As we age, the skin on our face and body can start to lose its elasticity, causing it to sag and droop. This can result in an aged appearance, which can impact our confidence and self-esteem. AccuTite is a minimally invasive treatment that can help to tighten and lift sagging skin, helping to create a more youthful and rejuvenated appearance.
Non-Surgical
AccuTite is a non-surgical treatment, which means that it is minimally invasive and does not require any incisions or general anaesthesia. This makes the treatment more comfortable and reduces the risk of complications that can arise from invasive surgery.
Minimal Downtime
Another significant benefit of AccuTite is that there is minimal downtime associated with the treatment. Patients can typically return to their daily activities immediately after the procedure, making it an excellent option for those with busy schedules.
Quick Results
AccuTite delivers quick results, with most patients seeing a noticeable improvement in the appearance of their skin within a few weeks of the procedure. Full results can take up to six months to develop, but patients can expect to see significant improvements in the contour and tightness of their skin.
Versatile
AccuTite can be used to treat a wide range of areas on the face and body, including the neck, arms, abdomen, thighs, and knees. This makes it a versatile treatment option for anyone looking to improve the appearance of their skin and achieve a more contoured and toned look.
Ideal candidates for AccuTite RF treatment
There are generally three types of patients with laxity of the facial skin that our surgeons classify as as part of a "treatment gap" between surgical and non-surgical options:
(1) The younger patient whose skin laxity is not of sufficient severity to warrant a more traditional excisional procedure like a full facelift or necklift, but also not mild enough to treat with non invasive procedures like cryolipolysis or HIFU or minimally invasive
submental liposuction
alone
(2) The patient who has already undergone a facelift or necklift, and now presents with recurrent laxity due to the ongoing ageing process
(3) The patient who may benefit from a traditional facelift or necklift but would ideally like to avoid more invasive surgery and would be willing to accept a milder improvement and shorter downtime
An increasingly popular soft tissue tightening technique of the lower face and neck has been a combination procedure using bipolar RF (AccuTite) and fractional bipolar RF (Morpheus8).
The combination minimally invasive RF treatment of AccuTite bipolar RF and
Morpheus8
Fractional RF does not aim to replace a traditional facelift or necklift in appropriate candidates. The benefit of non surgical skin tightening allows our surgeons to potentially fill a well-known treatment gap between invasive surgical procedures and completely non invasive procedures. Also, it provides patients with an option to improve facial soft tissue laxity without a traditional surgery and with a local anaesthetic.
You will be a suitable candidate for this procedure if you are unhappy with the skin laxity on your face and neck and are wishing to have it tightened. You may have mild to moderate skin laxity in the neck and lower face. Unlike laser resurfacing, AccuTite can be used safely in darker skin types.
Prior to undergoing this procedure, you will be required to attend a consultation with one of our surgeons. They will be able to assess your face and neck and decide if you are a suitable candidate or whether you would be better suited for another procedure such as a facelift.
Who should not have treatment:
Patients who are pregnant or breastfeeding
A history of recurrent herpes simplex in the area to be treated
Active flare-up of skin conditions such as psoriasis or eczema or recently tanned skin
Patients with implanted pacemakers or defibrillators
Any silicone implants, permanent fillers or implanted metalwork such as plates and screws in the area to be treated
Unrealistic expectations of what the treatment can achieve
Morpheus8 combination treatment
Morpheus8 is the most exciting development in fractional radiofrequency microneedling. The Morpheus8 device is the latest generation of fractional RF microneedling with full control over needle depth adjustment and the level of energy delivered through the 24 precision microneedles.

The tiny pins of the morpheus8 device are able to penetrate deep enough into the skin to impart controlled thermal energy via the micropins to induce contraction of collagen and elastin. The Morpheus8 procedure does not require any incisions and there is no need for sutures. The procedure can be performed effectively with the prior application of topical local anaesthetic cream to permit a pain-free procedure.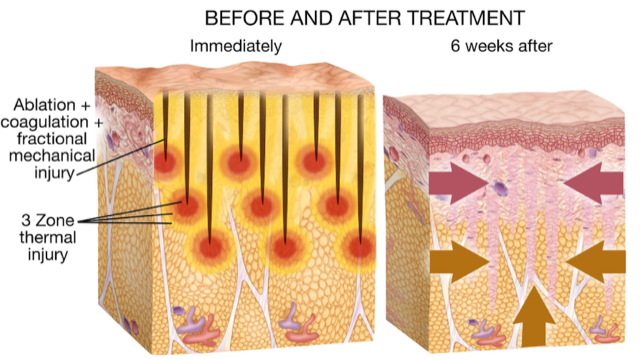 AccuTite for eyebrow ptosis and puffy eyelids
Our surgeons are experts in blepharoplasty and brow lift surgery. Both techniques are very powerful for correcting significant laxity of the eyelids, eyelid puffiness and eyebrow sagging. Surgical techniques can last for up to 10 years or more but at the expense of increased risks, downtime and expense.
The miniature handpiece of AccuTite is able to effectively treat the delicate eyelid and brow region without the scars of traditional surgery. Although results are more modest compared with surgery, patients are able to achieve results which can last up to 5 years. One AccuTite treatment is enough in most patients, however more severe grades of skin laxity may warrant a second procedure one year later. Morpheus8 is recommended as a course of 3 treatments to achieve optimal skin tightening effects.
AccuTite procedure
AccuTite is a simple outpatient procedure performed under a local anaesthetic. The doctor will first begin by marking up the areas to be treated. If you feel nervous, you have the option of light tablet oral sedation to make you feel more relaxed. The doctor will then inject local anaesthetic to the treatment areas and allow 10-15 minutes of waiting to allow the local anaesthetic to take full effect. You should feel little discomfort if any during or after treatment.
The procedure involves no incisions or sutures. A small needle is used to make a hole through which the AccuTite cannula is then inserted. Any scarring is therefore barely noticeable.
The AccuTite device is then used in the areas to be treated. The internal electrode of the AccuTite device is inserted beneath the skin to induce soft tissue remodelling of the deeper layers of skin. The external electrode glides along the surface of the skin and heats up to 40-42 degrees. The AccuTite cannula is so small that cannulas used to inject dermal fillers are larger in diameter.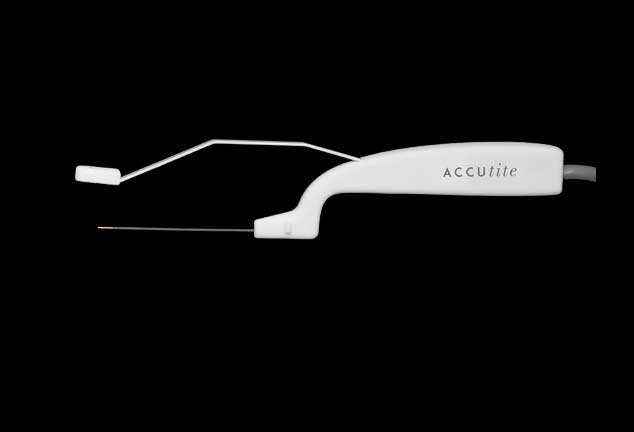 The application of radiofrequency energy to the tissues leads to contraction and tightening. During this process, it is normal to hear gentle crackling noises as this signifies optimal tissue heating. The surgeon may choose to complete the procedure with the application of microlipo to gently contour the area through the removal of small amounts of fat. For greater degrees of skin laxity in the lower face and neck, FaceTite may be a better option. You can also combine FaceTite with Morpheus8, which rejuvenates the top layer of the skin with a combination of microneedling and RF energy.
AccuTite procedure step by step:
Local anaesthetic injection
AccuTite
Microlipo (optional)
Morpheus8
Recovery after AccuTite
You will be given detailed aftercare instructions and your nurse will book a follow-up appointment. We recommend that you either have someone collect you from the clinic or that you take a taxi home. Public transport is not recommended.
After the procedure, it is normal to experience a degree of bruising and swelling after the procedure. For Accutite to eyelids, dressings will applied over the eyelids.
For lower face and neck treatment, the doctor may apply a compression wrap to the treated areas to accelerate the resolution of localised bruising and swelling. This needs to be worn for at least one week. Most patients can return to light activities after 2 weeks. Arnica tablets are also useful to take speed up the resolution of bruising.
Potential risks and complications of AccuTite
The risk of complications with AccuTite are low. However, complications can potentially occur with any surgical procedure and AccuTite is no different. At consultation, your surgeon will always take time to fully discuss the risks and complications associated with radiofrequency skin tightening. By choosing Centre for Surgery for your procedure, you can be confident in having highly experienced and expert surgeons to perform your procedure.
Potential complications of AccuTite:
Skin burns and discolouration
Nerve bruising to the marginal mandibular nerve in face to leading to muscle weakness for up to 3-6 months
Asymmetry and contour irregularities
AccuTite at Centre for Surgery
Centre for Surgery is a leading cosmetic clinic in London with experienced and highly trained surgeons who specialise in various cosmetic procedures including AccuTite. There are several reasons why you should choose Centre for Surgery for AccuTite:
Experienced Surgeons: Our cosmetic surgeons have years of experience in performing AccuTite and other cosmetic procedures. They are highly trained and knowledgeable in the latest techniques, ensuring optimal results for every patient.
Advanced Technology: We use the latest AccuTite technology to perform the procedure. Our state-of-the-art equipment ensures that the treatment is safe, effective, and minimally invasive.
Personalized Treatment: At Centre for Surgery, we believe in personalized treatment. Our surgeons will work with you to understand your goals and develop a customized treatment plan that meets your specific needs.
Comfortable Environment: Our Baker Street clinic is designed to provide a comfortable and relaxed environment for patients. We understand that undergoing a cosmetic procedure can be stressful, and we strive to make the experience as comfortable as possible for our patients.
Exceptional Aftercare: We provide exceptional aftercare for all our patients, ensuring that they are comfortable and well-informed throughout the recovery process. Our surgeons and staff are always available to answer any questions or concerns that patients may have.
Competitive Pricing: We offer competitive pricing for our AccuTite procedure, ensuring that patients can receive high-quality treatment without breaking the bank.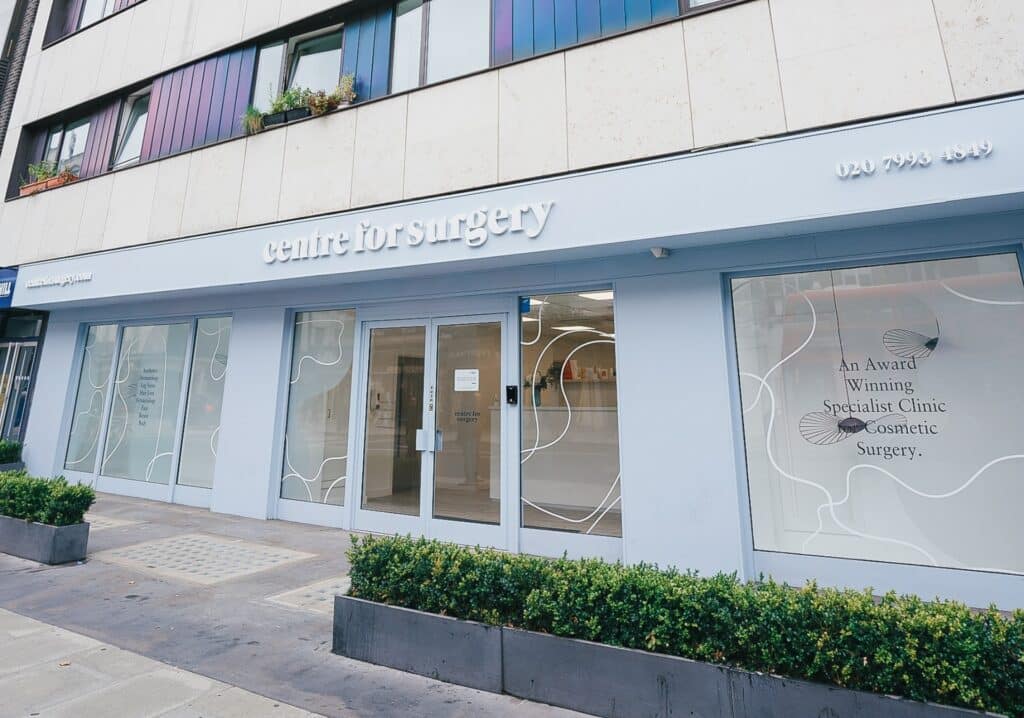 FAQs
Does AccuTite work?

AccuTite is an effective, minimally invasive procedure that can help to tighten sagging skin and improve the contours of the face. The procedure uses Radiofrequency Assisted Lipolysis (RFAL) technology to deliver precise heat energy to the treatment area, which stimulates collagen production and tightens the skin.

AccuTite can be used to treat a variety of areas on the face, including the forehead, cheeks, jowls, and neck. It can also be used to target specific areas of concern, such as wrinkles, fine lines, and sagging skin around the eyes.

The results of AccuTite treatment are typically visible within a few weeks of the procedure, and the full effects can be seen after a few months. The skin will continue to improve over time, as the collagen production stimulated by the procedure gradually increases.

Is AccuTite painful?

AccuTite is a minimally invasive procedure and is typically performed with local anaesthesia. During the procedure, patients may feel some mild discomfort or pressure, but it is generally not considered painful. Some patients may experience some mild discomfort and swelling after the procedure, but this can be easily managed with over-the-counter pain medication and typically resolves within a few days.

When will I see the end results of AccuTite?

The results of AccuTite can typically be seen immediately after the treatment, with further improvement over the following weeks and months as the skin continues to tighten and the collagen production increases. The full effects of AccuTite can take up to six months to be fully visible. It is important to have realistic expectations and understand that the results may vary depending on the individual's skin condition and response to the treatment. A follow-up consultation with the surgeon can help to assess the progress and discuss any additional treatments or maintenance options that may be needed to achieve the desired results.