Chin Augmentation Surgery London UK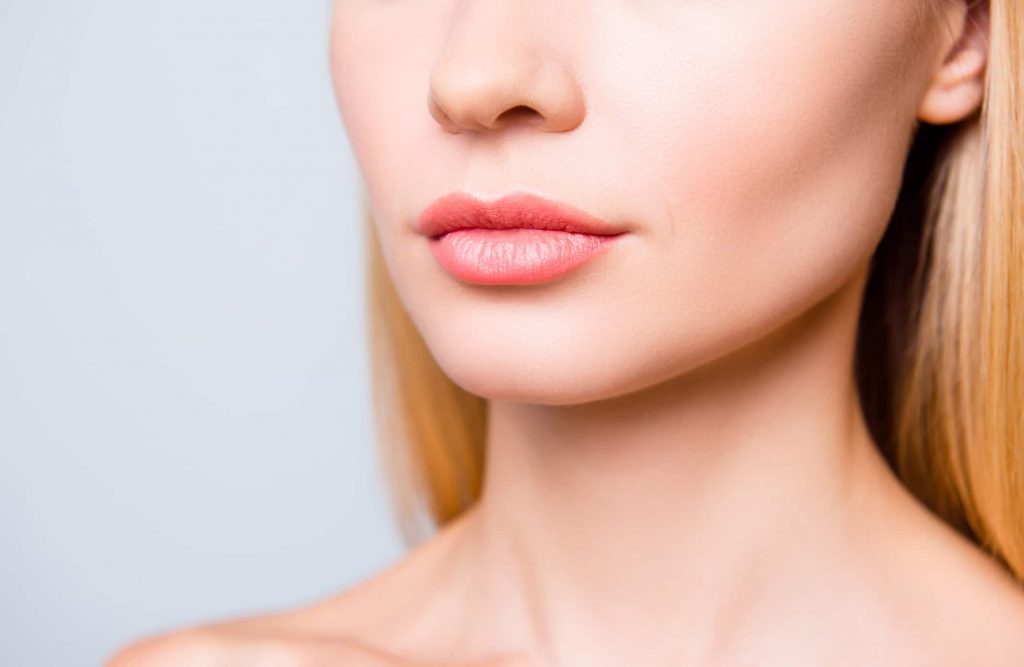 The way your chin looks is really important for how your face appears as a whole. If your chin is too small, pushed back, or doesn't stick out enough, your whole face might look uneven or weak. This problem is called retrognathism, which is another way of saying a chin that recedes or pulls back. You can notice this most when you look at the side of your face.
If you want to fix this, you can have a special chin surgery procedure called chin augmentation surgery. This surgery moves your chin forward, making it stand out more. It can also change how wide, tall, or pointy your chin is, to make your whole face look better. The idea is to shape your chin so that it fits perfectly with the rest of your face.
RELATED: Male Chin Surgery
Here at Centre for Surgery in London, our skilled surgeons know a lot about changing the shape of chins and jaws. They offer this chin-changing surgery both with and without something called chin implants. Thanks to all their experience, our doctors have come up with different ways to change the chin and jaw, add to the chin, and make the whole face look more attractive.
| Chin augmentation | Fast facts |
| --- | --- |
| Procedure time ⏳ | 1 hour |
| Anaesthetic type 💉 | LA or GA |
| Length of stay 🛏 | Day case |
| Up and mobile 🚶🏻‍♂️ | Same day |
| Washing 🛁 | 7 days |
| Sexual activity ❤️ | 4 weeks |
| Back to work 📅 | Next day (desk work) |
| Driving 🚗 | 3 days |
| Postoperative garment 👕 | Not required |
| Sleeping 😴 | On back 1 week |
| Exercise 🏃🏽‍♀️ | 4 weeks |
| Full recovery 🕺🏻 | 6 weeks |
| Final results 😃 | 6 weeks |
What is Chin Augmentation Surgery?
Chin augmentation surgery, or mentoplasty, is a well-liked treatment to enhance the look of the chin. It's meant for people who might have a chin that doesn't project enough or seems underdeveloped. The goal is to make the chin more noticeable and shapely, and it can be more rounded or full. This can be done with or without the use of silicone chin implants.
If you have a chin that's too small or pulled back, it can make your whole face seem unbalanced. Specifically, your nose might appear larger in comparison, even if it's of regular size and shape. Also, if your chin is pushed back, it may seem like it's blending into your neck, without a clear angle separating the two. This can give a vague, unclear look to the lower part of your face and jaw.
The mentoplasty procedure can make a big difference in fixing this. It can reshape the chin, make it more outstanding, and give your jaw and chin line a more robust and distinct appearance. It's more than just an operation to increase the chin's size. It can enhance how your entire face looks.
RELATED: Solutions for a Receding Chin
Chin augmentation surgery is known to be a relatively simple operation. It's typically done in one day and doesn't require a long recovery time. Soon after having this surgery, you'll see a significant improvement in how your chin sticks out and in your overall look. Of course, the success and attractiveness of the procedure known as genioplasty rely on the skills and experience of the facial plastic surgeon who performs it.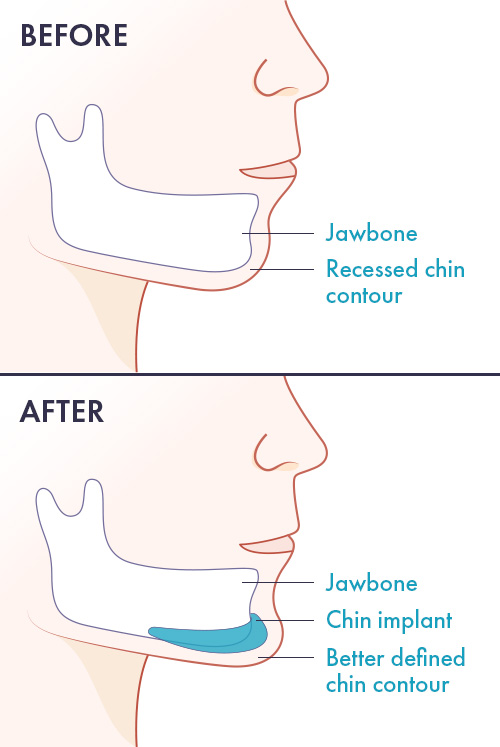 Benefits of Chin Augmentation Surgery
Chin Augmentation, also known as mentoplasty, is a procedure with numerous benefits and strong points. This operation can do a lot for your face, including:
Making your chin stand out more
Adding definition to the lower part of your face
Creating a clear angle between your chin and neck
Moving your chin forward
Changing the shape of your chin to make it wider, longer, and more rounded
Making your nose seem smaller in comparison
Enhancing the way your entire face looks, in line with what people often find beautiful
Helping your lips look better together
Giving your whole jaw and chin a solid, clear line that marks the lower edge of your face
Being a straightforward operation with only a short recovery time, often done with just a local anaesthetic, and no need to stay in the hospital
Even though chin augmentation is considered a relatively simple procedure, it needs to be performed by someone with advanced skills to get it right. To get all the benefits from genioplasty, you should choose a facial plastic surgeon who knows what they're doing.
It's not just a matter of making your chin bigger, as almost anyone can do that. A truly skilled surgeon will look at your entire face and work to improve and reshape the chin in a way that makes everything look more lovely and balanced. It's about enhancing your whole appearance so that all the features of your face work together in a harmonious way.
Ideal Candidates for Chin Augmentation Surgery
Chin augmentation surgery, or mentoplasty, might be the right choice for you if you find yourself in one or more of the following situations:
Your chin is pulled back or recessed
Your chin is small
Your chin is short
Your chin is narrow
Your chin seems to blend into your neck, causing the chin and jawlines to look unclear
You're unhappy with how the different parts of your face balance with each other
You feel like your nose looks too big when compared to the rest of your face
If any of these conditions describe you, then chin augmentation could be a logical solution. This surgery is highly adjustable and is designed to meet each patient's specific wishes and needs.
Your surgeon can tailor the operation to fit your face, changing the height, how far the chin projects, the width, and the overall size of the chin. This means the surgery can be made to suit exactly what you want and need, working with your unique facial proportions to create a look that's right for you.
Preparation for chin augmentation surgery
Preparing for chin augmentation surgery is a vital step that ensures the process goes smoothly and you achieve the best possible results. Here's what you generally need to know about getting ready for this procedure:
Consultation with Your Surgeon: This initial meeting is when you'll discuss your goals and expectations, have a physical examination, and possibly receive digital imaging to understand what's possible with the surgery.
Medical Evaluation: Provide your medical history and a list of any medications, supplements, or herbal products you're taking, as some can affect blood clotting and healing.
Stop Smoking: If you're a smoker, you'll need to quit at least a few weeks before surgery, as smoking can significantly hinder the healing process.
Avoid Certain Medications: Some over-the-counter drugs and prescription medications might need to be avoided before surgery, particularly those that can affect blood clotting, like aspirin and some anti-inflammatory drugs.
Preoperative Testing: You may need blood tests or other medical evaluations to make sure you're in good health for surgery.
Plan for Recovery: Arrange for someone to drive you home after the surgery and ideally stay with you for the first night. Have a recovery area set up at home with essentials like medications, water, and easy-to-eat foods.
Follow Pre-Surgery Instructions: Your surgeon will give you specific instructions to follow on the day before and the morning of your surgery. This might include guidelines on eating, drinking, and washing.
Diet Considerations: As you'll initially be on a soft or liquid diet post-surgery, plan ahead by stocking up on suitable foods.
Mental Preparation: Understand that there will be a recovery period where swelling and bruising are normal, and the final results won't be immediately apparent.
Ask Questions: If you have any concerns or need clarification on anything, don't hesitate to ask your surgeon. It's important that you feel completely comfortable and prepared.
By taking these steps, you'll be setting yourself up for a successful chin augmentation surgery and recovery. Always follow the specific instructions provided by your surgeon, as they have your individual needs and situation in mind.
Watch the Chin Augmentation Animated Video
Chin Augmentation Surgical Techniques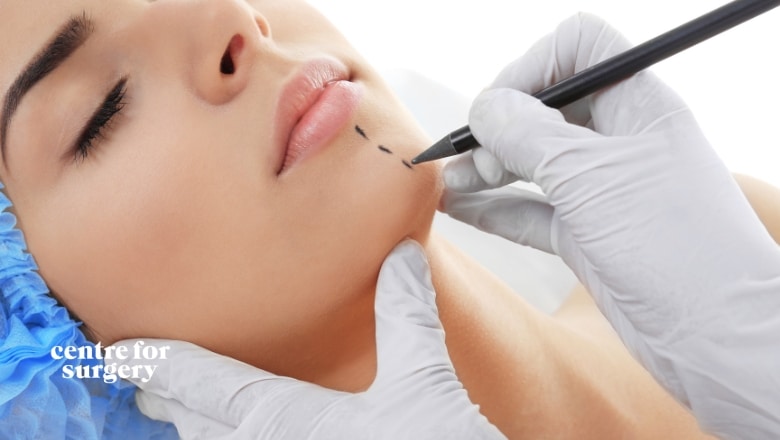 Chin augmentation surgery, or mentoplasty, is usually performed under general anaesthesia, so you'll be completely asleep and won't feel any pain during the procedure. Here's how the surgery is typically carried out at our clinic on Baker Street, and it's usually completed in just one day:
Preparation with Local Anaesthetic: To begin with, your surgeon will inject a local anaesthetic into your chin. This is done with a needle, and it makes the area numb so you won't feel any pain during the surgery.
Making the Incision: Next, the surgeon will make a cut (incision) just below your front incisor teeth, behind your lower lip. This allows them to reach the bone of your chin.
Creating a Surgical Pocket: A space or "pocket" is then made in front of your chin bone. This allows the surgeon to work on the chin.
Inserting a Chin Implant (if needed): Sometimes, a prosthetic chin implant, often made of silicone, is used to make your chin larger and more noticeable. These implants are very safe and long-lasting, and they come in different shapes to make your chin look just the way you want.
Osteotomy and Fixation (if no implant): If an implant isn't used, the surgeon can make your chin project more by cutting the chin bone and moving it forward. This is done by cutting the bone below the incisor teeth and above the tip of the chin, then moving the whole chin forward. It's then held in place with metallic plates and screws.
Soft Tissue Manipulation: The soft tissue covering your chin may be adjusted to fit the new shape of your chin, whether that's from an implant or moving the bone. This helps the surgeon shape the chin so that it looks right with the rest of your face.
Additional Procedures (if needed): Sometimes, chin augmentation is done along with liposuction of the fat pad under the chin. This helps add extra definition to your jawline. If this is done, there will be an additional incision made below your chin.
Recovery Time: After the surgery is completed, you'll have some time to rest before you're allowed to leave the clinic.
Chin augmentation surgery can be a bit complex, but it's usually straightforward for an experienced facial plastic surgeon. By using one or more of these techniques, they can reshape your chin to make it fit better with your face and make you look just the way you want.
Recovery after Mentoplasty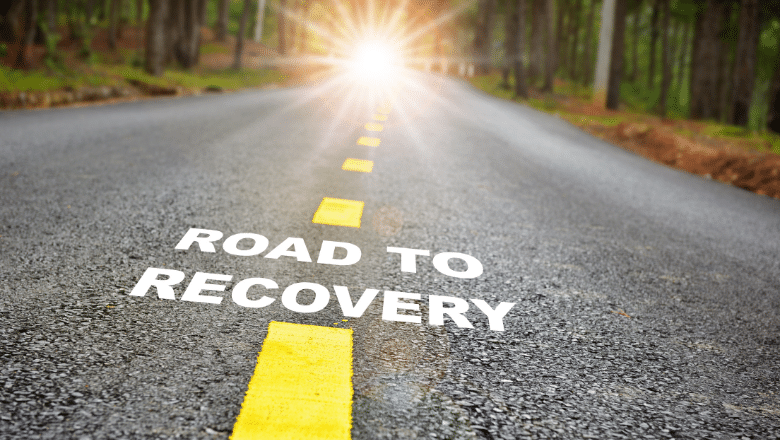 Recovering after chin augmentation surgery, or mentoplasty, is generally manageable, but it does need some preparation and care. Here's what you can typically expect during the recovery period:
Time Off Work: Plan to take about 1 week off work after the surgery. This allows your body the time it needs to start healing.
Initial Symptoms: During the first week, it's common to experience swelling, bruising, and pain in the chin area. These are normal signs of recovery.
Eating Soft or Liquid Foods: To help reduce pain and promote healing, you'll need to stick to a soft or liquid diet right after the surgery. Avoid anything that could cause strain on the chin and jaw.
Oral Care: Keeping your mouth clean is important, but you'll need to be gentle. Use a soft toothbrush and be cautious when brushing near the surgical area.
Managing Side Effects: Most of the swelling, bruising, and other side effects should go away within 2 to 3 weeks after the surgery.
Being Mindful of Your Diet and Activities: Throughout the recovery period, be careful with what you eat and how you use your chin and jaw. Avoid any actions that could put unnecessary stress on the healing area.
Returning to Normal: After 4 to 6 weeks, most patients can go back to their regular diet and daily routines. By this time, the chin should be well on its way to full recovery, and you can enjoy the results of the surgery.
Remember, every person's recovery can be a little different, so it's vital to follow the specific instructions given by your surgeon. They know your individual situation best and can provide the right guidance to ensure a smooth and successful recovery.
Chin Augmentation Surgery London Costs - How much does chin augmentation surgery cost in London UK? Prices & Fees
Figuring out the cost of chin augmentation surgery in London, UK, isn't straightforward, as there are several factors that play into the overall price. Here's a look at what can affect the costs:
Type of Procedure: Different patients require different techniques for chin augmentation, or mentoplasty. Some may need a chin implant, others might require bone cutting and reshaping of the chin, and some might need both. Each technique comes with different costs.
Anaesthesia: The type of anaesthesia used, whether local or general, can also affect the price. General anaesthesia might be more expensive.
Cost of the Implant: If a chin implant is used, its cost will be a part of the total price. Different implants may have different prices.
Surgeon's Fees: The surgeon's expertise and reputation may also factor into the cost, with highly experienced surgeons potentially charging more.
Additional Costs: Sometimes, other costs such as pre-surgery consultations, post-surgery follow-ups, and any additional care or treatments may also affect the overall price.
Because of all these variables, it's advisable to have a consultation with a plastic surgeon who can give you a detailed quote based on your individual needs and preferences.
Is Chin Augmentation Surgery Covered by Private Health Insurance in the UK?
Chin augmentation surgery is generally considered a purely cosmetic procedure in the UK. As such, private health insurance usually doesn't cover the costs. This means that if you choose to have this surgery, you'll need to cover the costs yourself. It's always wise to check with your insurance provider and the clinic to understand all the financial aspects before proceeding with the surgery.
Centre for Surgery – Transforming Your Chin, Enhancing Your Beauty
At Centre for Surgery, we understand the importance of the chin in defining the contours of the face. A well-proportioned chin can enhance your overall facial appearance, lending balance, strength, and character to your profile. But not everyone is blessed with the perfect chin. That's where we come in.
Why Choose Chin Augmentation at Centre for Surgery?
Experienced Surgeons: Our highly skilled surgeons specialize in chin and jaw reshaping, offering cutting-edge techniques to reshape the chin and augment it, making your whole face more aesthetically pleasing.
Customised Treatment: Every face is unique, and so is our approach. We tailor the chin augmentation surgery to match your specific needs and desires, ensuring that the results are harmonious with your overall facial features.
State-of-the-Art Facilities: Located in London, our Baker Street clinic is equipped with the latest technology and follows stringent safety standards. Whether you need chin implants or a complete reshaping, we provide a comfortable and safe environment for all procedures.
Comprehensive Care: From the initial consultation through to post-surgery care, our compassionate team is with you every step of the way. We provide detailed information, support, and follow-up to make sure your recovery is smooth.
Satisfying Results: Our patients' smiles tell the story of success. With minimal downtime and maximal enhancement, chin augmentation at Centre for Surgery has helped numerous individuals gain confidence and satisfaction with their appearance.
Chin Augmentation Options:
Chin Implant Surgery: Using safe and durable implants, we can add volume and definition to your chin.
Bone Reshaping: Without the need for implants, we can bring the whole chin forward, creating a more projecting chin.
Combined Approaches: We offer a comprehensive approach that may include liposuction under the chin and soft tissue manipulation to achieve the best results.
Take the Next Step Towards a New You
Chin augmentation surgery at Centre for Surgery is more than just a procedure; it's an artistic transformation designed to bring out the best version of you. Our surgeons take into consideration your whole facial appearance to create a chin that is not just bigger but more beautiful and harmonious.
Are you ready to redefine your chin, enhance your jawline, and bring balance to your face? Book a consultation at Centre for Surgery today and let us help you achieve the facial harmony you deserve.
Centre for Surgery: Where Art Meets Science, Where You Meet Your New Self.
Contact us now at Centre for Surgery in London or call us at 0207 993 4849. We look forward to enhancing your beauty and confidence.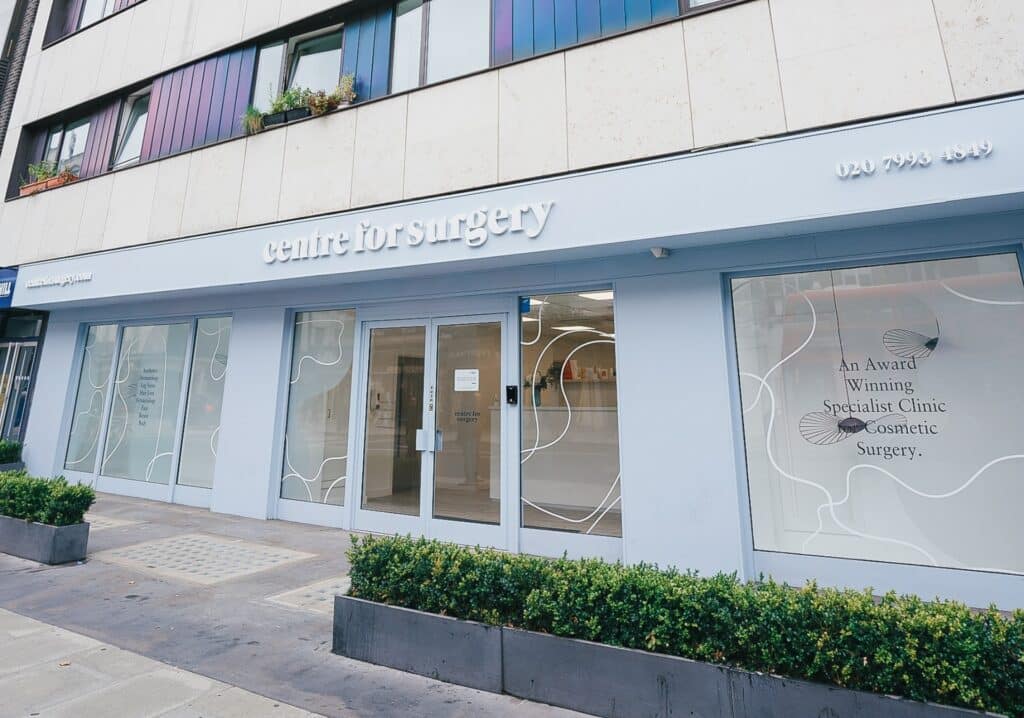 What To Expect
The chin augmentation consultation
If you're considering chin augmentation to achieve a more defined chin, we strongly recommend starting with a face-to-face consultation with one of our expert plastic surgeons at Centre for Surgery. During this meeting, the surgeon will listen to what you want to accomplish and will provide an honest assessment of what can be realistically achieved.

To give you an idea of the possible outcome, your surgeon might use computerised digital imaging to map your chin region in detail. Along with taking high-resolution photographs from various angles, the surgeon will perform a thorough physical examination and detailed facial analysis, including measuring specific parts of your face.

You'll also learn about the potential risks and complications of chin surgery and what you can expect during the healing and recovery period. Your medical history, including any medications you're taking, will be recorded, as some medicines might interfere with blood clotting and may need to be discontinued.

After carefully considering all this information, your suitability for the procedure will be determined. You'll then have a recommended two-week "cool off" period to think over everything and decide if chin augmentation is the right choice for you.

If you're at all unsure or have any more questions, you're welcome to return for additional consultations. We actively encourage follow-up visits to make sure you're entirely comfortable with the process and confident that chin augmentation surgery is the right path for you. Ensuring you're fully informed is our priority.
Before your procedure
Once you have decided to move forward with chin augmentation surgery - a preoperative assessment will be arranged. Our preoperative assessment team will be in touch to assess medical fitness prior to coming in on the day of surgery. There are a number of instructions to follow before your procedure including stopping any aspirin containing medicines as these can increase bleeding and ideally stopping smoking. Smokers have a higher risk of slower wound healing as well as more chance of wound complications. On the day of your procedure, you must follow the preoperative fasting guidance which includes no food for 6 hours prior. Only clear fluids (water) is allowed up to 2 hours before your procedure. If you have chin augmentation surgery under local anaesthetic only, there is no need to fast beforehand.
On the day of your procedure
When you arrive for your chin augmentation procedure, you should aim to arrive on time to allow the admission process to proceed smoothly. One of our nurses will formally admit you and will check a number of items including making sure you have your postoperative medications. You will have your vital signs measured including blood pressure and heart rate. The anaesthetist will then meet you to perform a preoperative airway assessment. Finally your surgeon will consent you for the planned procedure followed by a detailed preoperative marking of the areas to be treated. Chin reshaping surgery takes about 1 hour to perform and if you choose GA, our anaesthetists use TIVA general anaesthesia to keep you comfortable throughout the procedure. The surgeon makes a small incision beneath the incision followed by the creation of a small pocket for the chin implant. The chin implant is then carefully inserted and secured with sutures. The skin will then be carefully closed using fine sutures. After the procedure is complete, you will spend time in our recovery suite where you will be prepared for nurse-led discharge once you have met all the discharge criteria. It is important to have a responsible adult such as a friend or family member to accompany you home and to look after you for the first 24 hours.
After your procedure
Once you are safely at home, you can be assured in having access to our specialist postoperative team round the clock. You will be given a contact number to contact your surgeon in the first 24 hours after surgery if there is any concern. Chin implant surgery is associated with very little in the way of postoperative discomfort although a bruised and swollen appearance is common for the first week after surgery. Bruising should start to subside after 7-10 days. You should avoid intense sunlight after the procedure to reduce the risk of pigmentary changes to the incision.

Our postoperative team will look to call everyday for the first 2 weeks after your procedure. This is so we can monitor your levels of comfort and can alert your surgeon if there is any concern. Our proactive approach allows the detection of any potential issues early which results in more effective treatment. You are advised to rest for at least a few days after your chin augmentation procedure which will also help with pain control. Heavy exercise should be avoided for at least the first 4 weeks. Our postoperative clinical team will assess you face to face at your 1 week postoperative appointment to ensure healing is progressing normally and the wounds site are healthy. Your sutures will be removed if your surgeon used non-absorbable sutures. You will be booked for your surgeon follow-up appointment for 6 weeks after your procedure.