Rhinophyma Surgery London UK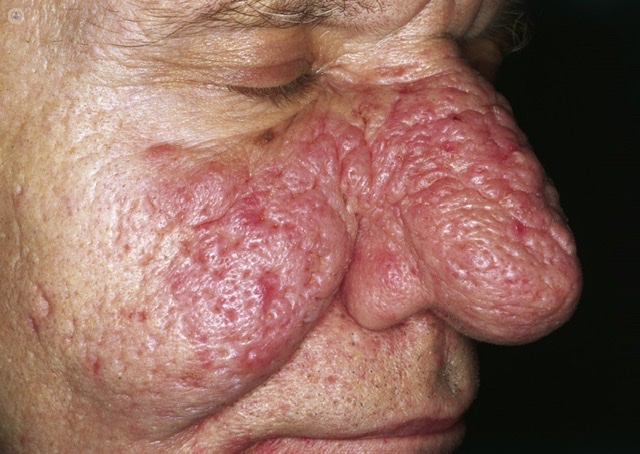 Experience renewed confidence and improved facial aesthetics with our effective rhinophyma treatment – tailored to restore healthy nasal skin
Rhinophyma is a condition that causes the nose to become enlarged and deformed, most commonly seen in men over 50. It is a subtype of rosacea, a chronic skin condition that affects the face. Rhinophyma is caused by the thickening of the skin on the nose, as well as an increase in the number and size of sebaceous glands. This can result in a bulbous, red, and bumpy nose. It is important to note that while rhinophyma is often associated with heavy alcohol consumption, the link is not well established.
Treatment for rhinophyma typically involves reducing the size of the nose through surgical procedures such as excision, skin resurfacing, or laser therapy. The goal of treatment is to improve the patient's appearance and self-esteem and also to improve breathing by opening the nasal airway. In some cases, a combination of surgical and non-surgical treatments may be needed.
It's important to note that rhinophyma is a rare condition, and it's not common. It's also important to consult with a plastic surgeon at Centre for Surgery to properly diagnose and treat it.
What is Rhinophyma?
Rhinophyma is a skin disorder that predominantly impacts the nasal area, leading to an enlarged, bulbous nose that may appear reddish and bumpy, or exhibit a mix of both characteristics. The precise origin of rhinophyma remains unclear, although scientific research suggests that it may emerge as a result of an undiagnosed and untreated severe form of rosacea, known as phymatous rosacea.
The progression of rhinophyma usually spans several years, during which the condition gradually evolves into a sizable mass, most often located at the nose's tip. Early indications of rosacea can manifest as patchy redness on the cheeks and nose, intermittent facial flushing, skin sensitivity, or the emergence of small red bumps.
As rhinophyma progresses, it is typically marked by a slow-growing mass that causes the nose to become increasingly bulbous and distorted in shape. Additional symptoms can include a proliferation of oil glands, enlarged pores, reddened skin, and the presence of areas where the skin has thickened, become rougher, or developed a waxy appearance.
In the initial stages of rosacea, individuals may experience a variety of symptoms, such as red blotchy skin appearing on their cheeks and nose, sporadic episodes of facial flushing, heightened skin sensitivity, or the development of small red bumps. If left untreated, these early signs can eventually evolve into the more severe form of rhinophyma, which is why early diagnosis and treatment are crucial in managing this dermatological condition.
What causes rhinophyma?
The exact cause of rhinophyma is not well understood, but it is believed to be a complication of rosacea, a chronic skin condition that affects the face. Rosacea causes inflammation and redness on the face, especially on the cheeks, nose, chin, and forehead. In some people, the condition can progress to rhinophyma, which is characterized by the thickening of the skin on the nose and an increase in the number and size of sebaceous glands.
There are some risk factors that have been associated with the development of rhinophyma, including:
Age: It is most common in men over 50
Gender: it is more common in men than in women
Family history: people with a family history of rosacea or rhinophyma are more likely to develop the condition
Ethnicity: it's more common in people of Celtic or Scandinavian descent
Exposure to UV rays and environmental factors like wind, sun, and cold temperatures.
It's also important to note that some studies have reported that heavy alcohol consumption may be associated with rhinophyma, but the link is not well established.
It's important to note that rhinophyma is a rare condition and it's not common. It's important to consult with a dermatologist or a plastic surgeon to properly diagnose and treat it.
Can rhinophyma cause snoring?
Rhinophyma is a condition that affects the nose, causing it to become red, swollen, and bumpy. While rhinophyma itself is not directly linked to snoring, the condition can cause structural changes in the nose that may contribute to snoring or other breathing difficulties.
In some cases, rhinophyma can cause the nasal passages to become partially or completely blocked, which can make it more difficult to breathe through the nose. This can lead to snoring or other breathing problems during sleep.
In addition, rhinophyma can cause the nasal tissue to become inflamed, which can also contribute to snoring or other breathing difficulties. It is important to note, however, that not all individuals with rhinophyma will experience snoring or other breathing problems.
Centre for Surgery offers highly effective laser snoring treatment, also known as NightLase, to help alleviate symptoms of snoring caused by rhinophyma.
Laser snoring treatment, such as NightLase, is a non-surgical, minimally invasive procedure that uses a laser to tighten the tissues in the back of the throat, reducing the vibration that causes snoring. The benefits of laser snoring treatment may include the following:
Improved sleep quality: Laser snoring treatment can help to reduce snoring and improve the quality of sleep. This can lead to a range of health benefits, such as increased energy, improved mood, and better overall health.
Non-invasive: Laser snoring treatment is a non-invasive procedure that does not require any incisions or anaesthesia. This means that there is little to no downtime after the treatment, and patients can typically return to their normal activities immediately.
Safe and effective: Laser snoring treatment is a safe and effective option for reducing snoring and improving sleep quality. The treatment is carefully controlled and delivered in a way that is designed to minimize discomfort and ensure patient safety.
Long-lasting results: The results of laser snoring treatment can be long-lasting, with some patients experiencing improvement in their snoring and sleep quality for up to a year or more after the treatment.
No need for equipment: Unlike other treatments for snoring, such as CPAP machines, laser snoring treatment does not require the use of any equipment during sleep. This can make the treatment more convenient and comfortable for some patients.
Rhinophyma Reduction Before & After Photos
Case 1: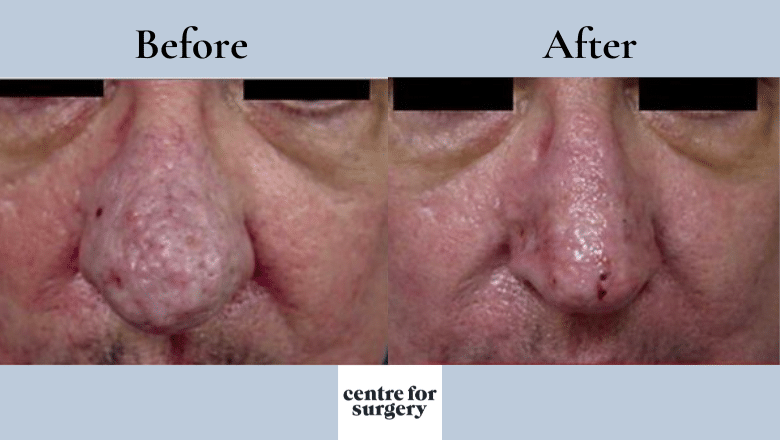 Case 2: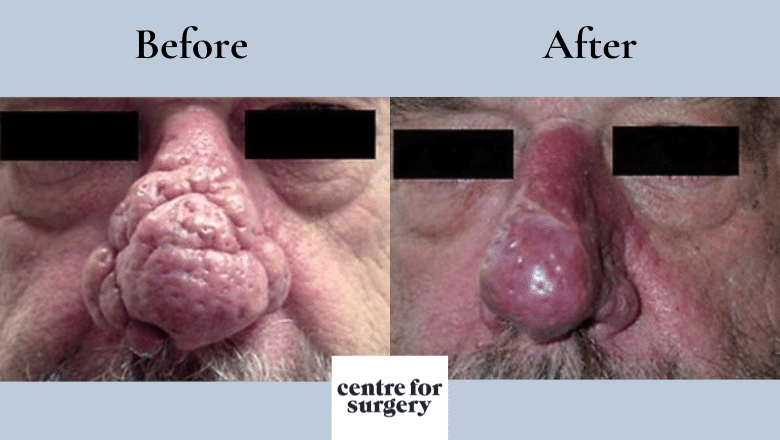 Benefits of Rhinophyma Treatment
The benefits of rhinophyma treatment are numerous and can significantly improve an individual's quality of life. Some of the key advantages of seeking appropriate treatment for this dermatological condition include:
Improved appearance: One of the primary benefits of rhinophyma treatment is the enhancement of the patient's appearance. As the condition can lead to a disfigured and bulbous nose, treatment can help reduce the size and redness of the affected area, leading to a more natural and aesthetically pleasing appearance.
Enhanced self-confidence: Rhinophyma can have a significant impact on an individual's self-esteem due to the visible nature of the condition. By addressing the symptoms and improving the appearance of the nose, patients can experience a boost in self-confidence and a renewed sense of self-worth.
Better skin health: Treatment of rhinophyma can contribute to overall skin health by reducing inflammation, controlling excess oil production, and minimizing the occurrence of enlarged pores. These improvements can lead to a healthier complexion and reduce the risk of further skin complications.
Improved respiratory function: In severe cases, rhinophyma can obstruct the nasal passages, leading to breathing difficulties. Treatment can help alleviate this issue by reducing the size of the nasal mass, allowing for improved airflow and better respiratory function.
Prevention of complications: Timely and appropriate treatment of rhinophyma can help prevent the progression of the condition and the development of complications, such as infections and further disfigurement of the nasal area.
Psychological well-being: Addressing the physical symptoms of rhinophyma can have a positive impact on an individual's mental health. The relief from social anxiety and the improvement in self-confidence can lead to enhanced psychological well-being and an overall better quality of life.
Customised treatment plans: Rhinophyma treatments can be tailored to suit each patient's specific needs and preferences. This personalized approach ensures that individuals receive the most effective and appropriate care for their condition.
Am I suitable for rhinophyma surgery?
Whether or not you are suitable for rhinophyma surgery depends on a number of factors, including the severity of your condition, your overall health, and your personal goals for the surgery. A consultation with a plastic surgeon or a dermatologist who specializes in rhinophyma treatment will help to determine if you are a good candidate for surgery.
During the consultation, the surgeon will assess the size and shape of your nose, as well as the thickness of the skin and the presence of any other medical conditions that may affect the outcome of the surgery. They will also discuss your goals for the surgery, and explain the different surgical options available, including the risks, benefits, and potential outcomes of each.
It's important to have realistic expectations and understand that rhinophyma surgery may not completely eliminate the redness, bumpiness, and irregular shape of the nose, but it will improve the appearance of the nose and can also improve breathing by opening the nasal airway.
It's important to note that surgery is not the only option for rhinophyma treatment, other non-surgical options such as topical or oral medications, or laser therapy may be used alone or in combination with surgery.
It's important to consult with a qualified plastic surgeon or a dermatologist who specializes in rhinophyma treatment to properly evaluate your condition and recommend the best treatment option for you.
Rhinophyma Removal Surgical Techniques
There are several surgical techniques that can be used to treat rhinophyma, each with its own advantages and disadvantages. The choice of surgical technique will depend on the extent of the condition, the patient's goals for the surgery, and the surgeon's experience and expertise.
Some of the most common surgical techniques for rhinophyma include:
Surgical Excision: This technique involves removing the excess tissue from the nose using a scalpel or a surgical laser. This can be done through an open or closed approach, depending on the extent of the condition. This method can be effective but can leave a scar and may require a skin graft.
Dermaplaning: This technique involves using a surgical blade to shave off the excess tissue on the nose. This technique can be performed under local anaesthesia and is considered less invasive than other surgical methods.
Carbon dioxide (CO2) laser resurfacing: This technique uses a laser to remove the top layers of the skin on the nose, leaving behind a smoother and more even surface. This technique can also be used to improve the texture of the skin and reduce the redness associated with rhinophyma.
Cryosurgery: This technique uses liquid nitrogen to freeze and destroy the excess tissue on the nose.
Subcision: This technique involves using a needle to separate the fibrous bands that are pulling down the skin and creating a bumpy texture.
It's important to note that these techniques can be used alone or in combination, and recovery time and results may vary depending on the technique used and individual case. A qualified plastic surgeon or a dermatologist who specialises in rhinophyma treatment will be able to recommend the best surgical technique for you after evaluating your condition and discussing your goals for the surgery.
Recovery after Rhinophyma Removal
Recovery after rhinophyma surgery varies depending on the surgical technique used, but generally, it can take several weeks for the swelling and bruising to subside and for the final results to become visible.
After the surgery, your surgeon will place a dressing or splint on your nose to help shape and protect the area during the healing process. They will also provide you with instructions for caring for the surgical site, including how to clean and protect the area, and when to return for follow-up appointments.
You should expect some swelling and bruising around the nose, which can last for several weeks. Your surgeon may recommend medications to help manage pain and discomfort, and cold compresses can be used to help reduce swelling. The sutures will be removed after a week or two, and you will be able to resume normal activities after a week or two, but it is important to avoid strenuous activities or exposure to sunlight during the healing period.
It's important to follow the postoperative instructions provided by your surgeon and to attend any follow-up appointments as scheduled. During the healing process, it is important to be patient and avoid comparing your recovery to others, as every person's healing process is different.
It's important to remember that the final results of the surgery may not be visible for several months, and the nose may not be completely symmetrical, but the surgery will improve the appearance of the nose and can also improve breathing by opening the nasal airway.
Can I get Rhinophyma Treatment on the NHS?
The availability of rhinophyma surgery on the National Health Service (NHS) in the UK can vary depending on the specific NHS trust or region. Generally, non-surgical options like topical or oral medications or laser therapy are usually tried first before considering surgery.
In order to be considered for rhinophyma surgery on the NHS, you will need to be referred by a GP or a specialist and then be assessed by a specialist surgeon or a dermatologist. They will evaluate your condition, and if they determine that surgery is the best option, they will refer you to a plastic surgeon who can perform the procedure.
The availability of the surgery on the NHS may also depend on the funding and resources available in your area. Some NHS trusts may not offer surgery for rhinophyma or may have a long waiting list for the procedure. However, some patients may be able to get a referral for surgery on the NHS if they have a severe or debilitating case of rhinophyma or if other treatment options have failed.
It's important to note that even if surgery is unavailable on the NHS, plastic surgery clinics such as Centre for Surgery perform rhinophyma surgery. Patients will need to fund the cost of the treatment themselves, although we offer a range of flexible finance options to help patients spread the cost of their monthly repayments.
Rhinophyma Reduction at Centre for Surgery
Centre for Surgery is a specialist plastic surgery clinic and is home to some of the leading specialists in rhinophyma surgery in the UK. We regularly treat both men and women with rhinophyma of all grades of severity using gold-standard surgical techniques.
Schedule a rhinophyma consultation by calling us on 020 7993 4849 or completing the contact form below.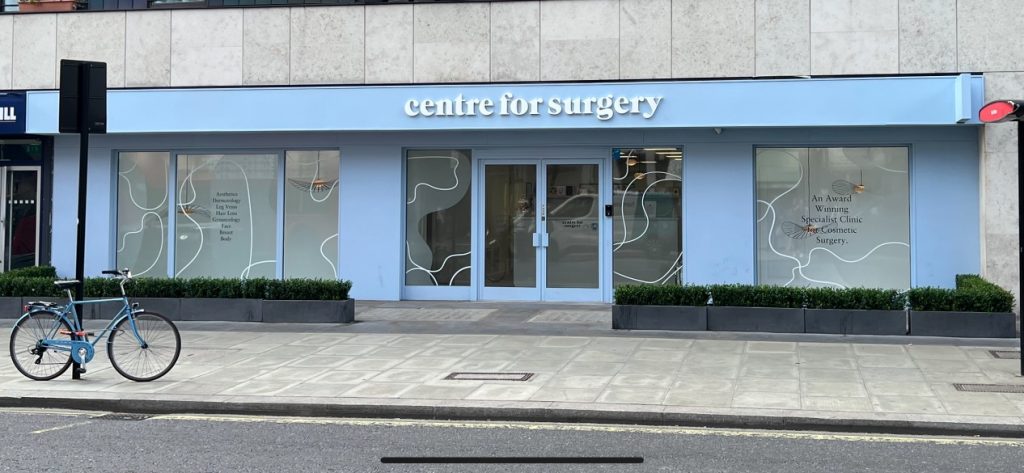 Amazing from start to finish, the communication was the main thing was fully informed and looked after, on the day of my breast augmentation, the staff were fab and made me feel at ease through out the whole process. Thank you so much.
Mohammed Farid
18/11/2021
I've had such a great experience with excellent advice, care and attention and surgical treatment (gynaecomastia) - I can fully endorse the treatment I have received from Centre for Surgery with absolutely no qualms at all. Brilliant in every way - thank you all so much.
Caroline Thorpe
14/11/2021
Very pleased with my whole experience of having a procedure. Was so nervous about getting treatment and i was reassured and felt so comfortable throughout thanks to the amazing nurses. I definitely made the right decision to have breast augmentation at centre for surgery with dr erel.
Melissa Briggs
08/11/2021
So glad I went with centre for surgery, the whole process went very smoothly from the consultations down to the actual day of the procedure. I was so nervous on the day but the whole team put me at ease and I'm happy with my results as I feel a lot more comfortable wearing certain clothes now. My surgeon was Alberto Di Giuseppe who performed a breast Augmentation on me, and I would definitely recommend as he was very clear on what the outcome of the surgery would be and which size would look the best for my frame.
Couldn't be happier with Dr Tillo work,i had my breast surgery one week ago and so happy with the results so far,all the staff are extremely nice and very supportive,i would definitely recommend their services,thank so much
From start to the finish everything was perfect for tummy tuck surgery. All staff is very friendly and the aftercare has been good. The Doctor and the nurse team was fantastic. I'm so happy...result is amazing. Thank you!!!
This was overall a great experience, all the staff at Centre for Surgery were friendly and put me at ease. It is a nerve wracking thing to go through an op but the staff were so nice. Mr Ertan has got a great team around him. On the day of the operation everything went smoothly to plan, there was no delay or holdups, I had another consultation with Mr Ertan who confirmed what was going to be done and that I was still happy to proceed. I was prepped for the procedure, I met with the anaesthetist who again was really nice and put me at ease explaining his role. After the procedure I woke up with the nurse by my side making sure I was OK and checking on me, I was able to stay in the clinic until I was ready to leave and was not rushed at all. I was well looked after from the start to the point when I was discharged. Post operation I was staying at a local hotel it was so close there was no point in even getting a taxi and I was able to walk back where my partner was waiting for me. I was expecting a lot of bruising to both my eyes but there was very little if any by the time the cast came off after 7 days, I am now at the two week post operation point and it is healing well with no outwardly visible bruising or scaring. The next milestone is a checkup at the 6 week point with my surgeon. If you're thinking of having something like this done I would highly recommend getting in touch with Centre for Surgery.
The staff at Centre for Surgery were very kind and accommodating. They answered any questions I had about the procedure and were constantly checking up on me. A special thank you to Christina for all her support throughout.
I would just like to state the quality of care received from the nurses at Centre for Surgery was beyond the highest level. Sophie takes her patient care to another level beyond words. She always puts me at ease. She is there for me even at awkward hours just when I mostly needed reassurance and she is one of the most compassionate nurses I have come across and demonstrates her passion naturally for caring for others. She totally deserves recognition at its finest and thank you for always being there for me. 😍