Rhinophyma surgery in London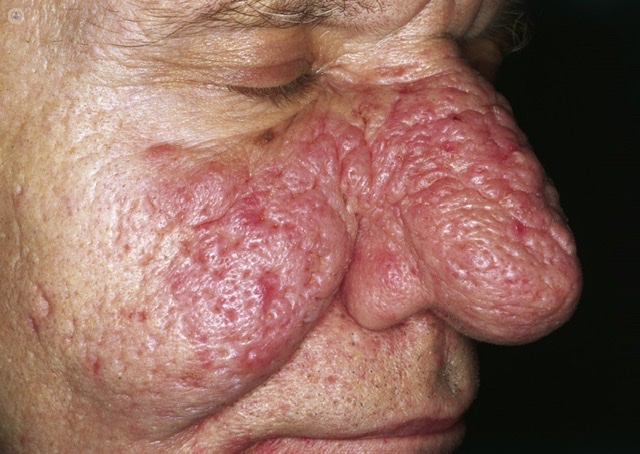 Rhinophyma is a rare skin disorder that causes an appearance of a large and bumpy nose. Rhinophyma, also called 'bulbous nose', typically occurs during the later stages of rosacea. Rosacea is a chronic inflammatory skin condition that is quite common. The skin condition causes red bumps with pus to form mostly on the cheeks and nasal, which progressively becomes worse with hypertrophy of the sebaceous glands leading to Rhinophyma. Rhinophyma is a disfiguring disorder that most commonly affects men in their fifth to seventh decades of life.
Previously, rhinophyma has been associated with heavy alcohol consumption. Although Rhinophyma remains an incompletely understood process, it is generally accepted to be the most severe outcome of chronic rosacea.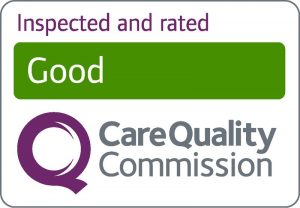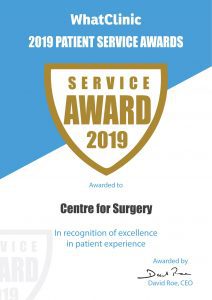 Why choose Centre for Surgery for your rhinophyma reduction procedure?
Over 15 years experience with all types of rhinophyma surgery – dermabrasion, diathermy, CO2 laser and Erbium YAG laser
We regularly receive patients from overseas at our London dermatology clinic at 106 Crawford Street
Our dermatologists are UK trained NHS consultants who live and work in London. This is very important because whilst your practitioner takes all precautions to minimise complications, complications can and do occur and our surgeons are readily available to manage any issues if and when they arise.
We own and manage our own medical facilities. Properly performed rhinophyma surgery takes time and should not be rushed.
Trust a laser dermatologist
A laser dermatologist is trained to undertake aesthetic surgical procedures in the facial region. They are dedicated sub-specialists. Compared with general dermatologists, laser dermatologists are inherently better trained to perform delicate facial procedures. The extra years of surgical training by facial specialists focused on the facial region results in an exceptionally high degree of skill. Rhinophyma surgery is highly intricate and our laser surgeons are highly experienced to undertake laser surgery on the nose region.
What is Rhinophyma ?
Previously the bulbous nose had been thought to be caused by the consumption of alcohol regularly, however, this is not correct. The bulbous nose occurs equally in those that consume alcohol and those that do not. The problem occurs more so in men rather than women. The bulbous nose is thought to be due to the skin condition, rosacea which is a chronic skin condition characterised most commonly by diffuse facial redness and is able to swell and even when seemingly fading it flares up again. This condition is usually present in the face, nose, cheeks, forehead and chin. Rosacea can be caused by many different factors, it is best to keep track of what is consumed so whatever is the cause of the rosacea it can be prevented.
Since rhinophyma only occurs in the later stages of rosacea, which means you may already have noticed the earlier symptoms such as facial flushing for no reason or sensitivity of the skin.
During the later stages of rosacea you will notice symptoms such as:
Gradual growth of the affected area giving a swollen, bulbous appearance

Increase of oil glands

Sweat pores enlarging

Skin tone becoming reddish

Thickening of the outer layer of the skin
If remained untreated, chances are these symptoms will only get worse over time and also may occur in cycles. Rhinophyma is known to occur mostly in men than in women from ages between 25 and 50. According to experts, you are more likely to be at a higher risk of suffering from Rhinophyma if you have:
A family history of rosacea

Fair skin

Lighter hair colour

Blue or green eyes
Ideal candidates for rhinophyma treatment
Anyone who is suffering from rhinophyma may be a suitable candidate for rhinophyma reduction with erbium laser or CO2 laser. It is important to note Centre for Surgery only offers this procedure to those who are over 18. It is also important that you stop smoking prior to surgery and during the recovery period to minimise risks and complications.
It is also recommended that you keep track of what causes the rhinophyma. This includes:
Sun exposure

Emotional stress

Wind

Spicy foods

Indoor heat

Certain cosmetics

Medical conditions

Marinated meats

Certain vegetables

Dairy products
Preoperative photographs will be taken and used as a guide to reshape the overgrown tissue back to a normal shape using Erbium YAG laser or CO2 laser.
Rhinophyma surgical techniques
Historically, surgical correction of rhinophyma has been divided into 2 main classes: full-thickness excision requiring skin closure or placement of a skin graft for repair and superficial removal of the skin (partial-thickness ablation) with subsequent healing by regeneration of skin from adjacent tissue and support structures like sebaceous glands. Full-thickness excision results in a higher risk of scar formation, poor texture and colour mis-match, and a poor cosmetic result; thus. Full thickness excisions have now been replaced by partial thickness laser ablation using CO2 laser and most recently, Erbium laser.
Disfigurement of the affected area due to enlarged blood vessels and tissue over-growth can be seen if no treatment is started. Topical treatments such as gels and antibiotics can be used to treat Rosacea at its early stages but are ineffective in the treatment of rhinophyma. Traditionally CO2 laser has been seen as the gold standard for rhinophyma surgery however this has been replaced in recent years by Erbium YAG laser with far greater precision compared with CO2 laser.
At Centre for Surgery, our surgeons use gold-standard Erbium YAG laser with variable square pulse technology. Erbium wavelength of 2940nm is very specific in water absorption and thus provides more controlled tissue ablation when compared with traditional CO2 laser. Erbium YAG laser has been developed which combines both short and long pulse beams in the same hand-piece. The longer pulse systems deliver enhanced coagulative abilities which helps to minimise blood loss.
Rhinophyma surgery is performed under local anaesthesia with nerve blocks and direct injections of local anaesthetic into the nose itself. You also have the option of have mild tablet oral sedation which will help to relax you on the day of your procedure. All procedures are performed as outpatient procedures as a day case – you will be admitted and discharged on the same day.  You also have the option of supplementary mild oral sedation with tablets. Rhinophyma surgery takes on average 60-90 minutes to perform.
Various methods have been used to correct the bulbous appearance caused by the rhinophyma condition for a smooth and aesthetically pleasing result. The more traditional methods involve using a scalpel to help remove the excess tissues formed in the problem area or dermabrasion. Laser resurfacing is now used as a first line technique to restore the shape, size and texture of the nose. The results are visible immediately after Rhinophyma surgery, but it takes up to a week for the nose to heal completely and 6-12 months to see the final result.
Rhinophyma is usually treated in one session. For larger and more complex rhinophyma, occasionally a second stage is required for removing any residual disease..
Rhinophyma recovery
Postoperative care is kept simple and low maintenance for the patient. With the Erbium YAG laser technique, the final wound is a sealed, partial-thickness dermal injury with minimal drainage. All raw surfaces are covered generously with mupirocin ointment and a single layer of absorbent gauze. The gauze is then left in place for 7 days and allowed to naturally peel away as it dries.
The result after rhinophyma surgery is very natural-looking and offers long-term skin enhancement with no scarring. 
You will be advised not to go out in the sun for the first few weeks following your surgery to avoid any sun-induced pigmentary changes and to speed up the recovery period.
Rhinophyma before and after
Case 1: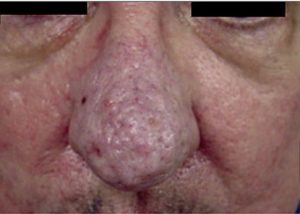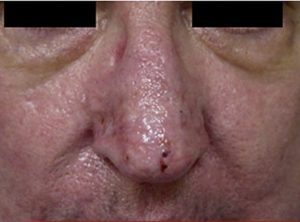 Case 2: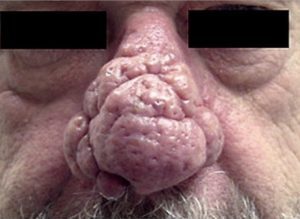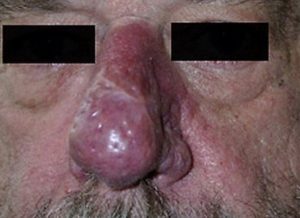 How to find us
Centre for Surgery is located at 106 Crawford Street in Marylebone. Crawford Street is just off Baker Street. We are easily accessible by all major bus routes that pass through Baker Street as well as Baker Street underground station.
From the tube station, we are just a 5 minute walk southwards down Baker Street followed by a right turn onto Crawford Street. The clinic is about 200 yards on the left.
There is ample local pay & display parking in the surrounding area and an NCP car park is located further west along Crawford Street. Our local residential parking zone is the City of Westminster.
Address: 106 Crawford Street, Marylebone, London, W1H 2HY