Facial Feminisation Surgery (FFS) in London

Discover a more authentic you with our expertly performed Facial Feminisation Surgery (FFS), where we craft delicate, feminine features to reflect your true identity
Are you seeking to soften the contours of your face to reflect a more feminine appearance? Facial Feminisation Surgery, available at our London clinic, could be the solution you're looking for.
This type of surgery is designed for individuals who wish to modify their facial characteristics to be more traditionally feminine. Whether you identify as female or are undergoing a gender transition, these procedures can help align your outer appearance with your inner identity.
Facial Feminisation Surgery encompasses a range of tailored surgical techniques aimed at softening masculine features. This could include contouring the bone structure, refining the shape of the nose, or other adjustments that contribute to a gentler, more feminine visage.
At Centre for Surgery, we specialise in transformative Facial Feminisation Surgery. Our team of experienced surgeons understands the intricacies of facial anatomy and aesthetics. We're committed to providing personalised care and state-of-the-art procedures for those seeking facial feminisation in London.
We believe in working closely with you to understand your goals and desires. By doing so, we craft a surgical plan that is as unique as you are, ensuring results that celebrate your individual beauty.
If you're considering Facial Feminisation Surgery and would like to discuss your options, our clinic in London is here to support you every step of the way. Contact us to schedule a consultation where we can answer all your questions and outline the journey towards the appearance that truly reflects you.
What is Facial Feminisation Surgery – FFS?
Understanding the Reasons for Choosing Facial Feminisation Surgery
Facial Feminisation Surgery (FFS) is a transformative set of procedures that many individuals consider for various reasons. Here's a more in-depth look at why someone might opt for FFS:
Reshaping the Nose: One common aspect of FFS is reshaping the nose to be smaller or to refine its shape to achieve what is often perceived as a more feminine appearance. This can involve adjusting the bridge, tip, and nostrils.
Smoothing the Skin: FFS can help smooth out skin that might be affected by a "five o'clock shadow," which is often a concern for transgender women. Certain procedures can reduce the appearance of shadowing caused by facial hair.
Enhancing the Eyebrows: A high, arched eyebrow is a trait commonly associated with femininity. FFS can involve lifting the eyebrow ridge to achieve this look, helping to frame the eyes more softly.
Refining the Jawline: Altering the shape of the jawline can have a significant impact. FFS can sculpt the jaw to make it less angular and more contoured, which can lead to a softer and more typically feminine jawline.
Modifying the Chin: Making the chin appear smaller and rounder is another goal of FFS. A more pointed or oval chin is often desired over a square or wide one, which is typically seen as more masculine.
Reducing the Adam's Apple: A prominent Adam's apple can be a source of discomfort for some individuals seeking a smoother neck line. FFS can include a procedure to reduce the size of the Adam's apple, helping to create a more slender and less pronounced throat contour.
Individuals who consider FFS usually do so to feel more at peace with their appearance, ensuring their facial features align with their gender identity. This can be a significant step in their journey, offering not just cosmetic changes, but also emotional and psychological benefits, as their outward appearance begins to reflect their true self.
Different Types of Facial Feminisation Procedures
Facial Feminisation Surgery (FFS) comprises a suite of cosmetic procedures each designed to modify specific facial features to achieve a more feminine appearance. Here are the common types of FFS procedures:
Rhinoplasty: This is a procedure aimed at reshaping the nose to make it appear more delicate and refined, in line with feminine beauty ideals. Surgeons may sculpt the nasal tip, refine the bridge, and narrow the nostrils to achieve this effect.
Lip Lift and Augmentation: These techniques focus on enhancing the lips to give them a fuller look and to define the Cupid's bow, which are characteristic of feminine mouths. A lip lift can also reduce the distance between the nose and the lip, which is typically shorter in women.
Forehead Contouring: This procedure involves reshaping the forehead. Surgeons may reduce the brow ridge and make the forehead smoother and flatter, which helps in softening the facial features.
Hairline Lowering: Also known as scalp advancement, this procedure reduces the height of the forehead by moving the hairline forward, decreasing the distance between the brow and the hairline.
Brow Lift (Browplasty): This operation elevates the position of the eyebrows. In a feminine face, the eyebrows sit higher than in a masculine one, and this procedure can also soften the look of the forehead.
Chin Recontouring and Augmentation (Genioplasty): By reshaping the chin, surgeons can create a more rounded or pointed chin as opposed to a square, broad chin, which is often perceived as more masculine.
Cheek Augmentation: This can be achieved with either implants or injections, like dermal fillers, to create the appearance of higher, more prominent cheekbones, which are a hallmark of feminine beauty.
Tracheal Shave: Also known as an Adam's Apple reduction, this procedure reduces the size of the thyroid cartilage to lessen the prominence of the Adam's Apple, contributing to a smoother neck contour.
Each of these procedures is highly specialised and requires a skilled surgeon who understands both the aesthetic goals of the patient and the functional anatomy of the face. Patients might choose one or a combination of these procedures to achieve their desired outcome. The precise approach and techniques used will vary based on individual facial structure and personal preferences.
Ideal candidates for Facial Feminisation Surgery
Recovery after Facial Feminisation Surgery
Recovering from Facial Feminisation Surgery (FFS) is a process that varies from person to person, but knowing what to expect can help you prepare and ensure a smooth healing journey. Here's a detailed overview:
Immediate Post-Operative Period: FFS is typically done as a day case, meaning you'll likely be discharged to go home on the same day as your surgery. This is contingent on the procedures performed and your surgeon's assessment of your initial recovery.
Swelling and Bruising: It's normal to experience some degree of swelling and bruising after the surgery. This is your body's natural response to the surgical changes and the healing process getting underway. The most noticeable swelling usually subsides within the first two weeks. However, some residual swelling can take a few months to fully resolve.
Seeing the Results: While you may notice changes to your facial features immediately after surgery, it's important to have patience. The final results of FFS typically take shape after about three months, once most of the swelling has gone down and your features have settled into their new contours.
Returning to Daily Activities: Most patients can resume work and other normal daily activities within two weeks. Still, this will depend on the nature of your job and the range of procedures you underwent. Your surgeon will provide specific recommendations based on your personal recovery.
Longevity of Results: The changes made during FFS are intended to be permanent. While natural ageing will continue, the alterations made to the bone structure and the reshaping of facial features will permanently retain a more feminine appearance. Hormonal therapy may be necessary to manage aspects like facial hair or muscle mass, but these treatments do not alter the surgical results.
Follow-Up Care: Your surgeon will schedule follow-up visits to monitor your recovery and ensure you're healing as expected. It's crucial to attend all follow-up appointments and adhere to your surgeon's post-operative care instructions, including any medications or therapies prescribed.
Remember to look after your emotional health as well. Recovery from FFS can be not only a physical process but also an emotional one as you adapt to your new appearance. Don't hesitate to seek support from friends, family, or professional counsellors if needed.
Facial Feminisation Surgery Costs London – How much does Facial Feminisation surgery cost in Sydney NSW?
The cost of Facial Feminisation Surgery (FFS) reflects the comprehensive nature of the treatment, encompassing not just the surgical procedures themselves but also the associated costs such as the surgeon's fee, the anaesthetist's fee, hospital charges, and post-surgery medications.
Regarding coverage by private health insurance, it generally depends on the terms of your specific policy and the country's regulations on healthcare and insurance. In the UK, many private health insurers classify FFS as a cosmetic procedure rather than a medically necessary one, which means they typically do not cover the costs. However, there can be exceptions if you can demonstrate that the surgery is a medically necessary part of gender dysphoria treatment.
It's essential to check your individual insurance policy and discuss this with your insurance provider. Some patients might also consider specific health care plans that cater to the needs of transgender individuals, which may offer broader coverage for gender-affirming surgeries.
If your insurance doesn't provide coverage, it's worth exploring other financial options that may be available to you, such as payment plans through Chrysalis Finance.
Facial Feminisation Surgery in London - Why Choose Centre for Surgery
At Centre for Surgery, located in the heart of London, we specialise in transforming lives through the art and science of Facial Feminisation Surgery (FFS). Our commitment to excellence is reflected not only in our state-of-the-art facilities at Baker Street but also in the bespoke care we provide to each of our patients.
Why Choose Us? Our clinic is renowned for its expert team of surgeons who are leaders in the field of FFS, utilising the latest techniques and a personalised approach to create results that are harmonious and natural. We understand the importance of this journey and offer a supportive, discreet, and compassionate environment where you can feel safe and understood.
Patient Testimonials
"After my FFS at Centre for Surgery, I finally feel like the person I was always meant to be. The team treated me with such kindness and professionalism from start to finish. I am truly grateful for their expertise and care." – Emily R.
"The level of detail and care at Centre for Surgery is unmatched. My surgeon was incredibly skilled, and the staff made sure I felt comfortable every step of the way. I am overjoyed with my results and the confidence I've gained." – Priya L.
"Choosing Centre for Surgery for my FFS was the best decision I ever made. From the thorough consultation to the meticulous aftercare, I felt prioritised and valued. The transformation has been life-changing." – Jessica W.
Booking a Consultation Embarking on your FFS journey is a significant step, and it begins with a comprehensive consultation. To book yours, contact us directly:
📞 Phone: 0207 993 4849 📧 Email: contact@centreforsurgery.com
Additional Resources and Information To learn more about why we are the preferred choice for FFS, visit our 'About Us' page: Why Us – Centre for Surgery.
Understanding the financial aspect of your surgery is essential. We provide finance options, including 0% APR with Chrysalis Finance, to help make your transformation as accessible as possible. Details can be found here: Finance Options – Centre for Surgery.
For a deeper insight into FFS and other plastic surgery topics, delve into our informative blog: Centre for Surgery Blog.
Have questions? Our comprehensive FAQ section provides answers to common queries: Clinic FAQs.
Visit Our Clinic Our Baker Street clinic is designed for your comfort and privacy, offering a serene environment for your transformative journey. Learn more about our clinic here: Baker Street Clinic – Centre for Surgery.
At Centre for Surgery, we pride ourselves on helping you achieve the appearance that aligns with your identity. Contact us today to start your journey towards a more confident and authentic you.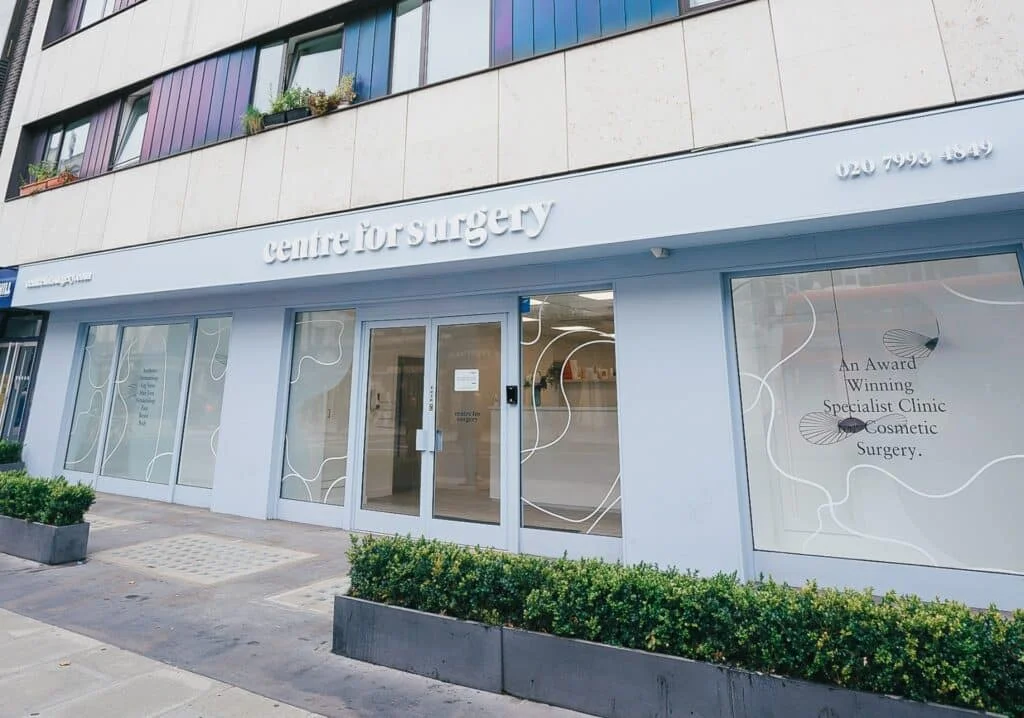 What To Expect
Before the Procedure
If you're considering Facial Feminisation Surgery (FFS), understanding what to expect at each stage of the process is important. Here's a detailed look at what you can anticipate:

Consultation and Medical Evaluation: Your journey begins with an in-depth consultation and medical evaluation. This is when you'll meet with your surgeon to discuss your goals and expectations. You'll have a thorough examination, and this time is also your chance to ask any questions about the surgery. Based on your medical history and the procedures you're interested in, your surgeon might advise you to stop taking certain medications a couple of weeks before your surgery to minimize the risk of complications.

Pre-Surgery Preparation: On the day before your surgery, you must refrain from eating or drinking anything starting from midnight. This fasting is a routine precaution for patients undergoing anaesthesia to reduce the risk of nausea and other complications during and after the procedure. Additionally, since you will be under anaesthesia, you should arrange transportation as you won't be in a condition to drive. Have someone available to take you home after the operation.
On the day of the procedure
The Day of Surgery: FFS can consist of various procedures tailored to your needs. These may be performed separately or combined into one comprehensive surgery. You'll be given instructions on what to bring and how to prepare for the day.

Anaesthesia and Surgery: The type of anaesthesia used will be decided based on the complexity and number of procedures being performed. Some can be done under local anaesthesia with sedation, while more extensive work may require general anaesthesia. The surgical time will vary accordingly, ranging from one to five hours. Your surgical team will ensure you are safe and comfortable throughout the process.
After the procedure
Recovery: Recovery times and protocols will differ based on the extent of the surgery and your individual healing process. If multiple procedures are performed at once, you might experience a longer recovery period. Your medical team will provide you with post-operative care instructions and schedule follow-up appointments to monitor your healing.

Session Planning: Often, patients prefer to split their surgeries into two sessions to manage recovery more effectively—one focusing on the upper face (such as forehead contouring, hairline lowering, and brow lift) and the other on the lower face (like chin recontouring and lip augmentation). This staged approach can help with a smoother recovery and may minimize the time under general anaesthesia in one sitting.

Remember that every patient's experience with FFS is unique, and your surgeon will provide you with the most accurate information tailored to your personal situation. It's essential to have realistic expectations and to closely follow your surgeon's advice for both before and after the surgery to achieve the best results.