Verruca Removal in London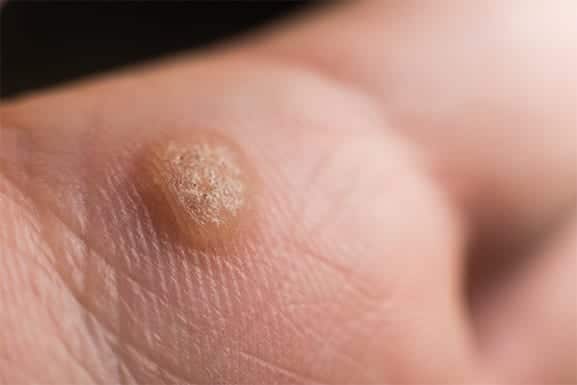 Verruca also known as a plantar wart is a very common condition. Like warts, verrucae are caused by the Human Papilloma Virus. Verrucae are notoriously stubborn skin lesions to remove and many older treatments still commonly used at other clinics lead to a high failure rate. Older treatments used by podiatrists include filing down the wart followed by the application of salicylic acid and repeated use of this treatment can lead damage to the surrounding skin leading to further spread of the verrucas.
Verruca removal is no longer routinely performed on the NHS as they are viewed as a purely cosmetic condition. Even when there is a functional issue such as significant discomfort, it can be difficult to get NHS treatment and the treatments used are generally known to be relatively ineffective.
There are many treatments available for verruca removal and there is a lot of conflicting information on which treatments are best for verruca removal. As with wart removal, if extra verruca tissue is left behind after treatment then this will almost inevitably leading to recurrence of the verruca. Many treatment methods lead to failure as the proper method is to inject local anaesthetic into the area of the verruca followed by verruca treatment. By failing to use local anaesthetic injection, it is likely that patient discomfort will prevent treatment of the deeper parts of the verruca. Use of local anaesthetic allows comprehensive treatment of the verruca including deeper parts for full clearance.
Although older methods used by podiatrists and chiropodists of filing the verruca down followed by application of concentrated salicylic acid are recognised techniques, they have a very high rate of failure due to incomplete penetration of the salicylic acid. These treatments need a course of sessions and despite multiple verruca treatments, failure to remove the verruca completely is a common occurrence.
Older methods of verruca removal
Verrucas are well known for having a very high failure rate for treatment and this is dependent on the thickness of the verruca and by failing to use correct methods for full clearance.
Planter mosaic warts are known for being particularly difficult to remove due to their diffuse nature affecting large areas of skin. In some cases, these types of verruca will require a general anaesthetic for optimal pain control to facilitate proper clearance of these difficult to treat skin lesions. The risk of wound complications is higher with treatment of larger lesions and may be done in stages to enable wound healing to take place with a lower risk of complications.
Needling for verruca removal
This is the least effective of the older methods of treatment. The application of needles is intended to push verruca tissue to deeper skin depths through the numerous small needle penetrations. The rationale for this treatment lies in a theoretical response by the body's immune system which then acts against the verruca in response. Whilst it sounds promising, in practice it is a treatment with an exceptionally high failure rate and should be avoided.
Filing of verruca followed by application of high strength salicylic acid
Filing down the verruca followed by concentrated salicylic acid are methods used by podiatrists. This verruca treatment method has a high failure rate. Many treatments are needed and despite multiple sessions of verruca treatment, persistence of the verruca is usual. The salicylic acid only exerts it effects at the superficial layers of the verruca tissue. Many verrucas can be up to 6mm or more in depth. Therefore most of the verruca is left behind even though it often looks like the verruca has been completely removed with this method.
Cryotherapy for verruca removal
Cryotherapy is generally a more useful treatment compared with the above treatment and is commonly used by GPs as part of providing a minor skin lesion removal service. Cryotherapy is a tried and tested treatment and is commonly used in the NHS for treatment of many skin lesions as it is a relatively cheap treatment to deliver.
Cryotherapy or freezing of a verruca is a painful treatment although it is known to be reasonably effective in wart removal in other areas. Again the main issue is the lack of local anaesthetic injection which results in a painful procedure as the treating practitioner will use pain tolerance levels to determine to what depth the treatment is applied.
Cryotherapy is relatively ineffective when applied to plantar warts as the thickness of a typical verruca can be 5 mm or more. Freezing treatment is halted often way before the bottom of the verruca is reached. Using the cryotherapy in intermittent bursts will not address the deep aspects of the verruca as freezing is not uniformly applied to the verruca tissue leading to some parts of the verruca being warmer than others. This inherent flaw with cryotherapy leads the practitioner to finish the treatment before the full removal of the verruca as trying to remove the deeper part results in intolerable pain. Even with multiple treatment sessions, the verruca remains or becomes even larger.
Verruca removal treatments at Centre for Surgery
Our dermatologists are highly expert in verruca removal from simple to more complicated lesions and have access to state of the art gold standard laser and surgical techniques for highly effective verruca removal. We have both Nd:YAG laser and Erbium laser and your dermatologist will often deploy a combination of these powerful lasers coupled with precise surgical removal. Our facilities are relatively unmatched for verruca removal which has led us to have one the highest success rates for verruca removal in London. We regular achieve success rates of around 80% with one treatment alone. Much higher than found elsewhere using outdated techniques.
Nd:YAG laser
Nd:YAG is the preferred method for smaller sizes of verruca (smaller than 1cm) on the soles of the feet. For thicker verrucas, the Nd:YAG laser is able to deeply penetrate the thick tissue to destroy the blood vessels supplying the verruca. Nd:YAG is the most deeply penetrating laser available. Local anaesthetic is first injected as the treatment would be painful without local anaesthetic. Often two treatments are required especially for the very stubborn verrucas. The verruca then becomes a darker colour before being surgical removed about one week later. As the verruca tissue is dead, there is usually no pain during the second stage removal of the verruca.
Erbium laser
Erbium laser in ablation mode is the best choice for treatment of more complicated verrucas such as planter mosaic warts. Use of the Erbium laser allows treatment of many verrucas found on the sole of the foot. Erbium is much more precise compared with traditional CO2 laser with less thermal damage imparted to surrounding tissue. Using the long pulse mode of Erbium laser also allows for sealing of small blood vessels during treatment which allows a near bloodless treatment. The precision of Erbium laser means normal healthy surrounding tissue is maximally preserved leading to less risk of complications and a quicker recovery.
Recovery after verruca removal
After laser verruca removal, there will be a resulting wound which requires up to three weeks to heal fully. Any invasive treatments of the foot with a breach in skin integrity result in a slower rate of healing compared with treatments conducted elsewhere on the body. This is due to constant pressure on the are while walking and the higher risk of ingress of dirt or sweat leading to a higher risk of infection. All patients are well advised to wear well padded footwear that is loose fitting with minimisation of strenuous activities. Your dermatologist will advise on optimal wound care. In all cases, it is essential to wash the foot in a chlorhexidine wash and followed by the application of a moist dressing to facilitate quicker healing. The foot wash solution and appropriate dressings are easily obtained from all good pharmacies.