Mons Lift London UK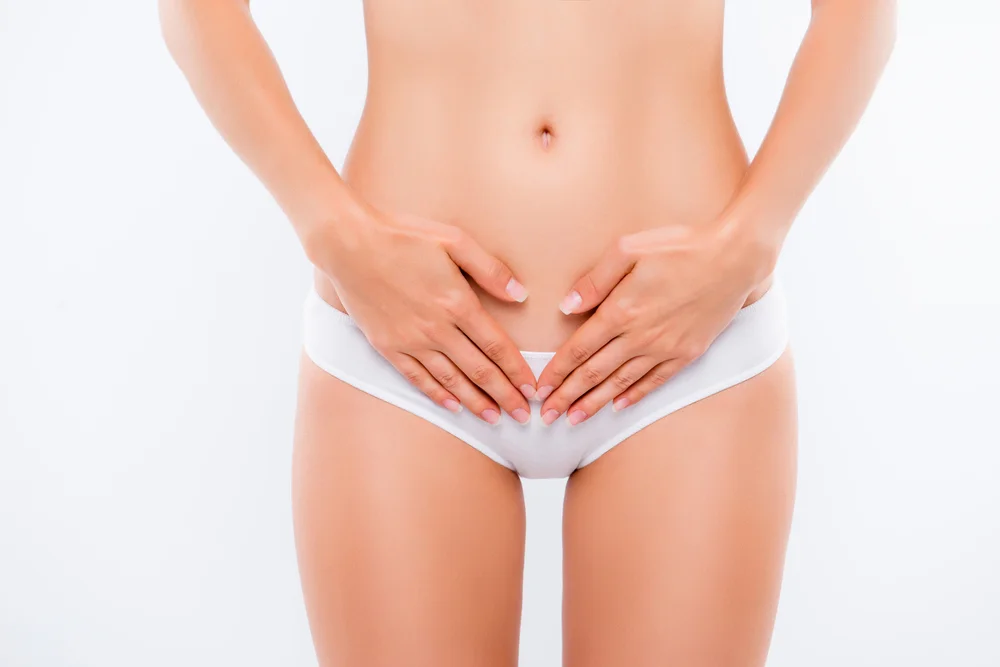 Elevate your confidence with a Mons Reduction – the targeted procedure that tightens and recontours the mons pubis area for a smoother, more youthful and rejuvenated appearance
Mons lift, also known as mons reduction or monsplasty, is a body contouring procedure designed to remove stubborn fat and loose skin from the fatty prominence located just above the pubic bone. This localised area of fat is referred to as the mons pubis.
Excess fat may accumulate in the mons pubis as a result of weight gain. Patients who have lost significant amounts of weight may develop loose skin overlying the months. Mons surgery is a highly effective treatment for the removal of excess skin and fat leading to a flatter and less prominent mons pubis.
RELATED: How to get rid of FUPA – Fat Upper Pubic Area
Mons reduction surgery can be carried out using several different surgical techniques depending on the presenting problem whether primarily excess fat or excess skin. Patients with skin laxity will require surgical removal of redundant skin. Many patients may have good skin elasticity and mons pubis liposuction alone is a highly effective treatment for the removal of localised mons fat. In some cases, these techniques can be combined with liposuction performed first followed by excess skin removal.
For patients who have gained smaller amounts of weight and lost it soon thereafter may not require surgical skin excision and liposuction alone may be suitable to enhance the shape and reduce a prominent mons pubis. Patients who are older or who have lost a significant amount of weight will often be left with sagging skin which hangs down from the mons pubis once mons pubis liposuction has been carried out. Removal of excess skin can then effectively tighten the area.
Mons surgery is the most commonly carried out during an abdominoplasty (tummy tuck) procedure. Tummy tuck surgery is primarily designed to tighten loose skin affecting the lower and upper abdomen and this often results in a more prominent mons pubis due to fatty bulging tissue once the tummy tuck is completed. Performing a monsplasty at the same time as a tummy tuck means the pubic area can be flattened to the same level as the abdomen.
What is a Mons Lift?
A mons lift, also known as monsplasty or a pubic lift, is a cosmetic procedure designed to improve the appearance of the mons pubis, which is the rounded, fleshy area located over the pubic bone. This area can become enlarged or saggy due to factors such as weight loss, ageing, pregnancy, or genetics. The excess skin and fatty tissue in the mons pubis can lead to discomfort, hygiene issues, and self-consciousness about one's appearance, particularly in form-fitting clothing or swimwear.
The mons lift procedure aims to restore a more youthful and aesthetically pleasing contour to the mons pubis by removing excess skin and fat, and tightening the remaining skin. The result is a smoother, firmer, and more proportionate appearance that can enhance an individual's self-esteem and comfort.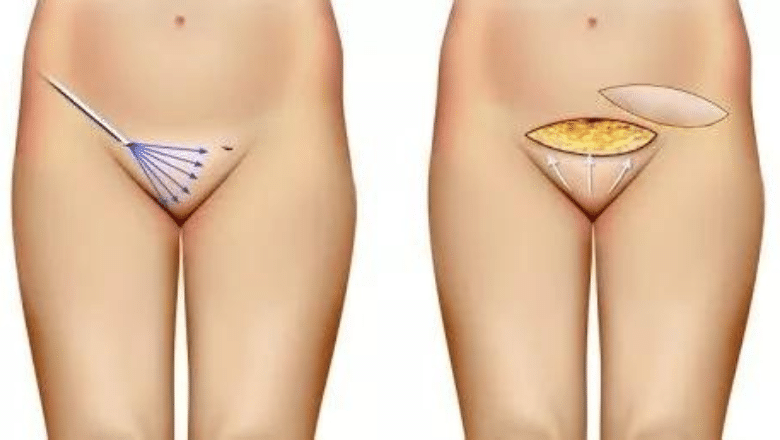 The procedure can be performed as a standalone operation or in combination with other body contouring surgeries, such as abdominoplasty (tummy tuck), liposuction, or lower body lift. The recovery time and potential risks associated with a mons lift will vary depending on the extent of the procedure and individual factors. It is essential to consult with a qualified plastic surgeon at Centre for Surgery to discuss your specific concerns and goals, as well as to determine if a mons lift is the right choice for you.
Mons Reduction Before & After Photos
Case 1: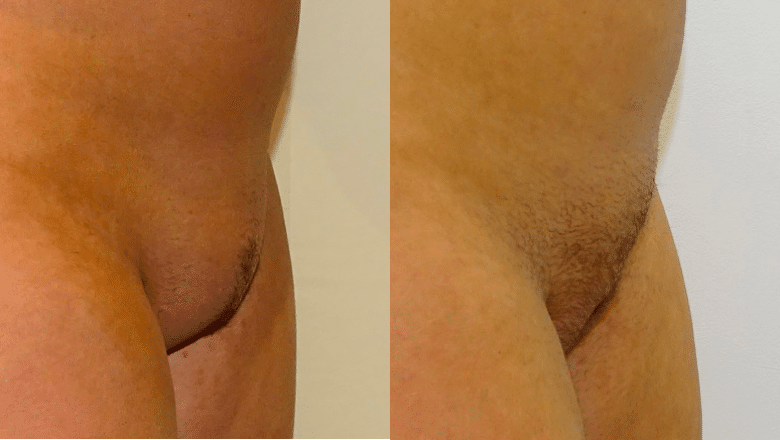 Case 2: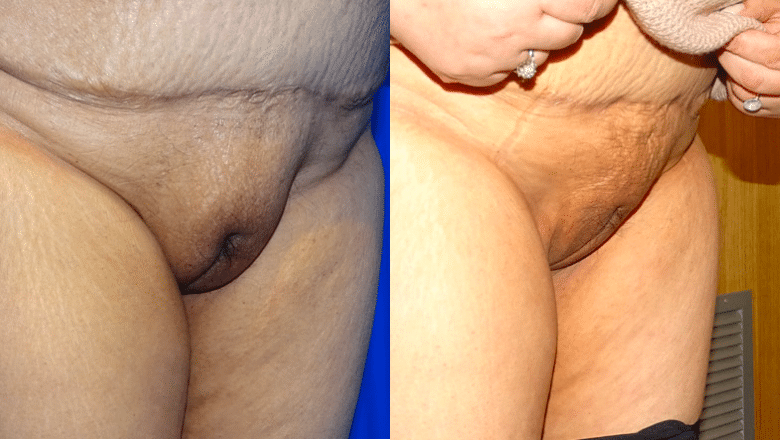 Benefits of a Pubic Lift
Mons pubis reduction is primarily aimed at improving the appearance of the mons pubis area but may also address functional symptoms for people with a large amount of skin excess. People who have a large mons pubis may have difficulty passing urine and having normal sexual intercourse. This is due to excess sagging skin, which extends downwards as far as the external genitalia, including the urethra. Achieving successful penetration for sexual intercourse is, therefore much more difficult.
Many people find they are unable to adequately clean themselves in the area due to excessive amounts of loose skin which are found in the area. This could potentially result in skin irritation and bacterial and fungal infections developing in the area.
Some women may find they have thickened scars in the lower abdominal area due to a previous Caesarean section, and this may result in scar tethering to the underlying muscle layer. The skin beneath the scar remains flexible and this allows it to extend downwards with time leading to prominent-looking mons. People who have lost significant amounts of weight may end up with excessive amounts of loose skin affecting the abdomen, and a tummy tuck is most effective for getting rid of loose skin. Mons lift surgery is often combined with a tummy tuck to flatten an excessively prominent mons pubis which would otherwise look unsightly if a tummy tuck was carried out on its own. People can develop a loss of self-confidence from how they look, and having mons pubis reduction can help to restore confidence and improve emotional well-being.
Am I Suitable for a Mons lift?
When you have your consultation at Centre for Surgery, your surgeon will carry out a detailed clinical assessment and will consider you suitable for the procedure if you fit the criteria below:
Good physical and mental health with no chronic medical conditions
You are unhappy with the appearance of your mons pubis
You understand what the procedure involves and have realistic expectations of the potential outcome following the procedure.
Having an overly prominent mons pubis due to a thickened C-section scar
Difficulty with urination due to excess skin covering the urethra
A lack of enjoyment during sexual intercourse due to pain and discomfort
Having excess skin folds makes it difficult to carry out personal care properly, leading to social embarrassment
Mons pubis enlargement results in many people developing unhappiness and low mood. This can eventually result in depression and may affect emotional well-being. Mons lift surgery is an excellent solution to correcting excess skin or fat affecting the mons pubis to fully restore self-confidence.
What does Mons Reduction involve?
Mons reduction surgery is designed to reduce the prominence of a large mons pubis which improves its overall appearance. Some people may have functional symptoms, including difficulty in having sexual intercourse and may suffer from personal hygiene issues related to passing urine. There are two main options for performing mons reduction.
Both procedures take approximately one to two hours to complete. Mons lift surgery is performed as a day case, and you will be able to return home on the same day as your surgery.
Mons pubis liposuction
This is the most suitable technique for people who primarily have excess fat in the mons pubis and good skin elasticity. Mon pubis liposuction can be performed under either a local anaesthetic alone or you can choose to have a general anaesthetic known as TIVA anaesthesia. This will vary depending on the individual and whether you want to be awake during the procedure. Centre for Surgery uses the gold standard liposuction method known as PAL lipo, which, unlike other types of liposuction, does not involve the use of heat, minimising the risk of damage to your body both internally and externally.
Small incisions are made to permit the insertion of small-diameter liposuction cannulas. Power-assisted liposuction is used to break up fat cells before their removal with suction gently. Liposuction is excellent for removing localised pockets of fat but is not a suitable treatment for getting rid of excess skin. Patients with loose skin as part of the ageing process or from massive weight loss will require surgical skin excision to tighten the mons pubis.
Mons pubis reduction with skin excision
Patients who have developed loose skin as a result of the ageing process or from significant weight loss are often left with loose, sagging skin in the month pubic area.
When patients are overweight, the excess fat stretches out the overlying skin envelope. When weight loss occurs, the loose skin does not return to its original tightness due to a loss of collagen and elastin which are both responsible for conferring skin tightness.
Some patients may have minimal excess fat and have primarily loose skin. Mons lift can be carried out with surgical excision alone to eliminate excess skin. The mons pubis is then effectively tightened by stitching to the deeper muscle layer and adjacent healthy skin.
Recovery after Mons Reduction
After the procedure, you should make sure someone is there to take care of you and provide anything needed on the first post-op day. The surgeon will check up on you to make sure everything is processing smoothly. Bruising and swelling in the area are normal, along with slight pain or discomfort. If you happen to feel severe pain or extreme numbness in the area, it is advised to contact the doctor as soon as possible.
You can resume your normal activities 4-6 weeks after the procedure. The discomfort in the area can be controlled with the help of medication prescribed by the medic. After three to four weeks, the swelling should be less obvious. A compression garment should be worn until the doctor decides it is safe to remove it. After several months the area will be completely healed.
How Much Does a Mons Lift Cost? - Mons Reduction Prices
Here at Centre for Surgery, we offer in-depth consultations directly with a surgeon and offer 0% finance to help you manage the cost of your procedure.
Having mons lift treatment under general anaesthetic starts from £4495. You will receive an accurate quotation from your dedicated patient coordinator once you have had a face-to-face consultation with the surgeon.
What is included in the cost of my treatment?
Mons lift prices include a preoperative assessment with one of our expert nurses to make sure you are optimally prepared for surgery. The procedure cost includes having treatment at our state-of-the-art Baker Street clinic in central London. You will also have access to our post-operative nursing team 24/7 for any questions or concerns you may have. Our postoperative aftercare has been described as 'outstanding' by the Care Quality Commission.
Mons Lift at Centre for Surgery
Centre for Surgery is home to some of the most experienced consultant plastic surgeons in the UK. We are renowned for our expertise in all forms of body contouring surgery. When you come to see one of our surgeons, you can be assured of receiving the very best medical care from highly qualified experts.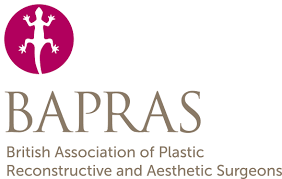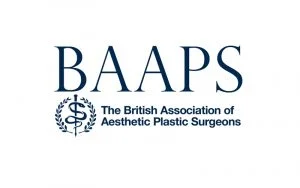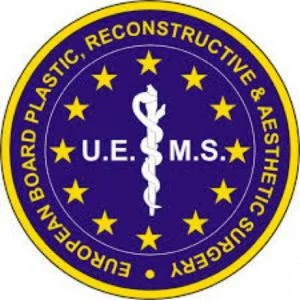 Choosing Centre for Surgery for your aesthetic needs is a decision that will provide you with a highly personalised, safe and pleasant surgical journey. The Centre prides itself on several unique attributes that set it apart from other cosmetic surgery clinics.
Experienced Surgeons: Centre for Surgery is home to a highly skilled team of plastic and reconstructive surgeons. Our surgeons are not only renowned for their technical expertise but also for their compassionate and patient-focused approach. They remain up-to-date with the latest techniques and advancements in the field to provide the most effective and safest procedures for our patients.
Comprehensive Consultations: We believe in comprehensive consultations that allow ample time for discussion and in-depth understanding of the patient's concerns, expectations and the procedure itself. Our consultations are not rushed; they are designed to make sure you feel heard, respected, and confident about your treatment plan.
Patient Safety: Patient safety is our utmost priority. We adhere strictly to guidelines and safety protocols established by medical associations. Our modern and well-equipped facility includes state-of-the-art operating rooms and recovery suites, further ensuring a safe environment for all procedures.
Aftercare Services: Our commitment to patient care continues well after the surgery. We provide exceptional aftercare services, making sure you have access to post-operative appointments and medical assistance whenever needed. We believe in building long-term relationships with our patients and being there for you every step of the way.
Personalized Treatment Plans: We understand that every patient is unique with individual needs and aesthetic goals. Hence, we offer bespoke treatment plans tailored to meet your specific requirements. We ensure that your treatment plan aligns with your goals, lifestyle, and medical history to deliver optimal results.
Transparent Pricing: We believe in transparent and honest pricing, with no hidden costs. We ensure our patients understand the cost of their procedures fully before moving forward.
Ethical Approach: We are committed to an ethical approach in all our practices. We will not recommend unnecessary procedures or treatments. Our goal is to help you make an informed decision about what's best for your body and health.
Comfort and Privacy: We take extra care to provide a comfortable and private environment for all our patients. From your initial consultation to your recovery period, we strive to make your experience as relaxing and confidential as possible.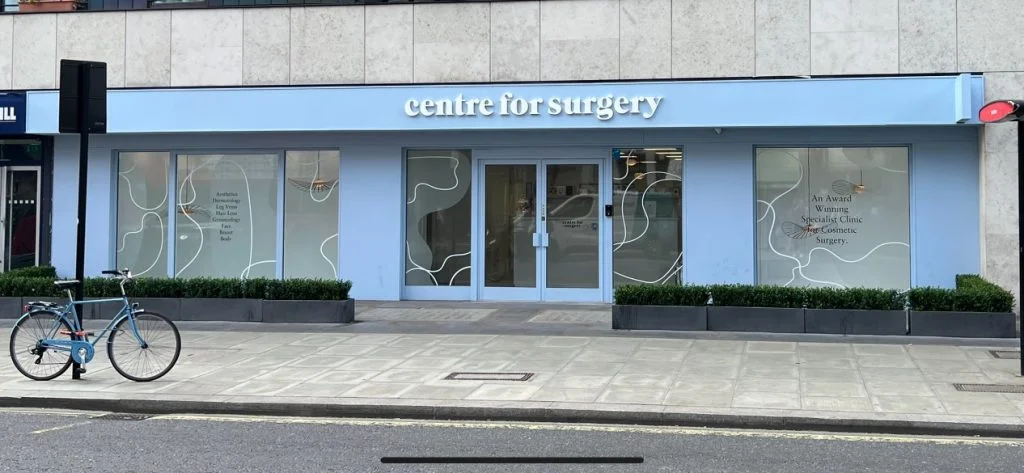 What To Expect
Consultation
Your mons lift consultation will take place at our specialist cosmetic surgery clinic in Marylebone with an expert consultant plastic surgeon. The consultation will take approximately 45 minutes for a comprehensive clinical assessment. As part of the assessment, your surgeon will enquire about the results you are hoping to achieve from having mons pubis reduction and will explain what the procedure involves. A discussion will also take place on the potential risks and complications of surgery and what to look out for during the recovery period.

Having realistic expectations of what a mons lift can achieve will give the best possible chance of achieving optimum results. Feel free to ask any questions you may have about the treatment and what it involves. You may wish to come prepared with a list of questions before you attend your consultation. Once your surgeon has taken a medical history
including any medicines you may be taking, a physical examination will be carried out and photographs will be taken.

Your surgeon will then discuss your suitability for the procedure and if you fulfil the criteria, we would recommend you take two weeks to reflect on all aspects of the procedure before getting in contact with us to book your mons lift surgery.
Before your procedure
Once you have booked for the procedure, our preoperative nursing team will send you a comprehensive information pack which includes making sure you comply with the following to minimise the risk of complications occurring:
- if you are a smoker you should stop at least four weeks before surgery and ideally six weeks and continue this for at least six weeks after the procedure. Smoking should be avoided for a minimum of 72 hours before the surgery minimise the risk of anaesthetic complications.
- certain medications which may increase the risk of bleeding should be stopped and these include aspirin, anti-inflammatory drugs and over the counter herbal supplements for at least one week before surgery.
- you should avoid alcohol for at least three days before surgery as alcohol both interferes with the anaesthetic and can impair wound healing.
- make sure you arrange for a responsible adult escort to collect you once the procedure is complete and to drive you home and look after you for at least the first 24 hours after your surgery.

You must adhere to the pre-operative fasting requirements if your procedure involves anaesthetic or sedation. No food should be consumed for six hours before surgery and only sips of clear fluid are allowed for up to 2 hours before your surgery time.

Clear fluids include still water, black tea and black coffee.
On the day of your surgery
Your mons surgery procedure Will take place at our state-of-the-art clinic in Marylebone, Baker Street. The anaesthetist will first put you to sleep using a general anaesthetic for the duration of the procedure. In some cases, you may choose to have the procedure under a local anaesthetic where you will remain awake but comfortable throughout the procedure.

Mons pubis liposuction involves the insertion of a small cannula into the fatty mons pubis to gently break up the fat cells prior to removing them with vacuum suction.

Surgical skin excision involves the surgeon making a small horizontal incision just above the mons pubis. This part of the body is well covered by items of clothing. The skin is gently removed and the skin is then carefully closed with absorbable stitches. Using absorbable stitches means you do not have to have them removed at your post-operative review appointment.

After the mons lift surgery, you will spend time recovering in our day surgery ward. It is normal to feel a little dizzy and drowsy, to begin with but this rapidly wears off after a couple of hours. Once you are eating and drinking, have minimal pain and have been to the toilet you will be discharged by our nursing team and postoperative instructions will be explained to your adult caregiver.
Mons lift recovery
Once the procedure is complete and you begin to wake up, any discomfort will be mild and easily controlled with over-the-counter painkillers prescribed to you by your surgeon. The area may appear bruised and swollen for the first two weeks after surgery although you should notice the difference from the procedure immediately.

During the first couple of days after mons surgery, try to stay reasonably mobile around the house and keep well hydrated to reduce the risk of blood clots forming. You should avoid lifting heavy objects or young children and most people can turn to an office-based role after one week. You should avoid getting your incisions wet for the first few days after surgery and you may take a bath after four weeks. Most people will be allowed to restart exercise including gym activities after six weeks. So recovery after months lift is expected by the six-week stage.

During your recovery period, you will have access to our post-operative nursing team with the supplied contact details and they are available to answer any questions or concerns you may have.

Getting the best results after mons reduction means following all the post-operative care instructions given to you by your surgeon. If you fail to follow the instructions, your healing and recovery may be compromised leading to adverse effects on the final results of surgery.