Nipple reduction in London
Do you feel like your nipples are wide, puffy and just overly prominent? Do they make you feel self-conscious? You may wish to undergo a nipple reduction surgery.
Nipple reshaping can reduce the height and width of your nipple, while still maintaining the sensation in the nipples.
Nipple reduction surgery is performed under a local anaesthetic, and you will be able to return home on the same day, once the effects of the anaesthetic have worn off.
If a nipple reshaping surgery isn't quite right for you, you may also be interested in an inverted nipple correction or an areola reduction.
Our clinic at 106 Crawford Street was recently inspected and rated as good across all 5 domains.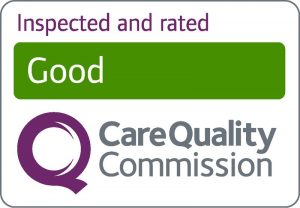 All our surgeons are on the GMC specialist register for plastic surgery. The Royal College of Surgeons of England has an excellent information resource on cosmetic surgery.
Causes of large nipples
It is possible to suffer from enlargement of the nipple itself or the brown area around the nipple (the areola).
The nipple itself may:
Protrude too much

Be too wide

Be an uneven shape
The areolar is the brown area around the nipple and this may be :
Too large

Uneven and not round in shape

Domed and raised from the surrounding skin
Abnormalities of the nipple can be treated with:
Reduction in the size of the areolar

Surgery to make the areola more rounded

An operation to reduce the tissue beneath the areolar and reduce its domed appearance
The nipple reduction surgery can be a simple solution for both men and women to being happier with the appearance of their breasts without going through invasive surgeries.
Benefits of nipple reduction:
Corrects overly prominent, wide or puffy nipples

Boosts up body confidence

Improves mental health
Risks of nipple reduction:
Infection, but is extremely rare

Temporary or loss of sensation the nipples caused by damage to the nerves

Difficulty in breastfeeding

Some may lose pigment on the nipple area
Adebimpe Adewoyin
04/02/2021
Verified
I had 360 Liposuction and BBL with centre for surgery 11/01/2021. I found centre for surgery by searching online. My consultation was booked with Dr. Tillo, the procedure was explained to me thoroughly including the risks, the clinic is beautiful and very clean. I received the best care I could think of on the day of my surgery, the staff were very friendly and caring, the surgery went well and the result was amazing! My recovery was very quick too with no complications. I am very happy with the follow up and after care. I would highly recommend centre for surgery.
Verified
I was able to be booked for my consultation and procedure on the timeline that suited me. Very happy overall; especially with my results and the care I've received since. Would return
Verified
Highly Recommend Mr Tilo and this clinic. My partner had Facial Scar Revision 5 weeks ago and can honestly say the speed, care and attention Mr Tilo and the team gave him was amazing. Right from the outset when I contacted Michael for a quote the speed and professionalism he gave was 5 star. My partner was also very nervous about the whole procedure and the attention the nursing team gave helped ease any nerves
Verified
I recently had surgery performed for a small unwanted tattoo by Mr Amir Sadri. The whole team at Centre for Surgery were brilliant and Mr Amir Sadri perfomed a brilliant job and cannot thank him enough for his services. I would thoroughly recommend anyone considering any form of procedure to go with these guys as from start to finish were brilliant.
Bracesbybella Annabelle Ariza
24/08/2020
Verified
I had a wonderful experience . I cannot thank you all enough. The location is convenient, the actual place is lovely , non clinical looking. I had liposuction carried out and I was amazed at how caring and wonderful the entire team were towards me. I would definitely recommend to friends and family. Big shout out to Dr Tillo , nursing team and wonderful reception team. Please don't be disheartened by bad reviews , often people ask for prices to try and avoid a proper consultation. If you are seriously considering surgery, you should always have time for a proper consultation with a surgeon who can then provide you with an accurate estimate/quote for propsed (suitable)treatment.
Verified
Dr Gilleard at Centre for Surgery is master of rhinoplasty surgery! Absolutely fab work with piezotome technique. Hardly any bruising at all.
Ideal candidates for nipple reduction
All patients should be in good health and have realistic expectations about what can be achieved with nipple reduction surgery.
We do not treat patients below the age of 18 years of age.
Healing is better if patients refrain from or quit smoking.
The nipple reduction procedure is performed purely for cosmetic purposes, to help improve one's image and self-esteem.
Nipple reduction surgical techniques
Nipple reduction surgery is easily and comfortably performed under a local anaesthetic. This means you will be awake but numb in the area of the procedure. You can also have the choice of having a TIVA general anaesthetic if you would prefer to be asleep for the procedure – ask your surgeon at consultation and this can be arranged for you.
Nipple reduction is most commonly carried out under a local anaesthetic as it is a short procedure that takes roughly 30 minutes to perform for each side. The nipple is carefully reduced in size using a cutting diathermy blade and the scars are barely noticeable as they are concealed on the inside of the nipple where it meets the areola.
Nipple reduction is performed as a day case, so you will be able to return home on the same day as the procedure.
The surgeon will make incisions which will reduce the size of the nipples. Dissolvable stitches will be used in most cases.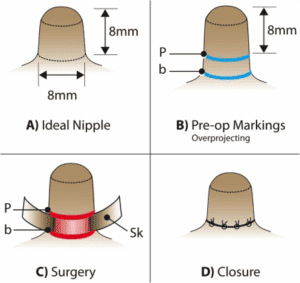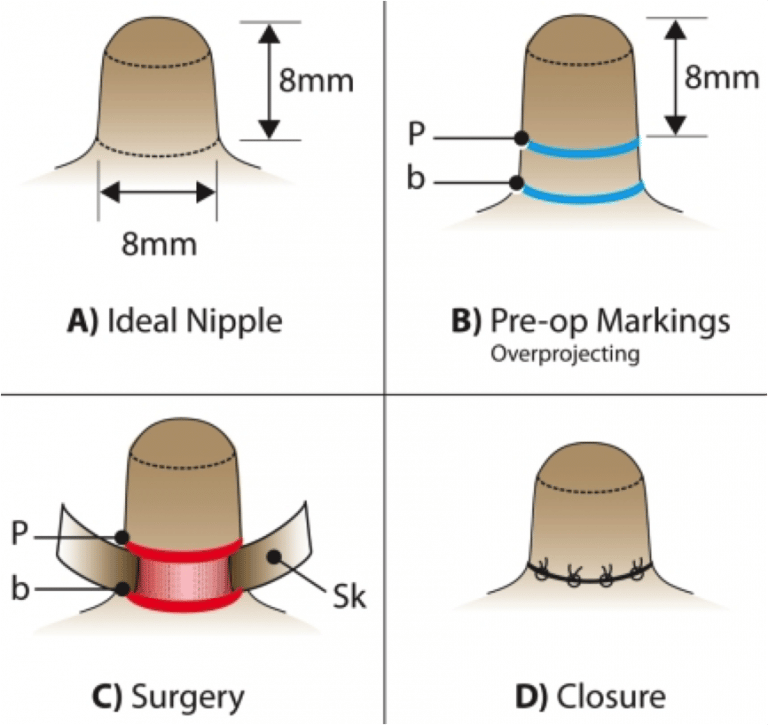 Most people notice mild discomfort after nipple reduction surgery. This is usually well controlled by simple medications such as paracetamol. You should be able to return to work and social activities within a week. 
Recovery after nipple reduction
You will experience some discomfort for 24-48 hours following your procedure, but most patients recover very quickly. You can take pain medications if necessary.
Within a week, the very fine absorbable stitches should fall out after which your dressings will be removed.
Expect some swelling for the first 2-3 weeks, but you will be able to see the final results only after 4-6 weeks.
Nipple reshaping surgery is considered to be a good solution for reducing prominent nipples.