Nipple reduction in London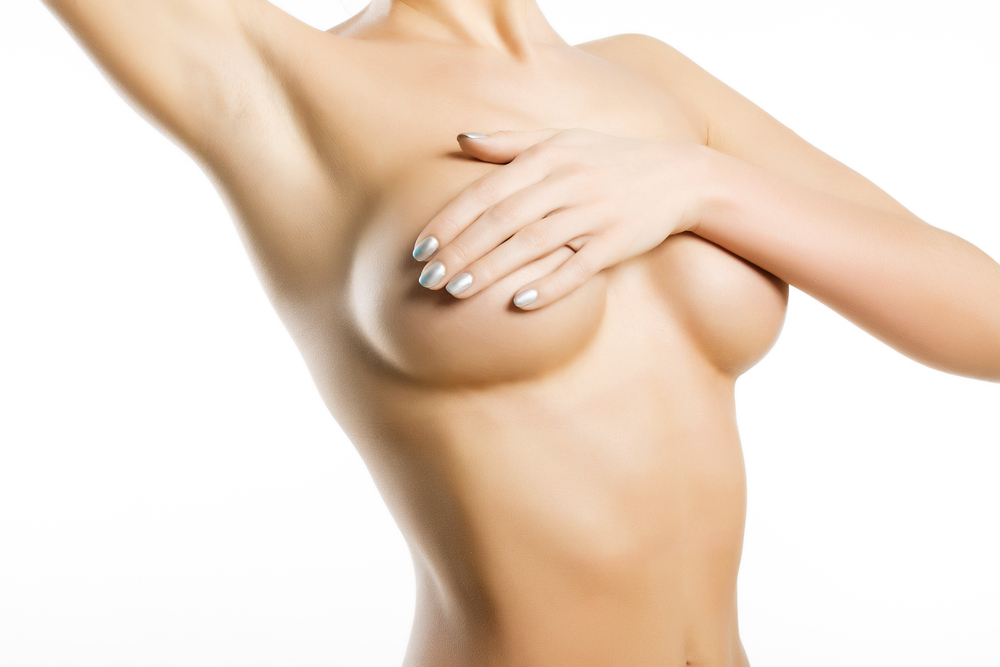 Nipple reduction is an effective treatment for large and prominent nipples in both women and men. Excessively large nipples can be a cause of loss of confidence in many patients often because of discomfort from rubbing on clothes or increased nipple visibility through certain types of clothing. It is thought that up to 1 in 10 women in the UK have a condition of the nipple often due to excessive enlargement that causes distress through being increasingly self-conscious of the enlarged nipples. The condition of overly large nipples affects both women and men.
Nipple reshaping can reduce the height and width of your nipple, while still maintaining the sensation in the nipples. Nipple reduction surgery is performed under a local anaesthetic, and you will be able to return home on the same day, once the effects of the anaesthetic have worn off. If a nipple reshaping surgery isn't quite right for you, you may also be interested in an inverted nipple correction or an areola reduction.
Our clinic at 106 Crawford Street was recently inspected and rated as good across all 5 domains.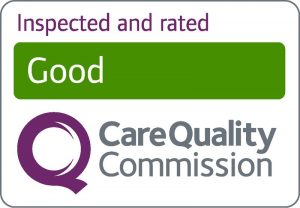 All our surgeons are on the GMC specialist register for plastic surgery. The Royal College of Surgeons of England has an excellent information resource on cosmetic surgery.
Causes of large nipples
It is possible to suffer from enlargement of the nipple itself or the brown area around the nipple (the areola).
The nipple itself may:
Protrude too much

Be too wide

Be an uneven shape
The areolar is the brown area around the nipple and this may be :
Too large

Uneven and not round in shape

Domed and raised from the surrounding skin
Abnormalities of the nipple can be treated with:
Reduction in the size of the areolar

Surgery to make the areola more rounded

An operation to reduce the tissue beneath the areolar and reduce its domed appearance
The nipple reduction surgery can be a simple solution for both men and women to being happier with the appearance of their breasts without going through invasive surgeries.
Benefits of nipple reduction:
Corrects overly prominent, wide or puffy nipples

Boosts up body confidence

Improves mental health
Risks of nipple reduction:
Infection, but is extremely rare

Temporary or loss of sensation the nipples caused by damage to the nerves

Difficulty in breastfeeding

Some may lose pigment on the nipple area
Amazing from start to finish, the communication was the main thing was fully informed and looked after, on the day of my breast augmentation, the staff were fab and made me feel at ease through out the whole process. Thank you so much.
Mohammed Farid
18/11/2021
I've had such a great experience with excellent advice, care and attention and surgical treatment (gynaecomastia) - I can fully endorse the treatment I have received from Centre for Surgery with absolutely no qualms at all. Brilliant in every way - thank you all so much.
Caroline Thorpe
14/11/2021
Very pleased with my whole experience of having a procedure. Was so nervous about getting treatment and i was reassured and felt so comfortable throughout thanks to the amazing nurses. I definitely made the right decision to have breast augmentation at centre for surgery with dr erel.
Melissa Briggs
08/11/2021
So glad I went with centre for surgery, the whole process went very smoothly from the consultations down to the actual day of the procedure. I was so nervous on the day but the whole team put me at ease and I'm happy with my results as I feel a lot more comfortable wearing certain clothes now. My surgeon was Alberto Di Giuseppe who performed a breast Augmentation on me, and I would definitely recommend as he was very clear on what the outcome of the surgery would be and which size would look the best for my frame.
Couldn't be happier with Dr Tillo work,i had my breast surgery one week ago and so happy with the results so far,all the staff are extremely nice and very supportive,i would definitely recommend their services,thank so much
From start to the finish everything was perfect for tummy tuck surgery. All staff is very friendly and the aftercare has been good. The Doctor and the nurse team was fantastic. I'm so happy...result is amazing. Thank you!!!
This was overall a great experience, all the staff at Centre for Surgery were friendly and put me at ease. It is a nerve wracking thing to go through an op but the staff were so nice. Mr Ertan has got a great team around him. On the day of the operation everything went smoothly to plan, there was no delay or holdups, I had another consultation with Mr Ertan who confirmed what was going to be done and that I was still happy to proceed. I was prepped for the procedure, I met with the anaesthetist who again was really nice and put me at ease explaining his role. After the procedure I woke up with the nurse by my side making sure I was OK and checking on me, I was able to stay in the clinic until I was ready to leave and was not rushed at all. I was well looked after from the start to the point when I was discharged. Post operation I was staying at a local hotel it was so close there was no point in even getting a taxi and I was able to walk back where my partner was waiting for me. I was expecting a lot of bruising to both my eyes but there was very little if any by the time the cast came off after 7 days, I am now at the two week post operation point and it is healing well with no outwardly visible bruising or scaring. The next milestone is a checkup at the 6 week point with my surgeon. If you're thinking of having something like this done I would highly recommend getting in touch with Centre for Surgery.
The staff at Centre for Surgery were very kind and accommodating. They answered any questions I had about the procedure and were constantly checking up on me. A special thank you to Christina for all her support throughout.
I would just like to state the quality of care received from the nurses at Centre for Surgery was beyond the highest level. Sophie takes her patient care to another level beyond words. She always puts me at ease. She is there for me even at awkward hours just when I mostly needed reassurance and she is one of the most compassionate nurses I have come across and demonstrates her passion naturally for caring for others. She totally deserves recognition at its finest and thank you for always being there for me. 😍
Ideal candidates for nipple reduction
All patients should be in good health and have realistic expectations about what can be achieved with nipple reduction surgery.
We do not treat patients below the age of 18 years of age.
Healing is better if patients refrain from or quit smoking.
The nipple reduction procedure is performed purely for cosmetic purposes, to help improve one's image and self-esteem.
Nipple reduction surgical techniques
Nipple reduction surgery is easily and comfortably performed under a local anaesthetic. This means you will be awake but numb in the area of the procedure. You can also have the choice of having a TIVA general anaesthetic if you would prefer to be asleep for the procedure – ask your surgeon at consultation and this can be arranged for you. Nipple reduction is performed as a day case, so you will be able to return home on the same day as the procedure.
Nipple reduction is most commonly carried out under a local anaesthetic as it is a short procedure that takes roughly 30 minutes to perform for each side. The procedure involves surgical removal of part of the nipple tissue to reduce the size. The scars after the procedure are minimal and virtually undetectable as they are well hidden on the underside of the nipple where it meets the areola.
The nursing team will first admit you and record your blood pressure and other vitals and get you prepared for the procedure
You will then meet with the surgeon who will go through the details of the procedure again and answer any questions you may have
Pre-operative photos will be taken and the area will be marked by the surgeon
The nipple are injected with a local anaesthetic to fully numb the area
The surgeon will make a small incision around the base of the nipple
The extra nipples tissue is surgically removed and the remaining nipple tissue is placed closer to the breast tissue
The surgeon will apply suture fixation techniques to secure the nipple in its new position giving rise to a smaller appearance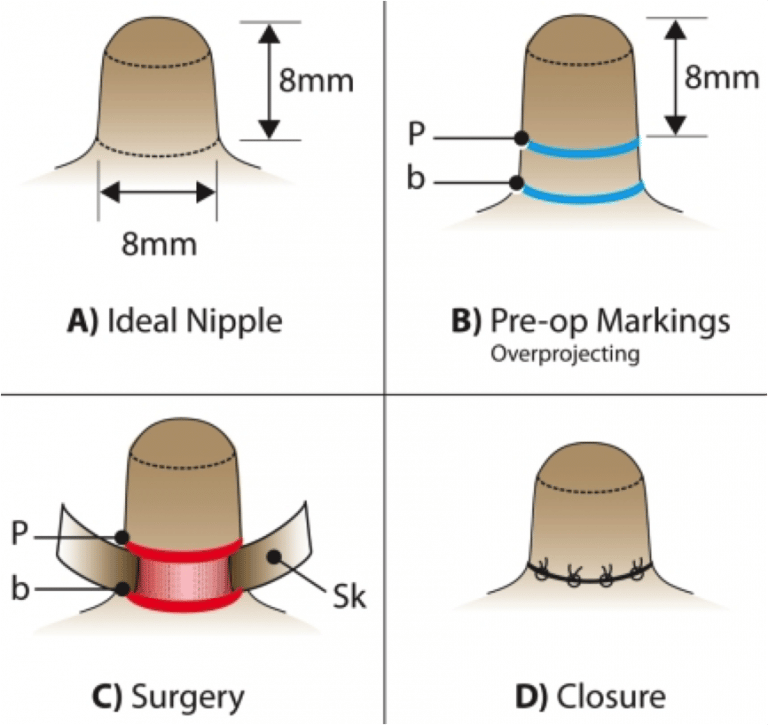 A sterile dressing will be applied to the nipples to protect the area from injury and potential infection during the healing phase
You will be transferred to the recovery and discharge area for rest and once you are ready to be discharged you will be seen by the surgeon who will explain the postoperative instructions to be followed after the procedure. You can leave the clinic accompanied by a member of your family or a friend
Most people notice only mild discomfort after nipple reduction surgery. This is usually well controlled by simple over the counter medications such as paracetamol. You should be able to return to work and social activities within a few days. 
Nipple reduction before and after
Case 1: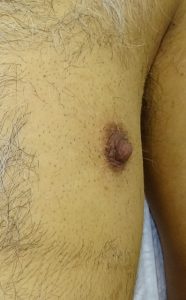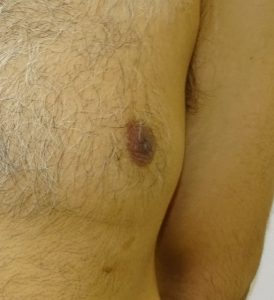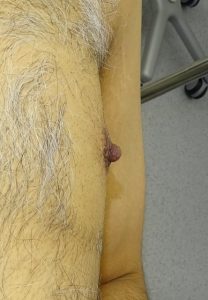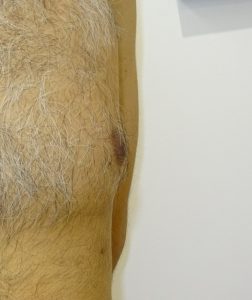 Case 2: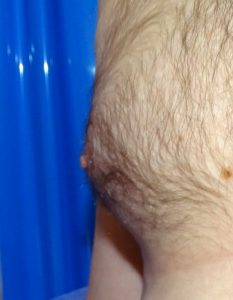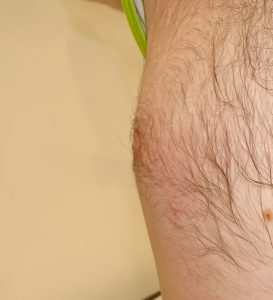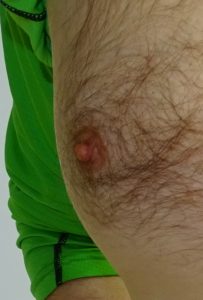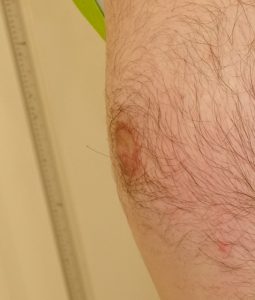 Case 3: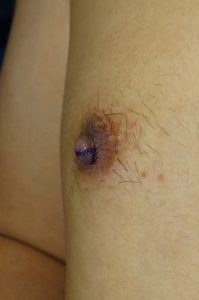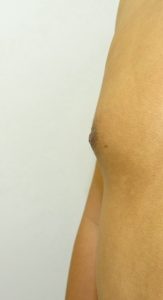 Recovery after nipple reduction
You will experience some discomfort for 24-48 hours following your procedure, but most patients recover very quickly. You can take pain medications if necessary.
Within a week, the very fine absorbable stitches should fall out after which your dressings will be removed.
Expect some swelling for the first 2-3 weeks, but you will be able to see the final results only after 4-6 weeks.
Nipple reshaping surgery is considered to be a good solution for reducing prominent nipples.
What To Expect
The consultation
The first step is to have a consultation with one of our expert surgeons for nipple reduction. At the consultation, your surgeon will explain the procedure in detail and it involves. Your surgeon will want to learn more about what you hope to achieve from the procedure and also to explain the ideal treatment technique after a physical examination.

A number of measurements are taken of your enlarged nipples including assessment of the degree of protrusion. Your surgeon has experience in performing all the techniques of nipple reduction. The most appropriate choice will be made based on your degree of nipple enlargement. The surgeon will also give information on the location of the incisions for nipple reduction and also whether other breast procedures are to be combined. High-resolution photos will be taken and your surgeon may also use computer digital imaging. Your surgeon will take time to discuss the important risks and potential complications of nipple reduction surgery and what you can expect in the postoperative period.

It is useful to keep a list of questions handy to ask the surgeon during the consultation. Examples include whether you are a good candidate for the procedure, what sort of result are you looking to achieve, what you can do to optimise results in the post-operative period, how much downtime is involved. You may also want to know how soon you can return to work after having inverted nipple reduction surgery. The surgeon will also take a full medical history which includes previous operations, current list of medicines taken and any potential allergies. This information will be used to decide on your suitability for the nipple reduction procedure. If you are deemed to be a suitable candidate for nipple surgery then we would recommend to spend a period of time to reflect on all the information given. We always recommend a minimum of a 2 week cool off period for to weigh up your options. All our prospective patients are more than welcome to have as many follow-up consultations after their initial consultation to make sure you are fully empowered with all the information to make an informed decision for proceeding with nipple surgery at Centre for Surgery.
Before the procedure
Once you have decided that inverted nipple correction is right for you, our preoperative assessment team will be in contact to prepare you for surgery.

The following are recommended actions to take:

- For 6 weeks beforehand, it is highly recommended to stop smoking as active smoking is associated with a number of risks including delayed wound healing which could result in wound infection.

- You should also avoid aspirin and all medicines containing aspirin for at least one week prior to the procedure.

- If you are having a general anaesthetic, for 6 hours before the procedure, you should refrain from eating any food or any type of drink apart from sips of clear fluid (water and tea/coffee without added milk) which is allowed for up to 2 hours before the procedure.
On the day of your procedure
Please aim to arrive for your nipple reduction procedure at the confirmed time. One of our nursing team will admit you for the procedure and will carry out a number of tasks including checking your blood pressure and other vital signs including pulse and temperature and then getting you changed into single-use clinic wear. The anaesthetist will then come in to assess you to make sure you are medically fit for the procedure. You will then be seen by your surgeon who will confirm the procedure to undertaken and you will sign the informed consent form. Skin marking and photos may be taken at this point.

Nipple reduction is a very commonly performed procedure at Centre for Surgery and is easily carried out under local anaesthetic as a day case if it is an isolated procedure. The procedure takes approximately 1 hour to perform but may take longer if combined with other procedures. During the procedure, your surgeon will make small incisions in the area on top of the nipple followed by gentle precise surgical removal to reduce size of the the nipple before closing the skin with dissolvable sutures.
After your procedure
After your nipple reduction procedure, our dedicated postoperative support team are available round the clock to answer any questions or concerns you may have. Our team will call you regularly for the first 2 weeks after your procedure to make sure your pain levels are well controlled and your healing is progressing as normal. Nipple reduction is associated with very little in the way of discomfort. Any soreness can be effectively controlled with tablet painkillers and the majority of our patients are very comfortable by the end of week 1. Your doctor may recommend a period of approximately 2-3 days off work. You should minimise any excessive physical activity for the first 2 weeks after surgery to help with the healing of the incisions and reduce swelling.

You may be required to wear a specialised postoperative dressing that maintains the position of the nipples in their corrected position.

You will attend for a postoperative check up with one of our nursing team at 7-10 days to review your surgical wound sites and ensure proper healing is taking place. Recommendations on treatments for scar healing may be given for optimal cosmesis. At 6 weeks you should begin to see your final results and you will see your surgeon for a comprehensive review and make sure your results are in line with your expectations.