Nipple reduction in London
Do you feel like your nipples are wide, puffy and just overly prominent? Do they make you feel self-conscious? You may wish to undergo a nipple reduction surgery.
Nipple reshaping can reduce the height and width of your nipple, while still maintaining the sensation in the nipples.
Nipple reduction surgery is performed under a local anaesthetic, and you will be able to return home on the same day, once the effects of the anaesthetic have worn off.
If a nipple reshaping surgery isn't quite right for you, you may also be interested in an inverted nipple correction or an areola reduction.
Our clinic at 106 Crawford Street was recently inspected and rated as good across all 5 domains.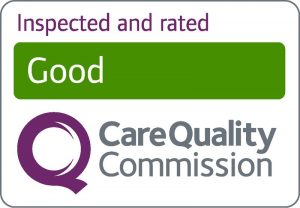 All our surgeons are on the GMC specialist register for plastic surgery. The Royal College of Surgeons of England has an excellent information resource on cosmetic surgery.
About
It is possible to suffer from enlargement of the nipple itself or the brown area around the nipple (the areola).
The nipple itself may:
Protrude too much

Be too wide

Be an uneven shape
The areolar is the brown area around the nipple and this may be :
Too large

Uneven and not round in shape

Domed and raised from the surrounding skin
Abnormalities of the nipple can be treated with:
Reduction in the size of the areolar

Surgery to make the areola more rounded

An operation to reduce the tissue beneath the areolar and reduce its domed appearance
The nipple reduction surgery can be a simple solution for both men and women to being happier with the appearance of their breasts without going through invasive surgeries.
Benefits of nipple reduction:
Corrects overly prominent, wide or puffy nipples

Boosts up body confidence

Improves mental health
Risks of nipple reduction:
Infection, but is extremely rare

Temporary or loss of sensation the nipples caused by damage to the nerves

Difficulty in breastfeeding

Some may lose pigment on the nipple area
Candidates
All patients should be in good health and have realistic expectations about what can be achieved with nipple reduction surgery.
We do not treat patients below the age of 18 years of age.
Healing is better if patients refrain from or quit smoking.
The nipple reduction procedure is performed purely for cosmetic purposes, to help improve one's image and self-esteem.
Procedure
Nipple reshaping surgery is normally performed under local anaesthetic, and you will be awake during the operation. If you would prefer your nipple reduction surgery can be performed under a light general anaesthetic. 
Nipple reduction is performed as a day case, so you will be able to return home on the same day as the procedure.
The surgeon will make incisions which will reduce the size of the nipples. Dissolvable stitches will be used in most cases.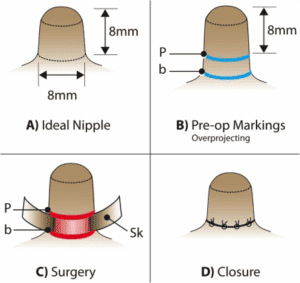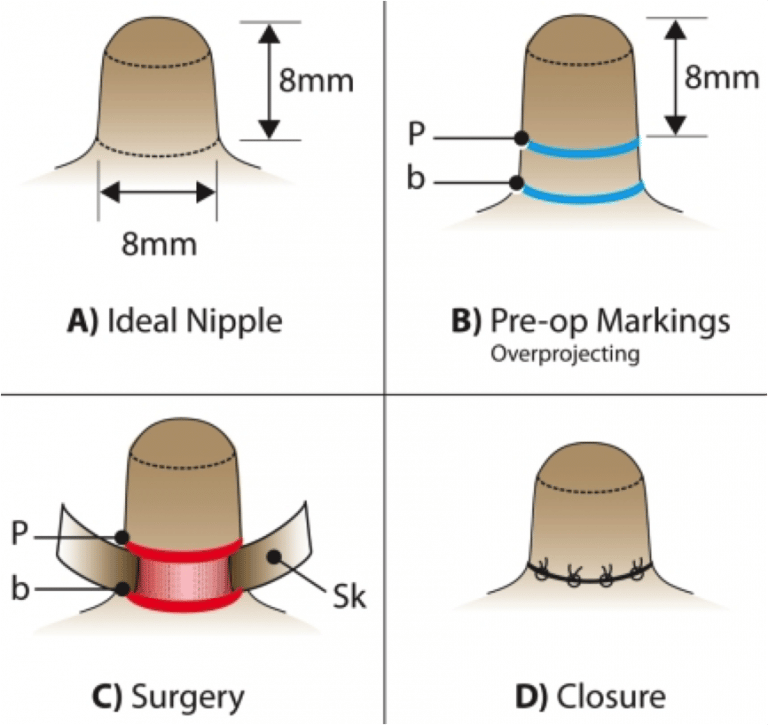 Most people notice mild discomfort after nipple reduction surgery. This is usually well controlled by simple medications such as paracetamol. You should be able to return to work and social activities within a week. 
Recovery
You will experience some discomfort for 24-48 hours following your procedure, but most patients recover very quickly. You can take pain medications if necessary.
Within a week, the very fine absorbable stitches should fall out after which your dressings will be removed.
Expect some swelling for the first 2-3 weeks, but you will be able to see the final results only after 4-6 weeks.
Nipple reshaping surgery is considered to be a good solution for reducing prominent nipples.
Nipple reduction before and after