Nipple Reduction Surgery London UK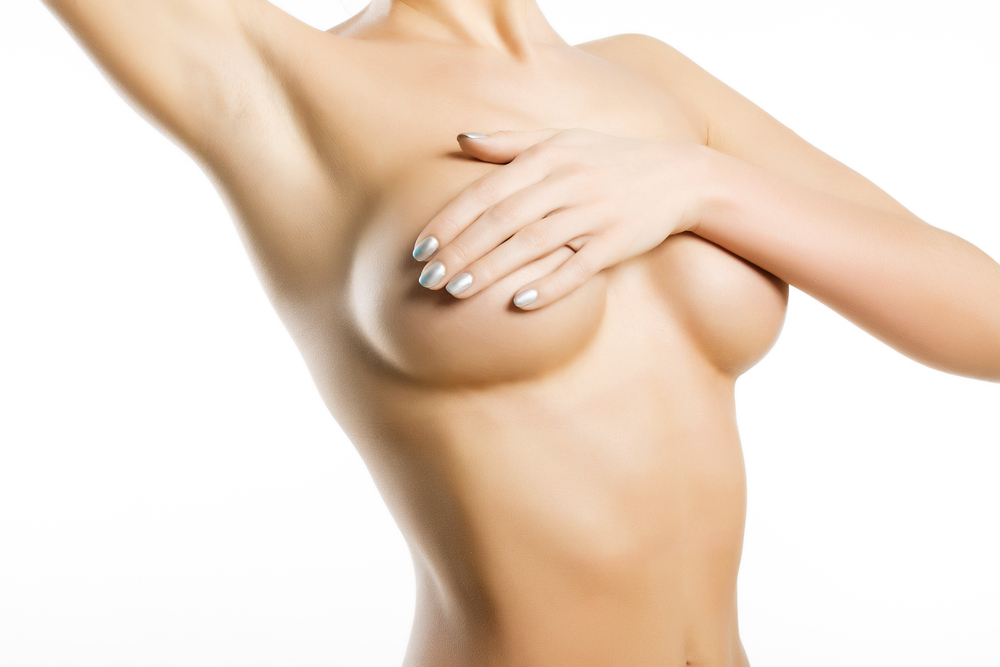 Enhance your comfort and confidence with nipple reduction – a personalised procedure designed to reduce the size and prominence of the nipple for a more proportional and aesthetically pleasing appearance
Nipple reduction surgery is a cosmetic procedure designed to reshape or resize the nipples to achieve a more balanced and aesthetically pleasing appearance. While many people are familiar with breast augmentation, reduction, or lift procedures, nipple reduction surgery may not be as widely known. However, this procedure can significantly improve the overall appearance of the breasts, as the size and shape of the nipples play a crucial role in the overall aesthetic of the breast.
For some individuals, overly large or elongated nipples can lead to self-consciousness or discomfort, impacting their confidence and daily activities. Nipple reduction surgery can address these concerns by creating a more proportionate and harmonious look between the nipple and the breast.
Candidates for nipple reduction surgery are typically individuals who are dissatisfied with the size or shape of their nipples, whether due to genetics, hormonal changes, or the natural ageing process. It is essential for those considering this procedure to be in good general health, have realistic expectations, and understand the potential risks and benefits associated with the surgery.
What is Nipple Reduction Surgery?
Nipple reduction surgery is a cosmetic procedure aimed at resizing and reshaping the nipples to create a more proportionate and aesthetically pleasing appearance. This surgery can be performed on its own or in conjunction with other breast procedures, such as breast augmentation, reduction, or lift. The goal of nipple reduction surgery is to improve the overall appearance and symmetry of the breasts by addressing concerns related to overly large, elongated, or drooping nipples.
Causes of Big Nipples
Several factors can contribute to the development of large or prominent nipples. Some of the most common causes include:
Genetics: One of the primary factors influencing nipple size is genetics. If one or both of your parents have larger nipples, you may inherit this trait as well.
Hormonal changes: Fluctuations in hormone levels, particularly during puberty, pregnancy, and menopause, can impact the size and appearance of the nipples. Increased levels of estrogen and progesterone can lead to the growth and enlargement of the nipples.
Breastfeeding: Prolonged breastfeeding or multiple pregnancies can result in changes to the nipples. The constant stretching and contraction of the nipple during breastfeeding can lead to an increase in size or a change in shape.
Weight gain: Gaining weight can also affect the size of the nipples, as fat deposits can accumulate in the breast area, leading to an overall increase in breast and nipple size.
Ageing: As we age, our skin loses elasticity, which can cause the breasts and nipples to sag and appear larger or more elongated.
Medical conditions: Certain medical conditions, such as gynecomastia in men, can cause an enlargement of breast tissue and nipples. Gynecomastia can be caused by hormonal imbalances, medications, or underlying medical conditions.
Piercings and trauma: Nipple piercings or injury to the nipple area can sometimes cause scarring or changes in the nipple's appearance, leading to larger or more prominent nipples.
It is essential to note that the size and appearance of nipples can vary widely among individuals and that having larger nipples is not necessarily indicative of an underlying health issue.
Nipple Reduction Surgery Before & After Photos
Case 1: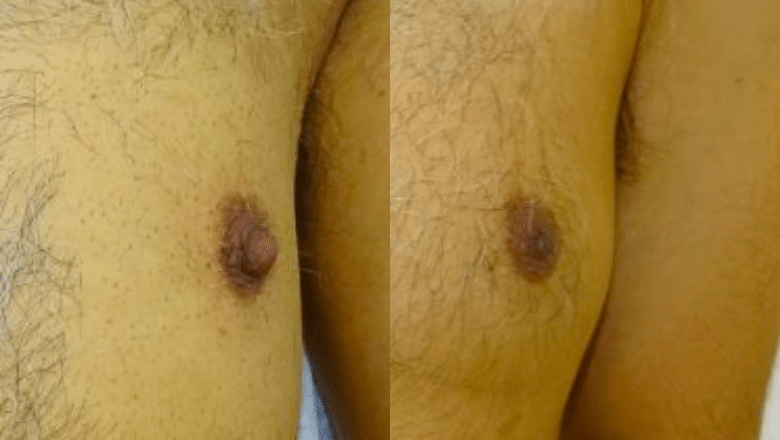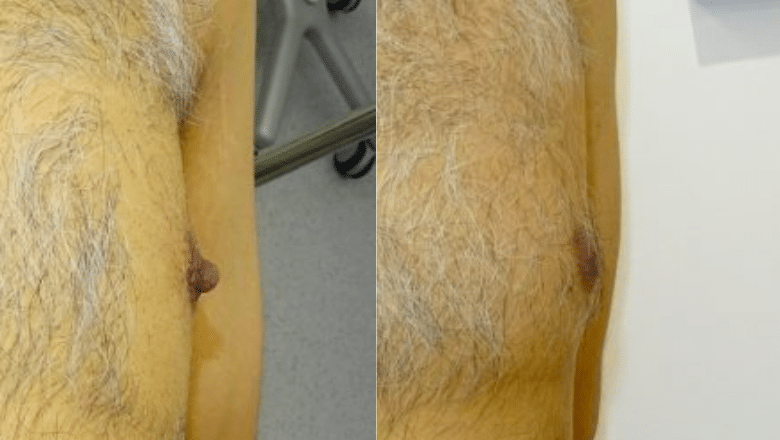 Case 2: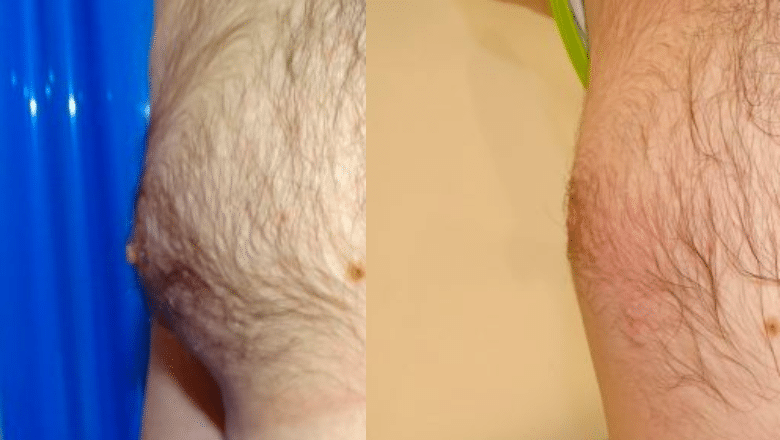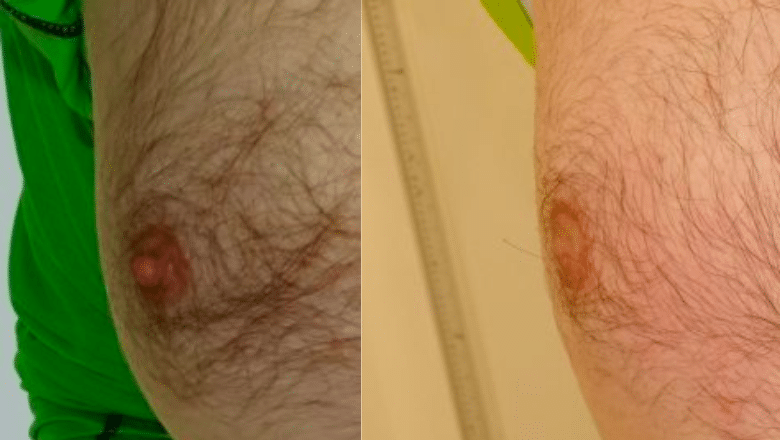 Case 3: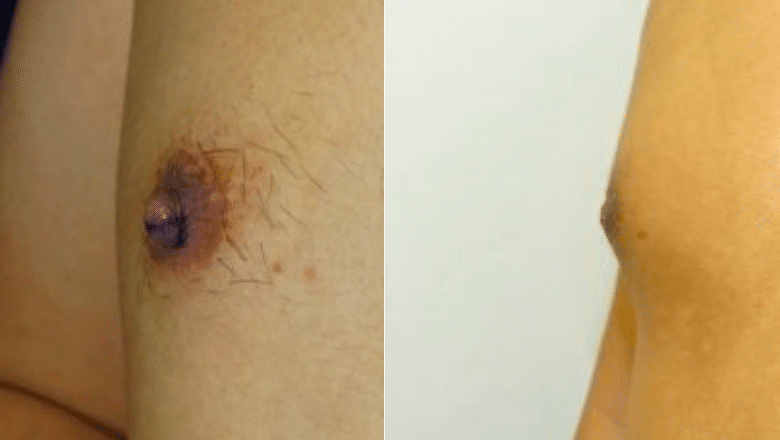 Benefits of Nipple Reduction
Nipple reduction surgery offers several benefits to those who are self-conscious about the size or shape of their nipples. Some of these benefits include:
Improved confidence and self-esteem: For many individuals, having large or prominent nipples can cause feelings of self-consciousness or embarrassment. Nipple reduction surgery can help improve self-esteem and confidence by creating a more proportionate and aesthetically pleasing appearance.
Enhanced breast appearance: By reducing the size of the nipples, the overall appearance of the breasts can be improved. This can lead to a more balanced and harmonious look, particularly in combination with other breast procedures such as augmentation, reduction, or lift.
Better-fitting clothing: Large or protruding nipples may cause discomfort or difficulty in finding properly fitting clothing, particularly bras and swimsuits. Nipple reduction surgery can alleviate these issues and make it easier to find comfortable and flattering clothing options.
Reduced physical discomfort: In some cases, large or elongated nipples may cause irritation or discomfort during physical activities, especially when rubbing against clothing. Nipple reduction surgery can help alleviate this discomfort by creating a smaller, more manageable nipple size.
Permanent results: Unlike non-surgical treatments, nipple reduction surgery offers long-lasting results. The changes made to the size and shape of the nipples during surgery are generally permanent, barring significant weight fluctuations or hormonal changes that may affect breast tissue.
Minimal scarring: Nipple reduction surgery typically involves small, well-hidden incisions, which results in minimal scarring. This allows patients to enjoy the benefits of the procedure without prominent visible scars.
Ideal candidates for nipple reduction
Ideal candidates for nipple reduction surgery are individuals who:
Are in good overall health: Candidates should be in good physical health and free from any medical conditions that could interfere with the healing process or increase the risk of complications during surgery.
Have realistic expectations: It is crucial to have a clear understanding of the potential outcomes of nipple reduction surgery and maintain realistic expectations about the results. A qualified plastic surgeon at Centre for Surgery can help you determine what changes are achievable based on your unique circumstances.
Are emotionally stable: Emotional stability is essential when considering any cosmetic procedure. Candidates should be able to cope with the physical and emotional aspects of the surgery and recovery process.
Are bothered by the size, shape, or appearance of their nipples: Nipple reduction surgery is designed for individuals who feel self-conscious about their nipples' size or shape and are seeking a more balanced and aesthetically pleasing appearance.
Have fully developed breasts: It is generally recommended that candidates for nipple reduction surgery have fully developed breasts. This is typically the case for women who are at least 18 years old, although breast development may continue into the early 20s for some individuals.
Are not currently pregnant or breastfeeding: Candidates should not be pregnant or breastfeeding at the time of the surgery. It is recommended to wait until you have finished breastfeeding and your breast size has stabilised before considering nipple reduction surgery.
Are non-smokers or willing to quit smoking: Smoking can increase the risk of complications during surgery and negatively impact the healing process. It is recommended that candidates quit smoking several weeks before and after the procedure to promote optimal healing.
Nipple reduction surgical techniques
Nipple reduction surgery is easily and comfortably performed under a local anaesthetic. This means you will be awake but numb in the area of the procedure. You can also have the choice of having a general anaesthetic if you would prefer to be asleep for the procedure – ask your surgeon at the consultation, and this can be arranged for you. Nipple reduction is performed as a day case so you can return home on the same day as the procedure. Nipple reduction is most commonly carried out under a local anaesthetic as it is a short procedure that takes roughly 30 minutes for each side.
Nipple reduction surgery involves various surgical techniques that can be tailored to address each patient's specific concerns and desired outcomes. Below are some of the common surgical techniques used in nipple reduction surgery:
Circumferential Incision Technique
This technique involves making an incision around the entire circumference of the nipple. The surgeon removes a ring of tissue from around the nipple and then sutures the remaining skin together to create a smaller, more proportionate nipple size. This method is particularly effective for patients with wide or enlarged nipples, as it reduces the overall diameter.
Wedge Excision Technique
The wedge excision technique involves removing a wedge-shaped section of tissue from the nipple. This method is particularly useful for patients with elongated or drooping nipples, as it allows the surgeon to shorten the nipple's length. After removing the wedge of tissue, the surgeon sutures the remaining skin together to create a shorter, more aesthetically pleasing nipple.
Flap Technique
In this technique, the surgeon creates small flaps of tissue from the base of the nipple. The flaps are then repositioned and sutured together to reduce the nipple's size and projection. This method is suitable for patients who wish to reduce both the width and projection of their nipples.
Pedicle Technique
The pedicle technique is often used in combination with other nipple reduction methods. It involves preserving a portion of the nipple's blood supply and nerves while reshaping the nipple. This method helps maintain nipple sensation and, in some cases, the ability to breastfeed after surgery.
Combined Techniques
In some cases, a combination of the above techniques may be used to achieve the desired results. The surgeon will carefully assess the patient's anatomy and specific concerns to develop a customized surgical plan that addresses their individual needs.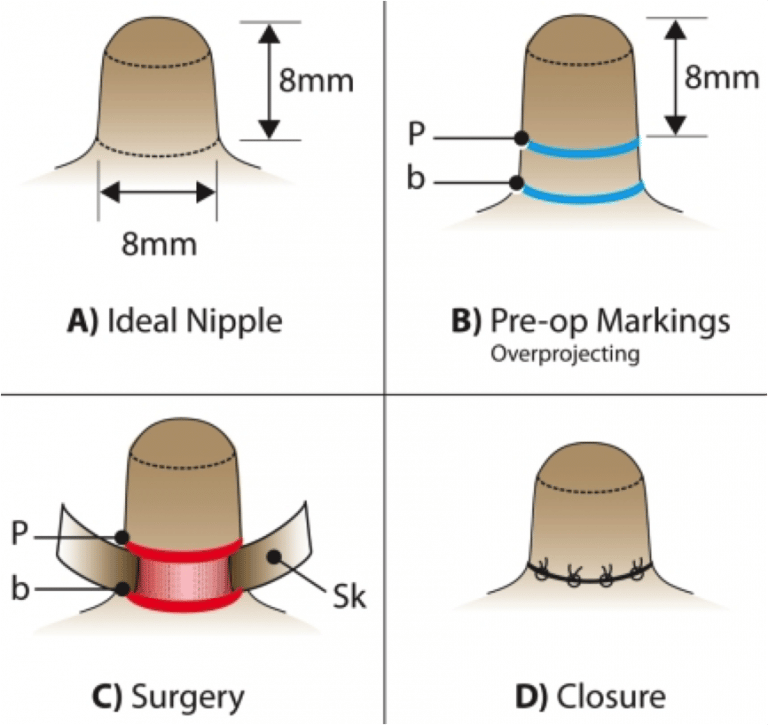 Recovery after nipple reduction
Recovery after nipple reduction surgery generally involves several stages, with the overall process varying from patient to patient. Here are some general guidelines to help you understand what to expect during recovery:
Immediate Post-Surgery
Following the procedure, you may experience mild discomfort, swelling, and bruising around the nipples. Your surgeon may prescribe pain medications to help manage any pain or discomfort. You will likely have dressings or bandages covering the incisions, which will need to be kept clean and dry.
First Week
In the first week after surgery, you should take it easy and avoid any strenuous activities or heavy lifting. You may gradually return to light daily activities as tolerated. It's important to follow your surgeon's instructions regarding wound care and changing dressings. You may also be advised to wear a supportive bra or sports bra during this time to minimize swelling and provide support to the healing breasts.
Two to Four Weeks
Swelling and bruising should begin to subside during this period. You will likely be able to return to work and resume most daily activities, although you should still avoid strenuous exercise or heavy lifting. Your surgeon may advise you to continue wearing a supportive bra for several weeks to ensure proper healing and support.
Six Weeks and Beyond
By six weeks post-surgery, most of the swelling should have resolved, and you should be able to resume all normal activities, including exercise. The incision lines will begin to fade, although they may continue to improve in appearance for several months.
Throughout the recovery process, it's essential to follow your surgeon's recommendations and attend any scheduled follow-up appointments to monitor your healing progress. Keep in mind that individual recovery times may vary, and it's crucial to listen to your body and not rush the healing process.
While the final results of nipple reduction surgery should be visible within a few months, it may take up to a year for the incision lines to fade and for the overall appearance to fully settle. It's important to maintain realistic expectations and understand that individual results may vary.
Nipple Reduction Surgery Costs London - How much does nipple reduction surgery cost in London UK? Prices & Fees
At Centre for Surgery, every nipple reduction surgery is tailored to meet your specific needs. Our team will provide you with a comprehensive package price that takes into account the type of procedure you require, the hospital you select, as well as the length of your surgery and stay. The price also includes aftercare, follow-up, and any additional post-operative services that may be necessary.
Following your initial consultation, we will provide you with a detailed quote that outlines all costs associated with your surgery, including the fees charged by the surgeon, anaesthetist, surgical assistant, and facility.
If you would like an estimate for the cost of your own nipple reduction surgery in London, please don't hesitate to contact us at 0207 993 4849 and speak to one of our friendly patient coordinators.
Nipple Reduction at Centre for Surgery
At Centre for Surgery, we pride ourselves on our commitment to delivering high-quality care, state-of-the-art facilities, and exceptional patient experience. Here are some reasons why you should choose us for your nipple reduction surgery:
Expertise: Our team of highly skilled and experienced plastic surgeons specialises in breast and nipple procedures, ensuring that you receive the highest quality of care and the best possible results.
Personalised Approach: We understand that each patient is unique, and we tailor our approach to meet your specific needs and goals. Our surgeons will work closely with you to develop a customised treatment plan that takes into consideration your anatomy, expectations, and desired outcomes.
Comprehensive Care: From your initial consultation to post-operative follow-up appointments, we offer comprehensive care and support throughout your nipple reduction journey. Our dedicated staff is available to answer any questions and address any concerns you may have along the way.
Advanced Techniques: We utilize the latest surgical techniques and technology to ensure the best possible outcomes with minimal scarring and downtime.
Focus on Safety: At Centre for Surgery, your safety is our top priority. We adhere to strict safety protocols and maintain the highest standards of care to ensure a safe and successful procedure.
Comfortable Environment: Our state-of-the-art facilities are designed to provide a comfortable and relaxing environment for your surgery. We strive to make your experience as stress-free and pleasant as possible.
Transparent Pricing: We offer transparent pricing with no hidden fees, ensuring you have a clear understanding of the costs involved in your procedure.
Aftercare and Support: Our commitment to your well-being extends beyond the operating room. We provide comprehensive aftercare services and support to help you through the recovery process and ensure the best possible results.
By choosing Centre for Surgery for your nipple reduction procedure, you can feel confident knowing that you are in the hands of a team of dedicated professionals who are committed to providing exceptional care and achieving outstanding results.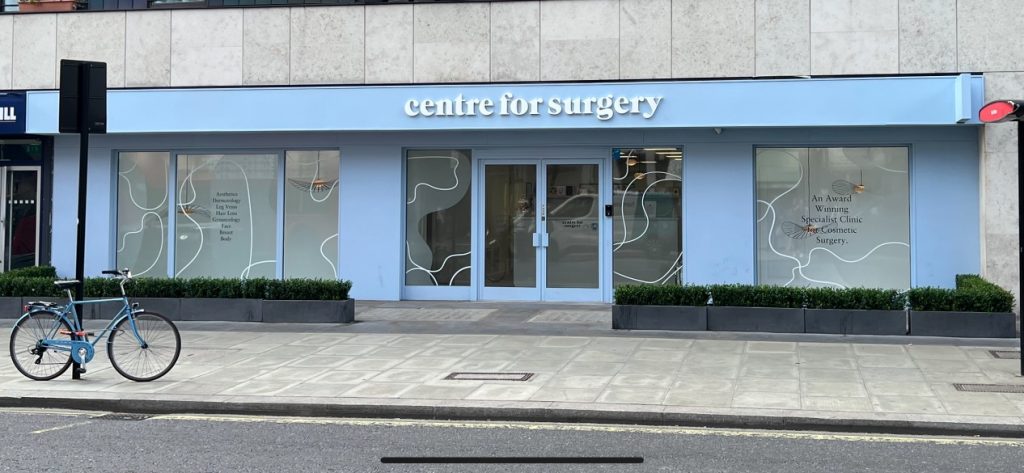 [wpseo_map id="9814″ width="750″ height="300″ zoom="15″ map_style="roadmap" scrollable="1″ draggable="1″ show_route="0″ show_state="0″ show_url="1″ show_email="1″ default_show_infowindow="1″ show_phone="1″ show_phone_2="0″ show_fax="0″]
[trustindex no-registration=google]
What To Expect
The consultation
The first step is to have a consultation with one of our expert surgeons for nipple reduction. At the consultation, your surgeon will explain the procedure in detail and it involves. Your surgeon will want to learn more about what you hope to achieve from the procedure and also to explain the ideal treatment technique after a physical examination.

A number of measurements are taken of your enlarged nipples including assessment of the degree of protrusion. Your surgeon has experience in performing all the techniques of nipple reduction. The most appropriate choice will be made based on your degree of nipple enlargement. The surgeon will also give information on the location of the incisions for nipple reduction and also whether other breast procedures are to be combined. High-resolution photos will be taken and your surgeon may also use computer digital imaging. Your surgeon will take time to discuss the important risks and potential complications of nipple reduction surgery and what you can expect in the postoperative period.

It is useful to keep a list of questions handy to ask the surgeon during the consultation. Examples include whether you are a good candidate for the procedure, what sort of result are you looking to achieve, what you can do to optimise results in the post-operative period, how much downtime is involved. You may also want to know how soon you can return to work after having inverted nipple reduction surgery. The surgeon will also take a full medical history which includes previous operations, current list of medicines taken and any potential allergies. This information will be used to decide on your suitability for the nipple reduction procedure. If you are deemed to be a suitable candidate for nipple surgery then we would recommend to spend a period of time to reflect on all the information given. We always recommend a minimum of a 2 week cool off period for to weigh up your options. All our prospective patients are more than welcome to have as many follow-up consultations after their initial consultation to make sure you are fully empowered with all the information to make an informed decision for proceeding with nipple surgery at Centre for Surgery.
Before the procedure
Once you have decided that inverted nipple correction is right for you, our preoperative assessment team will be in contact to prepare you for surgery.

The following are recommended actions to take:

- For 6 weeks beforehand, it is highly recommended to stop smoking as active smoking is associated with a number of risks including delayed wound healing which could result in wound infection.

- You should also avoid aspirin and all medicines containing aspirin for at least one week prior to the procedure.

- If you are having a general anaesthetic, for 6 hours before the procedure, you should refrain from eating any food or any type of drink apart from sips of clear fluid (water and tea/coffee without added milk) which is allowed for up to 2 hours before the procedure.
On the day of your procedure
Please aim to arrive for your nipple reduction procedure at the confirmed time. One of our nursing team will admit you for the procedure and will carry out a number of tasks including checking your blood pressure and other vital signs including pulse and temperature and then getting you changed into single-use clinic wear. The anaesthetist will then come in to assess you to make sure you are medically fit for the procedure. You will then be seen by your surgeon who will confirm the procedure to undertaken and you will sign the informed consent form. Skin marking and photos may be taken at this point.

Nipple reduction is a very commonly performed procedure at Centre for Surgery and is easily carried out under local anaesthetic as a day case if it is an isolated procedure. The procedure takes approximately 1 hour to perform but may take longer if combined with other procedures. During the procedure, your surgeon will make small incisions in the area on top of the nipple followed by gentle precise surgical removal to reduce size of the the nipple before closing the skin with dissolvable sutures.
After your procedure
After your nipple reduction procedure, our dedicated postoperative support team are available round the clock to answer any questions or concerns you may have. Our team will call you regularly for the first 2 weeks after your procedure to make sure your pain levels are well controlled and your healing is progressing as normal. Nipple reduction is associated with very little in the way of discomfort. Any soreness can be effectively controlled with tablet painkillers and the majority of our patients are very comfortable by the end of week 1. Your doctor may recommend a period of approximately 2-3 days off work. You should minimise any excessive physical activity for the first 2 weeks after surgery to help with the healing of the incisions and reduce swelling.

You may be required to wear a specialised postoperative dressing that maintains the position of the nipples in their corrected position.

You will attend for a postoperative check up with one of our nursing team at 7-10 days to review your surgical wound sites and ensure proper healing is taking place. Recommendations on treatments for scar healing may be given for optimal cosmesis. At 6 weeks you should begin to see your final results and you will see your surgeon for a comprehensive review and make sure your results are in line with your expectations.