Arm Lift (Brachioplasty) in London UK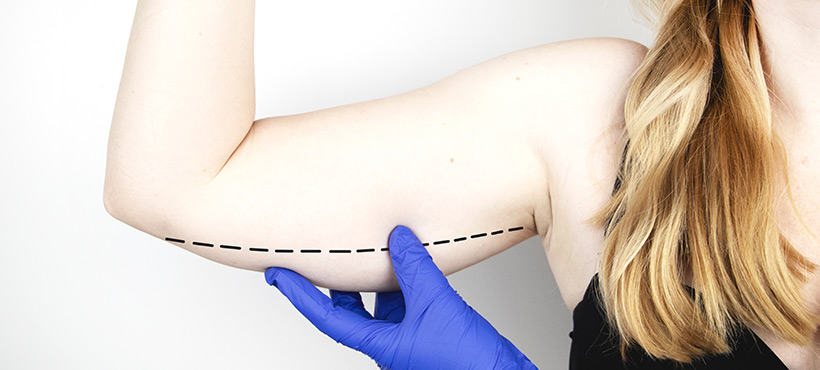 Revitalise your appearance with a brachioplasty at Centre for Surgery, where our expert surgeons sculpt toned, youthful arms, helping you regain confidence and feel great in your own skin
The phenomenon of loose or sagging skin on the upper arms is a common issue, particularly after individuals experience a substantial or rapid reduction in their body weight. This problem can also become more pronounced as a person ages. The condition, colloquially referred to as "bingo wings" or "bat wings," is characterized by an excess of skin in the upper arm area that unfortunately, is not easily rectified through exercise alone.
In such circumstances, one of the most effective remedies is a surgical procedure known as Brachioplasty, also referred to as an upper arm lift. This operation is specifically designed to address the issue of droopy arm skin, helping individuals regain a more toned and youthful appearance.
RELATED: Arm Lift FAQs – Q&A about Brachioplasty Surgery
Among the many establishments providing post-weight loss surgical solutions, Centre for Surgery stands out. Our institution is not only a hub for individuals seeking to further refine their appearance following significant weight loss, but it is also home to an array of highly esteemed plastic surgeons in the UK.
At Centre for Surgery, the exceptional team of surgeons possesses a wealth of experience and a proven track record in their respective fields, ensuring the best possible outcomes for patients. With their expertise, the centre provides comprehensive care for those dealing with the aftermath of dramatic weight loss, including the challenge of excess skin in areas such as the upper arms.
What is a Brachioplasty Procedure?
Brachioplasty, also known as an upper arm lift, is a form of cosmetic surgery specifically designed to address the issue of sagging skin and excess fatty tissue in the upper arm area. The objective of this procedure is not only to eliminate the surplus skin and fat but also to improve the overall shape and contour of the arm.
This surgical intervention is significant in its scope and aims to mitigate the sagging or drooping appearance that can occur as a result of substantial weight loss or the natural ageing process, which often leads to a decrease in skin elasticity. The term 'Brachioplasty' is derived from the Greek words 'brachion' meaning 'arm,' and 'plassein' meaning 'to form,' hence it effectively means 'reshaping of the arm.'
During a Brachioplasty procedure, an incision is typically made either on the inside or back of the arm, depending on individual needs and the surgeon's assessment. Through this incision, the surgeon is able to remove excess skin and fat, often with the assistance of liposuction. Subsequently, the remaining skin is tightened and sutured back into place, resulting in a firmer, more youthful, and toned appearance of the upper arm.
It's important to note that while Brachioplasty can significantly improve the aesthetic appearance of the arms, it is a major surgical procedure that requires careful consideration and should ideally be performed by a skilled and experienced plastic surgeon. Patients must also be prepared for a recovery period post-surgery and should follow all postoperative care instructions for optimal results.
See Brachioplasty Before and After Results
At the Centre for Surgery, we take pride in the high level of satisfaction our arm lift patients express after their procedures. The outcome of arm lift surgery typically results in toned and youthful-looking upper arms, giving our patients the confidence to wear sleeveless attire freely.
The pleasing results achieved from arm lift surgery are typically enduring and maintain their aesthetic appeal for a long time.
The surgical scars from the procedure are not usually visible unless the arms are raised, and over time, these scars gradually fade, further enhancing the overall aesthetic appeal of the surgery.
It's important to note that any plastic surgery can have varying impacts on your social circle, including friends and family. Some may not perceive much difference, while others might react negatively. If you encounter such reactions, it's vital to remember the goals you set prior to the surgery. Keep in mind that this journey was undertaken for your own satisfaction and not to cater to others' opinions.
During your comprehensive consultation at Centre for Surgery, you will have the opportunity to view numerous before and after photos of our past arm lift patients. This will provide you with a realistic understanding of the results you can expect. We also encourage you to visit our arm lift photo gallery online for additional examples of our work in this area.
Case 1: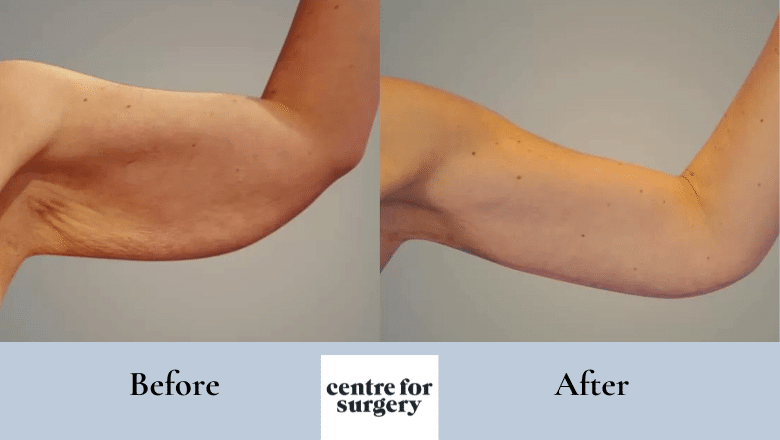 Case 2: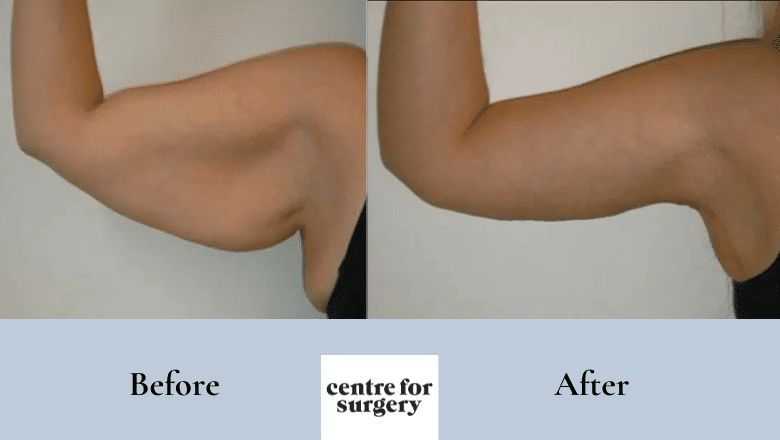 Case 3: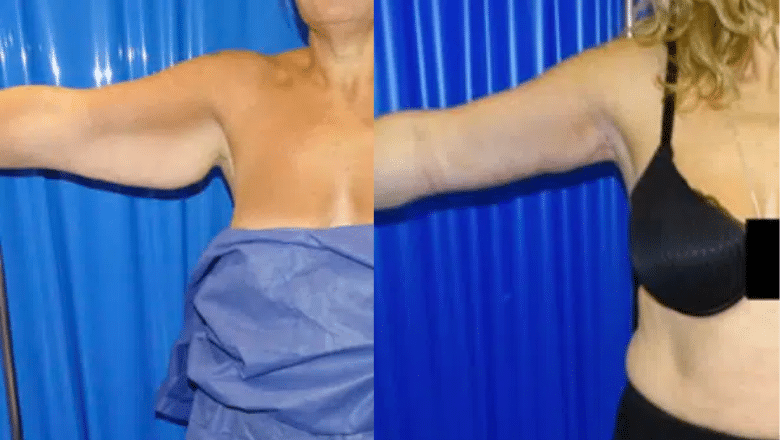 Case 4: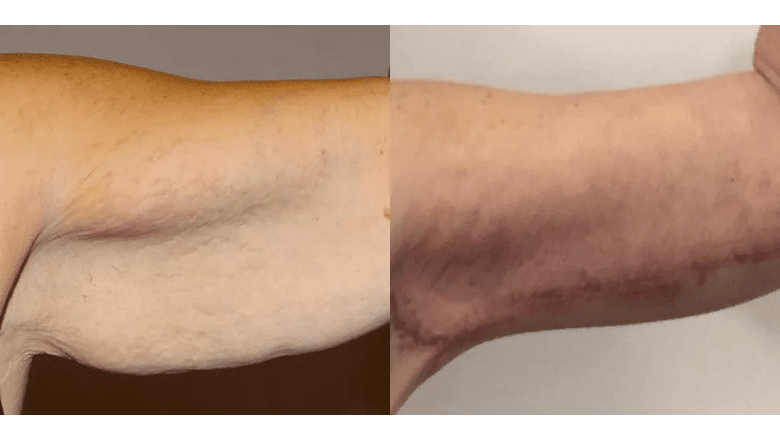 Case 5: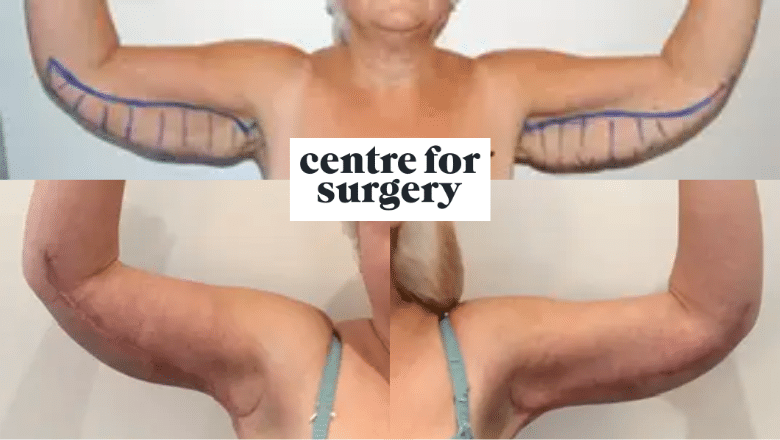 Benefits of Upper Arm Lift Surgery
The surgical procedure known as an upper arm lift, or Brachioplasty, is specifically designed to address the issue of excess skin in the upper arm area. This intervention doesn't yield immediate results; rather, the full benefits become evident over time as the body heals and adapts post-surgery. There are several key advantages associated with undergoing an upper arm lift procedure:
Enhanced Arm Firmness: One of the most prominent benefits of Brachioplasty is the noticeable increase in firmness of the upper arms. This procedure removes the excess skin and fat, allowing the remaining skin to be tightened, resulting in a more toned and firm appearance.
Elimination of Sagging Skin: A major objective of the upper arm lift surgery is to address the issue of sagging skin. By excising this excess, droopy skin, the procedure effectively eradicates the problem, leading to smoother and more youthful-looking arms.
Strategically Placed Scars: While any surgical procedure will inevitably leave some scarring, the upper arm lift surgery is designed in such a way that the scars are typically positioned on the inner part of the arms, making them less noticeable. This strategic placement helps to minimize the visual impact of the scars while maximizing the aesthetic outcome of the procedure.
Improved Arm Contour: Through the removal of excess skin and fat and the subsequent tightening of the remaining skin, the upper arm lift surgery significantly enhances the overall contour of the arms. This can lead to a more proportionate appearance, helping to boost self-confidence and comfort in various types of clothing.
Ideal Candidates for Brachioplasty Procedure
When considering a Brachioplasty procedure, or an upper arm lift, it's crucial to understand whether you're an appropriate candidate for the surgery. This is typically assessed during an in-depth consultation at the Centre for Surgery, where potential patients can discuss their concerns and expectations with a qualified surgeon.
The ideal candidate for a Brachioplasty procedure should meet the following criteria:
Overall Health: Candidates should be in good physical and mental health. This is essential to ensure a smooth surgical process, a successful recovery, and the capacity to handle any stress or anxiety that might arise from undergoing a major surgical procedure.
Non-Smoking Status: Ideally, candidates should be non-smokers. Smoking can significantly impair the healing process after surgery. If a candidate does smoke, they should be willing to quit at least six weeks before and after the procedure to reduce any potential complications and promote optimal healing.
Presence of Sagging Skin: Candidates for Brachioplasty typically have significant sagging skin in the upper arm region that is causing aesthetic concerns, physical discomfort, or mental distress. This surgery is specifically designed to address this issue.
Realistic Expectations: It is important for candidates to have a clear and realistic understanding of what Brachioplasty can and cannot achieve. While the surgery can greatly enhance the appearance and contour of the upper arms, it won't necessarily lead to "perfect" arms.
Personal Motivation: Ideal candidates should be seeking surgery for their own personal reasons and not to fit into societal trends or pressures. The decision to undergo this procedure should be self-motivated and not influenced by others' opinions or expectations.
Informed Awareness: Lastly, it's essential that candidates understand the potential risks and complications associated with Brachioplasty. This ensures that they're making a fully informed decision about the procedure.
Preparing for an Arm Lift
At the Centre for Surgery, we take immense pride in our role in helping countless arm lift patients across London and the UK regain their confidence and feel comfortable wearing clothing that exposes their arms, like short-sleeved shirts or bathing suits.
We understand that the prospect of undergoing any form of surgery can invoke feelings of anxiety and apprehension. To alleviate these feelings, our highly skilled surgeons adopt a compassionate and patient-centric approach. They listen attentively to your desires and concerns, providing professional guidance on the potential outcomes and limitations of each surgical procedure. They take the time to meticulously explain the potential benefits of the procedure, as well as any associated risks, to help you feel secure and comfortable with your decision.
Your initial consultation is a comprehensive session that will include a physical examination and a thorough review of your medical history. This meeting also provides an opportunity for you to discuss your goals and expectations from the surgery. You'll be encouraged to describe the aesthetic you aspire to achieve, along with any specific expectations you may have.
Our expert surgeons are committed to ensuring that you never feel rushed during these discussions. They will invest as much time as necessary to understand your desires and expectations thoroughly. It's essential to note that while we strive to meet your expectations, surgery may not always yield the exact results you envision. Therefore, having a clear understanding of realistic outcomes is crucial.
During the consultation, a specialist plastic surgeon will evaluate your specific case to determine the most suitable procedure or combination of procedures to help you achieve your goals. For an arm lift procedure, specific aspects like the location of the incision and the potential need for liposuction will be thoroughly discussed. Our surgeons will collaborate with you to recommend the procedure that aligns best with your desired results, aiming to bring you as close as possible to achieving your aesthetic aspirations.
Preparing for Arm Lift Surgery
In the lead-up to your arm lift surgery, or Brachioplasty, your surgeon will provide detailed instructions on how to adequately prepare for the procedure. These measures are essential to ensuring a smooth surgical process and optimal healing post-surgery.
Vitamins and Medications: Your surgeon may suggest that you take certain vitamins or medications in preparation for the surgery. These can help boost your immune system and promote healing post-surgery. Always follow your surgeon's specific instructions regarding these supplements.
Smoking Cessation: If you're a smoker, you'll need to cease smoking a minimum of four weeks before and after your surgery. Smoking can significantly impair circulation and disrupt the healing process, which could lead to complications during and after the procedure.
Avoid Certain Medications and Supplements: You may be instructed to refrain from taking certain medications, including aspirin and anti-inflammatory drugs, for two weeks before and after your surgery. These medications can potentially increase the risk of bleeding during the operation. Likewise, certain herbal supplements may also need to be avoided as they can interfere with anaesthesia or cause excessive bleeding.
Remember, the key to a successful arm lift surgery lies not only in the expertise of your surgeon but also in your adherence to these pre and post-operative instructions. It's important to be open and honest with your surgeon about your lifestyle habits and any medications or supplements you're currently taking to ensure a safe and successful procedure. Your health and safety should always be the top priority when preparing for and recovering from surgery.
Arm Lift Techniques
Arm Liposuction
Arm liposuction is the ideal technique for contouring the arms for those with good skin elasticity. Arm liposuction results in minimal scarring, and the recovery time is much quicker than a traditional Brachioplasty. Those with significant, redundant skin, often from previous weight loss, will not be ideal candidates for arm liposuction. Younger patients with minimal skin laxity in the upper arms are ideal candidates. Arm liposuction can help to achieve a more toned arm contour.
Mini Arm Lift or Mini Brachioplasty
A mini arm lift is a short scar version of a traditional full brachioplasty and can address moderate degrees of skin laxity. The incision for a mini arm lift is located in the armpit area and is, therefore, well concealed compared to a full brachioplasty. Patients can quickly wear short-sleeved clothing without visible scarring. The postoperative discomfort after a mini arm lift is much less than a Brachioplasty. Liposuction is often combined with a mini arm lift to remove fat deposits in the upper arms. Patients who want to avoid a scar going down the arm and have lesser degrees of skin laxity may be ideal candidates for a mini arm lift.
Your surgeon may also wish to combine the BodyTite/Morpheus8 combination with a mini arm lift to extend the benefits of partial skin excision. In this case, the procedure would be performed with TIVA anaesthesia.
Traditional Brachioplasty or Full Arm Lift
Brachioplasty surgery aims to remove the maximum amount of excess skin and extra fat in the upper arm area to tighten the skin and improve the upper arm contour significantly. The incision for a Brachioplasty is located on the inner side of the upper arm and runs from the armpit to the elbow. Although the scar burden can be significant, the scar is often well positioned on the inside of the arm. Brachioplasty surgery is the most commonly performed arm lift surgery for those with moderate to severe skin laxity, often from significant weight loss.
Extended Brachioplasty
Patients who have undergone massive weight loss, whether from bariatric surgery or weight loss through diet and exercise, may be candidates for an extended brachioplasty procedure. Often after massive weight loss, the resulting skin laxity can be very significant and extend beyond the upper arm to the side of the chest. A traditional Brachioplasty will not be able to correct the deformity from weight loss. The incision for an extended Brachioplasty extends from the elbow to the side of the chest wall to effectively address the skin redundancy from massive weight loss. Significant improvement in the upper arm and chest wall contour can be achieved.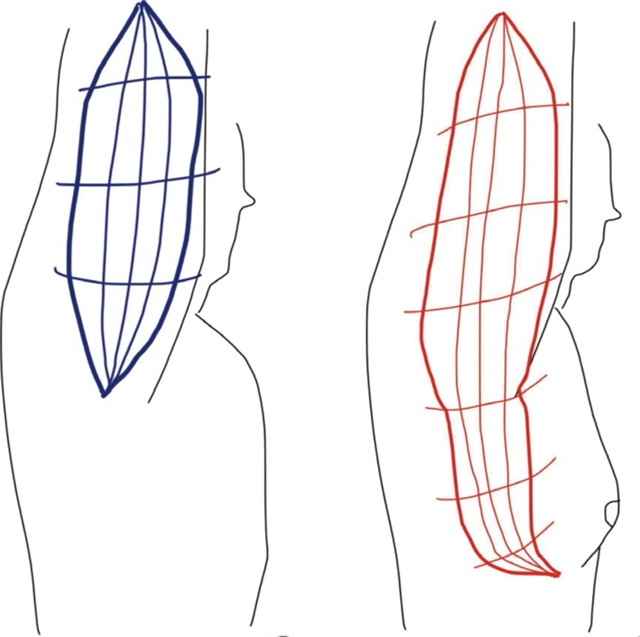 Modified Brachioplasty
The modified brachioplasty is similar to a traditional Brachioplasty in that excess skin and fat are surgically removed to improve upper arm contour in patients after significant weight loss. Modified incision Brachioplasty differs from the traditional technique in the configuration of the scar is shaped differently. The modified incision is more curved and is positioned along the bicep muscle for improved concealment. The modified incision Brachioplasty is ideal for patients concerned about scar placement and prefer the scar to be in the inner arm rather than along the bottom part of the upper arm.
BodyTite Arm Lift
If you are not keen on the idea of having scars from arm lift surgery, Centre for Surgery also offers a 'scarless arm lift' utilising the innovative BodyTite platform. A BodyTite arm lift utilises minimally invasive bipolar RF using specially designed cannulas to tighten the skin and soft tissues, along with Morpheus8 RF microneedling. By using both BodyTite and Morpheus8, your surgeon can address mild to moderate skin laxity in a minimally invasive manner and without the downtime of a traditional full brachioplasty. A BodyTite arm lift can be performed under local anaesthetic (with or without oral sedation) in properly selected candidates.
We may not like what we see in the mirror when we get older and lose muscle tone. If you extend your arm, you may notice a flap of skin that hangs down. In an ideal world, diet and exercise could correct this. But for some people, that is not enough. An arm lift or brachioplasty can improve the beauty and appearance of the arm.
An arm lift is also known as a brachioplasty. During a Brachioplasty, the surgeon makes an incision in the arm. Excess skin is removed, and extra fat may be removed as well. Afterwards, there will be pain and swelling, which can take several weeks to go away. There will also be a scar. Generally, the scar will run down the underside of the upper arm. Sometimes, a surgeon will do a mini arm lift. This procedure leaves a scar in the armpit that is less likely to be noticed.
Arm Lift Surgery
You may experience saggy arms for various reasons, such as weight loss or ageing. This can cause you to feel self-conscious, particularly when wearing shorter clothes. While exercise helps keep the muscles tight, skin and fat can be stubborn and droopy.
Arm Lift Step-By-Step
STEP 1: For a full arm lift, a curved incision is designed to run along the lower margin of the arm from the elbow to the armpit. The degree of correction of skin laxity and the size of the arms depends on the design of the incision and the length of the incision.
STEP 2: The surgeon carefully removes any excess fat and skin and dissects beneath the skin in a gentle and near-bloodless manner.
STEP 3: The excess and redundant skin is surgically removed, followed by a close approximation of the wound edges using temporary surgical clips, followed by performing liposuction to fine-tune the arm's size.
STEP 4: Dissolvable sutures are placed along the approximated skin margins to ensure a cosmetically acceptable scar.
STEP 5: A specialised compression garment is applied to the arms to support the incisions and reduce postoperative swelling.
An arm lift will remove this excess skin and fat while also tightening the tissues, giving the arm a smoother, more youthful appearance. The arm lift procedure involves undergoing liposuction to remove any excess fat. Next, the excess skin is removed and sutured shut.
After the arm lift procedure, you will have a scar running down the underarm. While this scar will be more noticeable after surgery, it will fade gradually. If you do not want a scar, you may wish to do a mini arm lift, as the scar will be limited to under the armpit, so it will not be as noticeable.
To help the healing process, you will be asked to avoid smoking. You will also have to avoid blood thinning medications.
Compression Garment After An Arm Lift
The surgeon will apply a compression garment onto the upper arms at the end of the Brachioplasty procedure. It is recommended to wear the garment continuously for the first three weeks, which may be longer if your surgeon recommends a longer duration. The arm lift compression garment should only be removed before having a shower. The sterile waterproof dressings should protect the wounds from moisture. The compression garment should be immediately reapplied once your shower is complete.
You should not bend your elbows for 24-48 hours after the arm lift procedure. In one week, you will see one of our postoperative nursing team for a wound check and a change of dressings. Specialised brown tape may be applied at this stage to optimise wound healing and scar cosmesis. You should avoid strenuous physical activity for the first two weeks. Light physical activity is acceptable at four weeks post-arm lift surgery.
Recovery After Brachioplasty
The recovery period following an arm lift surgery, or Brachioplasty, is a crucial phase that can significantly influence the final results of the procedure. During this time, it's normal to experience some degree of discomfort and swelling, which typically subside by the end of the second week of the recovery period, which generally lasts between four to six weeks.
RELATED: Recovery After Arm Lift Surgery – Top Tips
Compression Garments: It's highly recommended to wear compression garments for at least the first two weeks, if not throughout the entire recovery period. These garments help prevent fluid accumulation and severe swelling in the surgical area.
Draining Tubes: Proper care must be taken with the draining tubes, which are usually in place for the first week post-surgery. These tubes help to remove excess fluid and reduce swelling.
Lifestyle Habits: During the recovery period, it's crucial to avoid smoking and consuming alcohol. Both these habits can interfere with the healing process and increase the risk of complications, particularly when combined with antibiotics and other prescribed medications.
Over-the-Counter Painkillers: Initial swelling, discomfort, and bruising are normal and can be managed effectively with over-the-counter painkillers. The discomfort usually begins to decrease significantly by the end of the first two weeks.
Time Off Work: If your job involves physical effort, it's advisable to take at least two weeks off work to ensure your body has ample time to heal without added strain or pressure on the surgical site.
Avoid Strenuous Activities: It's also essential to refrain from strenuous exercises and activities during the initial recovery period as these could potentially complicate the wound healing process.
Limit Arm Movement: In the first two weeks post-surgery, avoid raising your arms as this can place undue pressure on the incisions and impact the healing process.
Rest and Relaxation: Prioritise rest and relaxation during your recovery period. This allows your body, especially your arms, to heal properly so you can fully enjoy the results of your arm lift procedure.
By adhering to these guidelines and any specific instructions given by your surgeon, you can help ensure a smooth recovery and optimise the outcomes of your arm lift surgery.
How to Improve The Appearance of Arm Lift Scars
Arm lift, or brachioplasty surgery has increased in popularity as an effective method of improving arm contour after all degrees of weight loss from mild to massive. Many patients are concerned about the appearance of scars after arm lift surgery, but this has become less of a concern with modern surgical techniques. Most patients accept the trade-off between achieving a dramatically improved upper contour at the expense of what can be a long scar along the upper arm. Our surgeons use advanced surgical techniques to give a straighter-looking scar that is located along the inside of the arm and this results in a well-concealed scar that is not obviously visible to others, even when wearing short sleeve shirts.
Arm lift scars vary from one patient to another, and there are several factors which can influence the degree of scar formation:
Positioning of scar
Skin colour
History of hypertrophic or keloid scars
Exposure of healing incisions to strong sunlight
All arm lift incisions leave scars due to the procedure to remove excess skin and fat. Modern methods of scar management help to improve the appearance of scars. It is important to wear the postoperative garment as instructed by the surgeon in combination with specialised postoperative brown tape along the arm lift incisions. This protocol helps to prevent stretching of the scar and reduce the incidence of red and raised scars over time.
At four weeks after surgery, your surgeon may recommend the application of silicone gel sheets once the incisions have fully healed, which will help to optimise scar cosmesis further. It is essential to keep the incisions out of direct sunlight and to use a sunscreen of SPF 30 or higher applied to the scars. You should avoid direct sunlight exposure to the treated areas for six months post-arm lift surgery.
Risks and Complications of Arm Lift Surgery
With any cosmetic surgery procedure, there are recognised medical risks. Arm lift surgery is no different. It is very important for the patient to adhere to all pre-operative and post-operative instructions to ensure a smooth recovery and minimise the risk of complications developing. Your surgeon will fully discuss with you the possible risks at your consultation.
Possible risks that you are exposed to include infection, fluid accumulation, haematoma, skin necrosis, poor scar healing, and blood clotting. Your surgeon will also discuss with you the chances of revisional surgery, which is different from post-surgery follow-ups and future surgery. In the period leading up to the Brachioplasty procedure, you will be asked to give up smoking if you are a smoker. Aspirin can act as a blood thinner, and you will be asked to stay off it.
Potential Complications of Arm Lift Brachioplasty
Anaesthetic risks

Postoperative haemorrhage
Seroma or haematoma
Delayed wound healing
Hypertrophic scarring
Requirement for a revision procedure
Brachioplasty – Upper Arm Lift Surgery London Cost and Prices – How much is a Brachioplasty in London?
The cost of an Arm Reduction Surgery, also known as Brachioplasty, in London, UK, can vary considerably based on several factors. These variables include the specific type of procedure, the desired outcome, and the amount of time required in the operating theatre.
Patient's Specific Requirements: The primary driver of the cost of arm lift surgery is the unique needs of each patient. Some patients may require liposuction in addition to skin removal, while others may only need a certain amount of skin to be excised from the arm area. The extent of the procedure directly influences the overall cost.
Complementary Procedures: Sometimes, an arm lift is performed in conjunction with other surgeries to create a more harmonious, aesthetically pleasing body contour. If additional procedures are necessary, this will also be factored into the total cost.
Associated Fees and Expenses: The cost of the procedure also encompasses the fees for the anaesthetist and surgeon, as well as the costs of using the medical facility. Furthermore, any necessary pre-operative medical tests, post-operative compression garments, and prescription medications will also contribute to the final cost.
Health Insurance Considerations: The extent to which your private health insurance can cover the costs of the surgery depends largely on the reasons for undergoing the procedure. If the surgery is sought purely for cosmetic reasons, it's unlikely that brachioplasty will be covered. However, if the excess skin is causing health issues due to substantial weight loss, there may be a possibility to claim some of the surgery costs from your insurer.
During your personal consultation, our surgeon will conduct a comprehensive review of your medical history and perform a detailed assessment of your arms and overall body features. This information will be used to discuss potential risks and provide you with an accurate quotation for your upper arm lift surgery procedure. This transparent approach ensures that you have a clear understanding of the procedure and its associated costs, enabling you to make an informed decision about the surgery.
Why not call 0207 993 4849 and speak to one of our expert patient coordinators, who may be able to give you a rough costing before a consultation for a Brachioplasty?
Always remember that price should never be the determining factor when it comes to choosing your cosmetic surgery provider. We feel that safety and quality of service should be your number one priority and instil in you the confidence that everyone on our team will look after you to the best of their ability – before, during and after your procedure.
Arm lift Specialists at Centre for Surgery
Over ten years of experience in all types of arm lift surgery.
We own and manage our own surgical facilities.
Our surgeons live and work in the UK. This is very important because whilst your surgeon takes all precautions to minimise complications, complications can and do occur. Our surgeons are readily available to manage any issues if and when they arise.
What is included in my treatment package?
As many preoperative consultations with your surgeon as you like to make sure the procedure is right for you
Treatment at a specialist day surgery facility recently rated 'Good' by the CQC
Enhanced same-day discharge with the added benefits of recovering in your own home
24/7 clinical support from your surgeon for the first 48 hours and our expert postoperative support team
Your very own dedicated patient coordinator
In-depth preoperative medical assessment to make sure you are fully fit for the brachioplasty procedure
Our Exceptionally high standards of postoperative care have been described as 'outstanding' by the CQC, with regular telephone and face-to-face checks by our expert postoperative support team.
RealSelf Top Doctors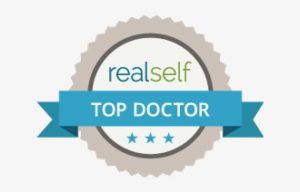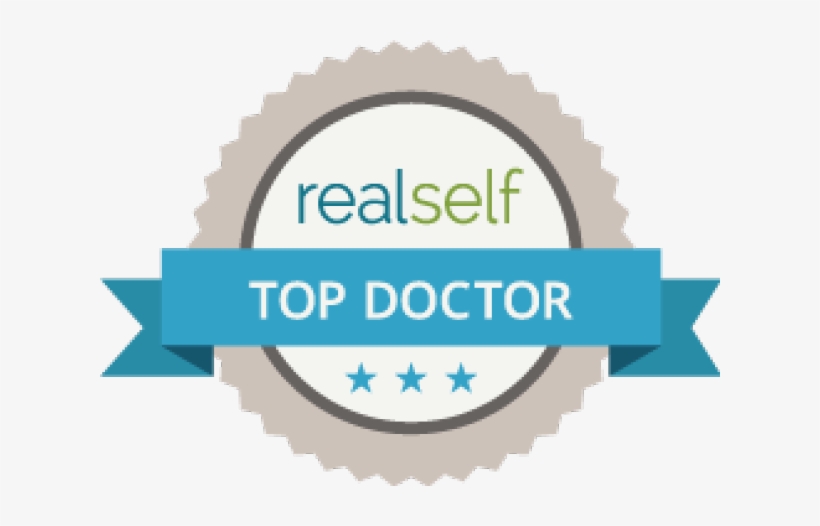 RealSelf's top doctor status is awarded to less than 10% of the RealSelf doctor community. This status is earned by achieving consistently high patient satisfaction (from RealSelf reviews), getting excellent feedback on expert answers to patient questions, and investing significant time in Q&A and other doctor activities. RealSelf's top doctors are rated among the best surgeons in the United Kingdom.
Our surgeons are highly skilled in all types of arm lift surgery, which result in a significantly improved upper arm contour, and this reflects their deep expertise in body contouring surgery. We have a strong philosophy of establishing a good doctor-patient relationship to facilitate excellent outcomes after arm lift surgery.
At your consultation, your surgeon will listen carefully to understand your lifestyle and your goals for treatment, and this is fundamental to formulating the correct treatment plan for you. Your medical history and any current medicines you may be taking will also be reviewed. It is important for all patients to be fully informed on all the available arm lift surgical techniques so they can make a decision based on their preferences.
Your surgeon will be able to answer any questions you may have, and you may think of during your consultation. Suppose you are keen to see before and after photos. In that case, your surgeon may be able to show a range of photos of patients that have undergone similar brachioplasty treatment to give you an idea of the potential results that can be achieved. The pros and cons of Brachioplasty surgery will also be discussed in detail with reference to your anatomy and medical history.
If arm lift surgery is advised as a suitable procedure for you to correct arm contour, the surgeon will design a bespoke treatment plan. Our patient coordinators will act as your personal point of contact throughout your patient journey. Your patient coordinator will be able to give you the cost for your procedure and will be in regular contact with you should you have questions about any aspect of the arm lift procedure.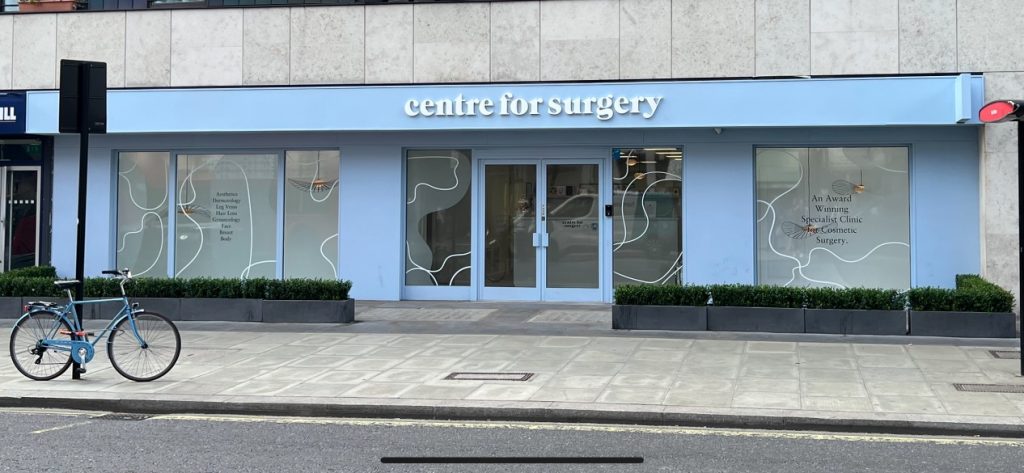 What To Expect
The Consultation for Brachioplasty
When you have a consultation with your surgeon for brachioplasty surgery, a number of measurements are taken of the arms where fat and skin is to be removed and an assessment will be made of the soft tissue quality. Those who have good skin elasticity may will be a good candidate for liposuction alone. For patients with more significant degrees of skin laxity then an arm lift may be more appropriate. The surgeon will also give information on the location of the incisions for the arm lift and also whether the arm lift is to be combined with liposuction or BodyTite.

High-resolution photos will be taken and your surgeon may also use computer digital imaging. Your surgeon will take time to discuss the important risks and potential complications of arm lift surgery and what you can expect in the postoperative period.

The surgeon will also take a full medical history which includes previous operations, current list of medicines taken and any potential allergies. This information will be used to decide on your fitness for the brachioplasty procedure. If you are deemed to be a suitable candidate for arm lift surgery then we would recommend to spend a period of time to reflect on all the information given. We always recommend a minimum of a '2 week cool off period' for to weigh up your options.

All our prospective patients are more than welcome to have as many follow-up consultations after their initial consultation to make sure you are fully empowered with all the information to make an informed decision for proceeding with arm lift surgery at Centre for Surgery in London.
Before Your Procedure
Once you have decided that arm lift is right for you, our preoperative assessment team will be in contact to prepare you for brachioplasty surgery.

The following are recommended actions to take:

- For 6 weeks beforehand, it is highly recommended to stop smoking as active smoking is associated with a number of risks including delayed wound healing which could result in wound infection.

- You should also avoid aspirin and all medicines containing aspirin for at least one week prior to the arm reduction procedure.

- For 6 hours before the arm lift procedure, you should refrain from eating any food or any type of drink apart from sips of clear fluid (water and tea/coffee without added milk) which is allowed for up to 2 hours before the procedure.
On The Day of Your Procedure
Please aim to arrive for your arm lift procedure at the confirmed time. One of our nursing team will admit you for the procedure and will carry out a number of tasks including checking your blood pressure and other vital signs including pulse and temperature and then getting you changed into single-use clinic wear. The anaesthetist will then come in to assess you to make sure you are fit for TIVA anaesthetic and will also prescribe a number of pre-medications which are given by your nurse to help your recovery after the brachioplasty procedure. You will then be seen by your surgeon who will confirm the procedure to undertaken and you will sign the informed consent form. Skin marking and photos may be taken at this point.

Arm lift is very commonly performed in conjunction with liposuction at Centre for Surgery and is carried out under TIVA general anaesthesia as a day case. Mini arm lift surgery can be carried out under local anaesthetic in selected patients. The procedure takes approximately 1-3 hours to carry out. During arm lift surgery, your surgeon will make incisions in the marked areas of the arms. The procedures starts with liposuction of the arms followed by the brachioplasty skin excision step. The fat tissue is surgically removed using specialised cannulas to contour the marked body areas before closing the skin with dissolvable sutures.

Once you have woken up from the TIVA anaesthetic, our nurses will closely monitor you for 1-3 hours afterwards to make sure you make a full recovery. You will be given a fruit juice drink or a hot drink as you prefer to build up your energy levels. Once you are assessed as fit for discharge, you will require a responsible adult escort to take you home in a car or taxi and to look after you for at least the first 24 hours after surgery.

The arms will be placed in a compression garment after surgery to reduce bruising and swelling. You may feel quite stiff and it is common to experience mild discomfort during any arm movements in the first few days after surgery. The surgeon uses dissolvable sutures to avoid the inconvenience of suture removal. The bruising should settle down after about 3 weeks.
After Your Procedure
After your arm lift procedure, our dedicated postoperative support team are available round the clock to answer any questions or concerns you may have. Our team will call you regularly for the first 2 weeks after your procedure to make sure your pain levels are well controlled and your healing is progressing as normal.

The recovery after brachioplasty is usually very straightforward with minimal discomfort that can be effectively controlled with tablet painkillers and the majority of our patients are very comfortable by the end of week 1. Your doctor may recommend a period of approximately one week off work. You should minimise any excessive physical activity for the first 2 weeks after surgery to help with the healing of the incisions and reduce swelling.

You will be required to wear a supportive compression garment for a full 6 weeks to make sure healing is optimal, and so that scars heal with best results.

You will attend for a postoperative check up with one of our nursing team at 7-10 days to review your surgical wound sites and ensure proper healing is taking place. Recommendations on treatments for scar healing may be given for optimal cosmesis. At 6 weeks you should begin to see your final results and you will see your surgeon for a comprehensive review and make sure your results are in line with your expectations.