Arm lift in London
Loose skin on the upper arms, often described as as 'bingo wings' is an increasingly prevalent issue affecting a growing number of people. The condition of loose on affecting the upper arms can affect both women and men and is common in those who have lost large amounts of weight. Some people are genetically predisposed to developing loose flabby looking arms.
Arm lift, also known as brachioplasty is a cosmetic surgery procedure that specifically addresses the upper arm contour through through a combination of liposuction and skin removal to both tighten and smoothen the skin of the upper arm. Even with the adoption of a healthy lifestyle with a good diet and regular exercise, loose arm skin can still develop. Massive weight loss is well known to result in a substantial loss of skin elasticity and a resulting aesthetically unappealing upper arm contour.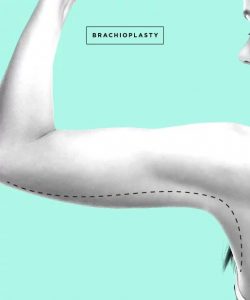 In those with good skin elasticity and localised fat deposits affecting the upper arms, liposuction could be a suitable treatment option.
All our surgeons are on the GMC specialist register.
Our clinic at 106 Crawford Street was recently inspected and rated as good across all 5 domains.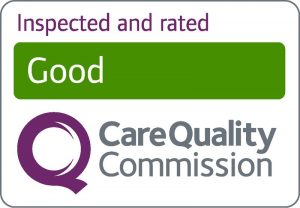 Why choose Centre for Surgery for your brachioplasty procedure
Over 10 years experience in all types of arm lift surgery – full arm lift, mini arm lift and BodyTite
We own and manage our own surgical facilities. Properly performed brachioplasty surgery takes time and should not be rushed. Our surgeons perform a maximum of one brachioplasty procedure in a day. We do not cram 3-4 procedures into one day like other providers. You want your surgeon to be well-rested and mentally and physically sharp to perform an arm lift to get the very best results.
Our surgeons live and work in central London. We don't work with 'fly-in, fly-out' surgeons from Italy. This is very important because whilst your surgeon takes all precautions to minimise complications, complications can and do occur and our surgeons are readily available to manage any issues if and when they arise.
Ideal candidate for arm lift
A good candidate for an Arm Lift should have the following:
Loose and redundant skin affecting the upper arm
Maintenance of a normal or near normal body weight
Is medically fit and well with no serious medical conditions that could affect healing
Patient is a non smoker
Has realistic expectations for what the arm lift procedure can achieve
Patient testimonials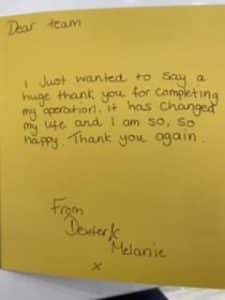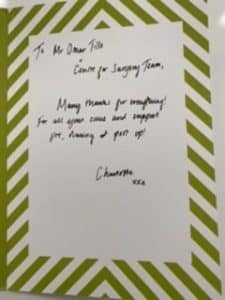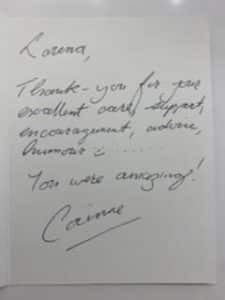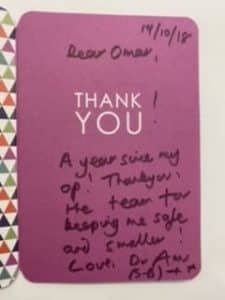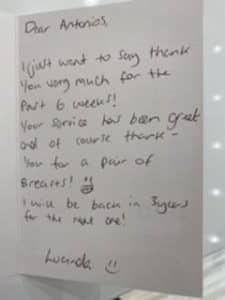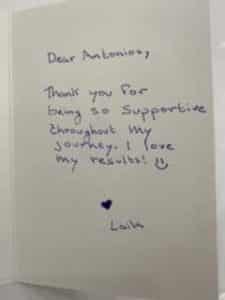 Different types of arm lift
When we get older and lose muscle tone, we may not like what we see in the mirror. If you extend your arm, you may notice a flap of skin that hangs down.
In an ideal world, diet and exercise could correct this. But for some people, that is not enough. An arm lift or brachioplasty can improve the beauty and appearance of the arm.
An arm lift is also known as a brachioplasty. During a brachioplasty, the surgeon makes an incision in the arm. Excess skin is removed, and extra fat may be removed as well. Afterwards, there will be pain and swelling, which can take several weeks to go away. There will also be a scar. Generally, the scar will run down the underside of the upper arm. Sometimes, a surgeon will do a mini arm lift. This procedure leaves a scar in the armpit where it less likely to be noticed.
Possible risks that you are exposed to include infection, fluid accumulation, haematoma, skin necrosis, poor scar healing, and blood clotting. Your surgeon will also discuss with you the chances of revisional surgery, which is different from post-surgery follow-ups and future surgery. In the period leading up to the brachioplasty procedure, you will be asked to give up smoking if you are a smoker. Aspirin can act as a blood thinner and you will be asked to stay off it.
If you are not keen on the idea of having scars from arm lift surgery, Centre for Surgery also offer a 'scarless arm lift' utilising the innovative BodyTite platform. A BodyTite arm lift utilises minimally invasive bipolar RF usign specially designed cannulas to tighten the skin and soft tissues along with Morpheus8 RF microneedling. By using both BodyTite and Morpheus8, your surgeon is able to address mild to moderate skin laxity in a minimally invasive manner and without the downtime of a traditional full brachioplasty. A BodyTite arm lift can be performed under local anaesthetic (with or without oral sedation) in properly selected candidates.
Your surgeon may also wish to combine the BodyTite/Morpheus8 combination with a mini arm lift to extend the benefits of a partial skin excision. In this case the procedure would be performed with ClearSleep anaesthesia.
Preparation for arm lift surgery
At Centre for Surgery, our surgeons believe that any cosmetic surgery procedure should be backed with excellent pre-operative patient preparation. We want all our patients to be fully prepared – physically, mentally and emotionally. Our team strives to go above and beyond to ensure you have a safe procedure with a smooth postoperative recovery leading to great results.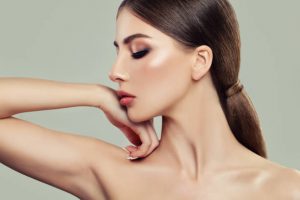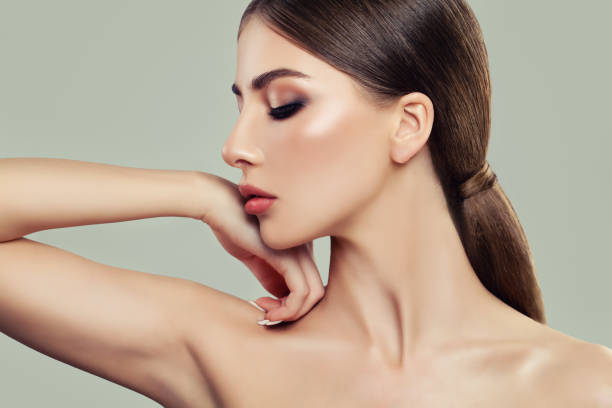 The arm lift procedure
You may experience saggy arms for various reasons, such as weight loss or simply ageing. This can cause you to feel self-conscious, particularly when wearing shorter clothes. While exercise helps to keep the muscles tight, skin and fat can be stubborn and remain droopy.
An arm lift will remove this excess skin and fat, while also tightening the tissues, giving the arm a smoother, more youthful appearance.
The arm lift procedure involves undergoing liposuction to remove any excess fat. Next, the excess skin is removed and sutured shut.
After the arm lift, you will have a scar which will run down the underarm. While this scar will be more noticeable after surgery, it will fade with time. If you do not want a scar, you may wish to do a mini arm lift, as the scar will be limited to under the armpit, so it will not be as noticeable.
To help the healing process, you will be asked to avoid smoking. You will also have to avoid blood thinning medications.
Recovery after brachioplasty
An arm lift is performed as an outpatient surgery, so you will be able to return home the same day as your surgery was completed.
After the procedure, you will have bandages applied to the incision area. The bandages and stitches will be removed two weeks after the surgery.
You will notice some bruising and swelling, which is a completely normal side effect after an arm lift. This should fade after approximately 20 days.
You will have to avoid any excessive physical activity and heavy lifting for at least two weeks. You will be able to return to work after one week, however, you will still have to avoid any physical labour.
Risks and complications of arm lift surgery
With any cosmetic surgery procedure, there are recognised medical risks, arm lift surgery is no different. It is very important for the patient to adhere to all pre-operative and post-operative instructions to ensure a smooth recovery and minimise the risk of complications developing. Your surgeon will fully discuss with you the possible risks at your consultation.
Potential complications of arm lift brachioplasty
Anaesthetic risks

Postoperative haemorrhage
Seroma or haematoma
Delayed wound healing
Hypertrophic scarring
Requirement for a revision procedure
Prior to undergoing any procedure, make sure you know about the heightened risks of travelling abroad for cosmetic surgery.
Arm lift results
Before:


After: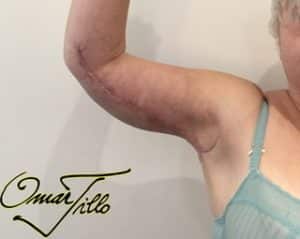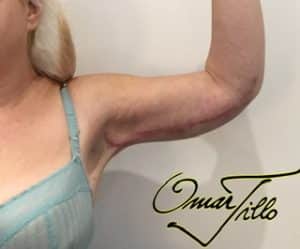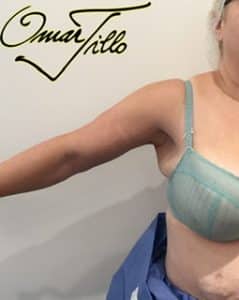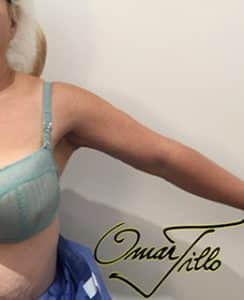 Arm lift cost
There are a number of factors which will determine the overall cost of your arm lift brachioplasty procedure and the final quotation will be given after your face to face consultation with your plastic surgeon.
Mini brachioplasty or full brachioplasty
Brachioplasty combined with other procedures eg. breast lift
Primary or revision arm lift
Why not call 0207 993 4849 and speak to one of our expert patient coordinators who may be able to give you a rough costing prior to a consultation for a brachioplasty.
Always remember that price should never be the determining factor when it comes to choosing your cosmetic surgery provider. We feel that safety and quality of service should be your number one priority and instilling in you the confidence that everyone on our team will look after you to the best of their ability – before, during and after your procedure.
What To Expect
Find the right time
Our friendly and knowledgeable patient coordinators will speak with you to learn about your requirements, it's all confidential and your information will be used to assess whether a procedure is right for you. If the procedure is right for you, we'll organise a convenient date and time for you to visit to come and visit Marianne, our patient relationship manager at our bespoke central London clinic.
3D Crisalix imaging
Marianne will take time to listen to your needs and requirements and you you will receive a complementary 3D crisalix scan to enhance your experience. Marianne will give you a rough idea of guide prices at this stage. You can then be booked in to to see a surgeon of your choice based on their individual field of expertise.
Personalised quote
At the surgical consultation, you will meet directly with the plastic surgeon. The surgeon will thoroughly assess you to determine your suitability and advise of the best options for you. Your surgeon will then explain how the procedure will work including our innovative ClearSleep™ anaesthesia technique for those who chose to be asleep for their procedure. You will receive your personalised quote the next working day from your patient coordinator.