Chin fillers in London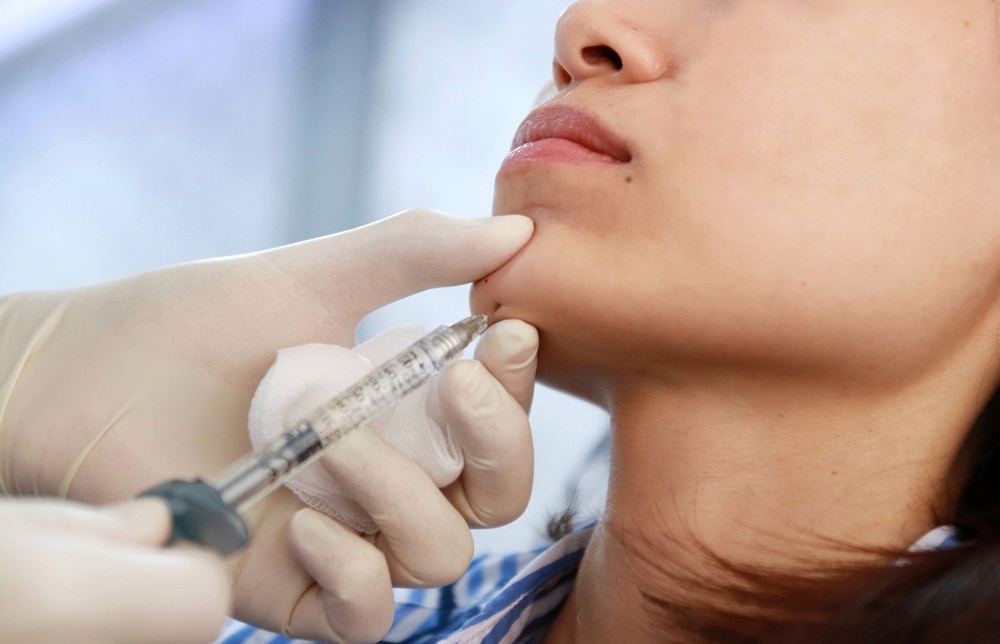 Chin fillers, also known as chin augmentation, is a non-invasive procedure designed to enhance and augment an under-projected or recessed chin using dermal fillers. The procedure can be easily done in the clinic without the potential risks and downtime that are associated with chin implant surgery. The use of dermal fillers can correct a wide variety of chin concerns.
Chin fillers can effectively contour the chin and create a stronger and more sculpted chin which is particularly noticeable in the profile view. Chin asymmetry can also be corrected, which may often be due to asymmetry affecting the facial skeleton. Many individuals may have a dimpled chin with a prominent midline cleft and fillers can be used to soften and smoothen any unwanted lines or chin dimples. Patients with a double chin can often benefit from chin filler injected along the chin to soften and reduce the appearance of the double chin in mild cases of excess fat in the chin area without submental liposuction. The effects of ageing on the chin can be reduced with chin filler placement and improve the appearance of jowls. Chin fillers is excellent as a tester treatment for patients considering chin augmentation surgery with a chin implant but would first like to see how they may look through the injection of chin filler, a temporary treatment lasting 12-18 months.
Expected Results after Chin Augmentation with Fillers
Improved chin contour
Reduction in the appearance of jowls
Reduction in the appearance of double chin
Improvement in chin projection
Reduction in chin dimpling
Improvement in facial profile
RealSelf Top Doctors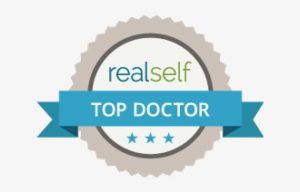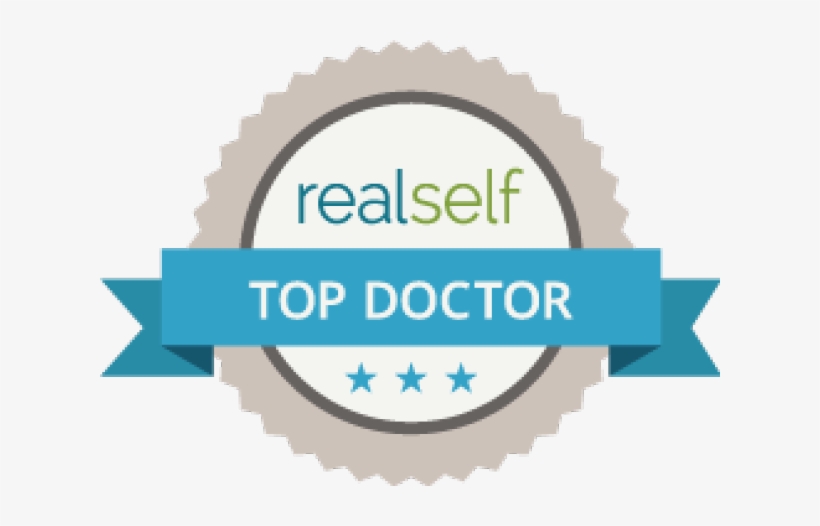 RealSelf's top doctor status is awarded to less than 10% of the RealSelf doctor community. This status is earned by achieving consistently high patient satisfaction (from RealSelf reviews), getting excellent feedback on expert answers to patient questions, and investing significant time in Q&A and other doctor activities. RealSelf top doctors are rated among the very best surgeons in the United Kingdom
Ideal Candidates for Chin Filler
Chin fillers using Juvederm are a non-surgical treatment without the incisions, scars, risks and downtime of chin implant surgery and are applicable to a much broader range of patients compared with patients considering chin implant surgery:
Patients wishing to reduce chin dimples and other surface irregularities
Patients seeking an improvement in chin contour and symmetry
Patients who would like to enlarge their chin and reduce chin recession
Reduction in mild jowl formation with the injection of dermal filler along the jawline adjacent to the jowl
Patients want to consider how their chin could look with chin fillers before proceeding with chin implant surgery
Chin filler enhancement techniques
The amount of chin fillers injected and the location of placement is dependent on the type of chin correction sought by the patient to achieve results that are in line with expectations. The results and their longevity after chin filler placement are also determined by the type of chin filler used.
Filler for ageing chin and jowls
Chin filler is injected further back from the chin adjacent to the jowl in an area known as the pre-jowl sulcus. This helps to blend the area of the jowl with a reduction in the appearance of sagging skin to smoothen the jawline contour. The ideal filler to use would be Juvederm Volift which is a softer filler compared with Voluma.
Dimpled or Cleft Chin
The appearance of chin dimples or a cleft chin whilst may be seen as a desirable feature in many individuals, is often a troublesome feature that affects people's appearance. Irrespective of the cause of the chin dimpling, the appearance can be significantly improved with the injection of chin dermal filler.
Recessed Chin
Chin recession or chin under-projection can lead to an unbalanced facial proportion, particularly in profile view. A small receded chin results in the lower face looking weaker, and this can lead to an overly prominent upper face. The use of a firmer dermal filler such as Juvederm Voluma can add volume and firmness to the chin and can achieve results similar to what can be attained with chin implant surgery.
Double Chin or submental fullness
Most patients presenting with a double chin or submental fullness should have submental liposuction to remove excess fat and contour the chin, neck and jawline. In patients with only a mild degree of submental fullness, which is associated with a weak and recessed chin, then the placement of chin filler can help to blend and smooth the submental region and reduce the appearance of a double chin.
Differences between Male and Female chins
Men generally have a more squared and fuller shape to their chin compared with women, who often have a more narrow and rounded shape to their chin, and these differences should be accounted for when placing chin fillers into patients of both genders for optimal correction.
Surgical Chin Augmentation
The use of chin fillers is effective though the results are temporary and require repeat injections to maintain the results over time. Results typically last between 12 months to 18 months, depending on the type of filler used. Follow-up injections of chin filler are determined by how much volume was used initially and how quickly the hyaluronic acid in the dermal filler is broken down by the body, which varies between people. Using a chin implant to augment the chin for increased volume and projection is a simple and straightforward surgical procedure with permanent results and is an alternative to regular treatment with chin filler injections. Using chin fillers can give patients a realistic idea of how they could look after a chin implant procedure. Using chin fillers is a reversible procedure. If a patient is not happy with the result, they can choose to have the filler dissolved with hyalase or simply wait for the filler to be metabolised and removed by the body over time. With the insertion of a chin implant, a patient would need to have a second surgical procedure to remove the implant or replace it with an implant of different dimensions if they were not happy with the initial result after the first procedure.
How many syringes are needed for a filler chin augmentation?
One syringe of dermal filler is roughly the same as a fifth of a teaspoon in volume. Once the initial swelling resolves after chin fillers, additional filler may occasionally be required if further volume is preferred. Our treatment philosophy is to avoid injecting too much filler at one sitting and add volume incrementally over time with top-up treatments if further volume is required. When chin fillers are being performed for the first time, the volume, which is often apparent straightaway, tends to go down quicker than in follow-up treatments as your tissues start to generate collagen in the areas of chin filler injection. Of course, every person is different and has a unique chin structure that needs to be considered when planning treatment. The amount of filler required can vary from 1 syringe to 3-4 syringes, depending on the degree of correction required. Your doctor will accurately assess you at consultation to determine the correct treatment and the recommended number of syringes required for full correction.
Chin filler treatment
You would have had a consultation before your chin fillers treatment to discuss what the treatment involves, your desired outcome and the risks and complications.
Arriving at the clinic, you will have numbing cream applied if required. Your doctor, nurse or surgeon may mark you up and use a cannula technique to help with the smooth contouring required to achieve a strong jawline and to help reduce the risk of bruising. Dermal filler is injected into the area and the full amount will be decided upon by the medical professional. The overall treatment is usually very quick, 15-30 minutes and the majority of patients do not feel pain.
Dermal chin fillers treatment is effective at improving the definition of the chin so it will appear more in balance with the rest of the face, recede and overly prominent chin so it will be more in proportion with the face and fill in sunken areas in and around the chin as well as helping to lift the appearance of jowls that may have become more prominent with age and reduce any fine lines or wrinkles on the chin.
Chin fillers are an advanced dermal filler technique and should only be carried out by highly experienced medical practitioners.
After Your Chin Filler Treatment
Results can usually be seen immediately after treatment however swelling and bruising may be present so it is best to wait for this to settle to see the final results. Results from chin filler can last between 9 – 12 months and you will need to return for additional treatment to maintain your results.
Pain after chin fillers treatment is low and you should not be in too much discomfort. There may be some redness and/or swelling and it is advised that you do not partake in strenuous activity for 24 hours post-treatment, which includes exercise. You should also avoid applying make-up to the area for 24 hours.