Inverted nipple correction London
Having inverted nipples can make it appear as if you have a depression or hole where the nipple generally is.
Having inverted nipples can often negatively impact your body image, causing low self-esteem and confidence. It is a problem that can affect both women and men. It can even cause functional problems, including causing difficulties with breastfeeding.
Fortunately, this is something that can be remedied with inverted nipple correction.
Centre for Surgery also offers nipple reduction and areola reduction. 
About
Inverted nipple correction is an effective way to boost your self-esteem and confidence and make your nipples appear more aesthetically pleasing.
As this is a surgical procedure, there are chances that rare risks may occur. These include:
Bleeding

Infection

Noticeable scars

Asymmetry in nipple size

Breast numbness

Nipple sensitivity
The nipple may become inverted again, which will then require a second procedure.
Candidates
All patients should be in good health and have realistic expectations about what can be achieved with inverted nipple correction.
We do not treat patients below the age of 18 years of age.
Healing is better if patients refrain from or quit smoking.
The inverted nipple correction procedure is performed purely for cosmetic purposes, to help improve your image and self-esteem.
If you are considered to be an appropriate candidate, you may be interested in exploring what financial loans we have available.
Procedure
Inverted nipple correction aims to have nipples that protrude just above the areola. Our surgeons can also ensure you maintain nipple sensitivity and the ability to breastfeed.
Inverted nipple correction is considered a day surgery, so you will be able to return home as soon as the effects of the anaesthetic wear off.
The procedure involves gently pulling out the nipple. The fibres that are within the nipple are then spread out, which helps to ensure the nipple has an aesthetically pleasing appearance. The incision is then closed and has dressing applied.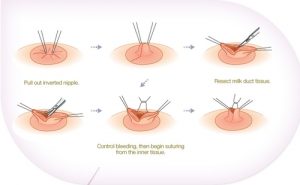 The procedure is performed as a day case and you will be able to return home once the effects of the anaesthetic have worn off.
Recovery
Compared to other surgical procedures on the breasts and nipples, inversion nipple correction is relatively simple. Therefore, you will have minimal recovery time.
You will have bruising, swelling and pain in your breasts following the surgery. This is a completely normal side effect. You will be able to take medication to alleviate pain if necessary. It may be necessary to take time off work to help with your recovery.
The stitches will be removed between one to two weeks after your procedure. You will need to avoid vigorous physical activity for the first three weeks.
Inverted nipple correction before and after