Inverted Nipple Correction Surgery London UK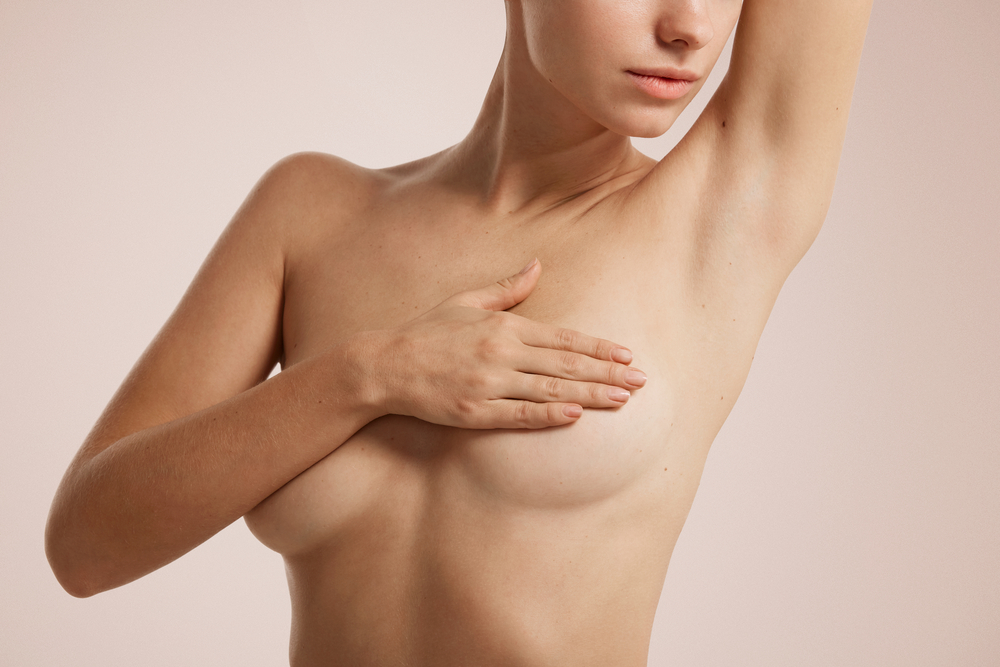 Regain your confidence and feel comfortable in your own skin with inverted nipple surgery – a safe and effective procedure designed to correct inverted or retracted nipples and restore a more natural appearance
Nipples that are inverted generally do not pose significant health risks. Nevertheless, they can potentially hinder the ability to breastfeed and may lead to feelings of self-consciousness or embarrassment. Additionally, some individuals may encounter irritation and inflammation of the nipple area. In some cases, the presence of inverted nipples could be indicative of a more severe breast-related problem.
At Centre for Surgery, our specialists offer corrective procedures for nipple inversion to patients in London and across the UK. The specific technique employed during the procedure may still allow for breastfeeding capabilities following surgery to address flattened nipples. Read on to learn more about shy and inverted nipples, available surgical options, associated expenses, and the recovery process.
What Are Inverted Nipples?
Inverted nipples, sometimes referred to as flat or turned-in nipples, are a condition where the nipples do not protrude properly or become erect as expected. Instead, they appear to blend into the surrounding areola, which is the pigmented skin encircling the nipple.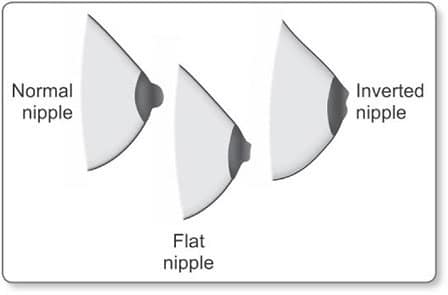 Typically, nipples are connected to lactiferous ducts (milk ducts) to facilitate breastfeeding. However, when these ducts are too short, they can cause the nipples to be pulled inward, leading to the development of flat nipples.
Inversion of the nipple may impact one or both breasts and can occur in both males and females, although women are more likely to be bothered by this condition.
In general, flat nipples do not pose a medical concern, especially if they have been present since puberty or developed gradually over an extended period. However, if they suddenly appear within a short timeframe during adulthood, it may warrant further investigation.
Some challenges associated with flat nipples include:
Aesthetic concerns
Difficulty breastfeeding
Irritation and inflammation of the nipples
Causes of Nipple Inversion
Inverted nipples can be caused by various factors, including:
Congenital factors: Some people are born with inverted nipples due to genetic predisposition or developmental issues during fetal growth. In these cases, the nipples have been inverted since birth.
Short lactiferous ducts: As mentioned earlier, inverted nipples may be a result of lactiferous ducts that are too short. These ducts connect the nipple to the milk-producing glands, and if they are not long enough, they can pull the nipples inward.
Ageing and hormonal changes: As people age, their skin and breast tissue may lose elasticity, leading to changes in the appearance of the nipples. Hormonal fluctuations during puberty, pregnancy, or menopause can also contribute to the development of inverted nipples.
Breastfeeding: Prolonged or improper breastfeeding techniques may cause the nipple to become inverted due to constant pulling or pressure on the nipple and surrounding tissue.
Trauma or injury: An injury to the breast, such as a surgical procedure, piercings, or accidents, can cause damage to the milk ducts or surrounding tissue, leading to nipple inversion.
Infections or inflammation: Infections, such as mastitis, or inflammation of the breast tissue can cause scarring or changes in the breast structure, which may result in inverted nipples.
Breast cancer or other underlying medical conditions: In rare cases, the sudden onset of inverted nipples in adulthood can be an early sign of breast cancer or other serious medical conditions. It is important to consult a healthcare professional if you notice any sudden changes in your nipples or breast tissue.
Inverted Nipple Correction Surgery Before & After Photos
Case 1: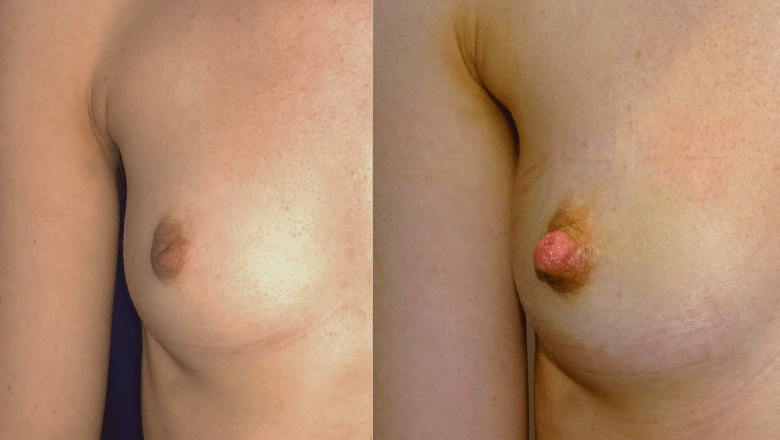 Case 2: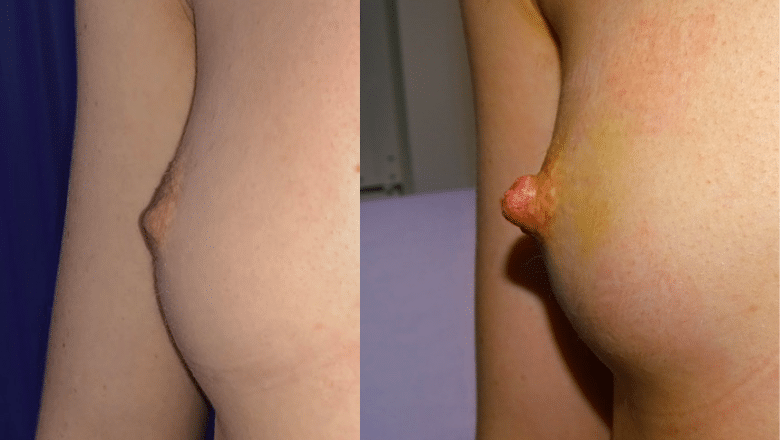 Case 3: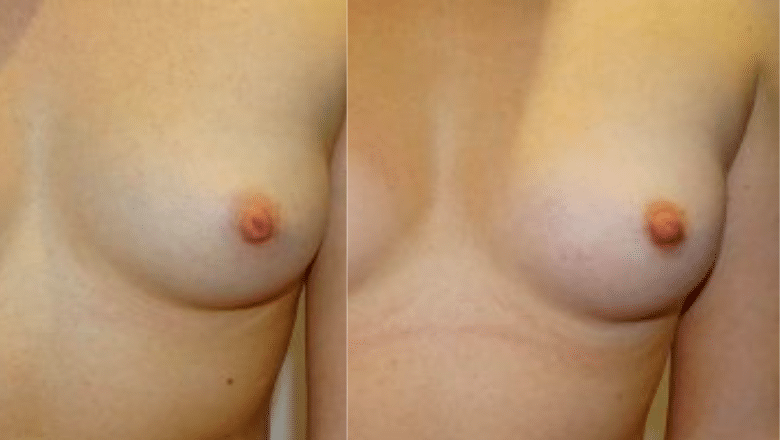 Case 4: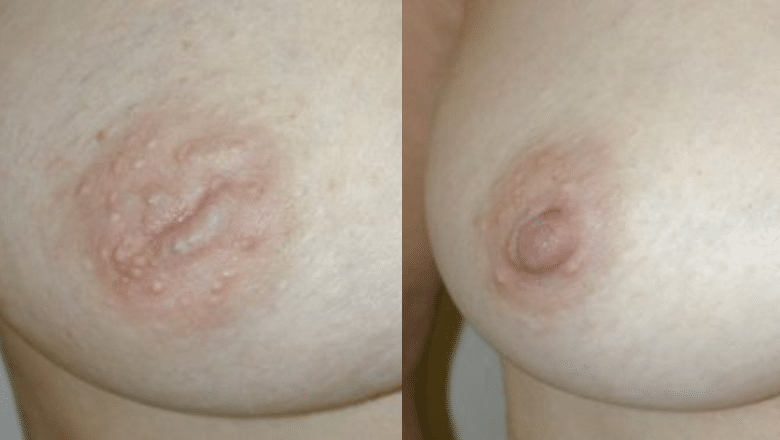 Case 5:
Left-sided male inverted nipple correction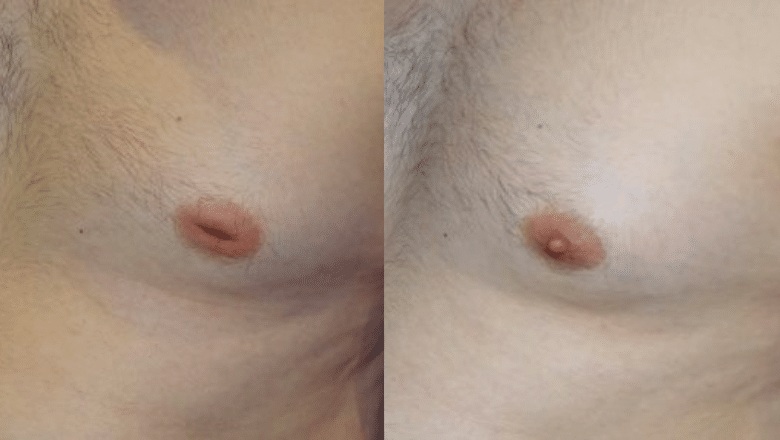 Case 6: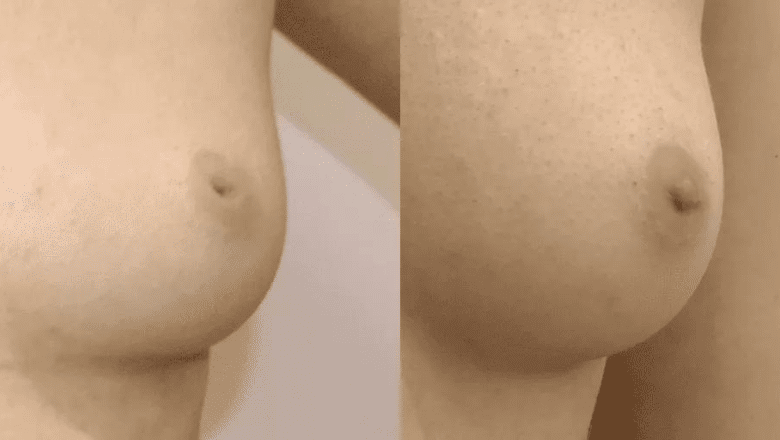 Case 7: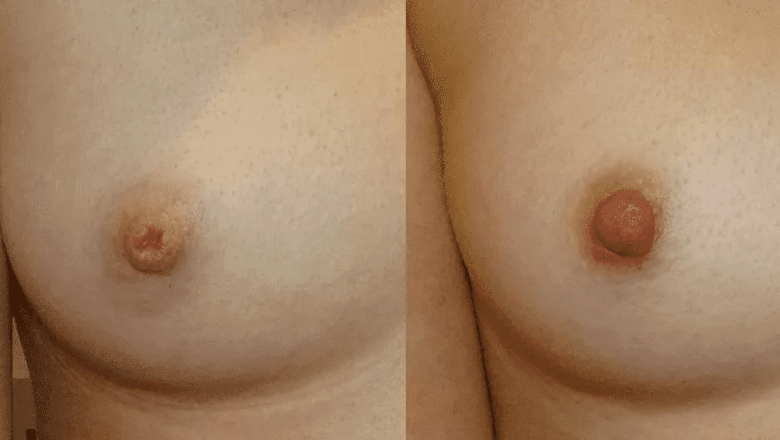 Case 8: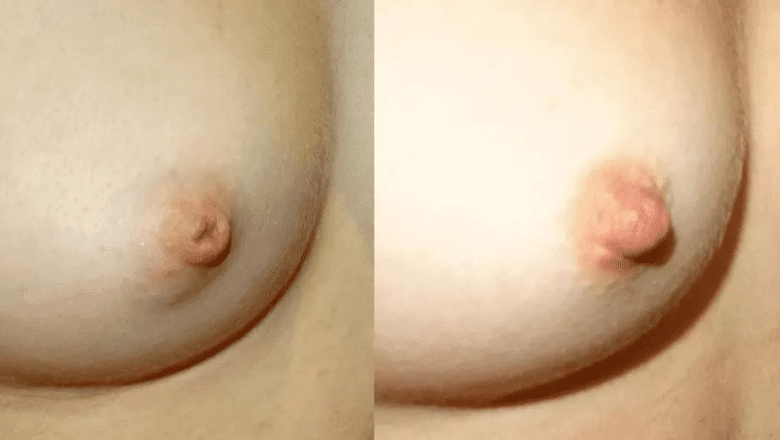 Benefits of inverted nipple correction
Inverted nipple surgery, also known as nipple correction surgery, is a procedure aimed at addressing the issues caused by inverted nipples. There are several benefits to undergoing this surgery, including:
Improved self-confidence: For many individuals, inverted nipples can be a source of embarrassment or self-consciousness. Correcting this issue through surgery can enhance self-esteem and help patients feel more comfortable with their bodies.
Enhanced aesthetic appearance: The primary goal of inverted nipple surgery is to create a more natural and aesthetically pleasing appearance. By correcting the inversion, the nipples will have a more typical outward projection.
Increased comfort: Inverted nipples can sometimes cause irritation, inflammation, or even infection due to the accumulation of debris and moisture in the area. Correcting the inversion can help reduce the risk of these complications and promote overall nipple health.
Improved breastfeeding ability: For women who experience difficulty breastfeeding due to inverted nipples, this surgery may help improve their ability to latch and feed their babies effectively. However, it is essential to note that the outcome may vary depending on the surgical technique used and the degree of inversion.
Symmetry: If only one nipple is inverted, correcting the inversion can result in a more symmetrical appearance between the two breasts.
Permanent results: In most cases, the results of inverted nipple surgery are long-lasting, and the likelihood of the nipples reverting to their previous state is low.
It is crucial to consult with a qualified plastic surgeon at Centre for Surgery to discuss the potential benefits, risks, and expectations of inverted nipple surgery to ensure that it is the right choice for your unique circumstances.
What Are The Grades of Inverted Nipples?
Inverted or flat nipples are a condition that affects about 10% of women. Some women have had inverted nipples since birth, while others may develop the condition after breastfeeding due to scarring within the milk ducts. The cause typically involves a combination of shortened milk ducts, fibrous connective tissue between the ducts, and insufficient supporting soft tissue beneath the nipple.
There are varying degrees of nipple inversion, ranging from nipples that can be easily everted to those that remain inverted consistently:
Mild cases (Grade I): In this instance, the inverted nipple can be pulled out and remains everted without traction for a while. Treatment options may include a suction device or temporary nipple piercing. For women with small breasts who also desire breast augmentation, the procedure can often correct the nipple inversion simultaneously.
Intermediate cases (Grade II): In these cases, the nipple can be everted but retracts quickly. Surgical intervention is typically required to address Grade II inversion. The fibrous tethering tissue is divided during the procedure, but the milk ducts are generally preserved.
Severe cases (Grade III): For nipples that cannot be everted at all, surgical correction is necessary. The procedure involves dividing all the tethering tissue, including the milk ducts, and using local flaps to provide additional soft tissue support beneath the nipple. Although this approach usually resolves the issue, the patient may lose the ability to breastfeed and might experience a loss of nipple sensation.
Understanding the degree of nipple inversion is essential for determining the most appropriate treatment option. Consulting with a qualified plastic surgeon can help you decide the best course of action based on your unique situation.
Am I A Suitable Candidate For Nipple Correction Surgery ?
Determining if you are a suitable candidate for nipple correction surgery depends on several factors. Generally, an ideal candidate for this procedure:
Has inverted or flat nipples causing physical discomfort, self-consciousness, or difficulty breastfeeding.
Is in good overall health, without any conditions that could interfere with the healing process or increase surgical risks.
Has realistic expectations about the potential outcomes and limitations of the procedure, understanding that breastfeeding ability and nipple sensation may be affected in some cases.
Is not currently pregnant or breastfeeding, as these factors can impact the surgery's safety and effectiveness.
Is a non-smoker or willing to quit smoking before and after the procedure, as smoking can hinder healing and increase the risk of complications.
It is important to consult with a qualified plastic surgeon at Centre for Surgery to evaluate your specific situation and discuss your goals, expectations, and any potential risks. They will assess your medical history, current health status, and the degree of nipple inversion to determine if nipple correction surgery is the right option for you.
Inverted nipple correction procedure
Inverted nipple correction surgery is a cosmetic procedure designed to address the issue of inverted or flat nipples and enable them to protrude properly. The primary objective of this surgery is to release the nipple from the constricted milk ducts, allowing it to project outward.
A key concern in inverted nipple surgery is the preservation of breastfeeding capabilities following the procedure. If you plan to have children in the future, it is important to discuss this with your surgeon. Whenever possible, the surgeon will perform a lactiferous duct-sparing procedure – a technique that aims to preserve the milk ducts and maintain breastfeeding potential.
This preservation is typically achievable in Grade 1 nipple inversion cases, but is less likely in Grades 2 and 3. In moderate and severe nipple inversion cases, it may not be possible to evert the nipple without severing the constricted milk ducts.
Inverted nipple correction surgery can be categorized based on whether the milk ducts are cut, and thus, whether breastfeeding abilities are preserved or not:
Milk Duct Sparing Surgery: In this approach, the surgeon attempts to preserve the milk ducts during the procedure. This technique is more suitable for mild cases of nipple inversion (Grade 1) and aims to maintain the patient's ability to breastfeed in the future.
Milk Duct Damaging Surgery: This type of surgery involves cutting the milk ducts to release the nipple and correct the inversion. While this approach may be necessary for more severe cases (Grades 2 and 3), it can result in the loss of breastfeeding capabilities post-surgery.
Lactiferous Duct-Sparing Inverted Nipple Correction Surgery for Mild Cases
This specific inverted nipple correction procedure is intended for women experiencing mild cases of flat nipples who wish to retain their breastfeeding capabilities.
In the lactiferous duct-sparing approach, the milk ducts are not severed. Instead, they are carefully stretched to allow the nipples to project outward.
The surgical process begins with a small incision made at the lower edge of the areola, which is the pigmented skin surrounding the nipple. The surgeon then proceeds to release any fibrous tissues that are causing tension on the nipple and gently stretches the milk ducts.
By maintaining the milk ducts' attachment to the nipple, the patient's ability to breastfeed should remain unaffected. The stretching of the ducts enables the nipples to become more prominent and protruding.
To secure the nipple in its new, outward position, the surgeon employs one or more surgical techniques, commonly utilizing a dermal flap method and vertical suturing. This involves making an incision around the nipple's skin and tightening it with sutures to prevent the nipple from retracting inward again.
Following the procedure, the areola skin is meticulously closed using fine suture lines to ensure optimal healing and minimal scarring.
Milk Duct-Damaging Inverted Nipple Correction Surgery
This method of inverted nipple correction is typically employed for more severe cases, such as Grade 2 and 3 nipple inversion.
As this non-protruding nipple correction procedure involves severing the nipple from the constricted milk ducts, breastfeeding will not be possible following the surgery.
The procedure begins with a small incision made at the base of the areola. The surgeon proceeds to cut both the milk ducts and the fibrous tissue that is causing the nipple to retract. Once the nipple is released, it is repositioned into a more prominent, outward-facing position using specialised suturing techniques, such as vertical and horizontal suturing.
Upon completion of the procedure, the skin surrounding the areola is carefully closed with fine suture lines to minimise scarring.
Both types of inverted nipple correction surgeries generally take approximately one hour to perform and can be done under local anaesthesia. However, general anaesthesia may be an option if preferred by the patient.
Recovery Process Following Inverted Nipple Correction Surgery
When recovering from inverted nipple correction surgery, you may experience some or all of the following symptoms:
Pain around the nipples
Mild bleeding or spotting
Swelling around the nipples
Bruising at the base of the nipples and breast
Numbness and tingling sensations in the nipples
These side effects are typically normal and not a cause for concern. However, if you develop a fever, significant swelling, increasing pain, or notice pus, contact your clinic as soon as possible.
To aid in your recovery and care for your breasts after inverted nipple surgery, consider the following aftercare tips:
Inverted Nipple Correction Surgery Aftercare:
Keep the surgical dressing in place for 4-6 days, changing it daily.
If non-resorbable sutures were used, return to your clinic within 5-7 days to have them removed.
If resorbable sutures were used, they should dissolve on their own within a few weeks.
Apply ice packs to help reduce swelling and alleviate pain.
Take pain medication as needed – there's no need to endure unnecessary discomfort.
Sleep on your back for the initial 1-2 weeks following the surgery to avoid breast trauma.
Consult your surgical team about scar-reducing treatments to use on your incision sites.
Following these guidelines and maintaining open communication with your surgeon and care team can help ensure a smooth recovery process.
Risks and complications of inverted nipple correction
Inverted nipple correction has been successfully performed for many years at Centre for Surgery with an excellent safety profile. Women and men should only choose a reputable provider with years of experience in inverted nipple surgery. With a fully certified plastic surgeon at Centre for Surgery, you can be confident in having made the very best choice for nipple correction surgery coupled with an outstanding package of aftercare to reduce the risk of complications.
Potential risks of inverted nipple correction
As with any surgical procedure, inverted nipple correction has potential risks. These include:
Haematoma formation

Surgical site infection

Delayed wound healing

Nipples distortion

Potential requirement for revision surgery
Inverted Nipple Correction Surgery Costs London - How much does inverted nipple correction surgery cost in London UK? Prices & Fees
There are a number of factors which will determine the overall cost of inverted nipple correction surgery and the final quotation will be given after a face to face consultation with one of our expert plastic surgeons. Inverted nipple correction is ideally suited to being performed with a local anaesthetic
One sided or both sided Inverted nipple correction
Inverted nipple correction combined with another procedure
Previous nipple correction surgery
Why not call 0207 993 4849 and speak to one of our expert patient coordinators who may be able to give you a rough costing prior to your procedure.
Always remember that price should never be the determining factor when it comes to choosing the right provider for nipple correction. We feel that safety and quality of service should be your number one priority and instilling in you the confidence that our team will look after you before, during and after your procedure to the best of their ability.
Why choose Centre for Surgery for inverted nipple correction ?
Over 15 years of experience in all types of nipple-areola correction – correction of inverted nipples, nipple reduction and areola reduction
We own and manage our own surgical facilities. Properly performed nipple areola correction takes time and should not be rushed. We do not cram many procedures into one day like other providers.
Our surgeons live and work in the UK. This is very important because whilst your surgeon takes all precautions to minimise complications, complications can and do occur and our surgeons are readily available to manage any issues if and when they arise.
Our plastic surgeons all have extensive experience in performing all types of nipple-areola surgery. All our surgeons are fully qualified and experienced plastic surgeons with the skill to perform all types of aesthetic breast surgery.
Our surgeons are full members of: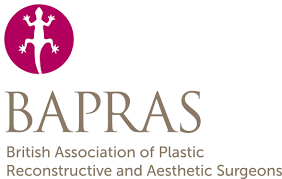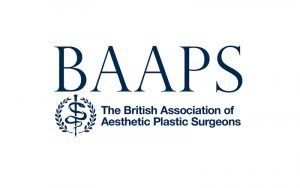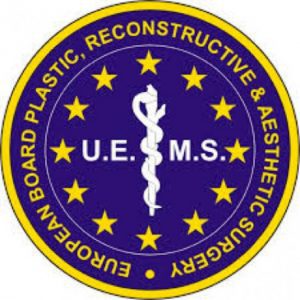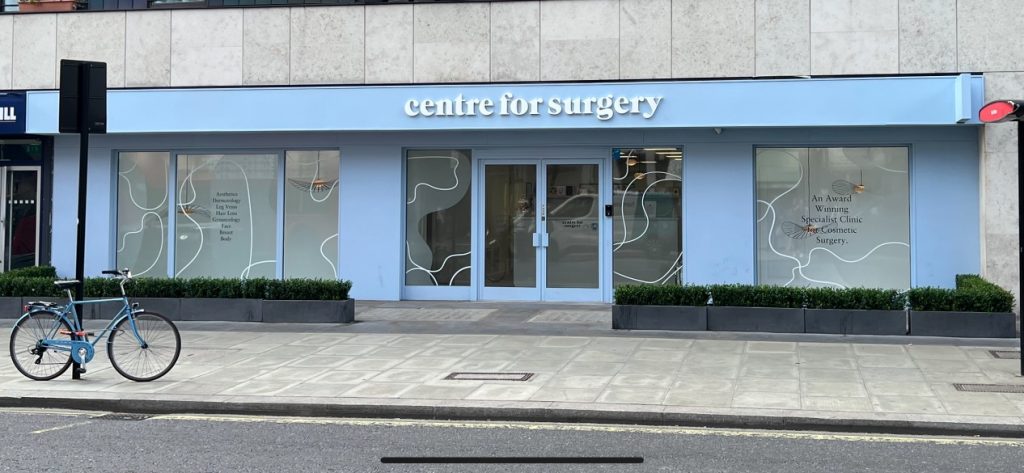 [wpseo_map id="9814″ width="750″ height="300″ zoom="15″ map_style="roadmap" scrollable="1″ draggable="1″ show_route="0″ show_state="0″ show_url="1″ show_email="1″ default_show_infowindow="1″ show_phone="1″ show_phone_2="0″ show_fax="0″]
[trustindex no-registration=google]
What To Expect
The consultation
The first step is to have a consultation with one of our expert surgeons for inverted nipple correction. At the consultation, your surgeon will explain the procedure in detail and it involves. Your surgeon will want to learn more about what you hope to achieve from the procedure and also to explain the ideal treatment technique after a physical examination.

A number of measurements are taken of your inverted nipples including assessment of the degree of inversion. Your surgeon has experience in performing all the techniques of inverted nipple correction. The most appropriate choice will be made based on your degree of nipple inversion. The surgeon will also give information on the location of the incisions for nipple inversion correction and also whether other breast procedures are to be combined. High-resolution photos will be taken and your surgeon may also use computer digital imaging. Your surgeon will take time to discuss the important risks and potential complications of inverted nipple surgery and what you can expect in the postoperative period.

It is useful to keep a list of questions handy to ask the surgeon during the consultation. Examples include whether you are a good candidate for the procedure, what sort of result are you looking to achieve, what you can do to optimise results in the post-op period, how much downtime is involved. You may also want to know how soon you can return to work after having inverted nipple correction surgery. The surgeon will also take a full medical history which includes previous operations, current list of medicines taken and any potential allergies. This information will be used to decide on your suitability for the inverted nipple procedure. If you are deemed to be a suitable candidate for nipple surgery then we would recommend to spend a period of time to reflect on all the information given. We always recommend a minimum of a 2 week cool off period for to weigh up your options. All our prospective patients are more than welcome to have as many follow-up consultations after their initial consultation to make sure you are fully empowered with all the information to make an informed decision for proceeding with nipple inversion surgery at Centre for Surgery.


Before your procedure
Once you have decided that inverted nipple correction is right for you, our preoperative assessment team will be in contact to prepare you for surgery.

The following are recommended actions to take:

- For 6 weeks beforehand, it is highly recommended to stop smoking as active smoking is associated with a number of risks including delayed wound healing which could result in wound infection.

- You should also avoid aspirin and all medicines containing aspirin for at least one week prior to the procedure.

- If you are having a general anaesthetic, for 6 hours before the procedure, you should refrain from eating any food or any type of drink apart from sips of clear fluid (water and tea/coffee without added milk) which is allowed for up to 2 hours before the procedure.
On the day of your procedure
Please aim to arrive for your inverted nipple procedure at the confirmed time. One of our nursing team will admit you for the procedure and will carry out a number of tasks including checking your blood pressure and other vital signs including pulse and temperature and then getting you changed into single-use clinic wear. The anaesthetist will then come in to assess you to make sure you are medically fit for the procedure. You will then be seen by your surgeon who will confirm the procedure to undertaken and you will sign the informed consent form. Skin marking and photos may be taken at this point.

Inverted nipple correction is a very commonly performed procedure at Centre for Surgery and is easily carried out under local anaesthetic as a day case if it is an isolated procedure. The procedure takes approximately 1-2 hours to carry out. During the procedure, your surgeon will make small incisions in the area around the nipple followed by gentle traction to bring the nipple outwards followed by suture fixation to secure the nipples in their new position before closing the skin with dissolvable sutures.
After your procedure
After your inverted nipple correction procedure, our dedicated postoperative support team are available round the clock to answer any questions or concerns you may have. Our team will call you regularly for the first 2 weeks after your procedure to make sure your pain levels are well controlled and your healing is progressing as normal. Inverted nipple correction is associated with very little in the way of discomfort. Any soreness can be effectively controlled with tablet painkillers and the majority of our patients are very comfortable by the end of week 1. Your doctor may recommend a period of approximately 2-3 days off work. You should minimise any excessive physical activity for the first 2 weeks after surgery to help with the healing of the incisions and reduce swelling.

You will be required to wear a specialised postoperative dressing that maintains the position of the nipples in their corrected position.

You will attend for a postoperative check up with one of our nursing team at 7-10 days to review your surgical wound sites and ensure proper healing is taking place. Recommendations on treatments for scar healing may be given for optimal cosmesis. At 6 weeks you should begin to see your final results and you will see your surgeon for a comprehensive review and make sure your results are in line with your expectations.