Nose Surgery London & Nose Reshaping Surgery at Centre for Surgery, UK
A nose job, also known as nose reshaping or rhinoplasty, is a popular cosmetic surgery procedure designed to improve the shape of the nose and address breathing difficulties if present. Centre for Surgery is home to some of the leading plastic surgeons in the UK with expertise in nose surgery. Whether you have a prominent nose, hump, significant nose, asymmetry, or crooked nose, rhinoplasty surgery can help to give you a more defined nose and nose tip. 
People choose to have a nose job for several reasons, including nasal deformity due to previous traumatic injury, a dorsal hump on the bridge of the nose or a droopy nose tip. A nose job can effectively correct any of these common nasal deformities. 
What is a nose job?
A nose job or nose reshaping is aimed at contouring the bone and cartilage of the nose to improve aesthetic appearance and alleviate functional disturbances, such as difficulty in breathing. If you are unhappy with how your nose looks, or you feel it is out of balance with the rest of your facial features, you may wish to consider one of the nose surgical options described below.

 

Rhinoplasty surgery is the most commonly requested type of nose surgery and is performed for cosmetic improvement in the size or shape of the nose. When combined with septoplasty, septorhinoplasty can help to improve breathing through the nose.

 

A tip rhinoplasty, also known as a tip plasty is a minimally invasive type of rhinoplasty and is often regarded as a mini nose job. This procedure is designed to reshape the cartilage found in the tip of the nose. Surgery can either reduce and contour a tip or enlarge the nose tip. For people who have significant nostril asymmetry with marked differences in shape, a tip rhinoplasty can effectively improve nostril symmetry, especially when combined with an alarplasty.

 

A septoplasty is aimed at correcting the nose septum, which is the midline partition that separates the two sides of the nose and is located in between the nostrils. A bent septum can cause breathing difficulties affecting one side of the nose, and a septoplasty can help to straighten the nasal septum.

 

Alar base reduction, also known as nostril reduction, is designed to improve the size and shape of the nostrils. Many people feel they have excessively large nostrils or nostrils that appear too wide or narrow. Alar base reduction can precisely remove targeted parts of the nostrils and achieve improved symmetry and better-balanced facial proportions.
Benefits of nose surgery and nose reshaping
Nose reshaping surgery can achieve several benefits, including:
Improved aesthetic appearance and nose contour
Improved nose symmetry
Release of difficulty in breathing by straightening a bent septum
Eliminate dorsal hump for an improved profile view
A significant improvement in facial balance by reducing the size of a large nose
Allow participation in a greater range of physical activities without feeling excessively tired
Achieve a boost in self-confidence
Open nose surgery vs closed nose surgery
Nose surgery can be carried out using either a closed approach with no visible incisions or an open approach, using a small incision located beneath the nose. The most appropriate technique for performing nose surgery will be determined at your consultation. Differences between the two approaches include the following:
Open nose surgery – open rhinoplasty involves making a zig zag-shaped incision on the columella, which is the skin area between the two nostrils. Open nose surgery is preferred as the surgeon can directly visualise the 3-dimensional bone and cartilage framework, which permits precise correction of any nose deformity.

 
Closed nose surgery – closed rhinoplasty involves making all incisions within the nose, which avoids any visible scar on the columella. A closed rhinoplasty is unsuitable for every nasal concern as the surgeon has limited visualisation to correct many deformities. The surgeon must rely heavily on touch to determine if a nasal structure requires reshaping.

 
Types of nose surgery
Reduction rhinoplasty
Reduction rhinoplasty is designed to reduce the size of a large nose to improve overall facial balance. This is the most common type of nose job requested by both women and men in the UK. Many people incorrectly assume a reduction in nose size will produce excellent results on its own. Your surgeon will also take into account your chin projection. If you have a weak or receding chin, even a surgically reduced nose may still appear large. The ideal treatment is to combine with a chin augmentation using an implant for better chin projection. 
Tip Rhinoplasty
A tip rhinoplasty or tip plasty is suitable when only alteration of the nostrils and the nasal tip is required without fracturing the nasal bones to narrow the upper portion of the nose. Many people are unhappy about the appearance of a bulbous or boxy nasal tip. Surgery may also be requested for nose tips that are over or under-rotated, excessively wide or too long. The shape of the nasal tip may also be affected by the upper lip muscles, especially when smiling.
Surgical techniques to reshape the nasal tip can be carried out using several methods, including suture reconstruction, using a cartilage craft or removal of excess cartilage. In many cases, your surgeon will use a combination of techniques to achieve optimal results. The precise technique chosen will be determined by several factors, such as skin thickness, the amount of cartilage present and the degree of nose deformity.
Alarplasty (alar base reduction)
Alarplasty, also known as nostril reduction surgery, is often carried out to reduce the size of large or excessively wide nostrils or improve nasal asymmetry caused by one nostril being larger compared with the other side. Alar base reduction is often performed as part of an ethnic rhinoplasty to reduce the width of the nose.
Septoplasty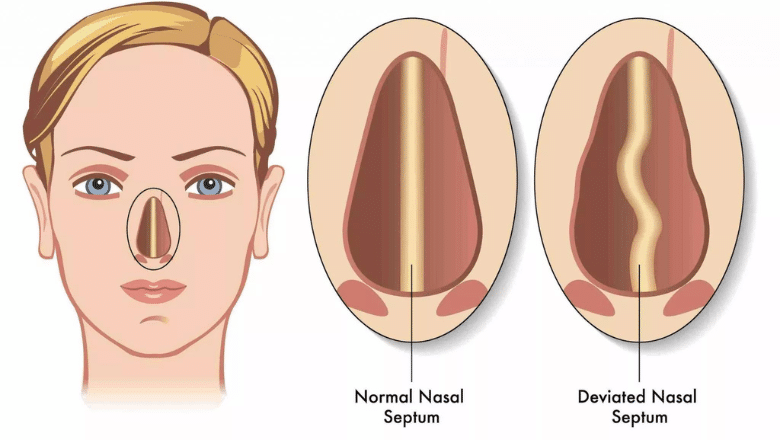 The nasal septum is the midline partition between the nose composed of bone and cartilage. The septum plays a key role in determining the appearance of the nose as well as the patency of the nasal passages. Septal deviation or a bent septum can result in the appearance of an asymmetrical nose and can distort the tip of the nose. A septoplasty is commonly combined with a rhinoplasty, and this is known as septorhinoplasty.
Surgeons may sometimes require a septal cartilage graft during rhinoplasty to help reinforce the cartilaginous structure of the nose to stabilise its new shape and reduce the risk of nose bridge collapse leading to a saddle nose.
Ethnic rhinoplasty (augmentation rhinoplasty)
People commonly request an ethnic rhinoplasty or non-Caucasian nose job from different ethnic backgrounds to enhance the projection of the nasal bridge and or the nose tip. This is often needed because many people from certain ethnic backgrounds have weaker cartilage support and a broader nasal bridge. Augmentation rhinoplasty is commonly combined with alar base reduction to reduce the size of wide nostrils. This helps to produce a more defined nose with better contours.
The most common graft material to augment the ethnic nose is your own natural cartilage. Septal cartilage is most commonly used, followed by ear cartilage and rib cartilage. In some cases, artificial synthetic material may be used. These are less commonly used due to a higher risk of infection, which may require subsequent surgery for removal. Using your own cartilage helps to produce better results due to having a more natural feel and shape.
Types of Ethnic Rhinoplasty
Ultrasonic rhinoplasty
Ultrasonic rhinoplasty is a type of nose surgery that uses ultrasonic energy to reshape the nose. Instead of using traditional surgical instruments such as scalpels or scissors, an ultrasonic device is used to break up and reshape the bone and cartilage. This technique is said to be less invasive and has a faster recovery time compared to traditional rhinoplasty. However, it is important to note that ultrasonic rhinoplasty is still surgery and carries the same risks as any other type of nose surgery. It should only be performed by a qualified and experienced surgeon.
Revision rhinoplasty
In some cases, rhinoplasty results may not be what the patient had hoped for. This could be due to several reasons, including improperly carried out primary surgery, healing complications or traumatic injury sustained after a first nose surgery procedure. Although many abnormalities are minor and may appear simple to correct, it is essential to bear in mind all types of revision rhinoplasty are a significantly complex undertaking. Even people with minor imperfections often require a full open rhinoplasty for optimum correction. This will require dissecting through significant amounts of scar tissue and requires longer surgical time compared with a primary rhinoplasty. Revision rhinoplasty should only be carried out by specialised rhinoplasty surgeons who carry out nose surgery frequently. Thorough preoperative planning is key to obtaining satisfactory outcomes. Revision rhinoplasty surgery may involve cartilage grafts commonly harvested from the nasal septum but could also be taken from other areas such as the ear or ribs.
RELATED: Is revision rhinoplasty worth it?
Am I suitable for nose surgery or nose reshaping?
Nose surgery is ideal for patients who have:
Significant nose asymmetry
Dorsal hump on the bridge of the nose
Septal deviation causing difficulty in breathing
Crooked nose caused by previous trauma
Wide or misshapen nostrils
Over or under-rotated nose tip
Getting the best results from nose surgery is dependent on following the preoperative instructions below:
Avoiding smoking for at least six weeks before and after surgery
Avoiding excessive consumption of alcohol at least two weeks before and after surgery
Avoiding medicines containing aspirin for two weeks before and after surgery
Following all of your surgeon's preoperative and post-operative instructions
Ask plenty of questions at the consultation to help build a full picture of what the procedure involves.
Having realistic expectations of what results can be achieved with nose surgery.
What does nose surgery involve?

On the day of your nose surgery procedure, there are several aspects of care that you should be aware of, including:
You will first be admitted by a member of our nursing team before being reviewed by your anaesthetist, who will explain all aspects of the anaesthetic.
You will then be seen by your rhinoplasty surgeon to run through any areas you are still unclear about.
The surgeon will use a marker pen to mark the position of the proposed incision.
During the operation, the nasal bone and cartilage will be surgically reshaped to achieve a better overall look.
At the conclusion of the operation, the incisions will be closed with non-dissolvable stitches.
Non-dissolvable stitches will need to be removed approximately one week after nose surgery. If you have dissolvable stitches, these will not need to be removed and will be absorbed by the body naturally. Several dissolvable stitches may be used to stabilise the internal structure of the nose, and these can take several months to be absorbed by the body. Nose surgery is a day-case procedure, which means you'll be able to go home later the same day once you have recovered from the effects of the anaesthetic and your adult caregiver has been told about the postoperative instructions to follow.
Recovery after a nose job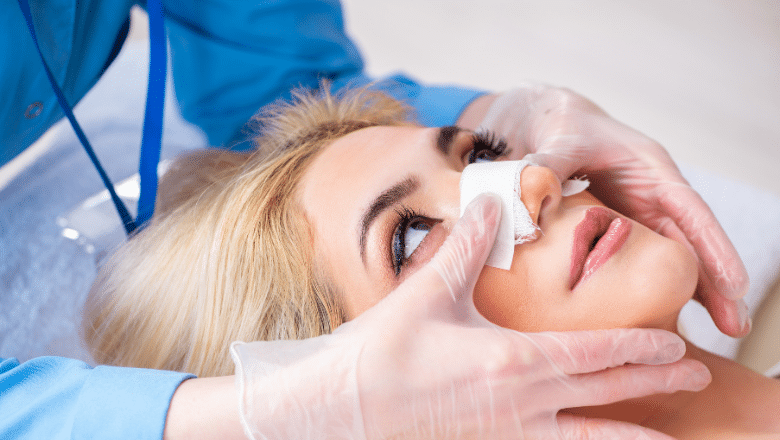 A nose job, also known as a rhinoplasty, is one of the most technically challenging surgical procedures to perform. Recovery after a nose job often takes longer than other cosmetic surgery procedures. Bruising and swelling after nose surgery take at least two weeks to start improving, although it can take between nine months to 12 months for rhinoplasty results to be considered final. We would recommend waiting at least six months to allow rhinoplasty swelling to disappear. Open rhinoplasty scars take approximately one year to mature and become virtually invisible. This will be dependent on your skin type and how closely you follow your surgeon's post-operative instructions. The incision for an open rhinoplasty is expertly placed in the columella between your two nostrils. Once the scar has fully matured, we have the full range of scar optimisation treatments to ensure your nose job scar looks as inconspicuous as possible.
Nose Surgery Costs London – How much does Nose Surgery cost in London UK? Prices & Fees
The cost of a nose job in London will be determined by several factors, including the type and extent of nose surgery undertaken. Nose job prices include:
Hospital fees
Anaesthetist fees
Surgical fees
Preoperative and postoperative care
Nose job cost in London generally costs more compared with the rest of the UK. A tip rhinoplasty costs less compared with a full septorhinoplasty. Choosing a specialist rhinoplasty surgeon to perform your procedure will cost more than if you choose a general plastic surgeon. To get an approximate rhinoplasty cost, call us today on 020 7993 4849 and speak to one of our friendly and knowledgeable patient coordinators.
How to choose the best rhinoplasty surgeon in the UK
Choosing the right surgeon for rhinoplasty (nose surgery) in the UK is an important decision that can impact the outcome of the surgery. Here are some tips to help you choose the best surgeon for your needs:
Qualifications: Look for a surgeon who is on the General Medical Council (GMC) Specialist Register for Plastic Surgery. This ensures that the surgeon has completed the necessary training and has passed rigorous exams to be certified in their field.
Experience: Look for a surgeon who has the experience and a track record of performing rhinoplasty. A surgeon who has performed a large number of rhinoplasties is likely to have a better understanding of the procedure and the potential complications.
Referrals: Ask for referrals from your GP or from other professionals in the medical field.
Look for Before and After Images: a reputable surgeon will have a portfolio of before and after images of previous patients who have undergone the procedure. This can give you an idea of the surgeon's level of skill and the types of results they can achieve.
Consultation: Schedule a consultation with the surgeon to discuss your goals and concerns. This is also a good opportunity to get a sense of the surgeon's bedside manner and to ask any questions you may have.
Accreditation: Look for a surgeon who is a member of the British Association of Aesthetic Plastic Surgeons (BAAPS) or the British Association of Plastic, Reconstructive and Aesthetic Surgeons (BAPRAS). These organizations have high standards for their members and require them to have appropriate training and qualifications.
RELATED: How to Choose The Best Nose Surgeon London
It's important to remember that the most important factor when choosing a rhinoplasty surgeon is the surgeon's qualifications and experience, not the cost. It's worth investing in a reputable and experienced surgeon to ensure the best possible outcome.
Is a nose job expensive?
A nose job is a technically challenging surgical procedure that requires the highest levels of surgical expertise and experience to perform properly. A specialist rhinoplasty surgeon regularly performs all types of nose surgery, including tip rhinoplasty, septoplasty, open rhinoplasty, closed rhinoplasty, ultrasonic rhinoplasty and preservation rhinoplasty. We would recommend avoiding choosing a new surgeon based purely on price. A cheap first procedure that has been incorrectly performed may cost significantly more when revision surgery is factored in.
RELATED: How much does a nose job cost?
Celebrities that have had a nose job
Ryan Gosling, Jennifer Aniston, and Lisa Kudrow are just some of many high-profile celebrities who are thought to have had nose surgery, whether for aesthetic or functional reasons.  Rhinoplasty surgery is a very popular procedure in celebrity circles due to its ability to dramatically transform the appearance of the face and nose. Choosing a skilled rhinoplasty surgeon is an important decision to make on your journey to achieving a beautiful nose.
RELATED: Which celebrities have had a nose job?
Which procedures are commonly combined with a nose job?
A nose job is a specialist procedure aimed at the removal of a prominent dorsal hump, often combined with the removal of irregularities affecting the nasal bridge. Rhinoplasty surgery often includes a septoplasty and nostril reduction in the same procedure if these are desired by the patient.
Some patients may combine other facial procedures with a rhinoplasty, such as a chin implant, facelift, eyelid surgery or brow lift. We would not recommend combining breast and body procedures such as breast implant surgery, liposuction or a tummy tuck with a rhinoplasty procedure. This combination of procedures significantly increases the length of the procedure and prolongs your recovery time. The risk of complications is also significantly greater.
Is a nose job worth it?
A nose job, or rhinoplasty, is a surgical procedure that can be used to change the size, shape, or proportion of the nose. The decision to have a nose job is a personal one, and it depends on the individual's reasons for wanting the surgery.
RELATED: Is a nose job worth it?
Rhinoplasty can be done for both cosmetic and functional reasons. For some people, a poorly shaped nose can cause breathing difficulties or other problems, and rhinoplasty can improve these functional issues. Others may be unhappy with the appearance of their nose and want to improve their self-confidence or the symmetry of their face.
It is important to have realistic expectations about the outcome of the surgery. A good candidate for rhinoplasty should be in good general health and have a specific goal in mind for their nose shape. It's important to choose a UK specialist plastic surgeon, and discuss the goals and risks of the procedure.
Rhinoplasty is a surgery that carries some risks and potential complications, such as bleeding, infection, poor healing, dissatisfaction with the results, and the risk of revision surgery. But when performed by an experienced plastic surgeon and when done for the right reasons, it can be a worthwhile procedure that improves the appearance and/or function of the nose.
Combining Nose Surgery with other procedures
Combining a rhinoplasty procedure with other surgeries can be a convenient way to address multiple concerns in a single surgical session. This approach can reduce overall recovery time, save money, and minimize the number of times you undergo anaesthesia. Some surgeries that can be combined with a nose job include:
Breast or body surgery: This may include breast augmentation, breast reduction, breast lift, liposuction, or fat transfer to enhance your body contour.
Eyelid surgery or brow lift: These procedures can rejuvenate the appearance of your eyes and forehead, providing a more refreshed and youthful look.
Facial rejuvenation or liposuction: Treatments like facelift, neck lift, or chin augmentation can improve facial harmony and enhance your overall appearance.
Nipple correction, labiaplasty, and clitoral hood reduction: These procedures can address aesthetic concerns in the breast or genital area, boosting your self-confidence and comfort.
Will I need revision nose surgery?
Revision rhinoplasty is sometimes necessary if the initial nose surgery did not produce the desired results, or complications occurred during the healing process. It is crucial to understand that revision nose surgery should not be carried out immediately after the primary procedure, as the nose needs time to heal and settle.
Typically, surgeons recommend waiting at least 12 months before considering a revision rhinoplasty. This waiting period allows for swelling to subside, tissues to heal, and the final results of the initial surgery to become apparent.
If you are dissatisfied with the results of your primary rhinoplasty, it is essential to discuss your concerns with your surgeon. They will help you understand the reasons behind the undesired outcome and determine if a revision procedure is appropriate. Keep in mind that revision rhinoplasty can be more complex than the initial surgery, as the surgeon may need to address scarring, tissue changes, and possible loss of support structures within the nose. Therefore, it is crucial to choose an experienced and reputable surgeon for your revision rhinoplasty to ensure the best possible outcome.
NOSE SURGERY GLOSSARY
Here is a glossary of terms related to nose surgery (rhinoplasty):
Rhinoplasty: A surgical procedure to reshape and refine the nose.
Septoplasty: A surgical procedure to correct a deviated septum, which can cause breathing difficulties.
Turbinate reduction: A surgical procedure to reduce the size of the turbinates, which are structures in the nose that help to humidify and filter the air.
Open rhinoplasty: A rhinoplasty technique that involves making a small incision on the skin between the nostrils, which allows for better access and visibility to the nasal structures during the surgery.
Closed rhinoplasty: A rhinoplasty technique that involves making incisions inside the nostrils, which means that there are no external scars, but it can be more challenging to visualise and access certain areas of the nose.
Tip rhinoplasty: A type of rhinoplasty that focuses on reshaping and refining the nasal tip.
Dorsal hump reduction: A type of rhinoplasty that involves reducing the prominence of a dorsal hump or bump on the nasal bridge.
Alar base reduction: A type of rhinoplasty that involves reducing the width of the nostrils by removing tissue from the base of the nose.
Nasal bone osteotomy: A surgical technique used to reshape the nasal bones, often to correct a crooked nose or to narrow the width of the nose.
Columellar strut: A small piece of cartilage that is used to support and stabilise the nasal tip after rhinoplasty.
Grafting: The process of adding or transplanting tissue, often cartilage, to the nose to provide additional support or reshape the nasal structure.
Recovery: The period of time after rhinoplasty during which the patient must avoid strenuous activity and follow the surgeon's instructions for care and healing.
It is important to note that each individual's rhinoplasty procedure is unique, and the specific terms and techniques used will depend on the patient's individual needs and goals. It's essential to have a thorough consultation with a qualified and experienced rhinoplasty surgeon at Centre for Surgery to discuss the best approach to achieve the desired results.
Nose job FAQs
What is the difference between a nose job and rhinoplasty?
A nose job is used to describe a range of nose surgery procedures, including rhinoplasty, tip plasty, ethnic rhinoplasty, septoplasty and alar base reduction. Rhinoplasty is a more specific term used to describe the surgical reshaping of the nose cartilage and bone.
Does a nose job change your face?
A nose job can dramatically alter your facial appearance. Selecting a specialist rhinoplasty surgeon will help to ensure any changes are positive for the face as a whole. Choosing an inexperienced surgeon with minimal experience in rhinoplasty surgery may increase the risk of poor results. Many patients who have had a nose job tell us they look more youthful after surgery.
What is the best age to have a nose job?
We recommend being at least 18 years of age before considering having a nose job. Your nose will still be actively growing and developing before this time. Carrying out nose surgery too early may produce sub-optimal results as the nose continues to grow and may necessitate future revision surgery.
How should I prepare for a nose job?
If you smoke, you should stop smoking at least four weeks before surgery. This also includes vaping. You should avoid any medicines containing aspirin to reduce the risk of bleeding. Make sure to read your surgeon's preoperative and post-operative instructions so that you are aware of how to look after your nose after surgery. If you have any questions or concerns, please ensure to reach out to us, and we will be more than happy to answer any questions you may have.
Will a nose job make my nose look better?
A nose job is designed to improve the appearance of your nose so that it appears in better balance with the rest of your facial features. Many patients report they feel a few years younger after surgery. A well-performed rhinoplasty procedure may help to accentuate other desirable areas of your face, such as your eyes, mouth or chin.
What type of anaesthesia is used for a nose job?
The best type of anaesthesia for a rhinoplasty, also known as a nose job, depends on the individual case, the complexity of the procedure, the preference of the surgeon, and the patient's medical history.
RELATED: Anaesthesia for Cosmetic Surgery
Local anaesthesia with oral sedation is often the preferred method for minor rhinoplasty procedures, as it allows the patient to be awake and alert during the procedure but relaxed and comfortable. This type of anaesthesia is often used for minor procedures such as the removal of skin lesions or laser resurfacing.
For more extensive procedures, such as a full rhinoplasty, general anaesthesia may be recommended, as it allows the patient to be completely unconscious and unaware during the procedure. This can be beneficial for patients who are anxious about the procedure or for more complex surgeries that require longer surgical times.
Sedation, also known as "twilight sleep" or "conscious sedation," is a type of anaesthesia that involves the use of medication to help the patient relax and feel more comfortable during the procedure. It's a good option for patients who want to avoid general anaesthesia but need more than just local anaesthesia.
Ultimately, the best type of anaesthesia will depend on the individual patient, the specific procedure being performed, and the surgeon's preference and expertise. Your surgeon will discuss with you the best option for you based on your individual needs and preferences.
How long does a nose job take to perform?
A nose job takes approximately 2 to 3 hours to carry out, depending on the extent of surgical correction required. You'll be placed under a general anaesthetic before the surgeon surgically alters the bone and cartilage of the nose to achieve a desirable shape. Sutures will be applied to close the incisions, and you'll be able to go home later the same day once you have recovered from the effects of the anaesthetic.
What does a nose job involve?
A nose job is routinely performed under a general anaesthetic. Your surgeon will begin by making an incision to expose the bone and cartilage framework of the nose. The precise surgical correction will then be performed to contour the nose to the desired size and shape. Stitches will then be applied to the incisions, and you can go home later the same day accompanied by your adult escort.
Is a nose job permanent?
A nose job produces permanent results. The shape of the nose may alter as part of the natural ageing process with subtle changes in the appearance of the nose, such as an enlarged nose tip.
Is nose surgery painful?
Nose surgery is performed under a general anaesthetic, which means you cannot feel anything during the procedure. Once the procedure is complete, your surgeon will prescribe effective painkillers to ensure you are as comfortable as possible during the recovery period. Most patients who have this procedure do not report significant levels of discomfort.
Does a nose job leave scars?
An open rhinoplasty involves making an incision at the columella between the two nostrils. This is a small, well-hidden scar which will initially appear visible but will gradually fade over time to a barely imperceptible scar.
Nose surgery at Centre for Surgery
Centre for Surgery in London is considered the leading plastic surgery clinic in the UK. We are home to some of the most renowned rhinoplasty surgeons with years of experience performing all types of nose surgery. Experience matters when it comes to performing nose surgery. The price of the procedure reflects this. Choosing a surgeon or clinic based on price alone may end up costing you significantly more in the long run if the procedure is not properly performed. Corrective surgery is often needed to improve the appearance and function of the nose. Choosing Centre for Surgery for your nose surgery means you are receiving a high standard of medical care in an accredited environment by fully credentialled plastic surgeons with years of experience and training in nose surgery.
Call us today on 020 7993 4849 or complete the contact form below to schedule an in-person consultation at our specialist Baker Street clinic located in Marylebone in the heart of central London.