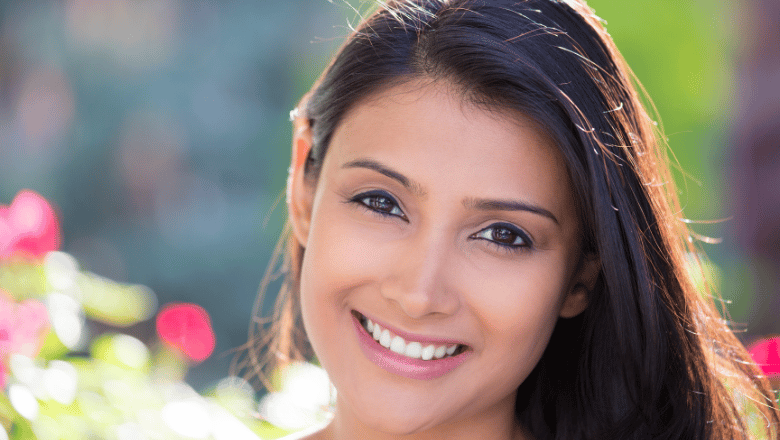 Indian and Pakistani nose surgery or rhinoplasty is a commonly requested procedure at Centre for Surgery in London. Pakistani and Indian rhinoplasty is one of the most popular forms of ethnic rhinoplasty. It is designed to produce aesthetic enhancements in the size and shape of the nose to match the distinctive facial characteristics of people from the Indian subcontinent.
RELATED: Everything you need to know about ethnic rhinoplasty
How does an Indian rhinoplasty differ from a traditional nose job?
This type of ethnic rhinoplasty is distinct from a traditional rhinoplasty procedure and requires a surgeon trained in ethnic nose job surgery. Surgery aims to produce desirable enhancements in the structure of the nose to match one's facial features. This is not a one size fits all procedure designed to produce a smaller nose only. It is important to select an experienced consultant plastic surgeon with experience in Pakistani and Indian nose surgery.
Why do people choose to have a Pakistani or Indian nose job?
Many Pakistani and northern Indian people from the Punjab region have distinctive drooping nose tips associated with thick and sebaceous skin. Surgery would aim to rotate the tip upwards to produce desirable aesthetic enhancement. The nose does not necessarily need to be made smaller, as with rhinoplasty surgery aimed at Caucasian patients. The thick skin can be made less prominent by removing subcutaneous fat beneath the skin to improve nasal contour. Other people may have excessively ejected noses with a prominent bump on the nasal dorsum. Here the surgery aims to reduce the size of the nose to enhance overall nasal contour. In some cases, people from India and Pakistan may have a characteristically broad-shaped nose with a wide nasal bridge and enlarged nasal tips. Rhinoplasty surgery involves fracturing the nasal bone to narrow the nasal bridge and width and reduce the size of the nostrils with alarplasty or alar base reduction.
RELATED: How to make your nose smaller
How to achieve great results (and maintain your ethnic identity)
Obtaining excellent rhinoplasty results in people of Pakistani or Indian ethnic origin involves having a detailed knowledge of the facial features found in these ethnic groups and ascertaining in detail the aims and objectives of the surgery. Some patients may request having a small pointy nose with an upturned nasal tip, also known as a Barbie nose. This is not suitable or realistic for most Indian or Pakistani patients. 3-D imaging technology now enables rhinoplasty surgeons to produce detailed reconstructions of how the nose could look after surgery. This helps with preoperative planning and allows patients to develop realistic expectations. Customising treatment to the needs of the individual patient is fundamental to any ethnic rhinoplasty procedure.
Determining the extent of surgical correction required
The extent of surgical correction required for Indian and Pakistani nose job surgery will be determined at the in-person consultation. Many patients who consider having an ethnic rhinoplasty procedure are concerned they may look dramatically different and almost unrecognisable. A skilled rhinoplasty surgeon can avoid this by listening carefully to a patient's needs and desires and carrying out detailed pre-operative measurements combined with 3-D imaging to give patients a rough idea of how they could look after surgery which appears natural looking and in harmony with overall facial features.
The importance of having realistic expectations
As with any type of surgical procedure, it is important to have realistic expectations of what the procedure can achieve. The anatomy of the nose is unique to each individual. Pakistani and Indian noses usually have thick sebaceous skin combined with a weak cartilage framework. If it is desired to have a very small nose, the appearance will probably look out of proportion with the rest of your face, and the thick nasal skin may not contract around the nose's new shape. This could result in people having a botched nose job which may require a revision rhinoplasty in the future. Many of our surgeons use 3-D computerised imaging to simulate potential rhinoplasty results for prospective patients. This helps to give patients an accurate idea of how their nose could look after surgery to prevent any disagreements on the intended outcome.
RELATED: Is revision rhinoplasty worth it?
What type of incision is used for Pakistani or Indian rhinoplasty?
The type of incision used for Pakistani and Indian rhinoplasty will depend on a person's goals for treatment. Open rhinoplasty is usually the preferred option as it can effectively reshape the nasal tip of those with thick skin, which is common in those of Indian and Pakistani origin. The incision is used to contour the nose are placed within the nostrils and heals well in most cases, even in those who have darker skin and may be prone to forming excessive scarring. Once you have your consultation, your surgeon can advise you on the most appropriate surgical technique for ethnic rhinoplasty surgery.
RELATED: What is the difference between an open and closed rhinoplasty?
What are the unique features of the Pakistani nose?
The Pakistani nose, like other ethnic nose types, has unique features that distinguish it from other nasal types. However, it's important to note that there is a wide variation in nasal anatomy among individuals of Pakistani descent, and no two noses are exactly alike. Some of the common features of the Pakistani nose include the following:
A straight or slightly convex nasal bridge: The bridge of the Pakistani nose tends to be relatively straight or slightly convex, with a gentle slope from the forehead to the tip.
A rounded nasal tip: The tip of the Pakistani nose is often rounded and bulbous, with relatively thick skin that can obscure the underlying cartilage structure.
Wide nasal base: The base of the Pakistani nose can be relatively wide, with flaring nostrils that extend beyond the alar crease.
Thick nasal skin: The skin of the Pakistani nose is often thicker than that of other ethnic nose types, which can make it more difficult to achieve the definition and refinement of the nasal tip.
Weak cartilage support: The cartilage structure of the Pakistani nose can be weaker and less defined than that of other ethnic nose types, which can make it more challenging to achieve the desired nasal shape and structure.
It's important to note that every nose is unique and that these features can vary widely among individuals of Pakistani descent. A skilled and experienced surgeon will take into account the unique features of the patient's nose and tailor the surgical approach accordingly to achieve the best possible results.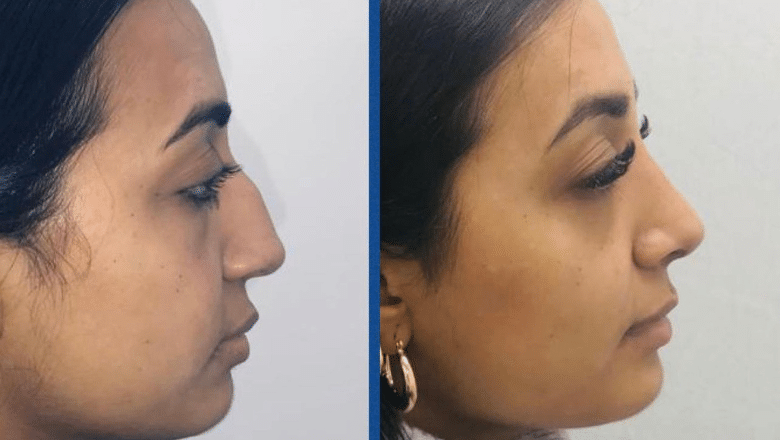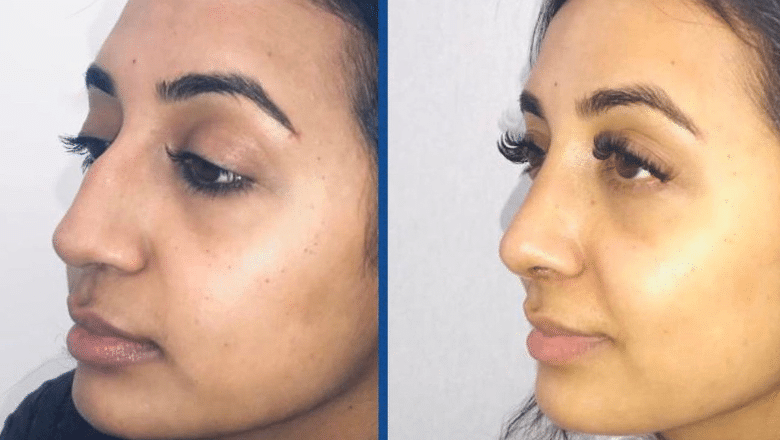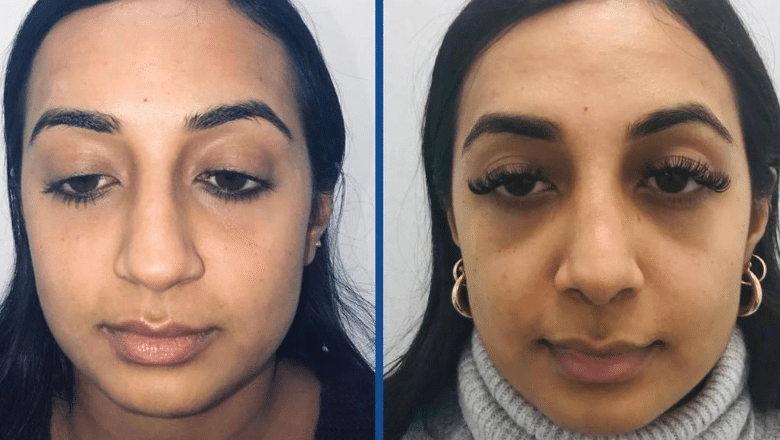 How do Pakistani and Indian noses differ from Causasian noses?
Western noses differ significantly from Indian and Pakistani noses, and it is important to select a surgeon skilled in ethnic rhinoplasty surgery for Pakistani and Indian people. The anatomy of the Indian and Pakistani noses differs in many ways, including the overall shape of the nose, skin thickness, nasal tip protrusion, nostril width and prominent hump on the nasal bridge. Most Pakistani and Indian noses share similar characteristics, and therefore, the features of the typical nose can be described together.
Thick nasal skin
Many people from the Indian subcontinent have thick skin, and most rhinoplasty surgeons know this makes the procedure somewhat more difficult to carry out. Incision placement is crucial in those who have thick skin as the risk of excessive scarring is higher if the incision placement is sub-optimal. Many people may be aware that you have had rhinoplasty surgery. The features of a well-performed nose job should involve people not being able to know whether you have had surgery as the rhinoplasty results subtly enhance your nose so that it is in harmony with the rest of your facial features.
Broad noses
The Indian and Pakistani nose is characterised by broad dimensions, with the nasal bones larger than those from Western European countries. Nasal width differs depending on the geographical area where someone originates from. However, Pakistani and Indian noses generally have a wider and bigger size compared with people from the western world.
Droopy nasal tip
The nose tip is a defining feature of many Indian and Pakistani people. It is the most commonly targeted area for rhinoplasty surgery, with a tip rhinoplasty being one of our most popularly requested procedures here at Centre for Surgery. Most people from this area have a slightly drooping nose tip. Skill and precision are therefore needed during surgery to reshape and reinforce the tip. Surgeons who do not specialise in ethnic rhinoplasty may have a higher chance of causing substandard results.
Nose shape
The shape of the nose in people from Pakistan and India varies significantly, with a great diversity in nose shapes depending on where someone lives. Generally, those from south India have wider and broader noses with very thick sebaceous skin and a droopy nose tip. Those from northern India and Pakistan they have a slimmer nose shape but will still have thickened nasal skin. Rhinoplasty surgery is always tailored to the individual anatomy of a person's nose. Your surgeon should be highly proficient in ethnic nose jobs to obtain aesthetically pleasing results without affecting the delicate function of the nose.
Why do Pakistanis and Indians choose to have rhinoplasty surgery?
Rhinoplasty surgery is commonly undertaken throughout the world for several different reasons. Most patients want to feel better about themselves, and an aesthetically attractive nose helps in achieving this objective. Many patients choose to have a nose job to improve both appearance and function, with nasal obstruction from a deviated septum being particularly common. The most common reasons for people in India and Pakistan to have rhinoplasty include the following:
Improved aesthetic appearance
The appearance of the nose and what constitutes an attractive nose differs between different parts of the world. What may be seen as beautiful in one region may not be so in another country. Regardless of the aesthetic ideal in a given region, people always desire to look the best version of themselves to boost self-confidence. This is the most common reason for people of Indian and Pakistani origin to seek rhinoplasty surgery.
Look more like their favourite celebrity
Popular perceptions of beauty are often shaped by celebrity culture. Indian and Pakistani people are as likely to be deeply interested in the latest celebrity trends as those from Western Europe. Many people wish to look like their favourite celebrity, and nothing is wrong with that. We cover some of the most famous celebrities from India and Pakistan who have had rhinoplasty. Many patients may have chosen to have the surgery, knowing their favourite celebrity has also taken the plunge. It would be best if you had an in-person consultation with an expert rhinoplasty surgeon before deciding to have a nose job. Your surgeon will give you personalised recommendations on what can be achieved after physically examining you. You should ask as many questions as possible to become fully informed about all aspects of the procedure. This will help you to achieve fantastic results.
Address a lack of confidence
How we look can play a big part in how confident we feel about ourselves. Many become increasingly self-conscious about the size or shape of their noses, which may restrict their social relationships with others. If you have developed a loss of self-esteem, then rhinoplasty may help to give you that much-needed boost in self-confidence to allow you to live your life as you want to without feeling unhappy about how you look.
Avoid feeling self-conscious
A person's physical appearance, including nose shape, can sadly result in bullying or upsetting remarks being made. This can significantly diminish someone's self-confidence and may cause them to limit leaving the home in severe cases. No one should accept bullying in any form. One of the most common reasons to have a rhinoplasty is to eliminate the risk of bullying. Whilst we would always recommend standing up to bullies, this may not always be possible. People can feel much more confident about themselves with an enhanced nasal appearance.
Improve nasal function
Rhinoplasty is commonly undertaken for medical conditions, including a deviated septum. Sometimes people may have prominent nasal bones, which can make it difficult to breathe normally through the nose. This can result in difficulty sleeping at night, leading to daytime sleepiness. We would advise you not to hesitate to seek urgent medical attention. A septorhinoplasty can be performed if you would like to alter the shape of your nose and address the underlying medical condition causing breathing difficulty.
Is rhinoplasty in India and Pakistan more popular among men or women?
Although rhinoplasty surgery in the western world is more commonly undertaken in women. Rhinoplasty for Indians and Pakistanis is equally common in both men and women, and this is evidenced by the many popular male and female celebrities in both Pakistan and India who have had nose job surgery. Here is a list of both female and male celebrities from India and Pakistan who have had a rhinoplasty. Many people may be surprised their favourite celebrities on this list have had a rhinoplasty.
Is Pakistani and Indian rhinoplasty more challenging to perform than traditional rhinoplasty?
Pakistani and Indian rhinoplasty, also known as
ethnic rhinoplasty
, can be more challenging to perform than traditional rhinoplasty due to the unique nasal features and anatomy of these ethnic groups.
In general, Pakistani and Indian noses tend to have a relatively wide nasal base, rounded nasal tip, thick skin, and weaker cartilage support. These features can make it more challenging to achieve the desired cosmetic result and structural stability of the nose.
To address these challenges, a skilled and experienced surgeon will take a tailored approach to each patient's unique nasal anatomy, using advanced surgical techniques to reshape and refine the nose while maintaining structural stability.
Techniques that may be used in Pakistani and Indian rhinoplasty include cartilage grafting, which can provide additional structural support and definition to the nasal tip, as well as specialized suturing techniques that can help create a more refined nasal tip and a more defined nasal bridge.
In addition, some surgeons may use advanced imaging and computer modelling to help guide the surgical approach and achieve the most optimal results.
Overall, while Pakistani and Indian rhinoplasty can be more challenging than traditional rhinoplasty, the use of advanced techniques and an experienced surgeon can help to achieve excellent results while maintaining the natural beauty and unique features of the patient's ethnic heritage. It's important to choose a surgeon with experience and expertise in Pakistani and Indian rhinoplasty to ensure the best possible outcome.
Which Indian celebrities have had a nose job?
The Bollywood film industry is well known for producing the largest number of films annually. Few will openly admit they have had a nose job, although, for many, it is fairly obvious they have had a rhinoplasty with enhanced nasal contours for a natural result.
RELATED: Which celebrities have had a nose job?
Karisma Kapoor
Karisma Kapoor is known for her incredible natural beauty with well-defined facial features, although she has enhanced her beauty with a nose job. The results of her surgery have been praised by her fans for producing natural-looking results that are barely visible. Before and after photographs will help to reveal the subtle differences and is a testament to the skill of her surgeon.
Aditi Rao Hydari
Although not considered to be in the top tier of Bollywood celebrities, Aditi has always impressed her fan base with her incredible beauty. Rhinoplasty surgery has produced wonderful results that are in harmony with her Indian features, although she has never openly admitted to having any type of cosmetic surgery.
Shilpa Shetty
Shilpa Shetty is a Bollywood veteran but has aged magnificently over the years due to her tireless commitment to maintaining high levels of fitness and is viewed as something of a fashion icon. Older photographs will easily confirm Shilpa has had a nose job, although she has been quoted as saying that cosmetic surgery is not a worthwhile treatment.
Katrina Kaif
Katrina Kaif is probably most known for landing top roles in Bollywood blockbusters and is well known for her incredible dance moves. She has had a very natural-looking nose job and does not appear to be significantly different when viewed from older photos of her. She appears to have aged gracefully and maintained an excellent nasal structure.
Aishwarya Rai
Although Aishwariya Rai is now more focused on raising a family, she is still considered one of the most beautiful women in India. Many were against the idea of this amazingly beautiful actress having a nose job, although you can see her mild tip drooping has been fully corrected in recent photos of her.
Preity Zinta
Although Preity Zinta is less well-known for playing glamorous roles, she is known to have had a nose job which was not entirely well-received by her fans. We believe the criticism is not justified, given the immense happiness she has developed since having rhinoplasty surgery. Plastic surgery can be considered extremely successful if it produces a significant boost in self-confidence and emotional well-being, as in this case.
Vaani Kapoor
Vaani Kapoor is one of the latest entrants to the Indian movie industry and has quickly built a huge fan base with her natural beauty. Her current facial appearance looks significantly different compared with her older movie roles. Her nose now appears better defined, although she has always denied having plastic surgery.
Priyanka Chopra Jonus
Priyanka's fame seems to have rocketed to new levels with her many accolades over a long period. Her popularity has been maintained since moving to Hollywood and as a previous Miss World winner. You can see from previous photos that it is fairly obvious she has had a nose job, making her look even more stunning.
Shruti Haasan
Shruti Haasan hails from a famous acting dynasty and has made a huge impact on the Indian movie scene with her immense beauty. She is one of a small number of Indian actresses who have openly admitted to having a Rhinoplasty. We are in awe of her confidence and her open approach to sharing details of her surgery.
Which Pakistani celebrities have had a nose job?
Here are some of the most prominent Pakistani celebrities who have had a rhinoplasty, with some openly sharing their experience of surgery, which has helped to inform patients about the benefits of the procedure.
Zahid Ahmed
Many fans of Zahid may not be aware that he actually previously had a botched nose job which required a revision rhinoplasty, and this was discussed on his personal YouTube channel. This is why it is important to spend time researching your choice of surgeon and clinic to make sure you get the best results.
Humaima Malik
Humaima Malik has had a very subtle enhancement to the shape of her nose, which was barely noticeable until devoted fans began to notice the current appearance differed from photos taken in the past. The results of her surgery are highly regarded and are a prime example of a natural-looking rhinoplasty.
Fawad Khan
Fawad Khan regularly appears on the published lists of the most handsome actors in Pakistan and is well known for his suave and sophisticated manner and is often known as the Asian James Bond. Fawad had a rhinoplasty procedure early in his career, and the results speak for themselves with a well-proportioned nose and strong masculine contours.
Ghana Ali
Ghana Ali is one of the few female celebrities who has had a nose job. She has discussed in detail how she was unhappy with the appearance of a nose and wished to improve its appearance. Her strong sense of self-confidence and contentment may at least be partially due to her successful rhinoplasty procedure.
Mansha Pasha
Mansha Pasha is perhaps most famous for her role in the popular Pakistani drama ' Zindagi Gulzar Hai'. She has gone on to many big roles and has delivered incredible performances which have won her many awards. There is no doubt she has had a nose job with a reduction in the width of her nose with preservation of her natural nose contour and shape.
Aisha Khan
Aisha Khan has been a well-known fixture on Pakistani TV for a considerable amount of time, with many film and television credits to her name. She may have undergone multiple procedures throughout her career, although she has not openly admitted it. Her nose has increased definition with stronger contours compared to photographs from her early days.
Maira Khan
Although Maira Khan has not openly disclosed her previous nose job surgery, her appearance looks significantly different compared with previous photos taken in the past with a slimmer nose from rhinoplasty surgery and fuller lips, most probably using lip filler.
Sarwat Gillani
Sarwat Gillani it's most well known for her prominent role in the popular drama Maat-e-Jaan. Her current facial appearance looks significantly different from previous photographs, which may suggest she has had expert rhinoplasty surgery.
Sabeeka Imam
Sabeeka Imam is well known for her extraordinary beauty, which was evident even before a rhinoplasty procedure. Despite having natural-looking nose job results. Most would agree she also looked amazing before the procedure.
Hadiqa Kiani
Hadiqa Kiani is part of a minority of Pakistani celebrities who have openly shared their experience of having rhinoplasty surgery, and she has been applauded for her approach to this. Her rhinoplasty results look absolutely amazing, and she stands as a wonderful showcase for the benefits of ethnic rhinoplasty surgery.
Pakistani and Indian Rhinoplasty at Centre for Surgery
Centre for Surgery is the leading centre for rhinoplasty surgery in the UK and is home to some of the best surgeons in London. Getting the best results after ethnic rhinoplasty involves choosing a highly skilled surgeon who has many years of experience in performing both Indian and Pakistani rhinoplasty. It is important to remember that a very small nose may look appropriate on someone from a western European background but may not look natural on someone from India and Pakistan. This is why it is important to select a specialist rhinoplasty surgeon specialising in Indian and Pakistani nose job surgery.
Call us today on 0207 993 4849 to schedule an in-person consultation at our state-of-the-art Baker Street clinic in Marylebone.