Umbilicoplasty London UK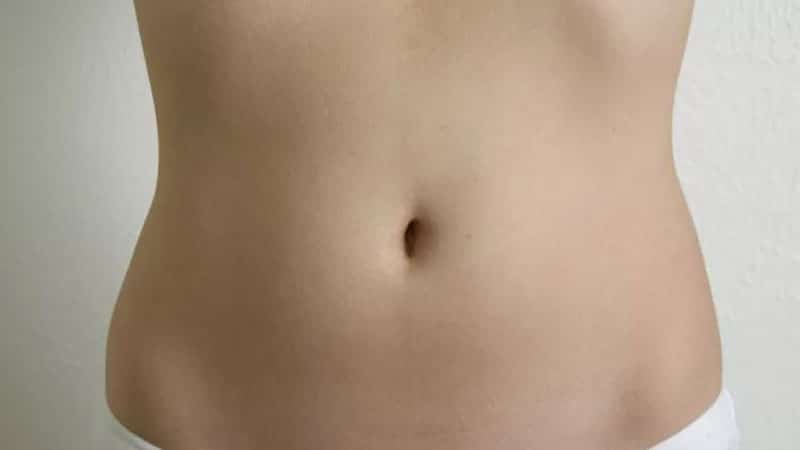 Enhance your abdominal aesthetics with Belly Button Surgery – the specialised procedure designed to reshape and rejuvenate your belly button for a more balanced and attractive appearance
Umbilicoplasty, commonly referred to as belly button surgery, is a surgical intervention aimed at transforming an "outie" belly button into an "innie" one. The navel or umbilicus, also known as the belly button, is a depression in the skin resulting from the detachment of the umbilical cord. Generally, this indentation is referred to as an "innie." However, in some cases, an "outie" forms, characterised by outward-protruding skin rather than a concave shape. This may lead to self-confidence and body image issues for some individuals. If you find yourself in this situation, umbilicoplasty or belly button surgery could be a suitable solution. Additionally, our surgeons can repair navels affected by piercings or those needing the creation of a new belly button following emergency abdominal surgery. In some instances, patients may have an underlying umbilical hernia, which can be addressed simultaneously with the umbilicoplasty.
Umbilicoplasty is a specialised procedure aimed at modifying the belly button's appearance to enhance its visual appeal. Our experienced surgeons are skilled in performing various levels of complexity in belly button surgery.
This procedure can be conducted as a standalone operation or in conjunction with other surgeries, such as a tummy tuck or umbilical hernia repair.
Various factors, including ageing, pregnancy, weight fluctuations, injuries, or hernias, can impact the appearance of your belly button. A typical navel appears small and vertical. Umbilicoplasty can modify the belly button to achieve a more aesthetically pleasing appearance.
If you have concerns about the look of your navel, umbilicoplasty or belly button surgery can be a viable option to address these issues at our specialized cosmetic surgery centre.
What is Umbilicoplasty?
Umbilicoplasty, also known as belly button surgery or navel reshaping, is a surgical procedure that alters the appearance, size, or shape of the navel (umbilicus). It is often performed for cosmetic reasons to improve the aesthetic appeal of the navel or to correct deformities that may have resulted from previous surgeries or congenital issues. Umbilicoplasty can be performed on its own or as part of other abdominal procedures, such as abdominoplasty (tummy tuck) or body contouring after significant weight loss.
Indications for Umbilicoplasty
Aesthetic concerns: Individuals may feel self-conscious about the appearance of their navel due to factors such as size, shape, or protrusion. Umbilicoplasty can help create a more desirable appearance.
Umbilical hernias: This occurs when a portion of the intestine or fatty tissue protrudes through a weak area in the abdominal wall near the navel. Umbilicoplasty can be performed to correct the hernia and improve the appearance of the navel.
Congenital anomalies: Some people are born with an abnormal navel, such as an "outie" (protruding) or "innie" (recessed) belly button. Umbilicoplasty can be performed to correct these issues.
Post-surgical changes: Previous abdominal surgeries, such as laparoscopic procedures or umbilical hernia repair, can cause scarring or deformities around the navel. Umbilicoplasty can help restore a more natural appearance.
Belly Button Surgery Before and After Photos
At Centre for Surgery, we only show photos of our patients that have given written consent allowing use of their images on our website.
Case 1: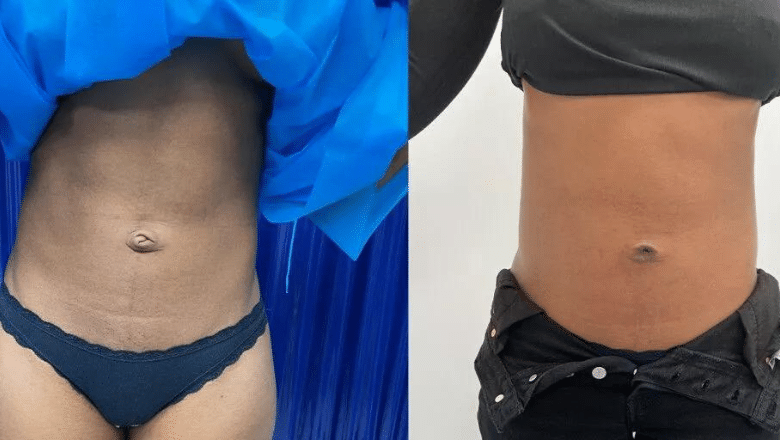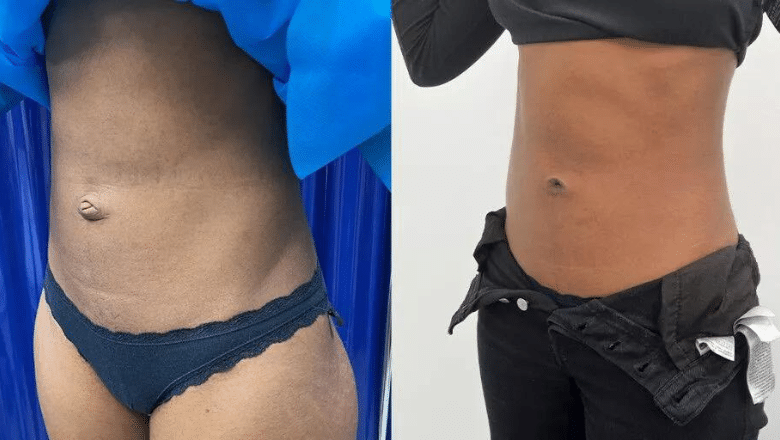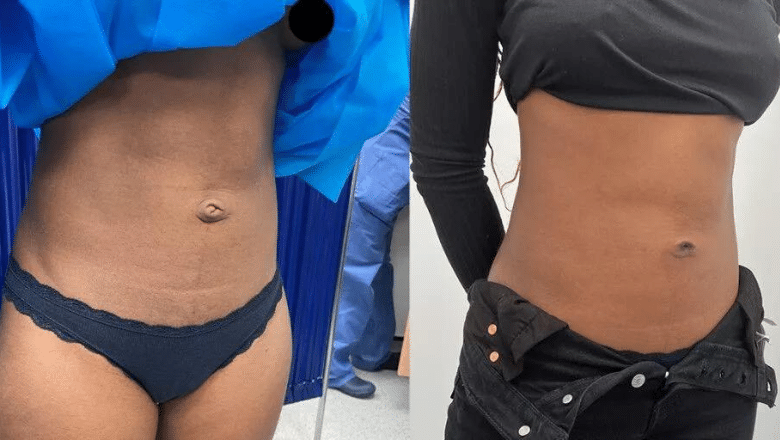 Case 2: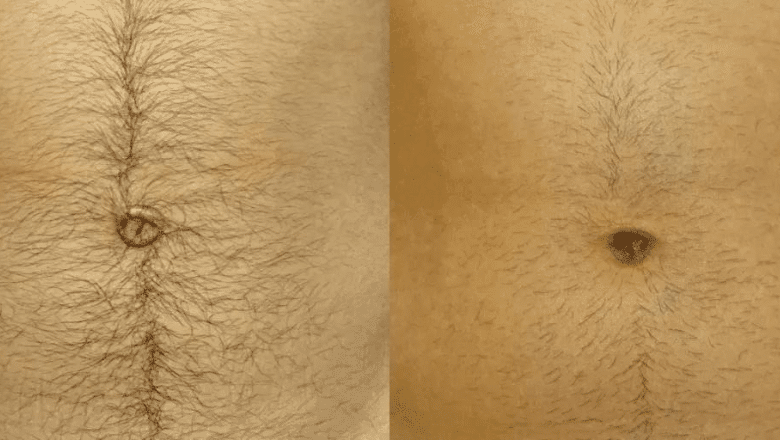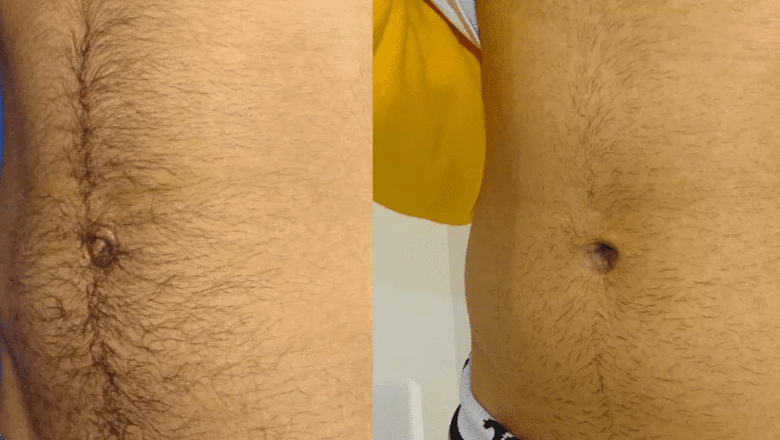 Case 3: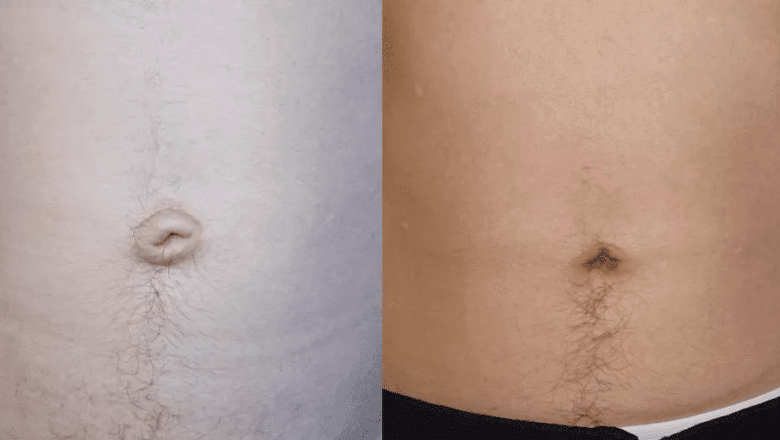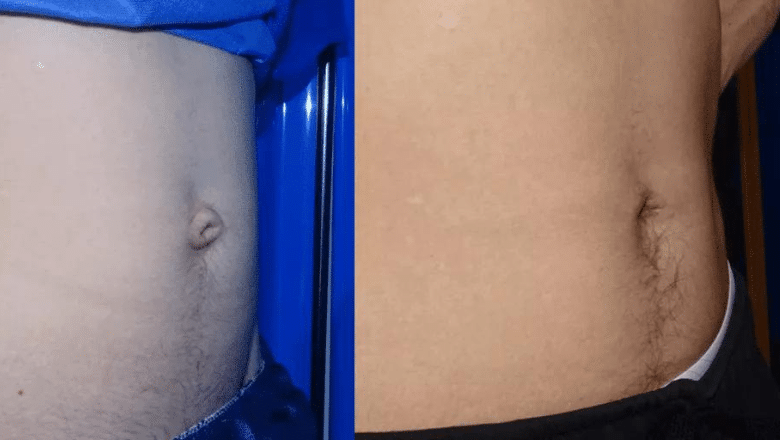 Case 4: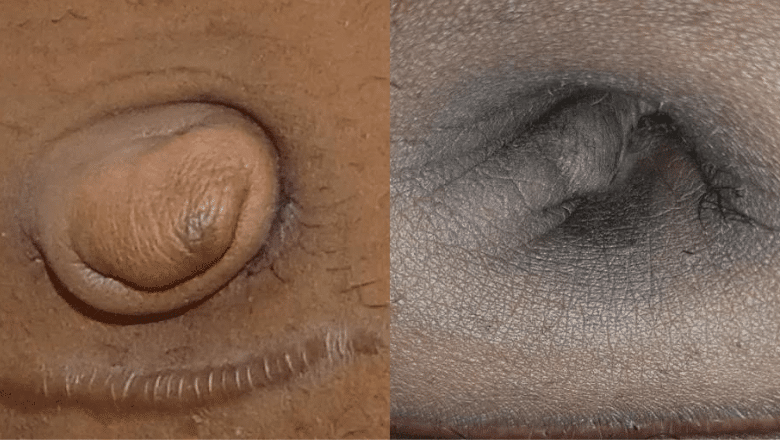 Case 5: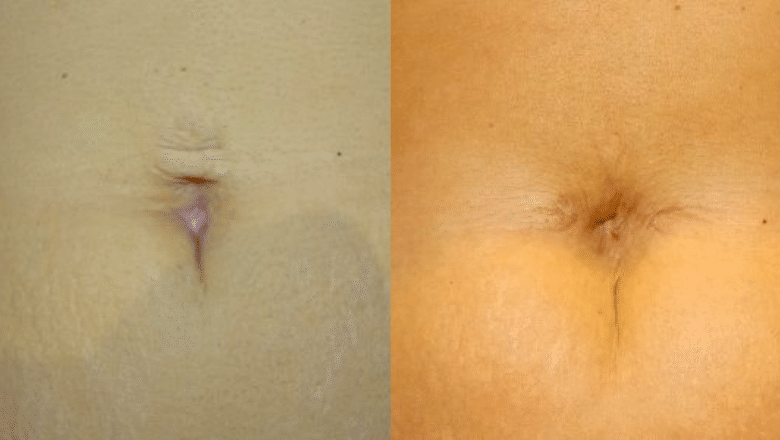 Case 6: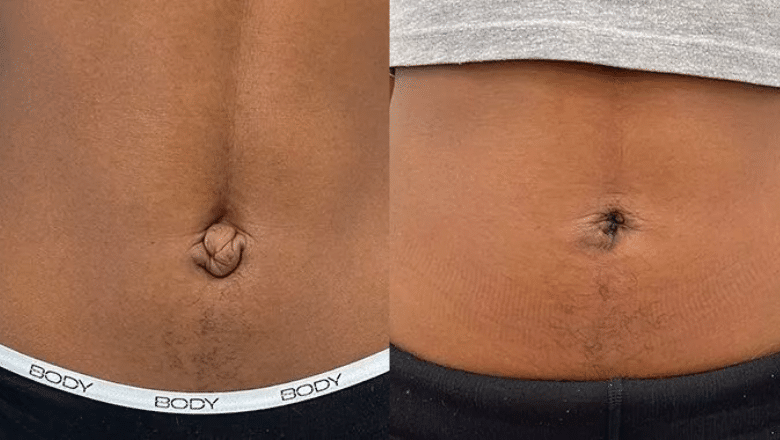 Case 7: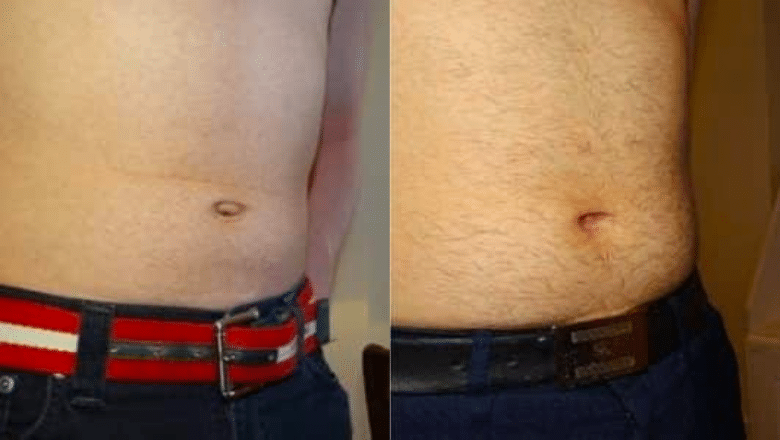 Benefits of Belly Button Surgery
Umbilicoplasty, also known as belly button surgery, is a cosmetic surgical procedure that involves reshaping and/or repositioning the belly button to improve its appearance. Some of the benefits of umbilicoplasty surgery include the following:
Improved Appearance: Umbilicoplasty can improve the appearance of the belly button, making it more aesthetically pleasing and balanced with the surrounding abdomen.
Corrects Imperfections: Umbilicoplasty can correct imperfections such as an outie belly button, excess skin, scars, or deformities caused by previous surgeries.
Boosts Confidence: Many people feel self-conscious about the appearance of their belly button, and umbilicoplasty can help boost their confidence and self-esteem.
Quick and Safe Procedure: Umbilicoplasty is a relatively quick and safe procedure that can be performed under local anaesthesia on an outpatient basis.
Minimal Downtime: Recovery time for umbilicoplasty is usually short, with most patients able to return to work and normal activities within a few days.
Long-lasting Results: The results of umbilicoplasty are usually long-lasting, with the new appearance of the belly button remaining stable over time.
How to Prepare For Belly Button Surgery
Preparing for belly button surgery, also known as umbilicoplasty, is an essential step to ensure the best possible outcome and minimize the risk of complications. The following are some general guidelines on how to prepare for belly button surgery:
Choose a qualified and experienced surgeon: Research and choose a certified plastic surgeon who specialises in umbilicoplasty. Check their credentials, reviews, and before-and-after photos to ensure they have the necessary expertise and experience to perform the surgery safely and effectively.
Consultation with your surgeon: Schedule a consultation with your surgeon at Centre for Surgery to discuss the surgery's details, your desired outcome, and any potential risks or complications. Your surgeon will examine your navel, take photographs, and provide personalised advice on how to prepare for the procedure.
Stop smoking and avoid certain medications: Smoking can increase the risk of complications and delay the healing process. Your surgeon may advise you to stop smoking for at least a month before and after surgery. You should also avoid certain medications, such as aspirin, non-steroidal anti-inflammatory drugs (NSAIDs), and blood-thinning medications, which can increase the risk of bleeding.
Follow pre-operative instructions: Your surgeon will provide specific pre-operative instructions, such as fasting for a certain period before surgery, avoiding alcohol, and arranging for someone to drive you home after the surgery. Following these instructions is crucial to ensure your safety and the success of the surgery.
Arrange for post-operative care: You will need someone to drive you home after the surgery and stay with you for at least 24 hours. Arrange for someone to help you with daily activities, such as cooking, cleaning, and taking care of children or pets, for the first few days after surgery. Also, prepare a comfortable recovery area with pillows, blankets, and entertainment to help you rest comfortably during your recovery.
Stock up on supplies: Before the surgery, stock up on supplies you may need during your recovery, such as pain medication, compression garments, and wound care products. Your surgeon will provide specific recommendations based on your individual needs.
Follow a healthy lifestyle: Eating a healthy diet, staying hydrated, and getting enough rest can help promote optimal healing and reduce the risk of complications.
By following these guidelines and your surgeon's recommendations, you can prepare for belly button surgery and ensure the best possible outcome.
Umbilicoplasty Procedure
The umbilicoplasty procedure can vary depending on the specific goals and needs of the patient. However, the following is a general outline of the steps involved in a typical umbilicoplasty surgery:
Anaesthesia: Umbilicoplasty is typically performed under local anaesthesia with or without sedation, but general anaesthesia may be used in some cases or when combined with other procedures. An anesthetist will administer the appropriate anaesthesia to ensure the patient's comfort and safety during the surgery.
Marking and incision: The surgeon will mark the navel and surrounding area to guide the incision and planned modifications. They will then make a small incision around the navel, which can vary in shape and size depending on the specific goals of the surgery. Common incision patterns include a semicircular, circular, or inverted-V shape.
Reshaping the navel: The surgeon will carefully dissect the skin and underlying tissue from the navel to gain access to the area that needs modification. They will remove any excess skin, fat, or tissue as needed to achieve the desired shape and size. If a hernia is present, the protruding tissue will be pushed back into the abdominal cavity, and the defect in the abdominal wall will be repaired with sutures or mesh.
Repositioning the navel: The surgeon will then reposition the navel, adjusting its shape, size, and location to create a more aesthetically pleasing appearance. This can involve moving the navel higher or lower on the abdominal wall, or changing its orientation or depth.
Closing the incision: Once the desired modifications have been made, the surgeon will carefully suture the skin back together around the navel. They may use dissolvable sutures, which will be absorbed by the body over time, or non-dissolvable sutures that need to be removed later. The surgeon may also apply surgical glue or adhesive strips to help hold the incision closed.
Dressing and post-operative care: After the surgery is complete, the surgeon will apply a sterile dressing and compression garment to help reduce swelling and support the healing process. The patient will be given instructions on how to care for the incision site, as well as any necessary pain medication or antibiotics to prevent infection.
Recovery After Umbilicoplasty Surgery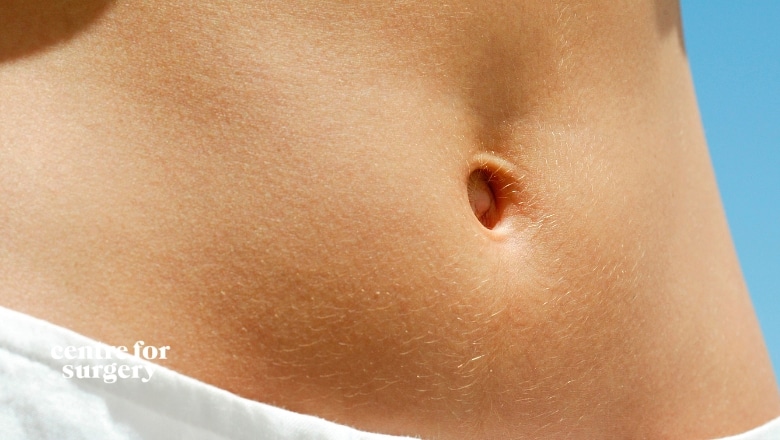 Recovery after umbilicoplasty surgery is generally quicker and less complicated than more invasive abdominal procedures. However, every individual's healing process may vary. The following is a general outline of what to expect during recovery from umbilicoplasty surgery:
Pain management: Mild to moderate discomfort is normal in the first few days following the surgery. Your surgeon will likely prescribe pain medication to help manage any pain. Over-the-counter pain relievers, such as acetaminophen, may also be recommended, but always follow your surgeon's advice regarding pain management.
Swelling and bruising: Some swelling and bruising around the navel area are common after umbilicoplasty. Wearing a compression garment, as recommended by your surgeon, can help reduce swelling and support the healing process. Swelling and bruising typically subside within a few weeks.
Incision care: It is essential to keep the incision site clean and dry to prevent infection. You will be given specific instructions on how to clean the area and when you can shower or bathe. If non-dissolvable sutures were used, they would need to be removed by your surgeon, typically within one to two weeks after surgery.
Activity restrictions: You can usually return to light daily activities within a week after surgery. However, strenuous exercise, heavy lifting, and activities that may strain the abdominal area should be avoided for at least 4-6 weeks or as advised by your surgeon. It is crucial to follow your surgeon's guidance regarding when you can resume specific activities to ensure proper healing and minimize complications.
Follow-up appointments: You will have follow-up appointments with your surgeon to monitor your healing progress and address any concerns. These appointments are essential to ensure a successful recovery and the best possible outcome.
Scar management: Some scarring is inevitable after umbilicoplasty, but the scars typically fade and become less noticeable over time. Your surgeon may recommend topical treatments or silicone sheets to help minimize scarring. Protecting the scar from sunlight is also crucial, as sun exposure can cause darkening and thickening of the scar.
The final results of umbilicoplasty surgery may not be apparent until several months after the procedure, as it takes time for the swelling to subside, and the tissues to settle. To achieve the best possible outcome, it is essential to follow your surgeon's post-operative care instructions and attend all follow-up appointments.
Umbilicoplasty London Prices & Costs – How much is Belly Button Surgery in London?
There are several factors which will determine the overall cost of the belly button reshaping procedure, and the final quotation will be given after a face-to-face consultation with your specialist plastic surgeon.
Type of umbilicoplasty – skin only or combined with umbilical hernia repair
Umbilicoplasty combined with another procedure
Local anaesthetic or general anaesthetic
Primary or revision umbilicoplasty
Why not call us on 0207 993 4849 and speak to one of our expert patient coordinators who may be able to give you a rough costing prior to a consultation for umbilicoplasty?
Always remember that price should never be the determining factor when choosing a plastic surgeon for your belly button surgery procedure. We feel that safety and quality of service should be your number one priority and instil in you the confidence that our team will look after you before, during and after your procedure to the best of their ability.
What is included in my treatment package?
As many preoperative consultations with your surgeon as you like to make sure the procedure is right for you
Treatment at a specialist day surgery facility recently rated 'Good' by the CQC
Enhanced same-day discharge with the added benefits of recovering in your own home
24/7 clinical support from your surgeon for the first 48 hours and our expert postoperative support team
Your very own dedicated patient coordinator
In-depth preoperative medical assessment to make sure you are fully fit for the umbilicoplasty procedure
Exceptionally high standards of postoperative care described as 'outstanding' by the CQC with regular telephone and face-to-face checks by our expert postoperative support team
Umbilicoplasty at Centre for Surgery
Centre for Surgery is a leading provider of cosmetic and plastic surgery procedures in London, UK. Our team of highly skilled and experienced plastic surgeons, anesthetists, and nurses are dedicated to providing the highest quality of care and achieving exceptional outcomes for our patients.
Our state-of-the-art clinic is equipped with the latest technology and equipment, and we offer a wide range of surgical and non-surgical procedures to help our patients achieve their aesthetic goals. We are committed to ensuring that our patients are fully informed about their options and the risks and benefits of each procedure, and we work closely with each patient to develop a personalized treatment plan that is tailored to their unique needs and goals.
At Centre for Surgery, patient safety and satisfaction are our top priorities. We follow strict safety protocols and guidelines to ensure that our patients receive the highest level of care before, during, and after their procedure. We are committed to providing a comfortable, welcoming, and professional environment where our patients can feel confident and at ease throughout their journey.
If you are considering a cosmetic or plastic surgery procedure, we invite you to schedule a consultation with one of our experienced plastic surgeons to learn more about your options and how we can help you achieve your desired results.
Our body contouring surgeons at Centre for Surgery are highly qualified and experienced plastic surgeons who specialise in aesthetic surgery of the breast and body. Here are some reasons why you should choose our surgeons:
GMC Specialist Register: Our surgeons are on the GMC specialist register for plastic surgery, which means they have undergone rigorous training and have met the highest standards for medical practice in the UK.
Membership of UK and European Associations: Our surgeons are full members of the UK Association of Plastic Surgery and the European Association of Plastic Surgery, which demonstrates their commitment to staying up-to-date with the latest techniques and technologies in the field.
Aesthetic Fellowships: Our surgeons have completed aesthetic fellowships in body contouring surgery, which means they have received specialized training in this area and have a deep understanding of the unique challenges and techniques involved.
Reconstructive Surgery Experience: Our surgeons have a strong background in reconstructive surgery, which gives them a unique perspective on body contouring procedures and enables them to achieve the most natural-looking and long-lasting results.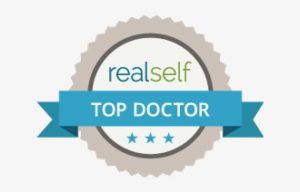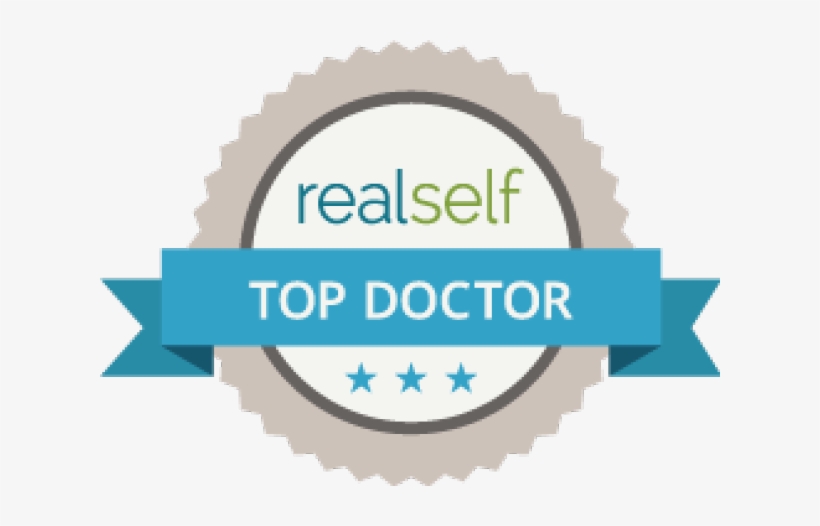 RealSelf Top Doctors: Our surgeons have been recognised as RealSelf Top Doctors, which is an exclusive status awarded to less than 10% of the RealSelf doctor community. This status is earned by achieving consistently high patient satisfaction, providing excellent feedback on expert answers to patient questions, and investing significant time in Q&A and other doctor activities. This recognition is a testament to our surgeons' exceptional skills and commitment to patient satisfaction.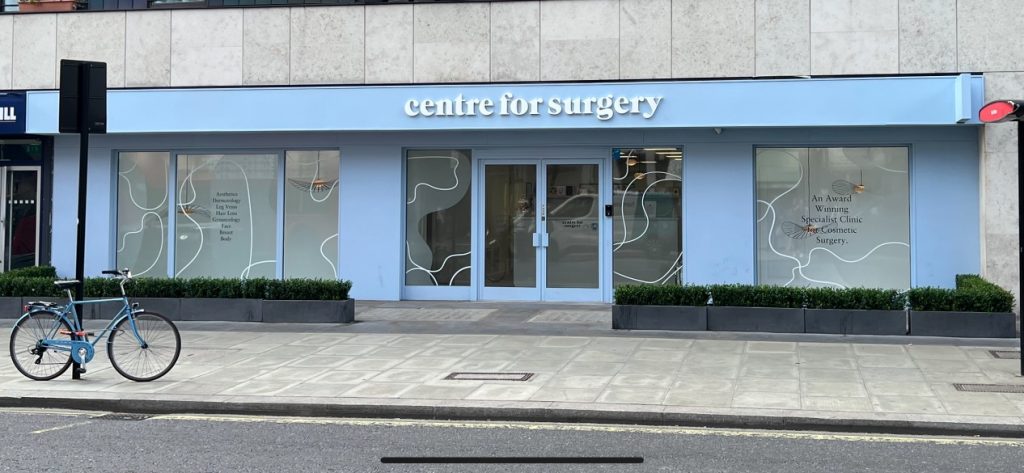 Amazing from start to finish, the communication was the main thing was fully informed and looked after, on the day of my breast augmentation, the staff were fab and made me feel at ease through out the whole process. Thank you so much.
Mohammed Farid
18/11/2021
I've had such a great experience with excellent advice, care and attention and surgical treatment (gynaecomastia) - I can fully endorse the treatment I have received from Centre for Surgery with absolutely no qualms at all. Brilliant in every way - thank you all so much.
Caroline Thorpe
14/11/2021
Very pleased with my whole experience of having a procedure. Was so nervous about getting treatment and i was reassured and felt so comfortable throughout thanks to the amazing nurses. I definitely made the right decision to have breast augmentation at centre for surgery with dr erel.
Melissa Briggs
08/11/2021
So glad I went with centre for surgery, the whole process went very smoothly from the consultations down to the actual day of the procedure. I was so nervous on the day but the whole team put me at ease and I'm happy with my results as I feel a lot more comfortable wearing certain clothes now. My surgeon was Alberto Di Giuseppe who performed a breast Augmentation on me, and I would definitely recommend as he was very clear on what the outcome of the surgery would be and which size would look the best for my frame.
Couldn't be happier with Dr Tillo work,i had my breast surgery one week ago and so happy with the results so far,all the staff are extremely nice and very supportive,i would definitely recommend their services,thank so much
From start to the finish everything was perfect for tummy tuck surgery. All staff is very friendly and the aftercare has been good. The Doctor and the nurse team was fantastic. I'm so happy...result is amazing. Thank you!!!
This was overall a great experience, all the staff at Centre for Surgery were friendly and put me at ease. It is a nerve wracking thing to go through an op but the staff were so nice. Mr Ertan has got a great team around him. On the day of the operation everything went smoothly to plan, there was no delay or holdups, I had another consultation with Mr Ertan who confirmed what was going to be done and that I was still happy to proceed. I was prepped for the procedure, I met with the anaesthetist who again was really nice and put me at ease explaining his role. After the procedure I woke up with the nurse by my side making sure I was OK and checking on me, I was able to stay in the clinic until I was ready to leave and was not rushed at all. I was well looked after from the start to the point when I was discharged. Post operation I was staying at a local hotel it was so close there was no point in even getting a taxi and I was able to walk back where my partner was waiting for me. I was expecting a lot of bruising to both my eyes but there was very little if any by the time the cast came off after 7 days, I am now at the two week post operation point and it is healing well with no outwardly visible bruising or scaring. The next milestone is a checkup at the 6 week point with my surgeon. If you're thinking of having something like this done I would highly recommend getting in touch with Centre for Surgery.
The staff at Centre for Surgery were very kind and accommodating. They answered any questions I had about the procedure and were constantly checking up on me. A special thank you to Christina for all her support throughout.
I would just like to state the quality of care received from the nurses at Centre for Surgery was beyond the highest level. Sophie takes her patient care to another level beyond words. She always puts me at ease. She is there for me even at awkward hours just when I mostly needed reassurance and she is one of the most compassionate nurses I have come across and demonstrates her passion naturally for caring for others. She totally deserves recognition at its finest and thank you for always being there for me. 😍
[baslider name="Umbilicoplasty"]
What To Expect
The Consultation
After you have decided to learn more about umbilicoplasty, we recommend a face to face consultation with one our expert belly button repair surgeons as a first step in your journey towards achieving an umbilical correction. When you meet with one of our surgeons, your surgeon will take time to listen carefully to what you hope to achieve and give you an expert opinion on what can and cannot be achieved after performing a thorough physical examination of the belly button area. If an umbilical hernia is found, your surgeon will recommend this to be repaired at the same time.
High resolution photographs are taken in a number of views of the belly button from different angles. Your surgeon will also discuss with you the potential risks and complications of umbilicoplasty and what to expect in the postoperative phase during your healing and recovery. It is important to know what medicines you are taking as some medicines can interfere with blood clotting and may need to be stopped. Any history of medical conditions or previous surgery will also be recorded and all the compiled information is used to make a decision on your medical fitness for the umbilicoplasty procedure. After a recommended two week cool off period and provided you are appropriate for the procedure, you can then make an informed decision on whether you would like to proceed with the procedure. If you are unsure on any aspect of the procedure and what it entails then we would invite you to return for as many follow-up consultations with your surgeon as you like to make sure that umbilicoplasty surgery is right for you. The consultation lasts about 45 minutes on average. It may take longer if your procedure is going to be more complex. We would actively recommend coming in for a follow-up consultation to ensure all your questions are answered.
Before Your Procedure
Once you have decided to move forward with umbilicoplasty surgery. Our preoperative assessment team will be in touch to assess your medical fitness prior to coming in on the day of surgery. There are a number of instructions to follow before your procedure including stopping any aspirin containing medicines as these can increase bleeding and ideally stopping smoking. Smokers have a higher risk of slower wound healing as well as more chance of wound complications. On the day of your procedure, you must follow the preoperative fasting guidance which includes no food for 6 hours prior if you are having TIVA anaesthesia. Only clear fluids (water) is allowed up to 2 hours before your procedure.
On The Day of Your Procedure
When you arrive for your umbilicoplasty procedure, you should aim to arrive on time to allow the admission process to proceed smoothly. One of our nurses will formally admit you and will check a number of items including making sure you have your postoperative medications which include pain relief medicines. You will have your vital signs measured including blood pressure and heart rate. The anaesthetist will then meet you to perform a preoperative airway assessment. Finally your surgeon will consent you for the planned procedure followed by a detailed preoperative marking of the areas to be treated. The umbilicoplasty procedure takes about between 1 hour to perform and is easily performed under a local anaesthetic with or without oral sedation to make you feel relaxed. The option of TIVA general anaesthesia is also available if you prefer to be asleep for your procedure. The surgeon will first inject the area around the belly button with local anaesthetic to make the area fully numb. Incisions will then be made to reshape the belly button. The surgeon will aim to place the incisions within natural skin folds where possible. Special sutures are used to anchor the belly button skin to create an 'innie' belly button. Where an umbilical hernia is present, the surgeon may use specialised mesh to block the gap giving rise to the umbilical hernia. The incisions are then closed with sutures and a sterile dressing is applied. After the procedure is complete, you will spend time in our recovery suite where you will be prepared for nurse-led discharge once you have met all the discharge criteria. It is important to have a responsible adult to accompany you home and to look after you for the first 24 hours.
After Your Procedure
Once you are safely at home, you can be assured in having access to our specialist postoperative clinical support team around the clock. You will be given a contact number to contact your surgeon in the first 24 hours after surgery if you have any concerns. An umbilicoplasty procedure is associated with very little in the way of postoperative discomfort although some discomfort is common for the first week after surgery. Bruising should start to subside after 7-10 days. You should avoid intense sunlight after the procedure to reduce the risk of hyperpigmentation in the incisions.

Our postoperative team will look to call everyday for the first 2 weeks after your procedure. This is so we can monitor your levels of comfort and can alert your surgeon if there is any concern. Our proactive approach allows the detection of any potential issues early which results in more effective treatment. You are advised to rest for at least a few days after your umbilicoplasty procedure which will also help with pain control. Heavy exercise should be avoided for at least the first 4 weeks. Our postoperative clinical team will assess you face to face at your 1 week postoperative appointment to ensure healing is progressing normally and the wounds site are healthy. You will be booked for your surgeon follow-up appointment for 6 weeks after your procedure.