Surgical Tattoo Removal London UK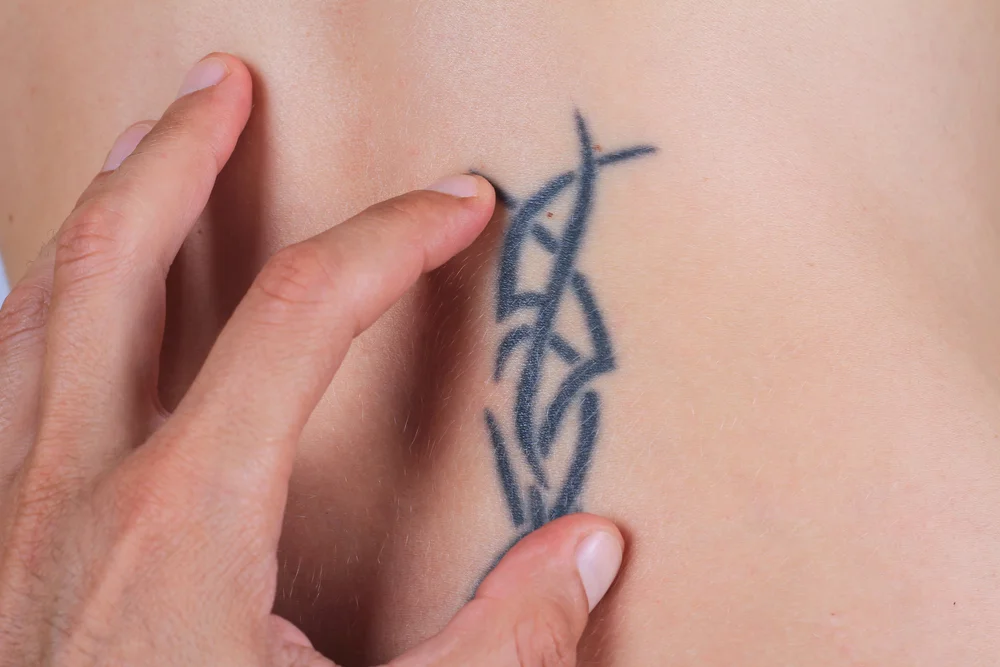 Experience the freedom of having clear, tattoo-free skin with our state-of-the-art tattoo removal surgery, performed by our skilled and experienced surgeons
Surgical tattoo removal & tattoo excision is a effective technique performed to remove tattoos using excision and/or skin graft. Often people choose surgical tattoo removal when laser tattoo removal has failed. Laser tattoo removal is relatively ineffective for professional tattoos which may contain blue and green pigments.
Considering tattoo removal is quite common and a choice people make for many reasons whether it be because of regret, outgrowing it or something else entirely. Surgical tattoo removal is preferred over laser tattoo removal by people who wish to avoid several painful laser sessions or just want an aesthetically pleasing result.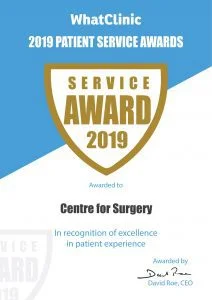 RealSelf Top Doctors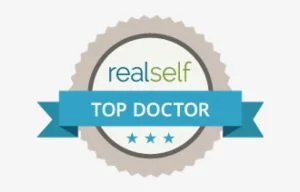 RealSelf top doctor status is awarded to less than 10% of the RealSelf doctor community. This status is earned by achieving consistently high patient satisfaction (from RealSelf reviews), getting excellent feedback on expert answers to patient questions, and after investing significant time in Q&A and other doctor activity. RealSelf top doctors are rated among the very best surgeons in the United Kingdom and USA.
All our plastic surgeons are on the GMC specialist register. The Royal College of Surgeons of England has an excellent information resource on cosmetic surgery.
Our tattoo removal clinic at 106 Crawford Street was recently inspected and rated by the Care Quality Commission as good across all five domains of care.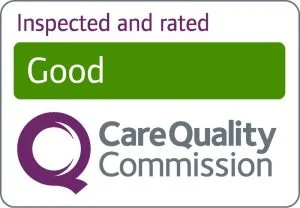 [trustindex no-registration=google]
Surgical Tattoo Removal Before & After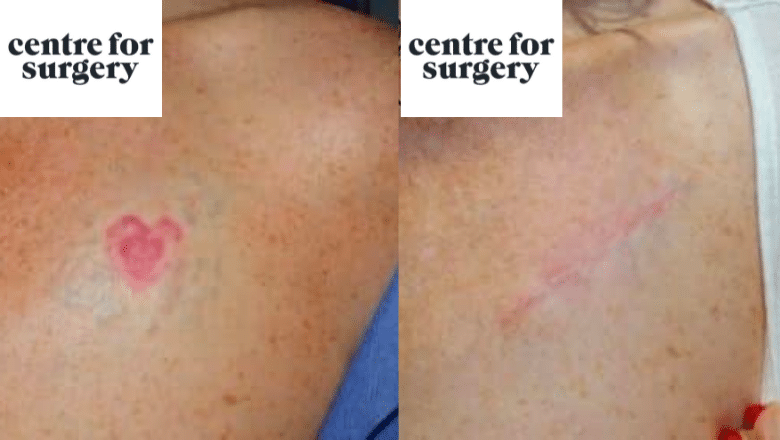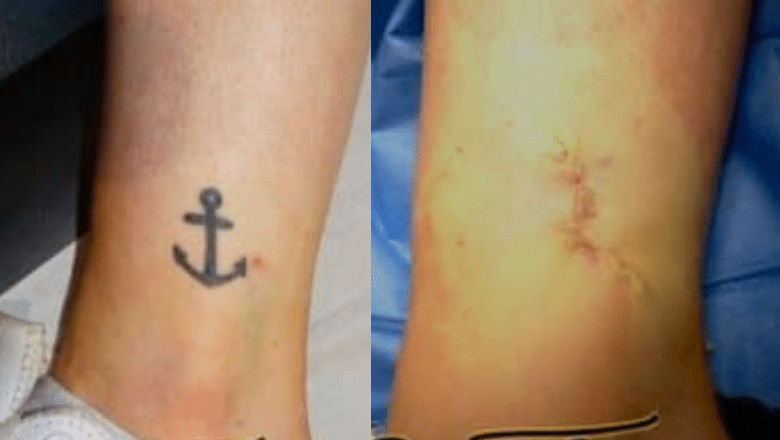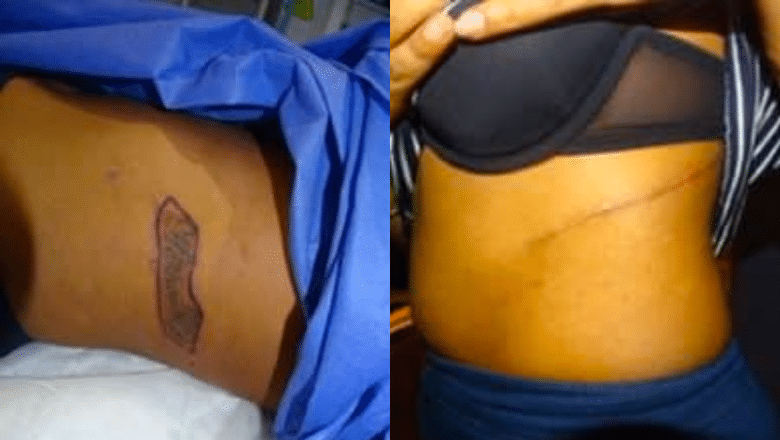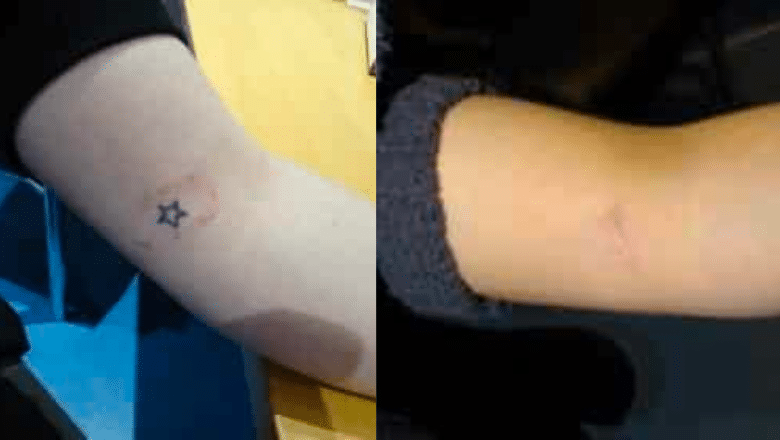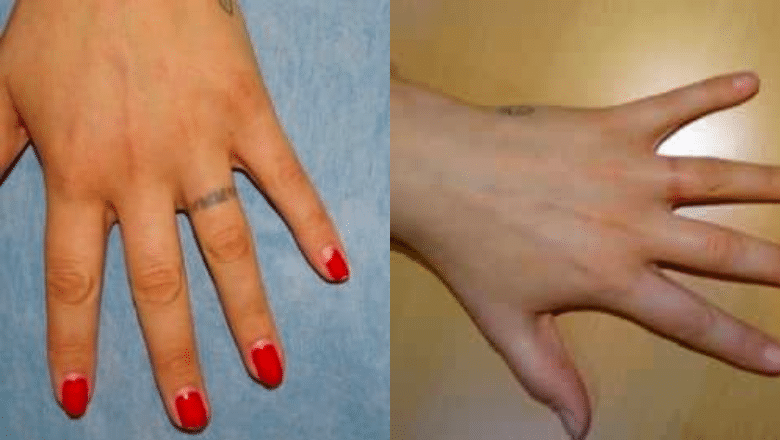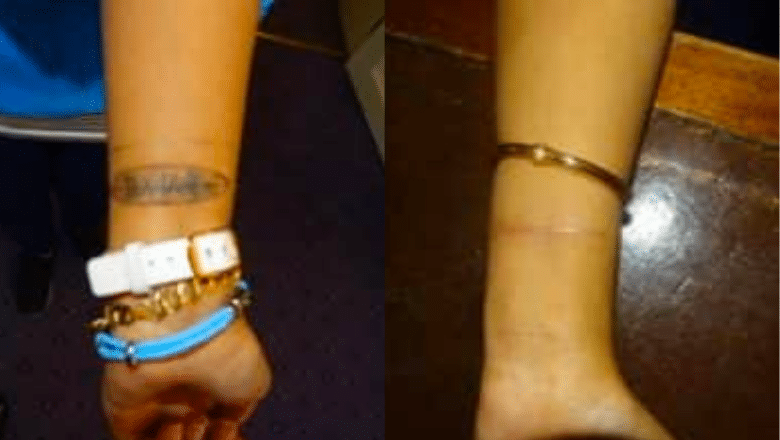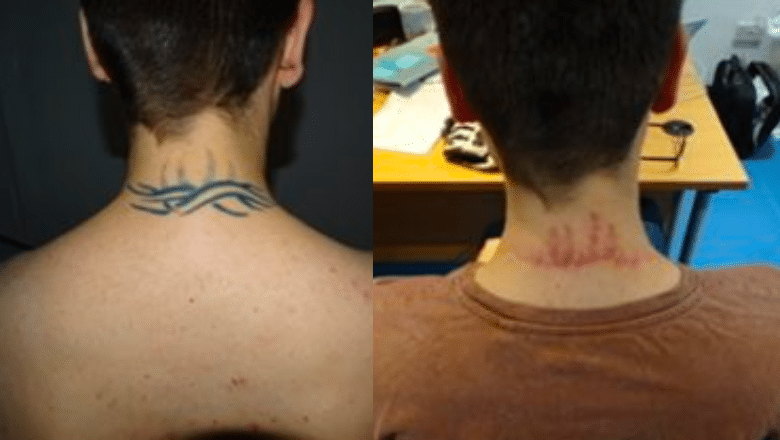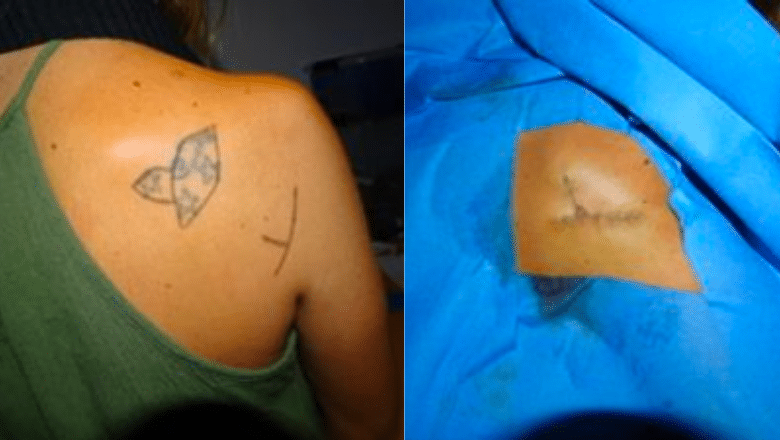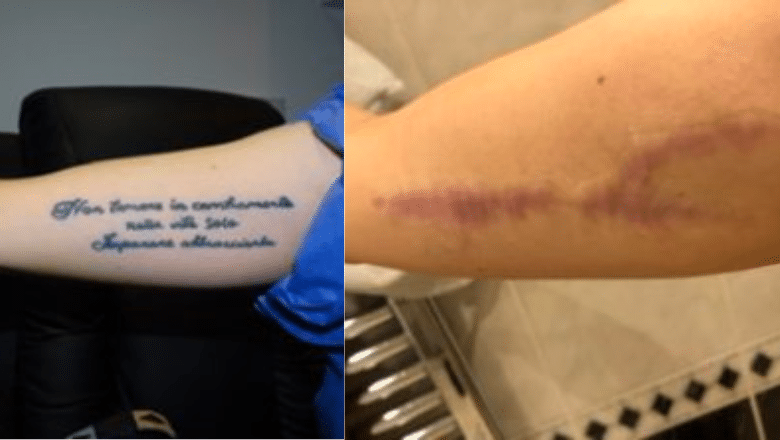 Why have surgical tattoo removal?
Benefits of Surgical Tattoo Removal
A simple and quick method which can achieve long-lasting results.

Cheapest technique for complete tattoo removal.

Alternative to many painful laser sessions.

More aesthetically pleasing result compared to laser tattoo removal.
Potential Side Effects
A linear scar will be left but will fade away quickly.

Could leave a visible scar (this can be reduced with appropriate care)

Surgical complications like infection and swelling will be involved.
Surgical VS laser tattoo removal
Surgical Tattoo Removal
The tattoo can be removed in one sitting or two depending on the size.

Risk of infection of the incisions.

Will leave a linear scar that fades away over time

.
Laser Tattoo Removal
May need more than 5-6 visits and sometimes even 10 for a big tattoo.

Risk of skin burning during the removal treatment

May leave an outline of the tattoo with scar formation
Ideal patients for tattoo excision
All patients should be in good health and have realistic expectations about what can be achieved with surgical tattoo removal.
We do not treat patients below the age of 18 years of age. Healing is better if patients refrain from or quit smoking.
Tattoo excision is ideal for those who do not wish to continue keeping their tattoo, and do not wish to opt for laser tattoo removal. The procedure is ideal for people who have outgrown or regret their tattoos. People may opt for tattoo excision if they are starting a new job and prefer a more professional appearance.
Tattoo excision procedure
Depending on the size of the tattoo, some can be removed in just one sitting. An oval shaped cut will be made around the skin and then the edges are stitched together. The stitches will be slightly curved to allow a neat incision scar.
In cases when the tattoo covers a big area of the skin and cannot be easily removed and stitched together, a comfortable amount is cut in the first session and more is cut again after allowing the treated area to heal.
Skin grafting is also a technique involved in surgical tattoo removal where skin from another part of the body is stitched onto the area of the removed skin to fill the gap.
Recovery after surgical tattoo removal
It is normal to have some discomfort for 2 to 3 days after the tattoo excision procedure. Your doctor will prescribe a course of oral painkillers to control symptoms. It is very important to protect the healing incisions. You must keep the incisions out of direct sunlight to avoid the risk of hyper pigmentation.
In some cases patients may develop prominent scarring after tattoo excision. Centre for Surgery are recognised experts in scar revision using both non-surgical and surgical techniques.
[baslider name="tattooremoval"]
What To Expect
The consultation
We would advise all prospective patients to first have a consultation with an expert plastic surgeon. At your consultation you'll be able to discuss with your surgeon Your goals for treatment as well as to discuss what can be achieved given the size and shape of your tattoo.

Your surgeon will then discuss all the possible options including a possible requirement for graft or flap reconstruction . The surgeon will then take photographs of the tattoo and make a number of measurements to plan treatment.

The following are examples of questions you could ask your surgeon at the consultation:

Am I a good candidate for tattoo excision ?
What can I do to help get the very best possible results?
What is the best surgical technique for my tattoo?
What sort of recovery can I expect after my procedure?
What happens if I am not happy with the results?
Am I able to see before and after photos of patients who have undergone similar treatment?

Your surgeon will then explain all the potential risks and complications of surgical tattoo removal along with providing full information on pre-and post operative instructions. Your medical history will be recorded including any previous operations. What medicines you may be taking and any allergies along with other important questions.

If you are deemed to be a good candidate for surgical tattoo removal your patient coordinator will get in contact and explain the next steps. You are welcome to come and see your surgeon for a further follow-up consultation so you are as well informed as possible before surgery.
Before your procedure
If you decide to have tattoo excision then our clinical support team will be in touch to prepare you for the procedure. The following is recommended to reduce the risk of complications:

- You should stop smoking at least six weeks before the procedure as smoking tobacco is associated with a higher risk of wound complications.

- you should not take aspirin or any medicines that contain aspirin such as anti-inflammatory medicines.

- If you are having deep sedation or a general anaesthetic you should avoid the consumption of any food six hours before surgery and you may only have small sips of water up to 2 hours before your surgery time.
On the day of your procedure
You should aim to arrive for your tattoo removal procedure one hour before the scheduled start time off the surgery. When you are admitted a nurse will record your blood pressure pulse temperature and other vitals and you will then be seen by the surgeon who will mark the area of the tattoo

Surgical tattoo removal most commonly takes place under local anaesthetic and takes roughly 1 to 2 hours to complete. The location of the incisions and the technique for tattoo removal will differ based on what has been planned at your consultation.
After your procedure
It is uncommon to feel any discomfort after the procedure but you may have some mild soreness for up to 3 days after the procedure. If necessary you can take simple oral painkillers as required.

After the procedure is complete you will spend some time in our recovery suite for up to a couple of hours which depends on whether you had a local anaesthetic or local anaesthetic combined with sedation. Once you have made a full recovery from the anaesthetic you will be allowed to go home accompanied by a responsible escort.

You will need to return approximately 1 to 2 weeks after your tattoo excision procedure to be reviewed by one of our post-operative nurses where your dressings will be removed and the incision sites will be inspected. Advice on optimum scar healing will be given at this point. Our post-operative support team are available 24 hours to address any questions or concerns you may have

You will come in at roughly 6 to 8 weeks after your procedure to be reviewed by your surgeon for a final assessment of your healing.