Caesarean section scar revision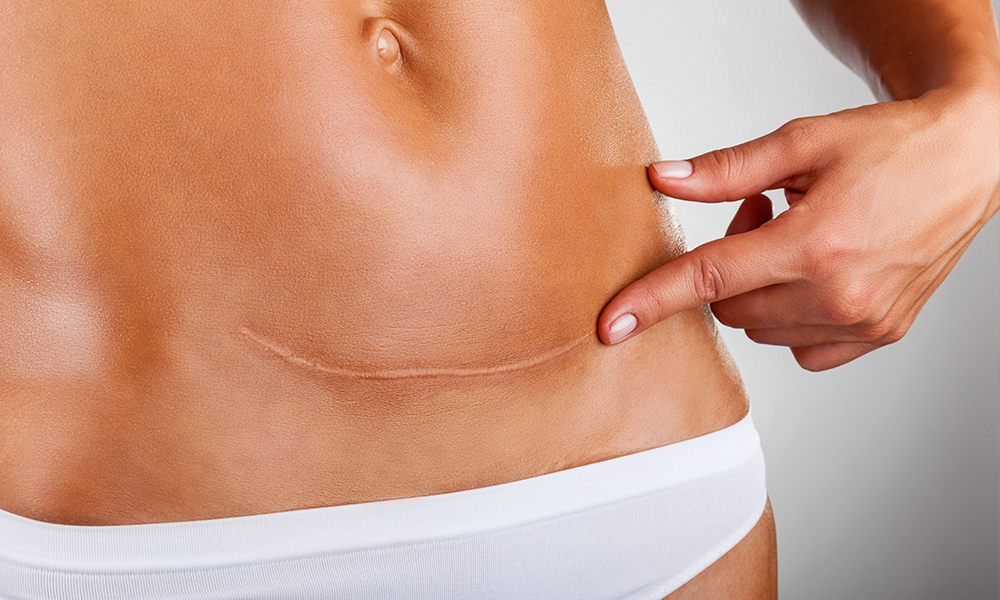 After a Caesarean Section or C-section, women are often left with a scar that they are unhappy with. This scar can often get worse over time, particularly if there has been any weight gain in the lower abdomen area. If you are unhappy with your Caesarean section scar, you may benefit from Caesarean section scar revision surgery.
Many women are often concerned about the appearance of their Caesarean section scars and often wish to have scar treatments to improve how the C-section scars look. C-section surgery involves positioning the scar horizontally across the lower abdomen and the obstetrician will aim to place the scar below the underwear line. In some cases, a scar that runs through the mons pubis region may result in a risk of developing keloid scars, particularly in darker-skinned patients. Fortunately Centre for Surgery is renowned for its expertise in the management of all types of scars including C-section scars.
RELATED: What kind of tummy tuck scars should I expect?
Caesarean section scars often present a unique problem whereby the presence of swelling above the scar often results in a bulging appearance, particularly when viewed through tight-fitting clothing. This is most commonly due to the scar adhering to the underlying abdominal wall fascia during the early healing process and is not easy to prevent even during a properly carried out Caesarean section. Often patients who are overweight are most at risk of developing C-section scar tethering although leaner patients can also develop the problem. C-section scars are commonly revised at Centre for Surgery to help remove the unsightly lower abdominal wall bulging and are easily carried out under both local anaesthetic or a general anaesthetic if you prefer.
Prominent C-section scars often coexist with loose skin of the lower abdominal wall and excess fat and our surgeons commonly combine a C-section scar revision with a mini-abdominoplasty or a mini tummy tuck procedure. The mini tummy tuck involves the surgical removal of excess skin combined with liposuction of the lower half of the abdominal wall.
Improperly performed Caesarean sections or emergency C-sections often result in the formation of a vertical scar in the midline of the abdomen. The scars can be difficult to manage and may benefit from advanced skill management techniques available at our 106 Crawford Street clinic.
Many women have had multiple pregnancies with all their children delivered by C-section. Our surgeons are able to get rid of several Caesarean section scars to form one scar which looks much neater and less visible.
Why does my C-section scar look so thick?
C-section scars can often appear thick and this is most commonly due to the pro-inflammatory response commonly associated with pregnancy. Everyone feels differently and a number of factors will affect healing including hereditary factors and Fitzpatrick skin type. Patients with darker skin may be more likely to develop thickened scars and in some cases may develop keloid scars. Our expert surgeons will be able to give you tailored advice on ways to improve the appearance of your C-section scar. Centre for Surgery is renowned for its expertise in the full range of scar management techniques. If you would like to learn more, get in touch with us today to book a scar revision consultation.
When considering whether you should have surgery, it is often difficult to know if you are deciding on the right procedure. If you have muscle laxity or are of a larger weight, then you may be more suited for a mini-abdominoplasty which also removes the old caesarean section scar. You will be able to attend a consultation with a surgeon prior to the procedure, where the correct procedure for you will be clarified. An ideal candidate is a slim patient with a scar localised on the lower abdominal contour. There are situations when women have difficult labour and the doctor decides to perform an emergency Caesarean section. In this situation, the scar is a reminder of an unpleasant event and they want to have it removed. Our expert surgeons at Centre for Surgery use special suture techniques to improve the deeper tissues and the look of the scar. Depending on the particular case of the patient, if a woman experiences muscle laxity or significant fat, then it may be recommended to have a mini-abdominoplasty.
It is important to know whether you are planning on having more children, as this will stretch the lower abdomen skin and you may lose the benefits of the procedure.
Can C-section scars be removed?
C-section scars are amenable to highly effective treatment with advanced surgical scar revision techniques. These treatments aim to improve the appearance of the scar so that it looks less visible and disable to resemble as much as possible the appearance of the adjacent skin. C-section scar revision recovery will vary between patients and your surgeon will recommend a number of actions which can be carried out daily to optimise the appearance of the C-section scar and make sure your healing and recovery is as smooth as possible. Our postoperative nursing team will be able to recommend a suitable cream which can be applied topically during the recovery period to minimise the development of excessive scar tissue.
Am I suitable for Caesarian scar revision?
You may be a candidate for Caesarean scar revision if you:
Are in good health both physically and mentally
Have a body mass index in the normal range
Have a scar localised to the lower abdominal contour
Best results are achieved in people who are a healthy weight for their height. Therefore, if you are considered overweight, your surgeon may recommend that you lose weight before the surgery. The surgeon will be able to recommend appropriate diets to follow before the procedure. If you are a smoker, you may be advised to quit, as this will help with the healing process.
Will private medical insurance cover the cost of my C section scar revision
In many cases, you may be able to obtain private funding from your insurer to cover the cost of C-section scar revision although you will be advised to check with your insurance company as each company will have differing criteria. Most insurers will often require a medical report that shows you are developing medical problems as a result of your scar. Once they have received the report, they will be able to make a decision on whether to authorise funding for your C-section scar revision procedure.
Most patients who have C-section scar revision at Centre for Surgery choose to privately fund the cost of the treatment and C-section scar revision cost in London is very reasonable. Please get in touch with us today and speak to one of our coordinators to get an approximate price for Caesarean section scar revision. Once you have had a consultation, you will receive a comprehensive quotation from your dedicated patient coordinator.
What does Caesarean scar revision involve?
Caesarean scar revision surgery is easily performed under local anaesthetic, however, the procedure can also be performed under TIVA general anaesthetic if you prefer. The procedure takes around one hour to complete. The procedure involves surgically removing the old c-section scar followed by undermining of the wound edges above and below to increase the mobility of the skin. This results in less tension being placed on the new surgical wound. The procedure may also involve liposuction to equalise the thickness of abdominal skin both above and below the scar. This involves using small cannulas to remove any fat around the scar. The combination of the two methods of surgical removal of the old scar and supplementary liposuction will ensure you have a reduced scar and an aesthetically pleasing lower abdomen. Immediately after the procedure, you should minimal or no discomfort due to the injection of a long-acting local anaesthetic. However, once this wears off, you may feel some pain and discomfort which is easily relieved with over the counter pain medication. Your doctor will be able to recommend pain management medication for you to take during this period. After procedure, you may notice that the new scar looks red, however, this should fade with time.
Caesarean scar revision recovery
After the Caesarian section scar revision surgery, you should try and avoid any strenuous activity for at least 10 days. After this time, you will be able to resume your usual day-to-day routine. You may notice that the new scar will become red and raised. However, with time the scar will appear pale, fine and flat. Your surgeon will be able to give you advice on how to improve the look of the new scar.