Caesarean Scar Revision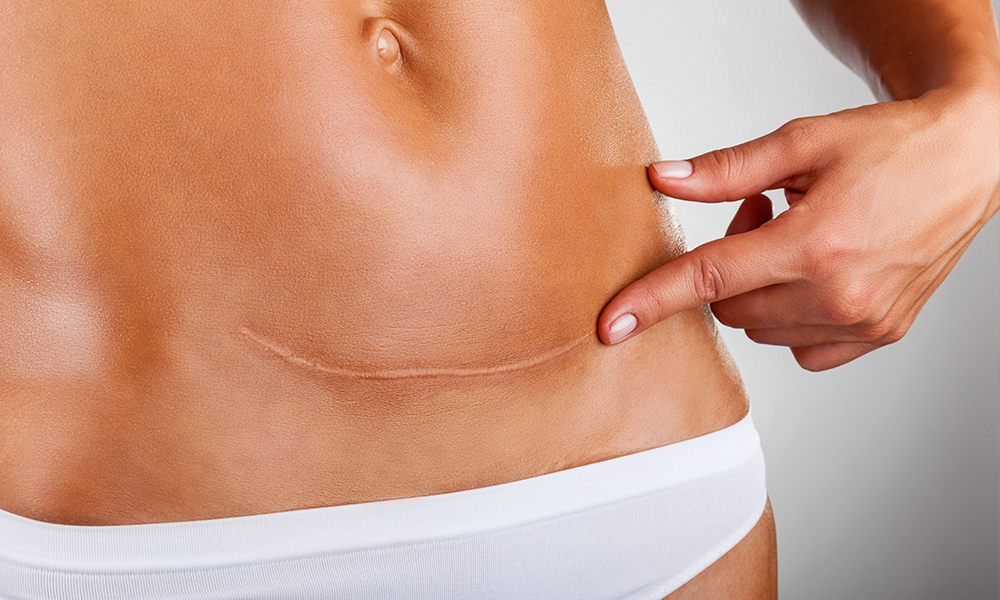 After a Caesarean Section or C-section, women are often left with a scar that they are unhappy with. This scar can often get worse over time, particularly if there has been any weight gain in the lower abdomen area. If you are unhappy with your Caesarean section scar, you may benefit from Caesarean section scar revision surgery.
When considering whether you should have surgery, it is often difficult to know if you are deciding on the right procedure. If you have muscle laxity or are of a larger weight, then you may be more suited for a mini-abdominoplasty which also removes the old caesarean section scar. You will be able to attend a consultation with a surgeon prior to the procedure, where the correct procedure for you will be clarified. An ideal candidate is a slim patient with a scar localised on the lower abdominal contour. There are situations when women have a difficult labour and the doctor decides to perform an emergency Caesarean section. In this situation, the scar is the reminder of an unpleasant event and they want to have it removed. Our expert surgeons at Centre for Surgery use special suture techniques to improve the deeper tissues and the look of the scar. Depending on the particular case of the patient, if a woman experiences muscle laxity or significant fat, then it may be recommended to have a mini-abdominoplasty.
It is important to know whether you are planning on having more children, as this will stretch the lower abdomen skin and you may lose the benefits of the procedure.
Ideal Candidates for Caesarean scar revision
You may be a candidate for Caesarean scar revision if you:
Are in good health both physically and mentally
Have a body mass index in the normal range
Have a scar localised to the lower abdominal contour
Best results are achieved on people who are a healthy weight for their height. Therefore, if you are considered overweight, your surgeon may recommend that you lose weight before the surgery. The surgeon will be able to recommend appropriate diets to follow before the procedure. If you are a smoker, you may be advised to quit, as this will help with the healing process.
Caesarean scar revision procedure
Caesarean scar revision surgery is easily performed under local anaesthetic, however, the procedure can also be performed under TIVA general anaesthetic if you prefer. The procedure takes around one hour to complete. The procedure involves surgically removing the old c-section scar followed by undermining of the wound edges above and below to increase the mobility of the skin. This results in less tension being placed on the new surgical wound. The procedure may also involve liposuction to equalise the thickness of abdominal skin both above and below the scar. This involves using small cannulas to remove any fat around the scar. The combination of the two methods of surgical removal of the old scar and supplementary liposuction will ensure you have a reduced scar and an aesthetically pleasing lower abdomen. Immediately after the procedure, you should minimal or no discomfort due to the injection of a long-acting local anaesthetic. However, once this wears off, you may feel some pain and discomfort which is easily relieved with over the counter pain medication. Your doctor will be able to recommend pain management medication for you to take during this period. After procedure, you may notice that the new scar looks red, however, this should fade with time.
Recovery after Caesarean scar revision
After the c-section scar revision surgery, you should try and avoid any strenuous activity for at least 10 days. After this time, you will be able to resume your usual day-to-day routine. You may notice that the new scar will become red and raised. However, with time the scar will appear pale, fine and flat. Your surgeon will be able to give you advice on how to improve the look of the new scar.