What is a mini facelift
A mini facelift differs from a full or traditional facelift in a number of key aspects. The procedure is considered less invasive than a full facelift or rhytidectomy procedure with shorter incisions that are better hidden within natural skin folds and this makes them less visible to other people. Mini facelift results can often match those achieved from a traditional facelift without the increased scarring, risks or downtime.
Compared with a full facelift, a mini facelift is designed to tighten loose and sagging skin in the lower part of the face and this includes the jawline, chin, jowls and the upper part of the neck. Many people noticed these areas to develop obvious signs of ageing before other parts of the face. Choosing to have a lower facelift can effectively get rid of these features with highly impressive anti-ageing effects.
The procedure is considered most appropriate for women and men aged over 40 and above. Well-performed mini facelift surgery can produce results that can easily last 10 years or more. The natural and refreshed appearance that this procedure provides often results in many observers commenting on their youthful and rejuvenated look. People who are fifty and over may have more prominent signs of aging and this could be related to a number of factors including excessive sunlight exposure. You may be considered more appropriate for a traditional facelift in some cases.
RELATED: What is the best age for a facelift?
The mini facelift is often preferred by many patients who come to see us because it can be easily combined with a number of other facial rejuvenation procedures at the same time including a neck lift, brow lift, eyelid surgery, chin liposuction or chin augmentation with implants. This is because a mini facelift is designed to rejuvenate the lower portion of the face. Our surgeons commonly combine a mini facelift with facial fat transfer for enhancement of volume in targeted areas of the face including the cheeks and temples. Fat transfer to the face first involves liposuction to harvest fat from another area of the body followed by fat purification and then injection into selected areas of the face which have developed volume loss as a result of ageing. Mini facelift combined with fat transfer to the face is a powerful anti-ageing combination and is commonly performed at our state-of-the-art Baker Street clinic in central London.
The results of a mini facelift can be effectively maintained over time by having a wide range of non-invasive anti-ageing treatments at our 106 Crawford Street clinic including anti-wrinkle injections, dermal fillers, chemical peels, laser skin resurfacing and Morpheus8 microneedling.
Mini Facelift Before & After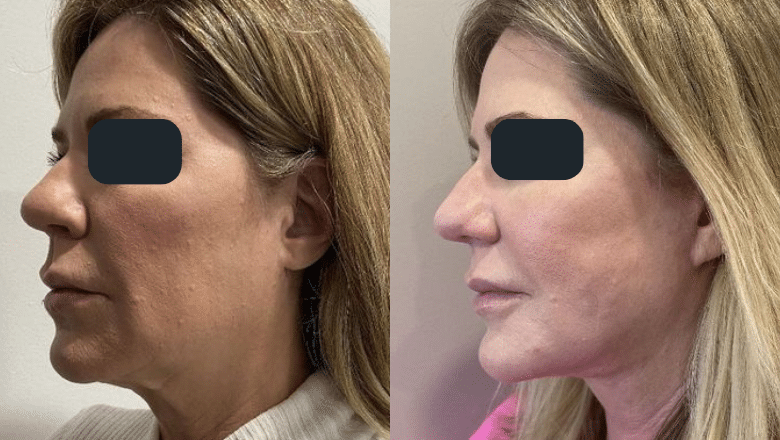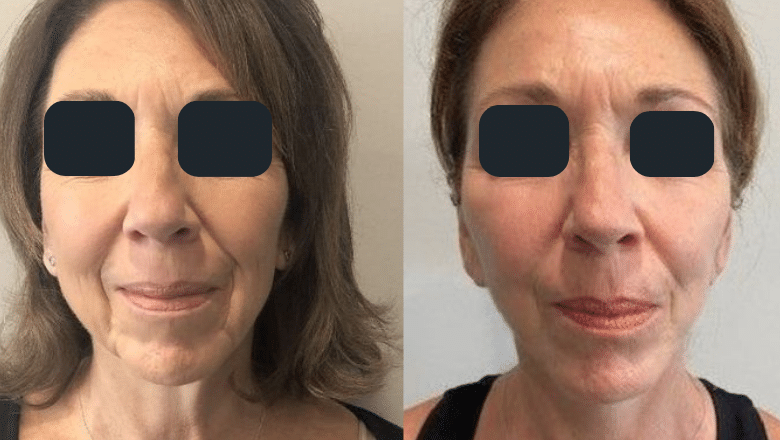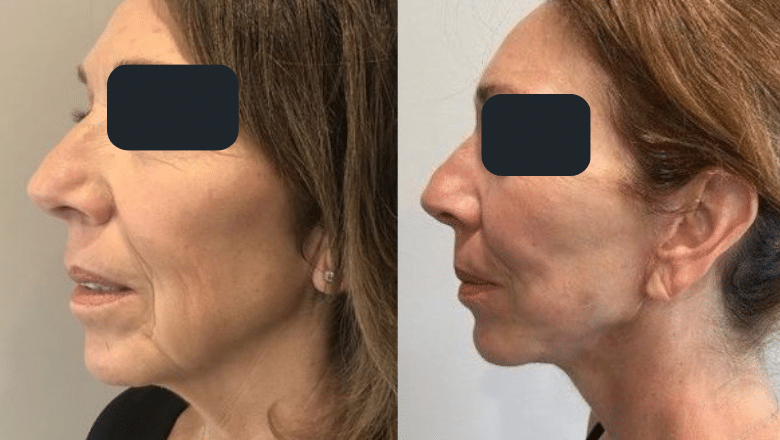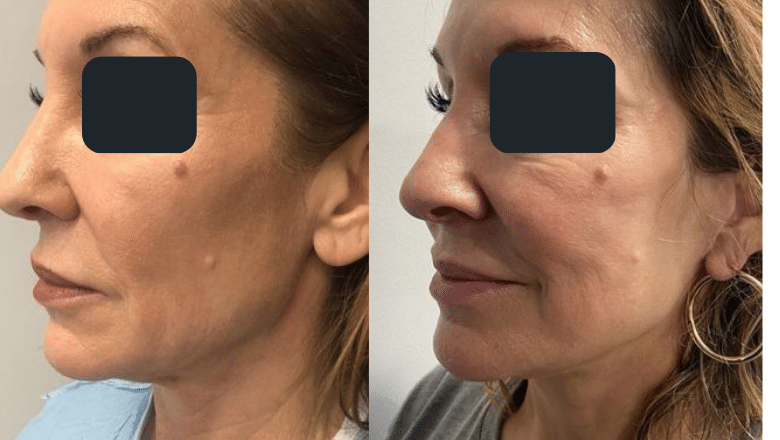 What are the benefits?
Healthy and supple skin contains an abundance of collagen and elastin which are the building blocks responsible for importing plumpness and elasticity. With the ageing process, we naturally produce diminished amounts of collagen which results in the development of loose skin and this is linked with skin wrinkling and sagging. The chin and jawline are particularly susceptible to the effects of ageing and sagging skin in this area is commonly referred to as jowls. Fine lines are some of the early signs of ageing and  eventually become deeper and may become wrinkles. The nose to mouth lines also known as the nasolabial folds run from the sides of the nose downwards and whilst initially only seen when laughing or smiling, they eventually become visible at rest.
All of these ageing features can be effectively treated with a mini facelift performed at the right time. People who have had a mini facelift with us often remark on how boosted their self-confidence is with their new refreshed and useful facial appearance. Some people can develop low mood and even depression from how aged they appear and lower facelift surgery can really help to improve mental well-being. Compared with a traditional facelift, a mini facelift is a quicker procedure to perform with less downtime, risks and scars.
It is well known that the ageing process can be accelerated by a number of lifestyle factors and these include excessive sunlight exposure, high levels of stress, poor sleep hygiene and people who smoke. Although having a mini facelift can help to address many aspects of facial ageing, it is important to bear in mind that the results of the surgery could be diminished by not modifying the factors above. Getting the best mini facelift results means adopting sensible lifestyle habits including getting more sleep, stopping smoking and avoiding too much sun exposure. If you are out and about in the sun, it is important to wear a minimum of SPF 30 sunscreen and wear protective clothing where possible. Adopting these measures will also have a positive impact on your overall health.
Mini facelift vs traditional facelift (Rhytidectomy)
A mini facelift differs from a full facelift in a number of key respects. A traditional facelift is designed to treat deeper wrinkles and skin folds affecting a broader area of the face. The procedure, therefore, needs longer incisions to remove sufficient amounts of sagging skin. One of the key differences is where the incisions are located for each type of procedure and how prominent they appear. With a mini lift, the incisions are positioned behind the ear and extend into the hairline which is barely visible once healed. In the traditional facelift, the surgeon makes incisions both behind the air and in front of it with the incision often extending into the scalp area. A full facelift is much more invasive compared with a lower facelift. A lower facelift can be effectively combined with other facial rejuvenation treatments in the same procedure for a more overall improvement in the usefulness of the face. Many people may be increasingly prone to prominent scarring and a mini facelift may be considered a better alternative to a full facelift due to the smaller length and concealed location of the incisions.
Mini facelift surgery is most commonly recommended for women and men in their 40s and above as it is particularly effective to treat many of the early signs of ageing including jowls and sagging skin. Traditional facelift surgery is better suited for patients aged in their mid-50s and over as this is often the time when initial fine lines have now become deeper wrinkles and may be present even when the face is in a resting state of expression. A full facelift is also more effective for people who have significant laxity of the neck and the procedure is often combined with a neck lift. Those who lose dramatic amounts of weight from successful dieting and exercise often develop loose and sagging skin in the face and neck area and a full facelift is a more suitable option for these types of patients for better correction of the signs of ageing.
A standard full facelift can often take well over five hours to carry out with patients often requiring 2 to 3 nights of an inpatient stay in the hospital. Some types of facelifts may take even longer, particularly the deep plane facelift. A mini facelift takes up to 2.5 hours to carry out and patients often feel much more comfortable after the procedure with a quicker healing time.
Unlike traditional facelift surgery which is routinely carried out under a general anaesthetic, mini facelift surgery can in many cases be performed under local anaesthetic and this can be supplemented with sedation if required as an outpatient procedure. This means the patient can recover at home later the same day. After this type of surgery, the majority of patients are able to recommence their everyday activities after one week. Full facelift surgery much longer recovery period with many patients requiring at least two weeks and up to 4 weeks to recover from the procedure. Traditional facelift surgery involves a much greater degree of bruising and swelling and this can last for a minimum of two weeks before beginning to improve. Any bruising and swelling after a mini facelift improves much faster with most patience reporting a full resolution of the side effects by one week. At Centre for Surgery, our surgeons are experts in all facelift techniques.
The S Facelift or 'S-lift'
This is a type of facelift which involves incisions that resemble an S shape which starts in the hairline and extends to the back of the ear. Once the initial incision has been performed, the facelift surgeon delicately separates the skin from the underlying tissues followed by the removal of excess skin and fat to optimise facial definition in the lower portion of the face.
SMAS Facelift
SMAS stands for superficial musculoaponeurotic system and is the fibromuscular layer of tissue beneath the skin which is surgically altered to tighten the neck and jawline for effective rejuvenation of the lower and middle part of the face. SMAS facelifts are ideal for getting rid of saggy skin, excess fat and prominent jowls affecting the jawline. The cheeks can also be enhanced as part of a cheek lift or mid-facelift which is often combined with a SMAS facelift.
Deep plane facelift
A deep clean facelift also known as a subperiosteal facelift is one of the traditional techniques of facelift surgery designed to produce long-lasting results. The area of dissection is in the deeper layers of the face located between the underlying muscles and fat. The deeper soft tissues can be surgically manipulated to tighten the neck, enhance the volume of the cheeks and result in a more defined jawline and overall rejuvenated appearance.
All three of these facelift techniques focus on improving signs of facial ageing affecting the lower half of the face and are commonly combined with other complementary facial procedures for overall facial rejuvenation. Some of the most popular combinations include a brow lift for raising the outer third of the brow and enhancing the eye region. Eyelid surgery or blepharoplasty is an effective procedure to get rid of hooded eyelids and eyebags under the eyes. Drooping eyelids can be addressed with an eyelid lift.
The results of a mini facelift can be enhanced with non-surgical treatments including anti-wrinkle injections to treat the upper part of the face and dermal fillers to add volume to parts of the face where it has been lost due to the ageing process.
Am I suitable?
A mini facelift is an ideal treatment for women and men aged over 40 who are unhappy with the obvious signs of ageing and loose skin located in the lower part of the face and neck and would like to have a treatment which is less invasive and carries fewer risks than a traditional facelift.
Surgeons at Centre for Surgery generally consider the following criteria when selecting patients for a mini lift procedure in London:
Over the age of 40
Are in good physical and mental health with no chronic uncontrolled medical conditions
Have obvious signs of ageing in the lower part of the face
Have realistic expectations of what can be achieved with a lower facelift
Prefer to have a less invasive procedure with less downtime compared with a full facelift
How much does a mini facelift cost?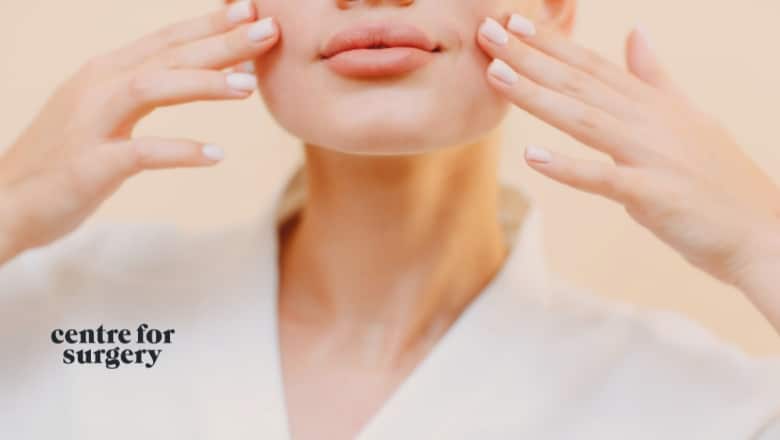 Mini facelift prices start from £5995 and is one of the most competitive prices in London. There are a number of factors which will determine the overall cost of your mini facelift procedure and the final quotation will be given after your face-to-face consultation with your specialist plastic surgeon.
Mini facelift alone or combined with facial fat grafting or another procedure such as eyelid surgery
Primary or revision mini facelift
Why not call 0207 993 4849 and speak to one of our expert patient coordinators who may be able to give you a rough cost for a mini facelift if you wish to combine it with other procedures.
Always remember that mini facelift price should never be the determining factor when it comes to choosing the best clinic for mini facelift surgery. We feel that safety and quality of service should be your number one priority and instil in you the confidence that our team will look after you before, during and after your procedure to the best of their ability.
Spread the cost of your mini facelift procedure – from as little as £95 per month

Centre for Surgery is fully approved to offer finance including 0% finance via our specialist finance partner, Chrysalis Finance. You no longer need to use your savings to pay for your treatment – you can apply to spread the cost of your procedure with Chrysalis Finance using their simple 1,2,3 application to pay for your procedure. Don't wait until you have enough money for your treatment, apply today and (subject to status) pay for your procedure easily in monthly instalments, using one of their payment options. Chrysalis Finance is the only ethical provider that focuses solely on the provision of specialist financing for medical procedures.
What is included in my treatment package?
As many preoperative consultations with your surgeon as you like to make sure the procedure is right for you
Treatment at our state-of-the-art Baker Street clinic in Marylebone central London.
Enhanced same-day discharge with the added benefits of recovering in your own home
24/7 clinical support from your surgeon for the first 48 hours and our expert postoperative support team
Your own dedicated patient coordinator to act as a personal point of contact to guide you through your patient journey with us at Centre for Surgery
In-depth preoperative medical assessment to make sure you are fully fit for the rhinoplasty procedure
Exceptionally high standards of postoperative care described as 'outstanding' by the CQC with regular telephone and face-to-face checks by our expert postoperative support team
What does the procedure involve?
The mini facelift procedure involves making incisions which are well positioned in natural skin folds both behind the ears and in the hairline. The scarring from mini facelift surgery is minimal with most people being unable to see any visible scars as early as six weeks after the procedure. The areas of loose skin are then surgically removed by the surgeon before trimming any excess fat and finally surgically repositioning the tissues to tighten the face. The skin incision is then closed with dissolvable stitches followed by the application of a sterile dressing.
For many patients, a mini facelift has emerged as the most effective technique for rejuvenation of the lower part of the face and has replaced the standard traditional facelift for this purpose. The procedure carries fewer risks and complications, has less scarring, is minimally invasive and takes no more than 2.5 hours to perform in most cases. Natural-looking results are better achieved with a mini facelift. The standard facelift has a higher risk of resulting in a 'done look'. Advances in mini facelift surgery now allow the surgeon to address the deeper tissue layers of the face and not just the skin itself. Facelift techniques which focus on only tightening the skin are more likely to result in an artificial-looking result with the facelift incisions looking more obvious to others.
Unlike a standard facelift, the mini facelift is easily carried out under a local anaesthetic despite being a surgical procedure and takes no more than two hours to perform. All types of mini facelift surgery are outpatient based which means you'll be able to recover in the comfort of your own home later the same day and recommence your normal daily activities after the first week of recovery.
What are the potential risks and complications?
Lower facelift surgery is considered very safe when performed by an expert surgeon. There are several common side effects which you may experience after the procedure including:
Bruising and swelling
Temporary numbness
Minimal scarring which is barely visible
As with any type of surgical procedure, facelift surgery involves certain risks and complications which your surgeon will discuss at your consultation including:
Bleeding
Wound infection
Prominent scarring
Haematoma formation
Skin necrosis
Hairline distortion or localised hair loss near the incisions
RELATED: Is a facelift worth it?
FAQs
What are the benefits of a mini lift?

The advanced surgical techniques for carrying out mini-facelift surgery result in patients taking over 10 years off their age with natural-looking results. Compared with older facelift techniques a mini facelift works at a deeper level to reposition the underlying soft tissue compared with older techniques of only tightening the superficial skin.

The mini-lift procedure is performed as an outpatient at our surgical facility in central London. Both local anaesthetic and general anaesthetic can be used depending on individual preferences. The procedure takes no more than two hours to perform and the incisions are most commonly positioned at the back of the ear and extend into the hairline. Mini facelift surgery is often combined with other facial procedures including eyelid surgery, browlift or a neck lift depending on what you are trying to achieve.

Is a mini facelift worth it?

A mini facelift can produce considerable improvement in the lower part of the face with a quick procedure, minimal scarring and fewer risks compared with a standard facelift. It is applicable to more patience than more extensive facelift surgery with younger patients in their 40s being particularly suitable as they often have early signs of aging which are amenable to successful treatment with a mini lift. Having this procedure at the appropriate time means you will be less likely to need more extensive surgery further down the line. The results of the mini facelift can be enhanced with many nonsurgical treatments including peels, lasers and facial injectable treatments.

The traditional approach to treating the aging face was often based on recommending a full facelift for patients with extensive signs of aging rather than suggesting minimally invasive procedures earlier. Although the results of a full facelift can be impressive, they are often at the expense of significant risks, prolonged downtime and longer scars. Modern approaches to facial rejuvenation are tailored to patients who nowadays prefer more subtle improvements with minimally invasive techniques.

A mini facelift can be considered part of an overall treatment package to enhance your youthfulness and is particularly effective when combined with fat transfer to the face (lipofilling) to address volume loss that is commonly associated with the ageing process. Nonsurgical chemical peels and laser treatment can then be used as an annual treatment to prolong the results further.

Centre for Surgery has a full range of non-surgical and surgical facial rejuvenation treatments across both our sites in Marylebone. Get in touch with us today to arrange a consultation to determine the most appropriate treatment for you.

What can I expect after having a mini facelift procedure?

Once you have had a lower facelift, you will be required to attend for a postoperative check-up with one of our post-operative nursing team at one week. At this appointment, your dressings will be removed and the incision site will be inspected to make sure there are no signs of infection.

Your surgeon will see you six weeks after your procedure to review the results of your procedure and to make sure your recovery process is progressing as planned. Suggestions to improve the appearance of your mini facelift scars will be provided including silicone gel sheets. Throughout your mini facelift recovery, you will be able to get in touch with our post-operative nursing team at any time if you have any questions or concerns. We believe it is important to make you feel as well supported as possible during your recovery as this will contribute to achieving the very best results.
What To Expect
Consultation
We would recommend booking a consultation with an expert surgeon to discuss the benefits of a lower facelift. We would recommend using the consultation to discuss your needs and preferences and what you hope to achieve and your surgeon will be making your determination on your suitability for the procedure. The treatment options will be discussed with you and the surgeon will make their professional recommendation on the procedure which is most likely to achieve your goals. The surgeon will then carry out a physical examination including detailed facial analysis to map your anatomy in detail. Standardised clinical photos will then be taken from a number of angles. We would recommend patients bring a list of questions to the consultation and typical questions you may wish to ask include:

- Am I suitable?
- Are my expectations realistic?
- can I view before and after photos of similar patients?
- Is there anything I could do to get the best results?
- What is the recovery period like and will I be supported?
- What types of scars can I expect?
- Is a mini facelift painful?
- When can I go back to work after the procedure?

Once the most appropriate surgical option has been decided, the potential risks and complications will be discussed including how to manage them if they were to occur. You will also be advised on what the post-operative recovery period involves. The surgeon will take a full medical history including any previous operations you may have had. What medication you are taking and whether you have any allergies will also be enquired. This information will be used to determine your fitness for the procedure.

If you are deemed to be an ideal patient for surgery we would then recommend you reflect on all aspects of the procedure for a period of two weeks after your consultation and this is known as the two-week cooling-off period. We invite you to come back in and see the surgeon as many times as you like if you have any questions or concerns about the mini facelift procedure.
Before your surgery
Once you have decided to move forward with mini facelift surgery, our preoperative nursing team will send you the procedure information pack which will include the following items which must be adhered to minimise the risk of complications:

- We would recommend you stop smoking at least six weeks before the procedure as people who smoke have a higher risk of wound complications and wound infection.
- You should avoid any medications which contain aspirin as these increase the risk of bleeding during or after the procedure
- Preoperative fasting requirements mandate you must stop eating six hours prior to surgery and you may have small sips of clear fluids up to 2 hours before your admission time. Clear fluids include still water, black tea and black coffee.
Surgery day
Please arrive for your procedure at the allocated time to ensure a smooth admission process. One of our admission nurses will get you changed into clinic clothing and measure your vital signs including your blood pressure.

You will then be seen by your anaesthetist who will review your medical history and finally your surgeon will see you and mark the areas for the procedure.

A mini facelift is an advanced facelift technique with less tissue disruption which means a quicker procedure lasting no more than two hours. There are several variants of a mini facelift, and your surgeon will select the correct technique customised to your anatomy. In some cases, the mini facelift may be combined with facial fat grafting for volume enhancement.

The procedure involves incisions being made behind the ear followed by surgical alteration of the underlying deeper tissues to reposition them to a level which tightens the lower face. Once any loose skin has been removed, the surgeon will close the incisions with dissolvable stitches followed by the application of a sterile dressing.
After the surgery
Once the procedure is complete, you will be transferred to our recovery suite where you will be resting whilst the effects of the anaesthetic wear off. Once you have commenced eating and drinking and been to the toilet, our discharge nurses will discuss the post-operative instructions with your adult carer and you will be allowed to go home with your adult escort who must look after you for the first 24 hours after surgery.

It is normal to have mild discomfort in the early postoperative period but this will settle down very quickly and any pain can be well controlled with over-the-counter painkillers. Mini lift recovery is generally rapid with any bruising and swelling subsiding over a few days. Most patients can return to normal activities after one week. We would recommend taking one week off work and more if you have a strenuous work occupation. You should avoid direct sunlight exposure for at least four weeks as this can result in excessive scarring. Avoid lifting heavy items and take it easy for the first couple of weeks after surgery and try not to allow knock your face.

You will be reviewed by one of our post-operative nurses at one week after your procedure to review the incision site and expert advice on optimising the appearance of your scars will be given over the first six weeks. Mini facelift results are generally visible after six weeks have passed. Further improvements in the results can be seen over the next three months. You will be reviewed by your surgeon at our Baker Street clinic six weeks after your procedure.