Breast surgery encompasses several different procedures designed to enhance or reduce breast volume, which may be combined with the reshaping of the breast with breast uplift. The breast size can be increased with breast implants or fat transfer. Women can achieve improved size, shape and firmness of the breasts to achieve an enhanced body silhouette. Some patients may be distressed by having breasts that are too large or heavy, and breast reduction surgery is one of the most successful breast surgery procedures to achieve smaller and lighter breasts. Droopy or saggy breasts that have occurred after pregnancy and breastfeeding can be reshaped to achieve a more lifted and perkier appearance with breast lift surgery.
RELATED: How To Treat Sagging Breasts After Breastfeeding
Here at Centre for Surgery, our specialist breast surgeons have years of experience treating women unhappy with the appearance of their breasts with state-of-the-art breast surgery techniques. Each patient is thoroughly assessed before the formulation of a detailed treatment plan that is customised to them. We have access to the full range of breast imaging technologies for accurate treatment planning. One of the fundamental decisions patients need to consider is the optimum size of breast implants for breast augmentation surgery. Our surgeons can offer their advice based on years of expertise in carrying out all types of breast enlargement surgery in London. Whatever your needs and preferences, we are here to make your breast surgery experience as stress-free and satisfying as possible.
We carry out hundreds of cosmetic breast surgery procedures at our Baker Street clinic in London. Whether you are interested in breast augmentation, breast lift or breast reduction surgery, we are considered one of the premier plastic surgery clinics in the UK with a commitment to providing the highest standards of medical care before, during and after your procedure.
What is breast surgery?
Breast surgery encompasses a range of cosmetic surgery procedures designed to enhance the appearance of the breasts or correct breast deformities such as breast asymmetry or tuberous breasts. Although our surgeons regularly perform breast reconstruction surgery in the NHS, this is not something we currently offer at Centre for Surgery. Your surgeon will help you to determine the best choice of breast procedure for you based on your needs and desires and a comprehensive physical examination.
Types of cosmetic breast surgery procedures
What are the benefits of breast surgery?
When carried out by a specialist breast surgeon, cosmetic breast surgery can provide numerous benefits, including:
Improved breast shape that is in better balance with your body
Improved posture
Boost in self-confidence
Improvement in emotional well-being
Alleviation of back pain caused by heavy breasts
Eliminate skin irritation and infection caused by large breasts
Better choice of clothing options
Ability to participate in a greater range of activities, including sports without pain and discomfort
Most popular breast surgery procedures in the UK
The following cosmetic breast procedures are most commonly performed by plastic surgeons in the UK:
Am I suitable for breast surgery?
At your consultation, your surgeon will assess your suitability for breast surgery based on several factors, including your overall state of health, the size and shape of your breasts, whether you smoke, lifestyle factors such as how active you are and your overall needs and desires. You will be determined to be appropriate for breast surgery if you fulfil the criteria below:
You are in a good state of physical and mental health
You do not have any chronic medical conditions
You have developed breast sagging or drooping due to pregnancy, breastfeeding, massive white loss or ageing.
You require corrective breast surgery to treat complications from previous breast surgery.
You have flat or inverted nipples.
You have excessively large breasts that are causing neck, back or shoulder pain and may be associated with skin irritation and infection.
You would like to replace your old breast implants
You have realistic expectations of what the procedure involves and the results you would like to achieve.
You have little or no breast tissue causing a flat-chested appearance
Can I have breast augmentation and a breast lift at the same time?
Yes, it is possible to have breast augmentation and a breast lift performed at the same time. This combination procedure is called a "breast augmentation-mastopexy", and it's designed to enhance the size, shape, and position of the breasts.
During the procedure, the surgeon will make incisions to insert breast implants, remove excess skin, and lift breast tissue. The surgeon will also reshape the breast tissue to create a more youthful and attractive breast shape.
Combining a breast lift with breast augmentation can be a good option for women who have sagging breasts and want to increase their size. It can also be a good option for women who have lost breast volume and elasticity due to pregnancy, breastfeeding, weight loss, or ageing.
It is important to have realistic expectations about the outcome of the surgery and to choose a certified plastic surgeon who has experience performing this procedure. It's also important to have a thorough consultation with the surgeon to discuss the goals, risks and benefits of the procedure. Recovery time for this procedure can be longer than a breast augmentation or breast lift alone, and the recovery time can vary depending on the individual's healing process.
How is Breast Surgery Done?
Breast surgery is a medical procedure that is conducted under general anaesthesia, and its duration depends on the complexity of the case and the chosen surgical approach, which can last anywhere from one to three hours. Typically, incisions for breast surgery are strategically placed to remain inconspicuous, often hidden in natural skin folds or camouflaged by variations in skin tone. One of the most commonly used incisions is the inframammary incision, which is frequently utilised for breast augmentation with implants, as well as other types of breast procedures. This type of incision is made along the crease located underneath the breast where it meets the chest wall.
Recovery after breast surgery
The time taken to recover after breast surgery will differ between patients depending on the type and extent of the procedure undertaken. Some procedures, such as breast augmentation with implants, involve a shorter downtime than breast reduction surgery for very large breasts. Other factors affecting breast surgery recovery include your overall health, whether you smoke or how closely you follow your surgeon's postoperative instructions. After breast surgery, it is common to experience localised bruising, swelling, tenderness and mild discomfort. It would be best to take your painkillers as directed by your surgeon to minimise postoperative discomfort. You should also wear your recommended breast compression garment to support the breasts in their new position after surgery. You should avoid any vigourous exercise, including going to the gym for the first six weeks after surgery, to minimise the risk of wound healing complications.
RELATED: Top Tips for Jogging or Running after Breast Surgery
Breast Surgery Costs London – How much does breast surgery cost in London UK? Prices & Fees
Costs and prices of breast surgery will be determined by the type and extent of surgery undertaken and where you choose to have the procedure. Breast surgery costs include surgeon fees, hospital fees and anaesthetic fees. Preoperative and postoperative after-care is included in the price of your breast procedure. You can obtain an approximate price for your procedure by calling us today on 020 7993 4849 and speaking to one of our friendly and knowledgeable patient coordinators.
RELATED: How much does breast reduction cost?
How to finance breast surgery
Centre for Surgery offers a wide range of finance options in conjunction with Chrysalis Finance, the leading provider of medical finance in the UK. Eligibility for finance can be determined with a quick five-minute telephone-based assessment. Call us today and speak to one of our patient coordinators to find out about the options available to find the cost of your breast surgery procedure.
RELATED: Finance Options
Which celebrities have had breast surgery?
Many high-profile celebrities have either confirmed they have had breast surgery or are believed to have done so, including:
Pamela Anderson
Kourtney Kardashian
Kelly Rowland
Yolanda Hadid
Drew Barrymore
Breast surgery FAQs
Can you have breast implants if you have droopy or sagging breasts?
This will be determined by the amount of breast sagging or drooping you have. Women with severe breast sagging may require a breast lift to correct droopy breasts for a more youthful and perky look. Breast implants alone may be suitable for women who have mild degrees of breast drooping. The best treatment options will be discussed at your consultation once your surgeon has performed a physical examination to assess the size and shape of your breasts.
RELATED: Can pregnancy affect my breast implants?
How long should you wait after pregnancy before getting breast implants?
It is recommended to wait until your body has fully recovered from pregnancy and childbirth before getting breast implants. The specific time frame can vary from person to person, but generally, it's best to wait at least six months to a year after giving birth before undergoing breast augmentation surgery.
During pregnancy, breasts undergo significant changes, including enlargement, engorgement, and changes in skin elasticity. Waiting for these changes to settle down can ensure that the final result of your breast augmentation surgery is satisfactory and long-lasting. Additionally, waiting for a few months after pregnancy can also help your body to recover fully, reducing the risk of complications such as bleeding, infection, and other adverse outcomes.
How long should pregnancy be delayed after having breast implants?
We would recommend avoiding getting pregnant for a minimum of six months after surgery to allow your breasts to reach the final size and shape.
RELATED: How much does a boob job cost?
Does breast surgery increase the risk of breast cancer developing?
Breast surgery, in general, does not increase the risk of breast cancer developing. However, like any surgical procedure, there are risks involved, such as bleeding, infection, and adverse reactions to anaesthesia.
Breast augmentation surgery, which involves placing implants into the breast tissue, does not seem to increase the risk of breast cancer. However, it is important to note that having breast implants can make it more challenging to detect breast cancer during mammography, and additional imaging tests, such as an MRI, may be needed to detect breast cancer accurately.
In some cases, breast reduction surgery can decrease the risk of breast cancer, as it reduces the amount of breast tissue that is present. Women with a genetic predisposition to breast cancer may choose to have a prophylactic mastectomy, which involves the removal of both breasts to reduce their risk of developing breast cancer. However, this decision should only be made after careful consideration and consultation with a medical professional.
Breast surgery at Centre for Surgery
Any type of cosmetic surgery, including breast surgery, can truly transform patients' lives. Although there are many reputable plastic surgeons in London, we would recommend spending time researching your choice of surgeon and clinic to make sure you get the best results with minimal risk of complications. We recommend asking plenty of questions at your consultation to help you make an informed decision. An experienced surgeon can give you a range of breast implant options. We would recommend avoiding cosmetic surgeons who may not possess the same level of skills and training as specialist plastic surgeons.
Centre for Surgery is considered the leading plastic surgery clinic in London and is home to some of the most experienced consultant breast surgeons in the UK. Call us today on 020 7993 4849 or complete the contact form below the schedule a face-to-face consultation at our state-of-the-art Baker Street clinic in Marylebone, central London.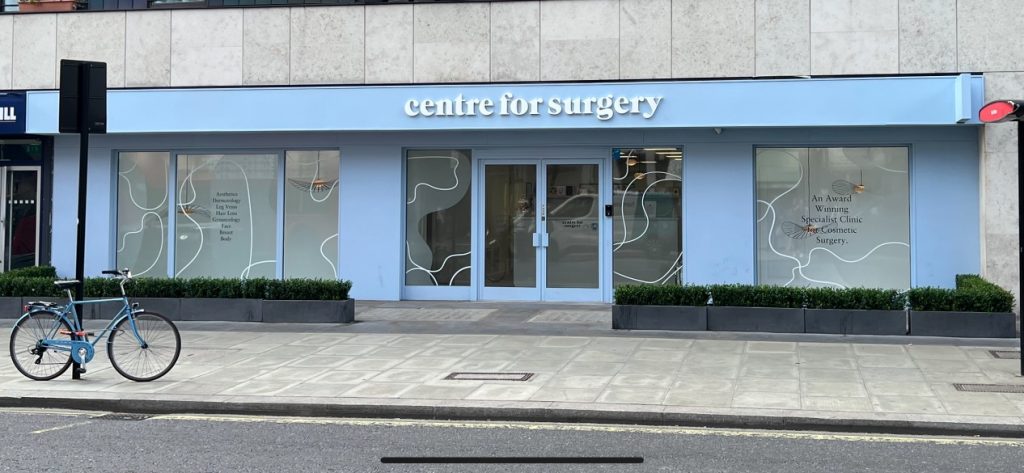 Amazing from start to finish, the communication was the main thing was fully informed and looked after, on the day of my breast augmentation, the staff were fab and made me feel at ease through out the whole process. Thank you so much.
Mohammed Farid
18/11/2021
I've had such a great experience with excellent advice, care and attention and surgical treatment (gynaecomastia) - I can fully endorse the treatment I have received from Centre for Surgery with absolutely no qualms at all. Brilliant in every way - thank you all so much.
Caroline Thorpe
14/11/2021
Very pleased with my whole experience of having a procedure. Was so nervous about getting treatment and i was reassured and felt so comfortable throughout thanks to the amazing nurses. I definitely made the right decision to have breast augmentation at centre for surgery with dr erel.
Melissa Briggs
08/11/2021
So glad I went with centre for surgery, the whole process went very smoothly from the consultations down to the actual day of the procedure. I was so nervous on the day but the whole team put me at ease and I'm happy with my results as I feel a lot more comfortable wearing certain clothes now. My surgeon was Alberto Di Giuseppe who performed a breast Augmentation on me, and I would definitely recommend as he was very clear on what the outcome of the surgery would be and which size would look the best for my frame.
Couldn't be happier with Dr Tillo work,i had my breast surgery one week ago and so happy with the results so far,all the staff are extremely nice and very supportive,i would definitely recommend their services,thank so much
From start to the finish everything was perfect for tummy tuck surgery. All staff is very friendly and the aftercare has been good. The Doctor and the nurse team was fantastic. I'm so happy...result is amazing. Thank you!!!
This was overall a great experience, all the staff at Centre for Surgery were friendly and put me at ease. It is a nerve wracking thing to go through an op but the staff were so nice. Mr Ertan has got a great team around him. On the day of the operation everything went smoothly to plan, there was no delay or holdups, I had another consultation with Mr Ertan who confirmed what was going to be done and that I was still happy to proceed. I was prepped for the procedure, I met with the anaesthetist who again was really nice and put me at ease explaining his role. After the procedure I woke up with the nurse by my side making sure I was OK and checking on me, I was able to stay in the clinic until I was ready to leave and was not rushed at all. I was well looked after from the start to the point when I was discharged. Post operation I was staying at a local hotel it was so close there was no point in even getting a taxi and I was able to walk back where my partner was waiting for me. I was expecting a lot of bruising to both my eyes but there was very little if any by the time the cast came off after 7 days, I am now at the two week post operation point and it is healing well with no outwardly visible bruising or scaring. The next milestone is a checkup at the 6 week point with my surgeon. If you're thinking of having something like this done I would highly recommend getting in touch with Centre for Surgery.
The staff at Centre for Surgery were very kind and accommodating. They answered any questions I had about the procedure and were constantly checking up on me. A special thank you to Christina for all her support throughout.
I would just like to state the quality of care received from the nurses at Centre for Surgery was beyond the highest level. Sophie takes her patient care to another level beyond words. She always puts me at ease. She is there for me even at awkward hours just when I mostly needed reassurance and she is one of the most compassionate nurses I have come across and demonstrates her passion naturally for caring for others. She totally deserves recognition at its finest and thank you for always being there for me. 😍
Add some sections on the edit area of this page