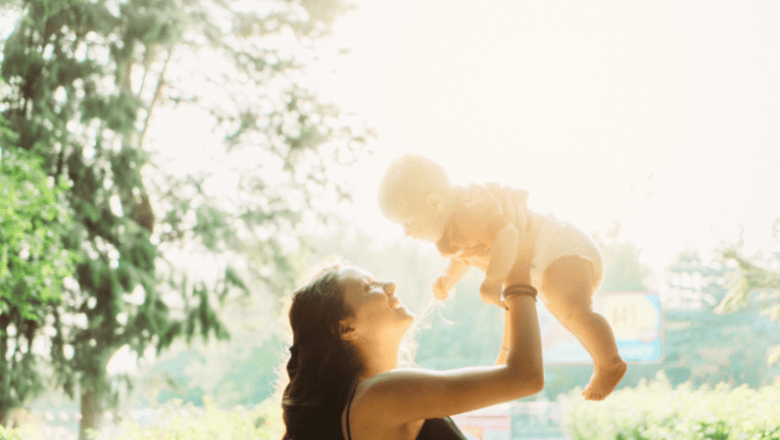 If you have been considering breast implant surgery in the UK, it is likely you will have been researching the procedure in considerable depth and may have several questions about the procedure and the potential results that can be achieved. Here we present the key information about breast implants and whether they can be affected by pregnancy.
Breast implants are safe for pregnancy and breastfeeding
It is important to emphasise that breast implants are completely safe during pregnancy and childbirth and will not affect your unborn child. Breast implants do not affect the safety of breastfeeding. In a small number of cases, breastfeeding can be challenging in those who have breast implants, and this is more likely if the periareolar incision is chosen to place the breast implants.
RELATED: Breast implant placements: over or under the muscle?
The vast majority of surgeons in the UK use the inframammary approach for breast implants which is located in the lower breast crease. This incision does not affect the milk ducts located around the nipple and will, therefore, not affect the future breastfeeding ability. Positioning the breast implant behind the pectoralis muscle further increases the chance of successful breastfeeding.
Breast implants are not affected by pregnancy
Pregnancy can have significant effects on a woman's body. Significant weight gain is associated with the formation of stretchmarks on the abdomen as the uterus expands to accommodate the enlarging fetus. After childbirth, women may not return back to their pre-pregnancy shape even with weight loss. Stretchmarks that developed during pregnancy may remain along with any loose or sagging skin affecting the abdomen and other areas. However, none of these changes will affect the breast implants themselves. Women can be reassured by knowing they can get pregnant and breastfeed perfectly well without affecting their breast implants.
Will I notice changes in my breasts after pregnancy?
For women who had breast implant surgery before pregnancy, it is highly likely they may notice changes in the appearance of their breasts after childbirth. Although the volume of the breast itself may not change, the breast may lose its perky appearance and may appear saggy or droopy. This is because the breast tissue is often largest during pregnancy, and as breastfeeding stops, the breast then returns to the normal pre-pregnancy size. Skin that has been stretched out by pregnancy and breastfeeding does not return to its normal level of elasticity in most cases. You may not require breast implant replacement, but many women may be interested in having a breast lift to restore a youthful appearance to sagging or drooping breasts.
RELATED: How soon can I have a mummy makeover after pregnancy?
Will I need a breast lift?
The following clinical features may lead women to have a breast lift after pregnancy:
Downward pointing nipples – this is caused by stretching of the skin affecting the bottom portion of the breast.
Nipples and areolas that are located below the level of the inferior breast crease
Sagging or drooping breasts
What is a breast lift?
Breast lift surgery, also known as mastopexy, is ideal for women who have developed a significant change in the shape of their breasts after pregnancy and breastfeeding despite having breast implants. A Breast lift is performed under general anaesthesia at our Baker Street clinic in London. The exact type of breast lift technique used to reshape your breasts will be determined once you have had a clinical examination. The common principle behind any breast lift involves removing excess breast skin and repositioning the internal breast tissue. The size and shape of the breasts, areola size, skin elasticity and degree of drooping will determine the extent of surgical correction required.
RELATED: Breast Lift (Mastopexy) Before and After Photos
A breast lift is a day-case procedure which means you'll be able to go home later the same day once you have recovered from the anaesthetic effects. The Surgeon will begin by making incisions around the areola extending downwards and across the breast, then removing excess breast skin. The nipples and areolas will be surgically repositioned to sit higher up on the breast. If the areolas appear significantly enlarged due to pregnancy, they can be reduced in size with an areola reduction. The skin incisions are then brought together, helping to improve the shape of the breast and achieve a perkier shape. Excess skin is removed, and as the incisions are closed, the skin will be tightened. Deep stitches may be placed in the breast tissue to maintain the results of surgery for the long term. Breast lift scarring is usually minimal, although women may notice a degree of scarring affecting the upper part of their breasts. The nipple and areolas are not detached from the surrounding breast tissue, which should not affect nipple sensitivity. Some patients may require a full breast lift involving a vertical incision from the areola to the lower breast crease and a horizontal incision across the lower part of the breast. This is known as an anchor shape breast lift and is recommended for women who have lost significant weight.
RELATED: What is the best breast lift?
Breast augmentation at Centre for Surgery
Centre for Surgery is the leading cosmetic surgery clinic in London. Our surgeons have many years of experience performing breast augmentation with implants. Our state-of-the-art Baker Street clinic in Marylebone is conveniently located in the heart of London and is easily accessible via all the major public transport networks. Call us today to schedule an in-person consultation with an expert consultant plastic surgeon and start your patient journey today.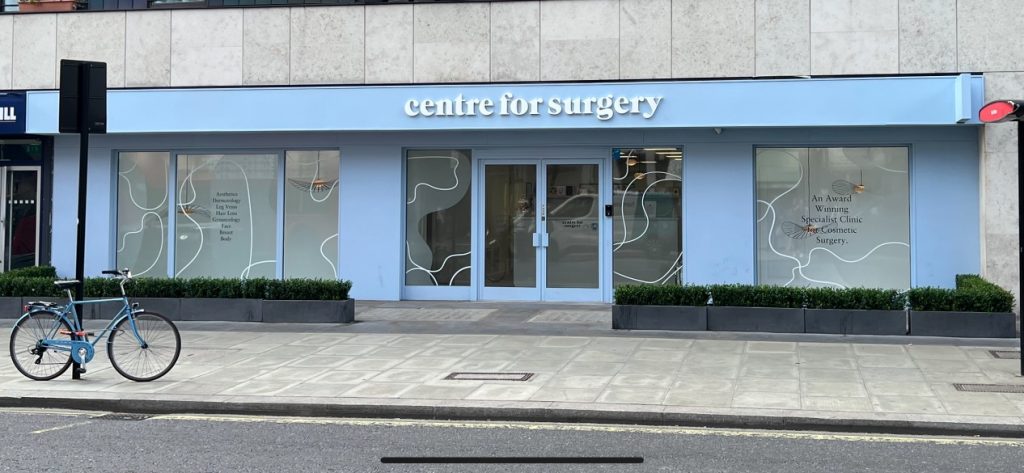 Amazing from start to finish, the communication was the main thing was fully informed and looked after, on the day of my breast augmentation, the staff were fab and made me feel at ease through out the whole process. Thank you so much.
Mohammed Farid
18/11/2021
I've had such a great experience with excellent advice, care and attention and surgical treatment (gynaecomastia) - I can fully endorse the treatment I have received from Centre for Surgery with absolutely no qualms at all. Brilliant in every way - thank you all so much.
Caroline Thorpe
14/11/2021
Very pleased with my whole experience of having a procedure. Was so nervous about getting treatment and i was reassured and felt so comfortable throughout thanks to the amazing nurses. I definitely made the right decision to have breast augmentation at centre for surgery with dr erel.
Melissa Briggs
08/11/2021
So glad I went with centre for surgery, the whole process went very smoothly from the consultations down to the actual day of the procedure. I was so nervous on the day but the whole team put me at ease and I'm happy with my results as I feel a lot more comfortable wearing certain clothes now. My surgeon was Alberto Di Giuseppe who performed a breast Augmentation on me, and I would definitely recommend as he was very clear on what the outcome of the surgery would be and which size would look the best for my frame.
Couldn't be happier with Dr Tillo work,i had my breast surgery one week ago and so happy with the results so far,all the staff are extremely nice and very supportive,i would definitely recommend their services,thank so much
From start to the finish everything was perfect for tummy tuck surgery. All staff is very friendly and the aftercare has been good. The Doctor and the nurse team was fantastic. I'm so happy...result is amazing. Thank you!!!
This was overall a great experience, all the staff at Centre for Surgery were friendly and put me at ease. It is a nerve wracking thing to go through an op but the staff were so nice. Mr Ertan has got a great team around him. On the day of the operation everything went smoothly to plan, there was no delay or holdups, I had another consultation with Mr Ertan who confirmed what was going to be done and that I was still happy to proceed. I was prepped for the procedure, I met with the anaesthetist who again was really nice and put me at ease explaining his role. After the procedure I woke up with the nurse by my side making sure I was OK and checking on me, I was able to stay in the clinic until I was ready to leave and was not rushed at all. I was well looked after from the start to the point when I was discharged. Post operation I was staying at a local hotel it was so close there was no point in even getting a taxi and I was able to walk back where my partner was waiting for me. I was expecting a lot of bruising to both my eyes but there was very little if any by the time the cast came off after 7 days, I am now at the two week post operation point and it is healing well with no outwardly visible bruising or scaring. The next milestone is a checkup at the 6 week point with my surgeon. If you're thinking of having something like this done I would highly recommend getting in touch with Centre for Surgery.
The staff at Centre for Surgery were very kind and accommodating. They answered any questions I had about the procedure and were constantly checking up on me. A special thank you to Christina for all her support throughout.
I would just like to state the quality of care received from the nurses at Centre for Surgery was beyond the highest level. Sophie takes her patient care to another level beyond words. She always puts me at ease. She is there for me even at awkward hours just when I mostly needed reassurance and she is one of the most compassionate nurses I have come across and demonstrates her passion naturally for caring for others. She totally deserves recognition at its finest and thank you for always being there for me. 😍