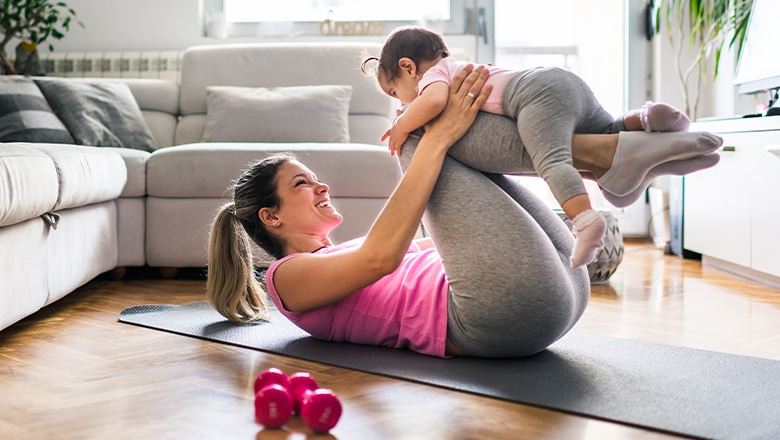 A mummy makeover is a combination of procedures that is commonly carried out for women to boost self-confidence after pregnancy and childbirth. This often leads many women to ask us how soon they can get a mummy makeover after having a baby. Here we discuss the optimum timing to consider having mummy makeover surgery to restore your pre-pregnancy body shape. We think it's useful to first define what a mummy makeover actually is.
RELATED: Is a mummy makeover worth it?
What is a mummy makeover?
The most important aspect of mummy makeovers is that every mummy makeover procedure is customised to every woman and no two procedures are the same. A mummy makeover is the most commonly a combination of different cosmetic surgery procedures, which are all designed to help a woman achieve a more youthful and perkier-looking body to help reverse some of the pregnancy-related effects on a woman's body. Some women choose to have a mummy makeover to help achieve that dream physique they have always wanted and have never had, even before pregnancy.
Mummy makeovers usually involve a combination of the following surgical procedures:
A mummy makeover procedure can vary significantly between women. Some women may prefer to have breast reduction surgery to reduce the size of large and heavy breasts as opposed to breast augmentation. The best mummy makeover results are achieved when the surgery is tailored to the individual patient.
When is the best time to get a mummy makeover after pregnancy?
Deciding on the best time for mummy makeover surgery will depend on several factors. You should first decide whether you would like to have further children or not. Although it may not be any riskier to have a cosmetic surgery procedure followed by a pregnancy later, the results of your procedure may be adversely affected if you become pregnant after having a mummy makeover. Pregnancy involves significant changes to a woman's body and will often expand in size during the later stages of pregnancy, and these effects could diminish the cosmetic improvements achieved with your initial cosmetic surgery procedure. We would therefore recommend completing your family before getting a mummy makeover.
RELATED: How much does a mummy makeover cost?
The next important tip is to have the procedure at the correct time. It is important not to have the procedure too early after having your baby. We generally recommend waiting at least six months from the birth of your last child before having mummy makeover surgery UK. Many women may want to wait at least 12 months before having a mummy makeover. The priority after childbirth is to get back to your optimal level of health and to be fully healed before having a mummy makeover procedure. The time taken for women to return to normal after pregnancy will vary significantly between women. The best way to determine your suitability for a mummy makeover is to have a consultation with an expert consultant plastic surgeon at Centre for Surgery in London.
When should I stop breastfeeding before mummy makeover?
Many women choose to breastfeed their babies for longer than six months after birth. Some women may continue to pump their breast milk to give their babies the benefits of breastmilk for longer. We would generally recommend that you wait at least six weeks after finishing breastfeeding before considering mummy makeover surgery. This advice may differ between women. We would recommend getting expert advice from your surgeon on when to start planning for a mummy makeover after breastfeeding. Many women choose to pump their milk fully or partially, although this can also affect your suitability for a mummy makeover. We would recommend booking a consultation for a mummy makeover once you have finished pumping breastmilk.
RELATED: All about Mummy Makeover
Mummy makeover after pregnancy
Women should also consider the age of their existing children. Mummy makeover recovery is often longer compared with other types of cosmetic surgery procedures. We would recommend organising childcare for at least three weeks after your procedure to give you ample time to recover. You will be advised against lifting heavy objects after the procedure, and this includes small children. If you have young children that require an extensive nighttime routine, having someone to help you with this during the recovery period will help you to minimise the risk of complications after a mummy makeover. It's important to take it easy during the early recovery face after a mummy makeover procedure, and this means avoiding any strenuous activity for at least six weeks. Having someone to help you get your children dressed and help with the school run will help to reduce the burden on you during the critical early phase of your mummy makeover recovery. As part of the preoperative preparation for a mummy makeover, having a partner, family member, or a friend organised to help you with household duties is an important step.
RELATED: How long is mummy makeover recovery?
How do pregnancy and childbirth affect a woman's body?
Women who have experienced pregnancy and childbirth will often tell you their body has changed significantly. Pregnancy causes significant changes in the physiology of a woman's body even before childbirth. The abdomen is the most commonly affected by stretching of the abdominal skin with the appearance of stretch marks. Skin elasticity varies between women, and some women may find their stomach does not return to its pre-pregnancy size after childbirth. The skin may become permanently loose and saggy after childbirth.
Some women may find their hair grows quicker than normal, which is then followed by hair loss after childbirth. Many women develop swelling of the ankles and feet, and although this is temporary in most cases, some women may notice a permanent enlargement in the size of their feet.
The breasts can be significantly affected by pregnancy and the early postpartum period. Breasts get bigger during pregnancy and will enlarge even further once mothers begin to breastfeed. After every breastfeeding session, the breasts often reduce in size, and the repeated stretching and relaxation of the skin leads to the development of sagging and droopy breasts.
What if I get pregnant after a mummy makeover?
Many women who have been planning to have a mummy makeover are often concerned about the chances that they may wish to have further children in future even though they believe they have completed their family for now. An unplanned pregnancy is another possibility after having a mummy makeover.
We would always recommend completing your family before considering having a mummy makeover. Having said that, there are no increased medical risks in getting pregnant after having a mummy makeover. Pregnancy after mummy makeover may affect the results of your initial procedure. The results of breast augmentation, liposuction or tummy tuck may be adversely affected.
Where is the best place for a mummy makeover near me?
Once you have finished having children and breastfeeding and are keen to restore your pre-pregnancy body and physique, get in touch with us today at Centre for Surgery to book a consultation for a mummy makeover. Our consultant plastic surgeons carry out over 50 mummy makeover procedures each year at our state-of-the-art Baker Street clinic in Marylebone. Centre for Surgery is the leading cosmetic surgery clinic in London, and we pride ourselves on providing the highest standards of medical care both before, during and after your mummy makeover procedure.
Amazing from start to finish, the communication was the main thing was fully informed and looked after, on the day of my breast augmentation, the staff were fab and made me feel at ease through out the whole process. Thank you so much.
Mohammed Farid
18/11/2021
I've had such a great experience with excellent advice, care and attention and surgical treatment (gynaecomastia) - I can fully endorse the treatment I have received from Centre for Surgery with absolutely no qualms at all. Brilliant in every way - thank you all so much.
Caroline Thorpe
14/11/2021
Very pleased with my whole experience of having a procedure. Was so nervous about getting treatment and i was reassured and felt so comfortable throughout thanks to the amazing nurses. I definitely made the right decision to have breast augmentation at centre for surgery with dr erel.
Melissa Briggs
08/11/2021
So glad I went with centre for surgery, the whole process went very smoothly from the consultations down to the actual day of the procedure. I was so nervous on the day but the whole team put me at ease and I'm happy with my results as I feel a lot more comfortable wearing certain clothes now. My surgeon was Alberto Di Giuseppe who performed a breast Augmentation on me, and I would definitely recommend as he was very clear on what the outcome of the surgery would be and which size would look the best for my frame.
Couldn't be happier with Dr Tillo work,i had my breast surgery one week ago and so happy with the results so far,all the staff are extremely nice and very supportive,i would definitely recommend their services,thank so much
From start to the finish everything was perfect for tummy tuck surgery. All staff is very friendly and the aftercare has been good. The Doctor and the nurse team was fantastic. I'm so happy...result is amazing. Thank you!!!
This was overall a great experience, all the staff at Centre for Surgery were friendly and put me at ease. It is a nerve wracking thing to go through an op but the staff were so nice. Mr Ertan has got a great team around him. On the day of the operation everything went smoothly to plan, there was no delay or holdups, I had another consultation with Mr Ertan who confirmed what was going to be done and that I was still happy to proceed. I was prepped for the procedure, I met with the anaesthetist who again was really nice and put me at ease explaining his role. After the procedure I woke up with the nurse by my side making sure I was OK and checking on me, I was able to stay in the clinic until I was ready to leave and was not rushed at all. I was well looked after from the start to the point when I was discharged. Post operation I was staying at a local hotel it was so close there was no point in even getting a taxi and I was able to walk back where my partner was waiting for me. I was expecting a lot of bruising to both my eyes but there was very little if any by the time the cast came off after 7 days, I am now at the two week post operation point and it is healing well with no outwardly visible bruising or scaring. The next milestone is a checkup at the 6 week point with my surgeon. If you're thinking of having something like this done I would highly recommend getting in touch with Centre for Surgery.
The staff at Centre for Surgery were very kind and accommodating. They answered any questions I had about the procedure and were constantly checking up on me. A special thank you to Christina for all her support throughout.
I would just like to state the quality of care received from the nurses at Centre for Surgery was beyond the highest level. Sophie takes her patient care to another level beyond words. She always puts me at ease. She is there for me even at awkward hours just when I mostly needed reassurance and she is one of the most compassionate nurses I have come across and demonstrates her passion naturally for caring for others. She totally deserves recognition at its finest and thank you for always being there for me. 😍